For the coming season alongside some new styles, Westley Richards has introduced smart updates of our best-loved staples of safari, with all-new performance fabrics and colours.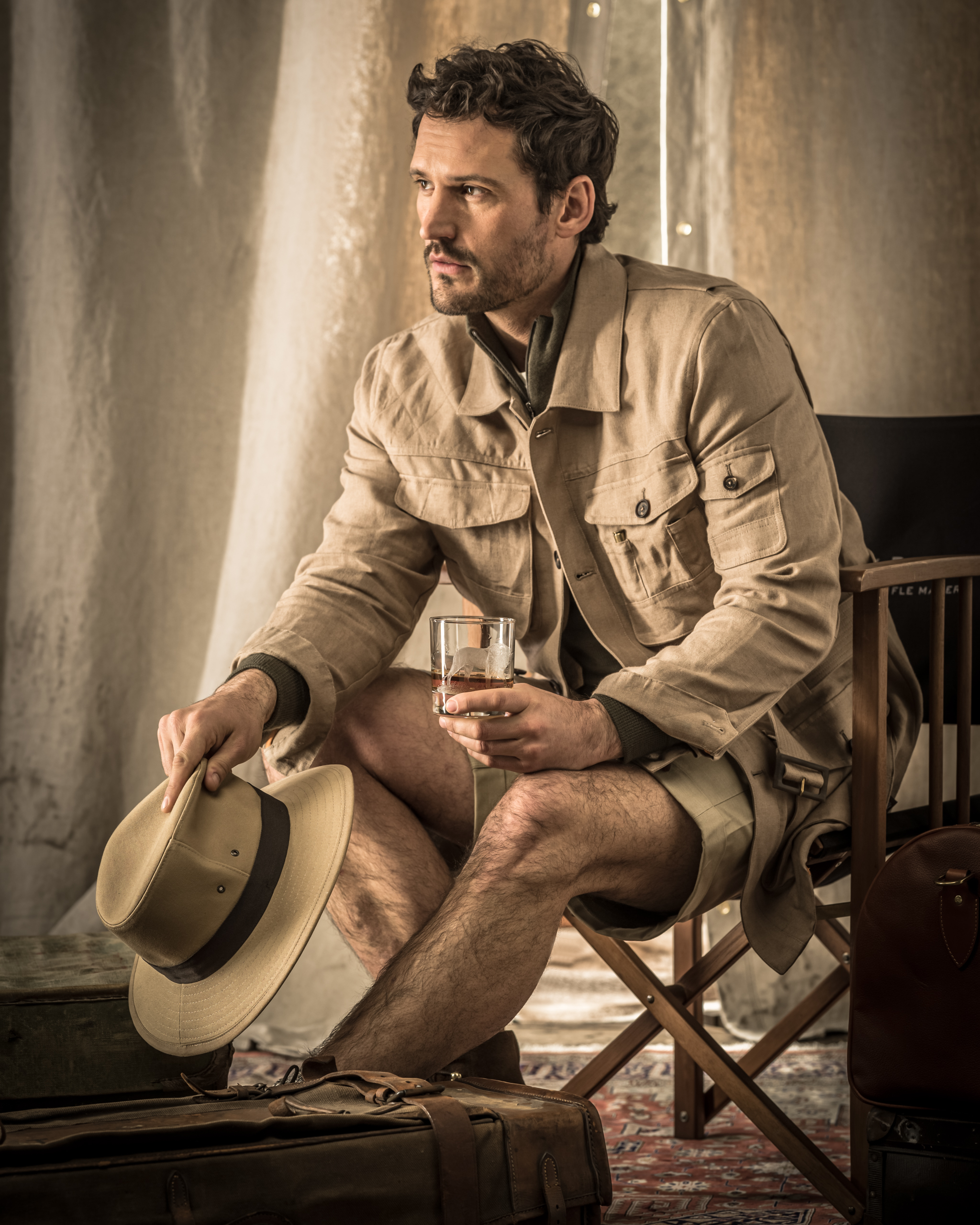 LINEN SELOUS SAFARI JACKET
This season, our signature safari jacket is 100% linen, making it lighter, softer and more breathable, while giving it a slightly thicker feel.
This four patch-pocket favourite; a staple with travellers heading for the equator, is packed with small details. The cut complements the natural linen and creates a discerning jacket that immediately softens into a comfortable adventurer's top layer.
The look is classic: a button fronted, belted safari jacket that will be familiar to lovers of Hollywood movies like King Solomon's Mines or Out of Africa, depicting the golden age of African exploration and hunting. Times may change but the essence of safari and safari clothing remains the same.
There are many options available to the hunter heading to Africa and the Westley Richards Selous Safari Jacket is the discerning choice. It delivers everything one might expect but boasts a quality of fabric and construction found in very few alternatives.
Real horn buttons, individually engraved with the company name, a subtle WR tag at the hem and the famous Westley Richards label inside, where the burnt orange edging also adds a little extra sophistication to a rugged garment.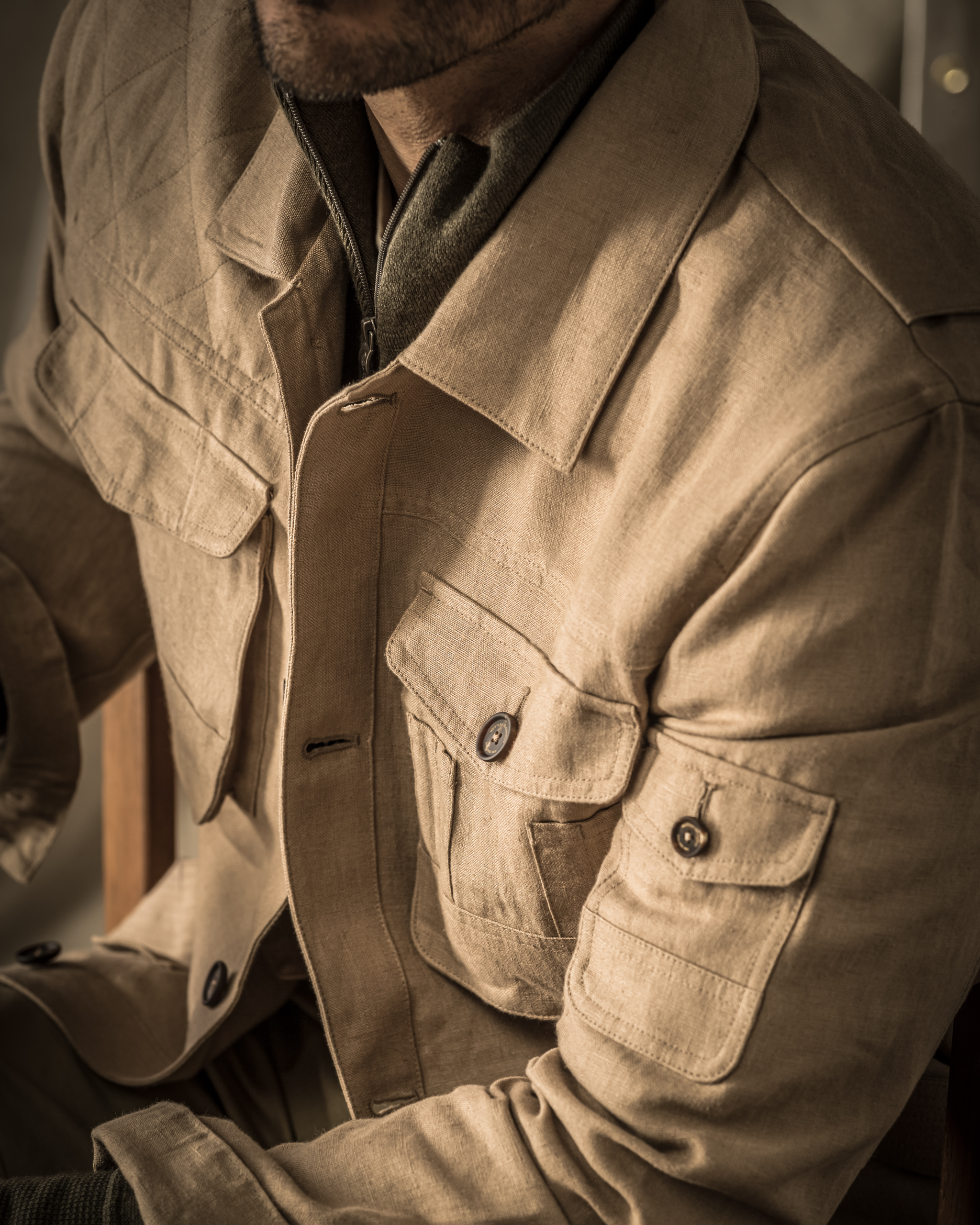 In addition to the generous patch pockets, the Selous features four slots for extra cartridges on the right breast and a small pocket on the left arm for ear-plugs, matches, pills or whatever small essential might be useful to carry in a separate area.
Cuffs are buttoned and fully operational, allowing for sleeves to be rolled-up if desired. The jacket has an 'action-back', to allow for easy arm movement, should rifle or camera operation be called for.
The latest version is continuation of our classic safari jacket, with small but important updates, making it better than ever. Available in two new shades of green (Plains Green) and khaki (Hessian).
---
SAFARI TROUSERS & SHORTS
Westley Richards have created a long-leg version and a short-leg version of the same garment. Both made from a heavy duty, yet breathable and thorn resistant fabric, produced by British manufacturer Brisbane Moss.
The new colours; Sand and Lovat, are perfectly suited to Africa, being natural, muted and neutral.
Both garments feature properly lined pockets, with additional cargo pockets on the thigh, zip pockets for valuables and rear pockets, with natural horn button fasteners. In all, eight pockets, to keep hands free and minimize the need to carry a bag for extras.
A lined waist-band ensures comfort and grip, while belt loops provide security, even when carrying pockets full of essentials.
As one would expect, being a Westley Richards, garment, the construction quality is top-class with a flattering, ergonomic cut and tight, precise stitching.
The 97% cotton, 3% Lycra blend provides strength, a little stretch and ultimate comfort, making these ideal for travelling and hunting alike.
(Images feature the new Ventura Shirt & cashmere knitwear launching at the end of April)
---
OSWELL SHOOTER'S JACKET
The Oswell Jacket is inspired by a 19th century Gabardine classic we found in the archives.
Showerproof, 100% Italian cotton provides a lightweight but tough natural barrier between sportsman and the elements. Ideal for mid-season hunting adventures where one jacket is required for the entire trip.
The Oswell Jacket also works perfectly as a travel coat or smart weekend over-coat. Cut short enough to be sporty, with a generous shoulder and belted waist, it is ideal for walked-up shooting in southern Europe or as a safari coat.
Available in stone, the Oswell blends-in nicely with drier climates. The right shoulder is left clear of pockets to ensure a smooth mount when shooting. Button cuffs and a high collar can be adjusted to keep out any squall.
Storage is well provided for with a left breast pocket, as well as two front and two rear bellows pockets. All fastenings feature natural horn buttons and the belt has a matching horn buckle. Unlined for lightness and quick-drying, the Oswell Jacket provides an easy option when an all-rounder is required. Take it anywhere, use it for anything.
With this basic ensemble of trousers, shirts and jackets, your essential safari kit is settled and your adventure can begin.