The modern safari, be it photographic or hunting based, is an expensive and, often, once-in-a-lifetime experience, long in the planning and representing a significant investment of emotion, time and money.
Packing the right kit can be one of those essential steps that ensure your days and nights are comfortable and enjoyable. Proper attire will shield you from the ravages of an unfamiliar climate and allow you to focus your energy on the sights and sounds of the bush, rather than worrying about heat, cold, flies and snakes.
The desire for practicality is paramount but your photographs will be treasured mementos of a unique experience and, let's face it, you want to look good in them. Fortunately, traditional safari clothing, like that stocked at Westley Richards, looks as cool as it feels.
We all have in our heads a style that we associate with safari. However, we may not all have the same vision. You may picture your guide or professional hunter as a grizzled Hemingway look-alike in a belted safari jacket and wide brimmed hat, only to find out that he is a young chap sporting a pair of tight shorts, a bush shirt and a ball cap.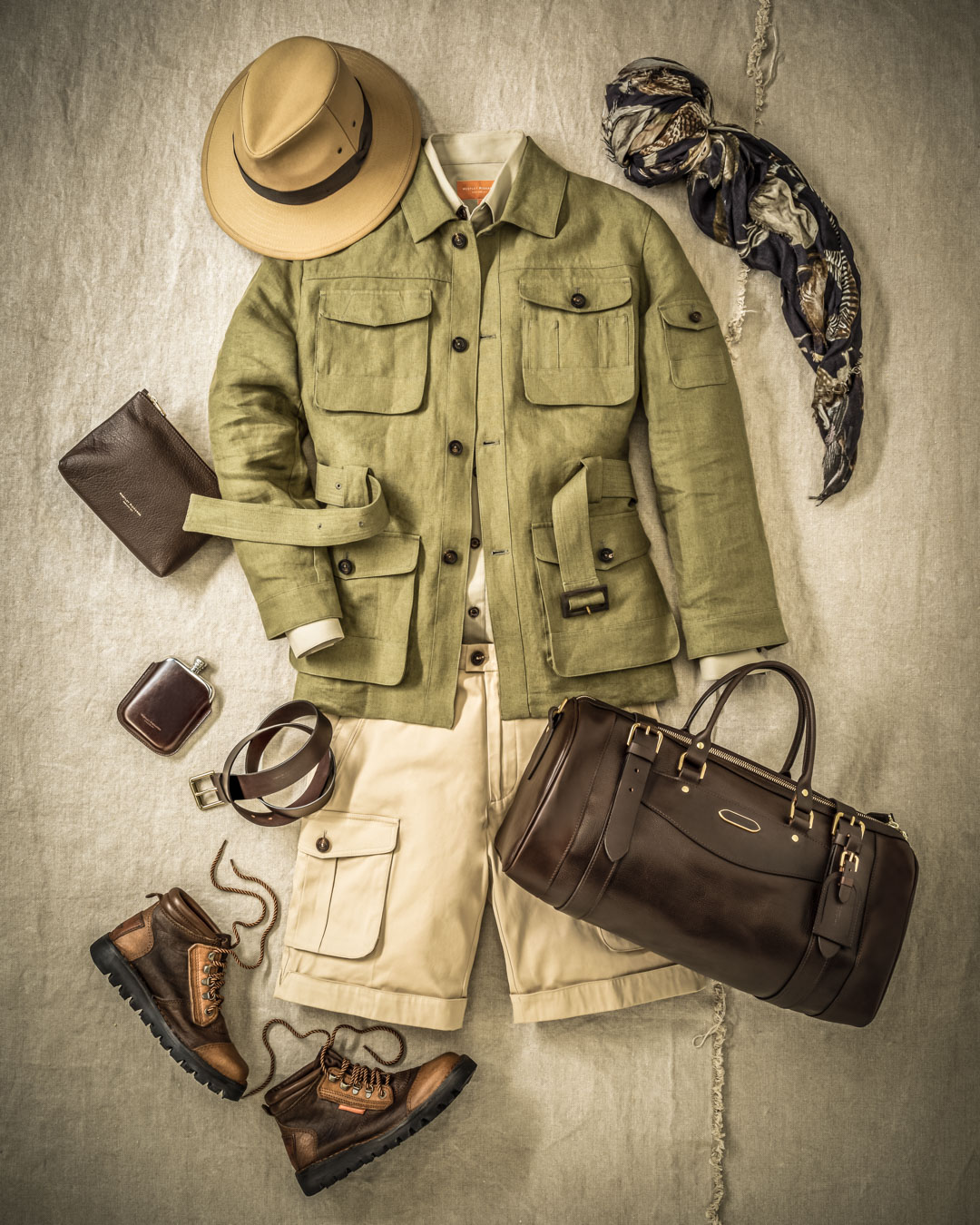 Many of our garments today make use of modern technical fabrics but some of our best sellers are still constructed from 100% cotton drill, naturally tanned and dyed animal hides, wool and canvas.
One of the big surprises to many first-timers is the cold. We all envision the equatorial midday sun, sweat-drenched shirts and dusty savannah. However, when the sun goes down, much of Africa gets cold.
Properly cold; dropping below zero, not just a bit chilly.
Being cold is miserable and sitting around a campfire in the evening with a beer and a cigar is much more enjoyable if you are not shivering. So, take a top layer that will make you snug when the sun goes down and keep you that way before it comes up, after breakfast.
Another concern is stowage. When you are on your feet for hours and the beginning of a trek may start unexpectedly and take you through different terrain from noon to early evening, it is useful to have most of what you might need on your person.
Carrying a bag is often impractical and it is wise to have all your essentials to hand for when you need them, be that sunglasses, extra cartridges, sun screen, insect repellent, a knife, a handkerchief or a cigar and lighter.
The answer is pockets, lots of them. You will see that a distinguishing feature of our safari garments is the multitude of pockets they sport. A good number of them will have zip or button closures, for security.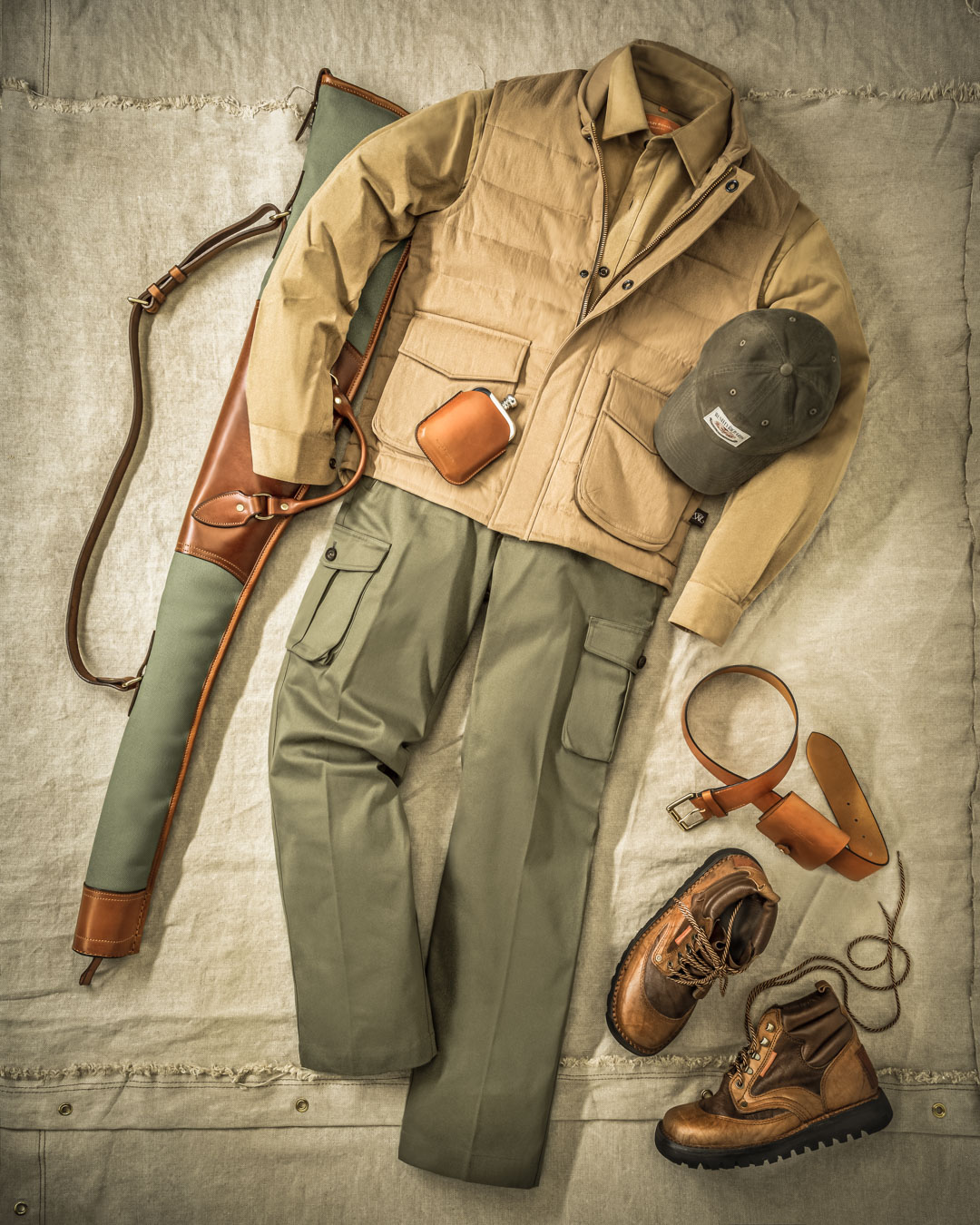 A hat is essential. A wide brim will shade your face and protect your neck. It can also be used as a fan when required, or to shoo-away insects. A ball-cap is easy to stow and makes an emergency back-up option or something to wear around camp.
The selection of long or short trousers might depend on location. Anywhere with a population of tsetse flies will be a challenge in shorts and scores of painful bites on skin not usually exposed to sun and abrasion will ruin your holiday.
Don't be tempted to emulate your shorts-wearing guide: his legs will be acclimatized to the rigours of bush-life because he lives it for months a year. Yours won't be.
Boots that provide support and comfort for hours of walking on undulating terrain are essential. Here, you can take inspiration from your professional hunter. He will almost certainly be shod in Courteneys, which are perfect for the job and look just right too.
If you do wear shorts, which are also a useful option in camp and for lounging in your tent, don't forget your short gaiters when out walking: they will prevent sand, stones and twigs from finding their way into your boots and giving you blisters or puncture wounds.
Consider clothing that will be light and comfortable on the move, as well as garments that will provide protection and warmth when sedentary. If shooting or taking action photographs, ease of movement, as well as minimal fabric noise will help you succeed.
As for tones, mimic the season and the terrain. Stone, fawn, beige, grey, olive and chocolate feature strongly in many African contexts, Very light colours will keep you cool by reflecting sunlight and will work well in dry savannah and desert settings.
We recommend the Rule of Three. If you have three of everything that you change daily, then you have one set of clothes on, one set in the wash and one set clean and ready to wear. Add a warm top-layer for evenings and travel home and you are good to go.
A Basic Safari Outfit (Westley Richards products suggested)
Trousers x3
Westley Richards Safari Trousers
Shorts x1
Westley Richards Safari Shorts
Shirts x 3
Hunting Jacket x1
Selous Safari Jacket in Hessian
Warm Jacket x 1
Base-layer x1
WoolPower Zip Turtleneck 200 in Pine Green
Scarf x1
Hat x2
Underwear x3
Belt x1
Westley Richards 1.5" Leather Belt
Boots x1
Gloves x1
Westley Richards Perforated Leather Shooting Gloves
Gaiters x1
Camp shoes/sandals x1
Pack all the above into a canvas and hide Sutherland Travel Bag and you are all set for adventure.