Our build time is usually a degree longer than 24 months but on this occasion we agreed to rise to a challenge and got to work on Serial Number 20469. It was destined to be a classic interpretation of our best known sporting gun; the 1897 hand-detachable lock, patented here by our very own Leslie B. Taylor.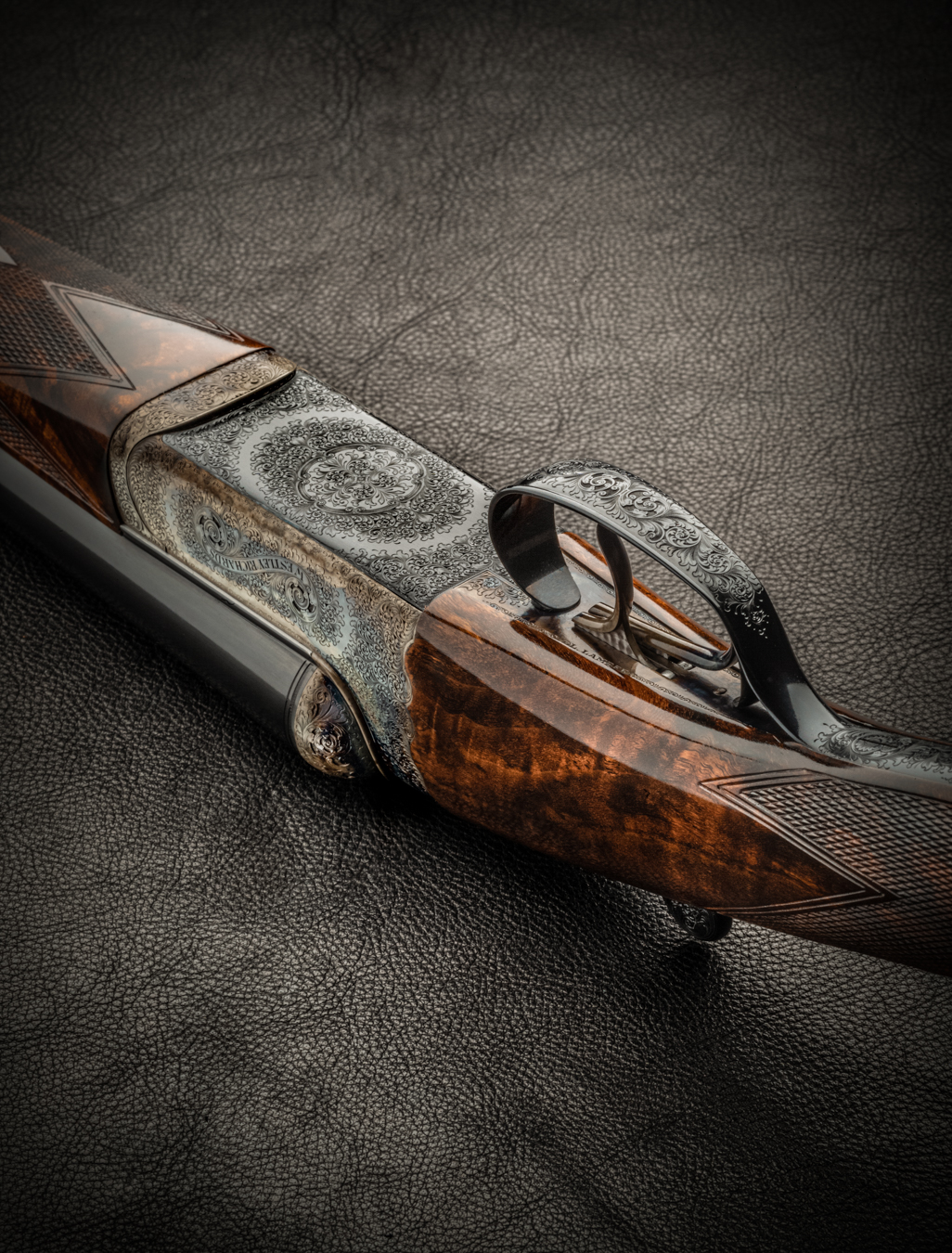 The specifications will be very familiar to anyone cognisant of 20th century sporting shotgun style.
This is a 12-bore with 29" steel, chopper-lump barrels, a concave rib, which is traditional for game shooting, two triggers and full-coverage, traditional scroll engraving with colour-case-hardened finish.
Weighing a mid-weight 6lbs 9oz, it has been nitro-proof tested in Birmingham for standard 70mm cartridges. The barrels are choked Quarter in the right and Half in the left. These are sensible game-shooting options and would allow for the use of standard steel shot cartridges, if necessary.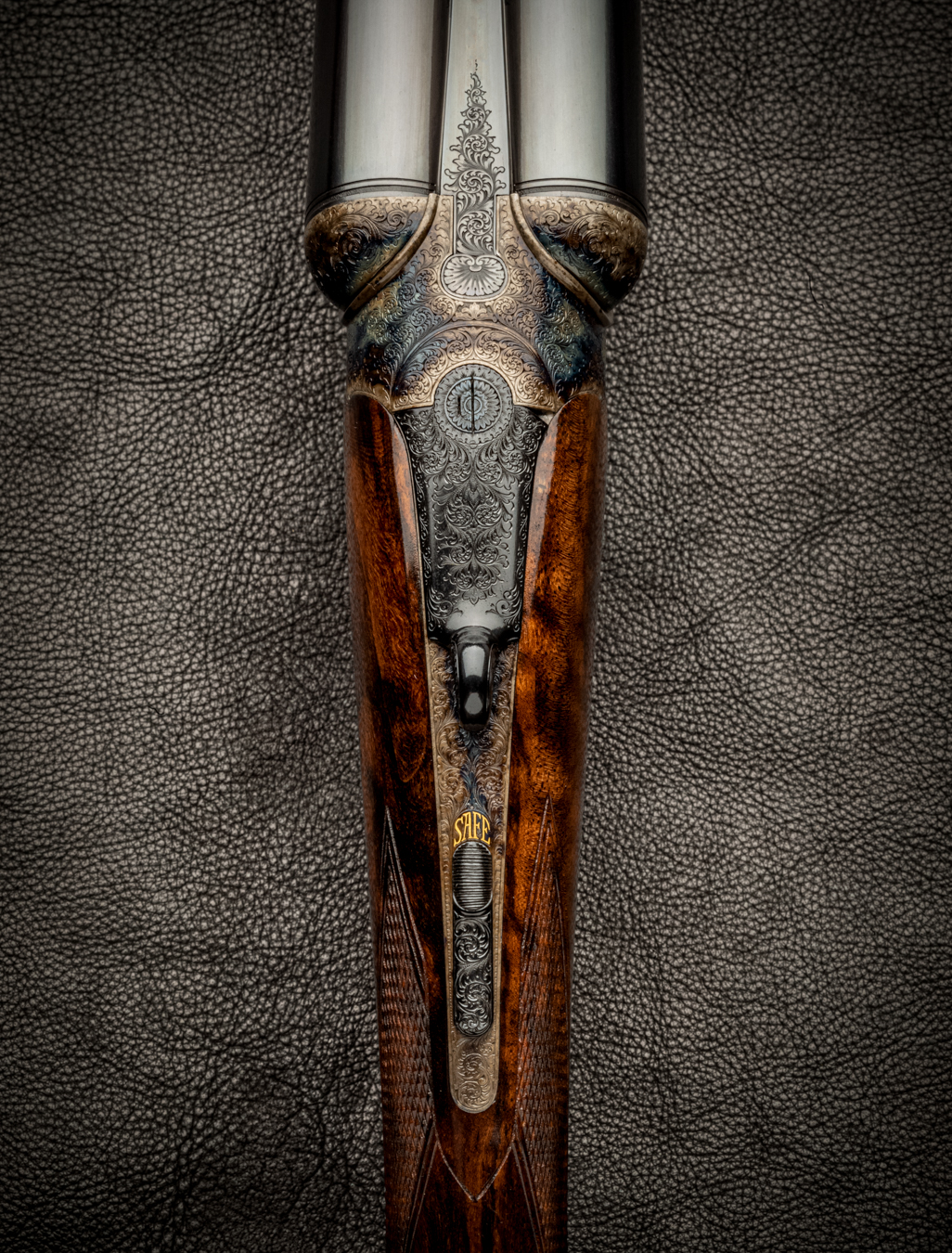 Among the case colours and scroll engraving, there are golden highlights in the form of the 'SAFE'  lettering and the serial number on the guard strap.
The order specified 'super-deluxe, dark wood', which has fine diamond-top chequer to hand, forend and butt.
The engraving extends to all furniture, including the Deeley & Edge patent forend catch, another gun trade staple that began life at Westley Richards.
A gun of this type is a sporting purchase. The owner wants a gun to use and treasure, it is not an exhibition piece that will live its life in a cabinet and never see the sun, or feel the wind and the rain.
The action is operated by a Westley Richards top-lever with its bolted doll's head extension, as well as a Purdey patent double under-bolt. The security of a third bite does help keep the barrels on the face of the action over years of repeated firing and reduces wear on the bolt.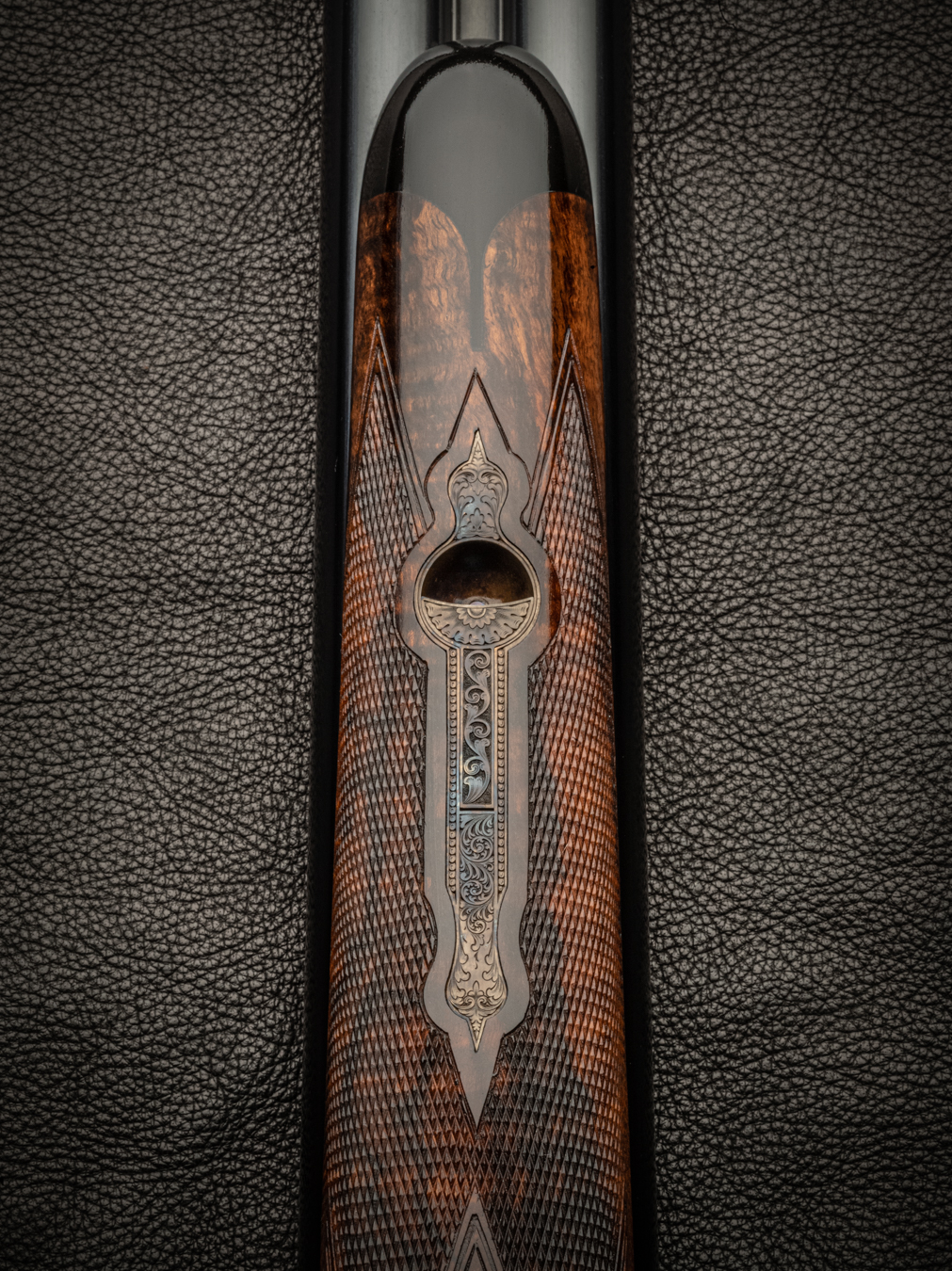 The scroll engraving is a modern interpretation of the classic house pattern used here since the late 19th century, with the maker's name in a banner. It was carried out by our in-house engraver.
Another pleasing detail, one we employ on most of our builds today, is a buffalo horn forend finial; seamlessly fitted so that it appears to grow from the walnut, creating a glossy, black tip to the limb.
This also provides a practical solution to an old problem; that of the exposed end-grain of the forend wood being prone to damage; sometimes opening-up under prolonged usage, until eventually catching on something and tearing a splinter off the sides. The horn has no such grain and it acts as a protective buffer.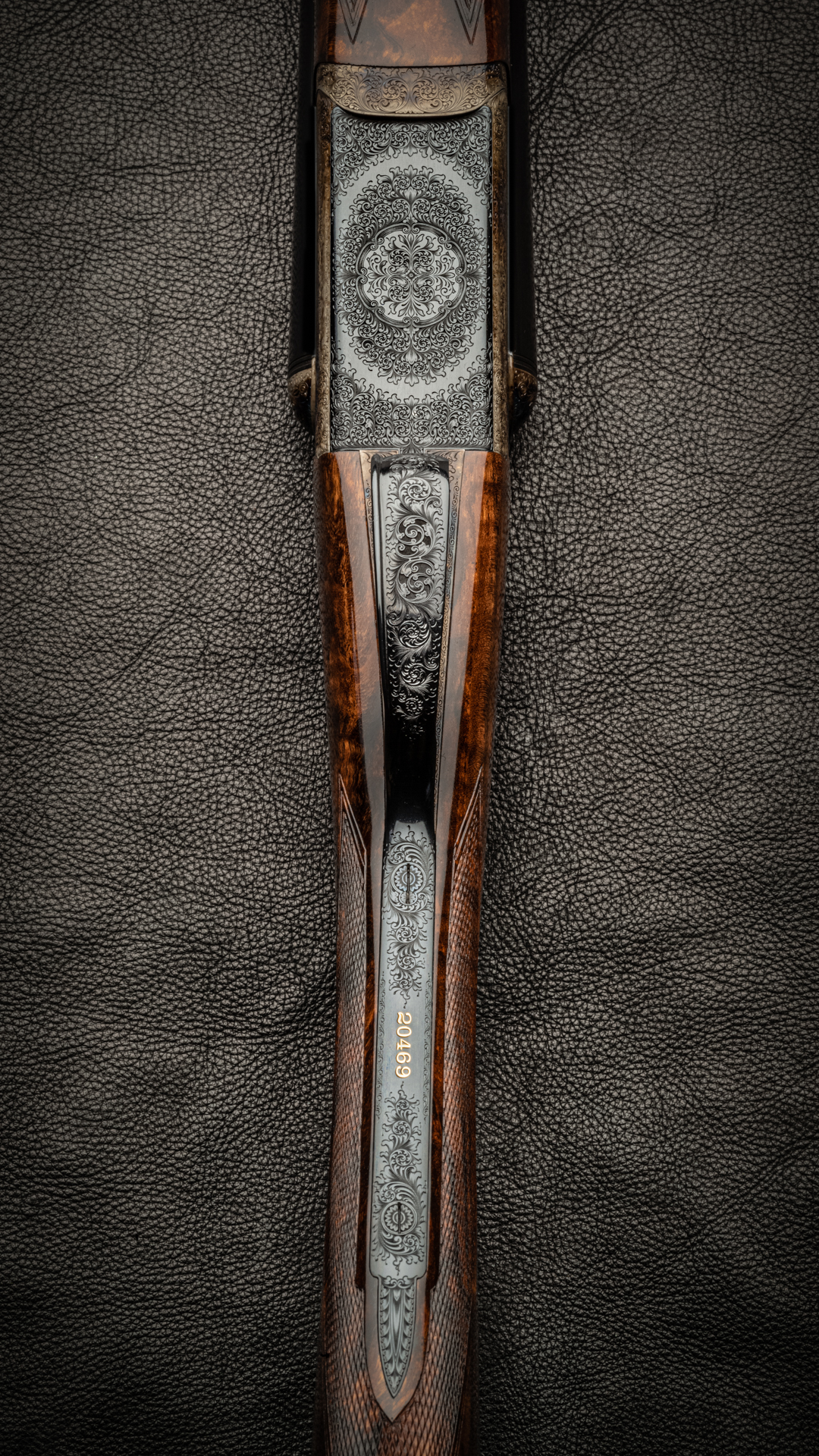 A lightweight leather case in dark tan houses the new gun, with blue Alcantara lining and our small gold-lettered leather label. A pair of snap-caps, cleaning rod, and a set of jags and mops in a blue leather pouch complete the package.
The case itself is protected by a leather-trimmed canvas outer with gold initials embossed on a leather panel.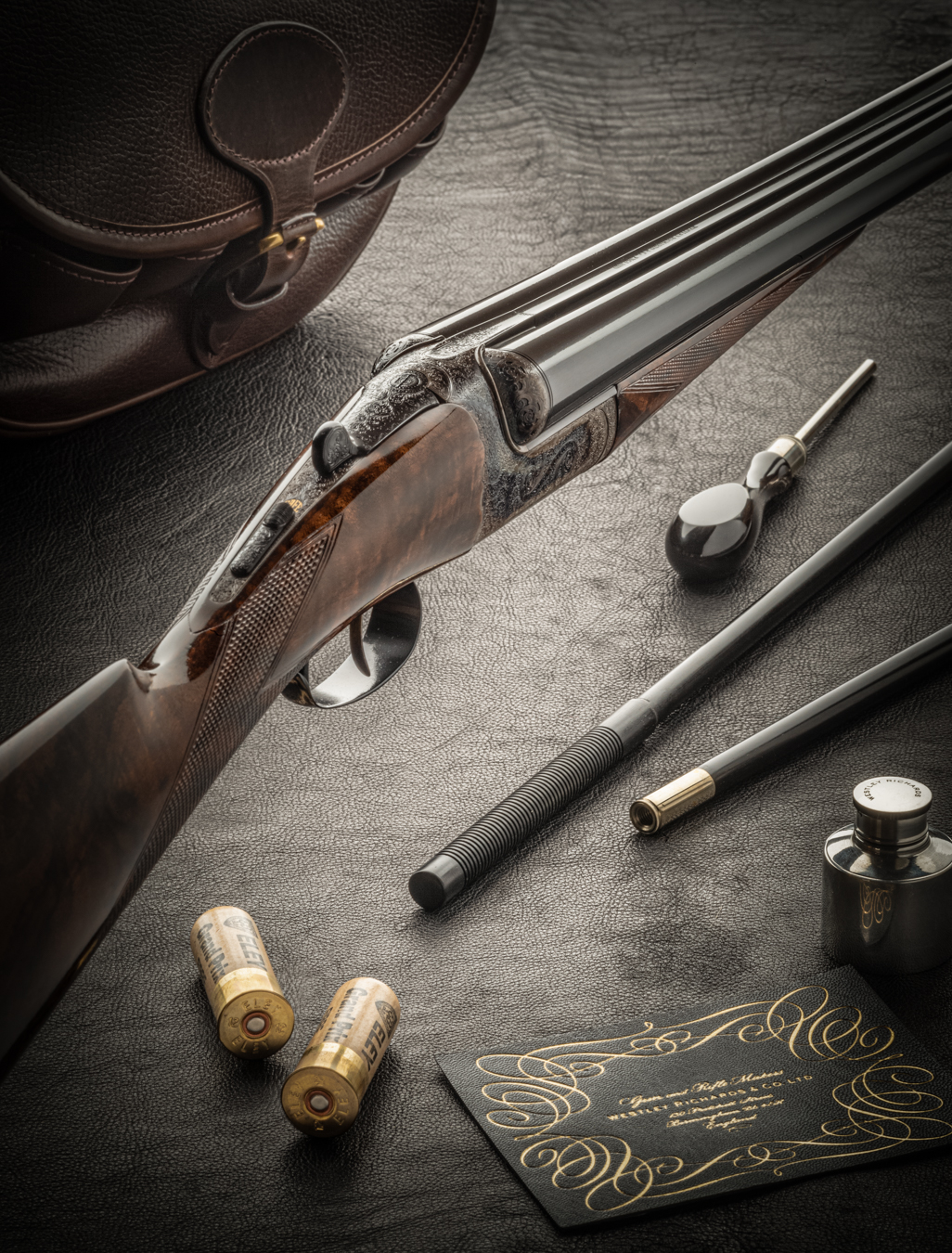 Happily, the gun is ready on time; in, fact, it is ahead of schedule and ready to ship.
Amongst a portfolio of exhibition grade and special order guns, this one acts as good benchmark for what a best quality game gun looks like in 2022: Ideally suited to the job it was designed to perform.