In 2023, Westley Richards will be exhibiting at both Dallas Safari Club (5th - 8th January in Dallas) Stand #4721 and Safari Club International (22nd-25th  February in Nashville) Stand #2245.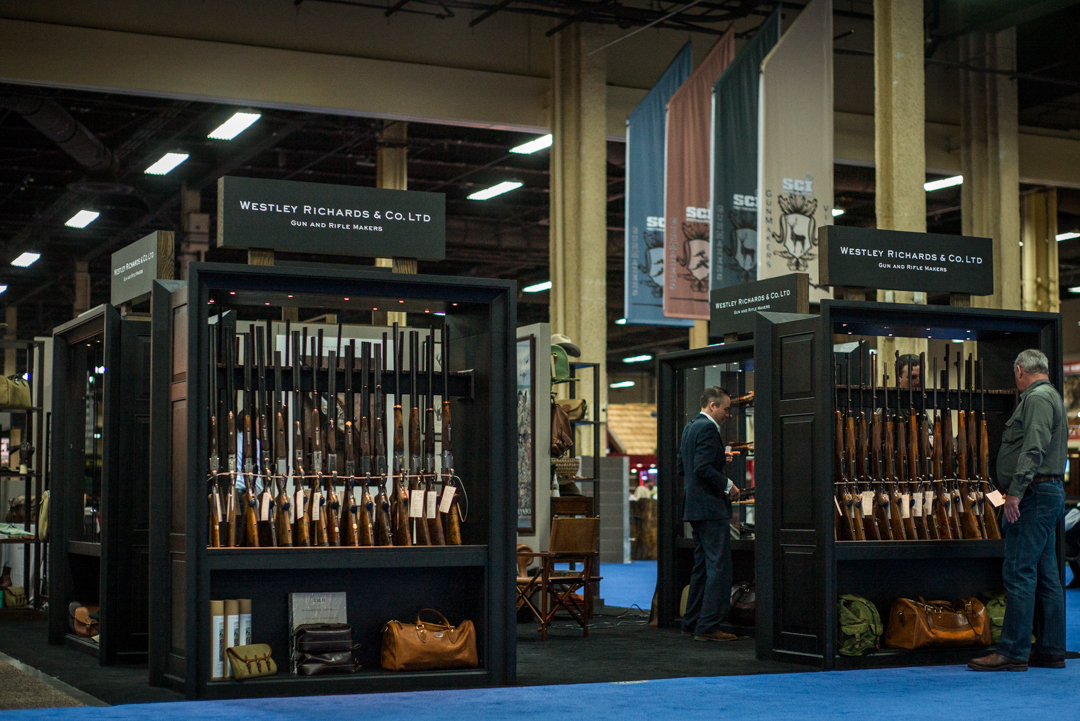 These two shows have become essential events in our calendar, providing an ideal opportunity to meet our customers face-to-face and show the world our products.
As always, Managing Director Anthony Alborough-Tregear will head the team and be available to discuss our products, and any matters related to the company and its guns and rifles, in person.
For enthusiasts who might be getting excited about what we might have included in our display, here are some previews of the guns and rifles that visitors to our stand will be able to examine.
Above is a .425 Magnum Express 'Modele De Grande Luxe' Bolt Action Magazine Rifle.
This is a modern incarnation of a classic Westley Richards pre-war model that continues to capture the imagination of modern collectors and hunters. This take-down version with its stunningly engraved and inlaid steel-work shows just what can be achieved when a project excites both customer and rifle-maker.
The .425 Westley Richards is considered 'obsolete' in most jurisdictions but we have worked with a major ammunition manufacturer in the UK to ensure every rifle delivered is supplied with a life-time's supply of soft-nose and solid cartridges; thereby ensuring it is as practical a hunting rifle as any other in current production.
The next new rifle on display is this  stunning .450 (3 1/4"), 'Best Quality',  Hand Detachable Lock Rifle.
The .450 (3 1/4") is another classic cartridge revived in the modern era and applied in the building of rifles of the type our grandfathers hunted with; though built to a far higher standard of finish than most rifles of yesteryear.
For those who have never seen a Taylor-patent, hand-detachable lock, this is a beautiful example; as meticulously finished inside as it is outside.
For reasons we totally understand, big double rifles are objects the wider hunting public gets excited about. When someone used to a .308 magazine rifle picks up a rifle that looks like a shotgun and has chambers that accept cartridges the size of a decent after-dinner cigar, it makes an impression.
The beauty of the shows is that such people get to be introduced to Westley Richards for the first time and may then begin a lifelong love affair with British guns and rifles. At the very least, we love to see their enthusiasm when first encountering something new and different.
The big 'drop-lock' above is just this kind of awe-inspiring creation. It is a .500 (3"), hand-detachable-lock, double rifle, with all the weight, power and beauty we somehow pack into these remarkable sporting arms.
We love showing off our new products; they demonstrate to everyone passing just what level of quality and innovation we can deliver. However, our history is just as important to us and we know it is something that inspires our own customers, and sportsmen in general.
There are few figures in the history of African hunting more revered and storied than F.C. Selous. He was, of course, a Westley Richards customer and his .425 Magnum Express magazine-rifle was certainly important in inspiring our modern customers to order their own incarnations of the same model.
We will have with us the actual Westley Richards .425 rifle (pictured above) owned and used by Frederick Selous and mentioned in his writings. A true piece of firearms history.
We will not be catering exclusively to rifle enthusiasts at the shows. Shoguns form a significant part of our annual production and we have brought with us some beautiful small-bore examples of recent manufacture.
Small-bore shotguns are extremely popular with American customers. In fact, the vast majority of our orders from the States are for 20-bore or smaller.
Above, we have a pair of 20-bore, hand-detachable-lock shotguns; beautifully engraved with North American winged quarry, including ducks and doves.
As 'Modele de Luxe' quality, they are our traditional 'extra finish' show-pieces, which, we think visitors will agree, cannot be bettered for practicality or beauty when a best gun is required but the owner intends to use it regularly.
Finally, illustrating the flexibility of the 1897 hand-detachable-lock mechanism, which is the same as used in the big .500 double rifle on display, we have a diminutive 28-bore shotgun, cased to perfection with blue, French-fit, goat-skin interior with accessories, including Teague chokes and extra hand-detachable locks.
As always, we look forward to seeing our old friends and making some new ones. Everyone is welcome to call by the stand for a chat and to discuss what we do and who we are.
Come and see us.