Today, like most British gunmakers, Westley Richards builds a high proportion of orders as sub-twelve-bore guns for strong, fit males. They are particularly appreciated, and in demand, in the United States, where the walked-up shooting so beloved of many 'bird hunters' (we would call them 'Game Shots') is best served by a gun that is easy to carry all day, quick to bring to shoulder and reactive to swing and fire quickly, before the small quarry is lost behind a bush or tree trunk. They are also appreciated by 'dove hunters'.
This beautiful pair of twenty-bore game guns epitomises the fusion between classic British style with American quarry engraving and American hunting as its function. The guns reflect the modern phenomena of American patrons providing British gunmakers with the opportunity to blend trans-Atlantic tastes, thereby creating distinctive and interesting versions of classic sporting guns.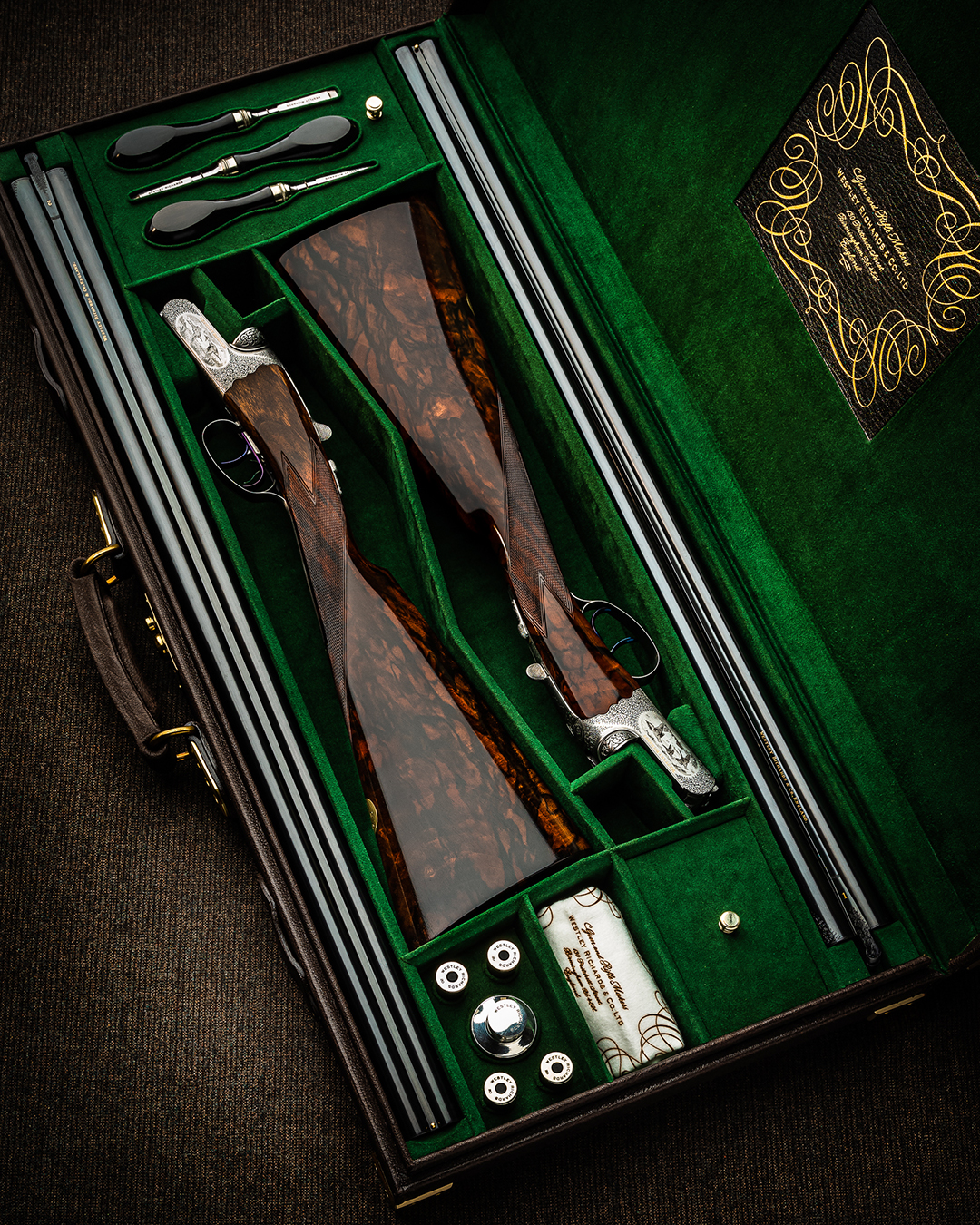 These twenty bores are built on Leslie Taylor's patent 'hand detachable' locks, which are universally known today as 'droplocks'. They represent the pinnacle of Anson & Deeley's incredibly strong and reliable box lock, while providing the easy lock removal and replacement benefits of the conventional sidelock. The locks can be removed by hand without the need for tools and cannot be put back in on the wrong side or in the wrong position.
The guns are very traditional in their configuration, with two triggers, automatic top-safeties, straight-hand stocks and splinter forends. The chopper-lump barrels have concave game ribs and what we in Birmingham have always called 'fancy-back' actions. Of course, the mechanism is our own trade-mark Westley Richards doll's head with sliding top-bolt, secured below by Purdey double under-bolt. It has stood the test of time as a combination for over a hundred and thirty years.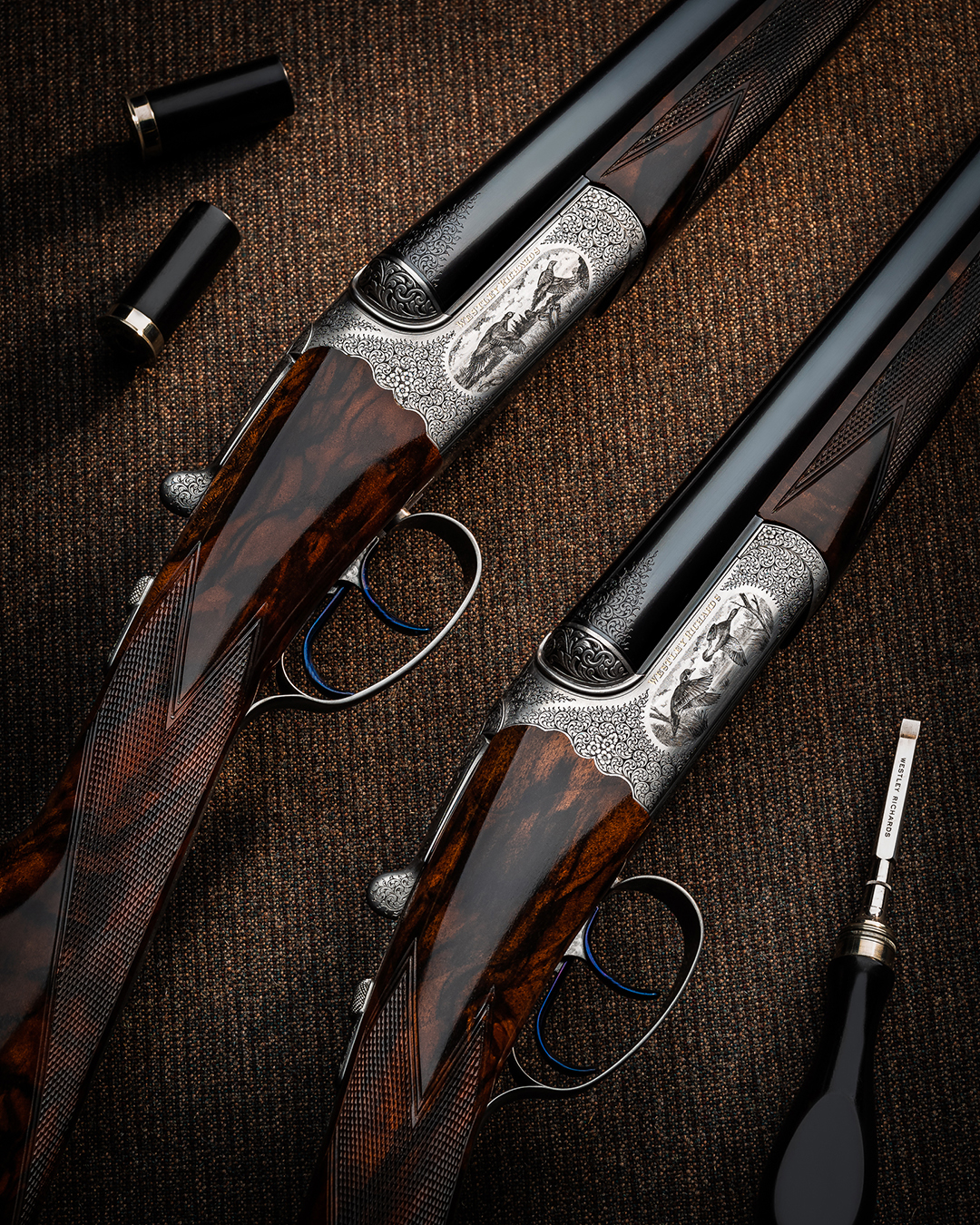 The American influence on the aesthetics is clear with a closer look at the engraving. Marcus Hunt has applied his beautiful medium scroll work, with the additional refinement of carved and beaded fences. 'Westley Richards' is subtle but nicely visible on the action body, in a muted gold inlay. Among the scrolls, Marcus has blended flower motifs and bouquets. Marcus has a superb pedigree as an engraver of guns, having learned from his father, Ken Hunt, who in turn learned from Harry Kell; both men were the best-known artists in the medium of their respective eras.
On every major area of flat metal, the scroll work frames beautifully executed game scenes, featuring North American quarry species, including mallard, doves and quail.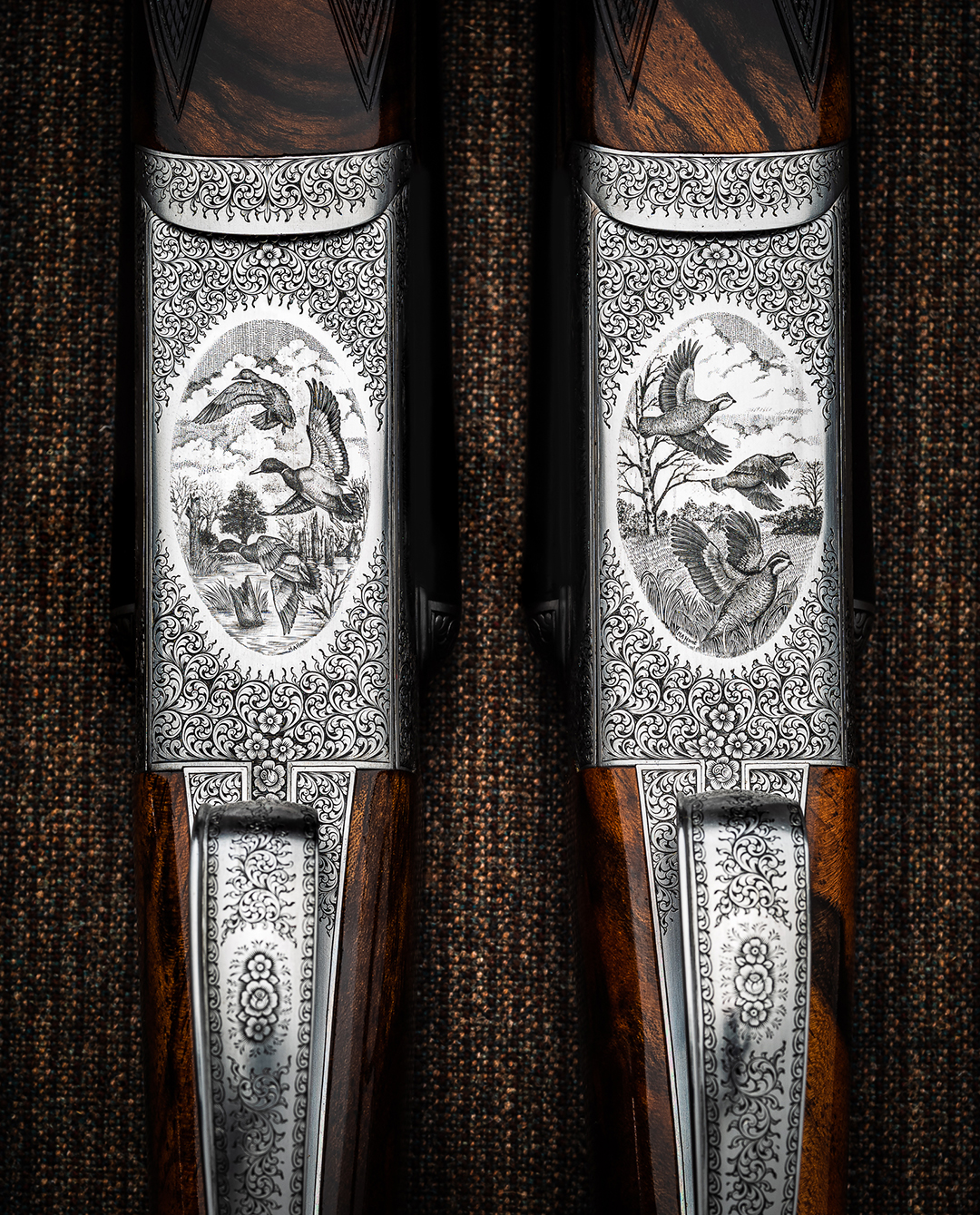 The wood to metal fit is perfect, as you would expect, and the wood beautifully figured with rich depth of colour and amber highlights, both guns matching perfectly and finished with our traditional, hand-applied, oil-finish. Gold highlights subtly lift the appearance of the guns, with maker's name and address on the ribs and numbers '1' and '2' likewise highlighted, as are the serial numbers on the guard straps. Finally, gold ovals on the stocks bear the owner's initials.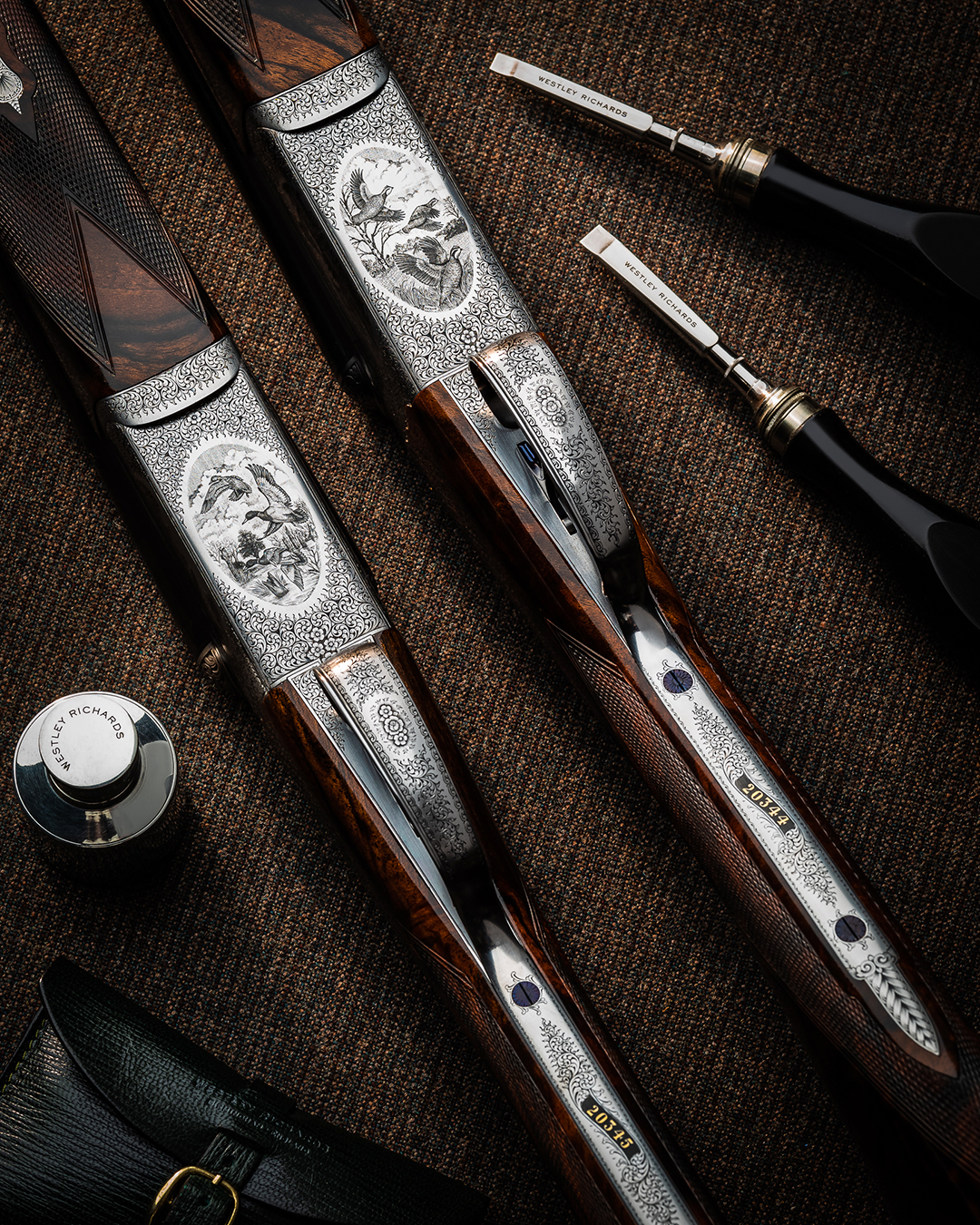 Presentation is a very important matter to our customers and here no compromises have been made. The lightweight case is clad in buffalo hide. The lining is green Alcantara. This shows Westley Richards' constant quest for innovation as well as our regard for tradition. British gun cases have been lined with baize, felt, velvet, even fine leather in the past. We find Alcantara, a modern material, suits the demands of case lining perfectly, being attractive, non-abrasive and hard-wearing.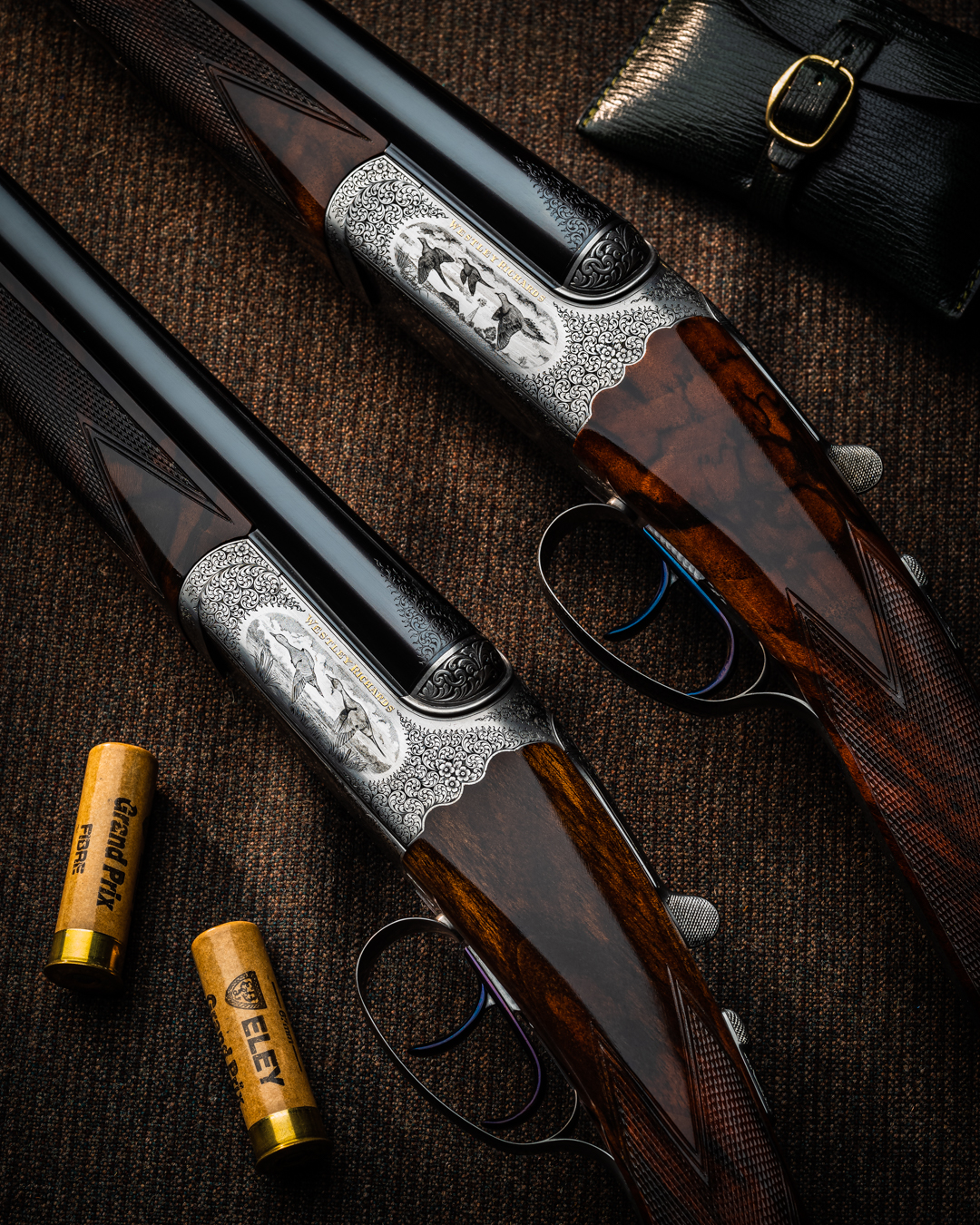 The lid of the case bears our best trade label, in black leather, with gold embossed lettering and scroll-work. The case is protected by a buffalo-hide trimmed, canvas outer. Finally, best quality turn-screws, snap caps and oil bottle complete the package.
Like everything we make, these guns will pass every test of aesthetic scrutiny, performance testing and mechanical inspection. They may be works of art but you can rest assured, they will be capable of bagging American game birds every season for this owner and any future generations lucky enough to inherit them one day.