We designed our Selous Safari Jacket to be as rugged as its historic namesake Frederick Courteney Selous; soldier, explorer and hunter. The rugged cotton material will withstand hard use and remain comfortable and protective in the heat and dust.
Its numerous deep, flap pockets provide a place to stow most of your essentials and the belt keeps it secure and snug fitting when loose fabric may catch on thorns or branches.
Matching perfectly, our Safari Trousers provide the protection and comfort needed for all-day wear on active duty, yet look smart enough when laundered to pass muster at the airport lounge. Secure them with a Post & Co. alligator belt, which compliments the suit and won't let you down. Make sure a calibre-appropriate Ammunition Belt Wallet is fitted, but we suggest you don't load it until in-country!
As a first layer, a Mountain Breeze Shirt  provides cool relief during the mid-day sun and protection from flies and sun-burn. In natural colours, it blends in well with most surroundings.
Selous Boots are a must; your Professional Hunter will be wearing them for a reason. Nothing else is quite as good in the sandy soil or as comfortable during long treks in search of game.
A Hunting Hat provides all the comfort and sun shading that tradition dictates. It also sets the tone nicely.
---
Hunting Outfit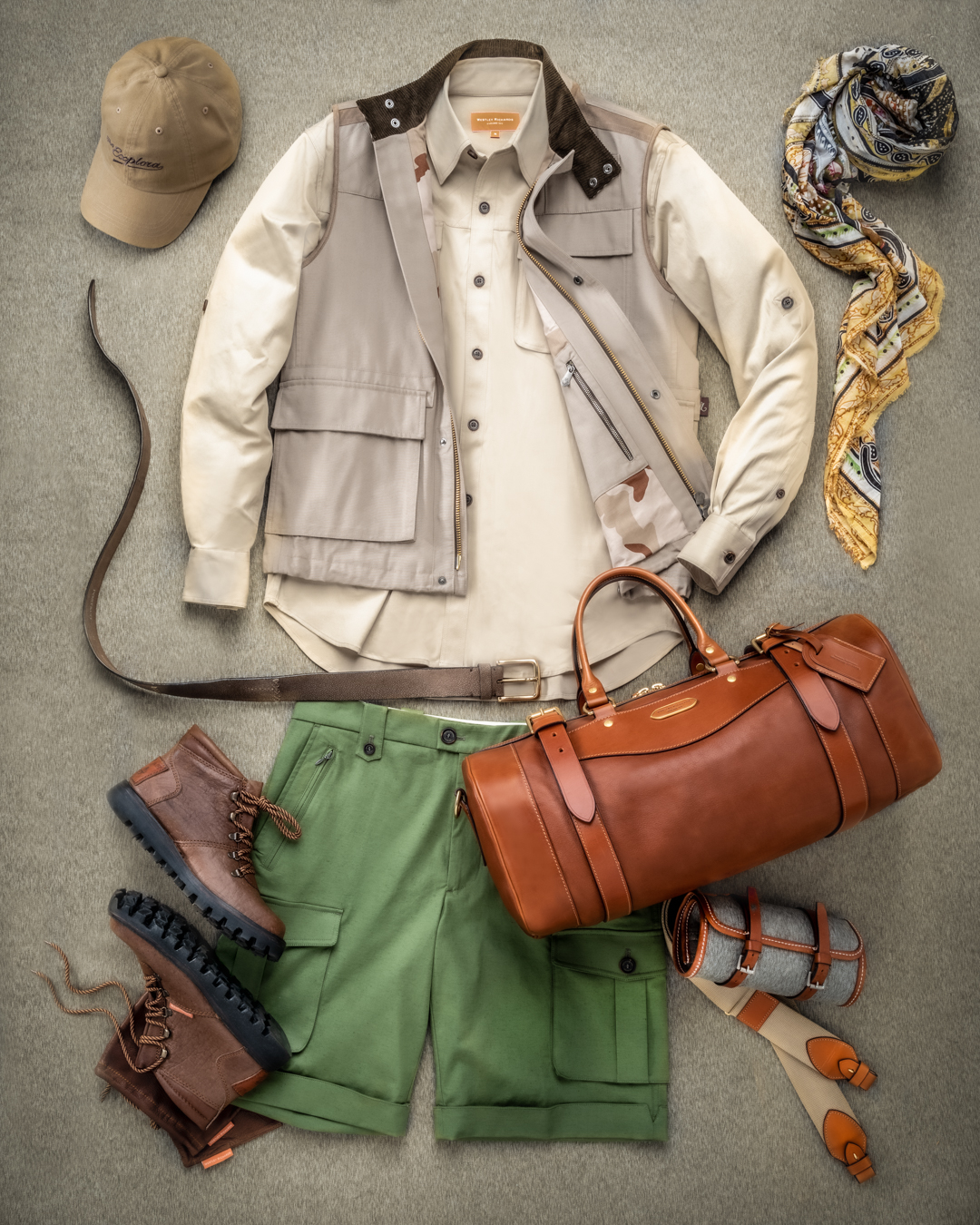 A day bag for all occasions, the Sutherland is made from beautiful quality hide, with brass fittings, stitched in our workshop to withstand very hard use. As it ages it becomes more personal and all the scratches and scuffs from your safari will simply add character. Put your Tool Roll inside in case anything gets loose or clogged during the day. The essentials inside will make the day run smoother should you need them.
Similarly crafted and just as reliable, the Westley Richards Rifle Sling will complement your other kit and ensure comfortable shoulder-relieving carriage of your rifle is always an option. The Campaign Shirt provides just a little more protection than the Mountain Breeze shirt and suits cooler weather as well. The Guide Vest is a popular alternative to a jacket, leaving arms free and promoting air circulation, while boasting plenty of body-secure storage for essentials without the need to carry a bag.
A Westley Richards ball cap is an easy-carry backup to your safari hat and might just prove better suited to days in thick cover. A Post & Co. Belt and Faliero Sarti scarf will take care of waist and neck-line, while Safari Shorts provide relief in the heat of the day and allow for a little tanning.
The Courteney Warrior Boots compliment the Selous Boots as a second pair, should a bit of swamp-wading render your day-boots unsuitable for the evening around the fire, or even next day's hunting, while they dry out. A Explora Ball Cap provides all the comfort and sun shading that tradition dictates. It also sets the tone nicely.
---
A Modern Option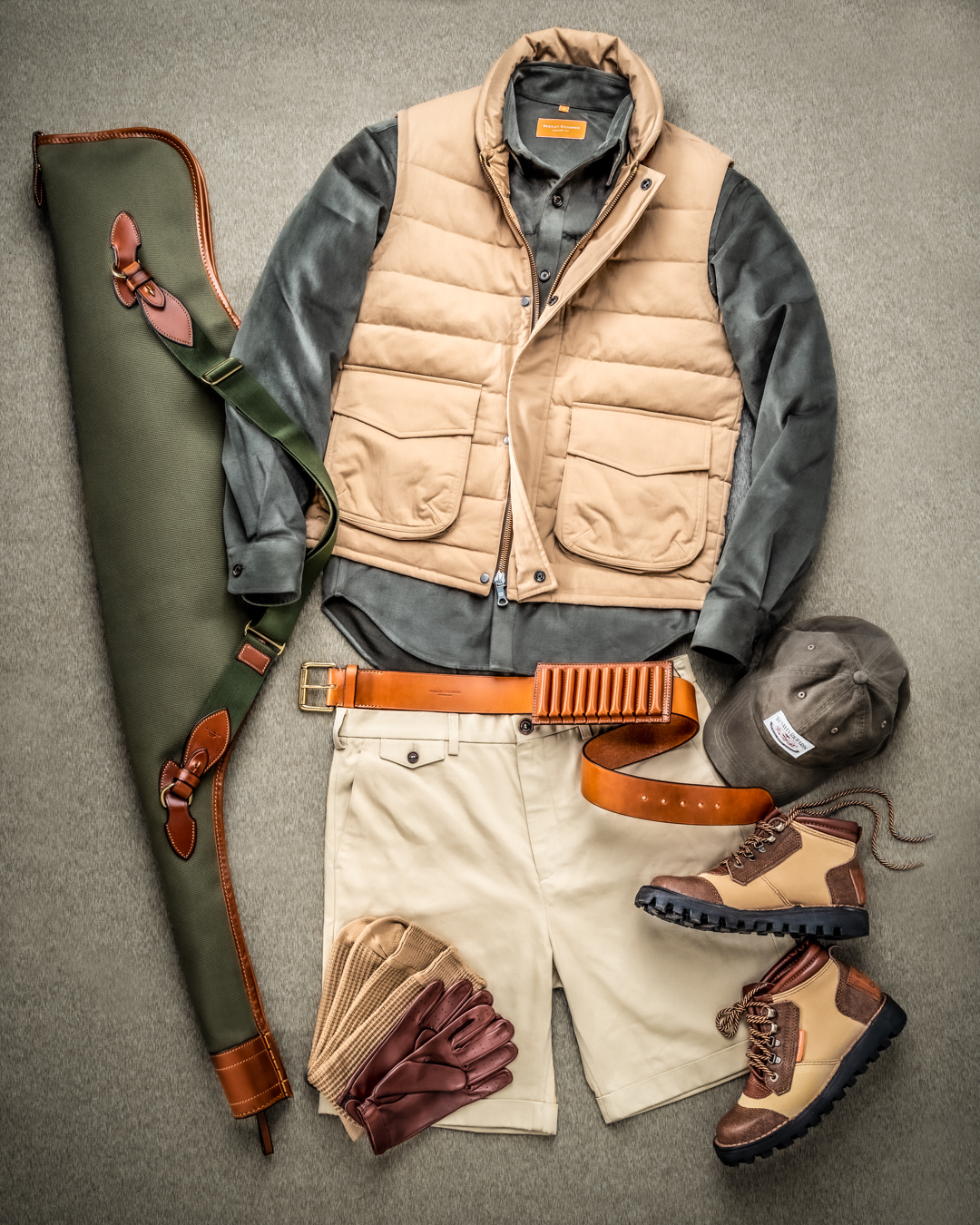 For cooler mornings or when a wait is more likely than a long stalk, keep the upper body warm and protected with the rugged Pathfinder Gilet and Expedition Shirt combination. These flexible garments allow for easy movement, provide adequate storage for essentials and provide core warmth. All the more important when Pathfinder Shorts are preferred below the waist, as they are by many.
For protecting that expensive rifle, the Harridence Slip, with its canvas outer, trimmed with hide, is ideally light yet incredibly tough and protective. A traditional alternative to Post & Co. exotic skin belts is the Westley Richards 2" Leather Belt, made especially to carry the Ammunition Belt Wallet in comfort and style.
Safari Boots are a lightweight, canvas alternative to the game hide staples in the Courteney Boot range and are a popular choice for long treks. Team them with comfortable Rototo Cotton Waffle Socks.
A Safari Ball Cap provides sun-shading and a modern style that appeals to many younger hunters, while our Perforated Leather Shooting Gloves will ensure your hands are un-affected by tsetse flies and ready for action.
Whatever outfit combination you choose, Westley Richards is the right place to be.
Everything in our range is designed and made to do a job; to do it well, with a dash of style.