Modéle de Luxe was a new term for Westley Richards high grade guns and rifles and was introduced in the Centennial catalog of 1912. Described as, "Highest Quality and Finish. Elaborately and artistically carved and engraved with Game scene subjects", guns and rifles of this grade were among the firm's most elaborate.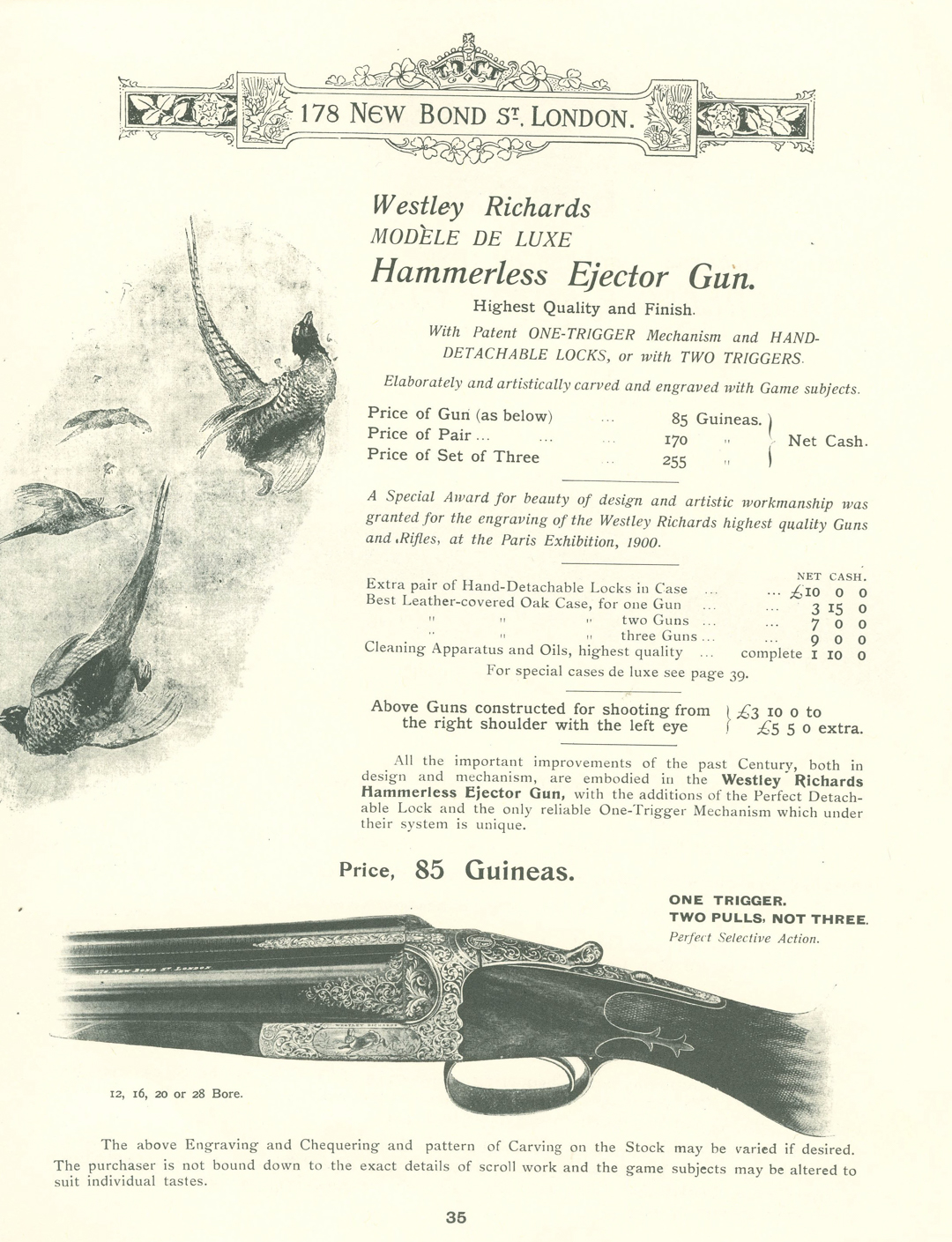 This Westley Richards .318 Accelerated Express Modele De Luxe Double Hammerless Ejector Rifle #17296 is fitted with hand detachable locks, combination foresight, Westley's pattern quarter rib with folding leaf sights and factory scope mount for the original Zeiss patent telescopic rifle sight. The rifle was chambered for the relatively new cartridge, the .318 Accelerated Express, patented only 5 years prior. This rifle represents some of the newest developments available in modern rifle design at the time.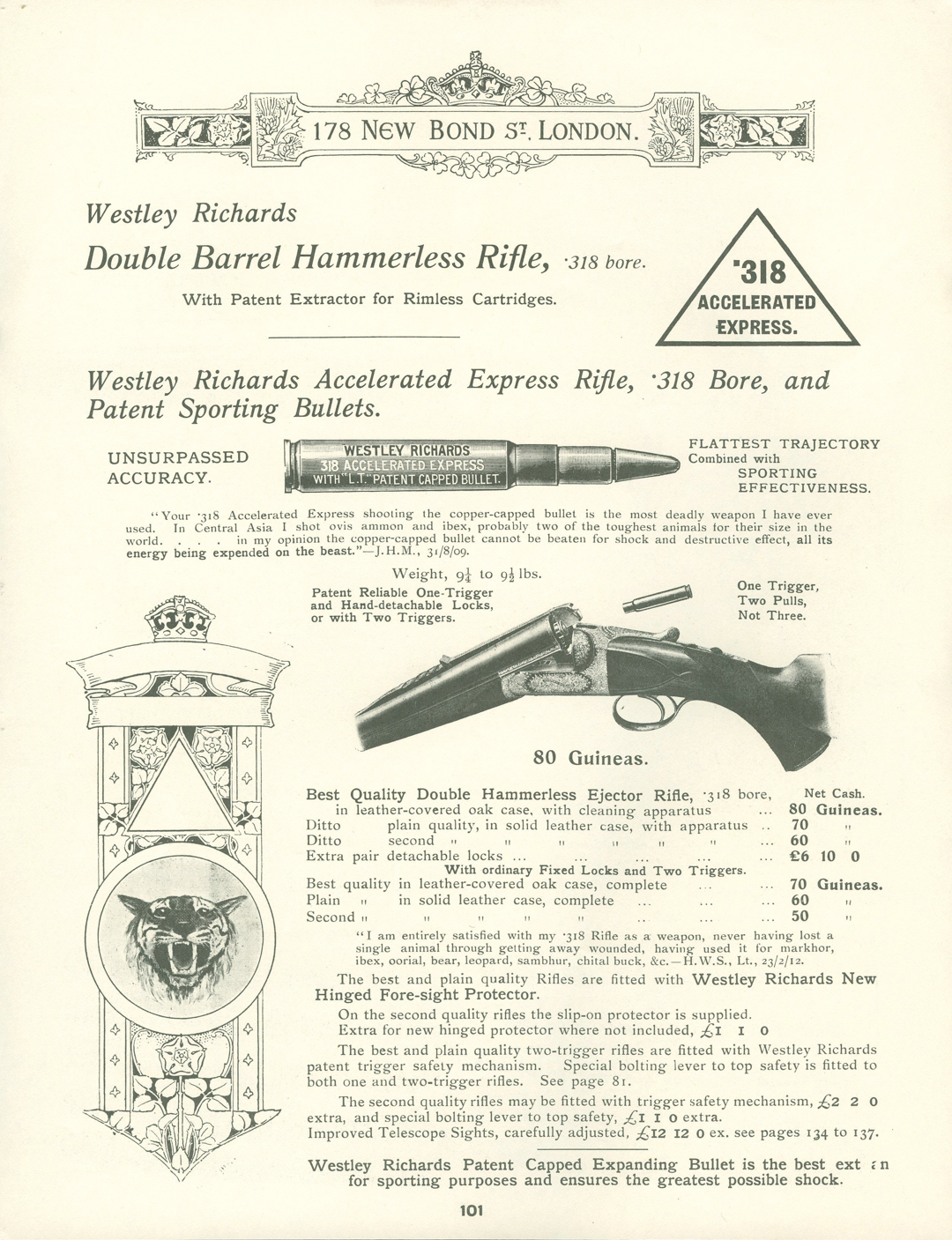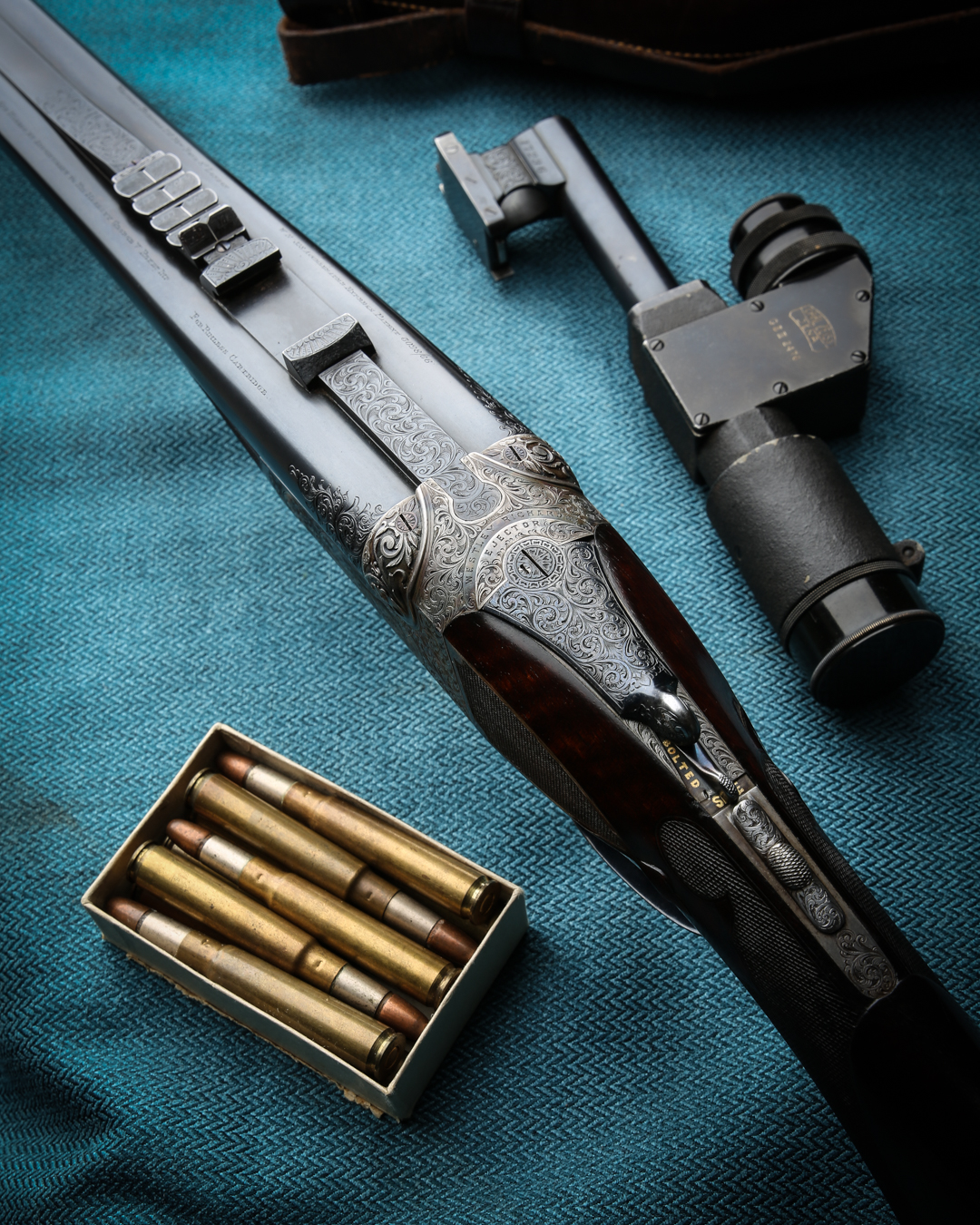 The square back action has disk set strikers, two triggers, a bolted safety, and Westley's Snap lever and Model "C" doll's head rib extension. The rifle also features Westley's ejectors with detents for rimless cartridges, patent # 5098/06 (engraved on the top of the right barrel), which was registered prior to the introduction of the firm's two rimless cartridges, .318 and .425. The first successful ejector that worked with rimless cartridges, this has been the industry standard ever since.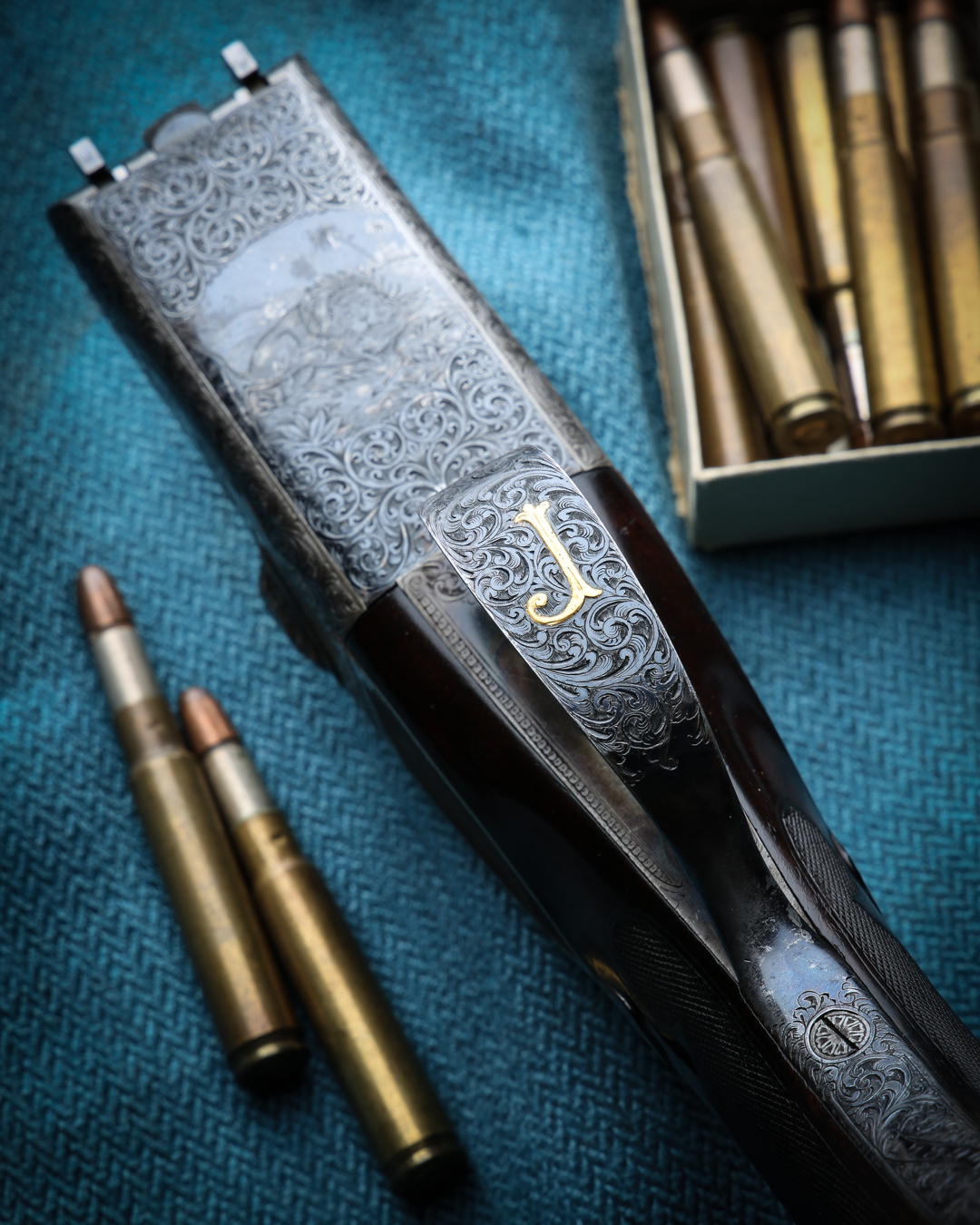 As prescribed in the 1912 catalog, this rifle is "engraved with game scene subjects" on all three sides of action, featuring a stalking tiger on the left side, the bottom scene depicts what is probably an Asiatic lion killing a Sambar deer and the right side shows an ibex. The balance of the action, furniture, and quarter rib are fully covered in a bold deluxe scroll. Additionally, the fences are carved in a deep relief matching pattern and the trigger bow is inlayed with a large gold "J".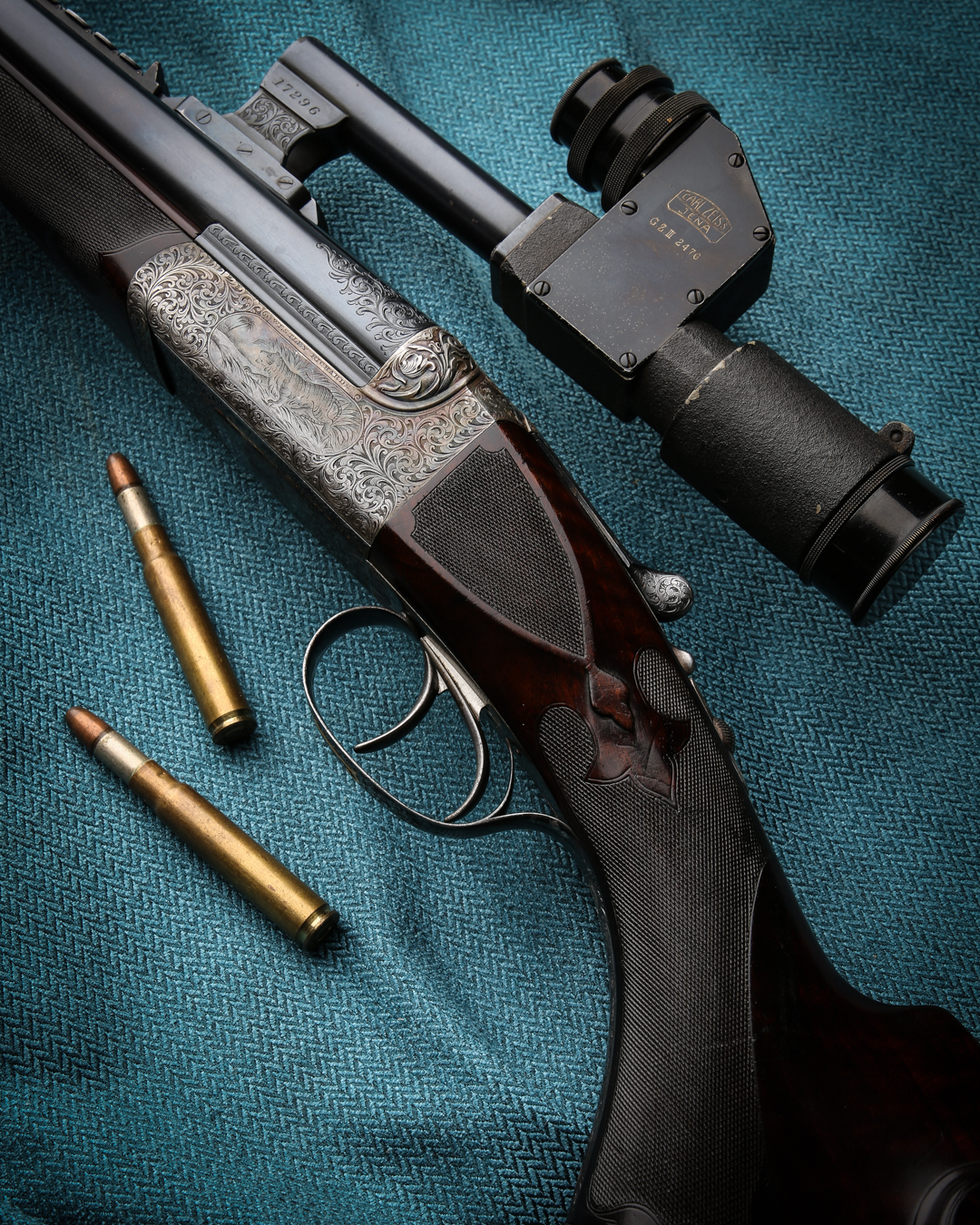 As was standard with all 'Modéle de Luxe' guns and rifles, the stock also has fancy carving with complex  fleur de lis patterns on the pistol grip and forend, checkered side panels and fleur de lis shaped drop points, a traditional cheekpiece and heal and toe plates on the butt.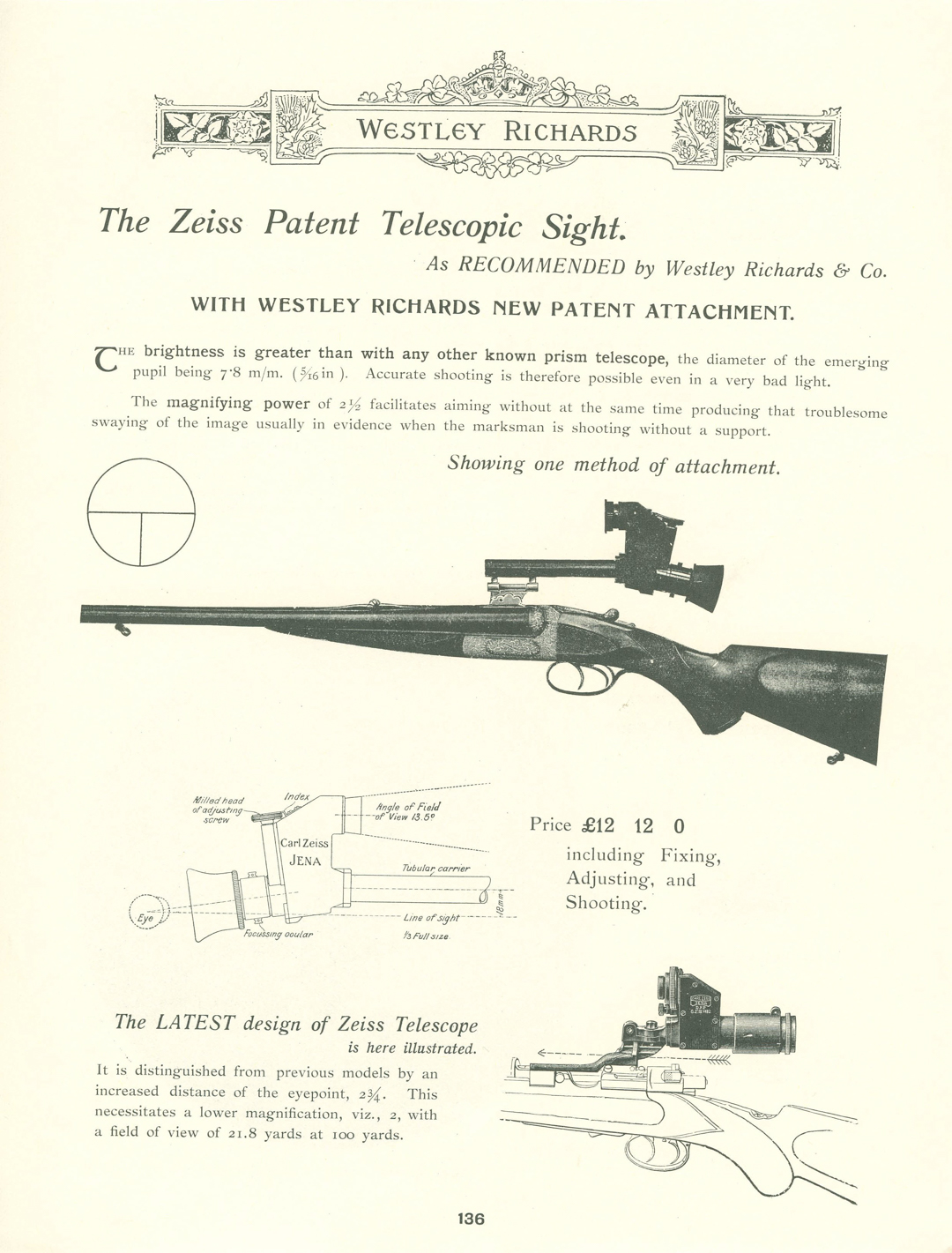 As if the original condition, wonderfully executed engraving and fancy checkering are not enough the rifle also has a very rare factory mounted Carl Zeiss telescopic sight in its original leather case. The scope is mounted with Westley's new patent quick release attachment and the mount is serial numbered to the rifle with matching engraving. A whole page of the same 1912 catalog is devoted to this Zeiss Patent Telescopic Sight as recommended by: Westley Richards & Co.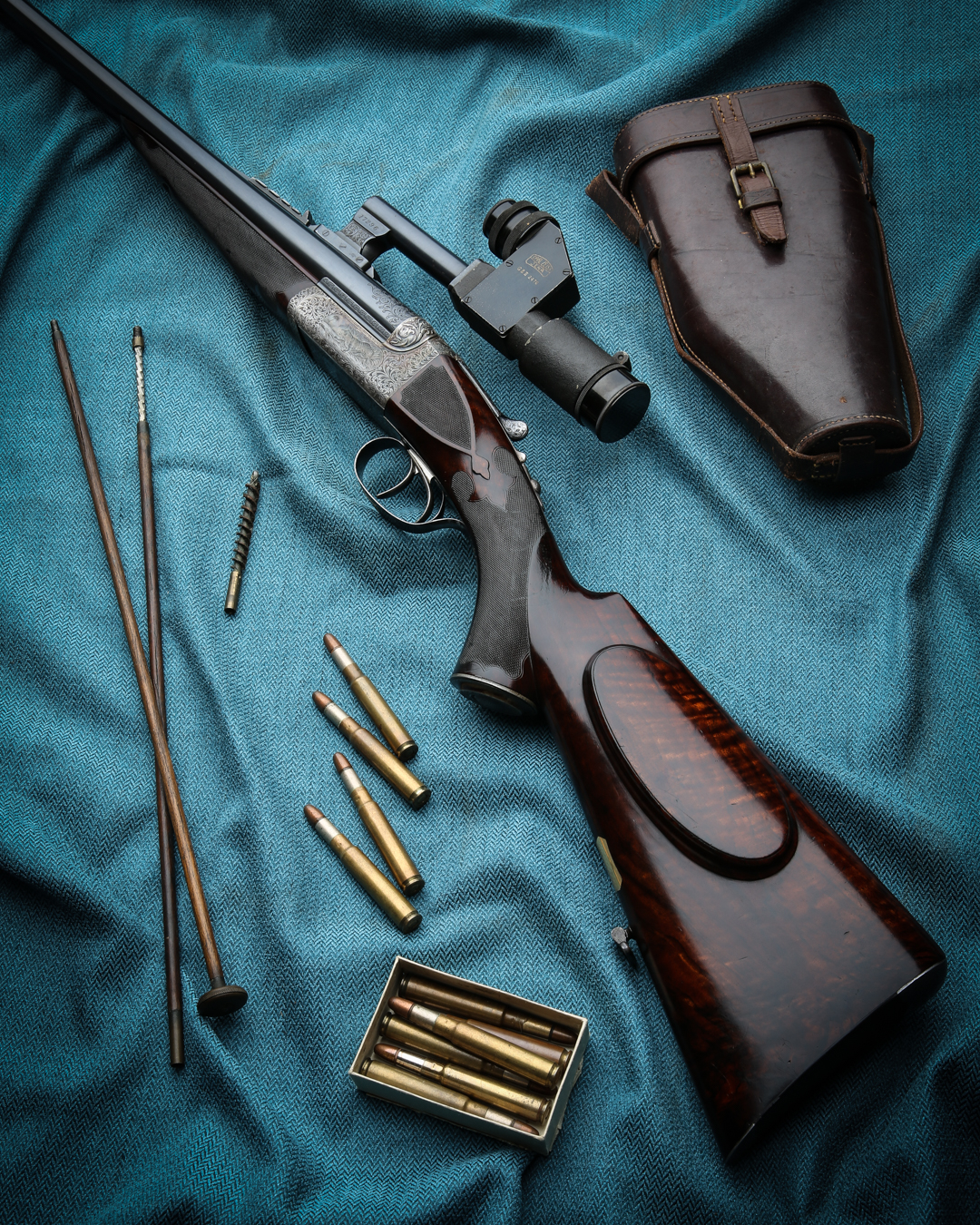 This rifle has it all, a very rare and desirable configuration that remains in high original condition. It also physically represents many of Westley's groundbreaking achievements and is a prime example of how the firm has always been a leader in the trade, both with its technical advancements as well as with its artistic expression.
This rifle, along with several others that were bought and sold through the Westley Richards U.S. Agency in just in the last few months, are featured in the book on the firm's two hundred year history, In Pursuit of the Best Gun 1812-2012, now in its second edition.