Simon's project, first mooted in The Explora in December 2015, is a mountain rifle designed for the rigours of sheep hunting. Early prototype components cost a lot of money to develop and took the project so-far but Simon never saw the culmination of his ideas take proper shape in plastic, steel and aluminium. In his honour, we decided to continue to fruition his vision for a thoroughly modern Westley Richards mountain rifle.
We know there are plenty of modern custom rifles already in circulation but they are generally ugly and over-complicated, compromised aesthetically by the new materials as much as they are enhanced practically by them. Simon's idea was for a rifle of the rugged type, making use of the very best composites and alloys available but adhering to the quality, elegance, traditional beauty and attention to detail for which Westley Richards is renowned. Whatever we made, it had to be recognisable as a Westley Richards and worthy of the name.
Everyone who has seen this rifle (and that select group is small in number) wanted to buy it. Now, before readers get too excited, we need to be clear. You can't have one. This is not a production model. It is the triumphant answer to a challenge.
Every build starts with a plan. Simon's plan was clear. He wrote; 'The specifications seemed pretty simple to me; a special alloy-sheathed lightweight fluted barrel on a new Mauser 98 action all fitted to a synthetic stock, to our normal stock design and shape, in a take-apart format.' The build-purpose opening statement for this rifle was to bag an Altai Argali sheep in the high mountains.
To that end, it needed to be built to cope with the rigours of mountaineering, be light enough to carry at altitude, be impervious to the weather and terrain and sufficiently flat-shooting and fast to engage quarry, with confidence, at long range in poor weather and hard-hitting enough to terminate a large, powerful animal with one shot, two at most.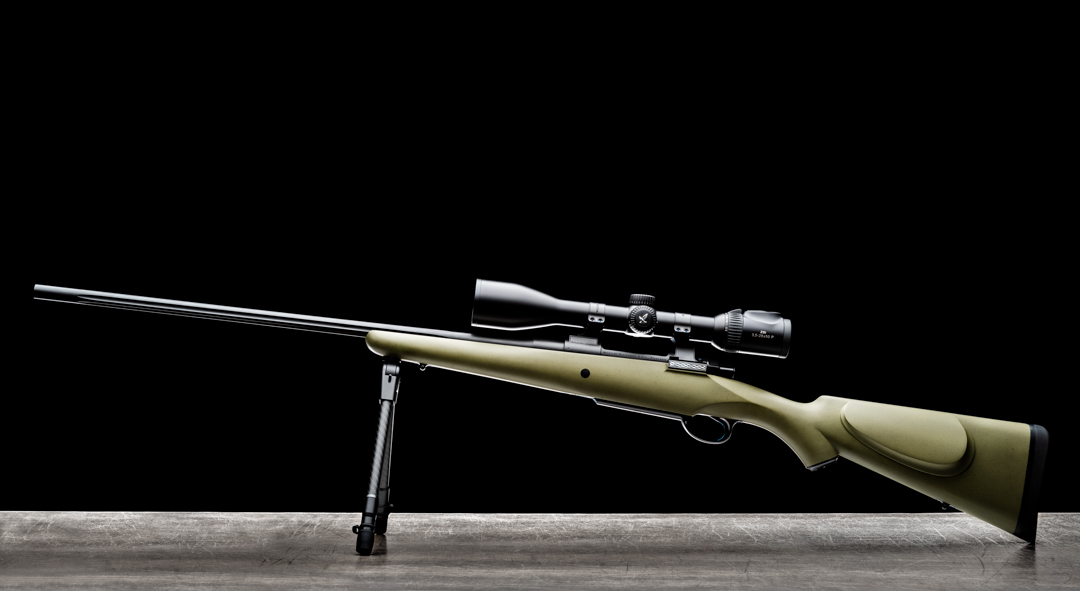 The barrel is of steel-core, cut rifled, with a fluted aluminium shroud, fitted into a new, Mauser '98 double-square-bridge action. The box magazine takes four cartridges plus an additional one direct to chamber and it is chambered in the superlative .300 Winchester Magnum and regulated for 180 grain RWS factory ammunition, capable of producing sub minute of angle groups at 100 yards.
The stock is injection moulded plastic with aluminium pillars, a black Silver's recoil pad and spacer, with sling eyes and an integrated attachment for a Spartan carbon fibre bi-pod. To create the stock shape we had one of our stockers carve one, as if for a bespoke rifle with traditional walnut stock. From this we took a casting and created a mould, enabling the rifle to benefit from all the elegance of a best Westley Richards with regard to stock shape, line and proportion.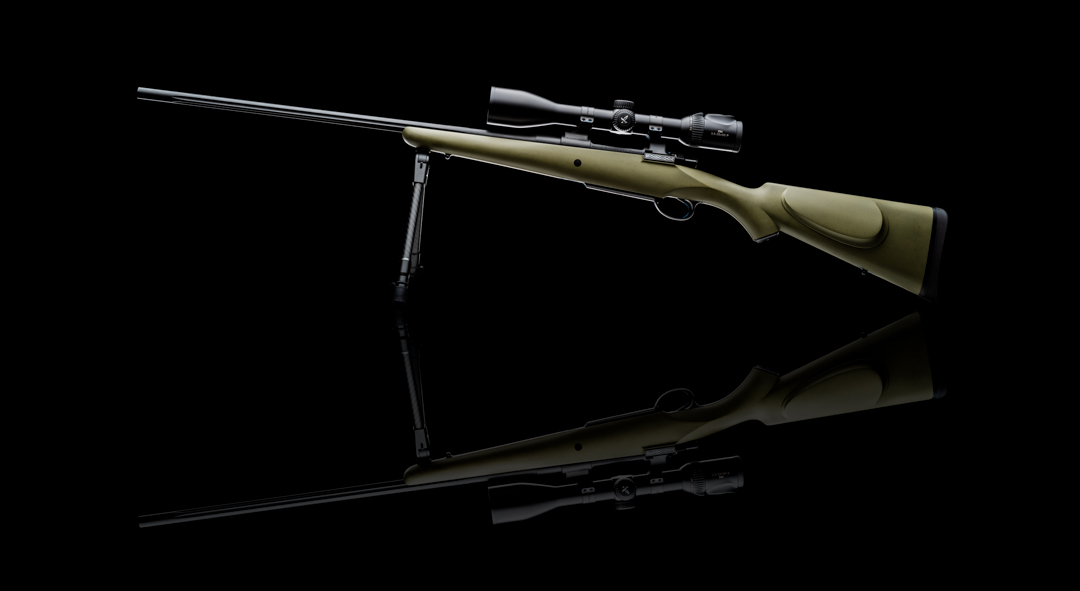 So much of the look and feel of our best rifles lies in their sleek and subtle nuances of line. An elegant rifle must have an elegant stock; cheek-piece and pistol grip. Harmony of proportion and the blending of surfaces comes from a long tradition of hand-carving stocks on traditional rifles.
With practicality uppermost, we fully embraced modern finishes. The barrel is cerakoted (you can't rust-blue aluminium), as are the grip-cap, magazine, bolt-handle, 'scope-mounts, and action. The satin black of the cerakote is lifted with brightly-blued trigger, extractor claw and pins. The bolt itself is polished and jewelled, as is the internal surface of the magazine.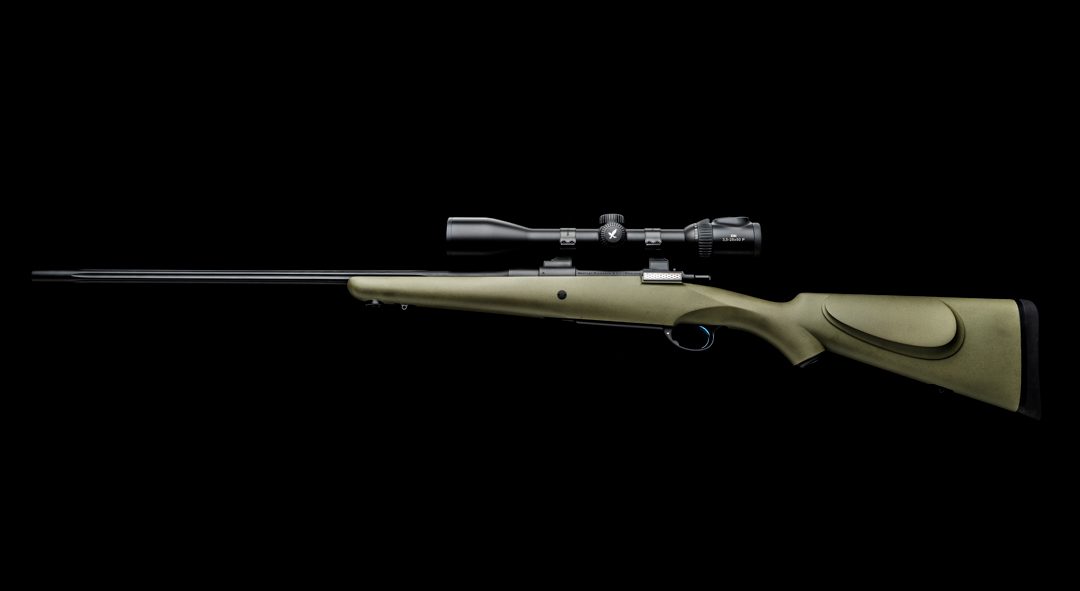 We chose a shade of green for the stock to compliment the cerakote black metalwork (that alone took time to select; there being so many 'black' options) and added a subtle black fleck to the plastic, creating more depth and a slightly matted, grippy, finish, as there is no chequer to hand or fore-part.
Maker's name, rifle calibre and serial number are engraved by hand exactly as on our best rifles. The bolt-handle is hand chequered. The magazine floor-plate carries the 'WR' signature logo.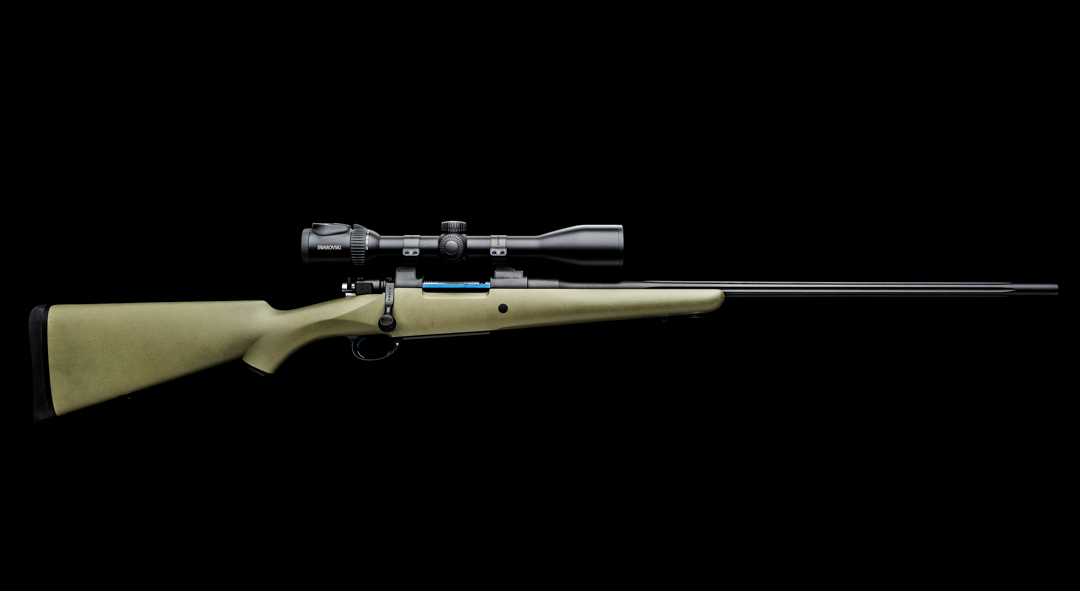 Un-scoped the rifle weighs a pleasant 7lb 4ozs.
Looking down the rifle from the comb, the bolt-end is beautifully blued in the centre and engraved, with a stippled background, the name 'Westley Richards'. These meticulous and detailed highlights imbue the rifle with a level of quality not seen on anything comparable.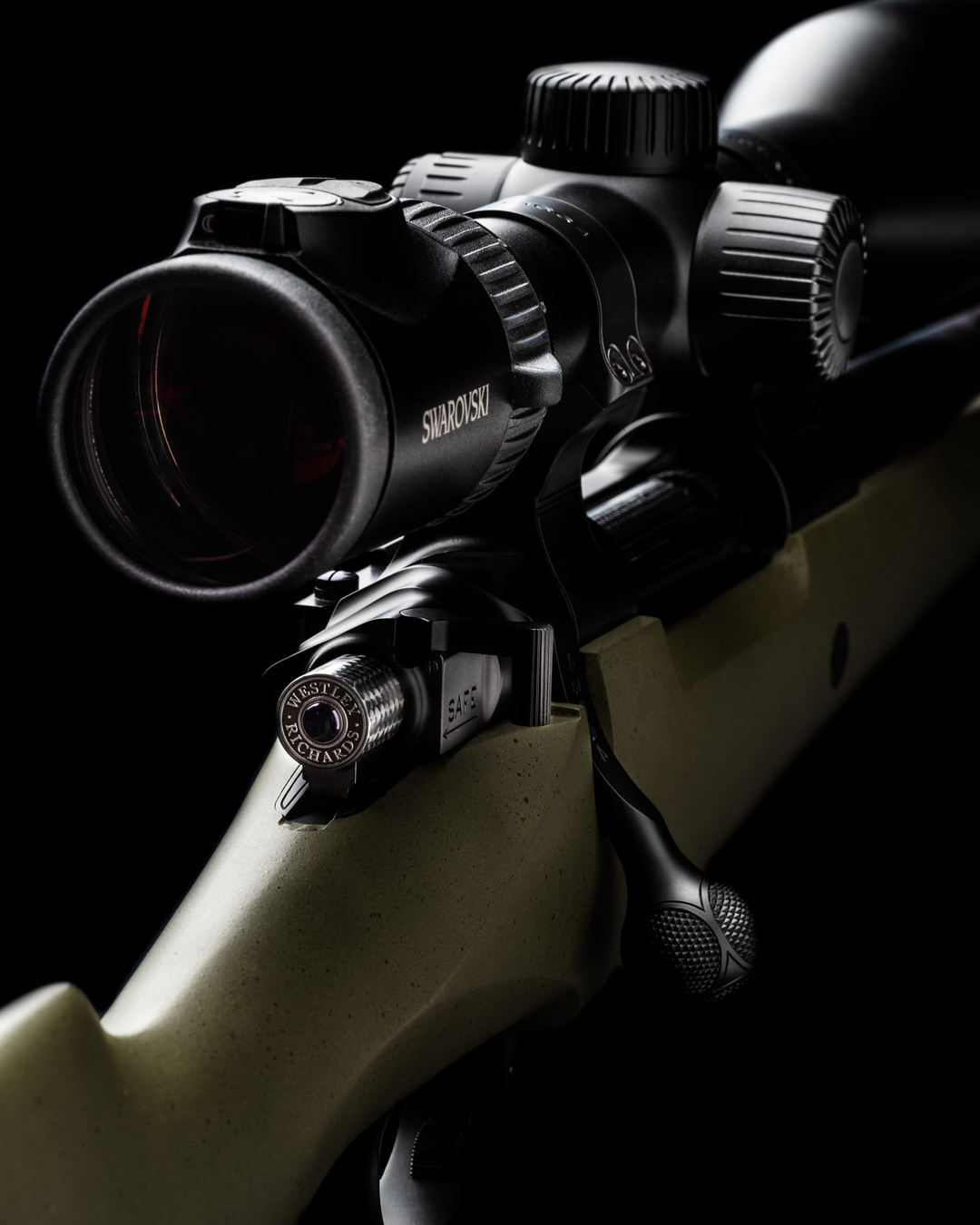 The prototype rifle was fitted with Swarovski's Z8I 3.5- 28 X 50 P with a BRX reticle.
For ease of dis-assembly, the major pins are hexagon-headed rather than screw-slotted.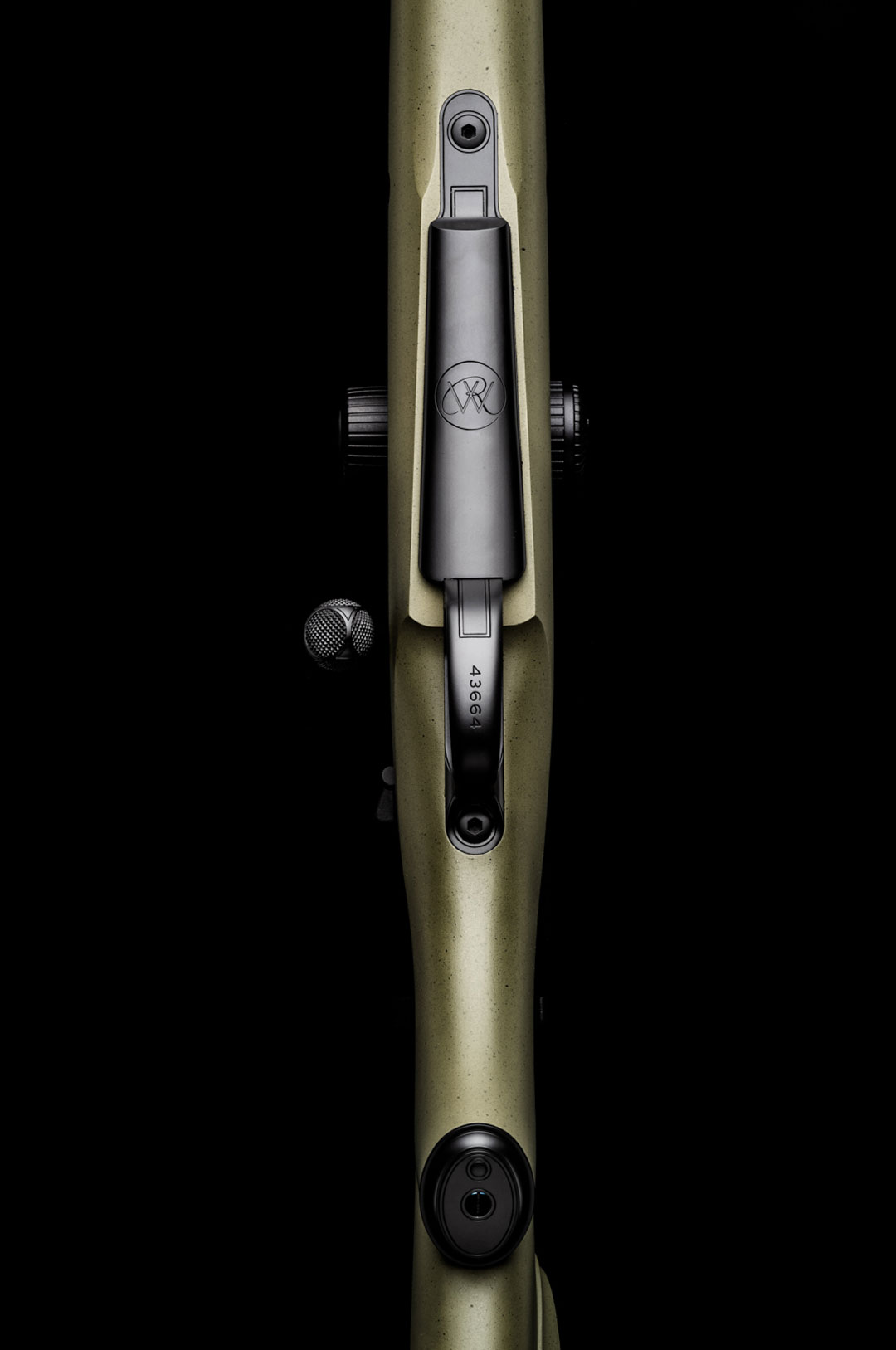 In-keeping with the practical nature of the rifle, it is fitted into a foam-lined airline case, with space for bolt, strap, ammunition and bi-pod. The strap itself is rubber; another practical measure, as when moving a rifle while constrained by an awkward perch on the side of a rock, or voluminous clothing, a degree of flexibility in the sling helps avoid snags and tangles.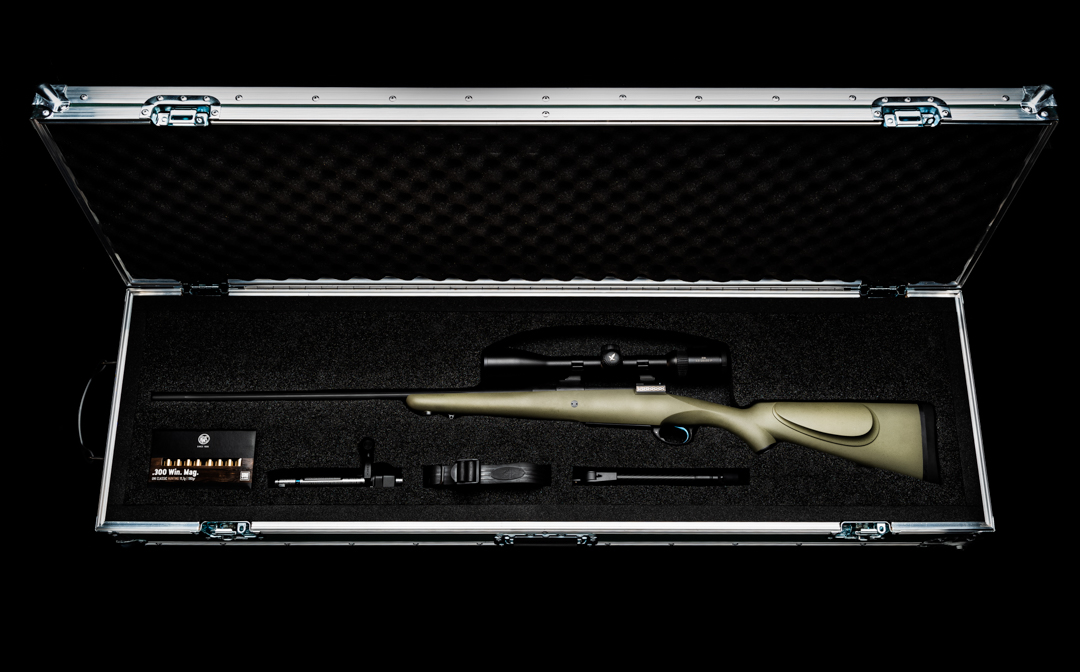 The challenge at the start of the project was to make a modern rifle on the same plan we have always built our products 'in pursuit of the best gun'. Our mountain rifle for the twenty-first century had to be effective, tough and weather-proof but it also had to be a Westley Richards. Plastic, aluminium and cerakote it may be, but does it not look rather stunning? The classic proportions tell their own story.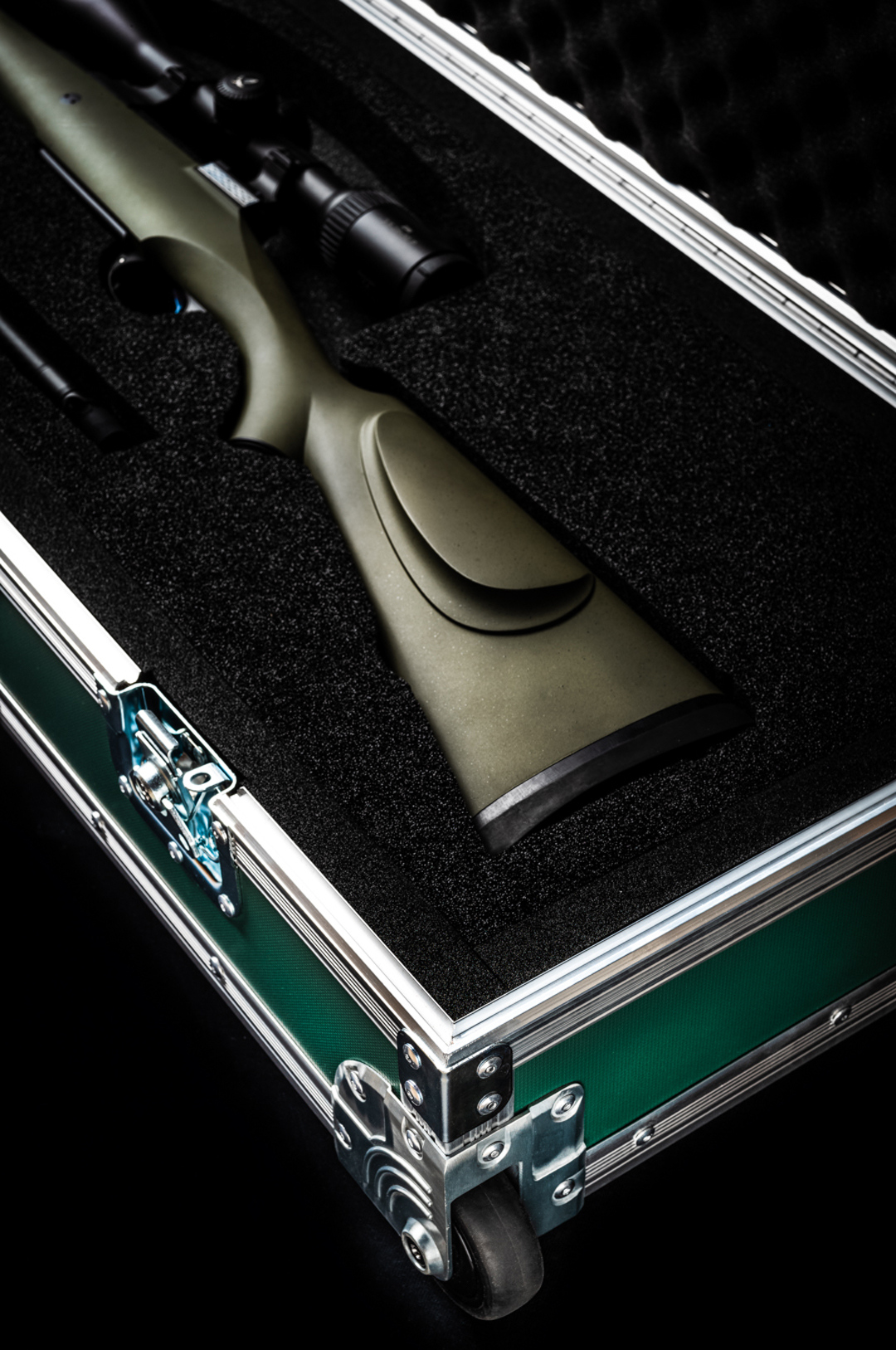 In the hand it feels quality. It feels poised and proportioned. No overly thick barrel profile, no imbalance, no compromise with shapes and finishes, every part is fitted and finished to the standard we demand, so not only will it perform, it will delight. Not only will it serve as a tool, it will deserve its place in the rack, next to its walnut and polished steel brethren.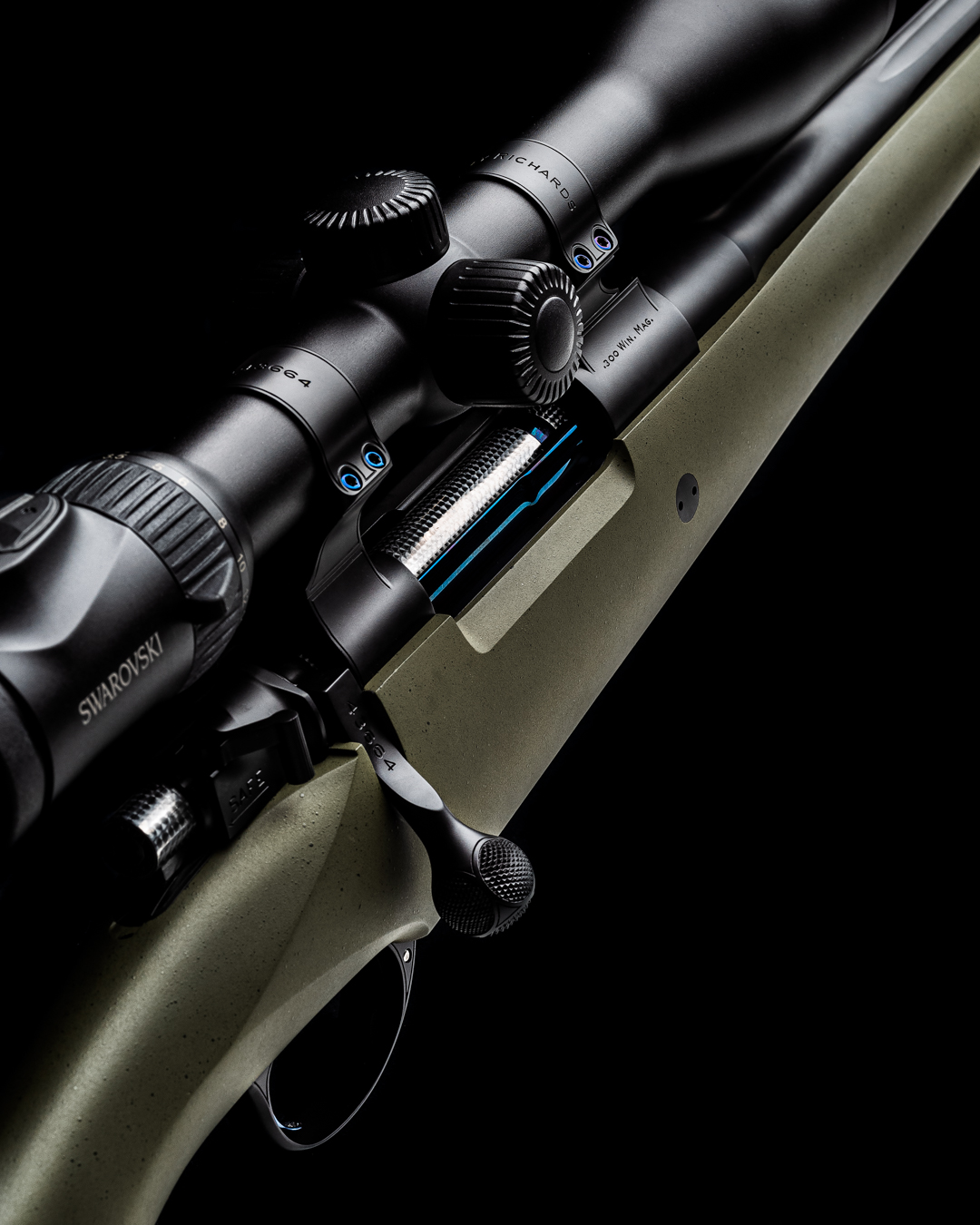 We forgot to mention earlier that in Simon's original musings on the project rifle, back in 2015, he thought it should be; 'a rifle I can leave at the top of the mountain if needed'. If anyone leaves this up a mountain, we guarantee there will be no shortage of volunteers for a 'finders-keepers' rescue party!
It is with a large measure of satisfaction from all involved that Simon's last project can now emerge into the light as what we think is the best rifle of its type yet built. Simon was known for his indomitable approach to life and to rifle-building. Why would he want Westley Richards, a best, traditional rifle builder, to try and create the ultimate all weather rifle?
Because we can.