Anyone who is anyone who has ever wanted to hunt in Africa or has hunted in Africa should certainly have heard of Professional Hunter, Danny McCallum. Now that might sound like a dramatic introduction, but truth be told Danny is one of the legends of African hunting having been a fully licensed PH there for 53 years.
Born in Arusha, Tanzania in August 1947, Danny is from a family of Professional Hunters (his father and grandfathers were all PH's) and after qualifying with his full 'Unrestricted' licence in 1967 has led a successful career as one of Africa's most sought after PH's. Danny is one of those PH's who has been lucky enough to hunt in Kenya, Tanzania, Zaire, the Sudan, the CAR, Zambia, Namibia, Botswana and more recently Uganda. His experiences are almost unparalleled today, especially where Africa's dangerous game is concerned.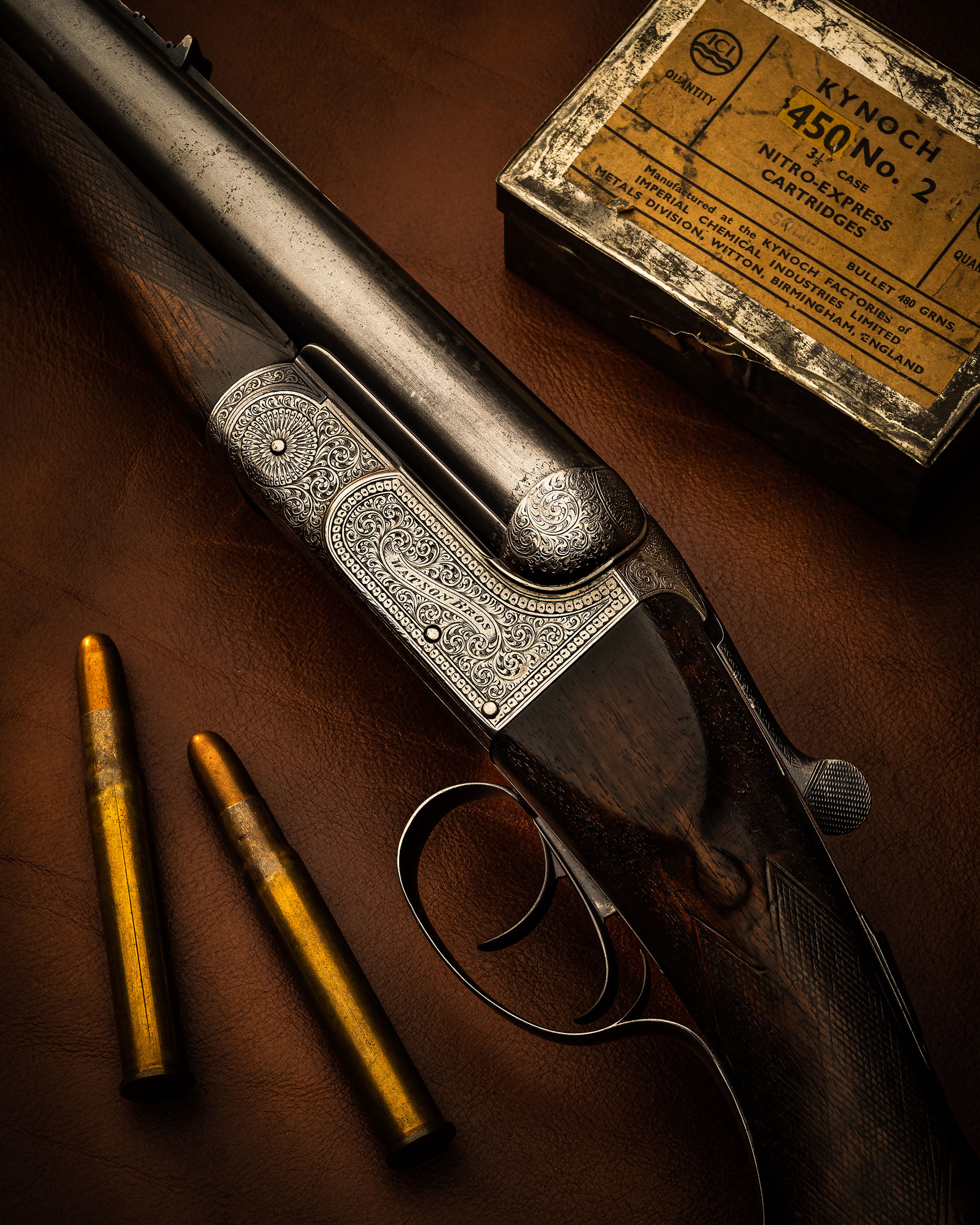 The Watson Bros. .450 No.2 double rifle is a wonderful old rifle with a patina that can only come with years of service in the bush. Thankfully the rifle is being left just as is, so conserving years of safari and adventure.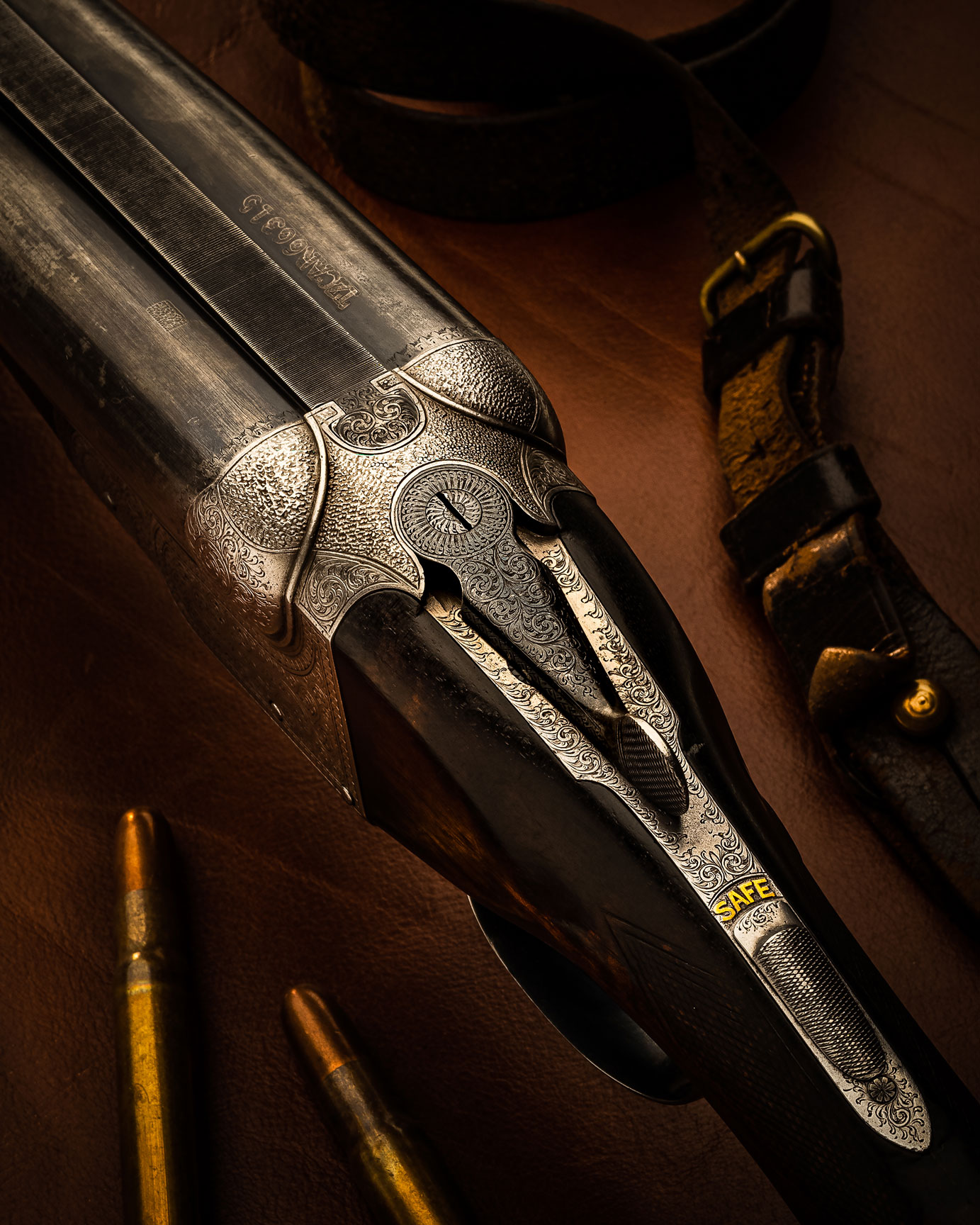 Interestingly the shoulders of the rifle have a matted 'anti-glare' finish which is not commonly found on double rifles. This is very much a 'professional's' rifle.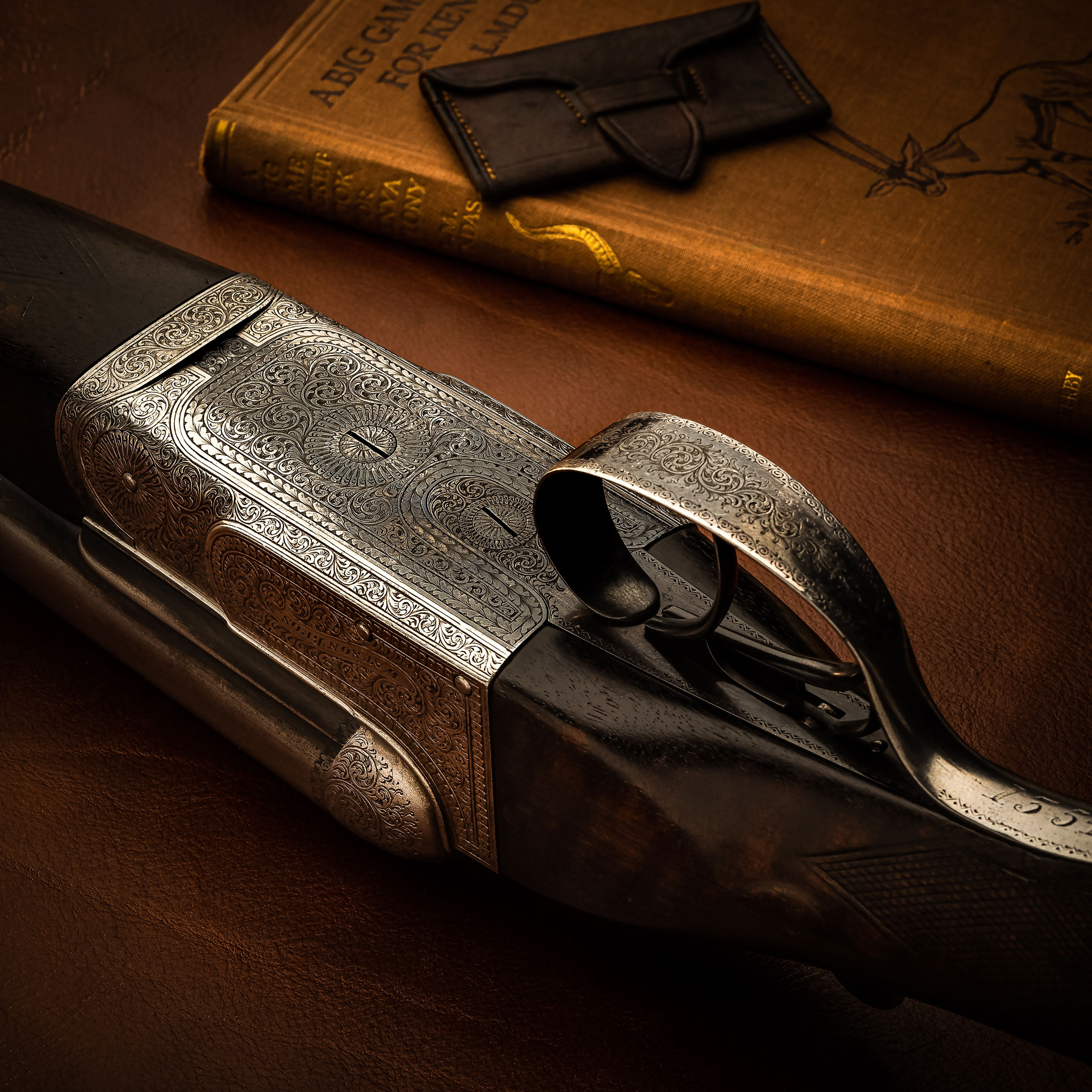 The traditional engraving pattern is wonderfully executed with a neat border around the action cover plate.
Recently Danny's favourite double rifle returned to us for a health check and service so we took the opportunity to take a few photos before it heads back to East Africa. It should be noted that Danny is one of the few PH's to remain unscathed through a long, eventful and at times dangerous career.
In Danny's own words:
"My .450 No2 Watson Bros ( apologies that it was not a Westley, but not my fault) was owned by my Father Owen McCallum which he acquired just after the 2nd war in 1946. Where he got it is unknown to me. It was known amongst the hunting fraternity in those days as the "drainpipe". When my Father died in 1964 all his possessions were sold in order to pay towards school fees and debts. Tony France a White Hunter bought my Fathers drainpipe. I was 15 years old at the time, and Tony said to me, that if I was intending to follow my Fathers and Grandfathers careers, that I could have the drainpipe once I got my unrestricted hunters license. I left school at the age of 16 and came back to do my apprenticeship with Glen Cottar in 1965. I finally qualified and was issued an unrestricted hunting license in 1967. I immediately contacted Tony France and he told me that if I bought a .458 Brno for him, I could have the drainpipe. I managed to borrow 60 pounds (as I was only earning 5 pounds a month) and pay for a new .458 Brno bolt action rifle which I delivered to Tony and he gave me the old drainpipe and you can imagine how proud I was to be able to own my Dad's old rifle. The old drainpipe has looked after me these past 53 or so years. I am not the best shot in the profession by any means, but she managed to keep me out of trouble. We have had quite a few incidences together and fairly close encounters with rhino, elephant, lion, leopard and especially buffalo but she managed to point in the right direction and deal with the problem. One particular case was about three years ago when we (trackers and myself) had been following a wounded buffalo the afternoon before until dark. Went back the next morning and picked up his track again. Followed him until midday when he went down into an overgrown gully covered in incredibly thick green foliage. Lerotet was beside me on my left and Eli the other tracker was beside him. We could not see more than 4 feet in front of us. Any how the buff heard us and gave one snort and came. I did not see him until his head broke cover in front of us and I fired. He dropped right there by our feet and so I gave him the second barrel just to make sure that he would stay down. The front of my shirt was covered in blood spatter from the beast. My trackers were still in place and had not moved. The old drainpipe lived up to her reputation. Enough of that BS for now, until we meet around the camp fire up in Northern Kenya."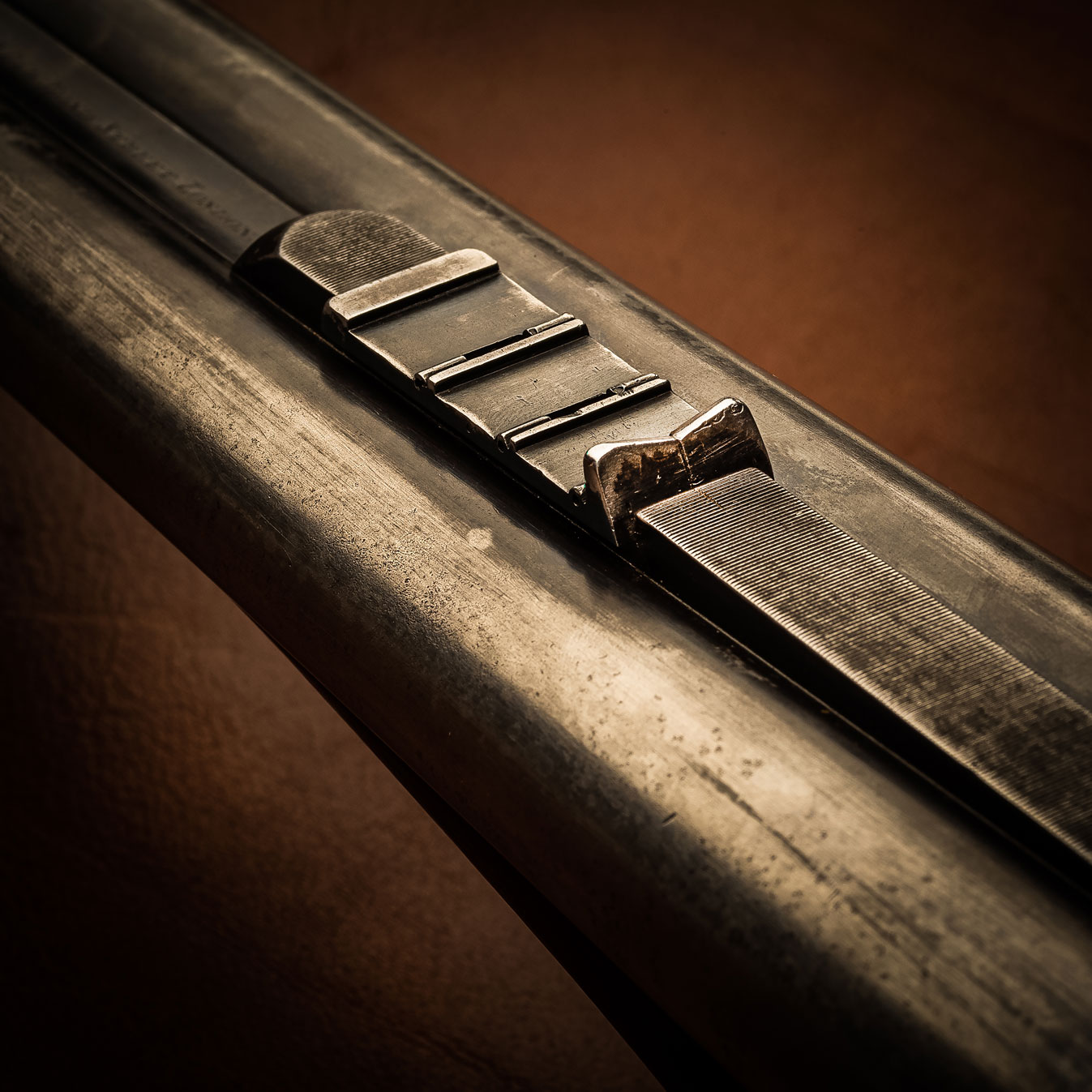 The express sights on Danny's rifle say it all. No point in having extra leafs when the likelihood is you will be shooting something at point blank range!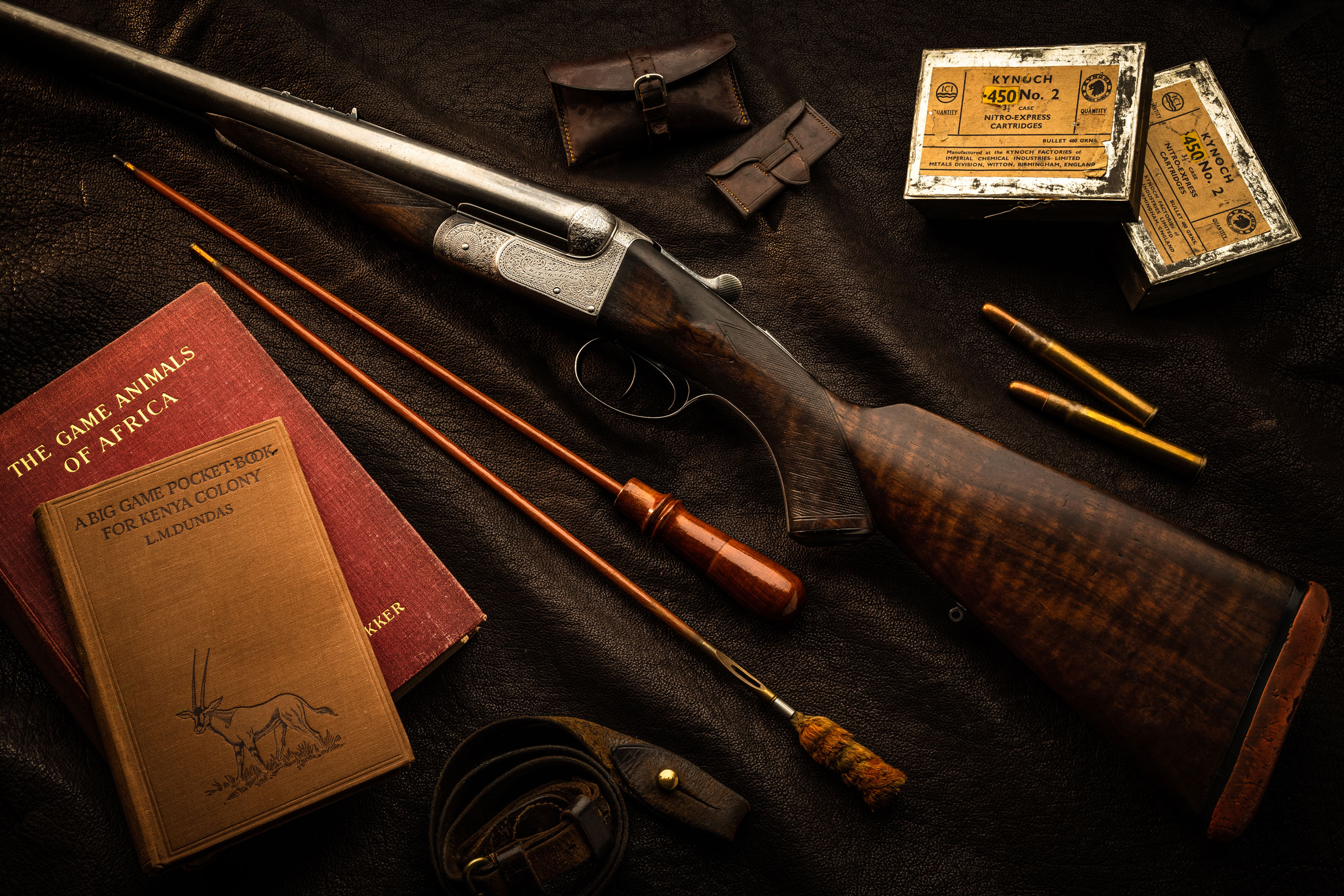 The Watson rifle weighs in at a hefty 12lb 6ozs which would make it comfortable and steady to shoot. There is barely a trace of original blacking on the barrels or action furniture, with all the case colour hardening long since worn from the action. While the rifle appears well used it has never been abused. The bores are still superb and it shoots perfectly.