The .470 NE has been delivering those figures since 1907 and it remains hugely popular today. It was born out of necessity, when the popular, straight cased .450 NE was banned in Sudan and India. A slightly up-scaled, bottle-necked version of the  .450 NE, the new cartridge, introduced by Lang, was quickly adopted by Rigby and then most other makers.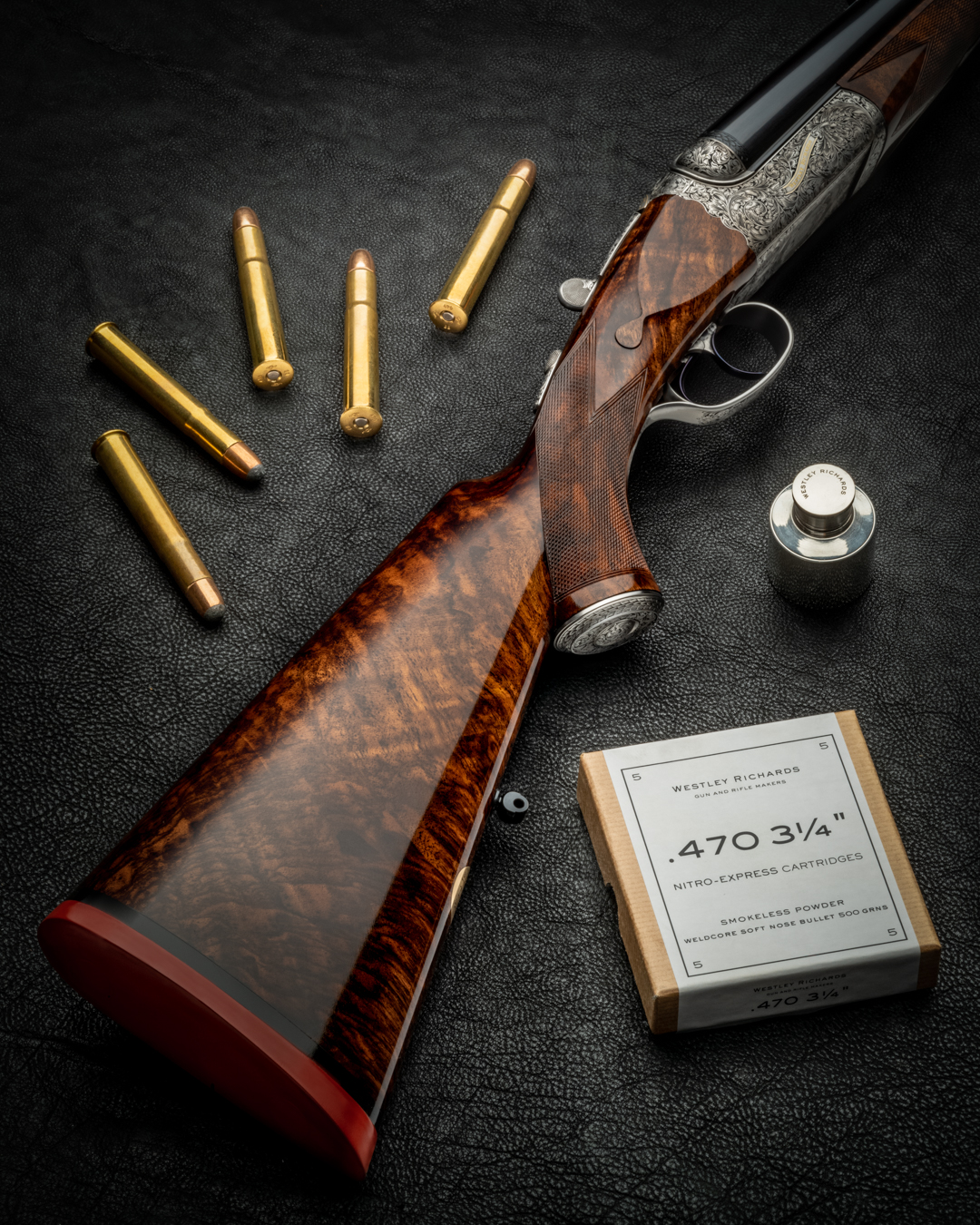 Intended for close-range big game hunting in wooded areas primarily, these big double rifles are rarely used at ranges beyond a hundred yards. Most shots are probably taken at under fifty. The .470 NE bullet, when zeroed at fifty yards, which we can do here at Pritchett Street in our own underground rifle range, will strike just one inch low at one hundred yards.
For body shots at buffalo and elephant, that margin for error allows for an almost shotgun-like point and shoot technique. The kind of technique that can save your life.
Always innovators, Westley Richards was building a plethora of similar rifles for big game in 1912 and the catalogue of that year depicts the old favourite .450 NE as well as the Westley Richards .476.NE.  The .476 NE fired a 520 grain bullet at 2,100 fps with a muzzle energy of 5,086 ft/lbs.
We claimed at the time that 'The .476 bore rifle was specially designed as an effective substitute for the powerful .450 bore.' and maintained that the .470 NE and .465 NE, though made by the firm to order, were 'inferior to the .476 bore'.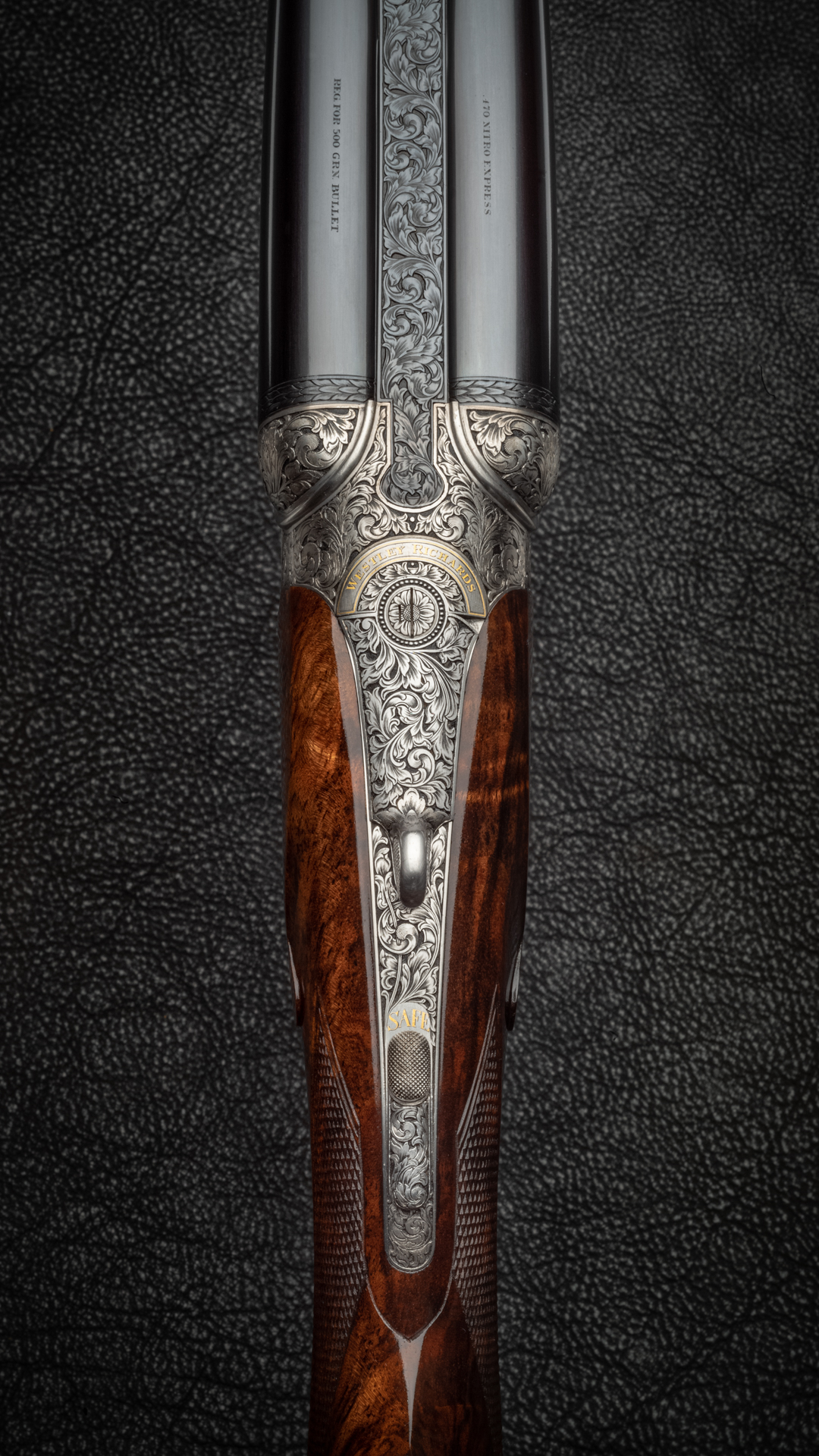 Time is a great teacher and the performance of the  .470 double rifle, which we first built and regulated for cartridges loaded with 75 grains of Cordite and a 480 grain bullet at 2,150 fps, delivering muzzle energy of 4,817 ft/lbs proved to be both effective and popular.
Interestingly, the .450 rifles we built in 1912 weighed 11 lbs, 4oz, while the more powerful .476 NE weighed in at 10 lbs, 15 oz, as did the .470 NE. Today, we aim for a weight of 10 1/2 lbs when building a rifle of this type.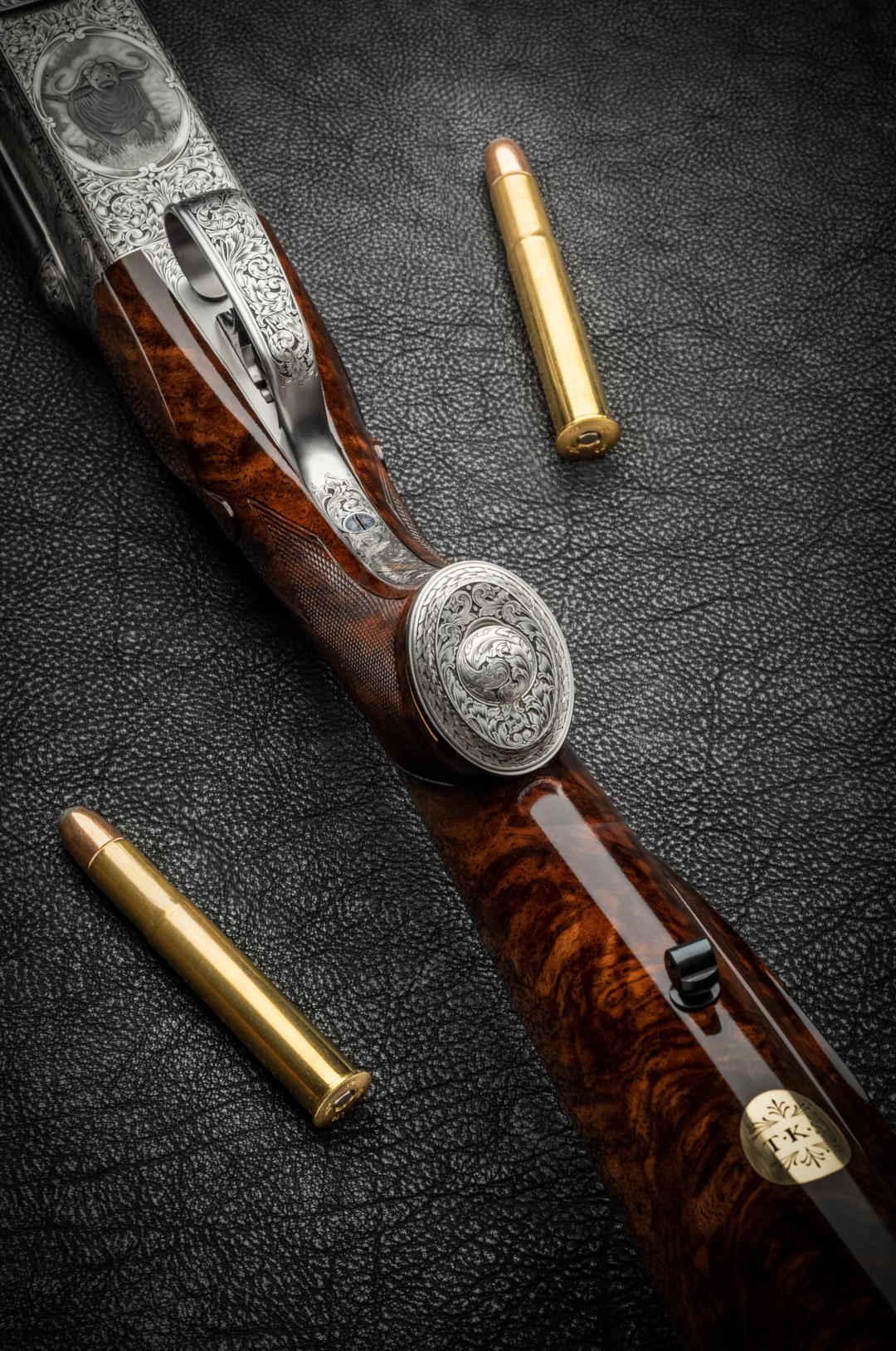 The .470s we build now are for the more powerful, 500 grain, loads, travelling at up to 2,100 fps and delivering 5,000 ft/lbs of muzzle energy. Westley Richards own-brand ammunition is recommended for certainty of quality and regulation.
As a cartridge born in the very early twentieth century, the .470 NE has proven its worth over the last one hundred and fourteen years and is certainly the most popular and most frequently-built rimmed big game cartridge platform in the world today.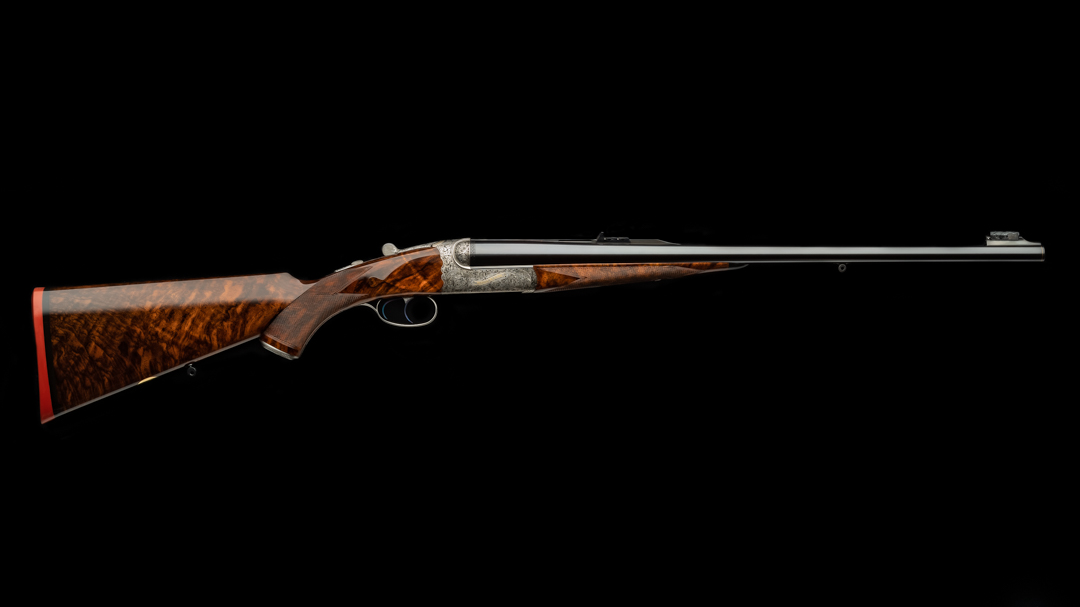 This rifle, finished in June 2022, with our own patent hand-detachable locks, is a 'Modele de Luxe' with beautifully executed large scroll engraving, which appears to flow like liquid, giving the rifle a virtual life of its own in changing light. The bright finish and inked background lifted delicately by gold inlay to the 'Westley Richards' banner on the sides and around the top-lever.
The gently angled pistol-grip stock is of an unusually densely figured walnut, which is both subtle and intense, appearing to glow with inner fire, while not being overly ostentatious.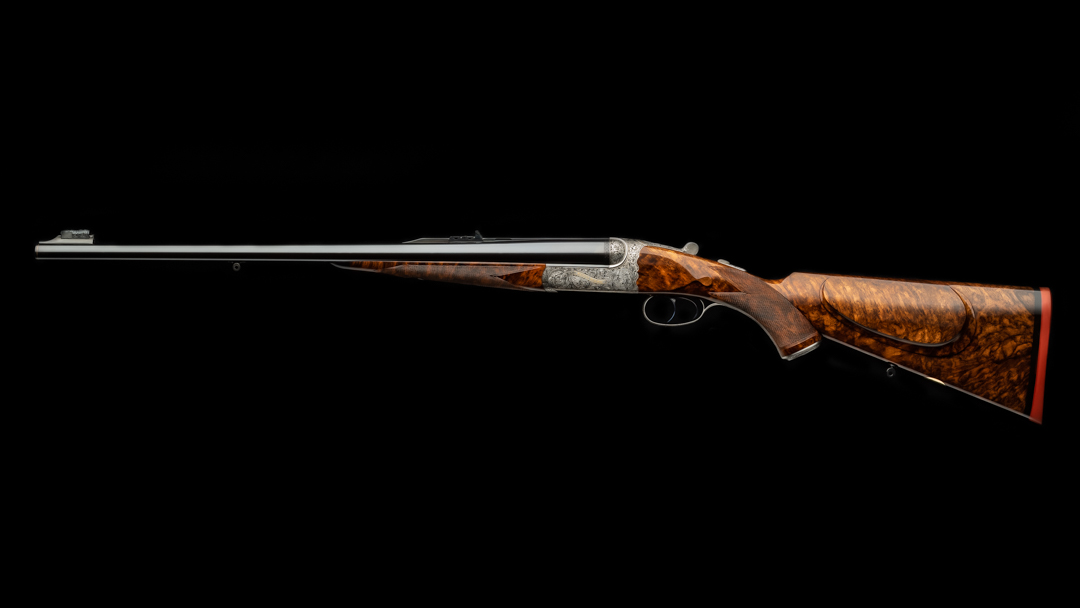 With open sights and Silver's rubber but pad, it is built for easy, quick mounting and snap shooting if required. Fast target acquisition is an important factor and a properly fitting, instinctive shooting rifle imparts great confidence.
With its perfectly proportioned cheek piece and seamlessly blended forend wood profile, it is also supremely elegant.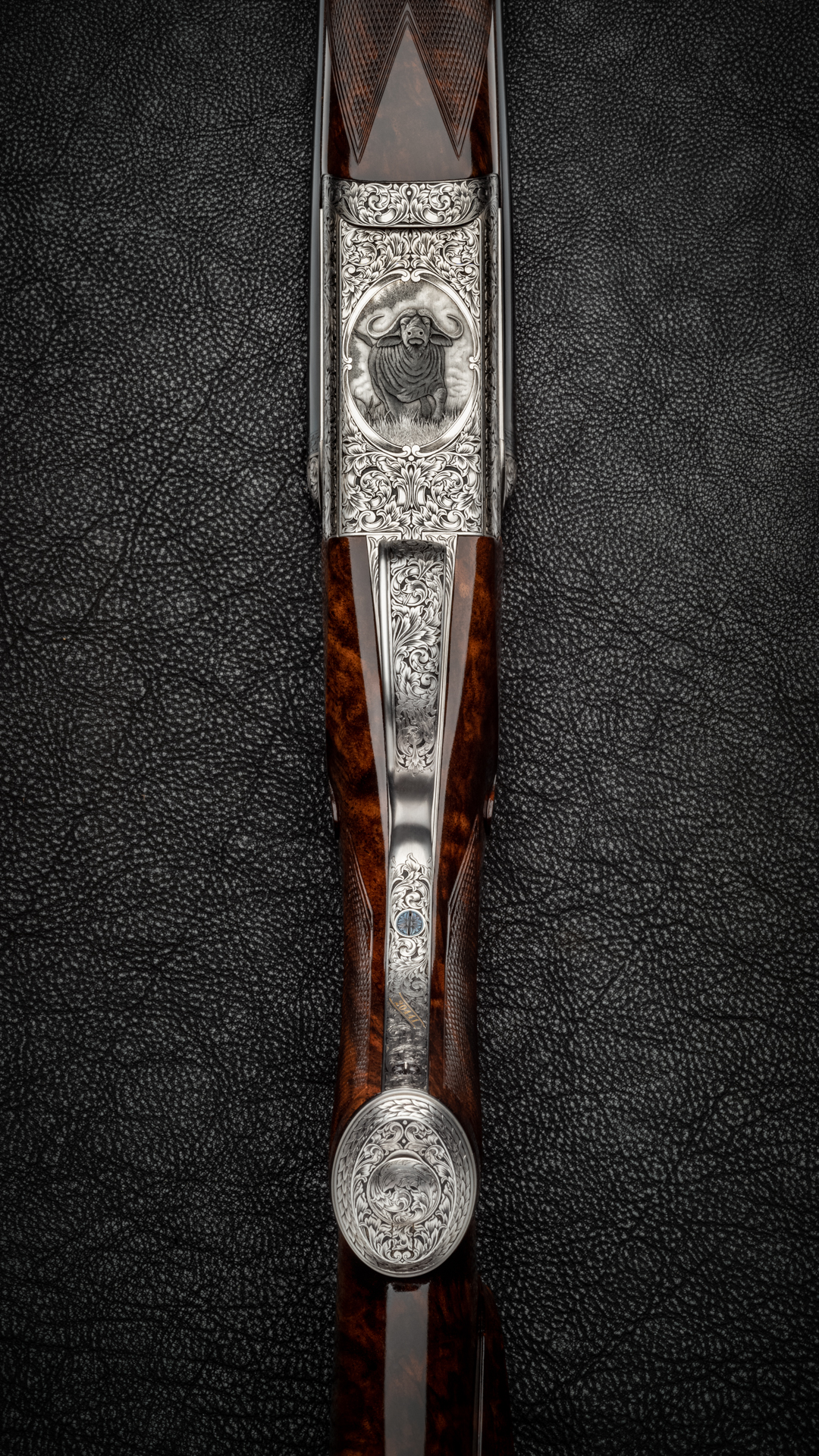 The central depiction in the engraving is the Cape buffalo featured on the underside of the bar. This old boy is carved in semi-relief, imparting an imposing and life-like character to his bulk and a menace to his fixed stare as he prepares his last charge.
It is exactly for images like this that the .470 NE exists. A Cape buffalo charging from fifty yards distant will reach you in three seconds. If you spot the charge at twenty yards, you have one second. Moments like this justify the time, investment and detail that go into making a Westley Richards double rifle as perfect in function as it is in form.