Caliber choice and model specification for a hunting rifle destined for Africa has taken a decidedly different course in the last ten years, according to the order books at Westley Richards, Britain's most prolific builder of premium-quality hunting rifles.
The 1960s and the decades that followed saw many rifles begin to adopt new ideas, new shapes and new materials in a drive to modernize, much as cars and watches then developed with the prevailing fashions and technologies.
Alongside these material and aesthetic changes, new cartridges became increasingly popular, with many wildcat developments becoming standardized and adopted by ammunition manufacturers for commercial distribution.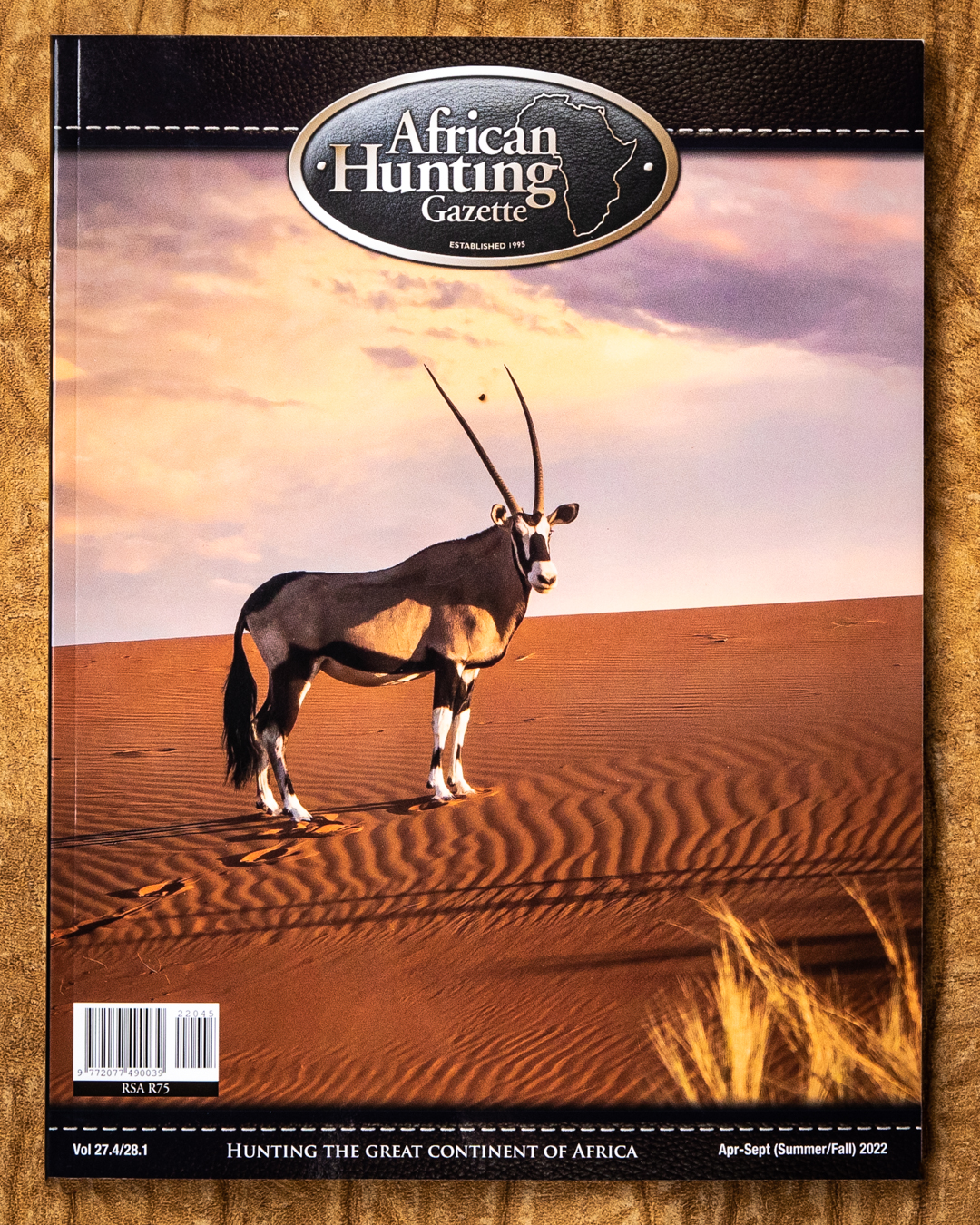 In tandem, rifle makers adopted these rounds and many older calibers and chamberings became essentially obsolete, or at least unfashionable. For some venerable old cartridges, like the .450 NE, the supply of ammunition dried up, and manufacturers dropped them from their listings.
 Recent years have seen a swing back towards more traditional solutions to the challenges faced by African hunters. Westley Richards customers are increasingly likely to ask for a traditionally constructed rifle in a caliber and chambering that their great-grandfathers would have recognized.
Examining recent output, one might be forgiven for thinking that clients were ordering from the Westley Richards catalogue of 1913, rather than that of the twenty-first century. Perhaps the timeless evocation of the romance of African safari is speaking to them and nudging them towards an aesthetic of that pre-war period.
 This nostalgia for a golden age of mechanical honesty and simplicity has infected not only rifle-building, but watches and motorcycles. Vintage-inspired models now on the sales lists are out-selling many futuristic rivals. Technology only gets you so far. Once perfection and balance has been reached, it can be argued that there is little more to be achieved. A winning formula is just that.
Orders for British rifles are once again being taken, and classic British calibers and chamberings are invariably part of the specification. The most popular double rifles are built on the 1897, Taylor patent, 'drop-lock' system. They look just like their forebears of the early twentieth century, with beautiful walnut stocks, leaf sights, two triggers and set up like a shotgun, to be mounted and fired instinctively when engaging big animals at relatively close ranges. 
The most popular calibers are .577, .500 and .470. Every one of these was developed before the First World War.
Bolt-action rifles have, probably more so, gone through numerous processes of modernization since the Second World War. However, like their bigger counterparts, the double rifles, we are experiencing a resurgence of interest in vintage-inspired new-builds.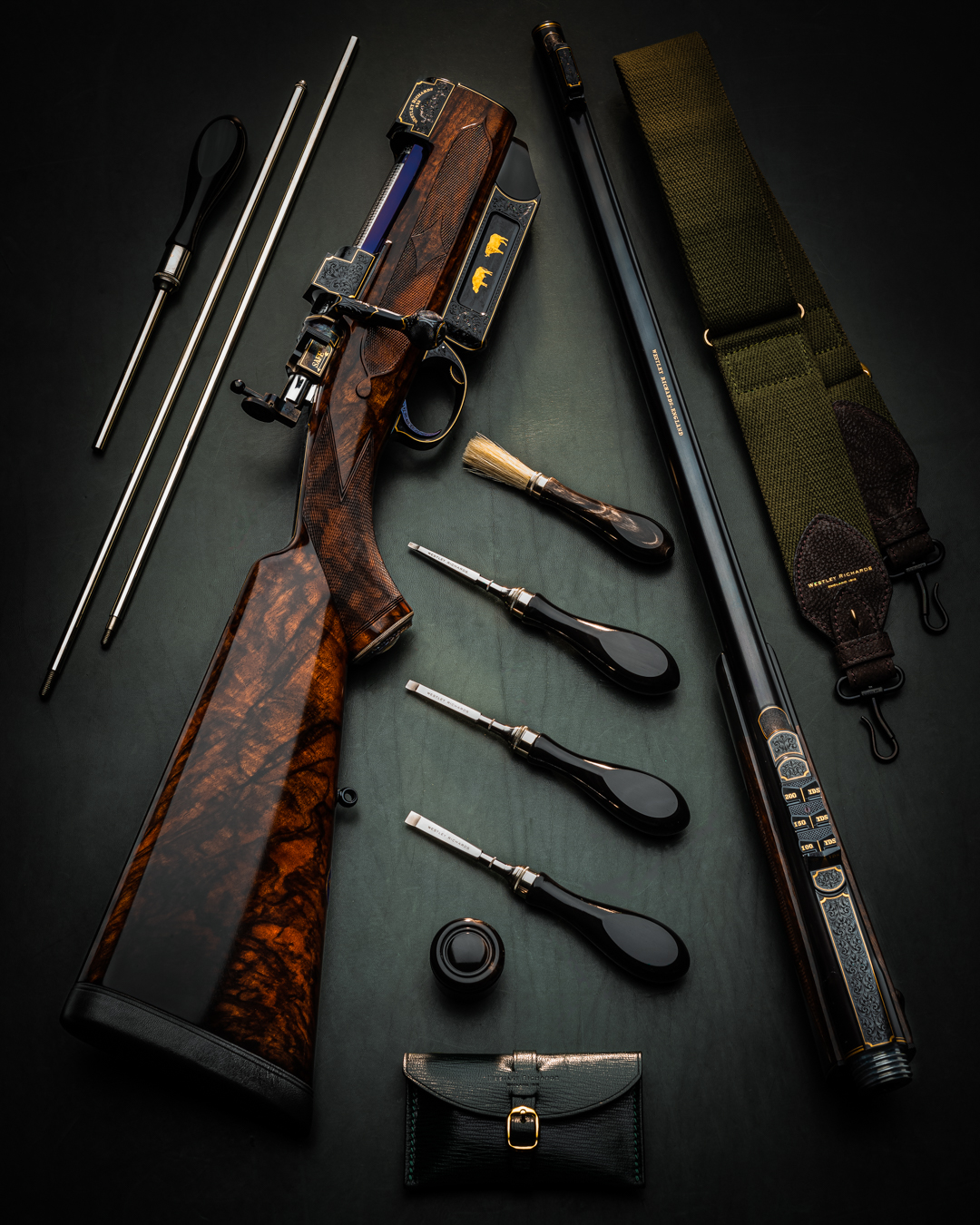 The 'Model de Luxe' magazine rifle in .425 Westley Richards is a case in point. It looks unlike any rifle built by any other maker today, with its elegant flat side panels. The Mauser action has been replaced by newer iterations of the bolt-rifle elsewhere, but at Westley Richards it remains the platform of choice in 2021, just as it was in 1921. The .425 Westley Richards faded from favor. Like many once-popular cartridges it is now once more featuring in the order books.
For smaller game, the 7x57 is again popular, its accuracy, better-than-expected killing power and mild recoil proving as advantageous today as they were a century ago. The quarry hasn't changed and the hunter hasn't changed. These old recipes that got it right a long time ago do not degrade with the passage of time.
For examples of the current trend of vintage-inspired new-builds from Westley Richards, we can look at two rifles delivered this year. No. 20446 is a best-quality double rifle in .470 NE.
 The .470 is an old cartridge, released around 1907 (by Joseph Lang) in response to the British banning civilian use of the hugely popular .450 NE in Sudan and India, for reasons of internal security. The .470 is almost identical in performance and proved a very good dangerous game stopper.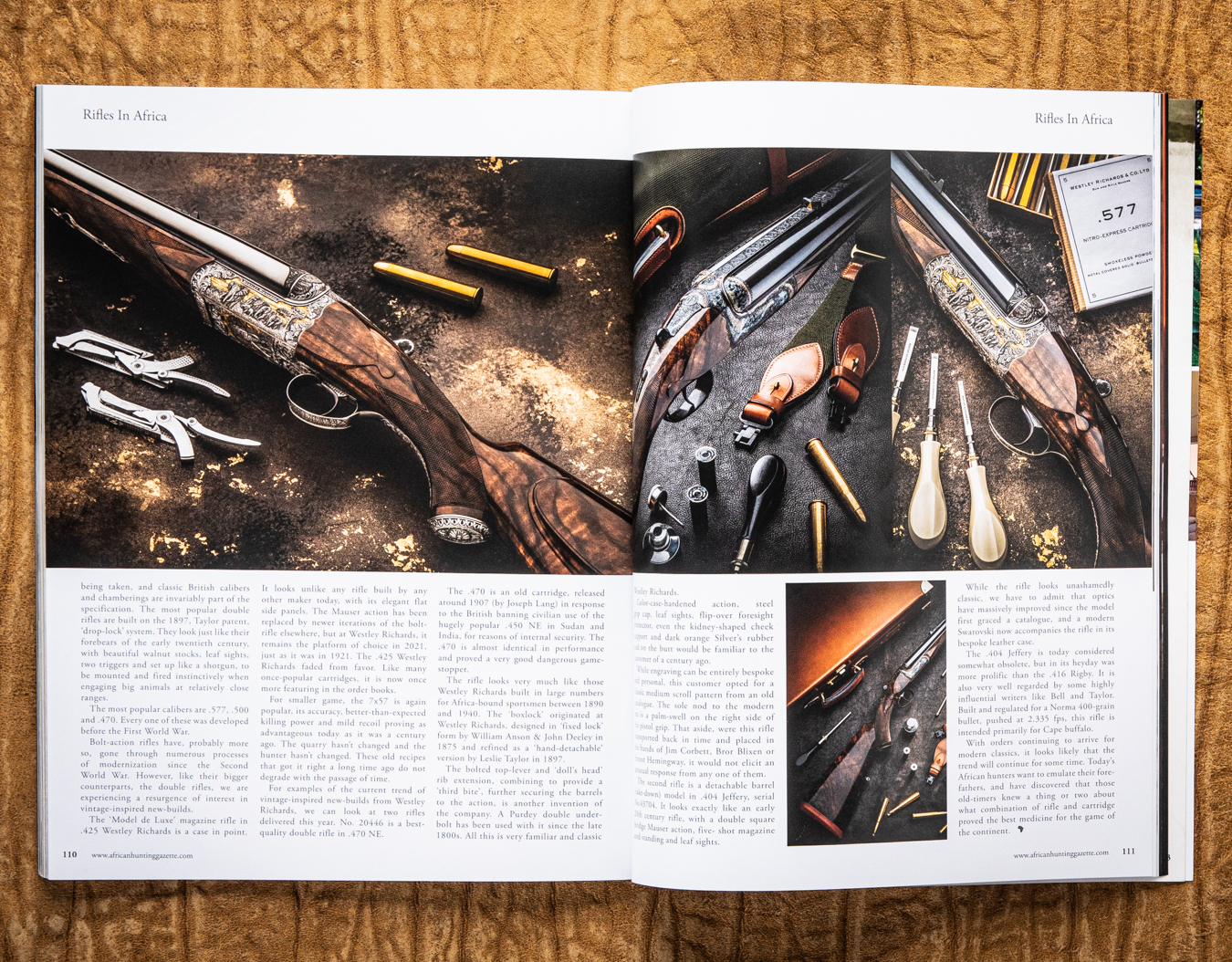 The rifle looks very much like those Westley Richards built in large numbers for Africa-bound sportsmen between 1890 and 1940. The 'boxlock' originated at Westley Richards, designed in 'fixed lock' form by William Anson & John Deeley in 1875 and refined as a 'hand-detachable' version by Leslie Taylor in 1897.
The bolted top-lever and 'doll's head' rib extension, combining to provide a 'third bite', further securing the barrels to the action, is another invention of the company. A Purdey double under-bolt has been used with it since the late 1800s. All this is very familiar and classic Westley Richards.
Color-case-hardened action, steel grip cap, leaf sights, flip-over foresight protector, even the kidney-shaped cheek support and dark orange Silver's rubber pad on the butt would be familiar to the customer of a century ago.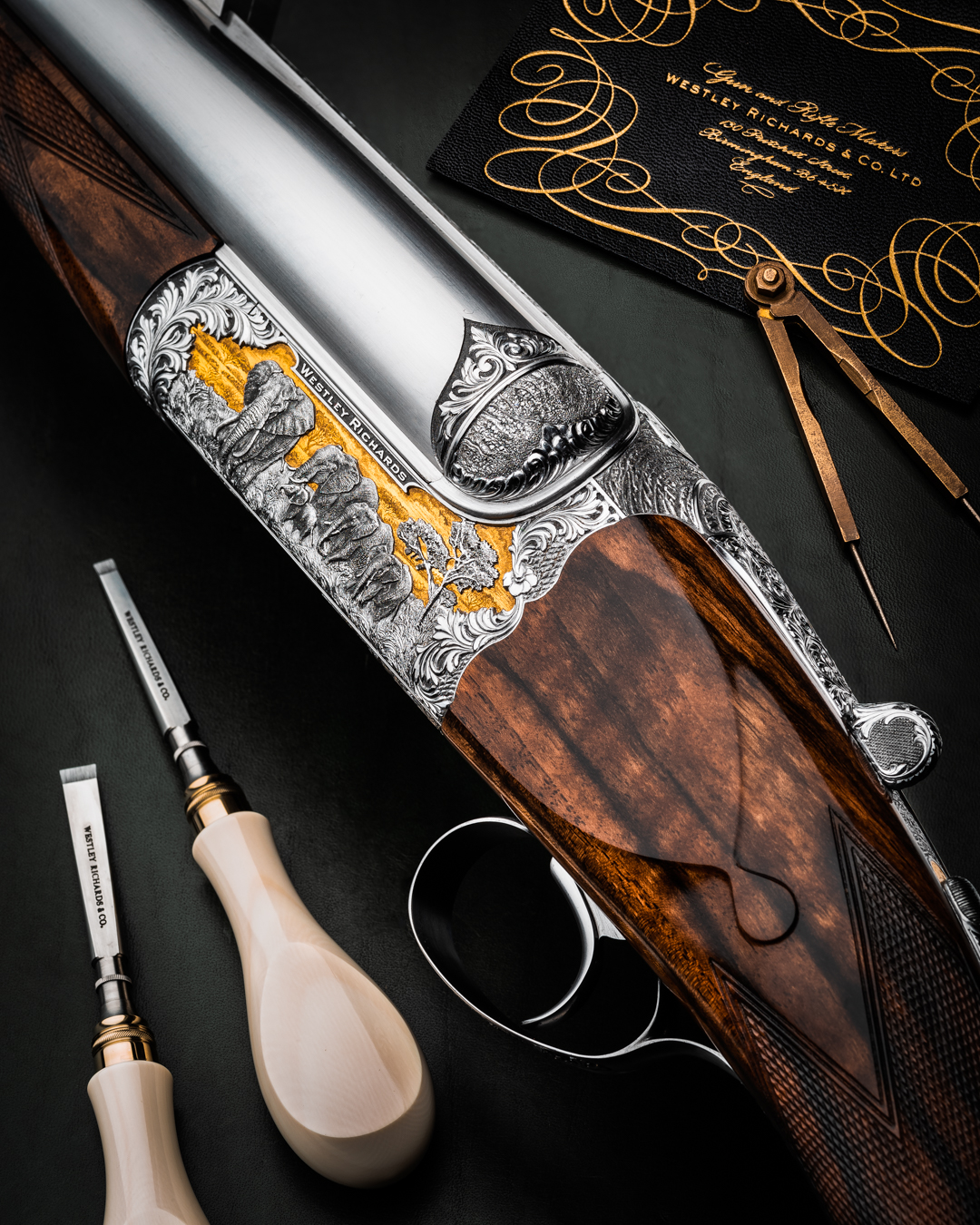 While engraving can be entirely bespoke and personal, this customer opted for a classic medium scroll pattern from an old catalogue. The sole nod to the modern era is a palm-swell on the right side of the pistol grip. That aside, were this rifle transported back in time and placed in the hands of Jim Corbett, Bror Blixen or Ernest Hemingway, it would not elicit an unusual response from any one of them.
The second rifle is a detachable barrel (take-down) model in  .404 Jeffery, serial No.43704. It looks exactly like an early 20th century rifle, with a double square bridge Mauser action, five-shot magazine and standing and leaf sights.
While the rifle looks unashamedly classic, we have to admit that optics have massively improved since the model first graced a catalogue and a modern Swarovski now accompanies the rifle in its bespoke leather case.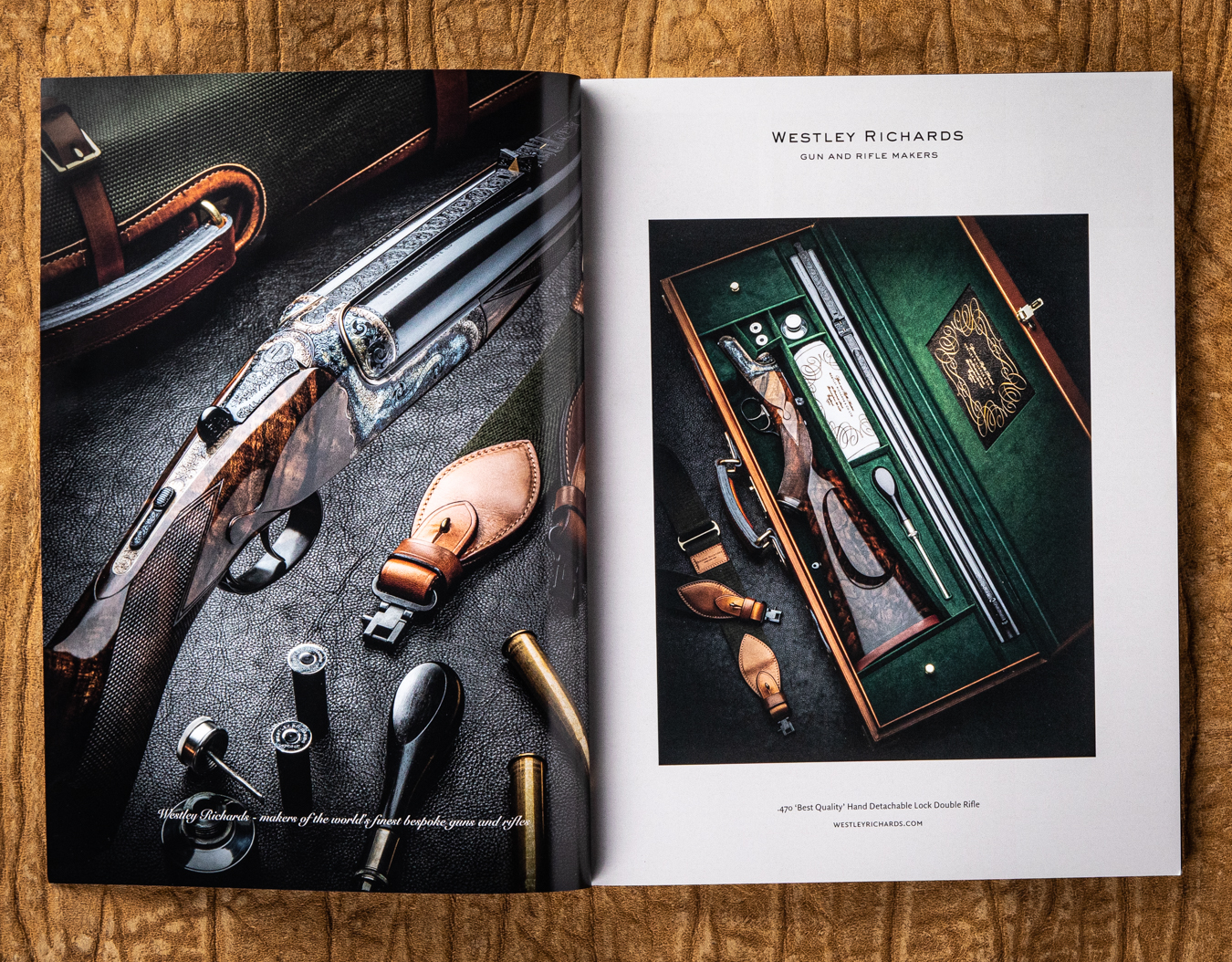 The .404 Jeffery is today considered somewhat obsolete, but in its heyday was more prolific than the .416 Rigby. It is also very well regarded by some highly influential writers, like Bell and Taylor. Built and regulated for a Norma 400-grain bullet, pushed at 2.335 fps, this rifle is primarily intended for Cape buffalo,.
With orders continuing to arrive for modern classics, it looks likely that the trend will continue for some time. Today's African hunters want to emulate their forefathers and have discovered that those old-timers knew a thing or two about what combination of rifle and cartridge proved the best medicine for the game of the continent.