Now being the pre-eminent place to order a bespoke hunting rifle, Westley Richards riflemakers are continually outputting sporting arms fit for Arab princes, American tycoons and European magnates, and it genuinely is a privilege to see each one go from their raw materials to a handcrafted object of wonder.
One of the leading members of the rifle team is Struan, a magazine-rifle specialist at Westley Richards. With origins in Zimbabwe, he has travelled a long way, both geographically and professionally, since deciding to leave his old life and follow his gunmaking passion.
Tell us about your background and where you grew up?
I was born in Harare, Zimbabwe, to a 3rd generation British expat and a newly emigrated Scotsman. I lived there until I was 12 and at that point moved to Devon to attend a boarding school. Once school had finished I took a place at university in London, and after a semester I left the UK for Australia to study Economics and Business for 2 years at Griffiths University.
Returning to London, I finished my Economics and International Business degree at London Metropolitan University and then moved to north Worcestershire for work, once I had graduated. After meeting my now wife, we spent another relatively brief stint in Zim before both of us moved back to the West Midlands. Leading to me being at Westley Richards.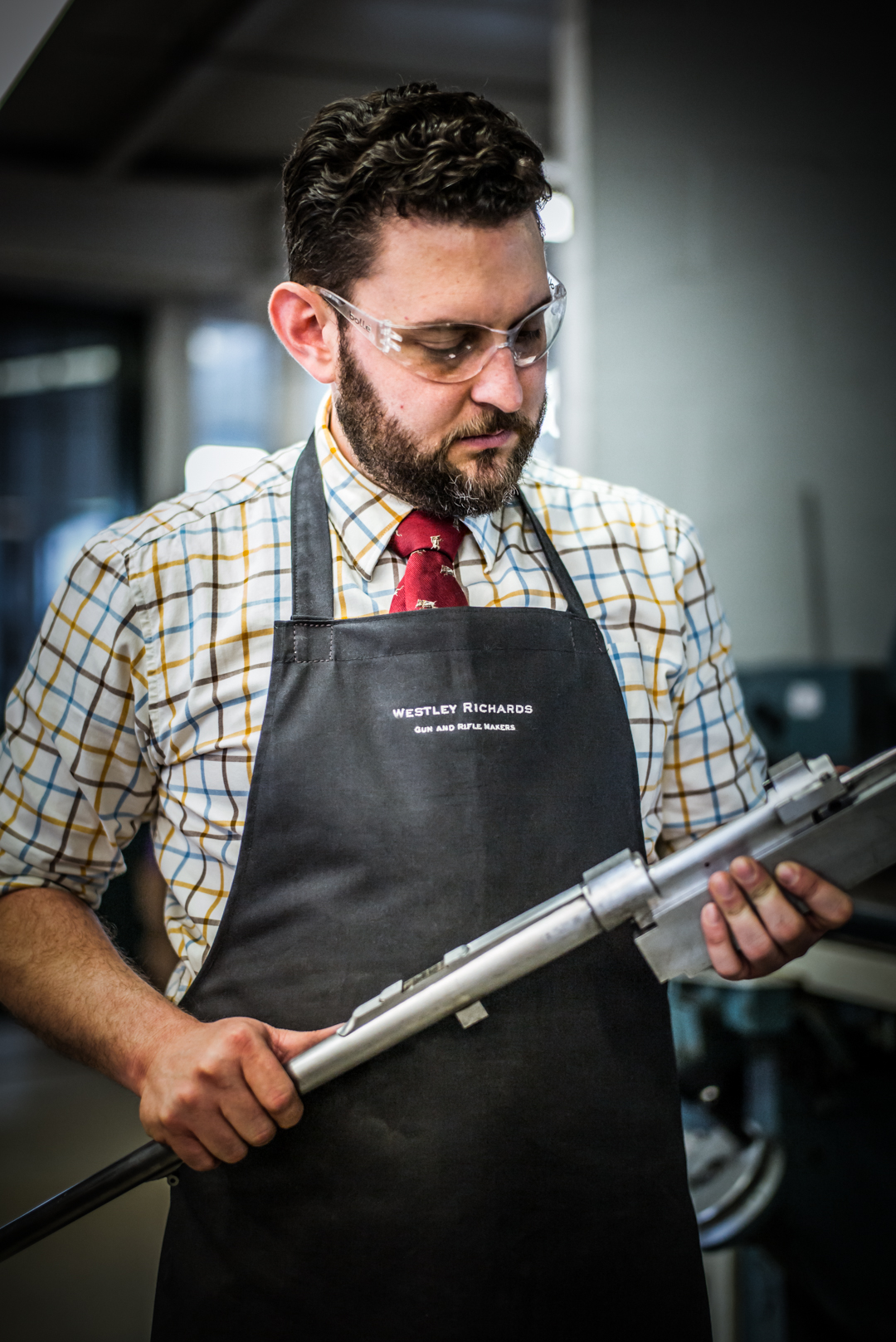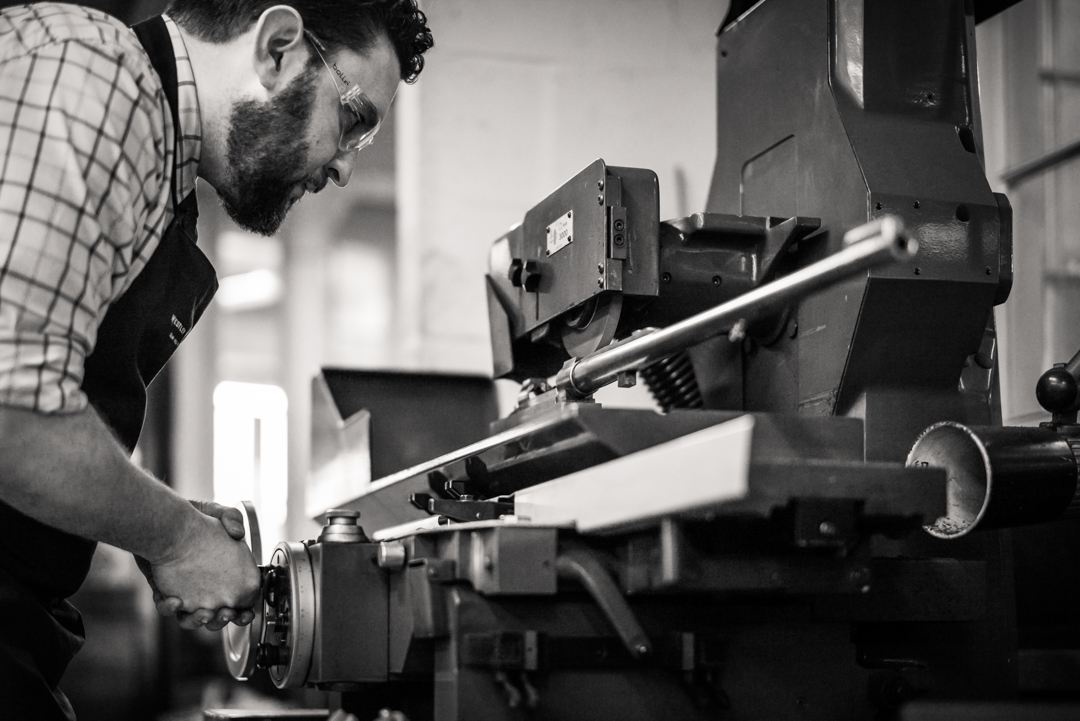 Did you always want to be a gunmaker?
Since I can remember I've been fascinated by all things guns and rifles and have been shooting for just as long. I definitely considered the options of working in the industry but hadn't come across any real opportunities other than the short time spent building and working on rifles in Zimbabwe.
I ended up resigning myself to work within my qualifications until the opportunity to apply to Westley Richards presented itself very unexpectedly. I wasted no time in doing so.
How did your apprenticeship differ?
I was hired upfront to build magazine rifles as I had some experience in that area. Right from the get-go I have specialised in the magazine rifle department, only to work on the odd double rifle or shotgun when required. I get to see the rifles through most of the process after the build and generally will assist with the finishing too.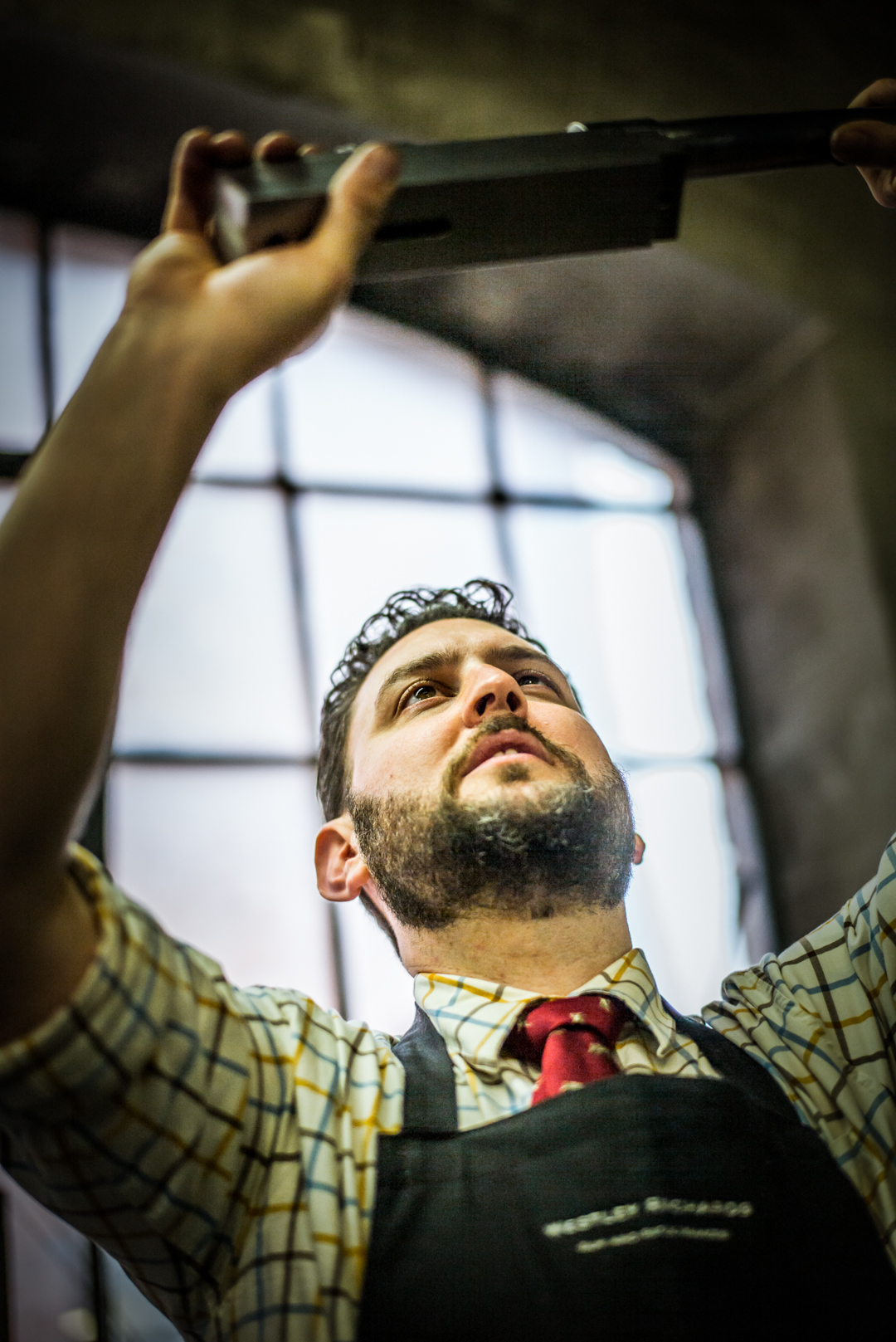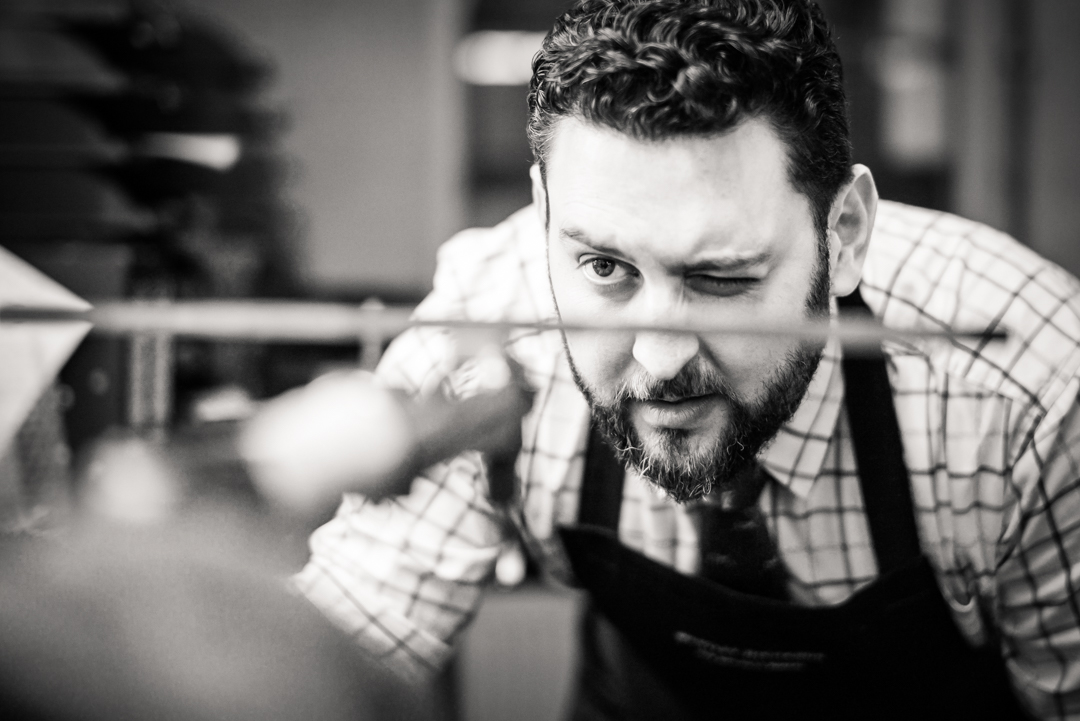 How long have you been at Westley Richards?
I have been at Westley Richards for 4 years now, starting in March 2019.
Who inspired you to become a gunmaker?
I can't say that there is an individual inspiration for me to become a gunmaker. I can say however, that without the motivation of my close friends and family, and especially my wife, it is unlikely that I would've taken the leap and made the sacrifices necessary to change career and follow my passion.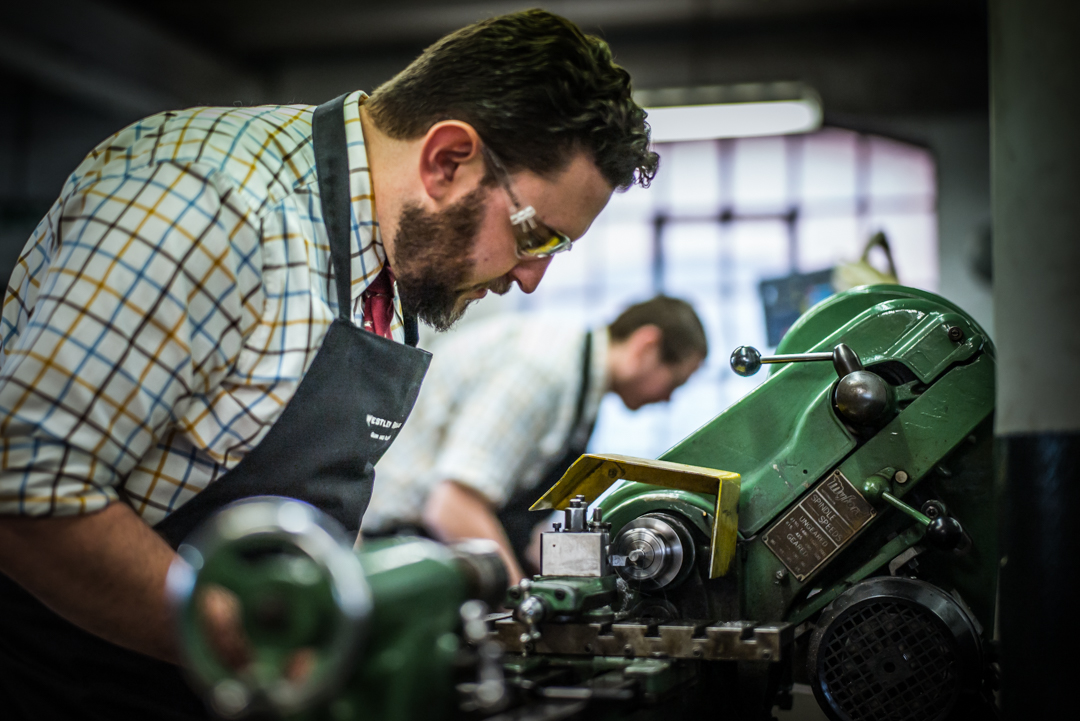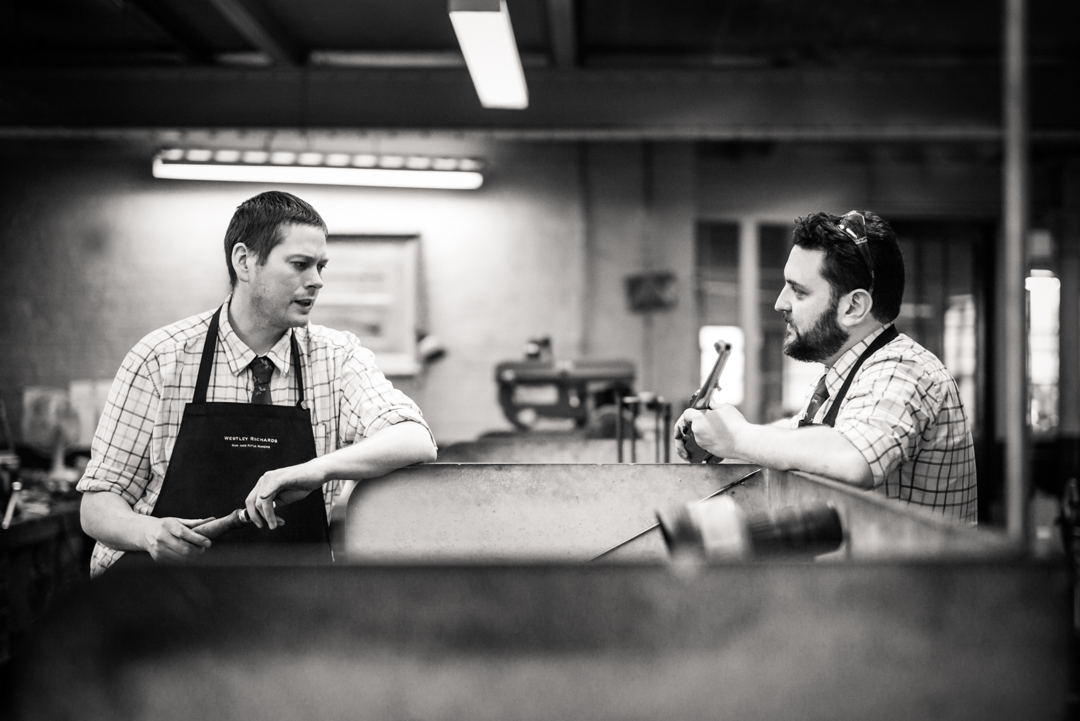 Who would you count as mentors in the field of rifle making?
I would not have had the opportunity for any real world experience (other than personal projects) had it not been for Gary Howard-Beard giving in to my constant pestering and letting me do some work for him while I was in limbo in Zimbabwe. He showed me the ropes of everyday jobs and taught me how to refinish rifles and handguns to a standard finish. Gary also introduced me to benchrest shooting, amongst other disciplines, whilst both working as gunsmiths at Cleveland Pistol Club. I also had a lot of great guidance and good advice from Roscoe Dickinson, the then head of the benchrest section, with regards to accuracy and loading of ammunition.
Once I started at Westley Richards I was under the experienced guidance of James Grinyer, who taught me how to build a Westley Richards best magazine rifle, and how it should look and perform. I still rely on this guidance when up against a challenge I haven't faced. I also had the good fortune of having Sam Banner guide me through some of the production process, who first introduced me to the finishing shop, as well as some of the work required for the double guns.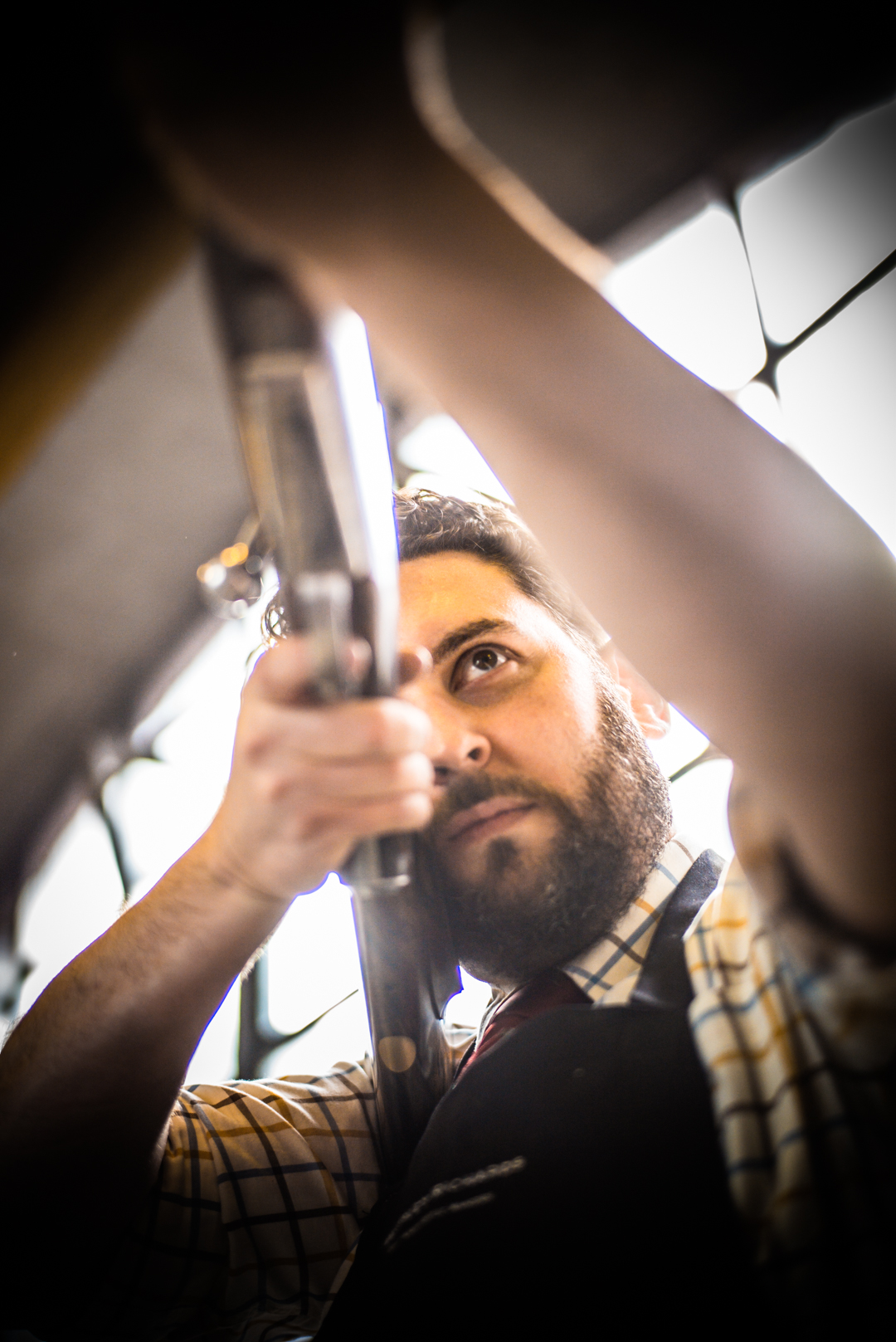 Stuart Richards has been the foreman since I started and has always provided guidance in all aspects of gunmaking throughout the build process, he has a keen appreciation for the detail and aesthetics that all but a few miss. In the last year or so, I have been helping out with a lot more of the finishing side of the build, and wouldn't have been able to get to the standard we are at had it not been for the guidance of Chris Burgess and his unequalled eye for detail.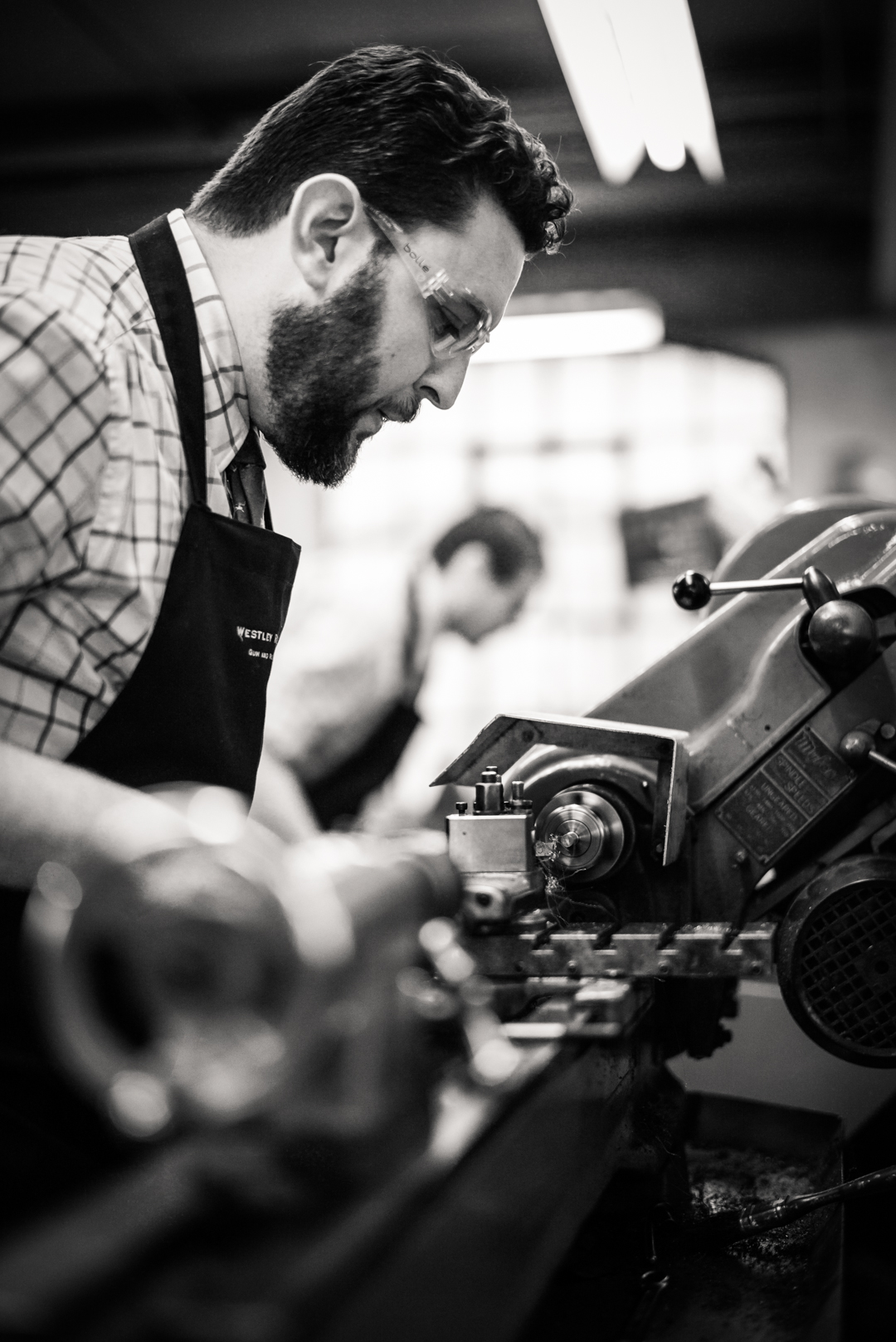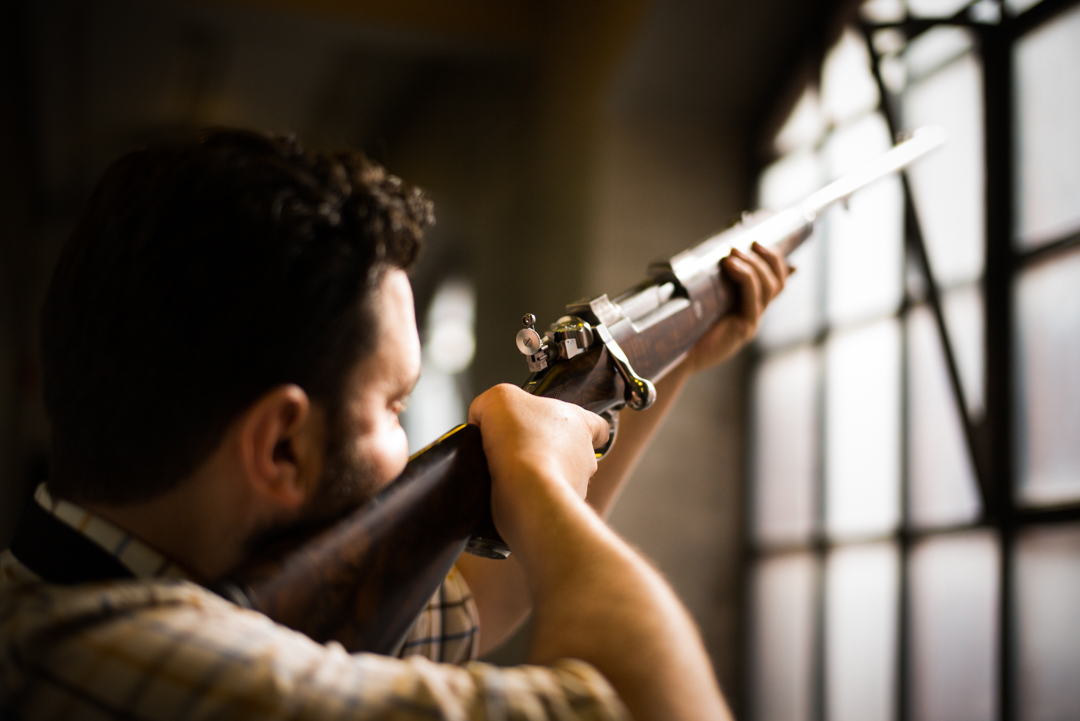 How long did it take to learn the art of building a bolt action rifle?
Fundamentally, they are relatively simple when compared to double rifles or shotguns, so it doesn't take long to learn the basics. That being said, I'm always learning and refining the process as there are challenges that can only be overcome through experience, and the knowledge gained from solving them. The magazine rifles not only have to look the part, being best rifles, they also have to perform to the highest standards too. This takes time and skill.
How old were you when you made your first bolt action? And how many bolt actions have you built?
I was 32 when I built my first bolt action for Westley Richards and have built 34 rifles at last check.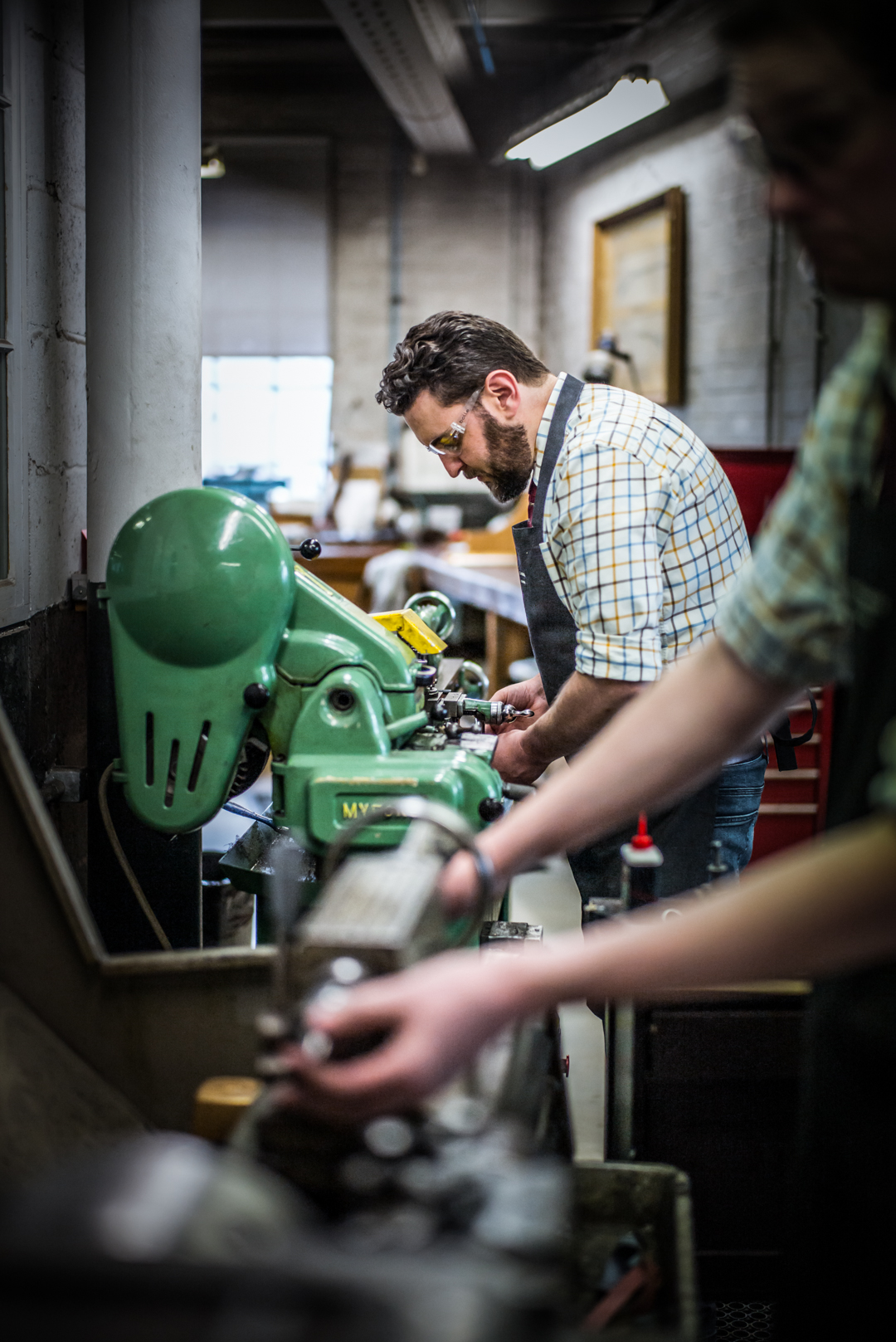 What are the greatest challenges a riflemaker faces?
Consistency. All our rifles are hand built to a unique set of requirements set out by our customers. They do, however, all need to be built to the highest standards and shoot to match. It is important to meet all these criteria with every rifle.
What do you most enjoy about building a bolt action?
I really enjoy seeing them through the different stages of the build. Marrying up the barrel and action and preparing them for the first shots they'll take; fitting all the furniture and shaping it up ready to head into the stocking shop; taking the first shots with the rifles while setting the sights; and then the journey all the way through the finishing shop and final targets. There's a certain anticipation at each stage and then the satisfaction of completing them.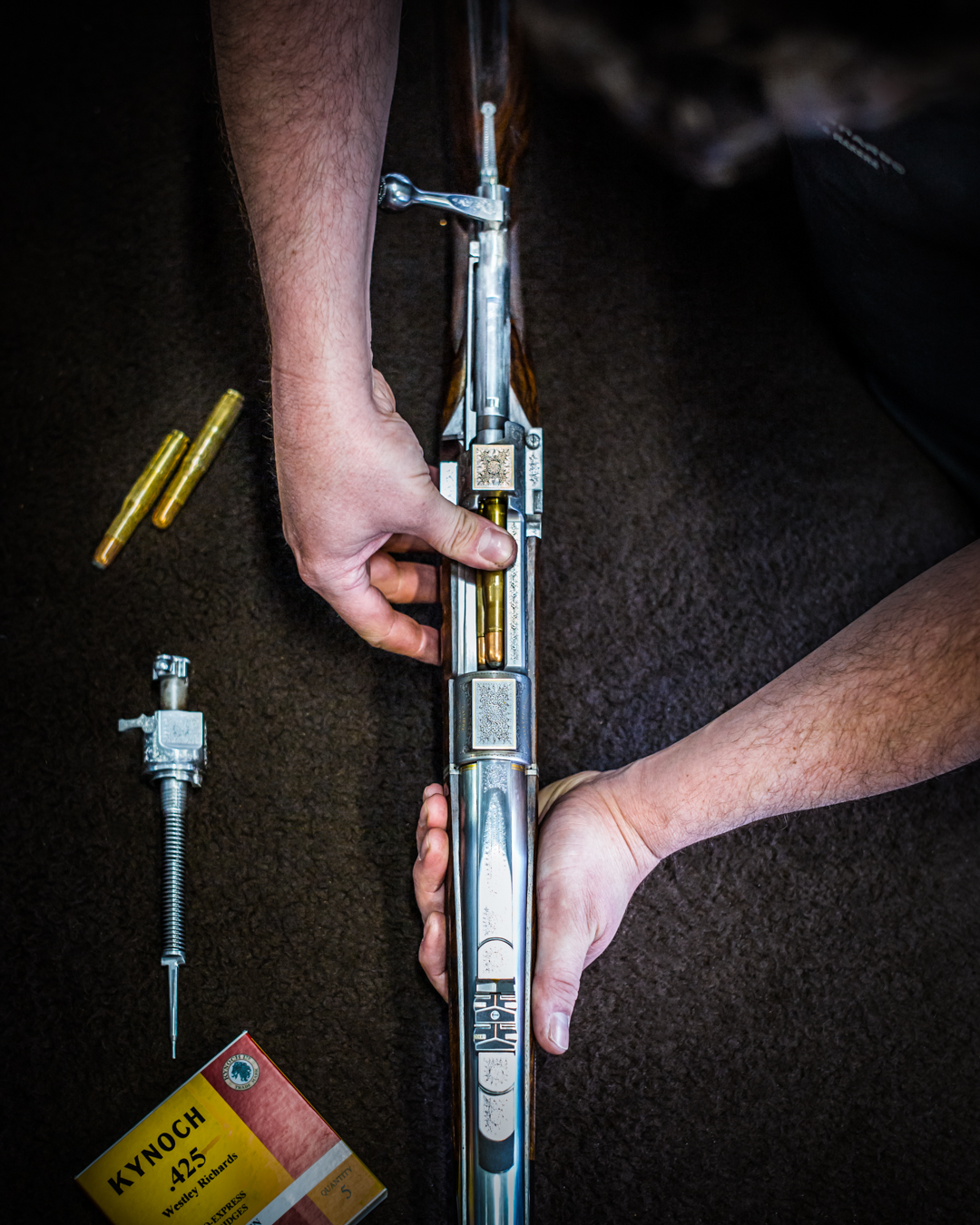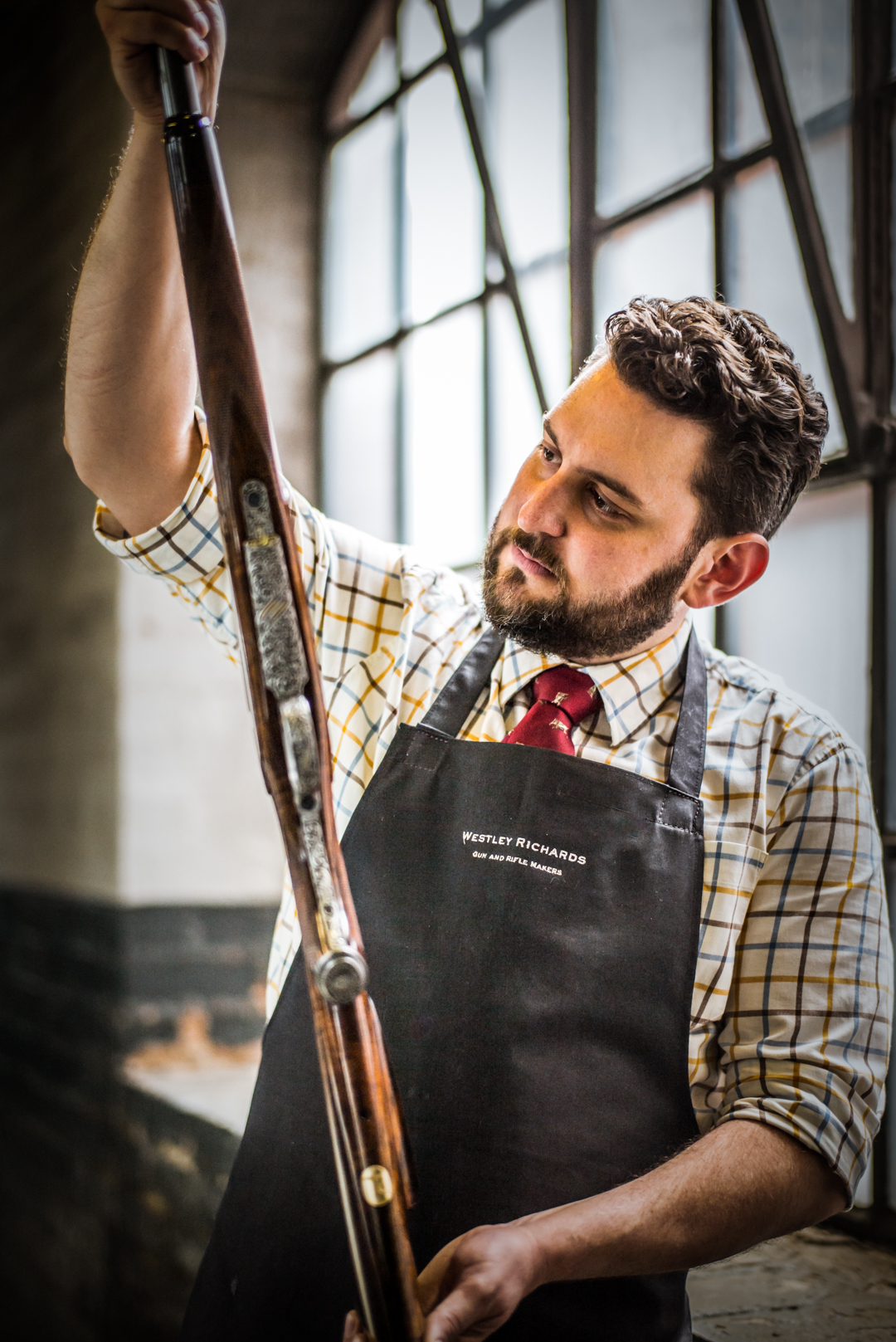 Tell us about the unique "Big Bore Trio" of bolt action rifles, that you have recently worked on?
The Big Bore Trio are a set of three take-down magazine rifles, in large magnum calibres, that will be finished in a classic style with fine house scroll and extra detailing all over. They were built in a team effort by Edward Elder and myself at the same time, so that all are identical other than calibre and action size - in the case of the .425 Westley Richards. All three are set up with iron sights and peep sights only. The peep sights are retractable and mounted on the bolts.
The rifles calibres are .416 Rigby, .425 Westley Richards, and .450 Rigby. All three are abundantly capable big game calibres - though the .425 Westley Richards is built on a standard size action rather than the longer magnum actions of the other two.