So it was with the building of Westley Richards serial number 4370. The customer wanted it built and regulated to shoot 180 grain RWS ammunition, with leaf sights to 100, 200, 300 and 400 yards. This may be a best-quality, no compromise custom rifle but it was built for a customer who has clear plans for its use in the field.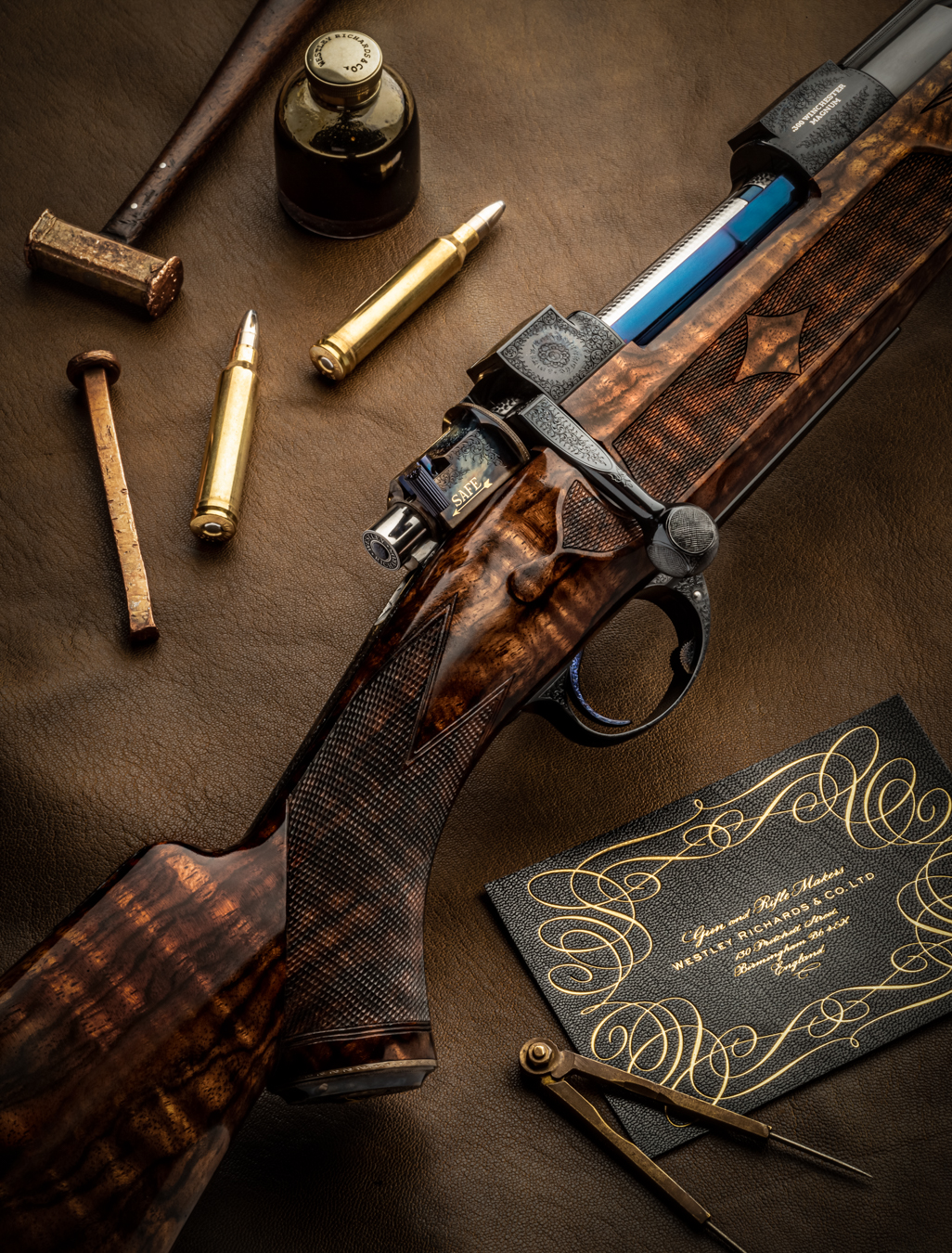 The finish and engraving on this rifle deserve special attention but first, the basics: it is a double-square-bridge, Mauser-action rifle with a box magazine holding four rounds, plus one chambered. The 24" hunting profile barrel has a Westley Richards pattern quarter-rib and the muzzle has a recessed crown. Match-finish rifling was specified. The iron sights are augmented with 30mm Westley Richards quick-detach mounts and a Swarovski Z6i 'scope.
The honey coloured, well-figured walnut stock has an ebony finial and a pistol-grip hand with colour-hardened grip-cap with trap. It also has distinctive, chequered side-panels of a type featured in our pre-Great War catalogues.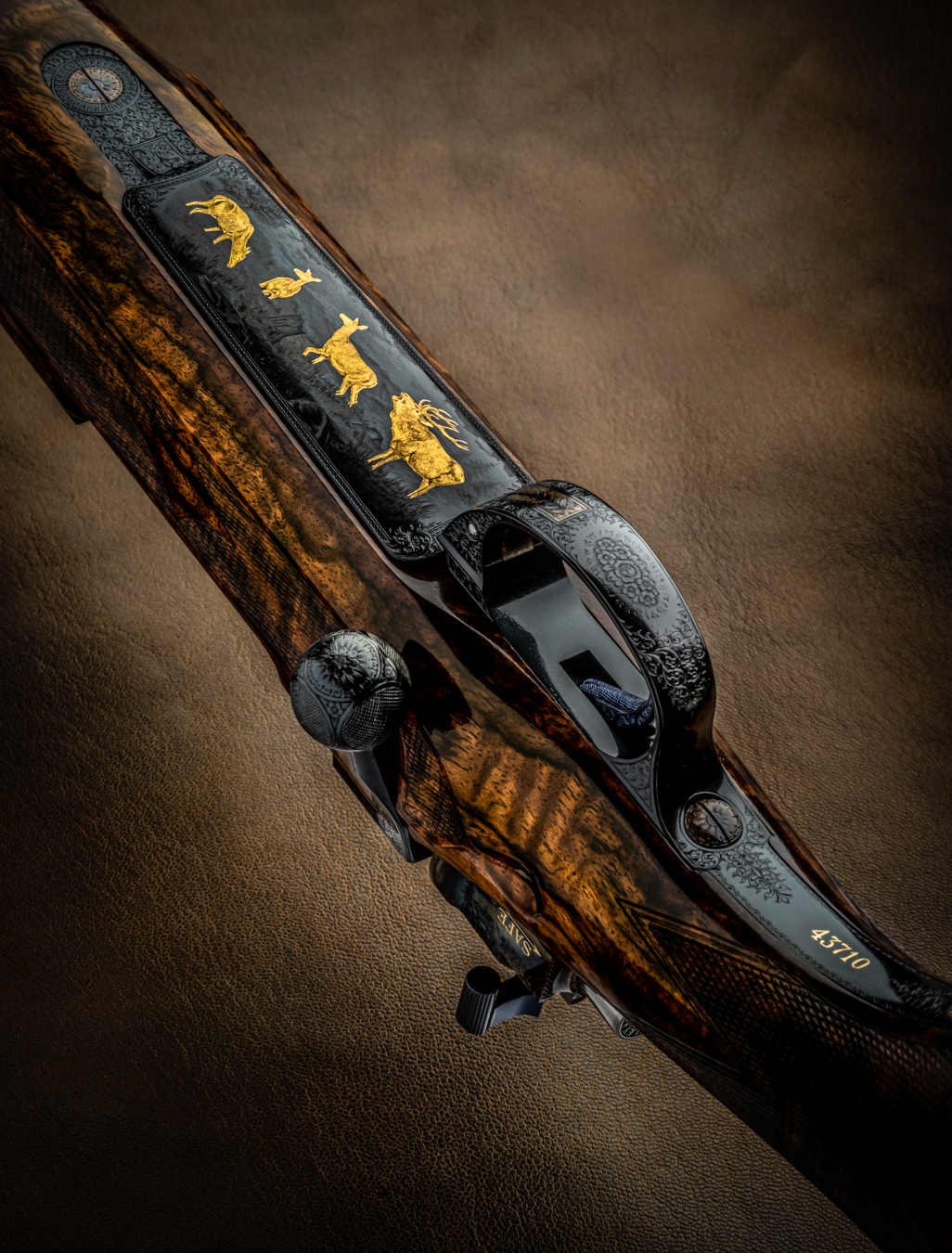 The finish is exceptional, with the blacked action highlighted with case hardened elements and a smattering of inlaid gold to illuminate the names and numbers adorning the sights, bridge, safe and guard.
Further gold inlay of game scenes is found on the magazine floor-plate, depicting red deer in the rut. All other surfaces are very finely engraved with deluxe scroll.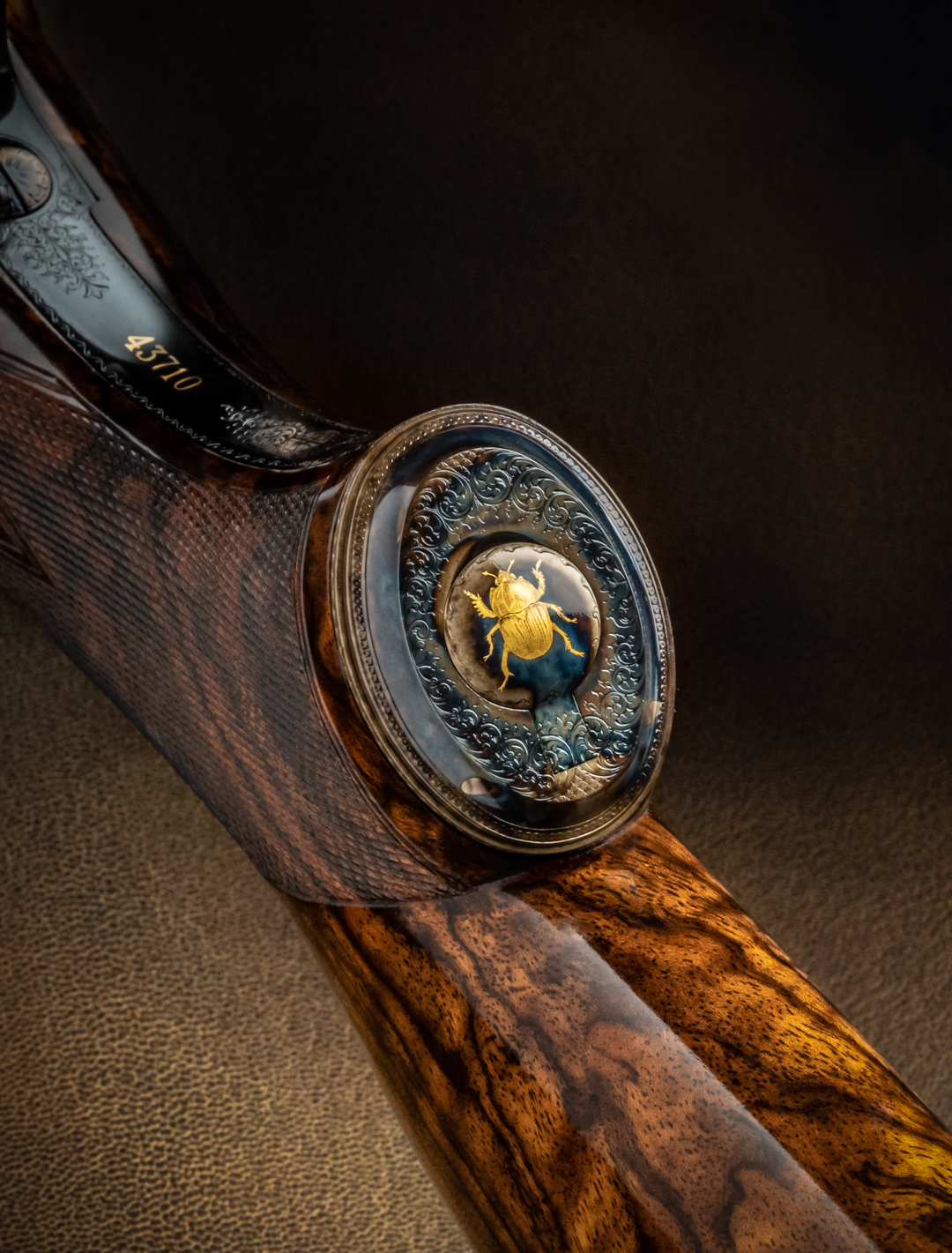 The engraving, as seen on the finished rifle, is not that which appeared on the build specification sheet. As it evolved, discussions with the customer, alterations to his ideas and various elements being added or withdrawn led to the final expression of his vision in what you now see.
The beetle on the grip-cap was later addition and the proposal for a skull and cross-bones motif on the safety shroud was dropped, though the roe buck inlaid in gold remains.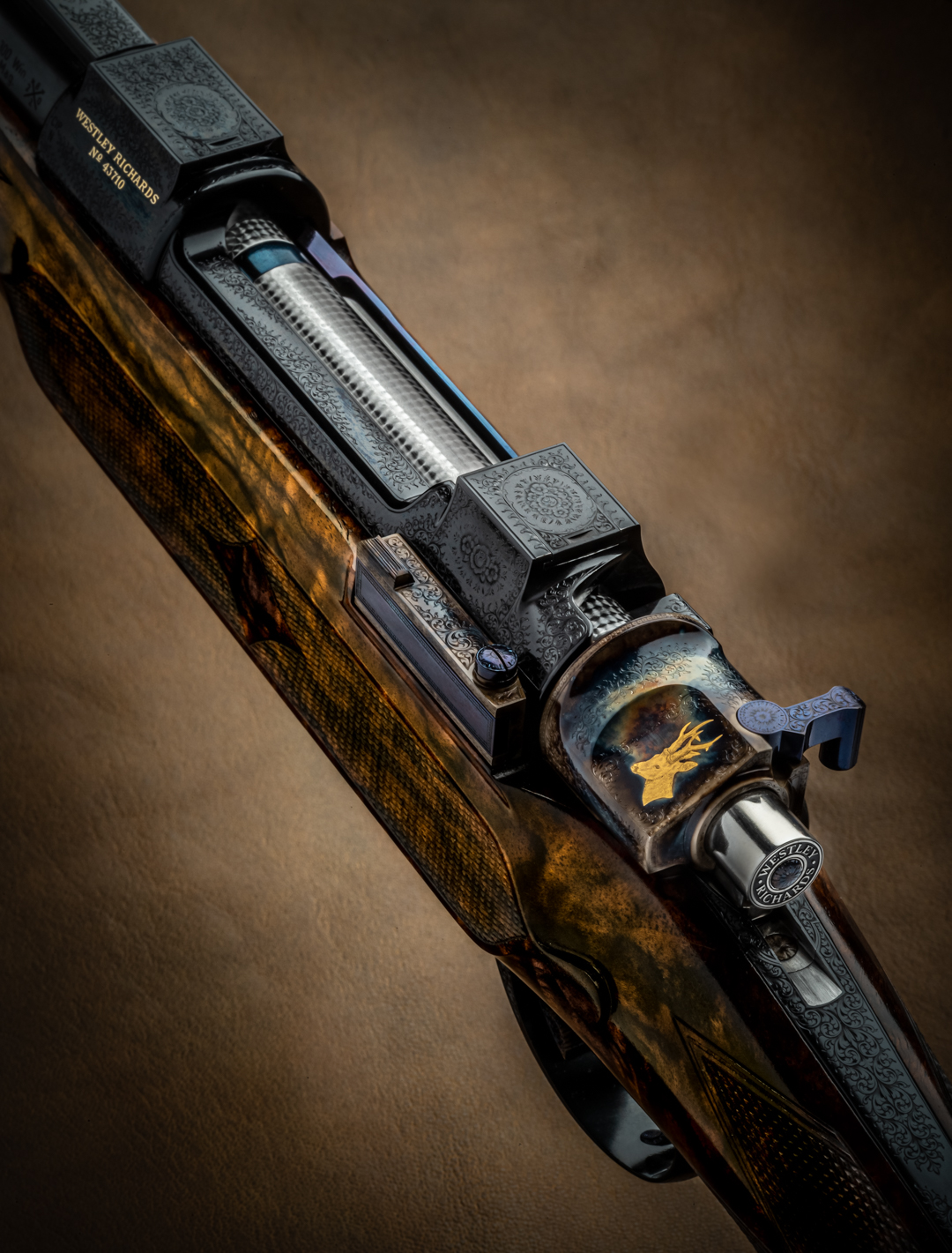 The profuse application of best scrolls and bouquets adds a real touch of class to the rifle. Every surface and every pin and screw benefits from the application of this detail. The result is a very pleasing reinforcement of the quality of the build.
Of course, fine engraving on poor workmanship fools nobody with much knowledge of the art of rifle-building and this customer is one who certainly knows his guns and rifles. Even under this magnified photography, every place where wood meets metal or metal parts are fitted together, they blend as if they were one.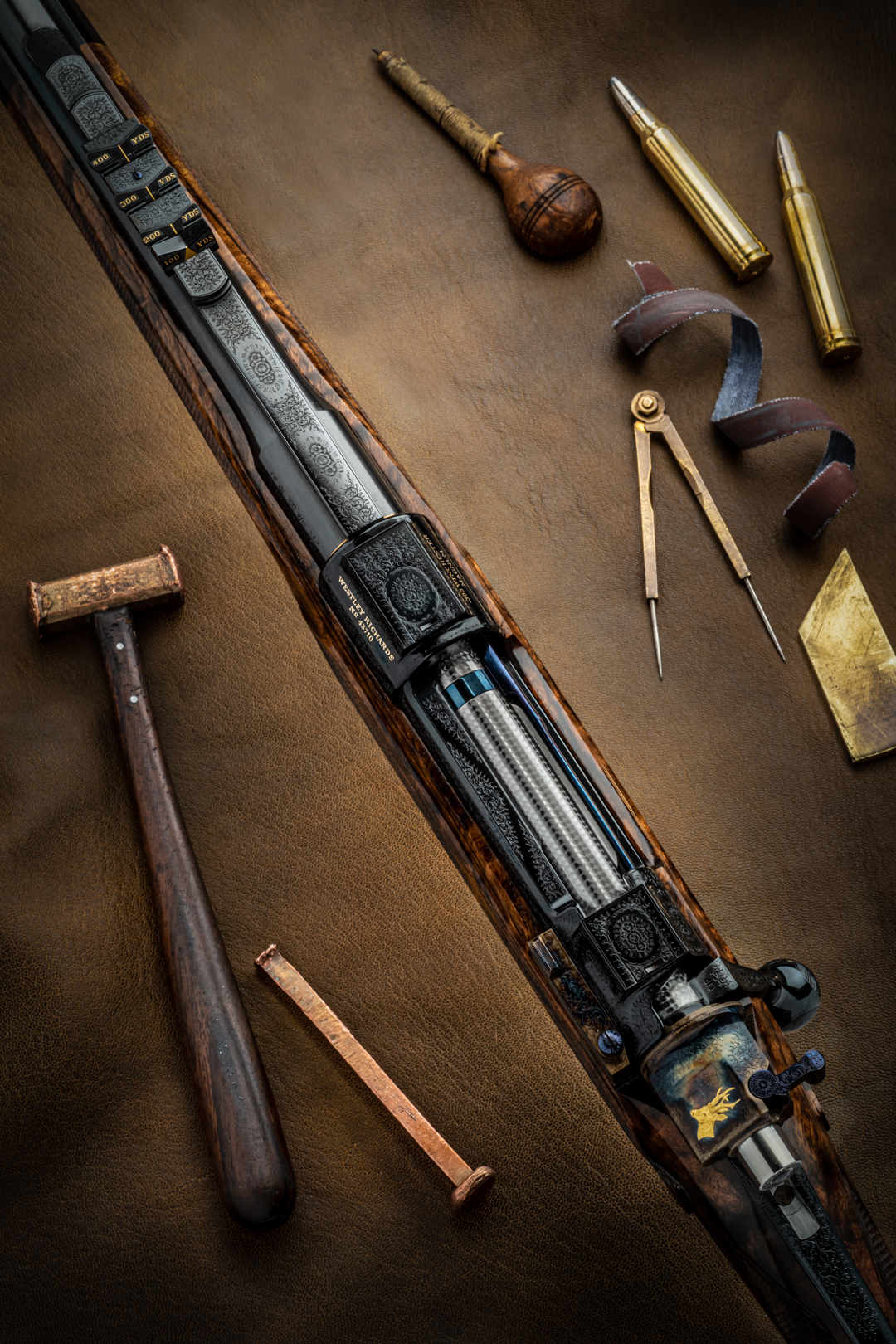 As well as being a pretty rifle, the choice of the .300 Winchester Magnum as the cartridge ensures it is a practical one-thousand yard prospect, should that ever be desired. The .300 Win. Mag, first released in 1963 as one of a number of cartridges derived from the .375 H&H Magnum case and suited to use in standard Mauser actions, is the most successful round of its kind and remains very popular.
A 180-grain bullet, driven at 3,193 fps, delivers an energy value of 4,076 ft-lbs. When zeroed at 254 yards, it has a point-blank range of 300 yards. This quality it has of enabling a rifle to deliver flat, to the point of aim, shooting out to 300 yards makes it very practical and popular with hunters; especially those with deer, elk and moose as quarry, as well as those in pursuit of mountain sheep. It also serves well for red deer in Scotland and plains game in Africa.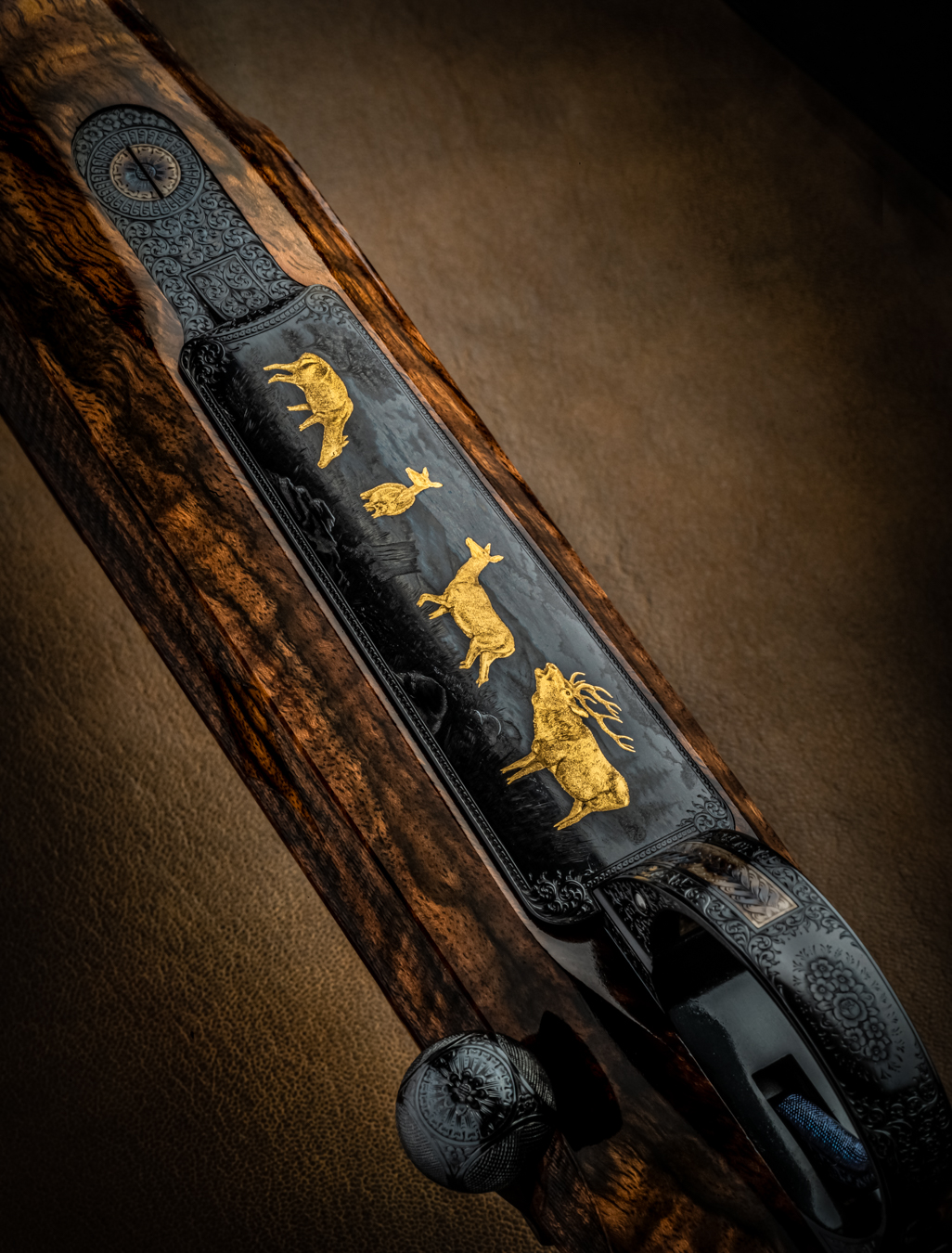 Returning to the subject of the flat side-panel, which is shown in profile below, this can be traced back to some of the models Westley Richards were making in the years immediately preceding the First World War.
Page 39 of our catalogue of 'Modern Rifles' from the period illustrates a .318 Magazine rifle described thus; 'As best quality rifles but specially finished. Sides of stock panelled, stock carved and chequered." Like the modern .300 Win Mag, the .318 was designed to fire a 180 grain bullet, so was built in very similar proportions.
The catalogue goes on to describe; 'constructed with special carving or chasing on the metal parts, interlaced with gold incrustation in floral designs or with animal designs or natural scenes to order'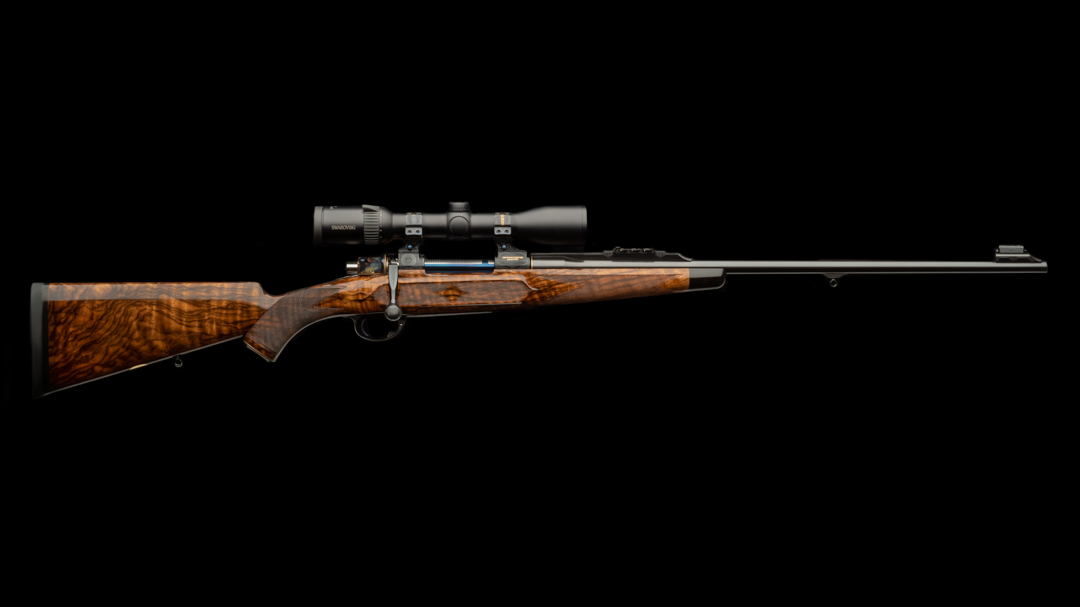 This rifle is very much a higher development of the pre-war concept of a deluxe, Mauser-action, medium-bore magazine rifle. Like so many vintage inspired modern creations, it is actually made today with a higher degree of exactitude and precision than was possible in the years when it was introduced.
We must admit that the cost of production has risen slightly from the forty-five pounds we charged for these rifles in the old days but we firmly believe that in a side-by-side comparison, today's rifle would win hands-down in a qualitative analysis by both today's sportsman and his compatriots of yesteryear.
We are making the classics of the future in Pritchett Street and are confident that a century from now, enthusiasts will be marvelling at the quality, functionality and workmanship of this rifle, just as we admire those that Westley Richards built for our grandparents.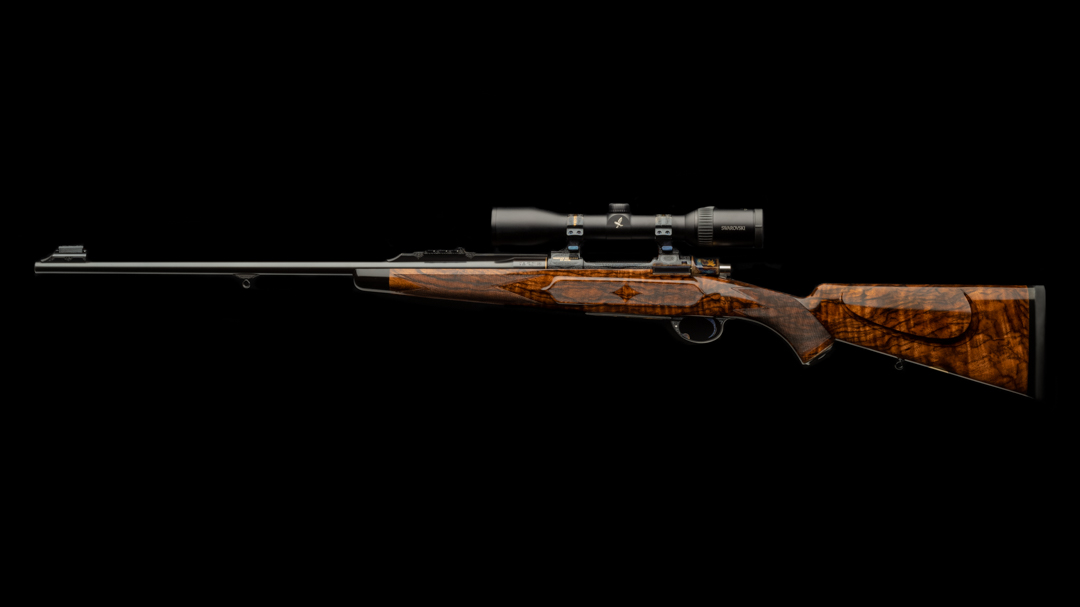 In the meantime, we expect it to go out and bag some memorable animals in remote places, realising ambitions and making memories that will stay with the new owner for the rest of his life.
Some readers are still wondering 'Why the beetle?' We don't know but when you order a custom rifle you can have anything you want, including gold beetles!