A favourite of professional hunters, game wardens and sportsmen, the .425 Westley Richards saw great deal of action in the thirty years which followed its introduction in 1909.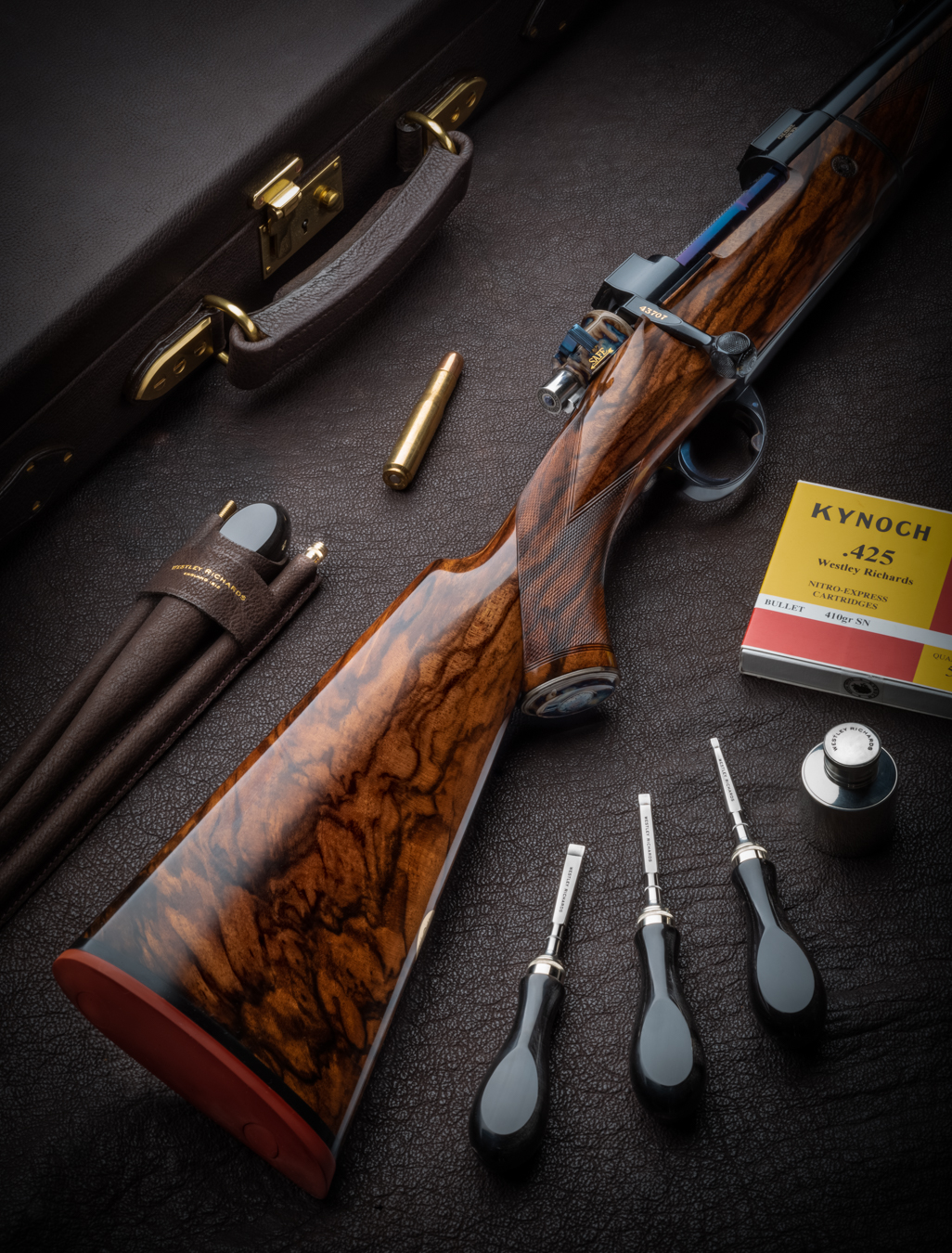 With the post-war decline of the British Empire and the loss of our colonies in Africa and India, it seemed the days of big game hunting were over and Kynoch stopped producing ammunition for many of the big rifles designed for overseas territories. The .425 Westley Richards was one of those casualties.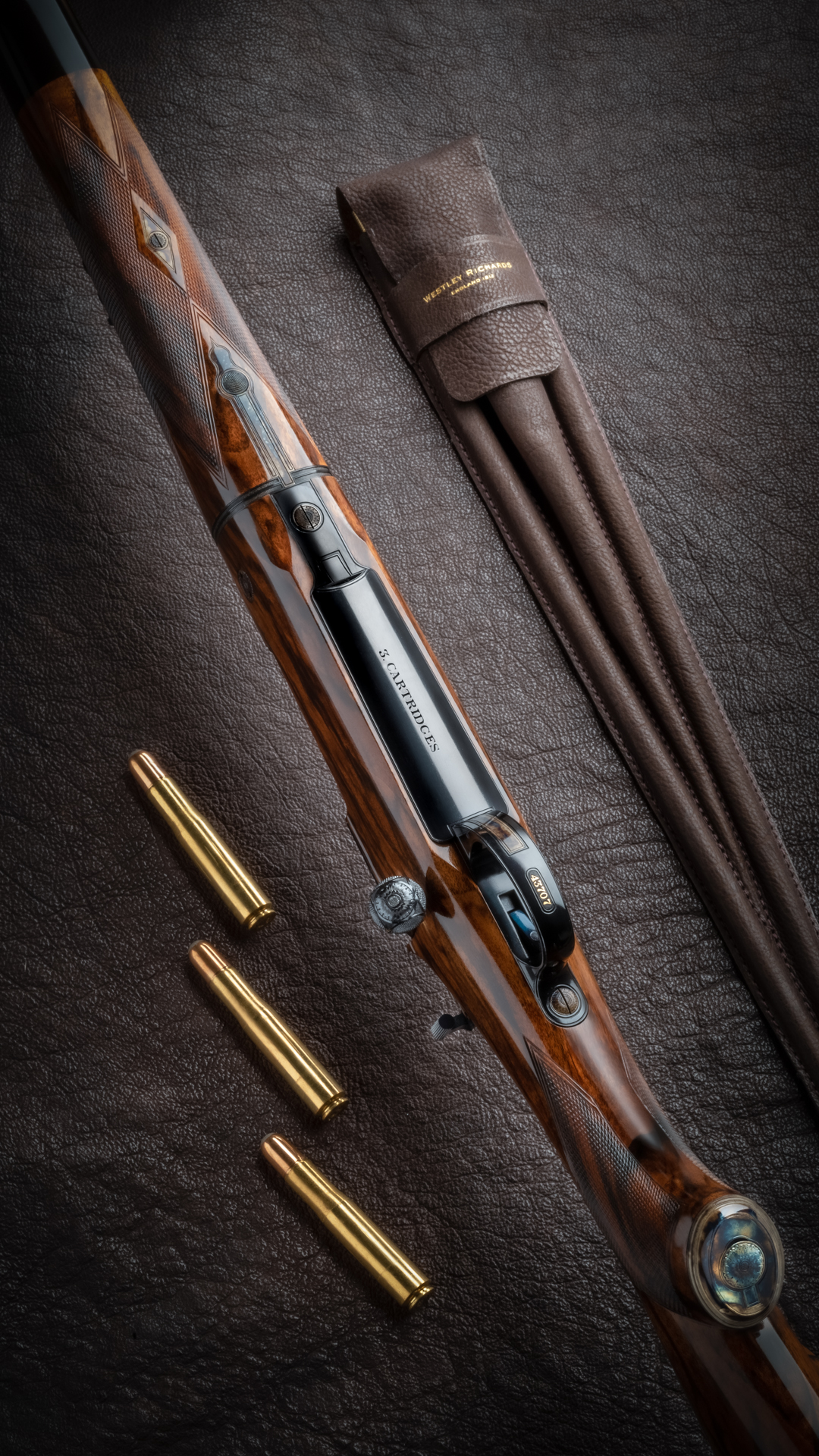 Today, however, Westley Richards commissions bespoke loads of cartridges, with 410 grain bullets, thereby ensuring that our old and new rifles remain viable.
With supply assured, customers are keen, once more,  to benefit from the qualities of this powerful cartridge. We have built four magazine rifles chambered for it in 2022 alone. This, number 43707, is the second to be finished.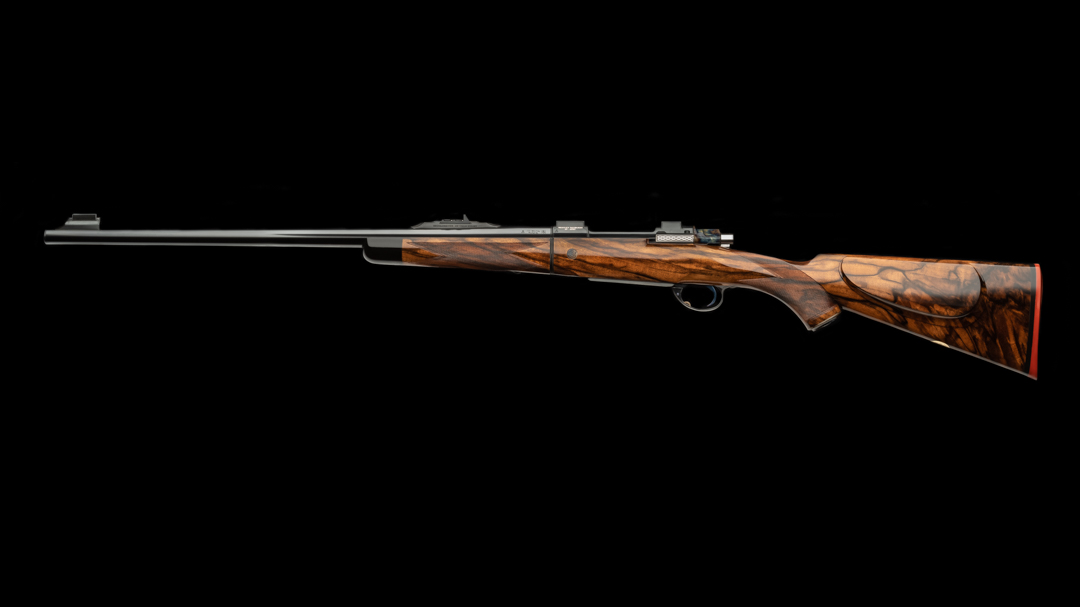 It represents the modern-classic Westley Richards magazine rifle in its subtle glory. Built on a double square bridge Mauser 98 action, with modified safety catch, a three-cartridge, flush-fit box magazine and our own thread-locking, take-down system, operated by our new-profile, Deeley & Edge catch inspired, release button.
The profile shows a lean, instinctive-pointing rifle with open sights, gold inlay indicating 50, 100 and 200 yards on the leaves. It was built for a big man with large hands and the stock proportions indicate that, with its long pistol grip and subtle palm-swell.
In cover, snap-shots are often necessary and the rifle is balanced to lift to the shoulder like a shotgun, for fast target acquisition and firing.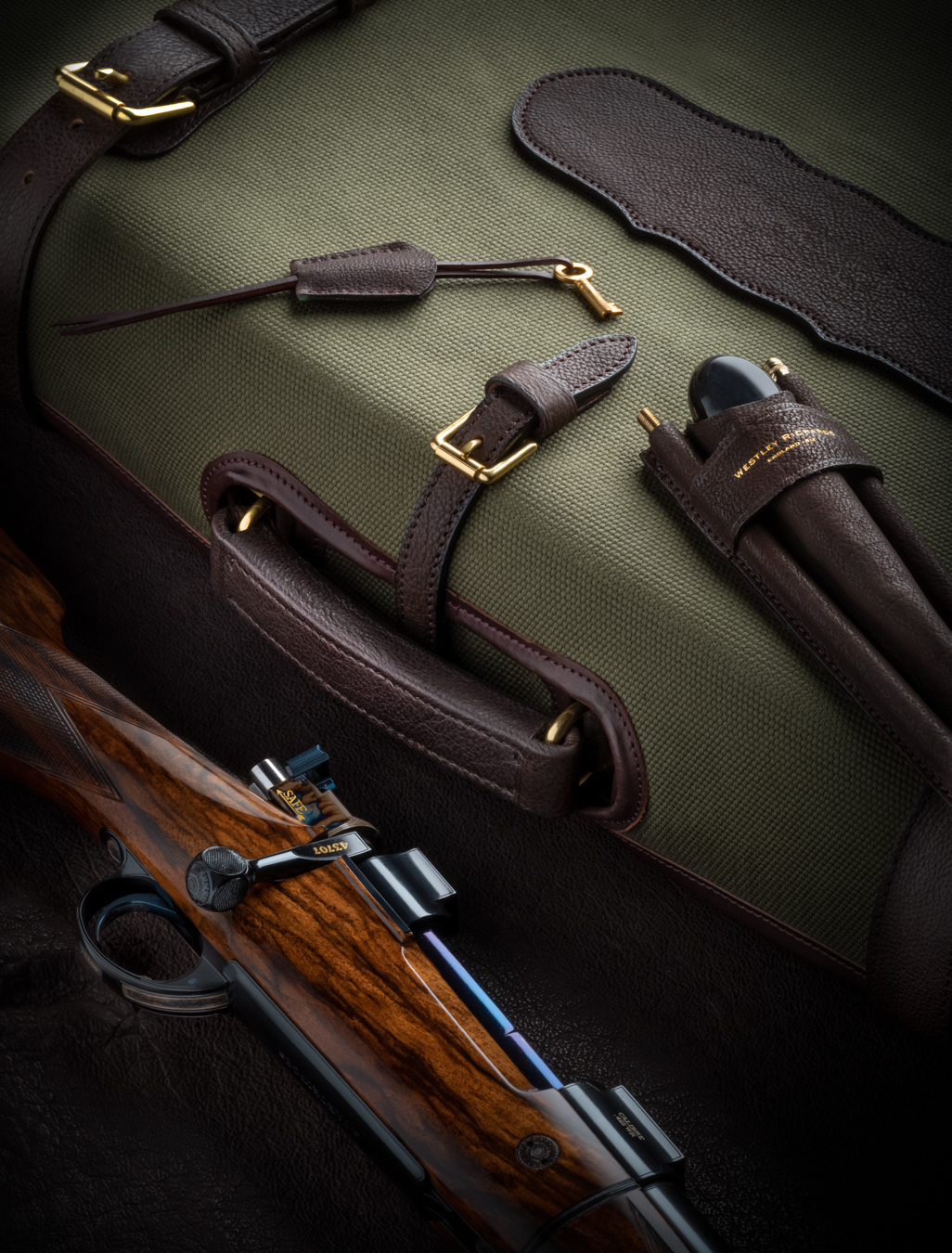 A look inside the bespoke, in-house-made, best leather case reveals a Swarovski 'scope and quick-detach mounts, for occasions when a longer, more precise shot is required.
The one unique feature of the Westley Richards .425 is a pair of spring-loaded guides either side of the action, which hold the cartridge in position as it rises from the magazine and prevents slippage. The small base and big body of the .425 case makes this necessary for reliable feeding. It also gives satisfaction in use; that satisfaction which comes from observing perfectly engineered parts perform their function flawlessly.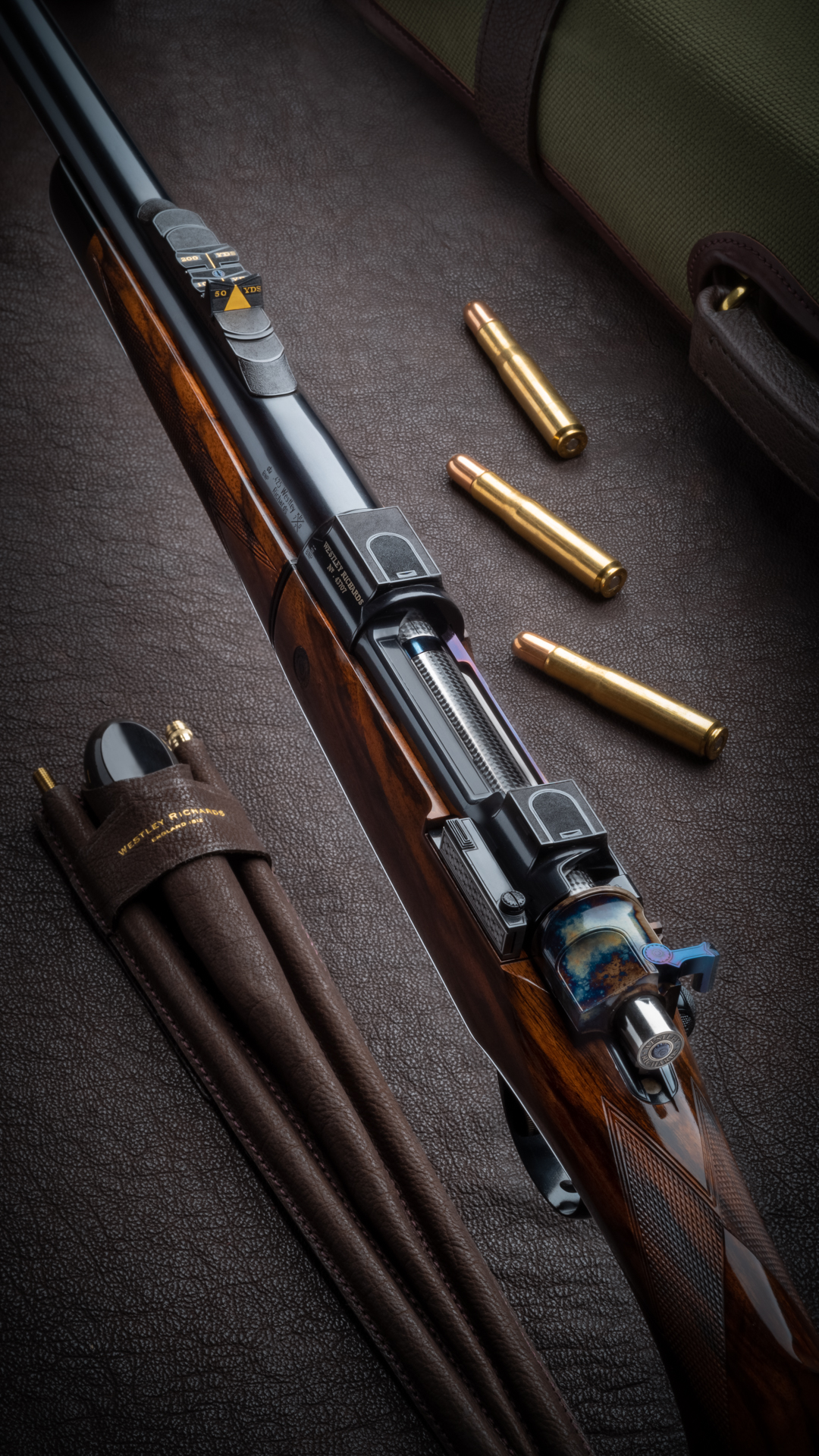 Engraving is ultra-fine scrolls, sparingly applied; yet clearly best-quality, teamed with case-colour-hardened pins, grip-cap and trap. If the devil is in the detail, you might spot Mephistopheles himself if you look closely enough at this rifle.
Further, subtle, embellishments include a hand-chequered and engraved bolt-handle, jewelled bolt, precious metal inlay to lettering and a walnut stock of a figure rarely seen on a hunting rifle; best oil-finished and hand-chequered, of course.
What we have delivered here is an ostensibly traditional hunting rifle but the subtle, time consuming, uncompromising focus on the perfection of every part and every operation lifts it to a higher level.
The take-down system is hugely practical, enabling the sportsman to carry a case the length of the barrel, rather than the length of the entire rifle, when heading for overseas sport. It is a modern version of the flat screw-thread we used on similar rifles before the First World War.
When Landcruisers and light aircraft form part of the plan, such details are of no small benefit.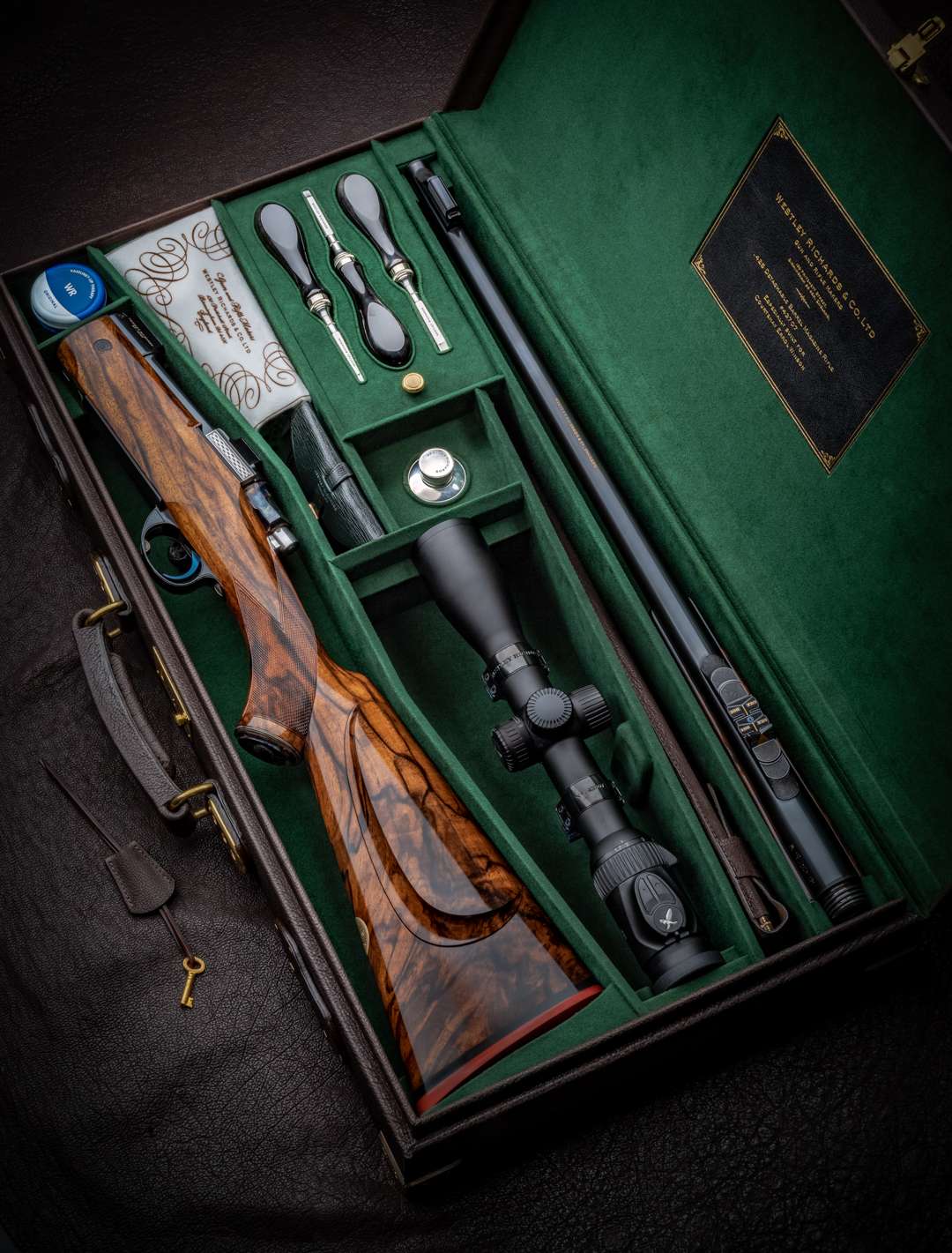 This .425 Westley Richards is a thoroughbred, which will run as well as it looks. More powerful than a .416 Rigby, more powerful than a .404 Jeffery, the three-shot magazine, plus one round in the chamber, provides awesome firepower.
Like all our rifles, it is built, without compromise, to be an effective tool in the bush and a family heirloom in the gun room.
When it comes to best rifle-making, Birmingham, once the Workshop of the World, still sets the standard.