Westley Richards on the other hand is a company that is proud to continue the West Midlands' 1000 year-old heritage in leatherworking, and to a level revered around the globe.
Unlike our gunmaking, with a gunsmith for every trade, each and every leather product at the company is made by a single artisan from start to finish. This brings a level of care and attention to detail unparalleled within the UK and is the reason our travel bags, gun slips and small accessories are constantly sought after.  One such artisan is Laura, who has risen through the ranks mastering our entire leather goods range and now produces our bespoke products.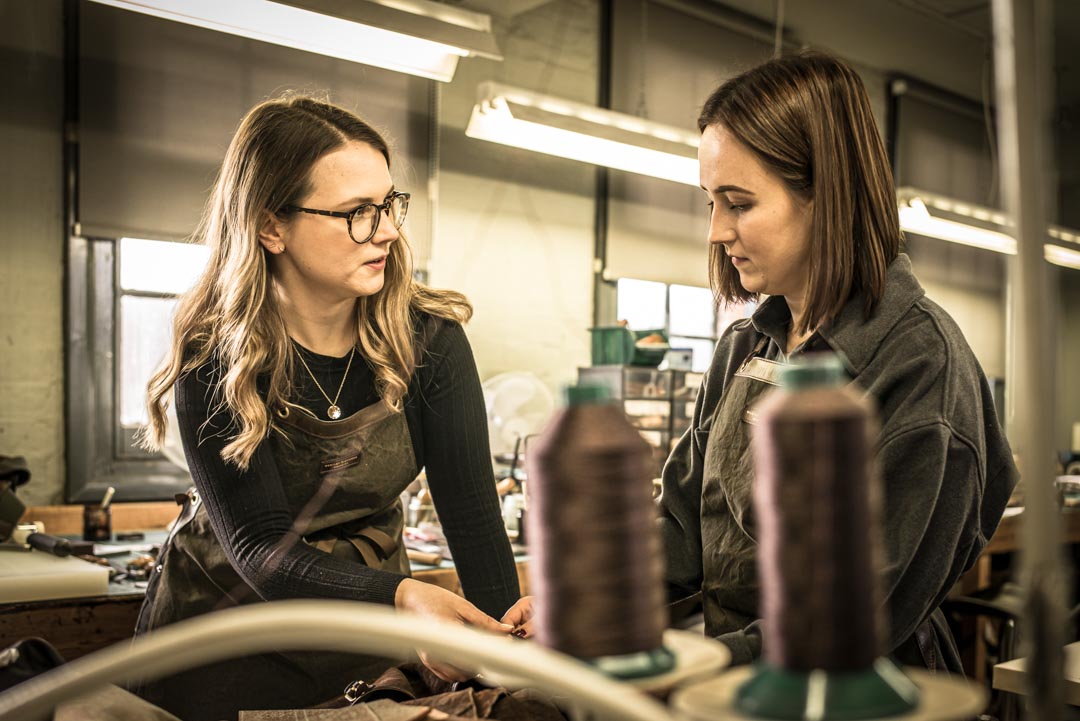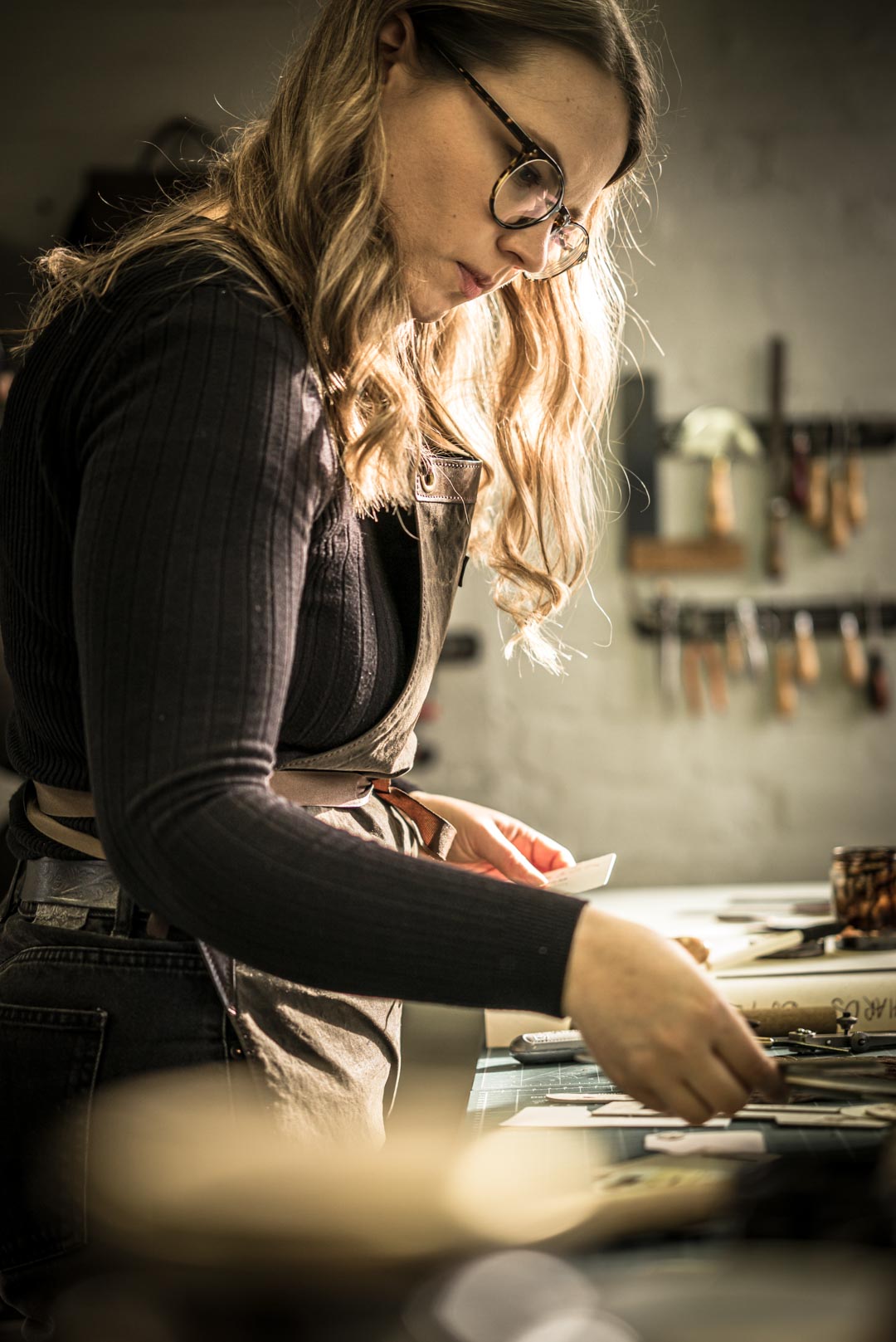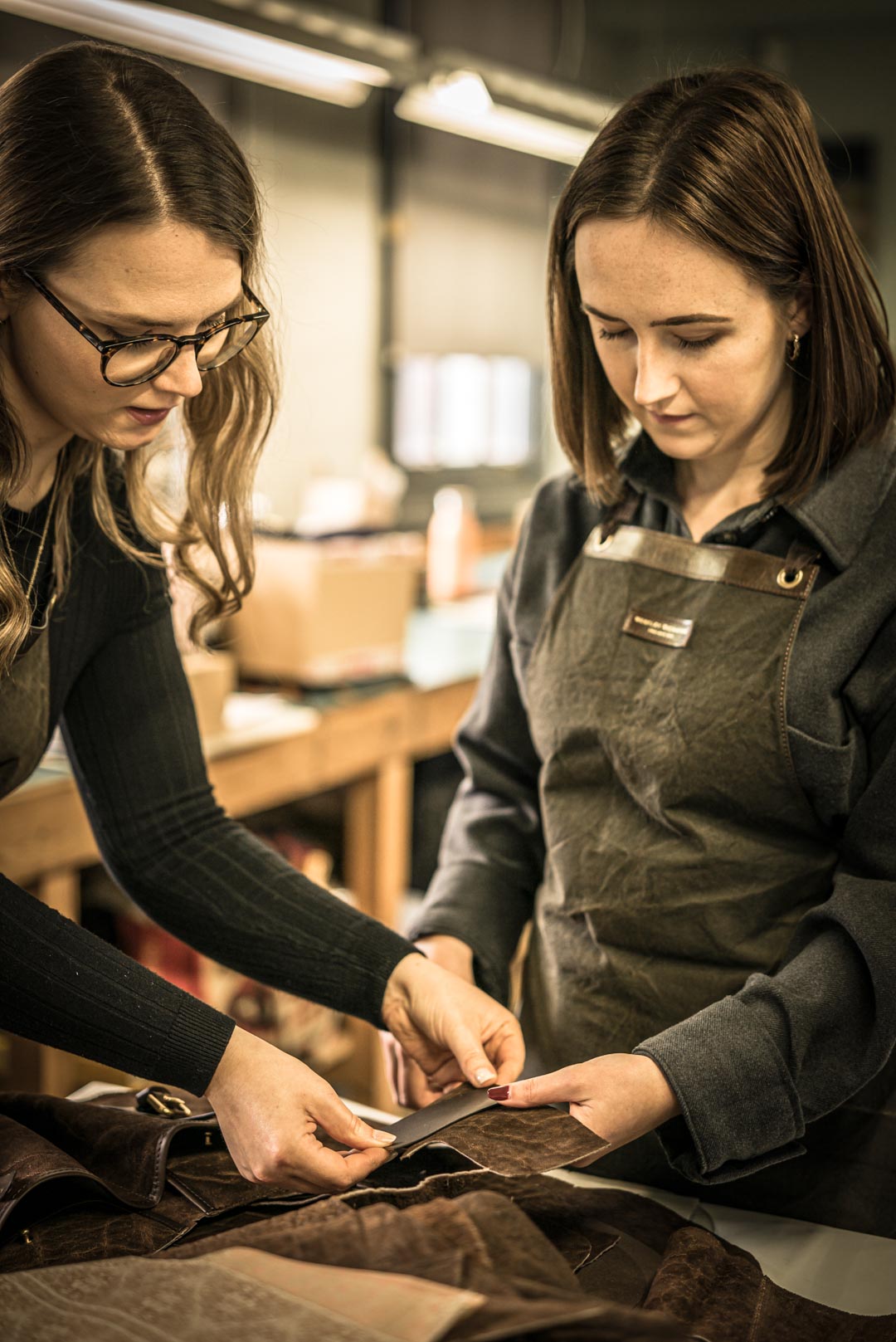 Where did you grow up and complete your studies?
I grew up in Rothwell, a small town in Northamptonshire. As a creative child, I lived for school art projects and often begged my mum to teach me to sew. Her sewing machine was always out at home, and in the school holidays she would patiently teach me the basics as well as how to follow a pattern to make clothes. I was very excited when I could take lessons in textiles as a subject at secondary school! Keenly interested in fashion history, I decided costume design seemed like a good fit for me. I went on to study Theatrical Media Make-up & Costume at Worcester College followed by Fashion Design for Performance at Birmingham City University.
What inspired you to become a leather maker?
Leatherwork was something I fell into. A project at university led me to design and make a Viking-inspired corset from a fine pig suede, and this opened my eyes to the possibility of creating with alternative materials to the textiles I was used to. I started buying vintage leather skirts from charity shops, chopping them up and making cosmetic bags as gifts for friends.
After University I had been a bit lost, and after struggling to find stable work in the creative industry I landed in an international market research role, moving away from my creative roots. While this job provided me with invaluable life experience and world travel, I was looking to return to a creative environment where I could use my hands creatively again. Honestly, I was unaware of leatherwork as a career path and had been pleasantly surprised to stumble on the job advert for a trainee position here at Westley Richards.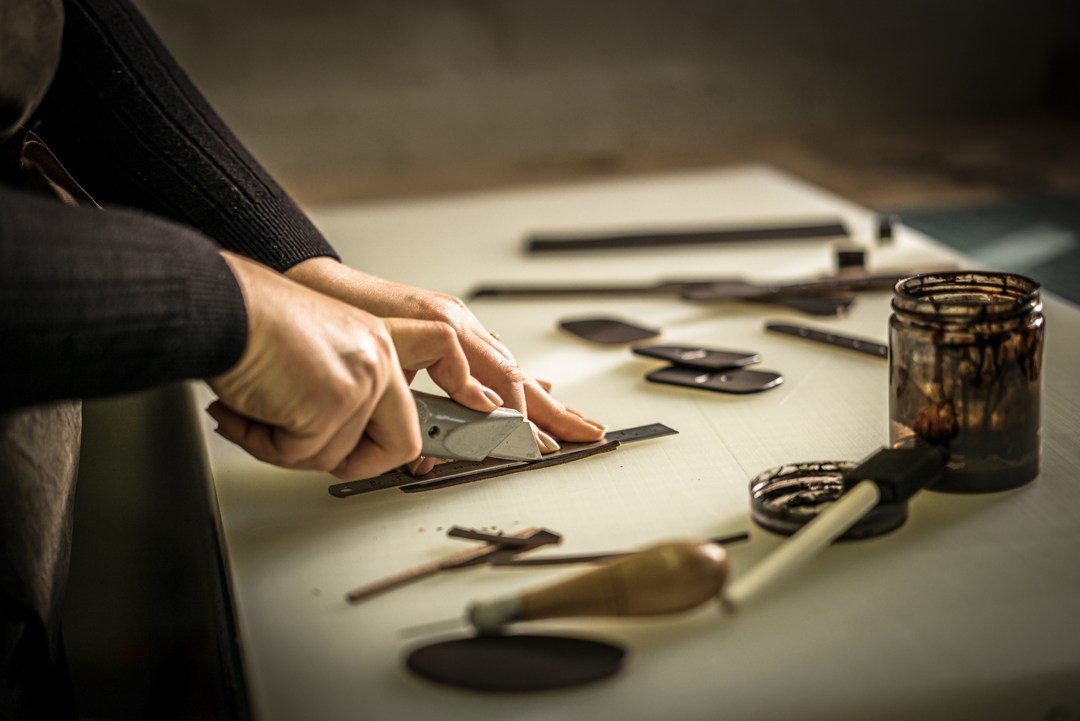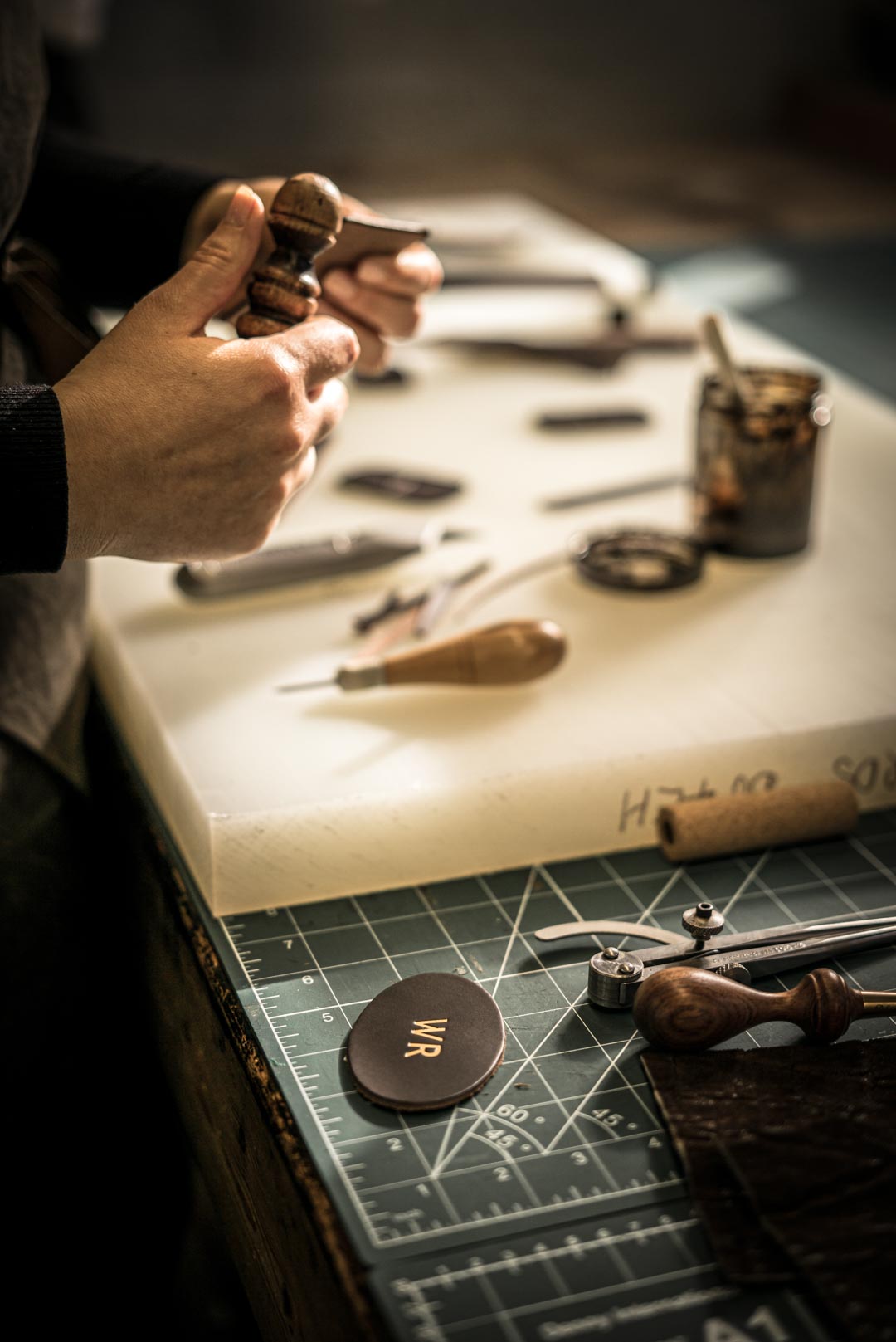 What did your apprenticeship entail?
I feel very lucky to have found this opportunity within the Westley Richards leather department.
In early 2018 I became a trainee, working very closely alongside the skilled leatherworkers here. Starting with the basics, learning how to choose the right leather for each job and the vitals in leather prep. From there I moved onto fabricating some of our smaller goods like the ammunition wallets, belts and slings, which gradually built up my skill set and introduced the different machines and techniques that we use at Westley Richards. Taking detailed notes and diagrams has been key, and still is, in making sure products are created identically each time.
Who would you have counted as mentors in the field of leather accessories?
The amazing leather workers here at Westley Richards have been my mentors. Witold Podwysocki and Tracy Matthews have years of invaluable experience and product knowledge that they have passed on, giving me a huge insight into leatherwork, from fine leather travel bags and accessories to heavy duty shooting goods.
I would say that my most important mentor was Joanna Dzwonkowska, another former colleague at Westley's, who taught me everything she knew and had indeed learnt herself here. Her patience, encouragement and attention to detail was inspiring and is definitely the person who helped me achieve the abilities I have now. I try to channel her when training the new recruits now myself!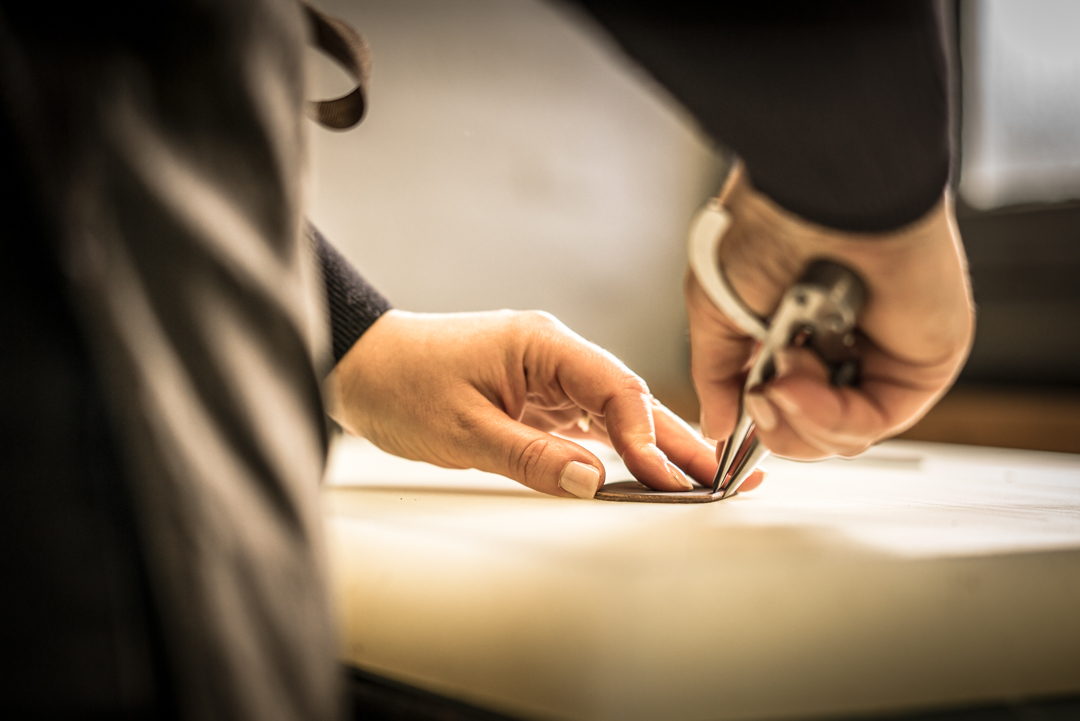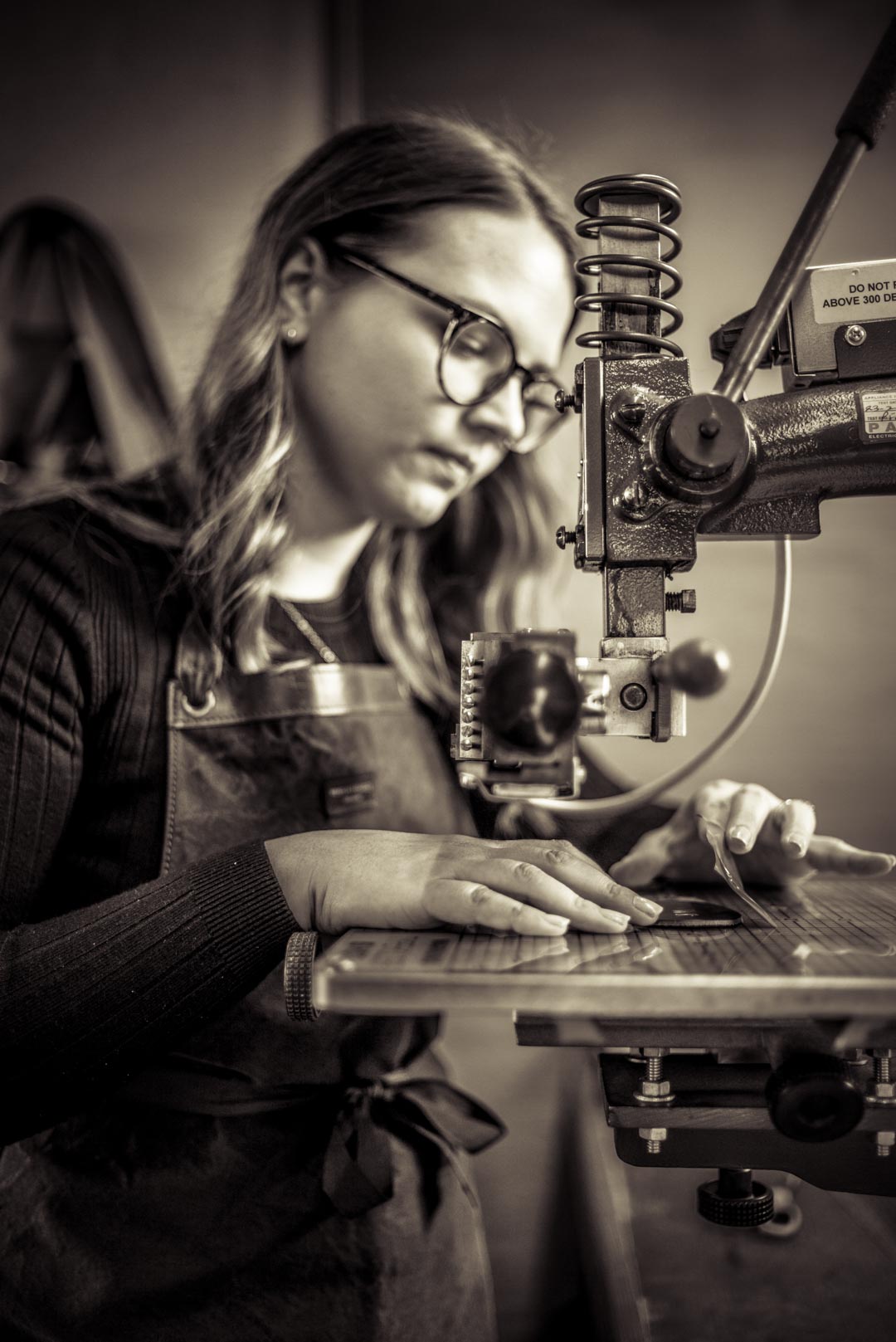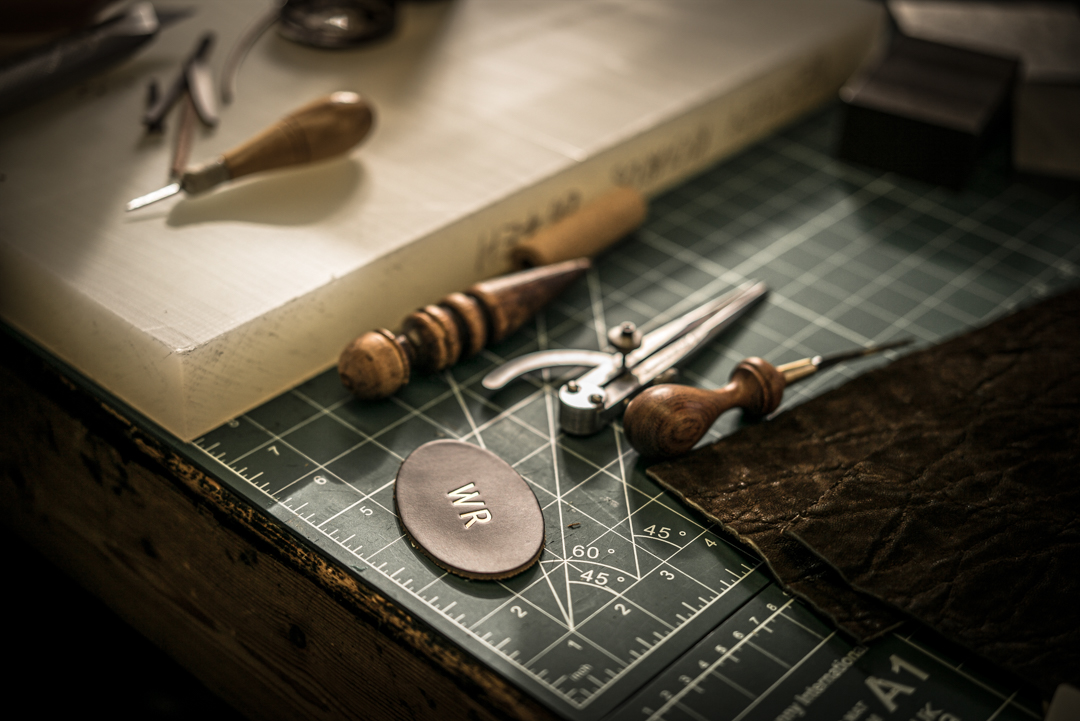 How long did it take to learn the art of crafting a fine leather good?
Skills are transferable and the way I have learnt has been gradual. For example, when embarking on the Bournbrook range I started with the wash bag, which helped better understand the construction of the briefcase and in turn the 48hr bag. Learning the art of any one product comes from making a fair few, in all our colourways, and often making a few mistakes along the way! Even then, slight variations in leather and machines are always factors that can throw us off, so we always have to stay on the ball!
What are the greatest challenges a leather maker faces?
Being a natural material, leather varies with the type of animal and from skin to skin, this challenge always makes the job interesting. The team have to watch out for any dryness or scarring, and treat certain leathers like exotics and buffalo in specialised ways. There is little room for error with leather, it isn't very forgiving! Being one stitch out can mean having to start again, therefore it's important to stay focussed and have a good eye for detail. Sometimes sewing machines can also have a mind of their own and can take time to get to know each one and their individual quirks!
More recently I have taken on some of the more heavy-duty products, hand stitching a blocked end of a gun slip or pushing a cartridge bag through a sewing machine can be quite the challenge in upper body strength!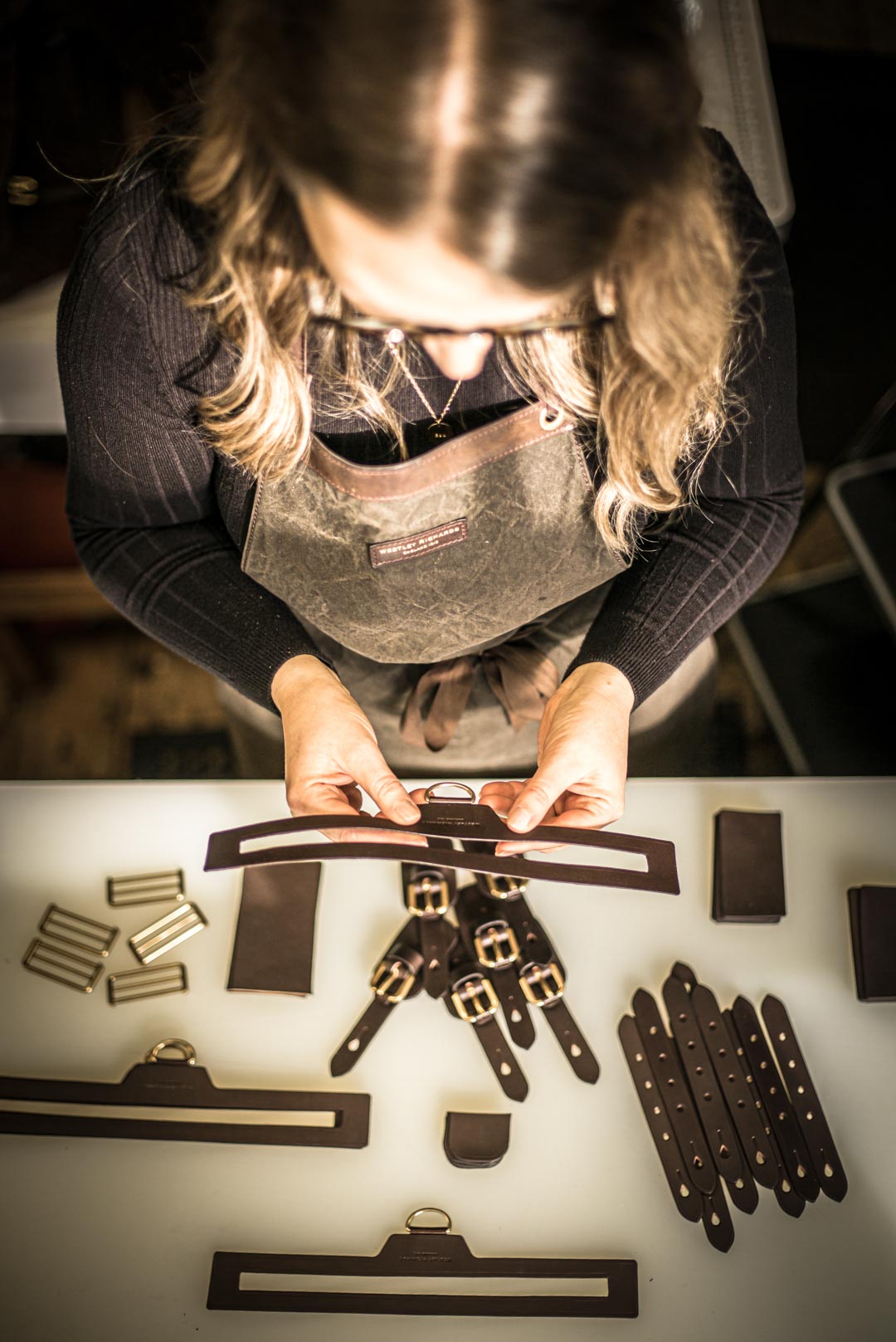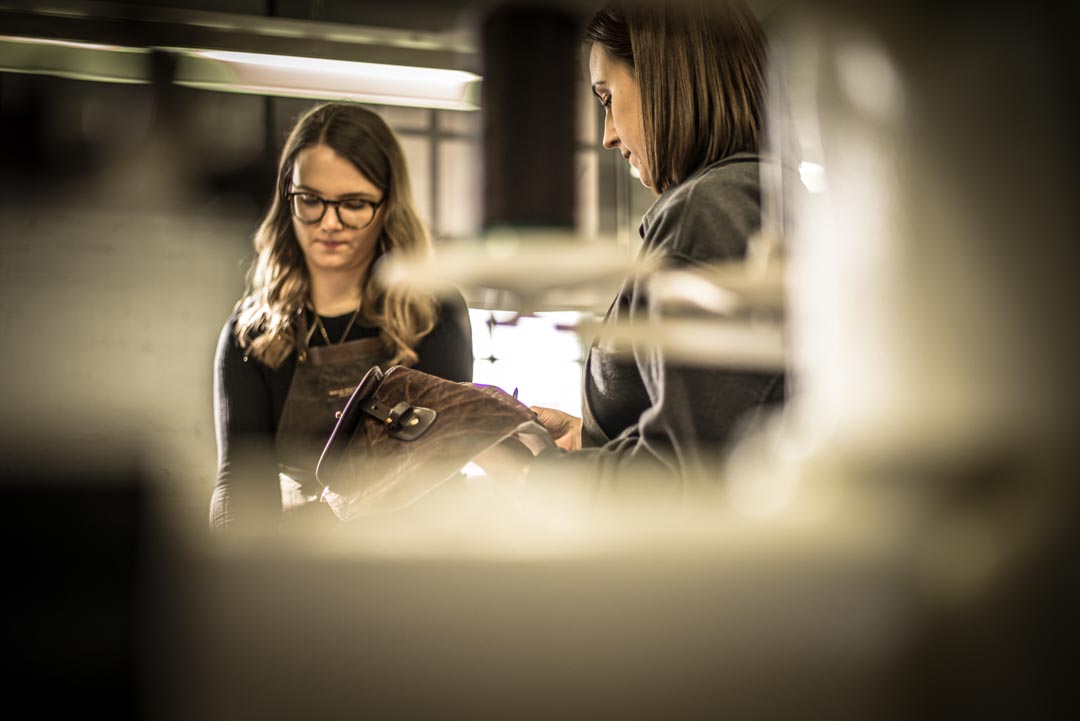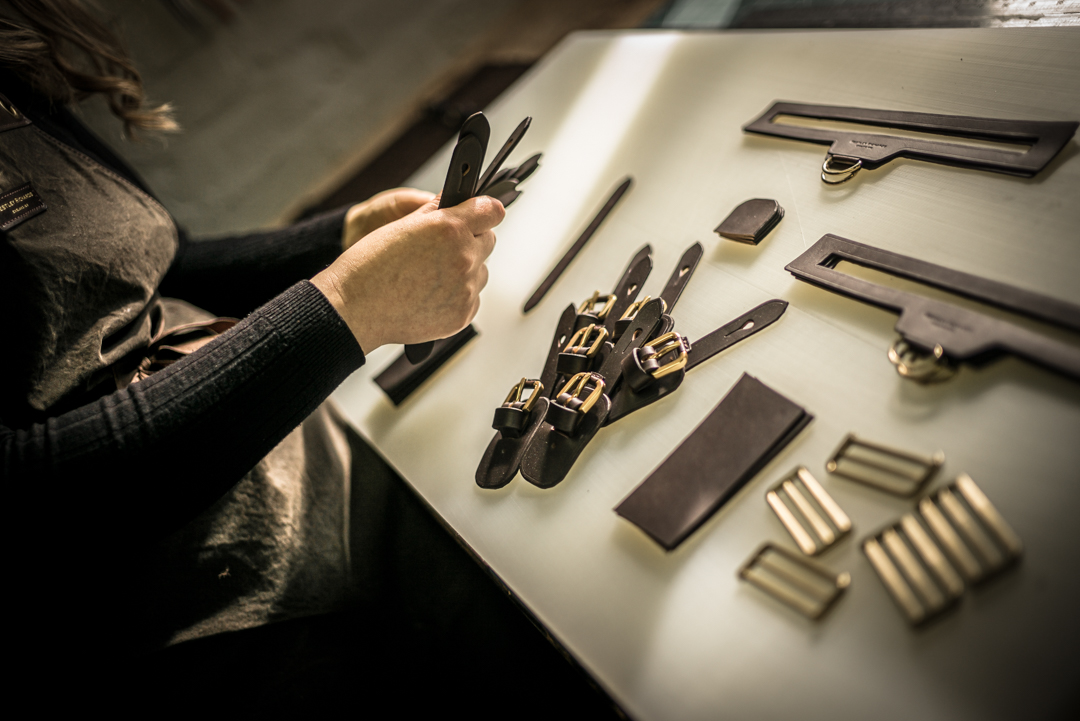 Name some highlights during your career?
Completing my first bag, the Sutherland, was an emotional achievement for me, it was about a year into my time at Westley Richards and when I joined this felt like such a distant dream. My first Sutherland was a true testament to how much I had learned in that time. Later on I would say moving onto bags with more challenging constructions like our Bournbrook collection. This travel bag range has another level of complexity that felt intimidating at first but highly satisfying to understand!
If you hadn't become a leather maker, what path would you have taken?
I might have tried to pursue a career in costume design with the aim of specialising, I always enjoyed the construction involved in corsetry! Either that or some other creative craft like millinery, or even basket weaving!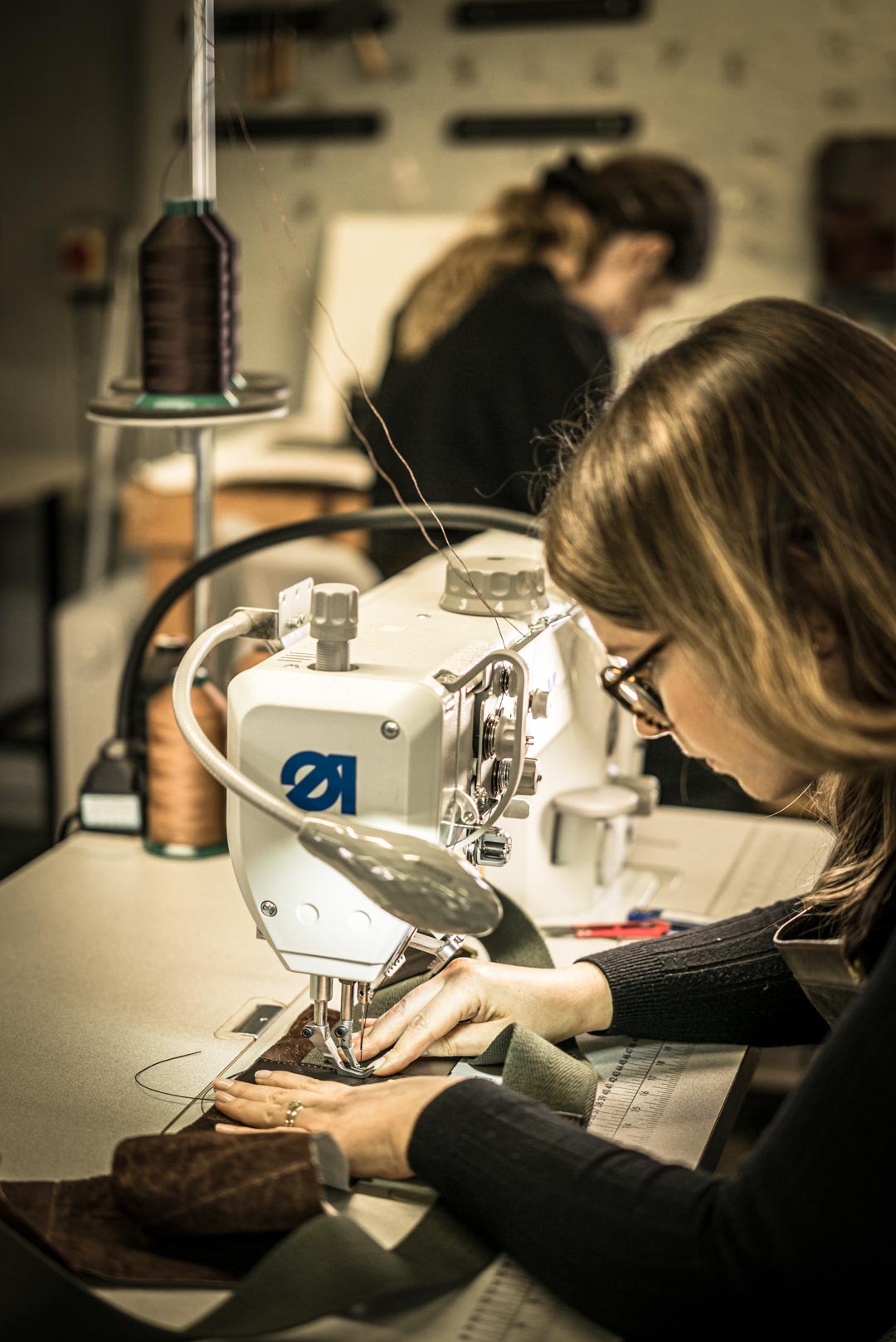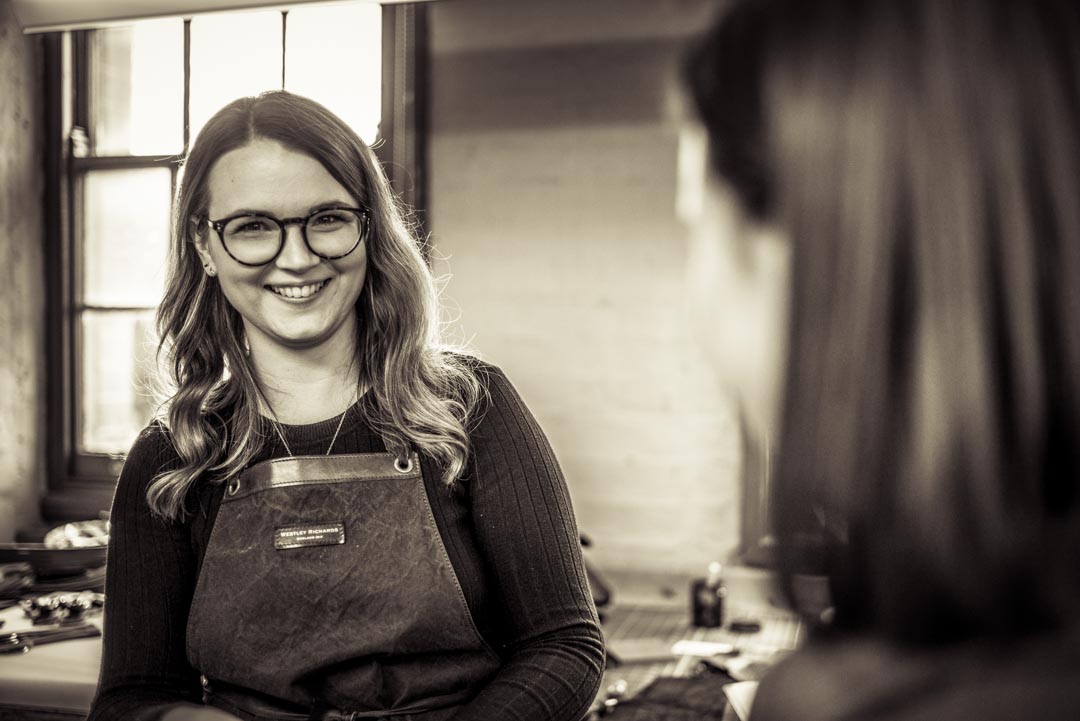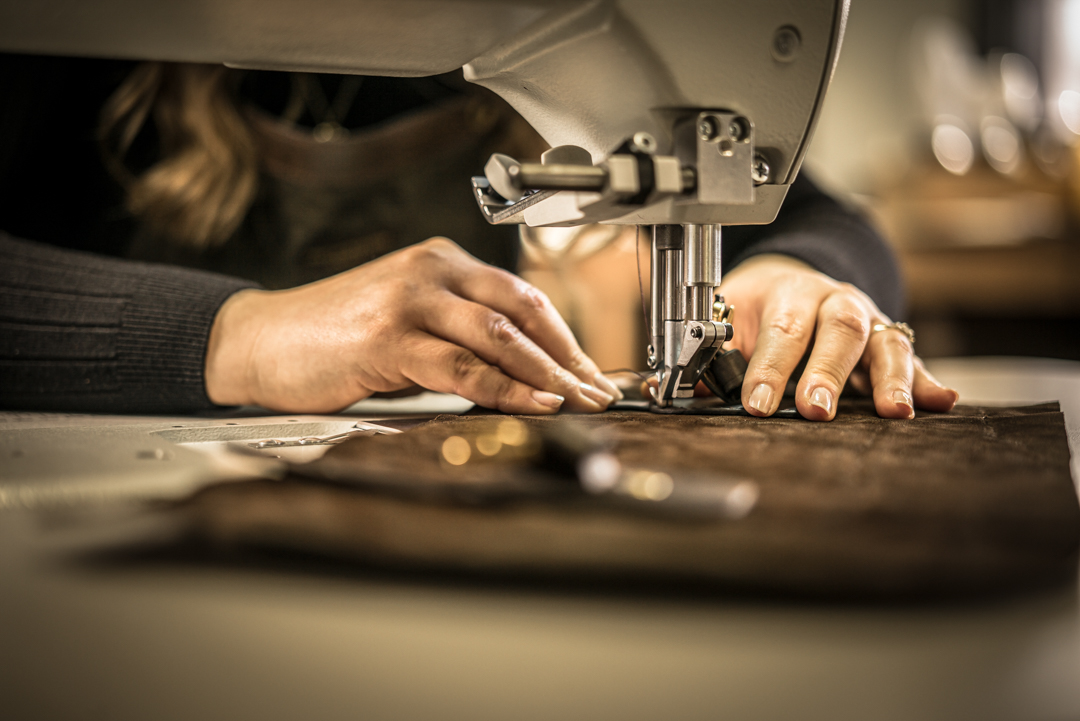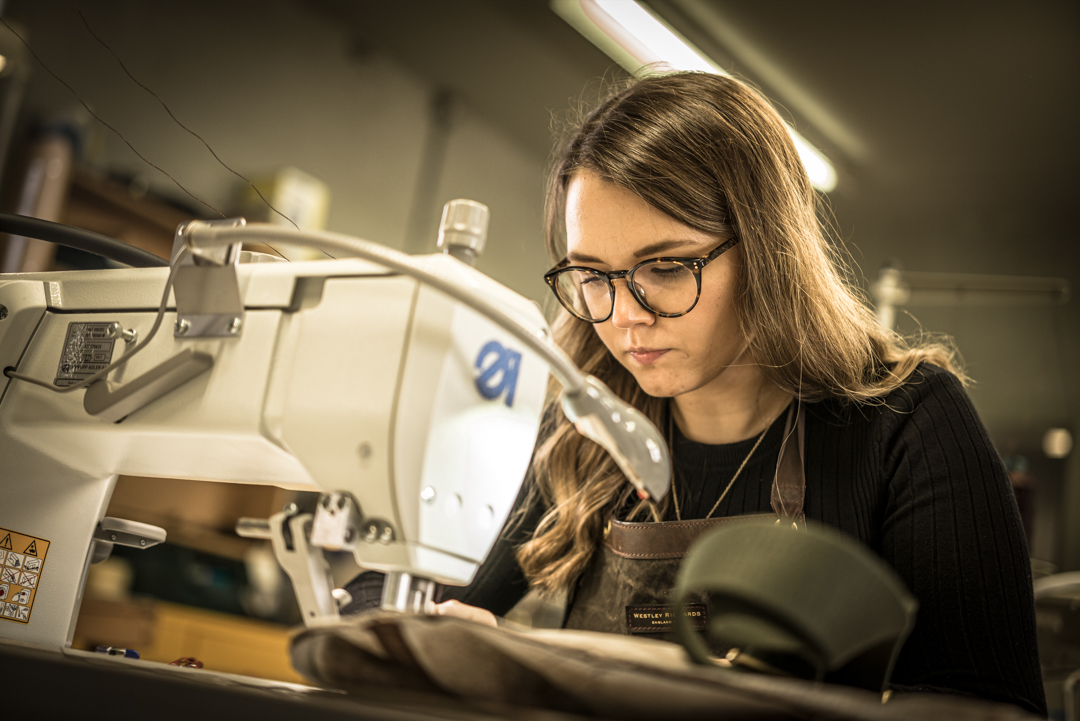 Tell us of your experience of training new members of the leather department?
As new trainee leather workers come through I take a very active role in their training. Having been trained not that long ago… I still remember clearly how it is to be new to the role, therefore with patience and understanding I adjust my style of training to suit their needs and personality types. It is great to see them thrive in this workplace where so many opportunities are given and to watch their confidence grow.
What bespoke projects have you been working on recently?
A gun patron recently ordered twelve Bishop bags and two Explora rucksacks made in their own game skins. Though it requires greater diligence and time I love this kind of work, producing truly one of a kind pieces with particular sentimental value to the client. Every bespoke job has its own unique challenge to learn from and as a team we can draw upon each other's knowledge and experience. The skins are so interesting to handle with their own unique character so we make sure to utilise it, showcasing the best of the pattern and texture in more prominent areas of the final bags.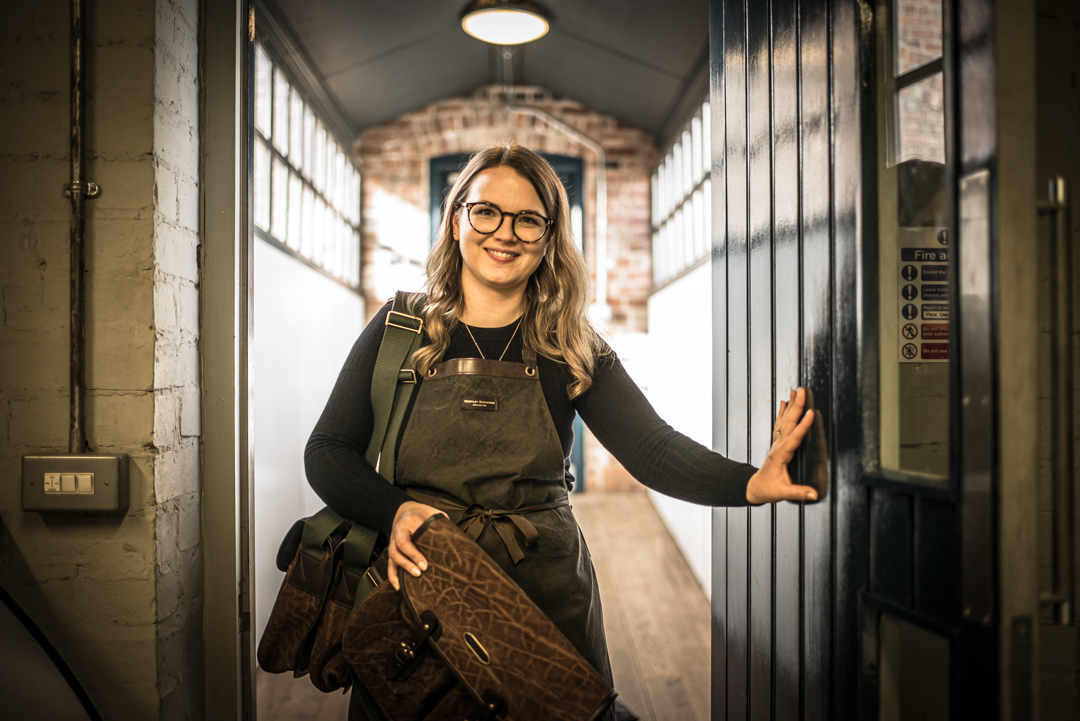 If you at home are interested in commissioning a bespoke leather project with Westley Richards, we would love to hear from you. Please contact retail@westleyrichards.co.uk with your questions and requests.
Bespoke projects are quoted on as individual cases and are defined as working with a client's game skin and/or slight design changes to the existing Westley Richards product range. To note, your game skins must be of a certain quality and in all cases the final cost will exceed the original product retail price, even when requesting to use own leathers, due to factors including: design time, pattern cutting, set up adjustments, tool making and changing, trim matching and purchasing, leather checking and conditioning.