Presented in a classic, green canvas and leather case, this is a no frills rifle, a practical rifle and one which is destined to hunt hard. For those of you unfamiliar with the calibre the .425 has 'neck and neck' ballistics with the .416 Rigby. Rigby would no doubt claim more power but we would object, strongly! The WR cartridge was designed to fit straight into a standard size Mauser action and originally the cartridges were sold in a 5 shot clip, you would load from the clip directly into the 5 shot drop magazine you see here on this rifle.
As you will see from the advertisement at the bottom of the post which is from our 1912 catalogue,  we have reproduced the classic lines of the rifle faithfully, the drop box with horn nose which covers the hinge mechanism and the raised side panels with drop points both give this rifle its signature and masculine look.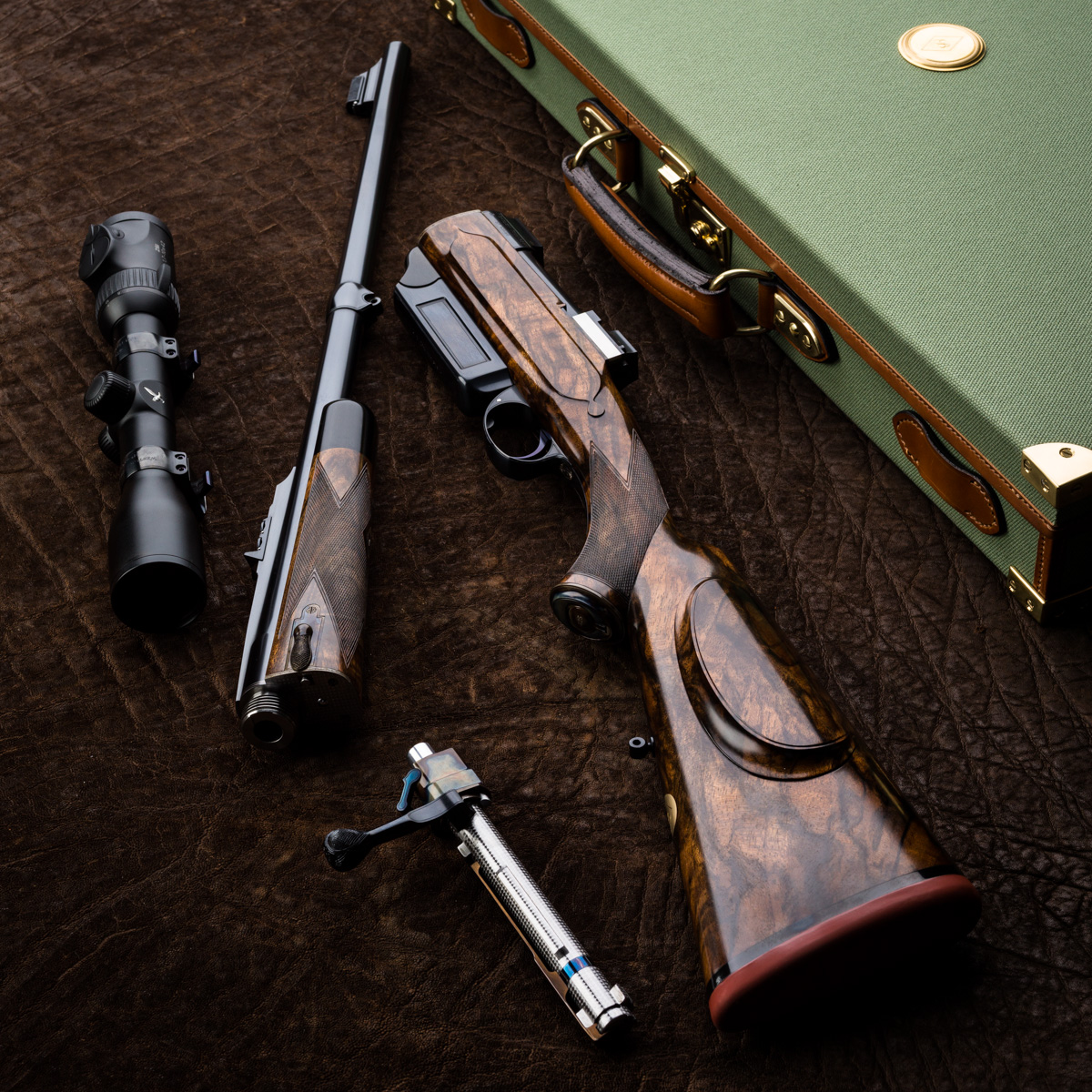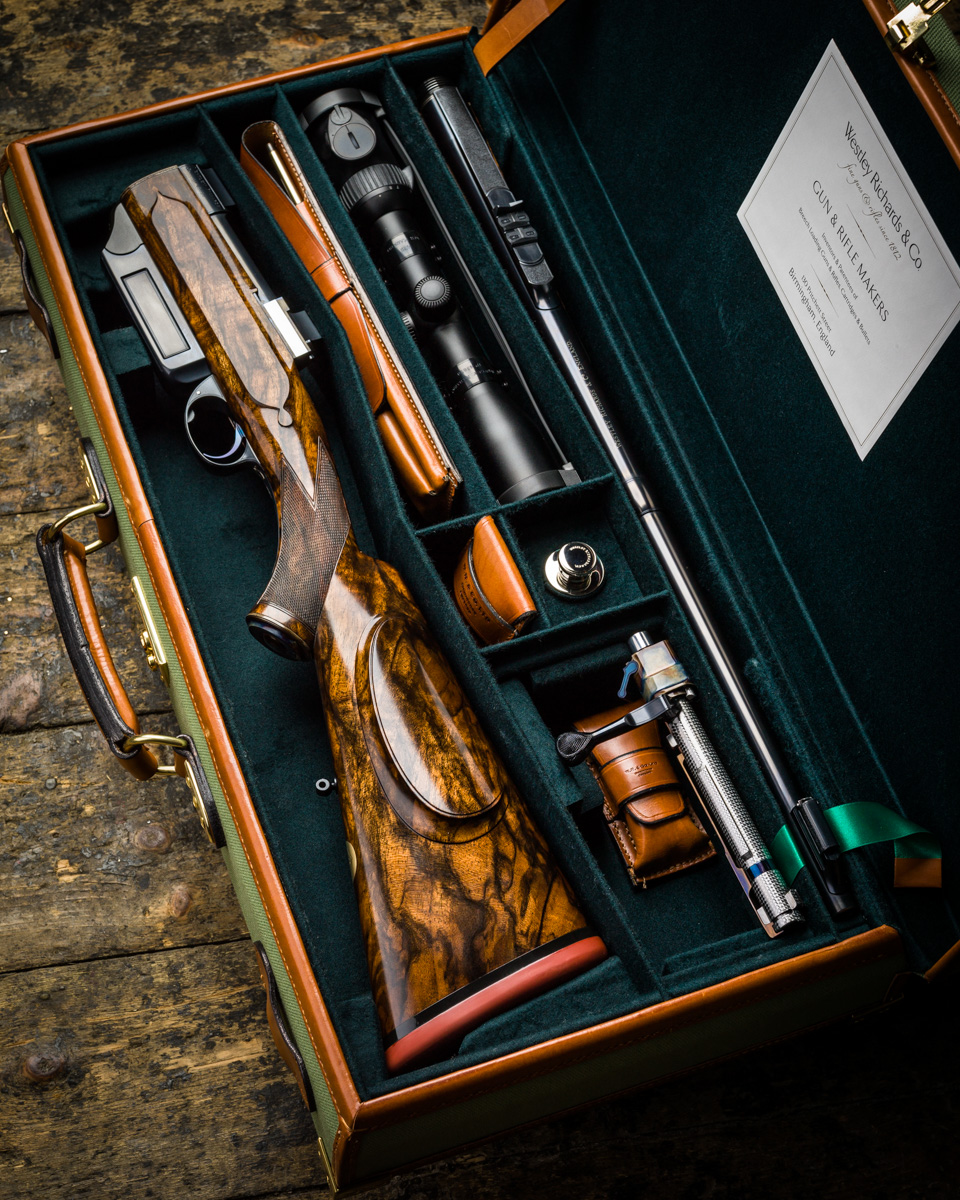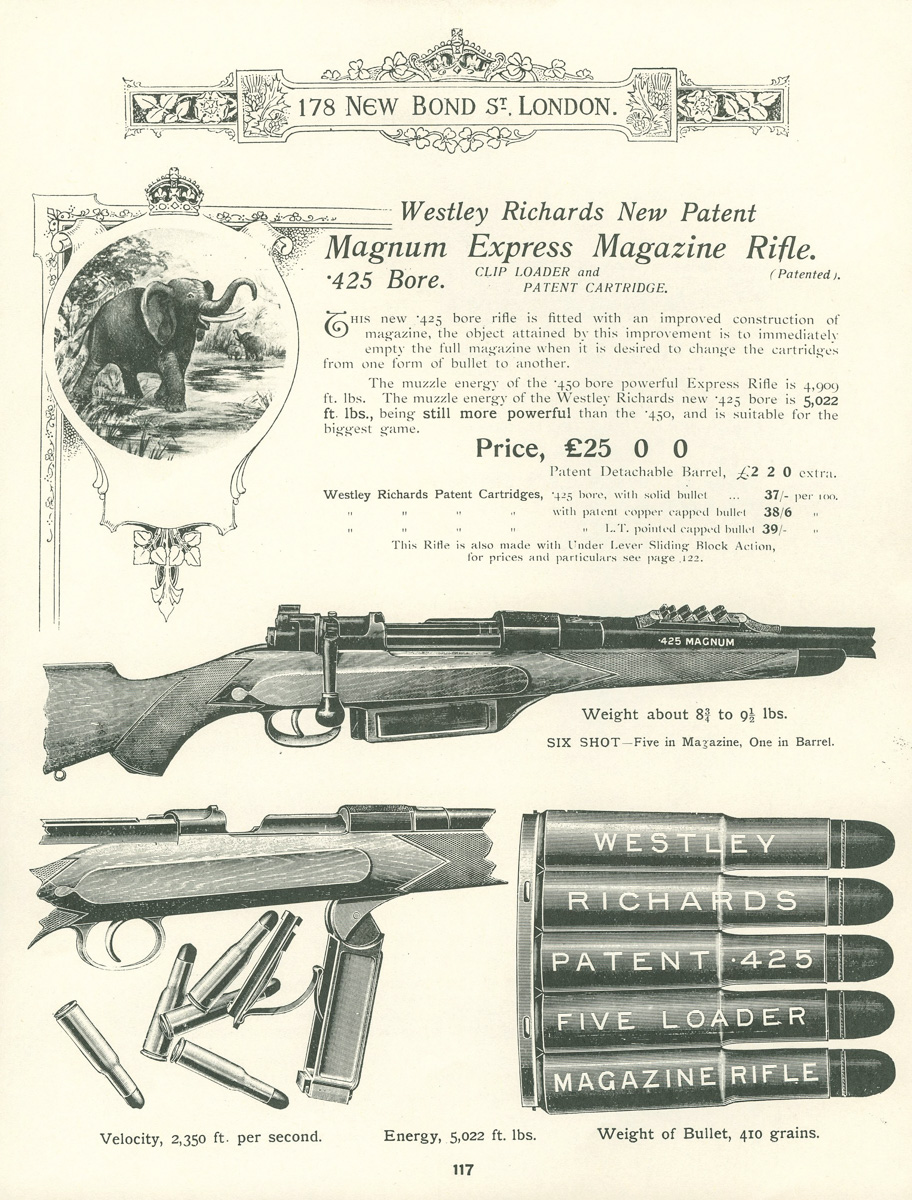 As I imagine not everyone looks at the comments, I have added this response to the post. It says what I should have said, better than I could have!
Dear Simon, thank you, Exquisite, absolutely.
Sorry, but no 416 can come close! As you say this really is a classic rifle. The late Captain FC Selous would have been impressed. Wonderful to see this superb classic calibre making a comeback. So, we await posts highlighting new bespoke doubles with detachable locks chambering the .425. An earlier post here from your records listed a total of 33 double rifles built in .425 in just over a century.
It is timely to remember that Pondoro Taylor spoke well of this round, in fact he much desired more than just one gun in .425. This he made clear in arguing for a pair of bespoke rifles built to share a single calibre: one a double, the other a magazine, with custom barrel lengths, respectively. Poignantly, Taylor considered Westley Richard's.425 the ideal calibre for this pair of rifles. It is worth recounting what he wrote in Big Game and Big Game Rifles (pg 207):
"I have often thought that a battery consisting of an open-sighted double .425 (26-inch barrels) and a 'scope-sighted .425 magazine (25-inch barrel) would take an immense amount of beating for general all-round work amongst dangerous game, and am seriously considering just such a battery when it is possible for me to order a new one." And one reads the near identical statement on pg 20 in African Rifles and Cartridges. Tragically, Taylor never realized his dream.
I like to term this nucleus of the Ideal Battery – quoting a Taylor chapter title – "Pondoro's Pair". Something to save for!
Further, with respect to similar big bores, we should remember the .425's .435″ diameter bullet – at 410gr – outperforms the .423″ bullet of the highly respected and exhaustively tested .404 Jeffery; arguably, the .425 comes close to the .458s, with 90% of the latter's cross-sectional area (CSA) and ~15% lighter bullet. But the .425 has the benefits of higher velocity and less recoil, and avoids the foibles of the too-short .458 Winchester "magnum" shell (with propellants etc) – albeit problems solved by the .458 Lott. Obviously, one is then dealing with a full-bore .450. And it is worth reflecting that the widely popular .416 has 8% less CSA.
Okay, I will stop this reply here….and not start on refuting all the silly speak by armchair critics about the rebated rim/barrel length/magazine-springs etc of the .425. This ignorant badmouthing a calibre they are unqualified to judge has been ridiculed by real experts who actually proved the .425 under challenging conditions.
Most grateful thanks to you for enlivening the easter weekend :-)