The German Prince of Saxe-Coburg & Gotha, Albert, was born in 1819 and married Queen Victoria in 1840. That year he patronised Westley Richards for the first time and granted us his Royal Warrant. We later gained additional Royal Warrants from the Duke of Connaught, the Duke of Edinburgh and King Edward VII.
Victoria and Albert had nine children. Two of the young princes were gifted 28-bore guns made by Westley Richards. One, made for Prince Albert Edward (later King Edward VII) that still resides in the Royal Gun Room at Sandringham. The other (made for Prince Alfred Ernest Albert) is here, in our own collection.
Prince Alfred, born in 1844, the Queen's fourth child, later married the daughter of Czar Nicholas II of Russia and his descendants became part of the Romanian royal family. His title was Duke of Edinburgh from 1866 until he succeeded as Duke of Saxe-Coburg & Gotha, the former title of his father.
Prince Alfred lived an interesting life, joining the navy as a teenager and travelling widely around the Empire on behalf of the monarch, being the first royal to visit many of the Empires overseas territories, including New Zealand. He even survived an assassination attempt in Australia; recovering from a revolver bullet in the back. His would-be assassin, Henry James O'Farrell was hanged.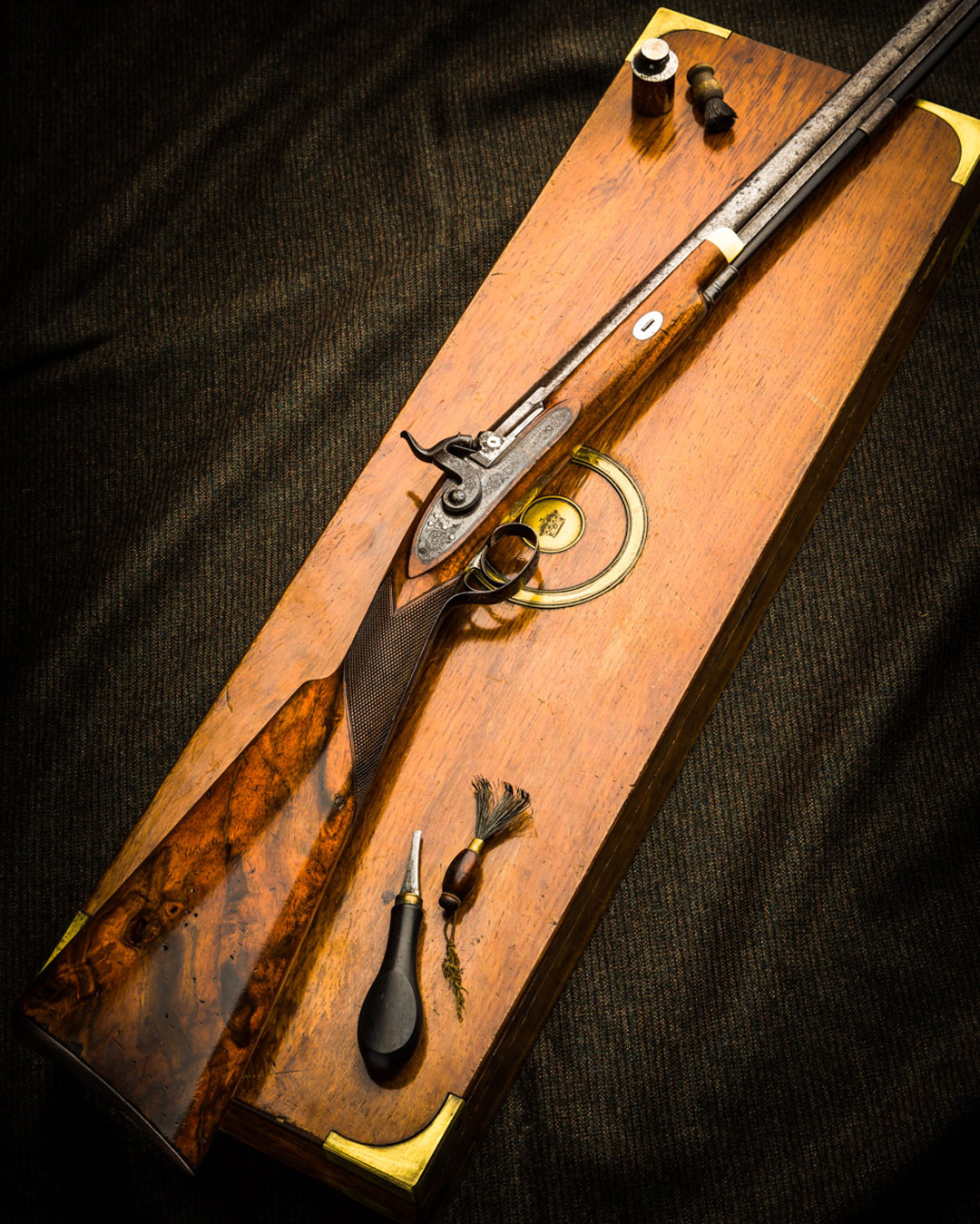 Nestled among the entries in the order book 'Westley Richards Guns & Rifles 6921-9999', covering the years 1848 - 1863, we can see the following entry, in neat copper-plate hand writing: '7183 - H.R.H Prince Alfred, single gun, 28g, July 5th - July 26th 1849.' This gun and its companion, made for Prince Albert Edward, are identical in appearance.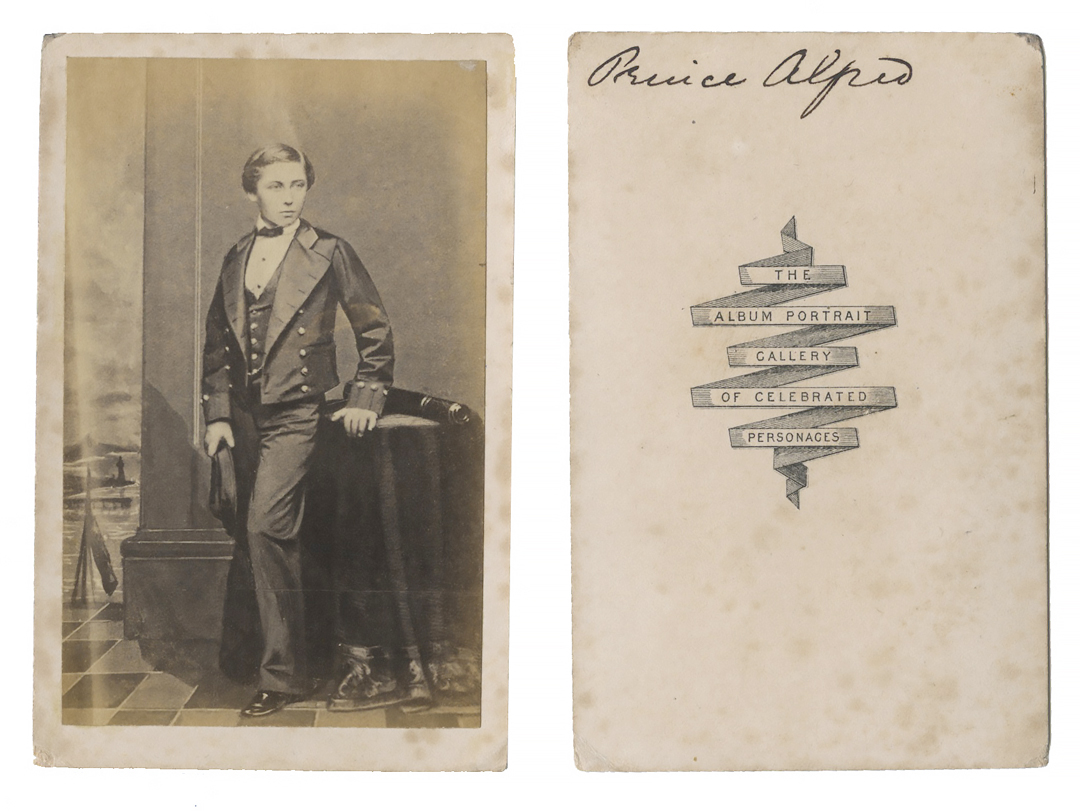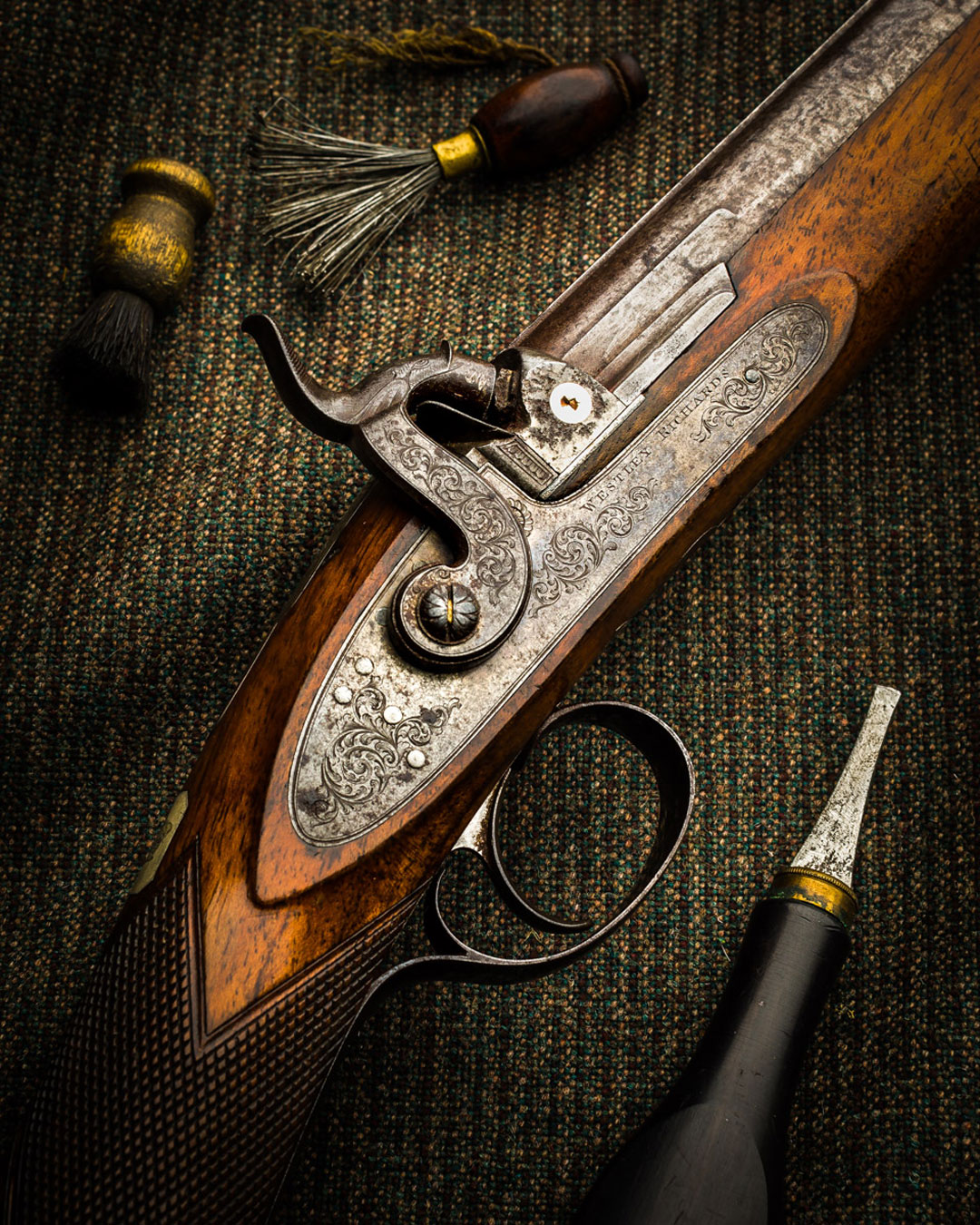 Number 7183 is a beautifully proportioned boy's gun. It was ordered from the Bond Street shop Westley Richards had in London, managed by the famous 'Bishop of Bond Street' and the case (which is of oak, with brass fittings and velvet lining) retains the '170 New Bond Street' trade label.
It has a beautifully crafted 20" Damascus barrel, with single bead foresight. The under-slung ebony ramrod has an ivory finial and this matches the forend finial of like material. This detail carries over to the ivory handled internal lids on the case.
Apart from these extravagances, the gun, though beautifully made, lacks ostentation. Had this been made for an Indian princeling, it would doubtless have been gold inlaid and perhaps even jewel encrusted. The British Royal Family appreciated quality but 'bling' was not desirable, at least in Victorian times.
There are neat, medium, scrolls engraved on the lock and the side of the, flattened-profile, dolphin hammer. This extends to the trigger guard and top-strap and the trigger plate ends with an intricate and delicately carved stylised pineapple.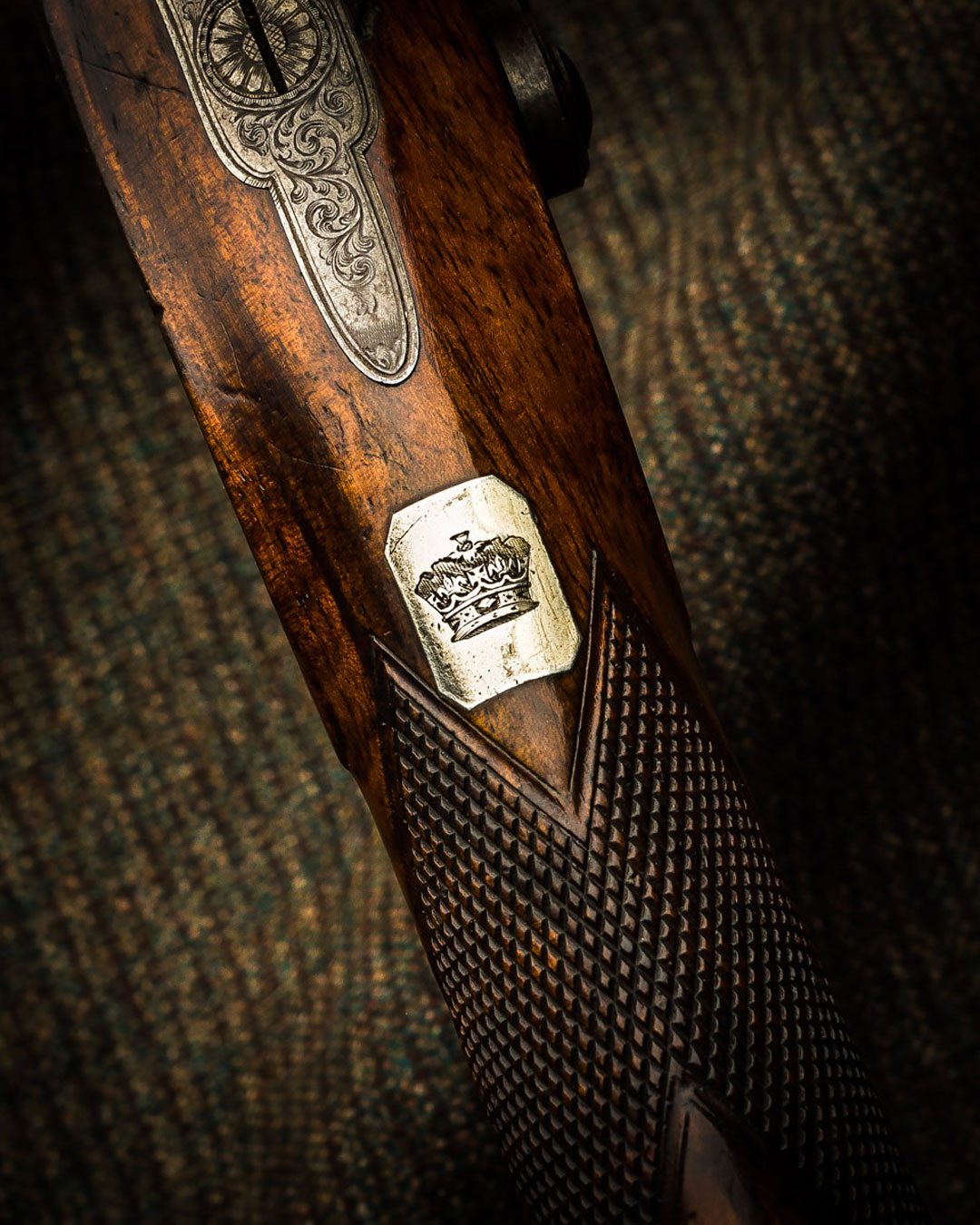 The stock, which is only 11 inches to centre, has a steel butt-plate and is of honey-coloured French walnut with pleasant, but un-fussy figure. The chequer at hand  remains clean and unworn. The silver escutcheon is a clip-cornered rectangle with English Coronet, denoting one of royal blood. Weighing a neat 2lb 12 1/2ozs there is no question that this is a genuine 'boys' gun.
As sometimes happens, the gun disappeared for some years. It may have been given to another family member, or left at a property visited and never returned to. The exact reason is lost to history but Victoria's nine children dispersed, via marriage, throughout Europe. Possessions doing likewise should come as no surprise.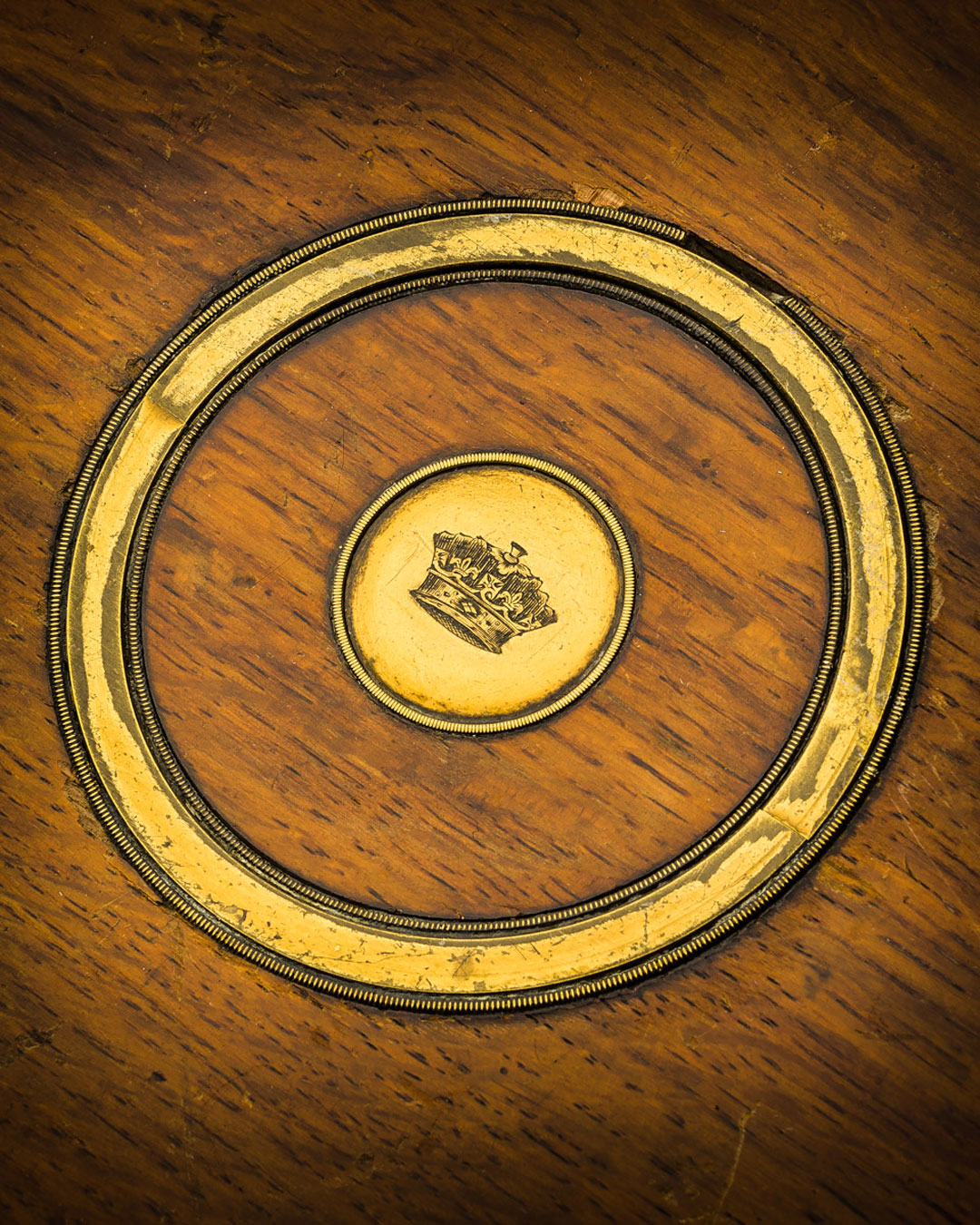 It first reappeared at an armoury sale in Europe in 2014, then found its way to auction in the Uk four years later. Because of its inlay of ivory, it has become inaccessible to overseas collectors, due to the ban in the export of material from endangered animals, regardless of age or application.
Westley Richards acquired Prince Alfred's 28-bore and it now resides at Pritchett Street, a pleasing link to our past, which serves as a daily reminder of the rich vein running through our history; of making sporting guns to standards long appreciated by generations of sportsmen who can afford the best and demand it. We take the continuation of that responsibility seriously and modern customers can see it in our work today.