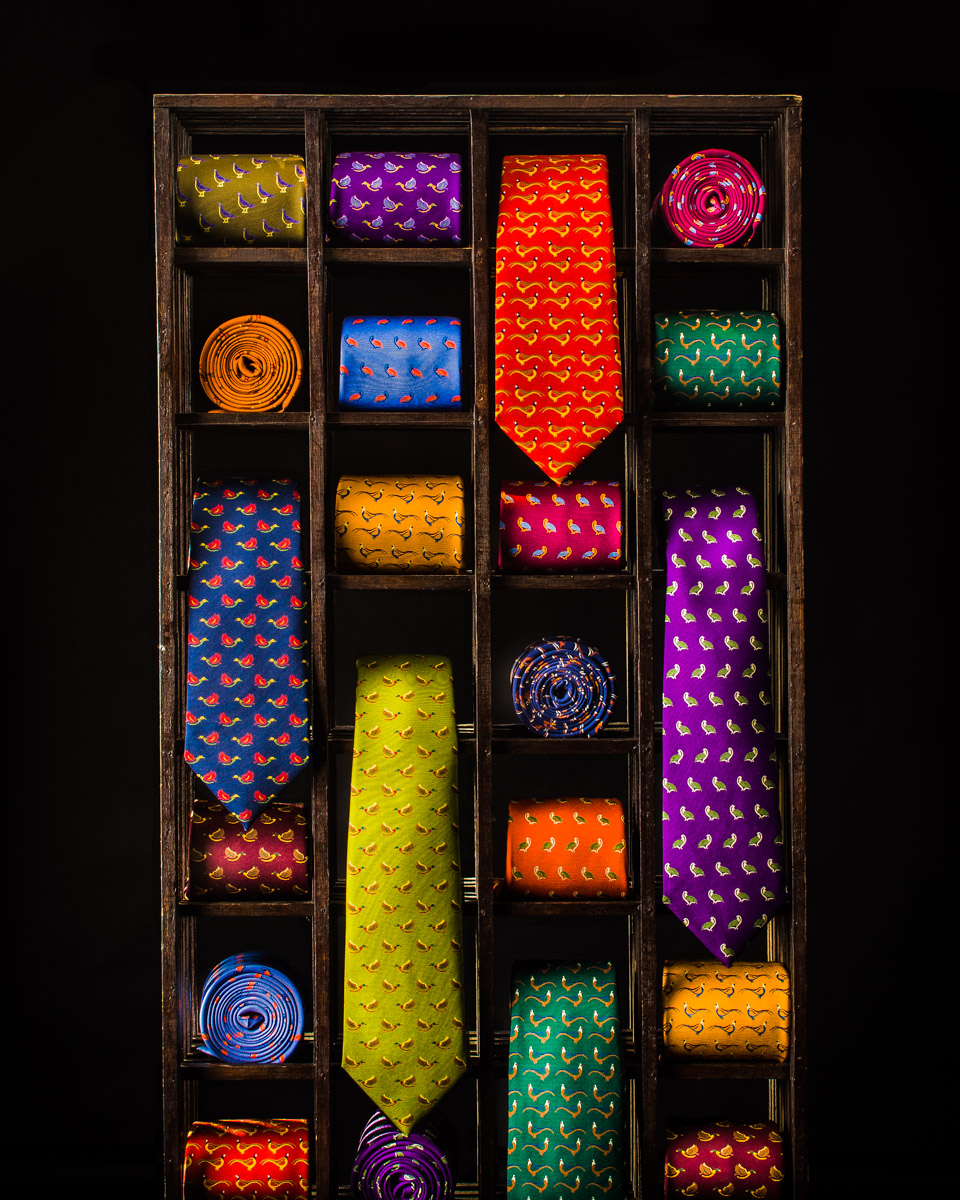 Whilst not all of us here at Westley Richards can confess to being daily tie wearers and gone are the days where the gunmakers donned a tie in the undertaking of their duties, we do find ourselves drawn by the idea of wearing a tie on a more frequent basis. Now comes the problem. Whilst there are still a few remaining fine tie makers in England, their focus seems to be on paisley, blocks, stripes and dots, and whilst this is all well and good for the masses it does lack personality and individuality. Those ties that do reflect our hobbies, such as shooting, either appear dated in their motifs or are made poorly from a material that is stretching itself to be called silk!
So here at Westley Richards we set about making the finest ties we could, pulling together designers, manufacturers, printers and a whole raft of clothing to ensure the colours would work for shoot days or office days. First, we commissioned four distinctive designs of Grouse, Pheasant, Partridge and Mallard with the aim that they should be easily recognisable up-close and abstract at a distance.
We then took these designs to one of England's premier tiemakers who put us in touch with one of the few remaining silk screen printers in England. Printing each design by hand on heavyweight 36 ounce silk and incorporating the W.R & Co. Ltd logo into the design, we selected a broad range of colours to suit (no pun intended!) the tastes of both the city and country man.
Once printed the silk was passed over to the tie maker to undergo the 9 stage process involved in creating a luxury 5 fold tie, a process that is only possible by hand and uses 50% more fabric than a standard tie, giving it a thick luxurious feel, ensuring a perfect knot every time.
The end result is a truly unique series of ties made to the very highest standards here in England. Available in a host of colourways there should be no excuse now turning up in the shooting field, or for that matter the office, without looking the distinguished gentleman!
Shop the entire collection here.