I like to use a double rifle on safari for a few reasons, firstly I am lucky and have plenty of them available to use, I can shoot better with them and I do like the reassurance of 2 quick shots, but primarily and most importantly I like to use a double because I think it makes for a much more enjoyable hunt.
The exiting part of a buffalo hunt is the stalk, the 'can we get close enough to aim and use the double', a distance I must add which narrows as the years pass and needs, ideally for me, to be about 30 yards or so now. At this sort of range there is always the challenge of the wind and movement making for failed attempts but there is also an excitement that just doesn't happen for me when peering down a telescope at 100+ yards. Tom Dames my PH this trip suggested using a .416 on some nice bulls on this trip but I politely declined. I think that it is fair to use a double as long as on the other hand you are not demanding trophies of a certain size in a certain time. I am not particular about the size of the trophy and am happy for a good representative old male and would much prefer to hunt an old small horned dugga boy at close range with my double than shoot a large bull at 150 yds with a scoped .416.
We reintroduced the Gold Name Anson & Deeley double rifle about 17 years ago, the previous WR offering of a box lock double was the "White Hunter" model in the 1950's which was relatively short lived due to poor demand at that time. With the new rifle we included everything that we felt was needed to make the best possible plain "White Hunter" type model, a working rifle which we actually aimed at getting it into the hands of current Professional Hunters and were successful in doing so in many instances.
The rifle is built in the same workshops, by the same people, with the same quality components as all our other offerings, with the Gold Name model we cut out any 'frills' and offered the rifle in only .470 or .500 and later on in .577. The rifle has chopper lump barrels, ramp front sight and express rear sights, A&D action with removable hinge pin, our Model C type dolls head bolting, auto ejectors, manual safe and 2 triggers. The rifle is engraved in gold with Westley Richards against a case colour hardened action. It was one of these rifles I used in Africa this year in .500.
The .500 cartridge is not one I have taken to Africa before myself, there has been a lot said about the cartridge in recent years and it has become very popular but I was always a .470 man, especially after I had to shoot a rifle during regulation many years ago. Ken Halbert our foreman had bruised his shoulder so badly regulating a rifle he couldn't pull the trigger again. I was the only willing substitute and the rifle in question was a 16.5" stocked .500 for a Texan giant, the only place for the butt of the stock was the ball of the shoulder and every shot was agony! I am sure it was probably the worst regulated rifle we made in recent years!! I was never an admirer of the 500 after that experience.
I got on well with the rifle this year and plain colour hardened finish and nice handling of the rifle was much admired by everyone in the camp. I managed to get a bollocking off Danny McCallum for my no frills, no sling swivel rifle when he asked "how the hell are you going to carry that damned rifle with no sling?" to which I retorted "I am not, I assumed you had gun bearers!" I have rectified this oversight on return!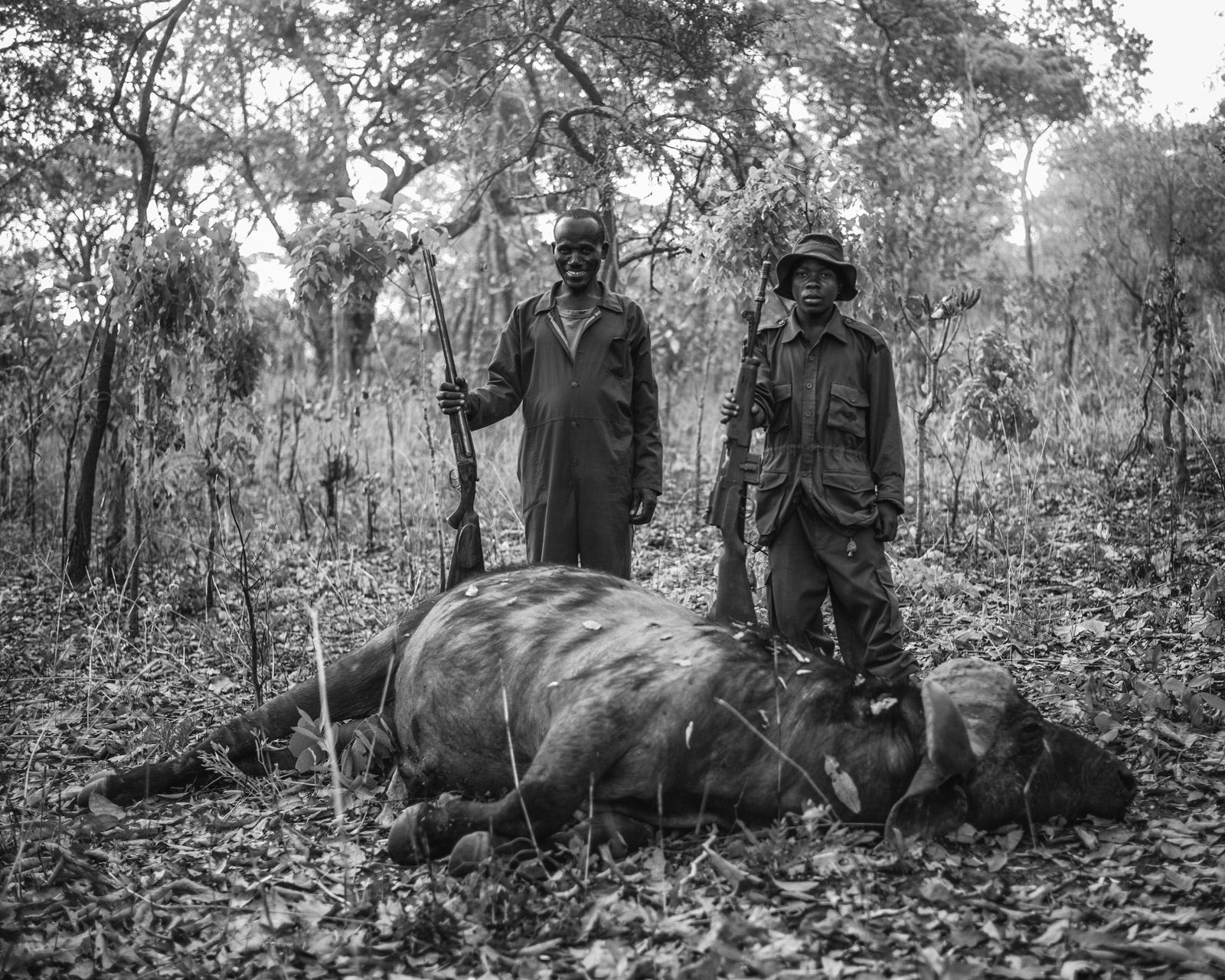 Mwaipasi kindly looks after my .500 double rifle together with Edward the game scout with his machine gun and the first Buffalo.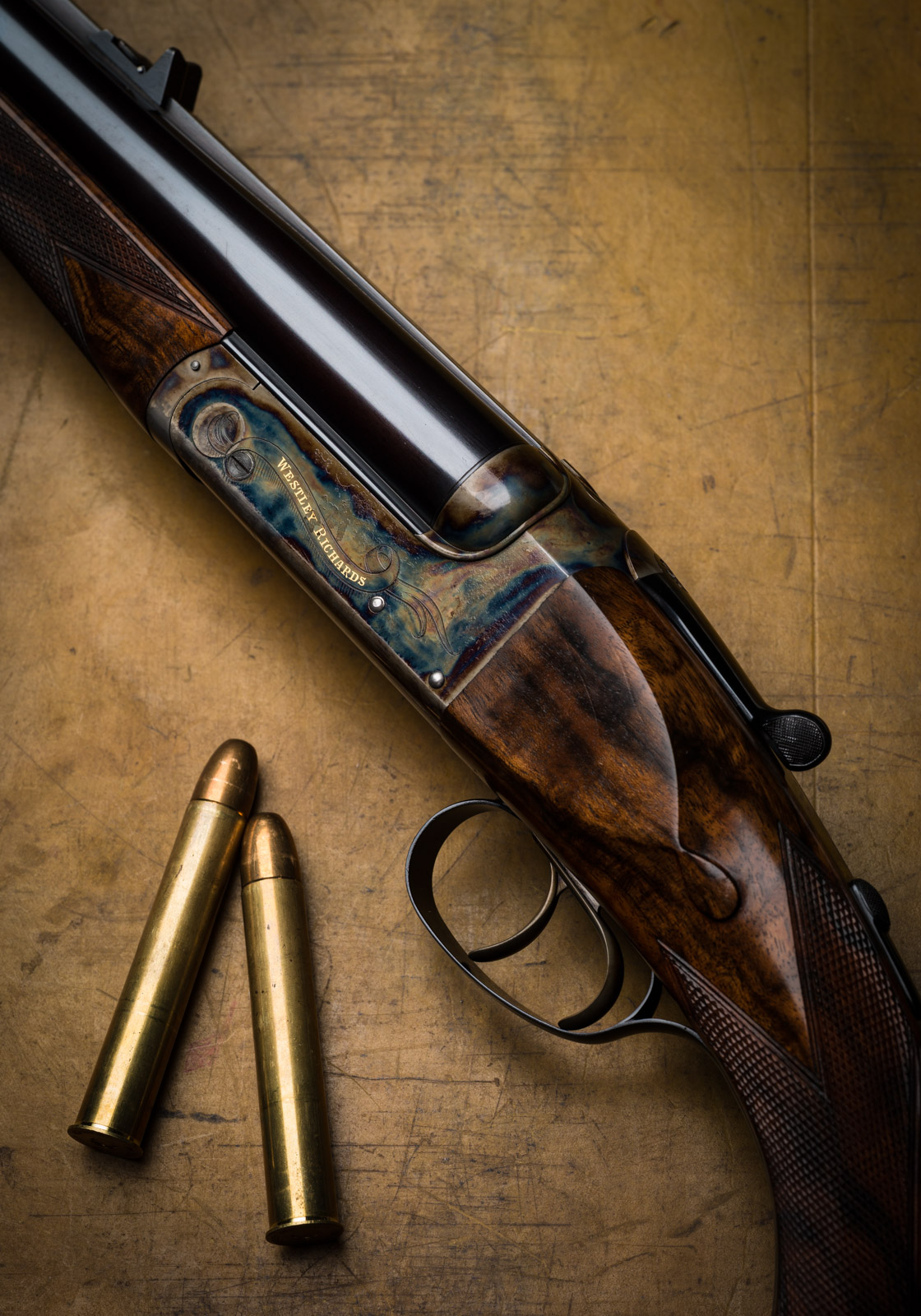 Westley Richards .500 Gold Name Double Rifle.