One such cartridge was the Westley Richards .318 Rimless Nitro Express, sometimes referred to as the '.318 Accelerated Express', which was introduced in 1906. Largely forgotten, it was once the medium calibre by which all others were measured, the noted John 'Pondoro' Taylor commenting in his seminal work African Rifles & Cartridges published in 1948, that 'this is undoubtedly the most popular and most widely-used British medium bore'.
Available in two loadings, a 180gr bullet with a velocity of 2,700 fps, and the more widely-used 250gr load with a velocity of 2,400 fps, the calibre became immensely popular. This popularity was based on the phenomenal penetration that the long torpedo bullet with its high sectional density and moderate velocity was capable of achieving. Whilst the conventional round-nose 250gr bullet set the standard, it was the cleverly-designed pointed nickel-capped bullet (designed by Leslie B. Taylor, then Managing Director of Westley Richards) that created the greatest stir. A forerunner, perhaps, to modern ballistic tip bullets, it was capable of very rapid expansion and was known to be devastatingly effective on most non-dangerous game.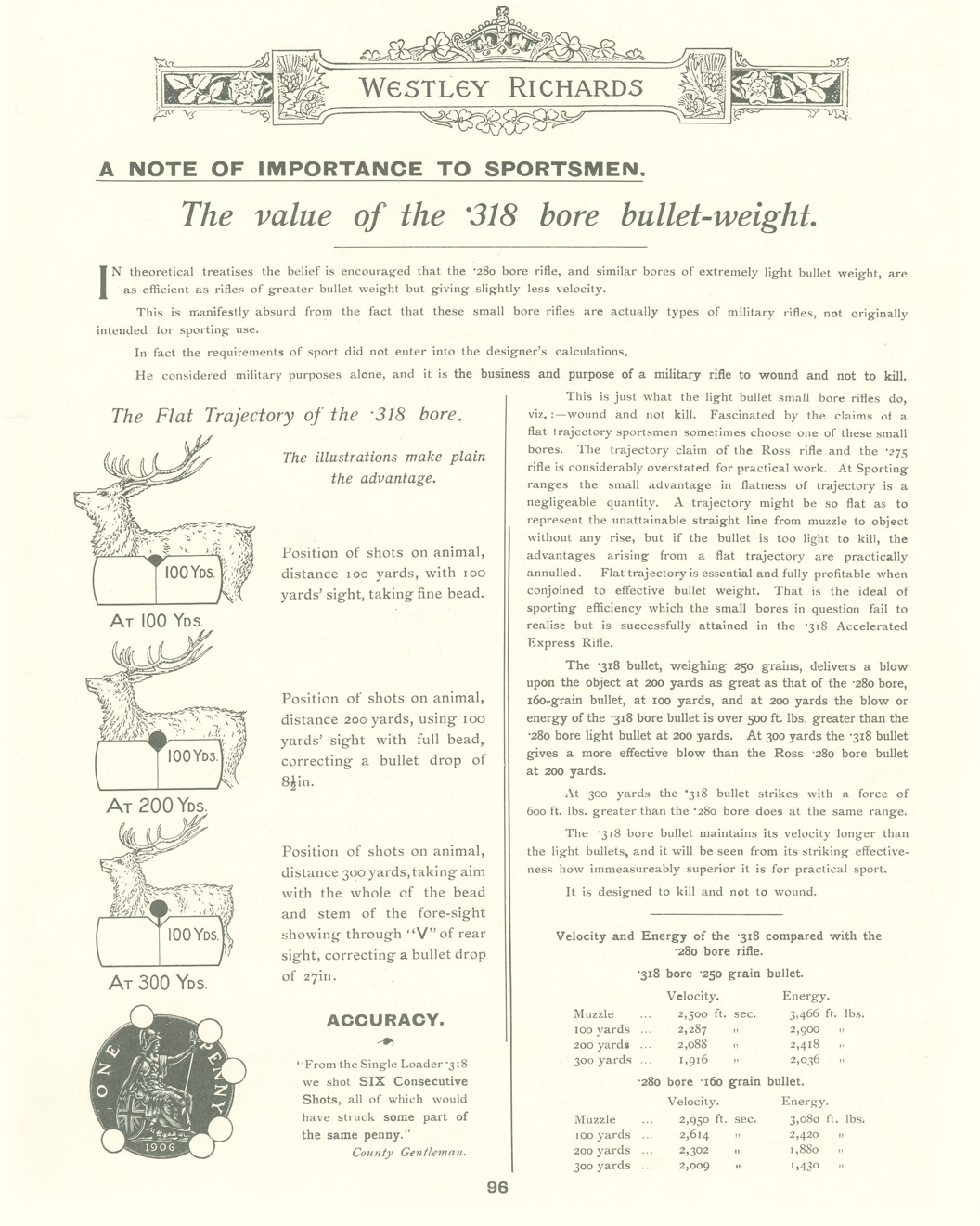 In skilled hands, the calibre was capable of taking the largest game found in both Africa and India, and was held in high regard by such hunting legends as Alan Black, Baron Bror Blixen, The Maharaja of Patiala, Count Alfred Potocki and Quentin Grogan, to name but a few. 
Not only was the round devastating from a practical point of view, but the short nature of the round allowed it to be built into standard length Mauser 1898 actions. This action was cost effective to use in the manufacture of a bespoke rifle, thereby placing the .318 at the disposal of a much wider audience. More importantly, lightweight, compact rifles could be built that were quick handling and easy to carry. 
Interestingly, just prior to the First World War, a supposed improved version of the calibre, referred to as the 'Square Shoulder' was offered. It was designed to overcome, amongst other things, issues with headspace and subsequent misfiring; the square shoulder locating solidly at the front of the chamber. As fate would have it, war intervened and the square shoulder concept disappeared into obscurity. Rifles chambered for this long forgotten variation are extremely rare indeed.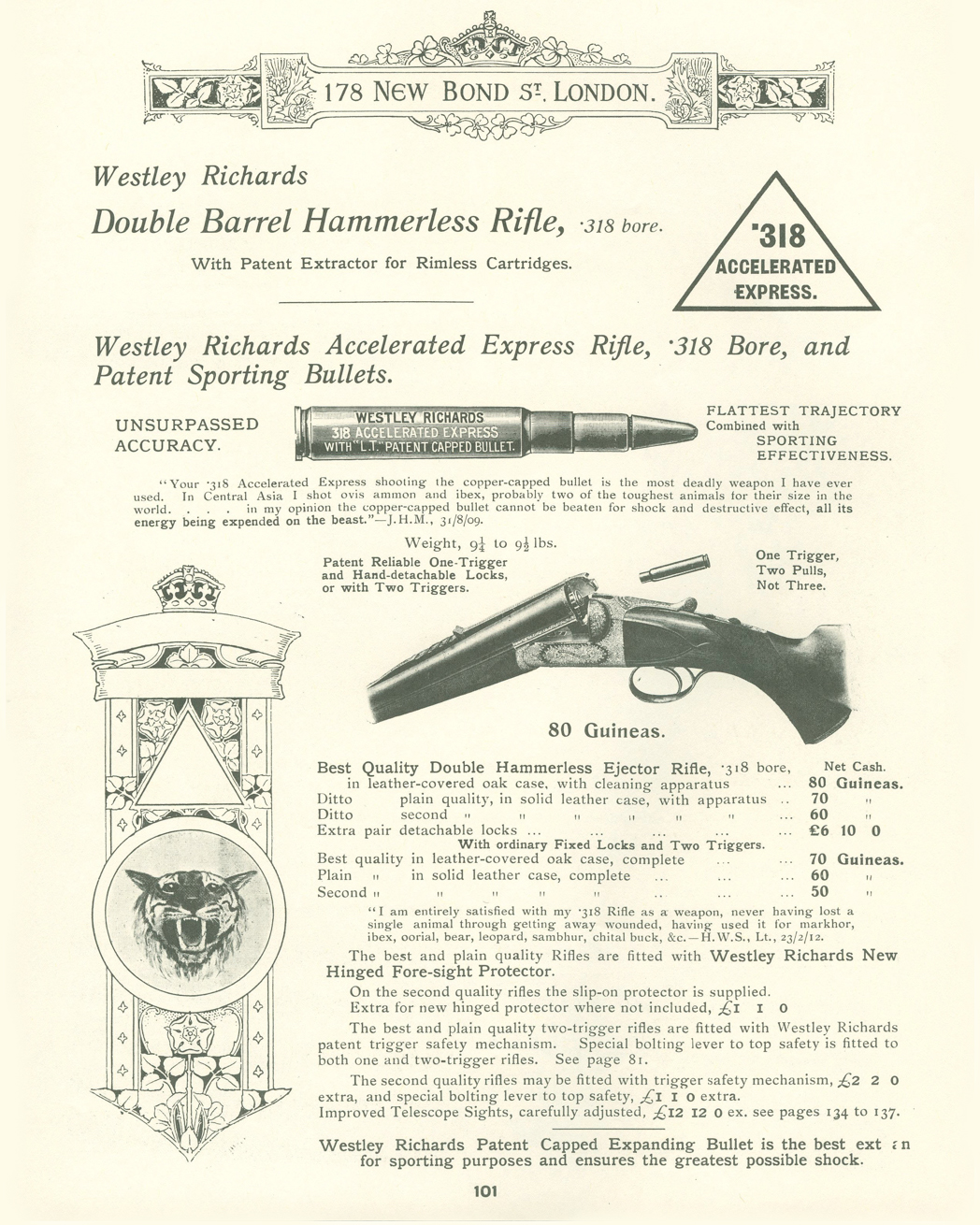 Moving forward, there has been renewed interest in the .318 Westley Richards, both from pre-owned vintage rifle collectors and those in the market for a new rifle. Collectors now appreciate the diverse variations in model, style and engraving produced by Westley Richards, not only in the bolt action rifle format, but also double rifle and single shot rifle formats. The round clearly must have been very popular to have warranted such diversity. 
From a new hunter's perspective, factory ammunition is now available, along with all the components necessary to keep the calibre very much alive and well. Bullet technology has moved on considerably with  recent tests using Woodleigh hydrostatically stabilised bullets proving, once again, that the calibre still boasts formidable penetration. 
For traditionalists, the classic round-nose bullet in 250gr is readily available in both solid and soft-nose format. Recently, Westley Richards completed several new rifles, all of which have unequivocably proved in the field that the calibre is as capable today as it was over  110 years ago.