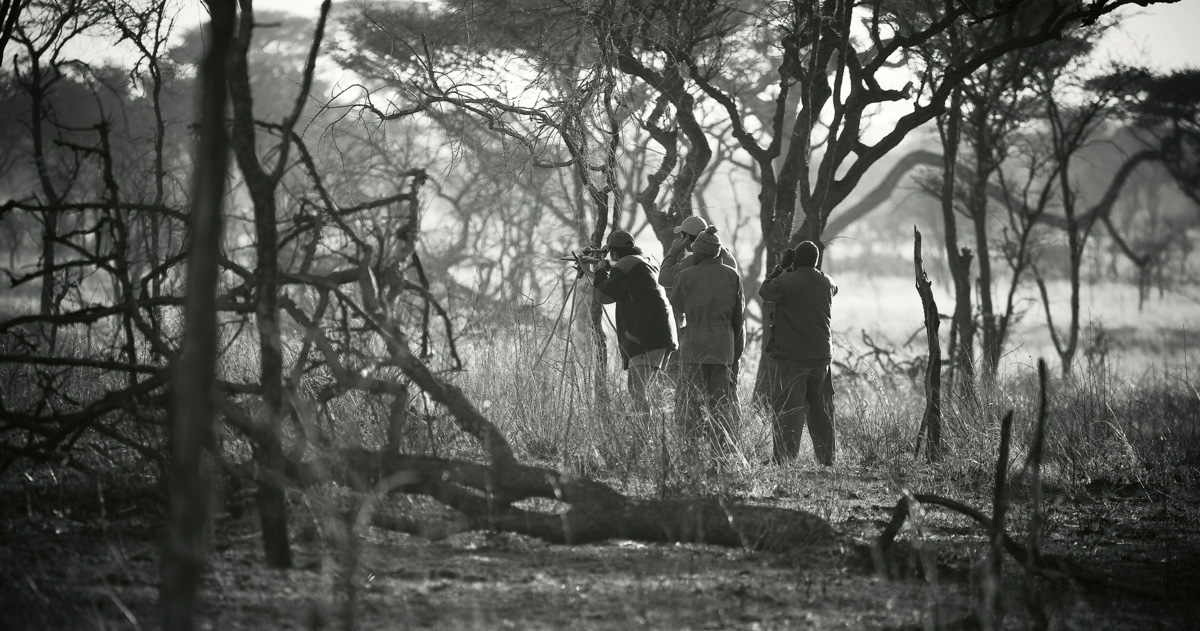 I asked my long time friend Robin Hurt, one of the most respected Professional Hunters practicing today, who has carried the shooting sticks for many a mile, to write a short piece about the importance and use of the sticks which he has kindly done.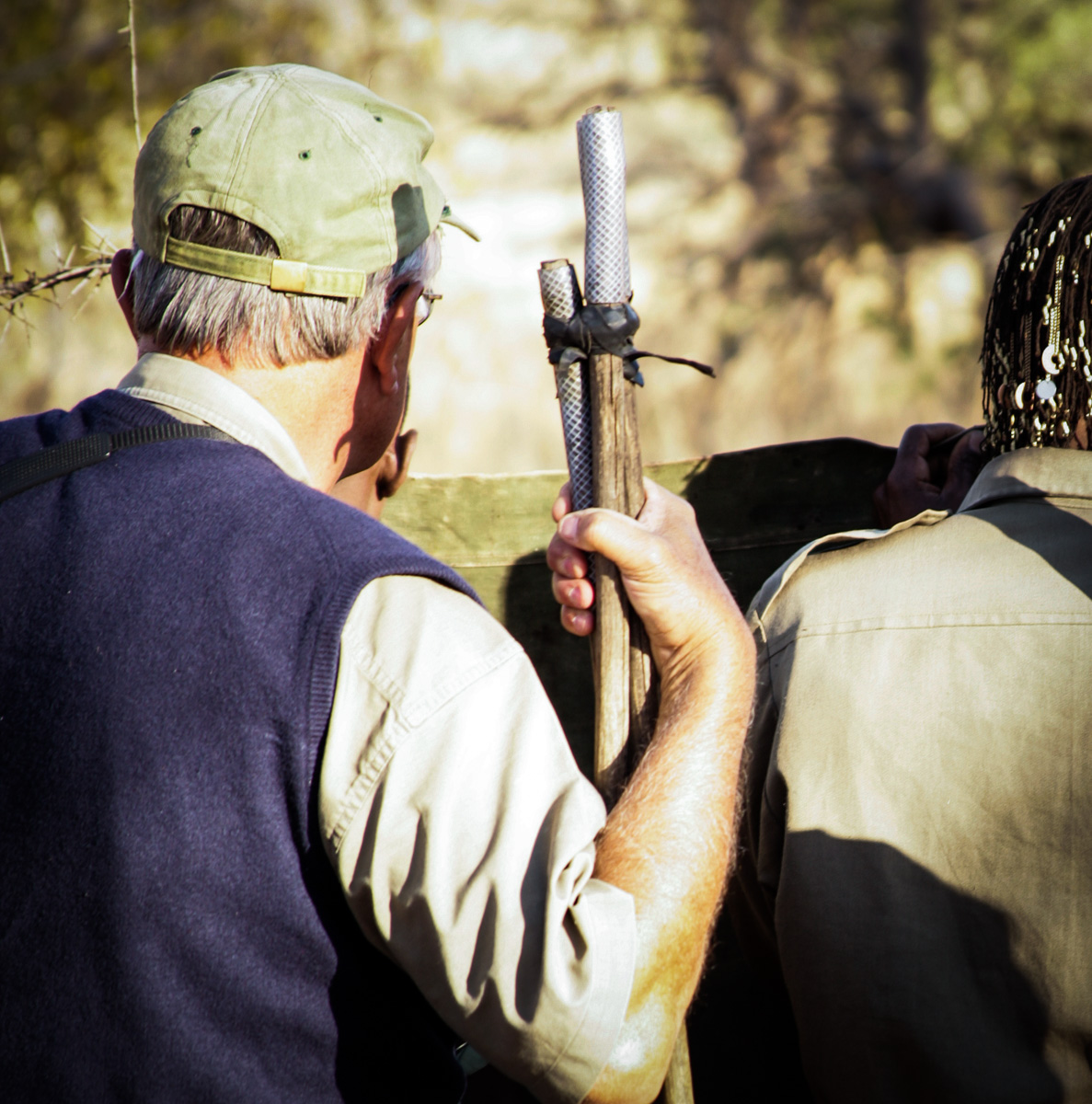 Robin Hurt with his 20 year old shooting sticks close to hand.
Accurate rifle shooting is all about a steady position and trigger squeeze. Without these two basic principals, most people will have difficulty in shooting rifles accurately. An unsteady rest leads to trigger snatching and a resulting badly placed shot. In the hunting field a good rest for ones rifle is crucial as no hunter worth his salt wants to injure or wound an animal - the objective is to hunt the animal in a sporting and fair chance manner and to take a deliberate clean shot.
The problem is that good natural rests to support and steady the rifle are not always at hand, for example an ant hill or a tree trunk. Also one is often faced with long grass or low scrub bush, making a lying down or sitting position shot impossible . This is where the African Shooting Sticks come in handy. The sticks can be set up in seconds, at the precise time the quarry is seen, without the need to possibly spoil the stalk by casting around looking for a rest. Off hand shooting, except at close range under 50 yards and on wounded game, is not to be recommended for most hunters.
My first shooting sticks were made for me by my Wata ( Waliaingulu ) elephant hunter tracker in 1963. In fact it was a simple bi pod of two wooden limbs of just under 3/4 inch diameter, 5 1/2 feet long, lashed together with strips of car tyre inner tubing. The lower tips of the thin poles were sharpened, so as to give proper purchase on the ground and not slip. It was an effective tool - but not perfect. All professional hunters at that time used these wooden bi pods.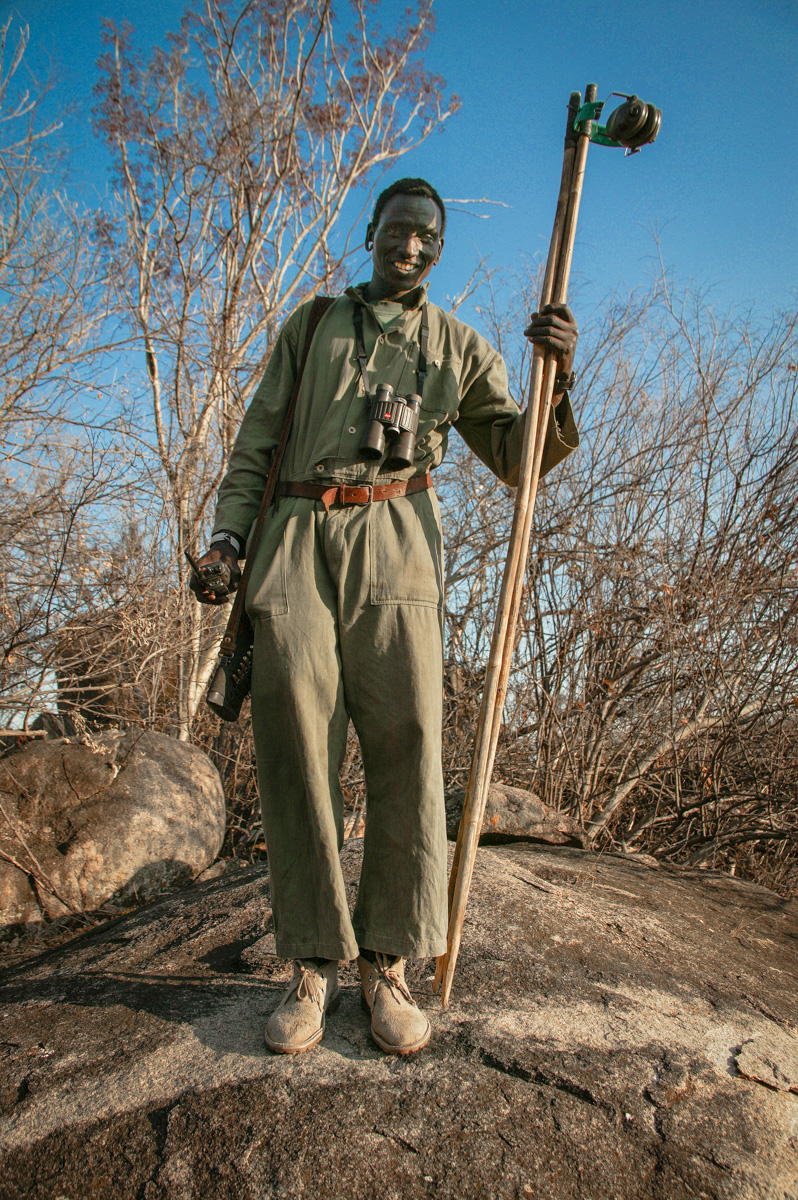 Roger Hurt's Tracker 'Lekini' with his shooting sticks and hearing protection.
Then there was a natural progression to more effective tri pods; using the same materials, but with two of the limbs being 4 to 5 inches longer and a shorter middle limb in the centre, again bound together with strip rubber tubing to give flexibility and strength when opening the sticks. This tri pod had now became an effective rest, for as steady a shot as possible in normal hunting conditions and used daily by most professional hunters.
To this day I carry wooden shooting sticks, home made by my trackers, using car tubing strips to hold the top sector together. My current sticks are now over twenty years old and used on every hunt. They never leave my hunting car and are as essential to my equipment as is a high lift Jack! The advantage of the natural materials is quietness. I have no problem with the commercial shooting sticks available, other than that they can be noisy, being made out of plastic or light metal tubing. But, they are useful for practice.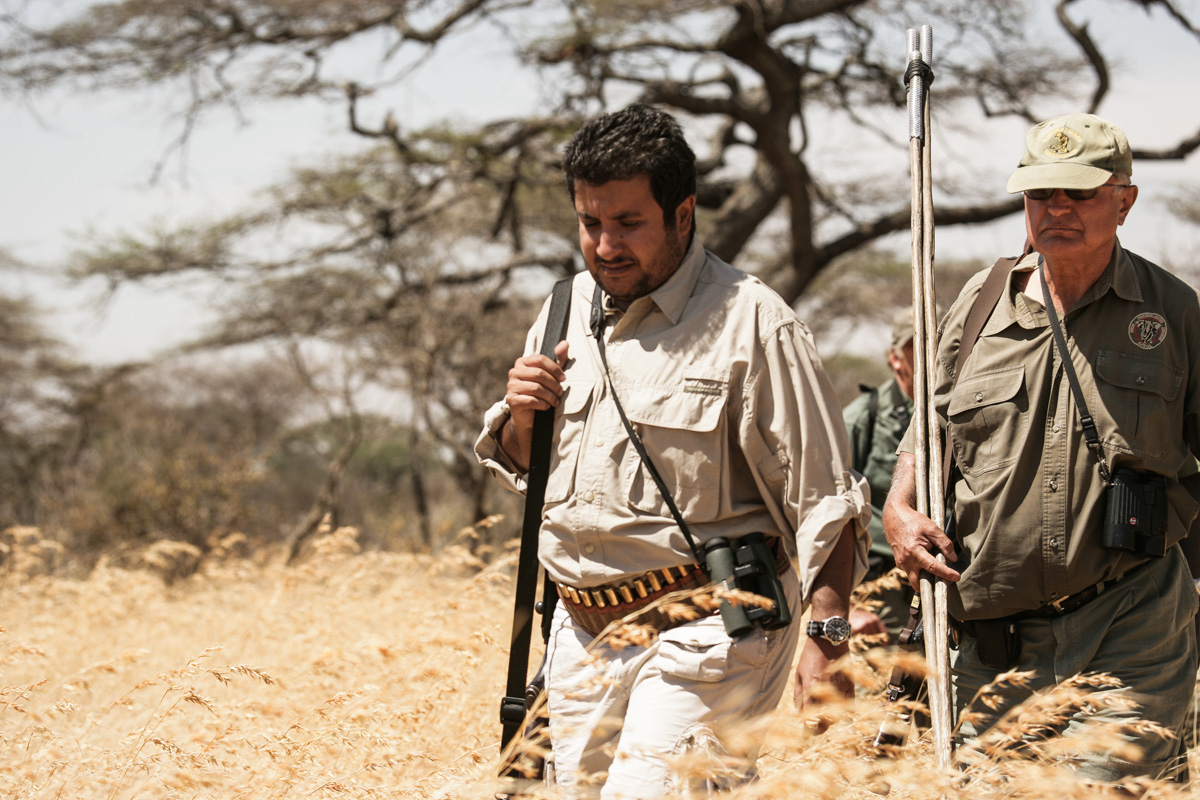 Robin Hurt following client HH Al Thani out of the bush, sticks to hand as always.
The way it works is that I always carry the sticks personally, and set them up according to my clients stature; by spreading the legs wider or closer together simply adjusts the rifles rest height as the need may be. The client follows close by and directly behind the professional, allowing quick and easy access to the rest.
Another huge advantage of the shooting sticks is that if your quarry is moving or partially blocked by bush or other cover, you can simply rest your rifle in a ready position until such time as an opportunity presents itself, set up immediately to take the shot . By the way, one of the biggest mistakes made by hunters is moving too quickly and in a rushed manner to place the rifle on the sticks. Quick movements are immediately spotted by game . Preferably a slow fluid movement of the rifle on to the sticks is what one should
practice .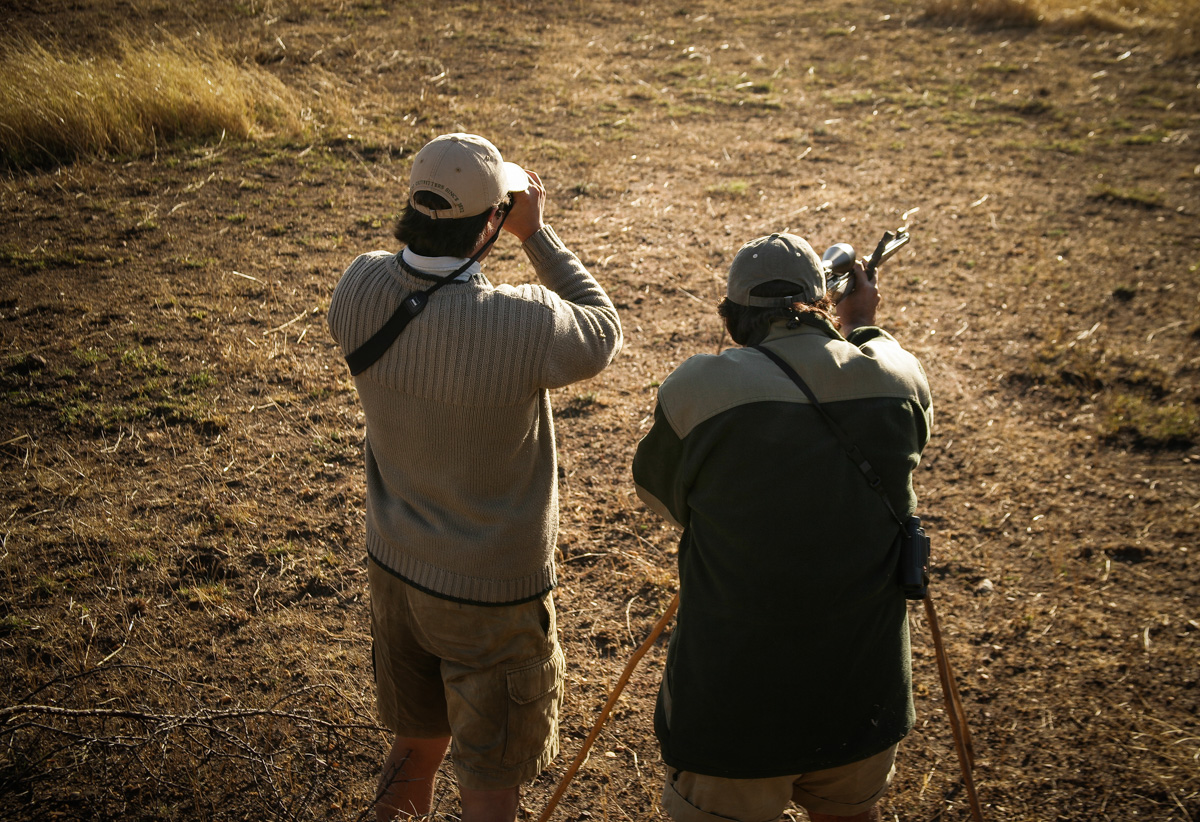 Roger Hurt and client on the sticks. Note the forefinger grip on the forend.
Practice shooting off sticks will prove invaluable to better coordination and accurate field shooting . Practice standing , sitting and kneeling using the sticks . For sitting and kneeling I use one of the upright limbs and use my hand and fore finger to lock the rifle in position. For standing shots I personally also like to anchor the rifle on to the sticks by wrapping my left hand fore finger around the rifles barrel / fore end and holding the sticks where they are bound together, with the rest of my hand .
My son Derek, a professional in Tanzania, carries two sets of sticks - a short pair for sitting and kneeling shots and a normal long set for standing shots . His tracker carries the shorter pair and simply passes them to Derek when needed. I am too set in my ways to learn new tricks and only use one pair that I adjust as needed!
For longish or difficult shots on windy days , over 150 yards, I will often offer extra support to the hunter; by holding the sticks with both my hands and my body bent in a slightly crouched position, that in turn gives my shoulder as an added rest for the shooters elbow . This in effect gives a two position rest .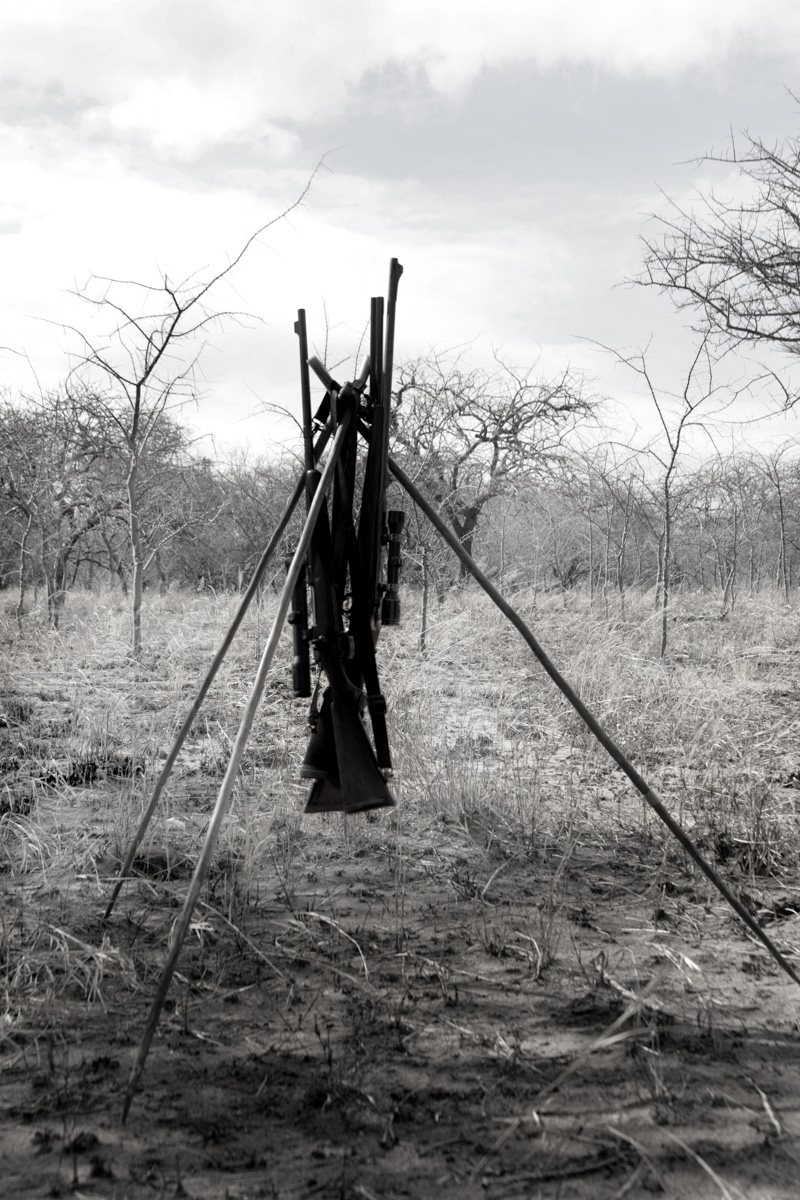 Lunchtime picnic use for the tripod!
Shooting sticks have other uses - they can be used as snake tongs to capture snakes ( not advised ! ). On one occasion in South Sudan I used the sticks as a spear to impale an unfortunate forest Guinea Fowl when I didn't want to disturb the area by shooting! Here in the Namibian mountains, they make a useful walking stick in our difficult steep terrain! I often use them to carry small game as on a pole hung between two people ! Last season one of our P Hunters fended off a furious warthog with his sticks , when they surprised it charging out of its resting place in an Aardvark's hole! I have used them as a make shift fishing rod by tying some line with a hook on one end! Yes, they have all manner of uses apart from being a splendid rifle rest!
Some further tips that may be found to be useful are :-
- Never rest the barrel on the sticks - always the fore end. Metal contact with the sticks will result in the shot going high.
- For standing shots, stand with your legs well apart. This will help stabilize your shooting position.
- For sitting shots, bring up your knees so that your elbows are rested. This will greatly improve your shooting.
- To make your own sticks, choose saplings that are strong and straight, about 3/4 of an inch thick. Strip off the bark. Hold the sticks upright, and cut to length. As a height measurement, cut them at the level of your eyes. The centre limb should be 4/5" shorter . Bind all three pole's with rubber strops tightly at about 1 1/2 inches below the top of the shortest sapling. You can tape or rubberized the twin stabilizer arms on the longer poles for added quietness and support.
- Get in the habit of taking off the rifles safety in one movement in time with placing your weapon on the shooting sticks.
- Don't place your rifle on the sticks with the fore end and your hand grip too far forward as this creates a seesaw effect.
- If your making your own shooting sticks, try to find hard wood poles that are as straight as possible. Any bends found after de barking can easily be sorted by holding over a fire and straightening the heated sapling .
- Lastly practice makes perfect. Make or buy your sticks and make yourself familiar with them and their use. Go to the rifle range or some other safe place and practice shooting off them.
Good hunting !
Robin Hurt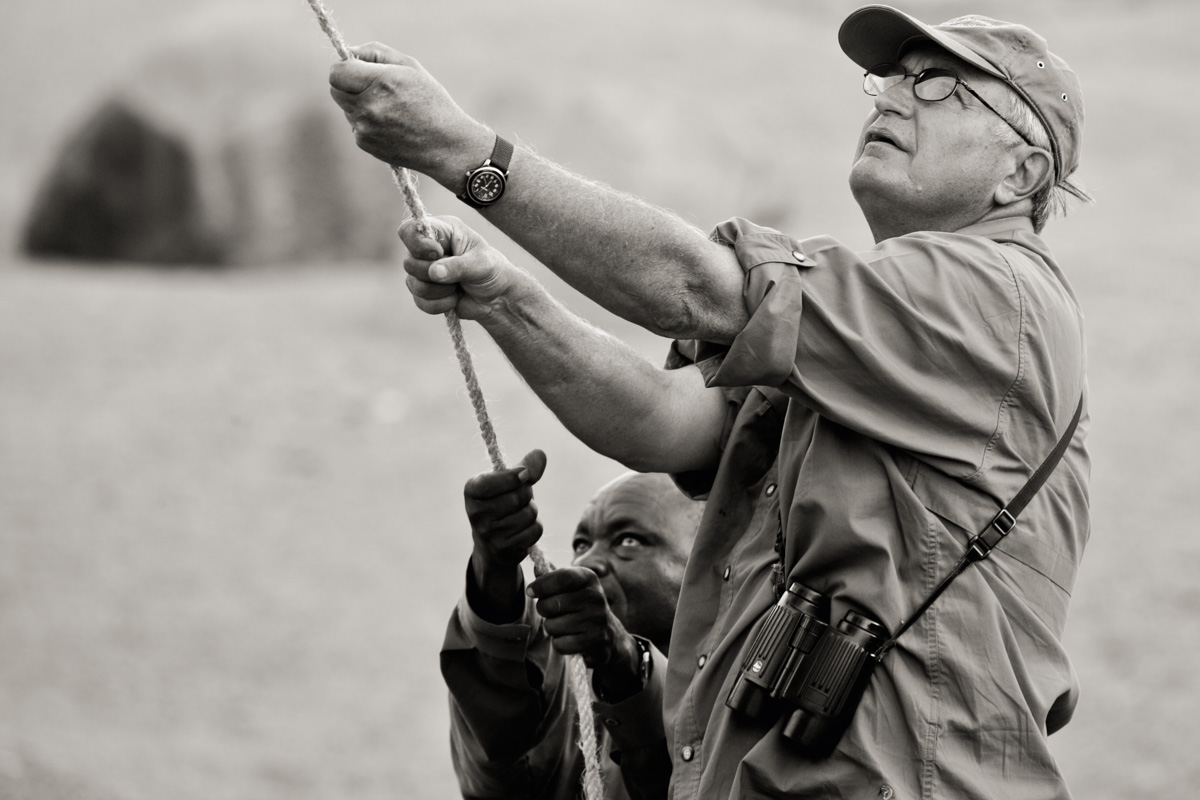 Robin has 2 very successful hunting operations in Africa where he operates from Namibia and Tanzania. Please follow the links for further information.
I will be discussing with our stick makers in England the manufacture of simple sets of these tripod shooting sticks with some details by our leather shop for protecting the rifle.