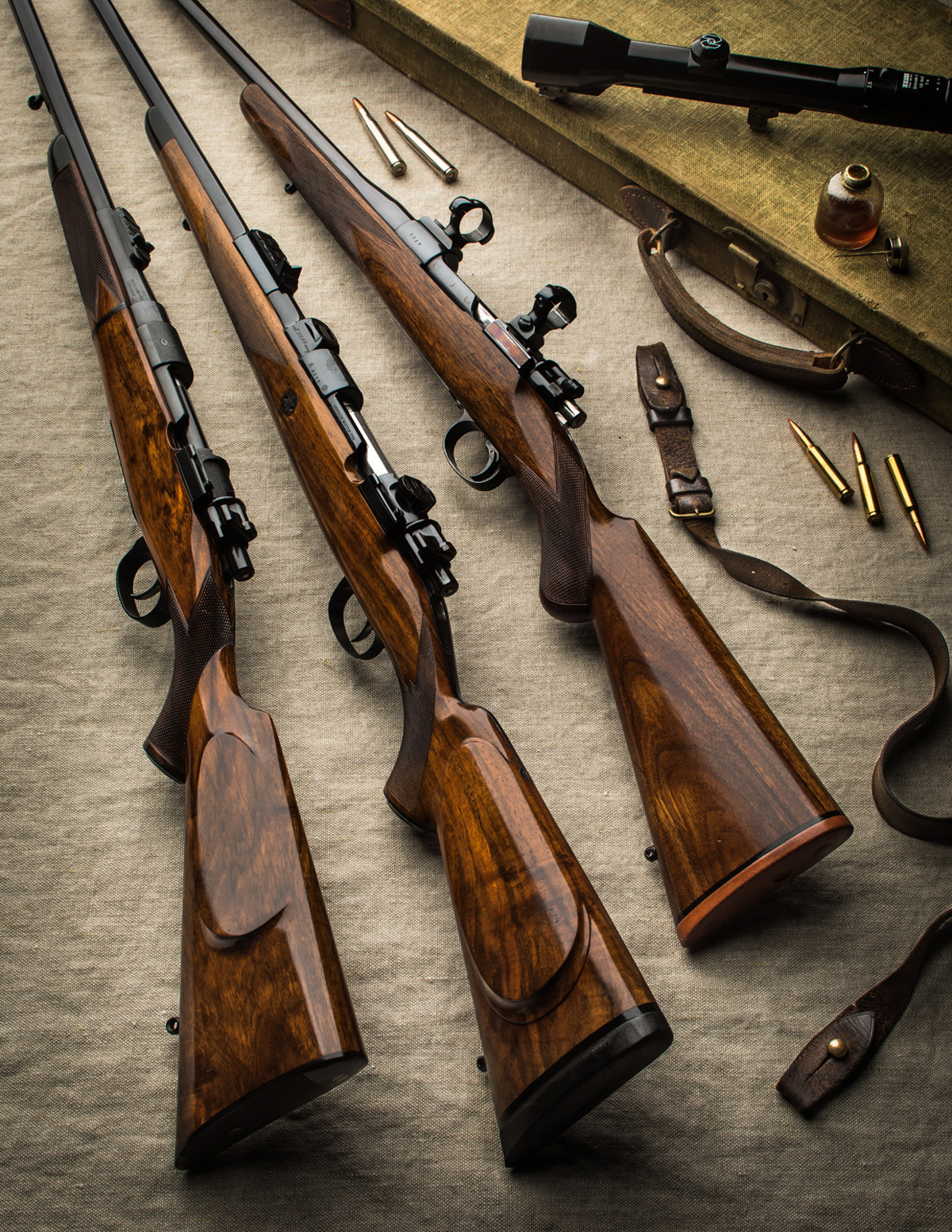 The first offering is a slightly unusual Westley Richards 12g, fixed lock ejector, assisted opener. Built in 1955, on a Webley scroll back action with two triggers, tang top lever and automatic beetle back game safe. It retains some original case colour and is engraved with large scroll and the Westley name in a block format. It has 26" barrels with 2 ¾" chamber, choked ¼ & ⅝. The straight hand stock measures 14 ⅝ to centre and a splinter forend with Anson push rod release. It's slightly unusual to have made a fixed lock action with assisted opening and it's not a gun we would have made many of. It's a very lively gun in the hands and points very quickly weighing only 6lbs 3oz, it would make the ideal walk up gun and the assisted opener works flawlessly meaning you really can get your next two shots off much quicker. The gun would benefit from a light refurbishment but is sold as is and personally I would just take this gun out and shoot it and enjoy it for what it is, a solid, usable quick shooting boxlock.
Next we have a superb Marcel Thys sidelock double rifle in 7x75R Vom Hofe calibre. Bolstered sidelock action with two triggers, the front of which is chequered and articulated, engraved with large floral scroll and retaining all original case colour hardening. 24 ½" chopper lump barrels with a single folding leaf sight regulated to 100 yards and ramp foresight. Semi beavertail forend and a full pistol grip stock measuring 14 ⅛" to centre with carved drop points, strap over comb, grip cap with trap and black rubber recoil pad.  The wood is exhibition quality and absolutely stunning. Weighing 9lbs 2oz this is a high quality rifle from a very respected Belgium maker.
In bolt actions we have a Holland & Holland .275 H&H Magnum take down rifle. Built on a Mauser '98 action with a 26" threaded take down barrel held in place by a locking pin and keeper pin, it has a rear island base with one fixed sight regulated to 200 yards and two folding leaves at 350 and 500 yards. The stock measures 14" to centre with a cheek piece, horn heel plate, case colour hardened grip cap with trap and horn forend tip. Weighing 7lbs 14oz this is an opportunity to own a really very nice Holland take down rifle in their propriety cartridge.
We also have a Gastinne Renette of Paris bolt action rifle in .300 H&H. Built on an DWM Mauser action it has a 25" barrel with a rear island base with one fixed and 3 folding leaf express sight and ramp foresight. Full pistol stock measuring 13 ½" to centre with a rubber recoil pad, strap over comb and grip cap with trap. The rifle comes with a Zeiss Diavari 1.5-6x42 on quick detachable claw mounts. A well-made bolt action in a popular plains game calibre. Weighing 7lbs 14oz with the scope, a nice practical package.
Last but not least we have a J.Rigby .275 which has been re-barrelled by Paul Roberts of J.Roberts & Son. 22" barrel with a mint bore, hinged floor plate, 13 7/8" semi pistol stock with a slim Silvers pad and sling studs. Weighing 7lb 5ozs the rifle comes with 1" mounts and is an affordable and usable English rifle in a popular, smooth shooting calibre.
All the guns and rifles will be on our used gun site shortly but for any initial enquires, please email me at ricky@westleyrichards.co.uk or call +44 121 333 1918.