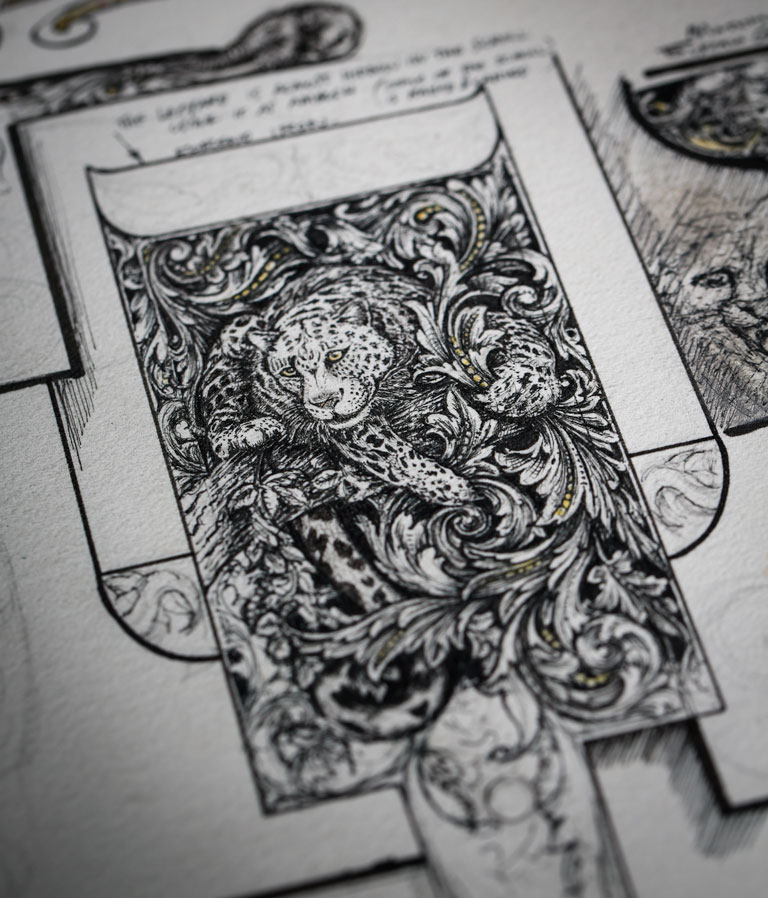 Drawing for .470 Detachable Lock Rifle
Rashid first worked on a Westley Richards gun in 1994 when he started a commission we called "The Hummingbird Gun" a project originally destined for the Brown Brothers, but withdrawn due to a huge price hike in their work.
For Rash it was a substantial project following on from his work with Holland & Holland on the Swan Gun. Having married an Australian girl, Rash had moved to a beach house outside of Perth from where he worked. Progress was slow, actually very slow and I remember being told lots of stories on the progress but never, ever seeing any photographs! After a year or so I became concerned and asked if everything was OK. It wasn't, he was on his own in an empty house with no money for food. At my request one of my clients who lived in Perth came to the rescue, picked him up and put him on a plane to London. Rash arrived a few days later with a small bag of engraving tools and the Hummingbird gun hardly started! This was the start of what was to become 16 years of working with Westley Richards.
I have always thought of Rashid as one of the most gifted engravers of our times. He has that rare combination of the superb eye, drawing skills and a huge talent for the engraving's execution. His skill level encompasses all the various types of work we see today, fine bolino style scenes, 3 dimensional carving, precious metal inlays and all this combined with perfectly formed and shaded scrolls. Watching Rash execute fine scroll is something to be seen to be believed, the speed and detail that he can acheive.
I have always thought that Rash's designs were unique, some good and some bad. He always had new ideas and it was exciting to discuss new projects. I think the bulk of the problems we faced together during these years, and we faced many  were the execution of the work when he really only wanted to move onto the next project. That or find a way of doing the work faster, which was never possible as his ideas were too complex. During his time here we probably completed 5 pairs of guns and some singles, perhaps 10. Each gun has fond memories for me in a way, the agony of getting the work completed.
During his time at Westley Richards Rash took on an apprentice, Vince Crowley, from the Birmingham Jewellery school and taught him the art of engraving guns. Vince used his time with Rash wisely and learned great skills from the master, he is now producing work of exceptional quality on our guns from his studio in the midlands.
I was always waiting for Rash to clear his head and do a proper large-scale masterpiece, I know he has it in him and all that was required was dedicating the time to the commission, the getting of which was easy, considering the talent.  Alas, we parted company in early 2012 and I hope that wherever and for whomever he is engraving now that the head is clear and the masterpiece is being done.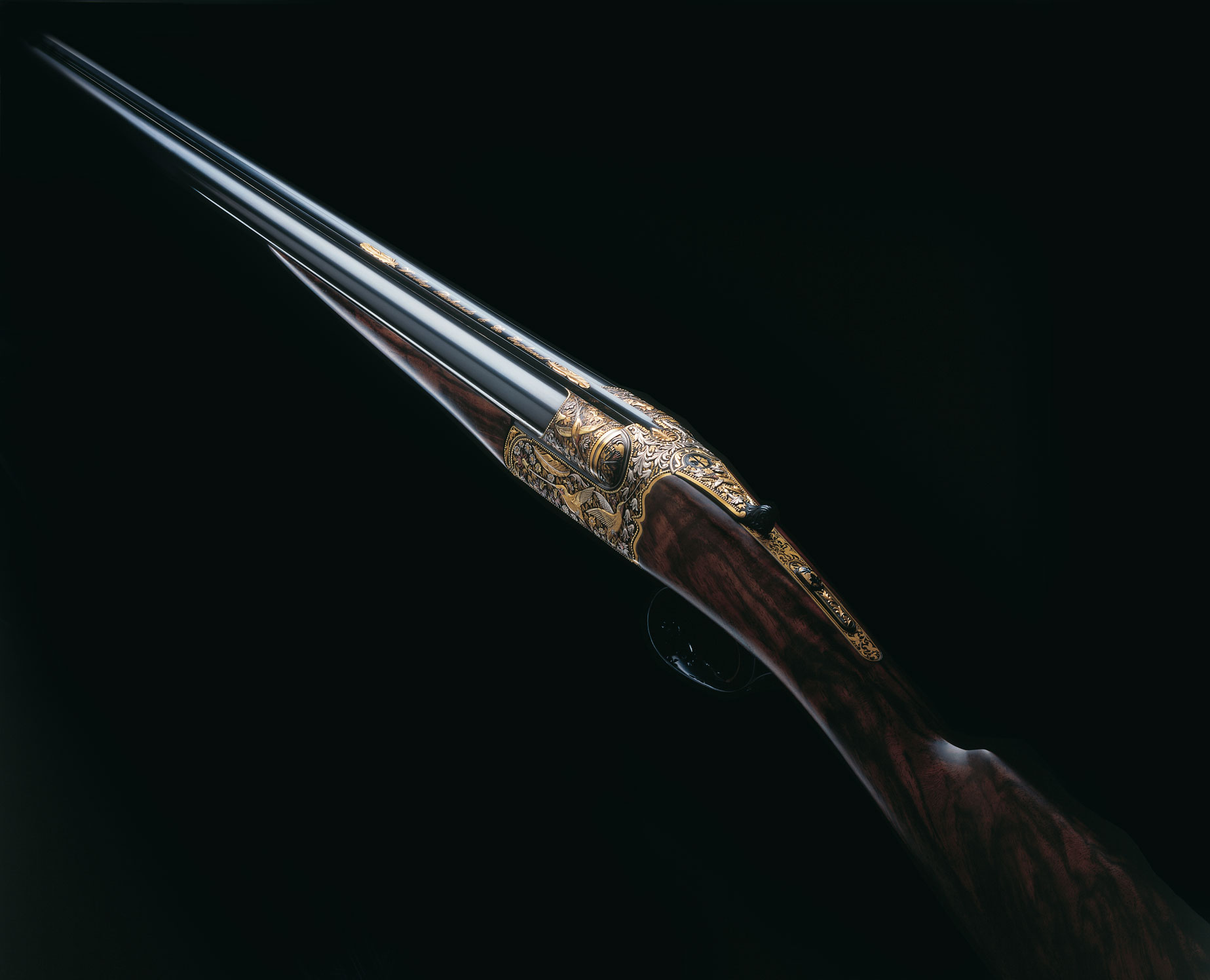 A .410/28g Hand Detachable Lock 'The Hummingbird Gun'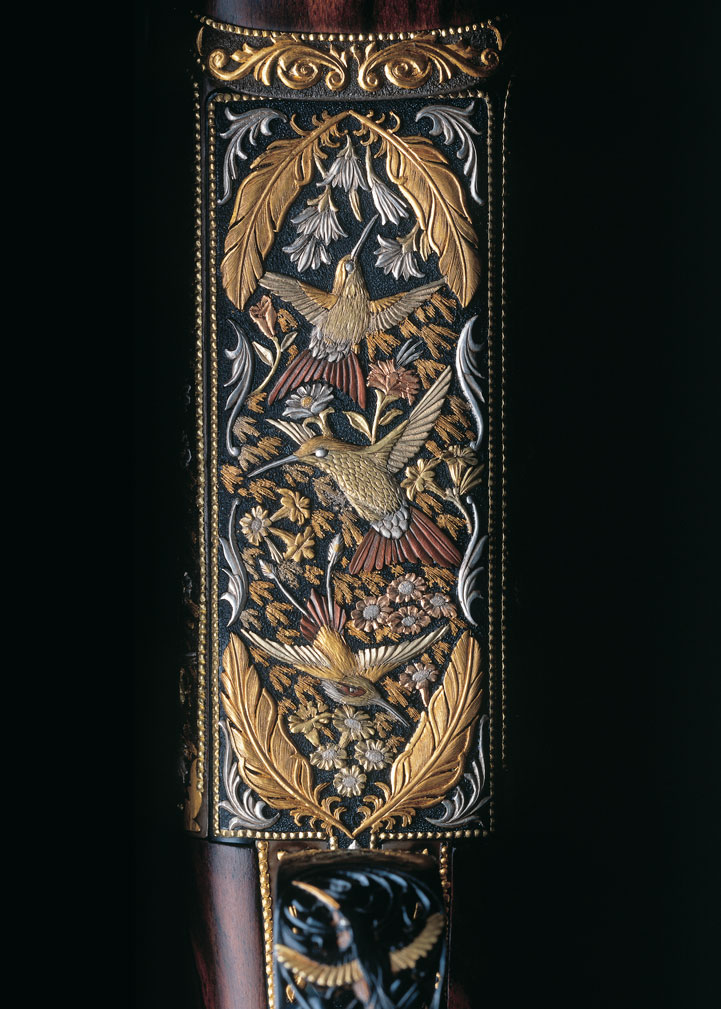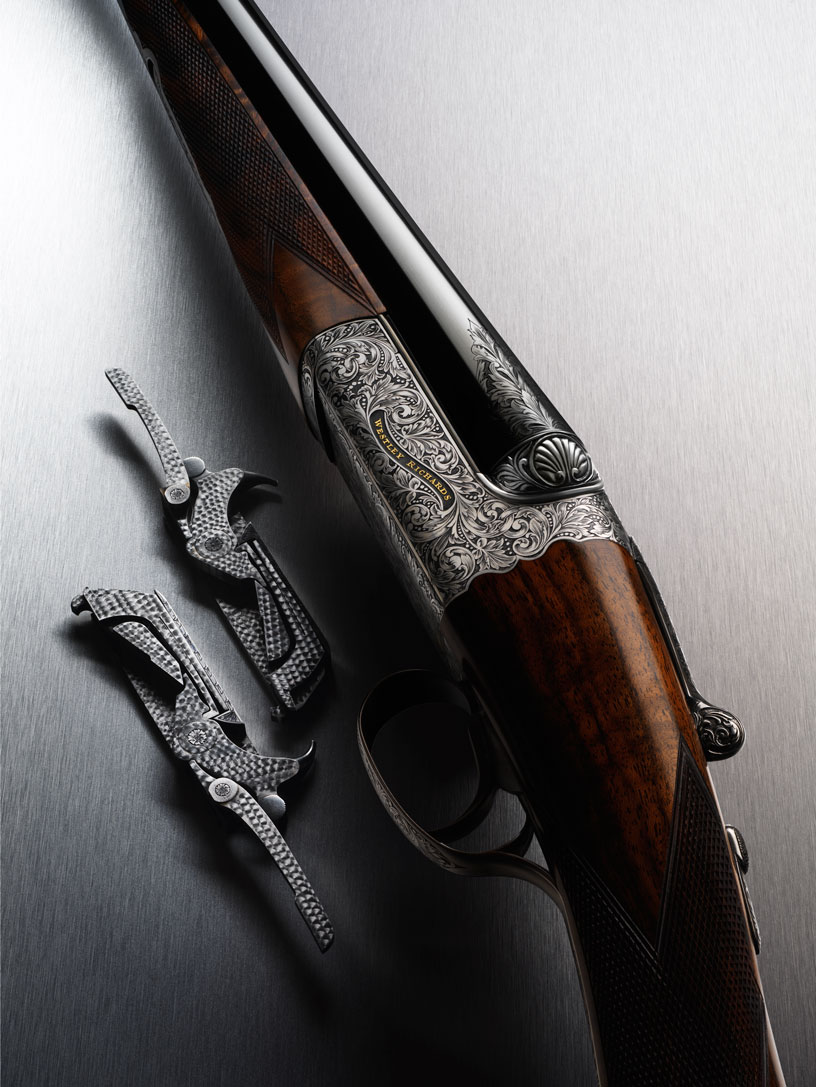 One of a set of 3 lightweight 12g Hand Detachable Lock Shotguns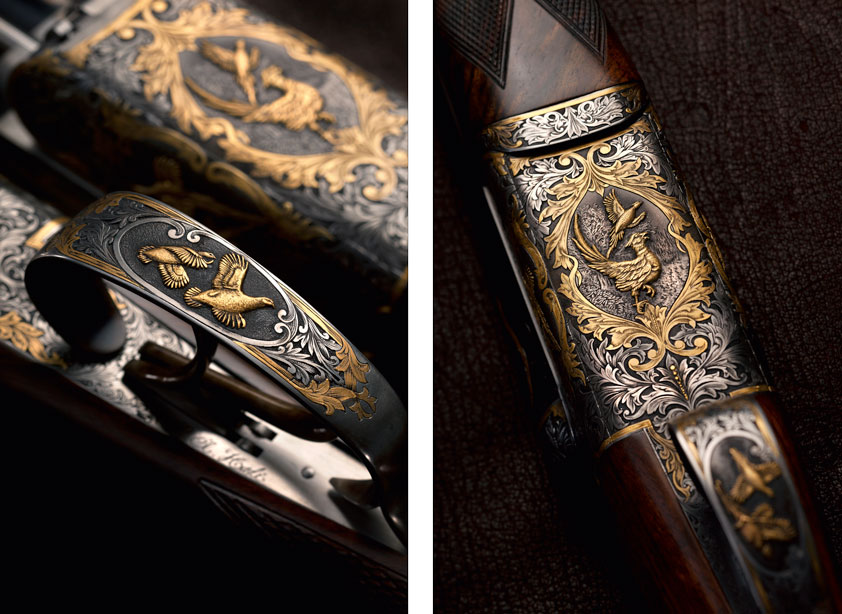 A Pair of 20g Hand Detachable Lock Shotguns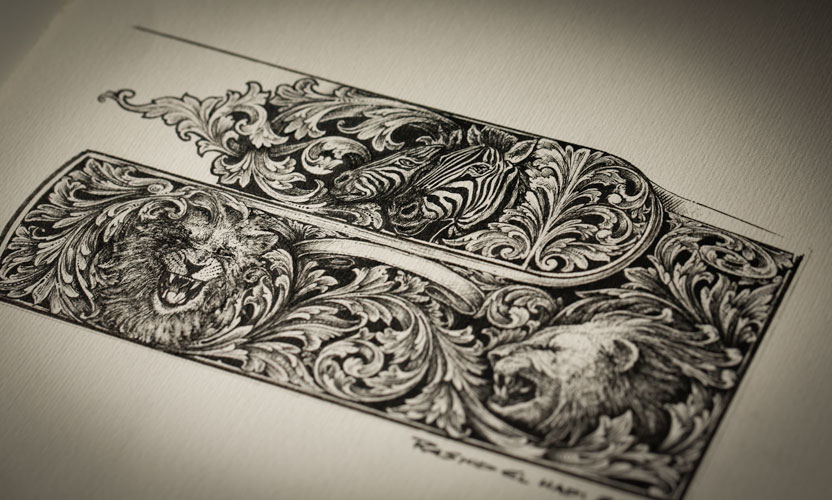 Drawing for a .500 NE Detachable Lock Rifle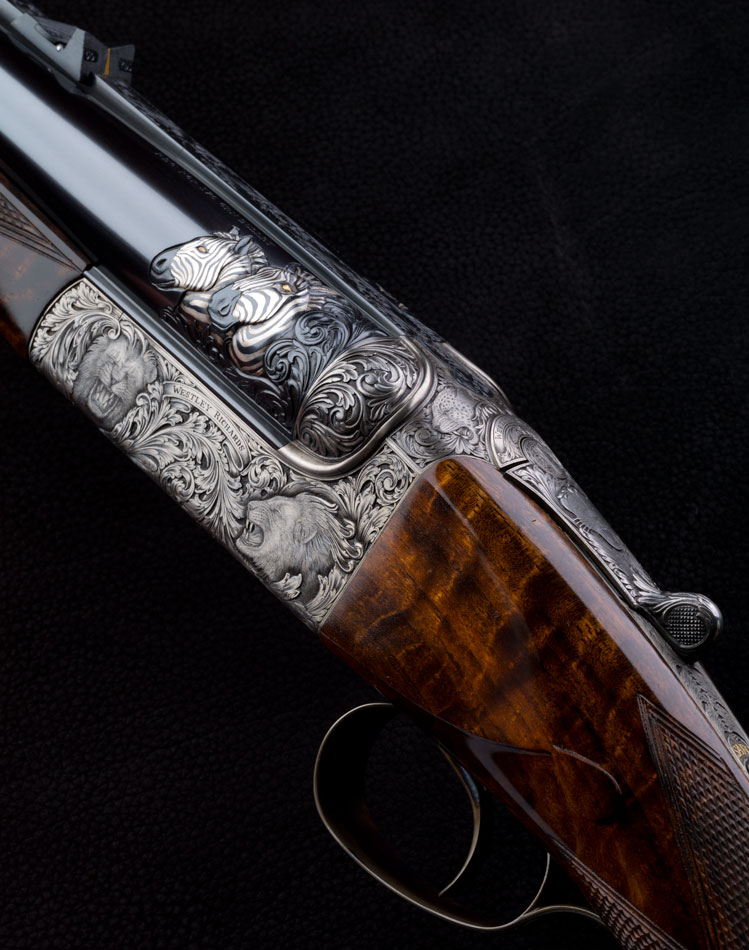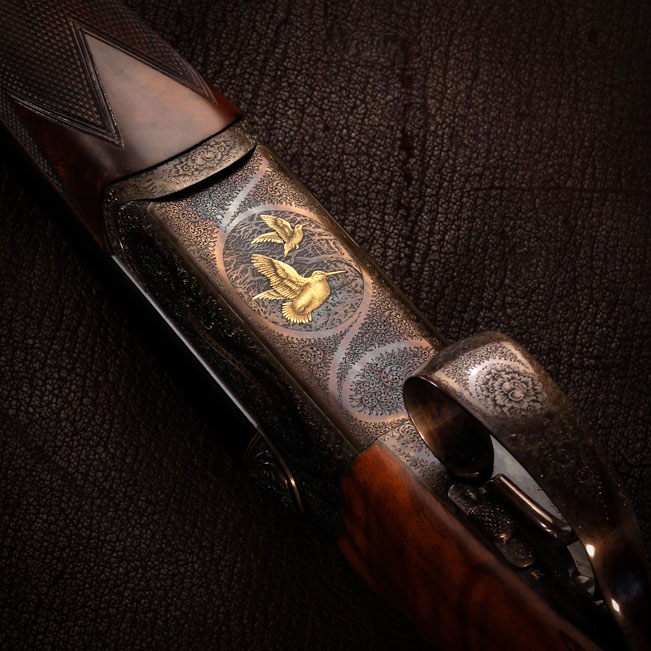 A .410 with very fine scroll of Woodcocks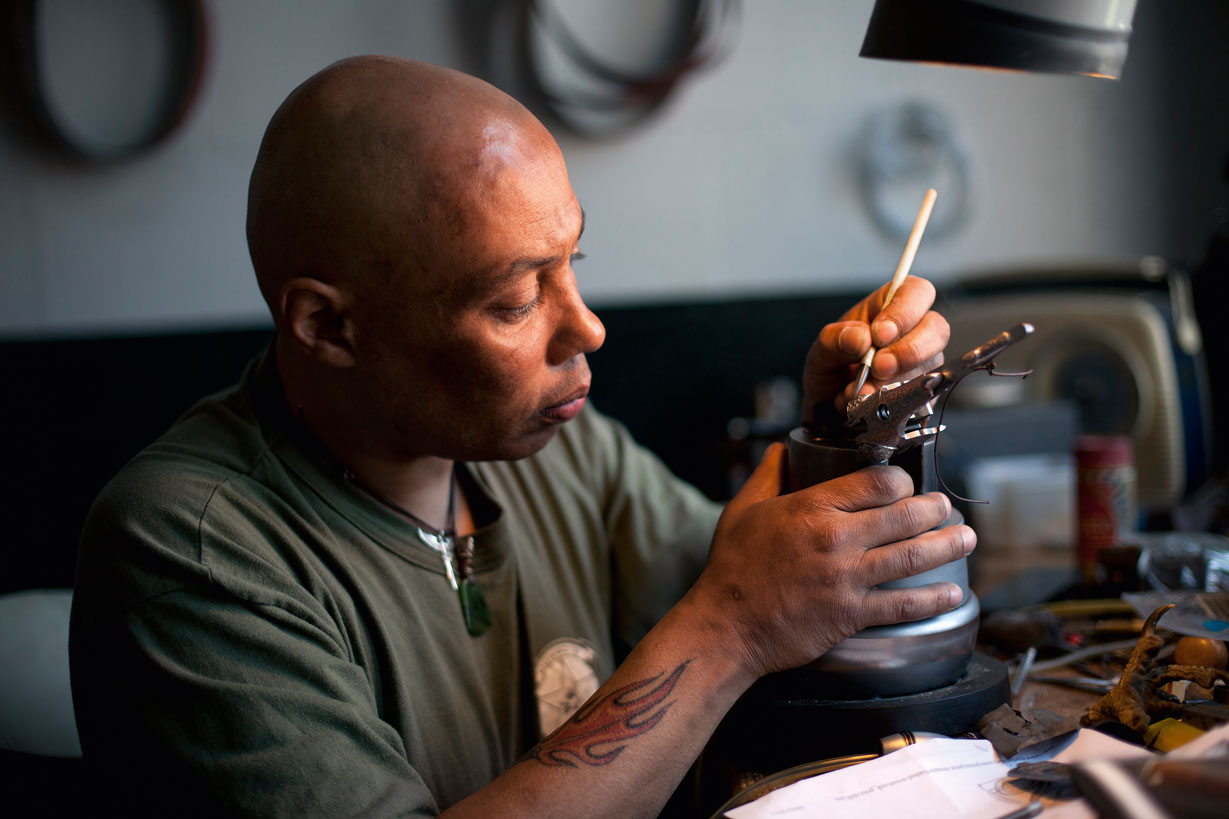 Rashid in his Pritchett Street Studio 2011