L.B. Taylor (1863-1930) was Managing Director of Westley Richards & Co. from 1899-1930. He was a man of high intellect as an inventor and influential businessman as well as an accomplished writer and poet. Mr. Taylor knew Westley Richards the Younger and was John Deeley's protégé and no doubt these towering figures of the English gun trade had much influence on him. But as Henry Sharpe tells it in the firm's centenary history, Mr. Taylor was a "most apt pupil, one who by education and a natural ability, as well as practical training, was thoroughly well equipped for carrying on the high traditions of the firm.".
Becoming Westley Richards & Co.'s works manager in 1894, he oversaw the move from the company's original High Street location to the purpose built Bournbrook factory in the same year. In 1899 He ascended to managing director, succeeding John Deeley the Elder, and in conjunction with the many technical developments he invented and patented, he ushered the firm into the modern gunmaking era of the twentieth century and successfully navigated it through the very trying times of the first World War. It is also noteworthy, that he oversaw the firm through periods in which W.R. & Co. produced some of its very finest guns and rifles.
Between 1894 and 1920, Mr. Taylor took out no less than 56 patents ranging from one of the first detachable barrel designs (Pat. 9711 of 1894) in which Westley Richards himself awarded Mr. Taylor with shares in the company, to the invention of the hand detachable lock and its eventual perfection (Pat. 17731 of 1897 and 10567 and 20388 of 1907) as well as pioneering work in bullet and cartridge development and small-arms sights.
A noted ballistician, some of Mr. Taylor's most impactful developments were in cartridges and projectiles. While it is not known who made up the first .500 Black Powder Express cartridge, Mr. Taylor is widely considered the first to load the .500 3" with smokeless powder, which could achieve much faster velocities than black powder, creating a very potent cartridge suitable for the World's largest game. Since its introduction in the 1890's, the .500 3" Nitro Express has ranked among the greatest of the big bore rifle cartridges and remains one of the most popular choices for big game hunters today.
Having received instruction on special forms of bullets from W.E. Metford, inventor of the Metford rifling used in the .303 Lee-Metford service rifle, Mr. Taylor developed a keen interest in small-arms projectiles and he introduced some of the very first high performance bullets. Mr. Taylor had a very scientific mind and put in much effort experimenting with many different forms of bullets to develop his capped bullets, which were the subjects of many of his patents. A capped hollow-nosed bullet, known as the "L.T." Capped bullet (Pat. 3897 of 1901), was offered in various forms and calibers and proved to be one of the most highly expansive projectiles of the day revered by hunters for its terminal performance.
With these bullet designs also came new cartridges developed by Mr. Taylor, one of his most enduring being the .318 Accelerated Express. Firing both the "L.T." Capped hollow tipped bullet as well as a round nose or "ogival" shaped solid, the .318 fired a 250gr bullet at 2,500fps and was one of the best all around cartridges for big game hunting having been successfully used against elephant, buffalo, tigers and all types of deer. It was also loaded with a 180gr bullet with a velocity of 2,700fps and touted as "especially adapted for shooting animals difficult to approach like the chamois, and for similar mountain game such as ibex, ovis ammon, and the like". The .318 bore remains one of our most popular choices for new rifle orders.
The .318 Accelerated Express was a designed as a rimless cartridge and worked well in magazine rifles, however to work in breech loading double rifles, the cartridge was developed in conjunction with a new cartridge case extractor for breech loading double guns (Pat. 5098 of 1906) which involved a détente in the ejector shoe for rimless cartridges. This is the universal style of extractor/ejector used for rimless cartridges today.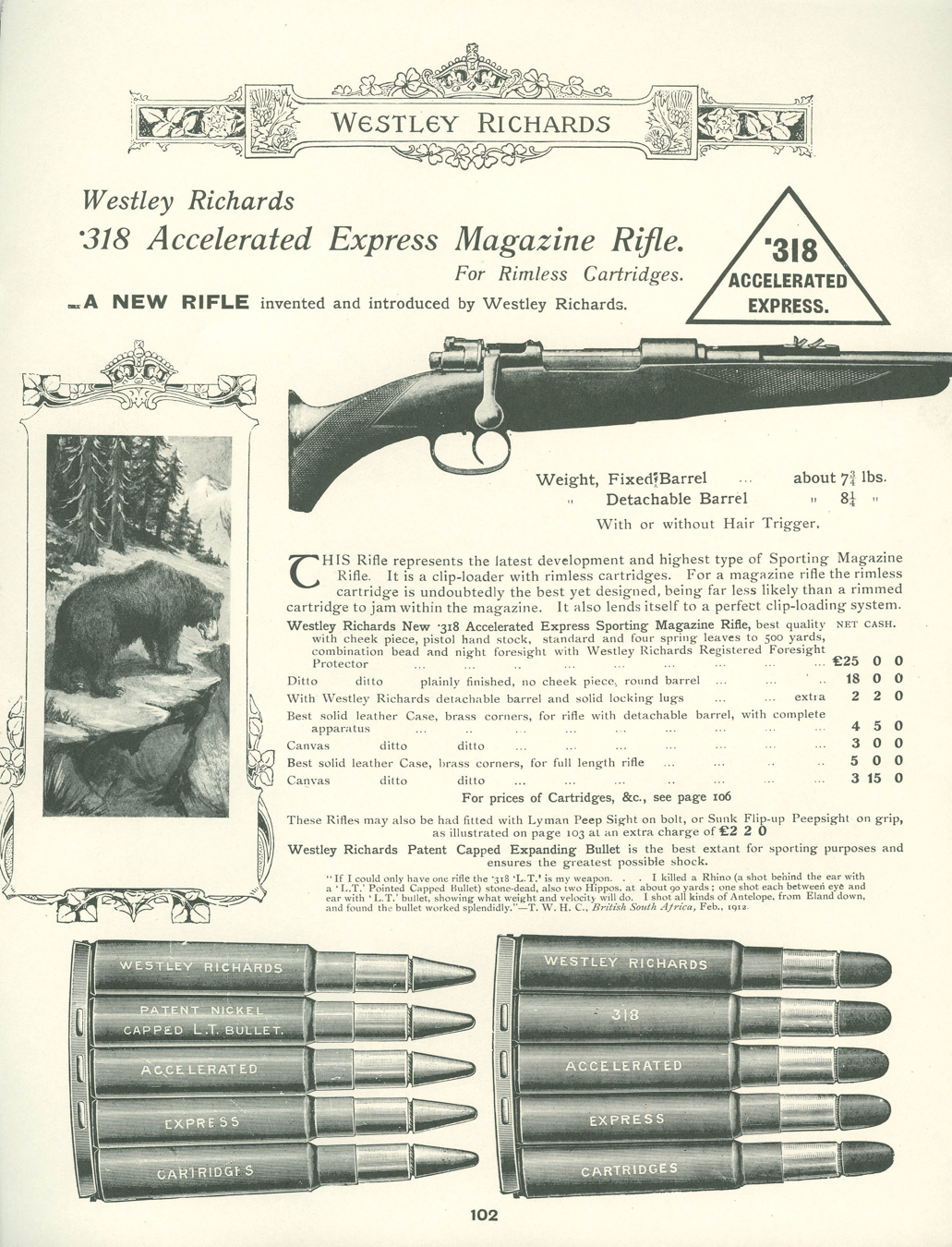 With the prohibition of the .450 bore in India by the British government, Mr. Taylor introduced two new rifle calibers for big game hunters, one smaller and one bigger than the .450 bore. These were the .425 bore and the .476 bore, both extremely powerful cartridges for the time and both revered for their effectiveness in dispatching large and dangerous game. The .476 bore fired a 520gr bullet of both solid and "L.T." design, at 2,100fps, matching the ballistics of the other nitro express cartridges introduced around the same time and was a favorite of American big game hunter and noted writer Elmer Keith.
For bolt action rifles, Mr. Taylor wanted to create a cartridge suitable for large game but that would fit on a standard length Mauser action and worked with Mauser stripper clips used for the 7x57mm and 8x57mm military cartridges. The trouble was the standard 57mm case did not have the powder capacity to push 400gr bullets at sufficient velocities to effectively take on large game. Mr. Taylor turned to the .404 Jeffery case that had a wider diameter than the standard Mauser military cartridges, but to make the cartridge work with a Mauser action bolt face and the Mauser stripper clips, he gave his new cartridge the same rim as both the 7x57mm and 8x57mm cartridges, and patented the first rebated rim (Pat. 27,166 of 1908), which is a feature used on other big game cartridges such as the .505 Gibbs and .416 Remington. The newly developed .425 bore could shoot a 410gr bullet at 2,250fps. Mr. Taylor also developed a new type of magazine, the distinctive 5-round drop-box (Pat. 100 of 1908), that would take 5 rounds stripped off the of clips, for instant reloads. Again, a feature still in use by our firm today. While these cartridges themselves were not patented, their development did produce some unique patented features that endure still today.
In addition to the new rifle cartridges, Mr. Taylor also turned his attention to improving the performance of the shot and ball gun. A smooth bore gun with rifled chokes, capable of shooting both shot as well as a single projectile, previous guns of this design lacked accuracy and striking power. With Mr. Taylor's new "L.T." Bullet design in his newly developed 12g Explora, (or Fauneta in 20g and 28g) he not only increased their accuracy, he made the shot and ball gun a viable option for big game while still maintaining superior patterning abilities with shot.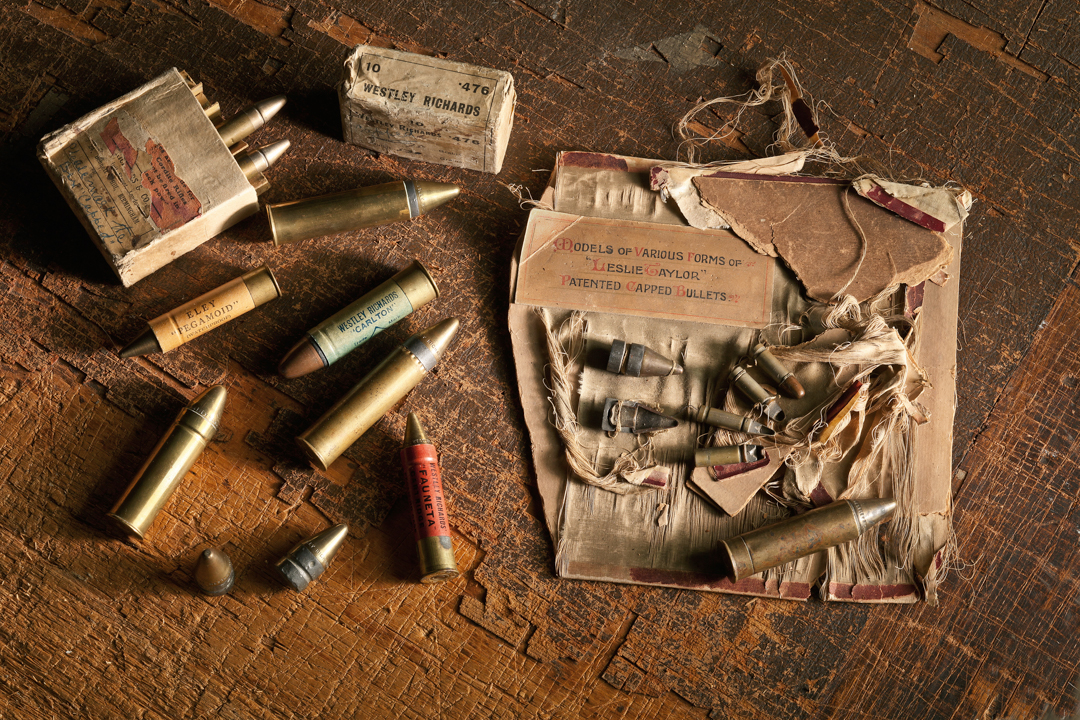 With all the wonderful developments in cartridges and ballistics, no other invention of Mr. Taylor's has been more celebrated than the hand detachable lock of 1897 (Pat. 17,731). First patented with his mentor, John Deeley the Elder, Mr. Taylor would perfect the system in 1908 (Pat. 23088 of 1907) by hinging the cover plate and placing cocking disks on the tumblers. One year late he patented the famous Reliable One Trigger (Pat. 26659 of 1908) a hallmark of Westley's best guns ever since.
Following the revolution of the over/under guns patented by both Boss & Co. and J. Woodward & Sons, In 1913, Mr. Taylor was busy introducing W.R. & Co.'s own over/under gun, the Ovundo. Another flowery name, along with the Explora and Fauneta, that were no doubt examples of Mr. Taylor's poetic side, the Ovundo would spawn several important patents for the firm. These patents included new lock up for o/u guns (Pat. 8853 of 1914), firing pins and detachable locks for o/u guns (Pat. 9410 of 1914) and the hinged inspection ports (Pat. 11,681 of 1913 and Pat. 170,703 of 1920) which would be Mr. Taylor's as well as the firm's last patent, but predecrissors for the famous "gullwing" locks produced by Betuzzi and no Beretta of Italy.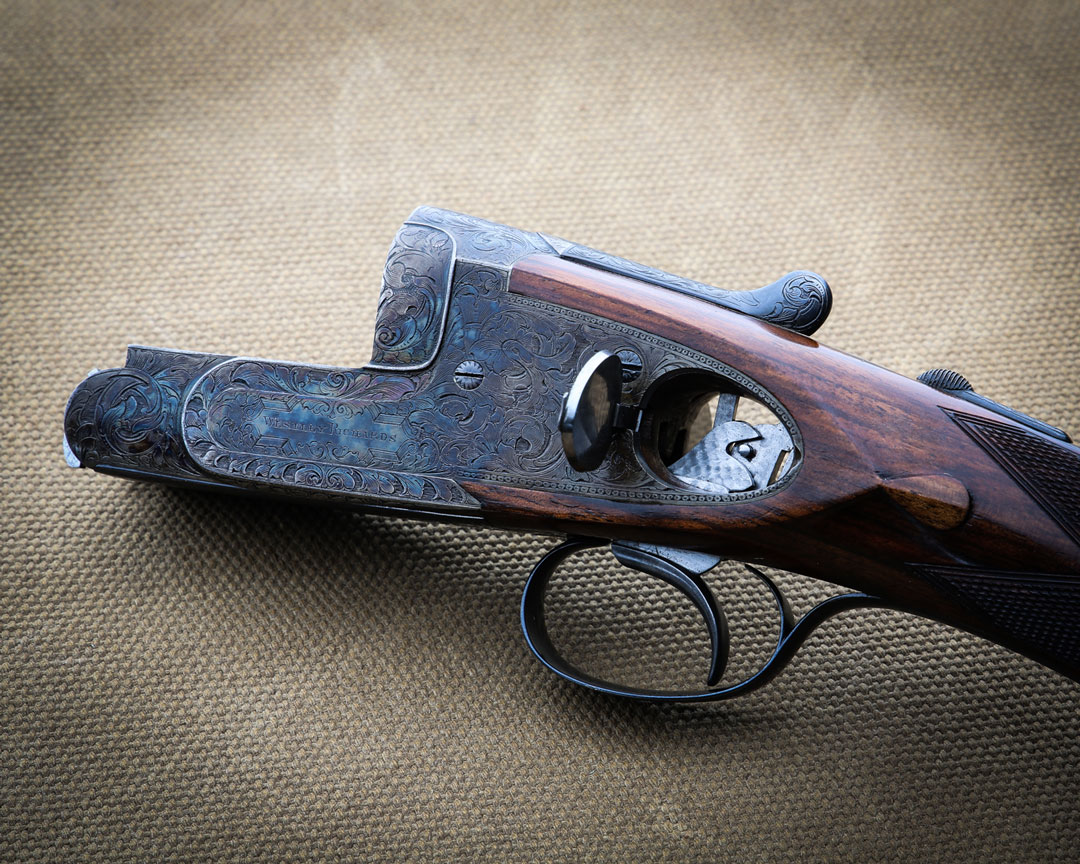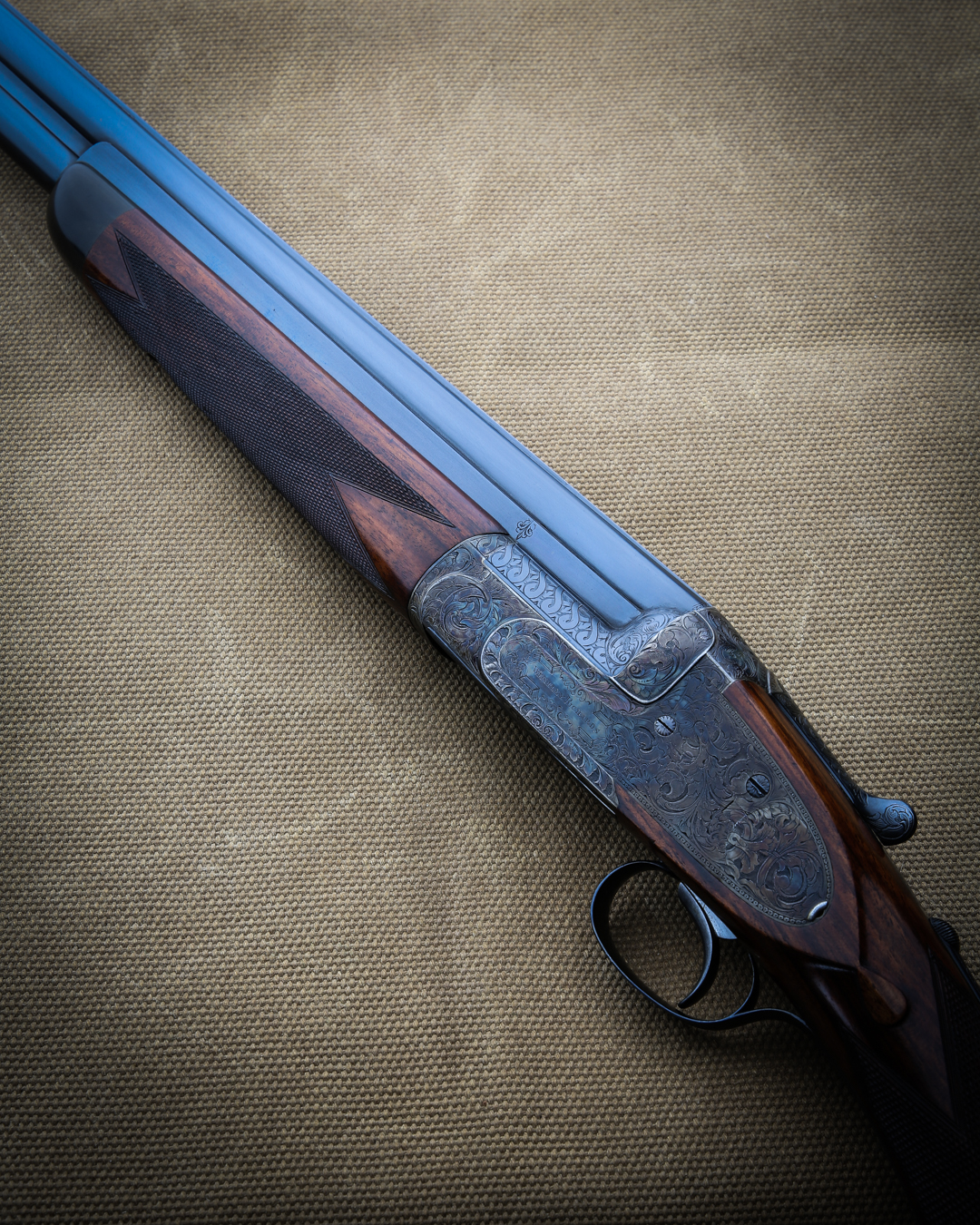 Many of these designs and inventions have played an instrumental role in the development of the modern firearms we know today and Mr. Taylor is, yet another giant of the English gun trade, in a long list of those who served at Westley Richards & Co.