Leading the wood finishing is Julian Fanthome, someone who has been in the gun trade for 40 years with a long heritage in fine English gun restoration. Since joining Westley Richards in late 2015, Julian has been involved in many of our spectacular projects, with his latest work being on display with the recently completed 'Falcon Trio' shotguns.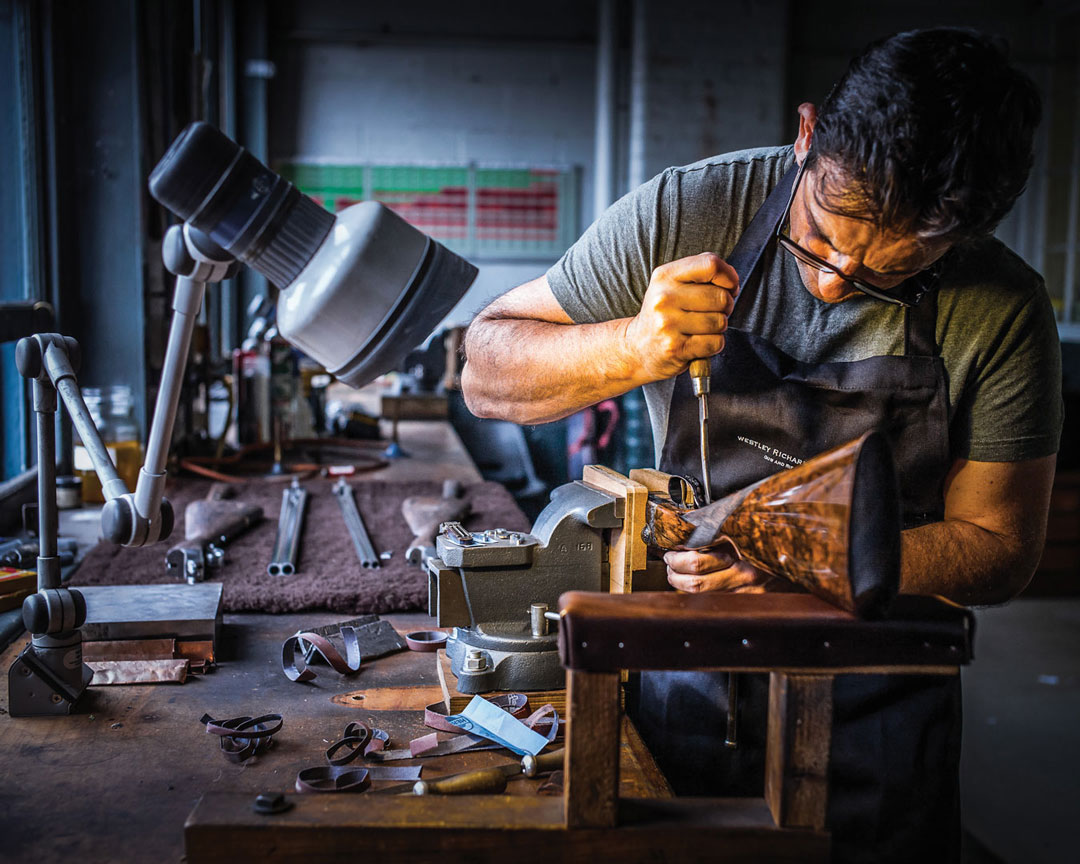 Where did you grow up?
I grew up in small village called Salford Priors in the Vale of Evesham, Worcestershire. The area has a long history with country sports and the agricultural industry and it was in part due to this that I ended up as a gunsmith.
As a young lad I had a Saturday job with an engine reconditioning company, owned by Mr Norris Bomford who was part of a big local farming family - The Bomfords. His father, Michael Bomford was in fact a fantastic shot, particularly high pheasants and it was this link that helped into the gun trade
Did you always want to work in gun making?
Honestly no, but I knew from an early age that I wanted to be a skilled craftsman.  My father was an engineer, and I spent many hours as a boy in my father's workshop. At school I was good at metal work and woodwork, so it was inevitable that on leaving school I would find an apprenticeship.
On a meeting with a career's advisor, I was offered an interview with The Grange Gun Company, near Redditch for the position of apprentice Gunsmith, which I thought it sounded very interesting.
At the interview I made a good impression on the company director, with a shared love of classic cars and motorbikes. He also knew The Bomford family very well as it appended and Norris Bomford was kind enough to send a good reference, and was suitably offered the position.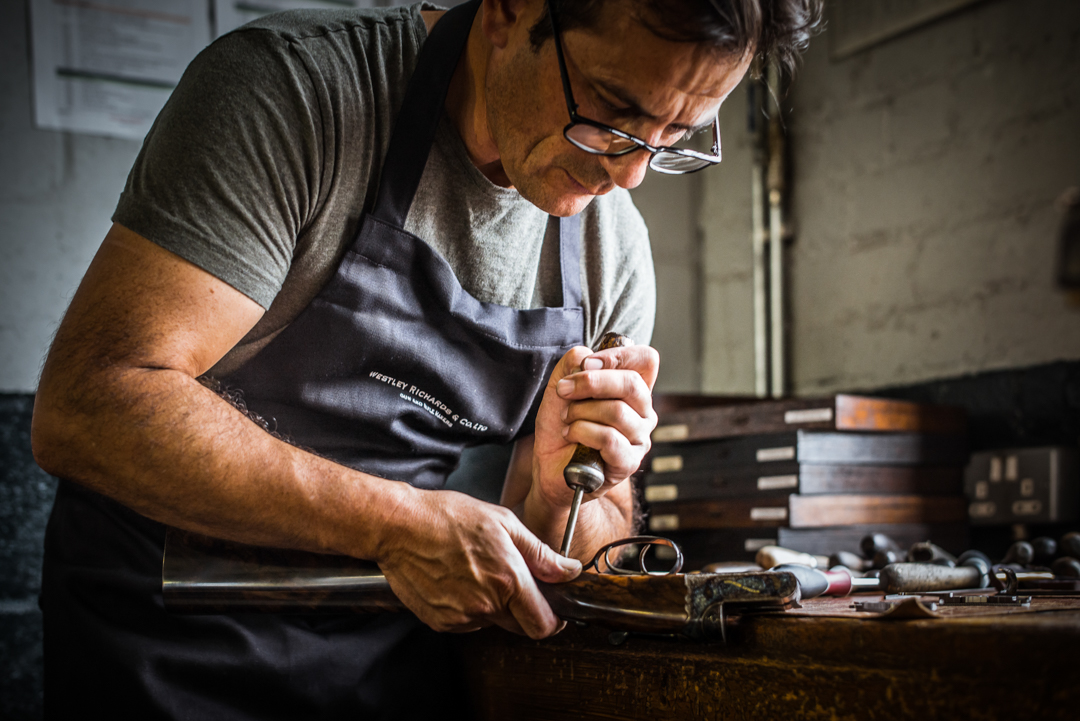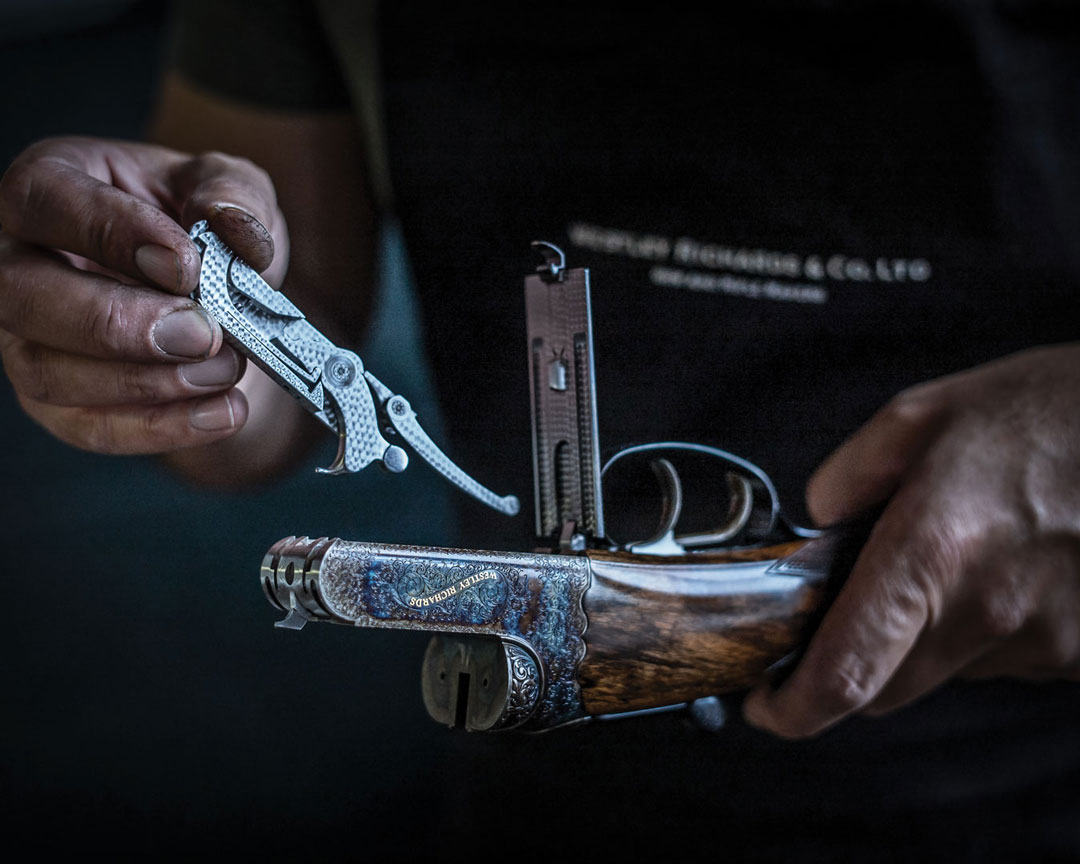 What did your apprenticeship entail?
The Grange Gun Company was stared after the war by Joe Carey & Terence Coldicote both making bolt action shotguns as well trading and restoring fine English guns. They had a famous slogan for many years in their advertising 'Try Before You Buy' as they had a clay pigeon traps on site a great sales tool as many guns were sold as a result of being test fire on clays.
By the time I joined the company they specialising in solely the restoration and repair and sales of fine English Shotguns, so my first few weeks was spent making tools and learning how to dismantle and assemble boxlock shotguns.
From there my apprenticeship covered a huge range of areas: barrel boring and choke alterations and pattern testing; proof preparations; stock and fore-end refinishing; striking off gun barrels for re-blacking; polishing small parts and re-blacking. The apprenticeship was 5 years of continued learning and developing of my skills.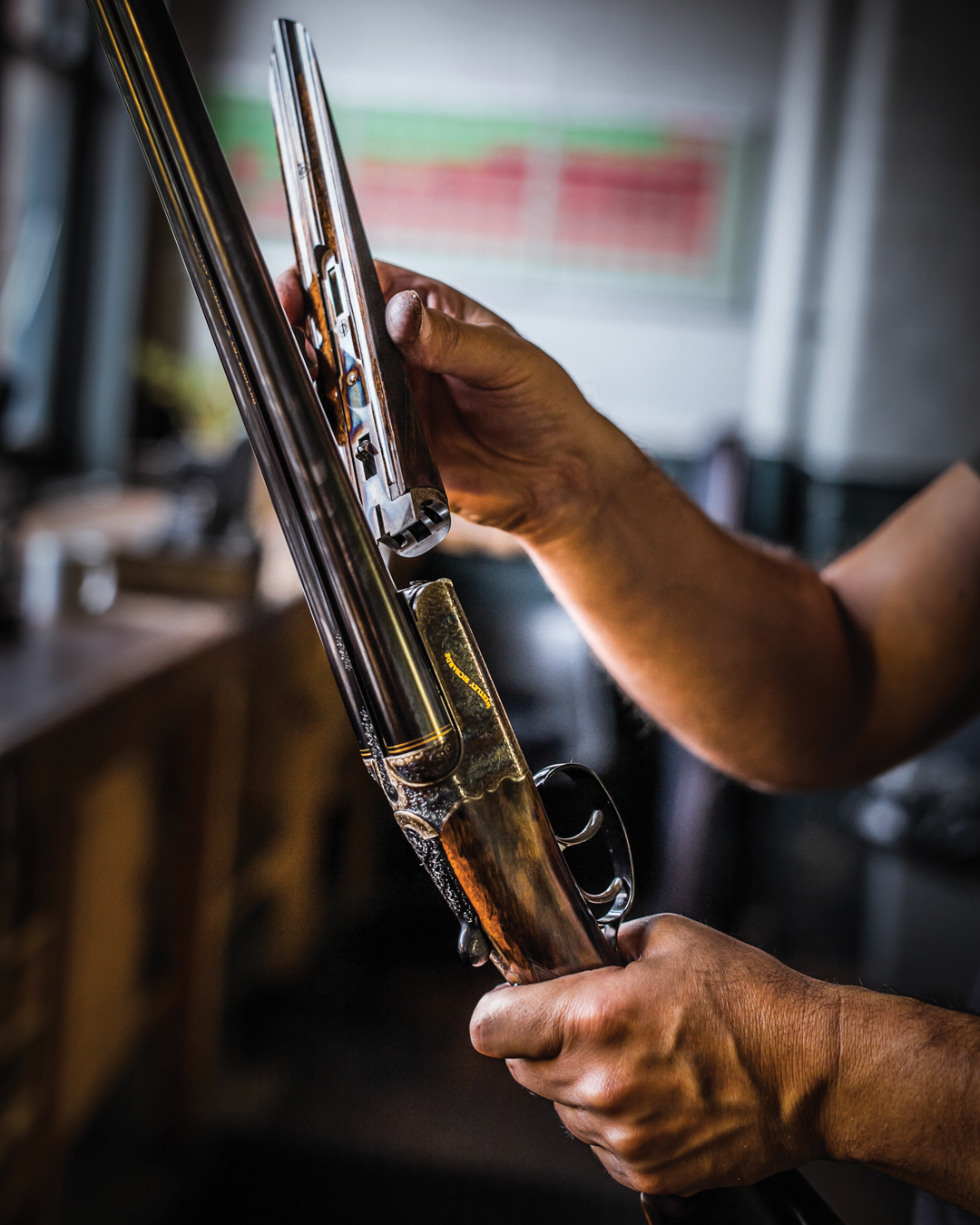 Who inspired you to become a gun maker?
The managing director of Grange Gun Company, Tony Halward was my inspiration and mentor, who had a vast knowledge of English guns and English gunmakers. Tony was a keen shooting man from early age hailing from a small village near Worcester. His career began in agricultural engineering and with his passion for English guns began buying and selling them on the side.
He was taken on by Mr Terence Coldicate in the 1960s and still there well into the 1980s when I joined as an apprentice. His passion for English guns was infectious and he always gave me opportunity to work on fine  guns, even when I had limited knowledge of certain areas. This stood me in great stead for the future.
Who would you have counted as mentors in the field of finishing?
Harry Stevens, who was a timed serve stock maker from the Grange Gun Company and a master renovation specialist, he was a great mentor for me. His background came from stocking in the Birmingham trade just before the war.
He joined GGC soon after the Myxomatosis epidemic in the early in 1950s, which had slowed his work at the time down. Terence Coldicote who knew he was a fine stocker decided then to take him on.
When I joined the company he was well passed his retirement age but even then he could make a stock in a week. He was a superb mentor always willing to share knowledge with the apprentices and was well known to be the go to guy for any complicated replacement components that with old English guns needed to be made from scratch.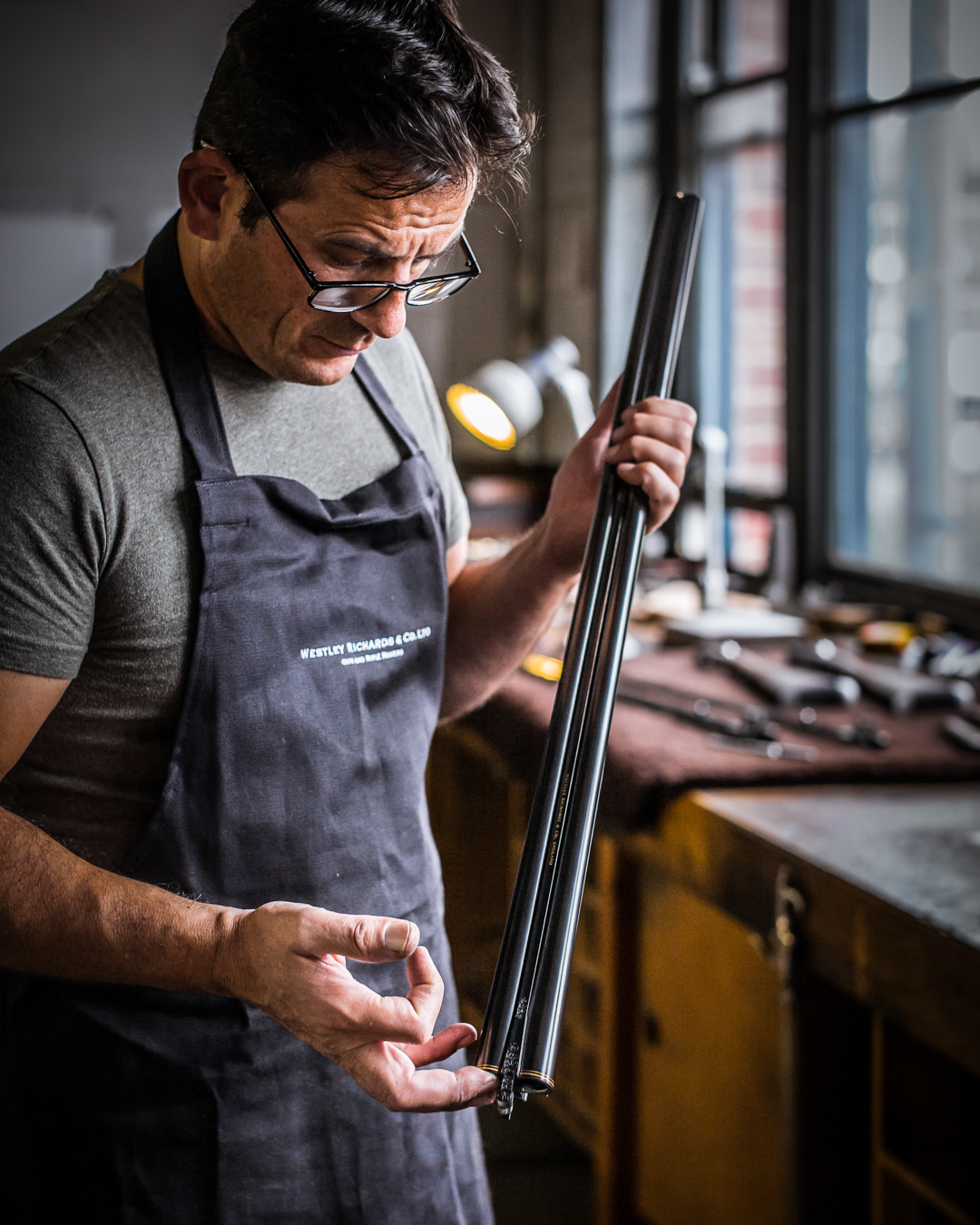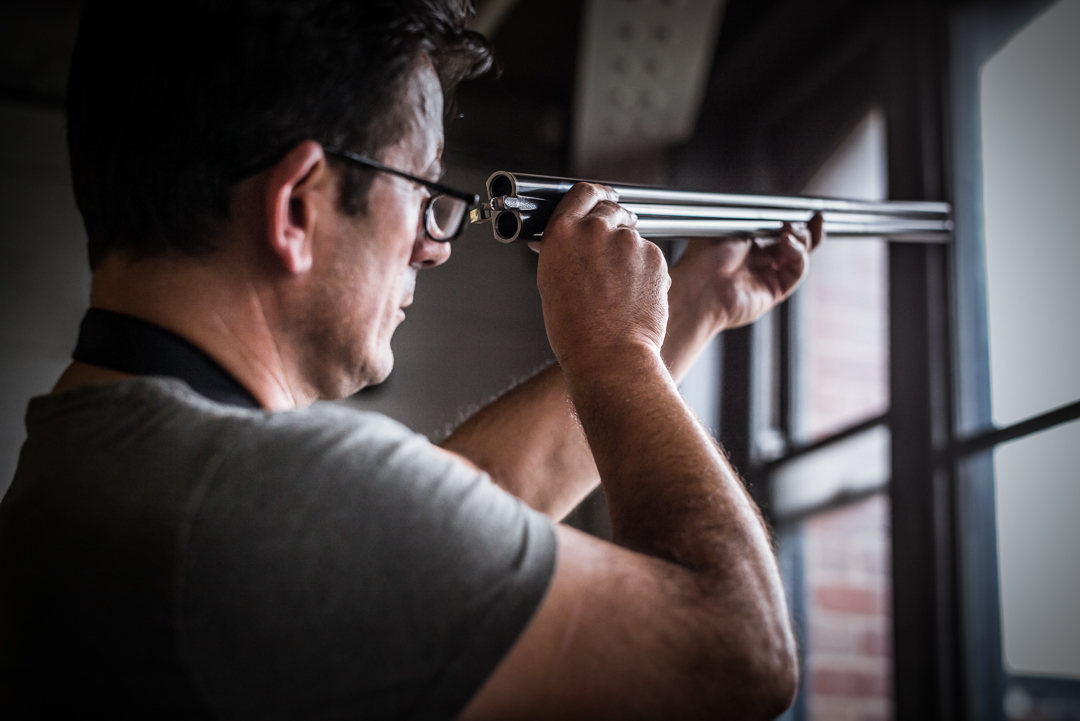 How long did it take to learn the art of finishing a gun?
I would say the basics would probably be covered over a period of 5 years, but mastering it is a continuous learning process as we're always striving for perfection.
How many guns and rifles have you now finished?
Over a period of nearly 40 years in the trade, it would be difficult to give an accurate number, but I estimate to be in the hundreds. For Westley Richards in particular, since joining in 2015 I would say between 50 and 60. Here at Westley the standards are so high and as part of the finishing were always pushing the boundaries in excellence.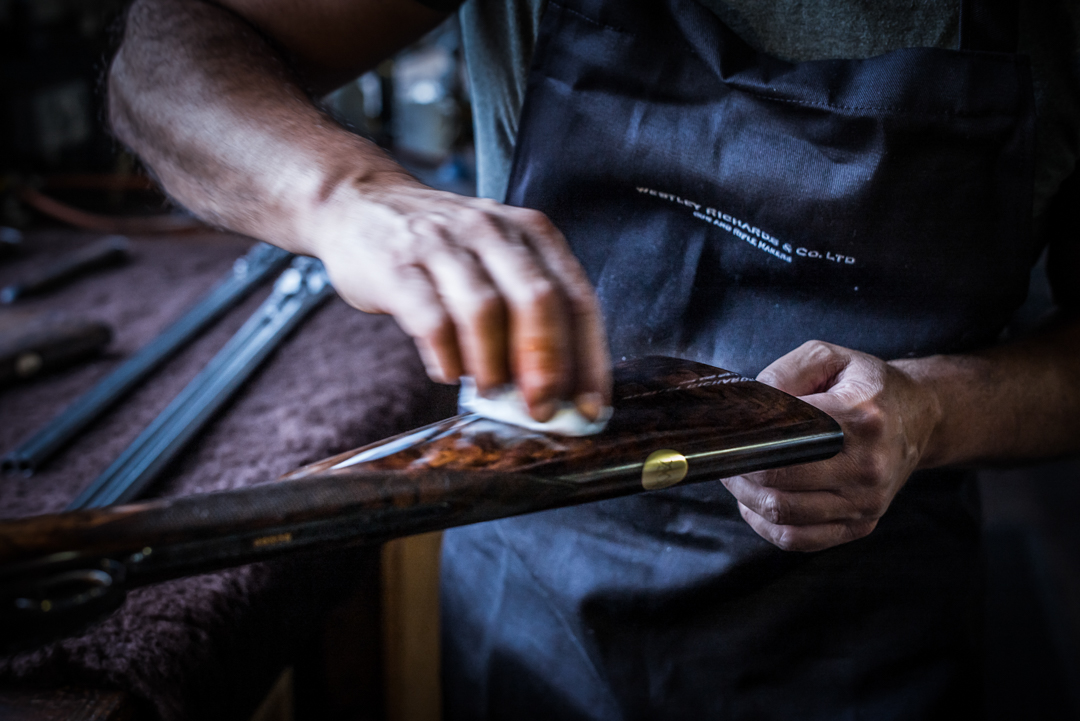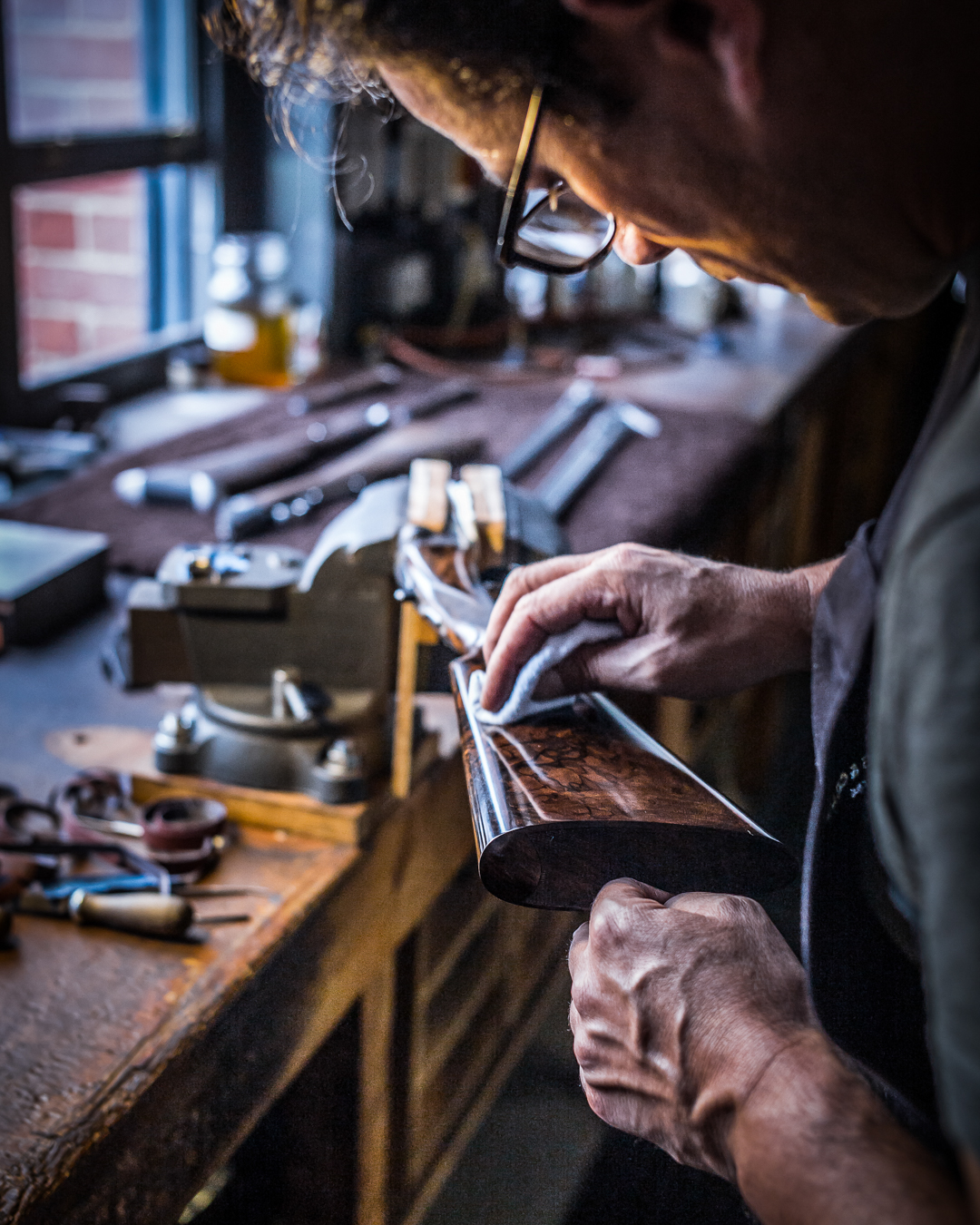 What's the greatest challenges a finisher faces?
I started my time with Westley Richards on the polishing and preparation for engraving side then quickly moved over to my original background as a stock finisher.
For a stock finisher I would say two things can create a significant challenge. The first is the nature of the natural material being used. Exhibition Turkish walnut, which forms the bulk of the wood we use at Westley Richards, can be affected by many factors like temperature, preparation & handling. These are hard to manage variables that can change the general appearance quite quickly lengthening the time span of each project two or threefold.
Secondly as we strive for greater and greater perfection, quality control is of the most importance. The stock is often the most impactful element when a customer views a gun for the first time and therefore the finisher's work would be constantly scrutinised at various levels from the production team to the Manager Director.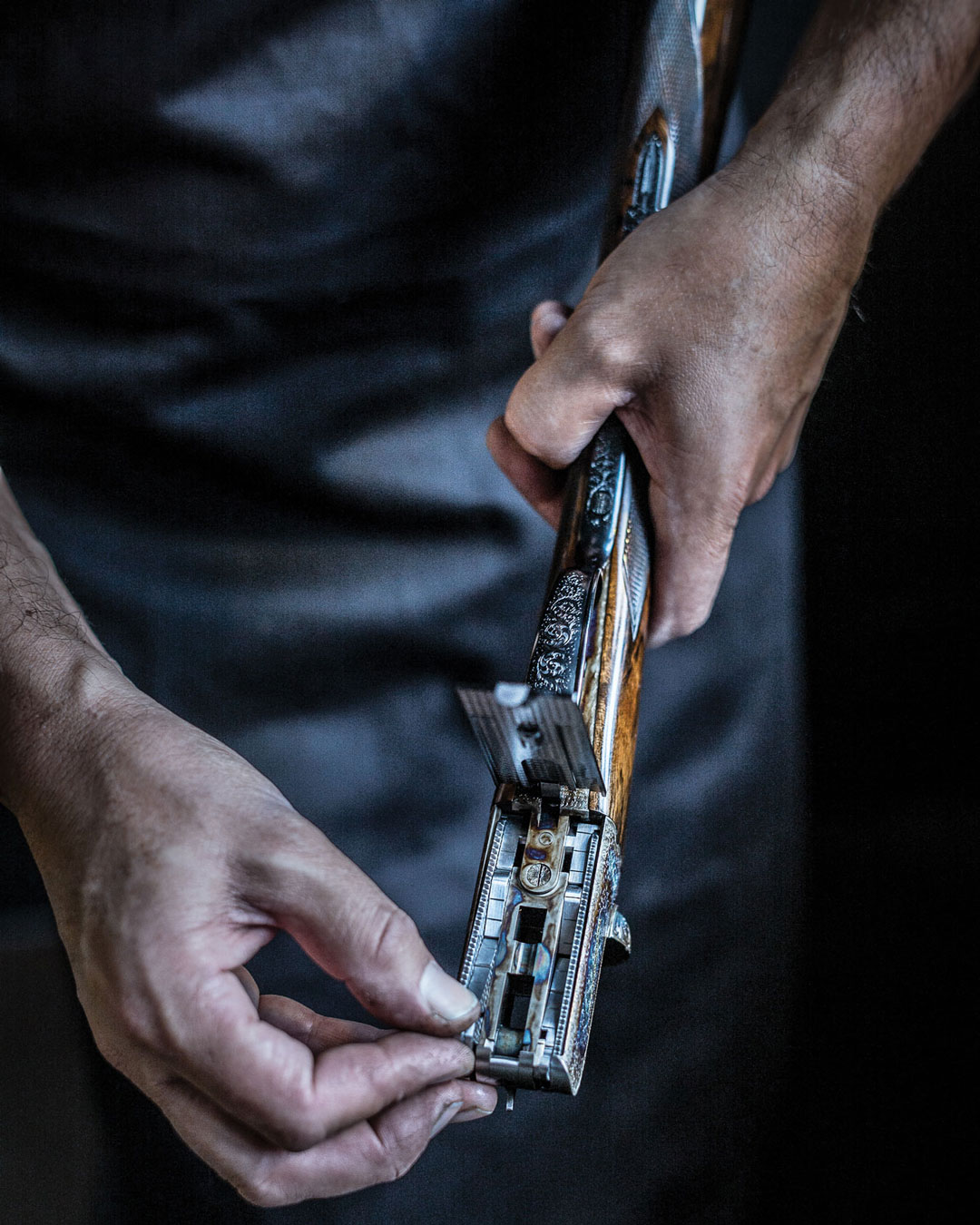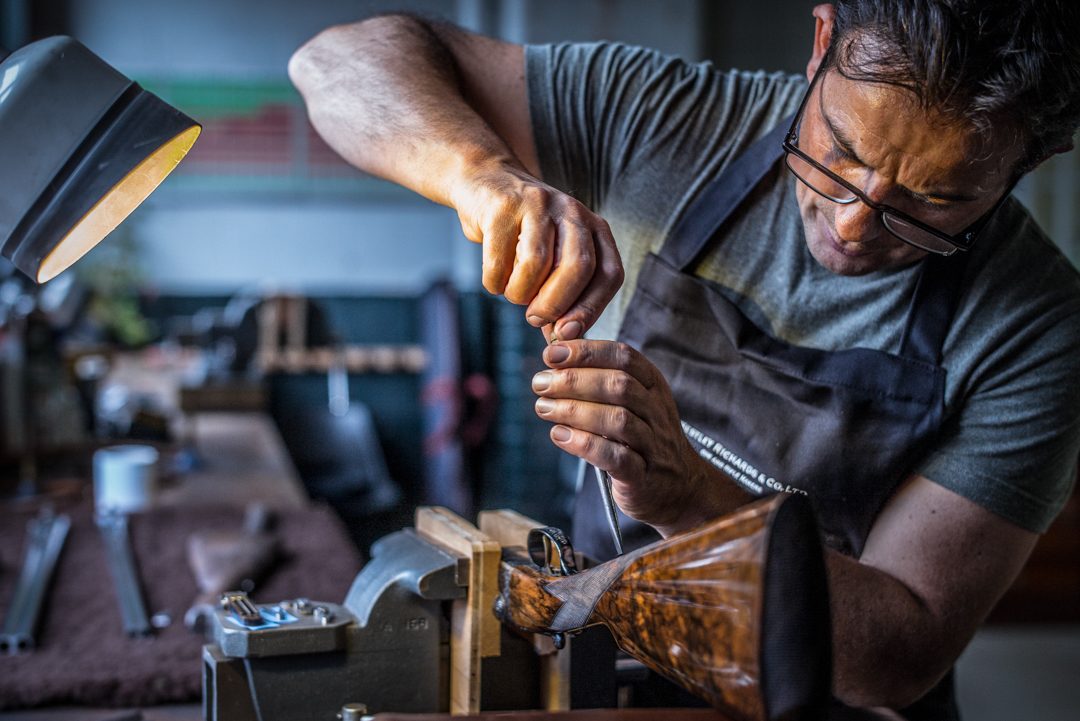 What do you most enjoy about finishing a gun/rifle?
I enjoy the whole process from beginning to end, from working with and being part of a great finishing team,  in the knowledge that we are producing the absolute best finish on the finest English guns and rifles being made today in the world.
If you hadn't have become a finisher, what path would you have taken?
I would have become a stock maker as I have always enjoyed working with wood and using hand tools so I feel fortunate to have landed in industry that fulfils me.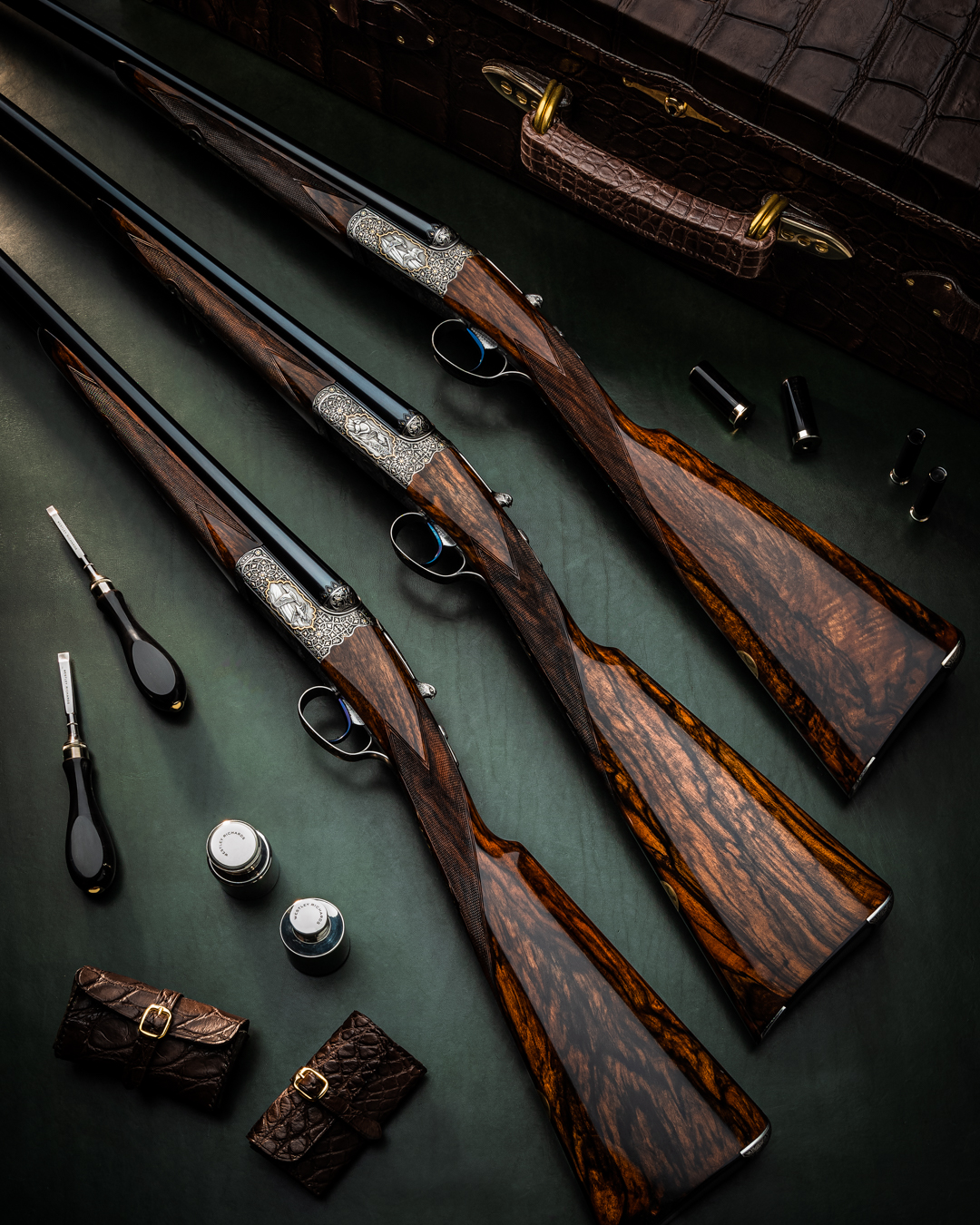 Tell us about your role in the new exhibition grade 'Falcon Trio' shotguns that you recently completed?
These beautiful trio were a pleasure to part of but of course these came with their own unique challenges. Though from the same piece of top-class exhibition grade Turkish walnut each stock required a meticulous level finishing.
To achieve the desired level of colour on a stock we treat them with blend of oils mixed with Alkanet Root. The oil has an impressive deep red colour and we use it precisely, with various coats being applied to bring the stock to the coveted Westley Richards finish.
The Falcon Trio in particular were unusual as each stock necessitated differing levels of oiling to achieve the perfect colour match across the stocks. This aspect, though testing at the time is greatly rewarding, and is certainly what bespoke, traditional, handcrafted guns are all about.