Developed in 1955 as a wildcat, by necking down a .308 Winchester case to .243. It was commercially adopted soon after it was developed and has remained hugely popular. Its qualities include low recoil, flat trajectory and good killing power in the field. It is very flexible and can take a light, 58-grain bullet for vermin control a reliable 100-grain bullet for deer.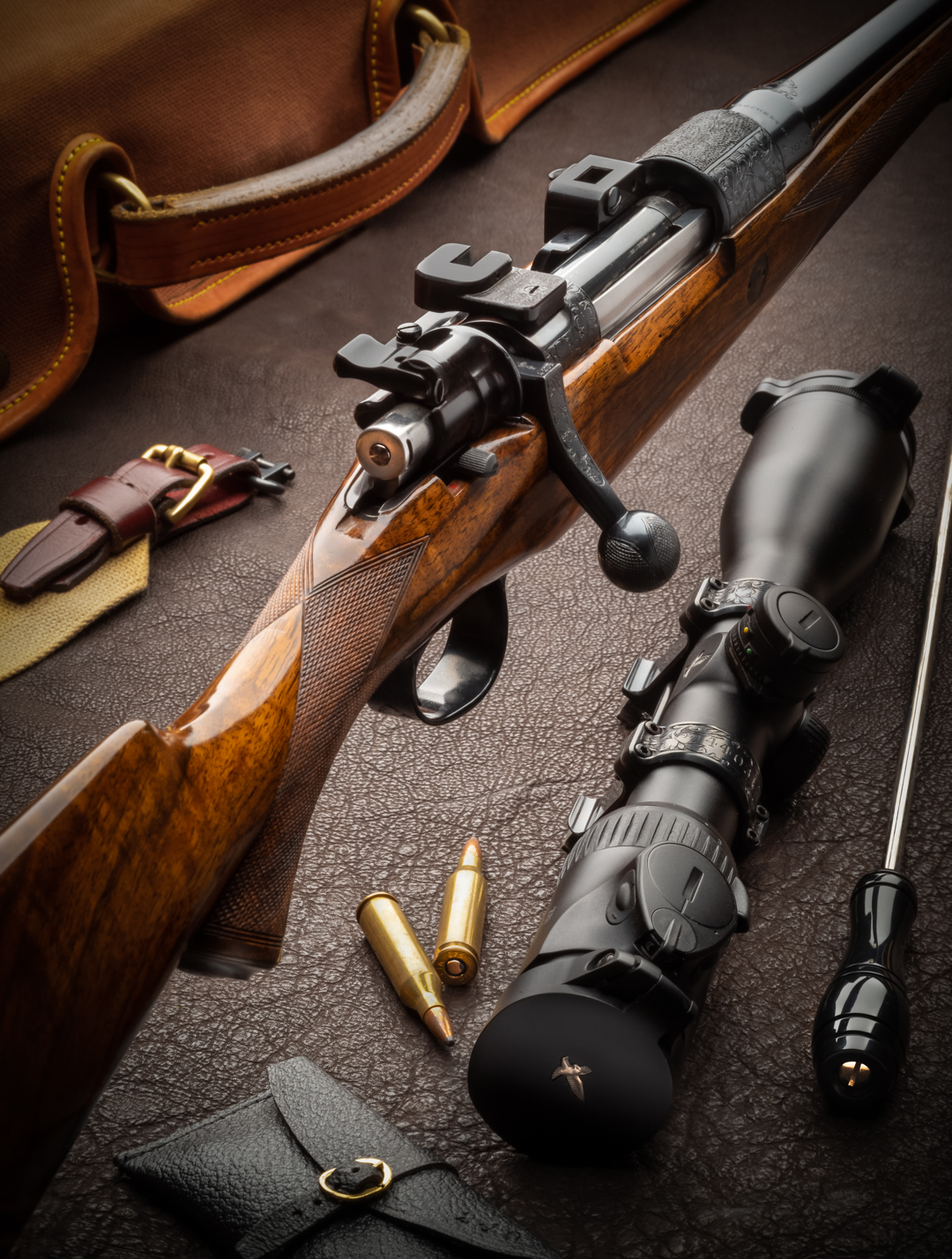 The .243 is not often encountered in the form of a best quality rifle with a London address engraved on the barrel. When such a thing is discovered, it represents a rare opportunity to acquire something special.
Here we have just such a rifle. Serial number 4405. Profusely engraved, meticulously finished, with a high-combed stock and 'scope mounts (it comes complete with 'scope and bi-pod in its maker's case), this delightful little rifle is decorated with foliate scroll engraving and a roaring red stag.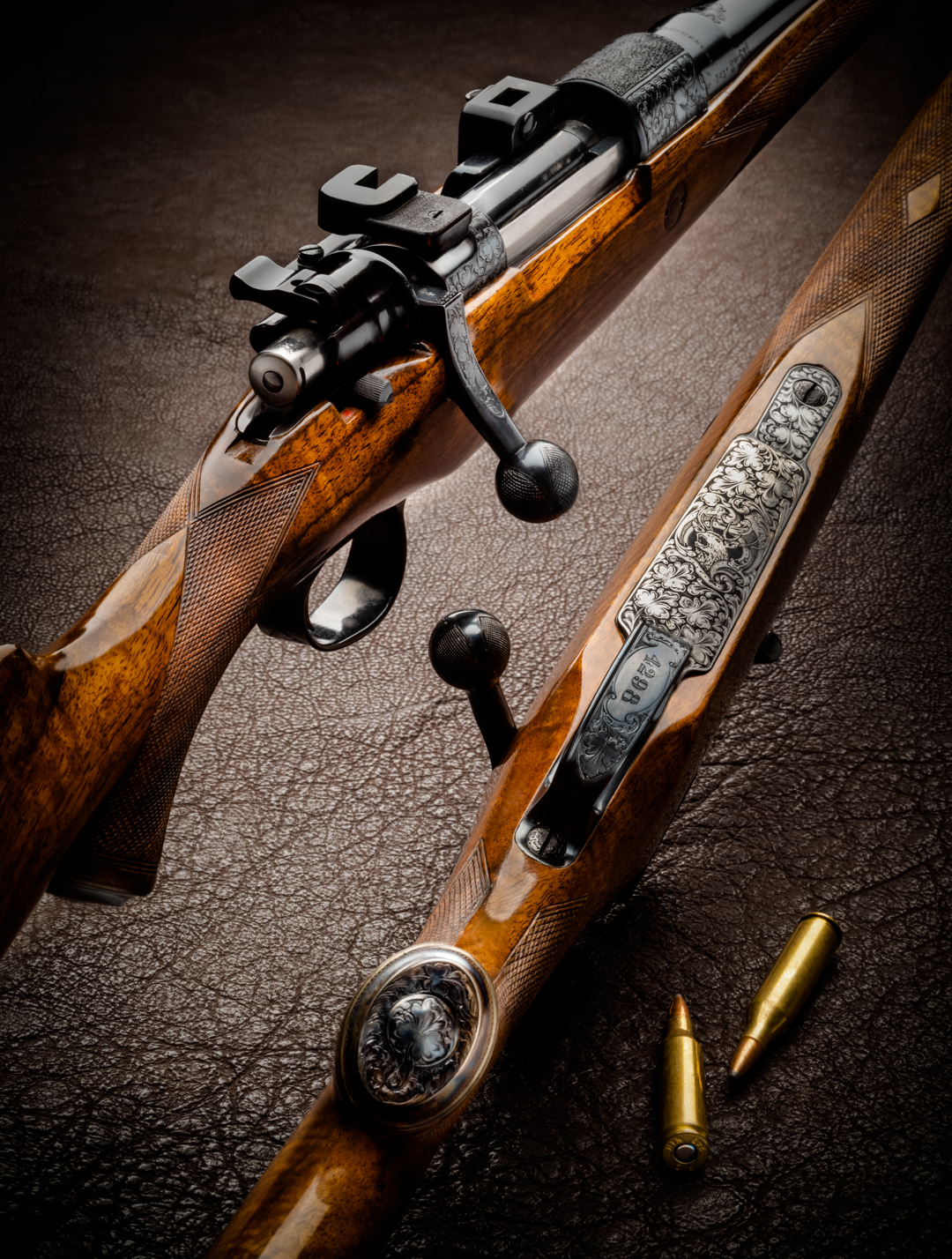 The maker's name 'Holland & Holland, Bruton Street, London' is engraved finely on the barrel and the London proof marks are supplemented with '.243 Winchester'.
All metal parts are deep black and high-gloss. The walnut stock with cheek-piece and leather covered recoil pad is blemish free, the chequer undamaged and it really shows no signs of use. Every element of the rifle confirms the kind of attention to detail we would all expect from Holland & Holland; the finely engraved and case-colour-hardened grip cap and stock bolt being perfect examples.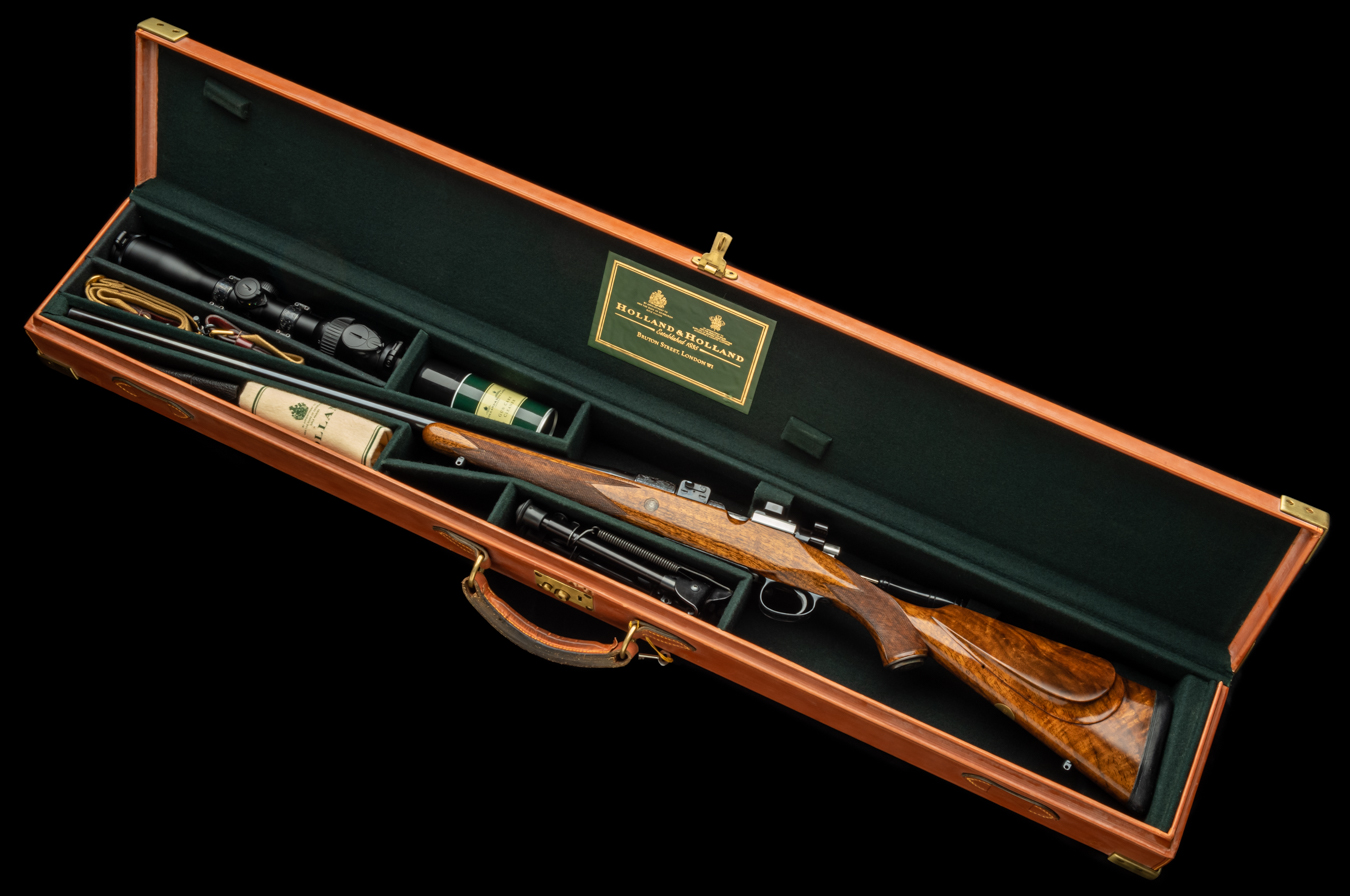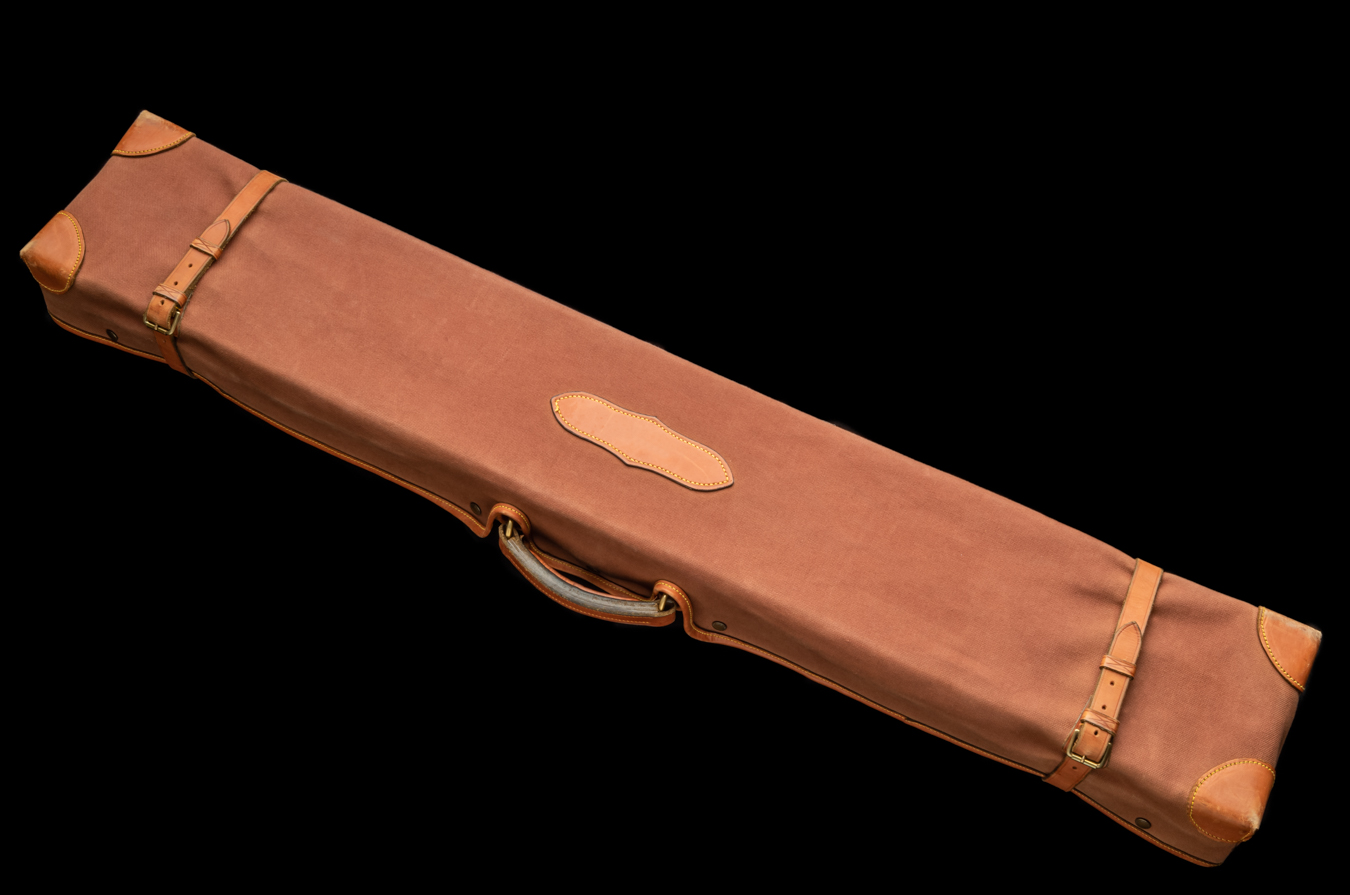 The trigger guard is enlarged to allow for use with gloves in cold weather; a practical stipulation from a customer who has learned from experience. The Mauser traditional flag safety is supplemented by a push-button shotgun style safe button, inlet into the right hand top surface, for faster operation.
Made for use with a 'scope, the clean lines of this pretty little rifle are maintained by the omission of iron sights.
With the cost of a new magazine rifle from Holland & Holland starting at fifty thousand pounds and a considerable build time to contemplate, this is a nice opportunity to pick one up immediately, in an uncommonly encountered chambering, at a significant discount.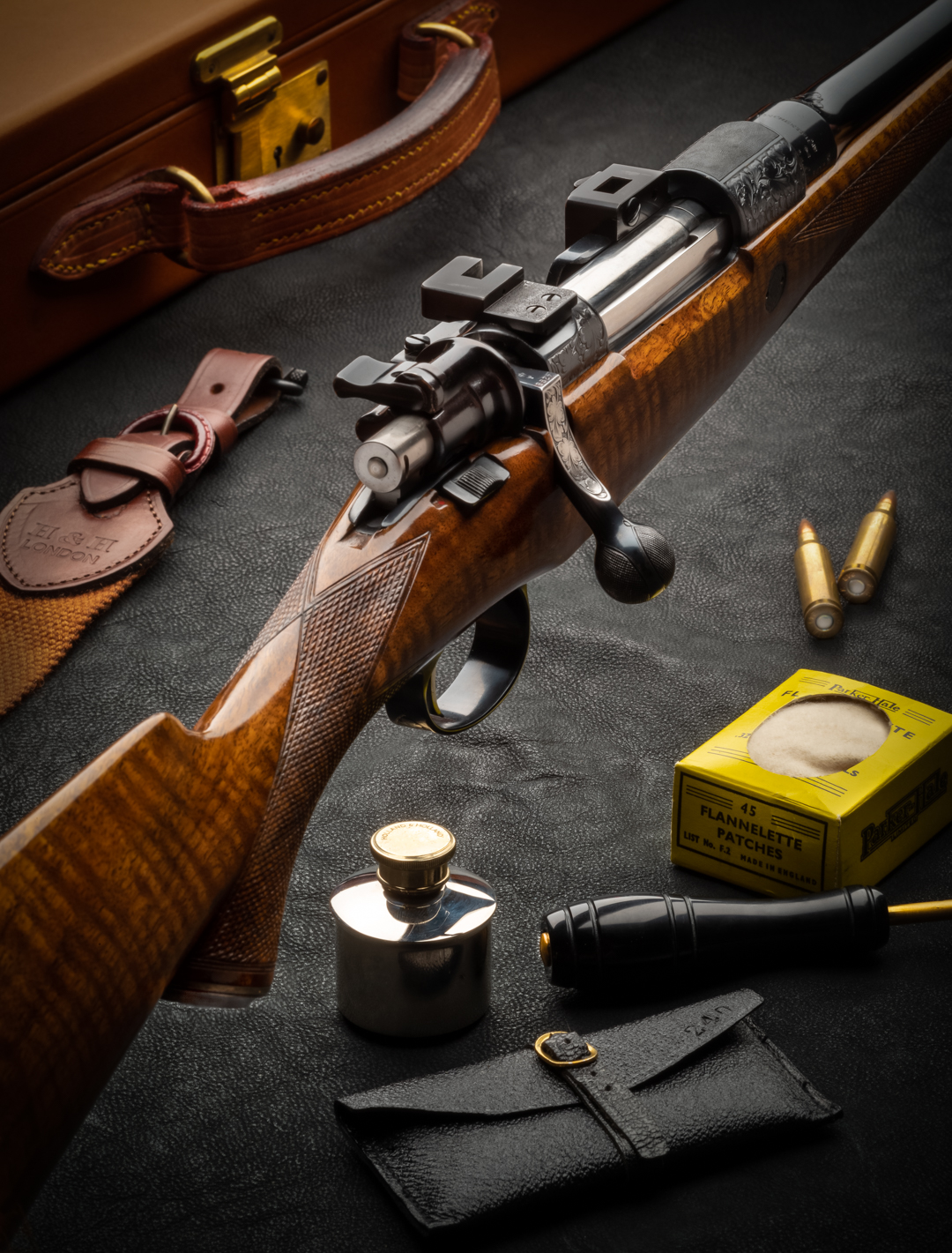 Uniquely, we have not just one of these unusual rifles but, in the form of serial number 4298, we have what in the world of shotguns we might term a 'composed pair'. While the two do not carry sequential serial numbers, they are practically identical in style and dimension; each housed in its Holland & Holland best leather case, with fitted interior, accessories and canvas outer.
The sharp eyed observer will notice minor stylistic differences between the two rifles, such as the shapes of the shotgun-type safety slides, the slightly finer chequering on the bolt handle of 4298, which conversely, has slightly coarser chequered woodwork.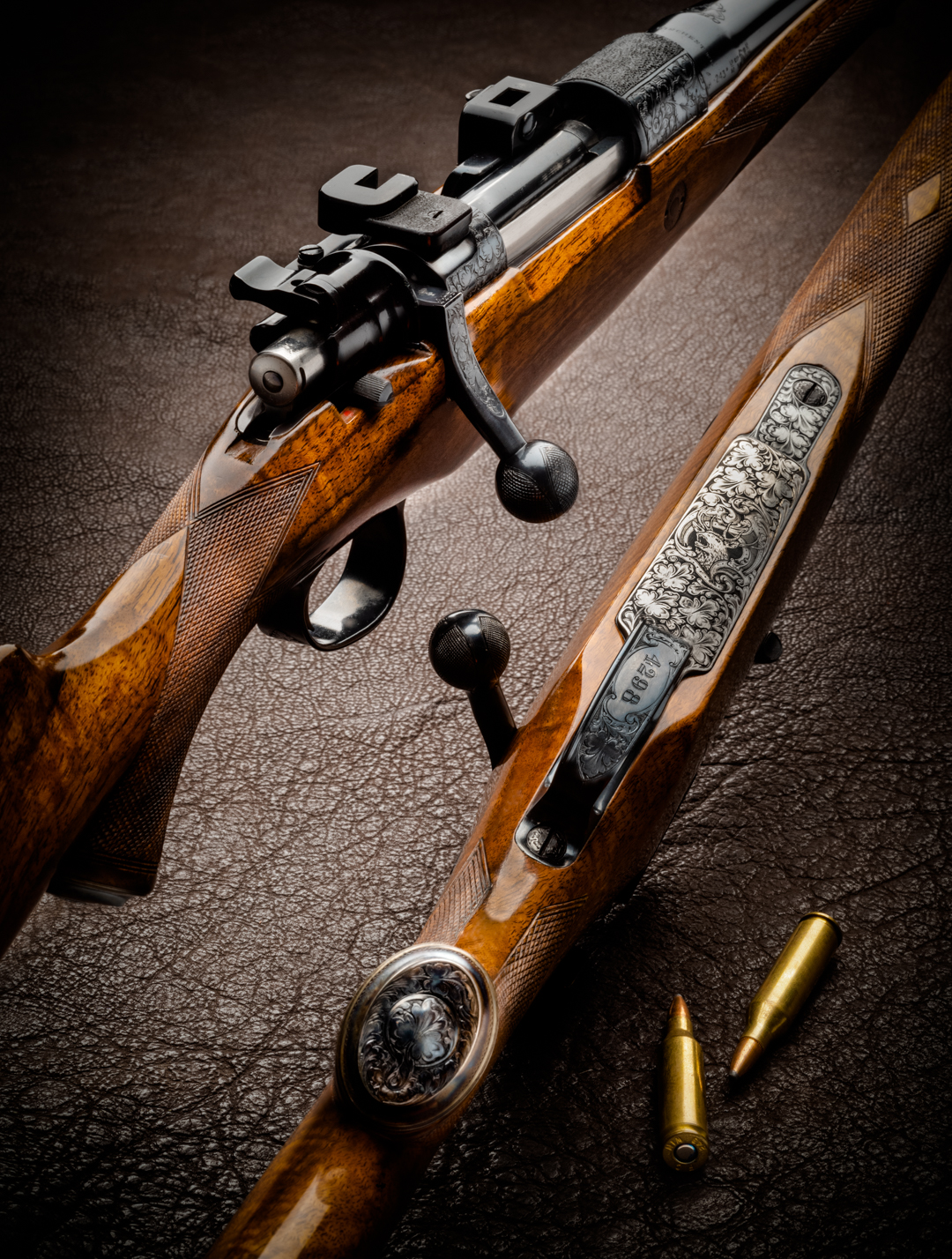 Of the two, 4405 has slightly deeper coloured and better figured wood, while 4298 has, to these eyes at least, rather sharper and bolder engraving of the same foliate work with roaring stag on the bottom plate.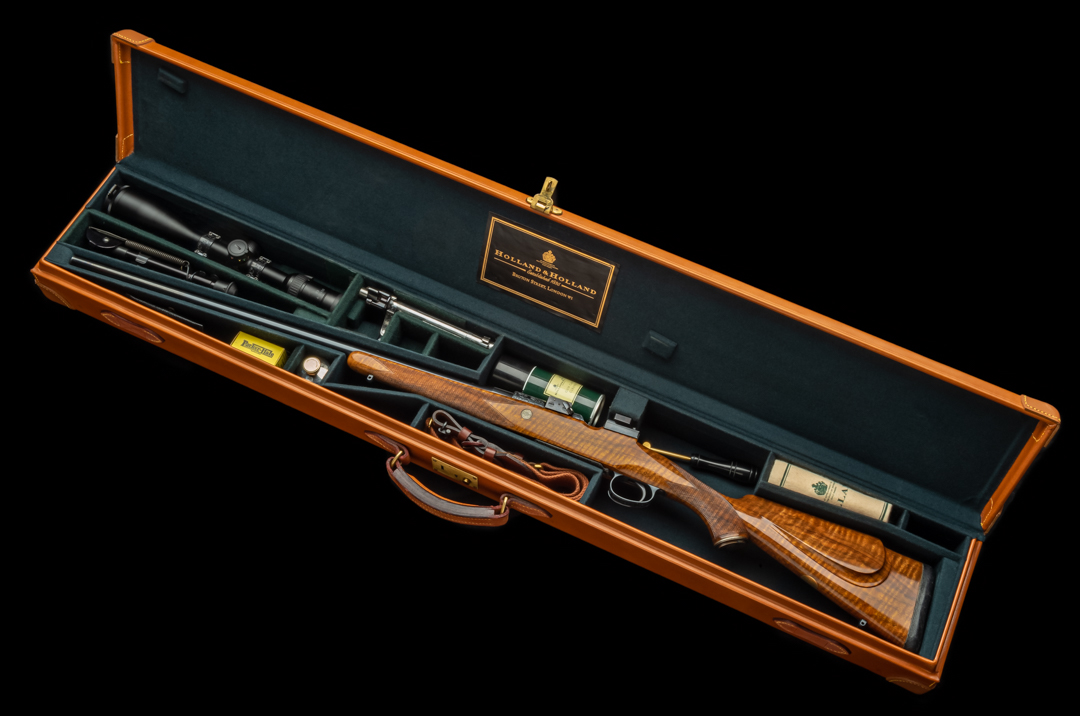 These rifles are available now; singly or as a pair.