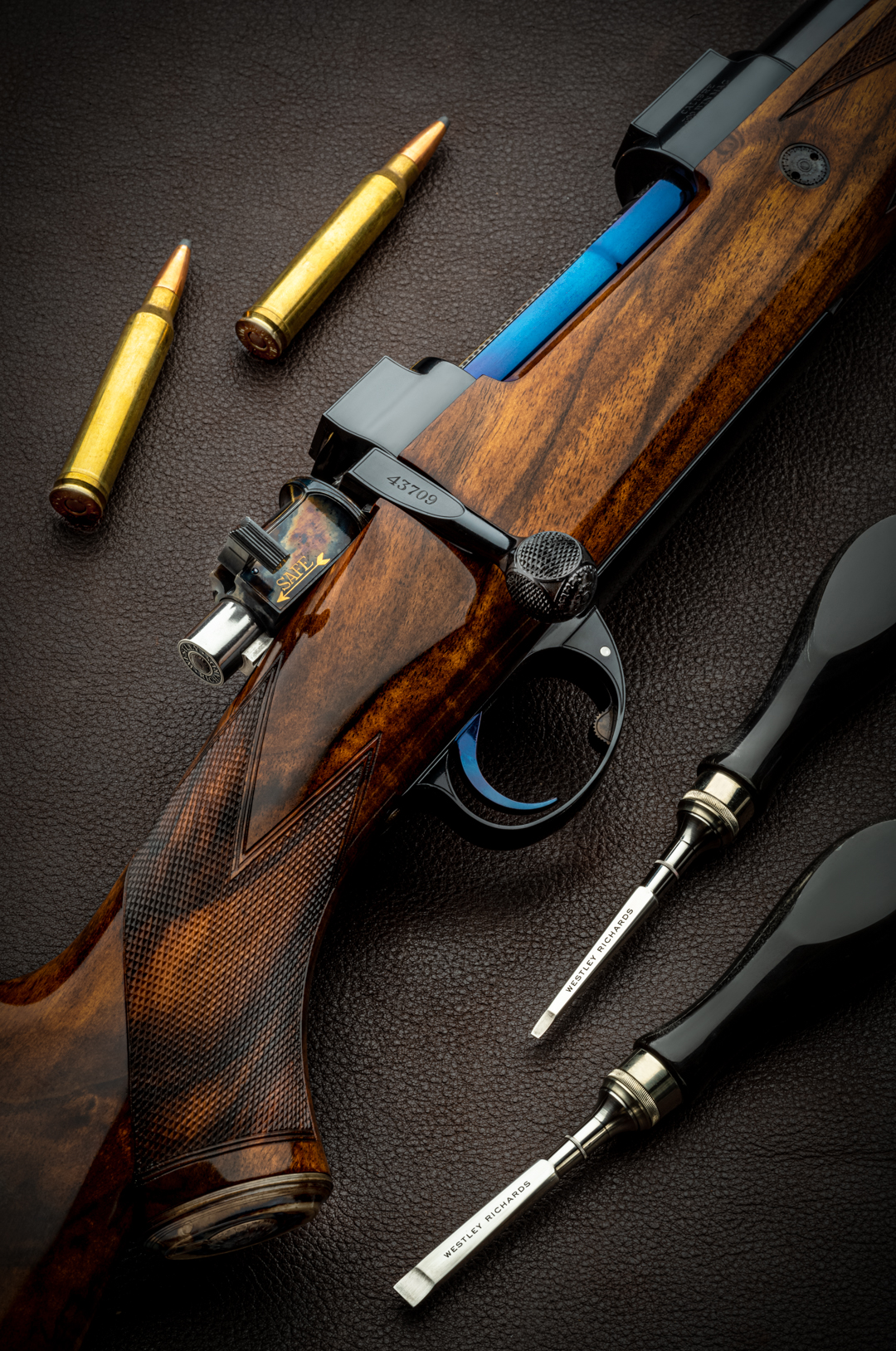 That is what you get if you try the exercise on Serial Number 43709, this .300 Winchester Magnum, Mauser-action magazine stalking rifle. These high resolution, well lit photographs allow readers to indulge in exactly that process. Look closely at the screw and pin slots, the juncture from walnut to steel to ebony to gold. Flat surfaces, rounded surfaces, graduating shapes blending into one another. Nothing is out of line, nothing upsets the eye, everything is in harmony and every detail stands close scrutiny.
But let us not forget, this is a hunting rifle.The cartridge for which it was built is very businesses-like. The .300 Winchester Magnum arrived in 1963. With its long case, short neck and proven performance as a true 1000 yard target rifle, it quickly gained a following for hunting and sniper rifle applications.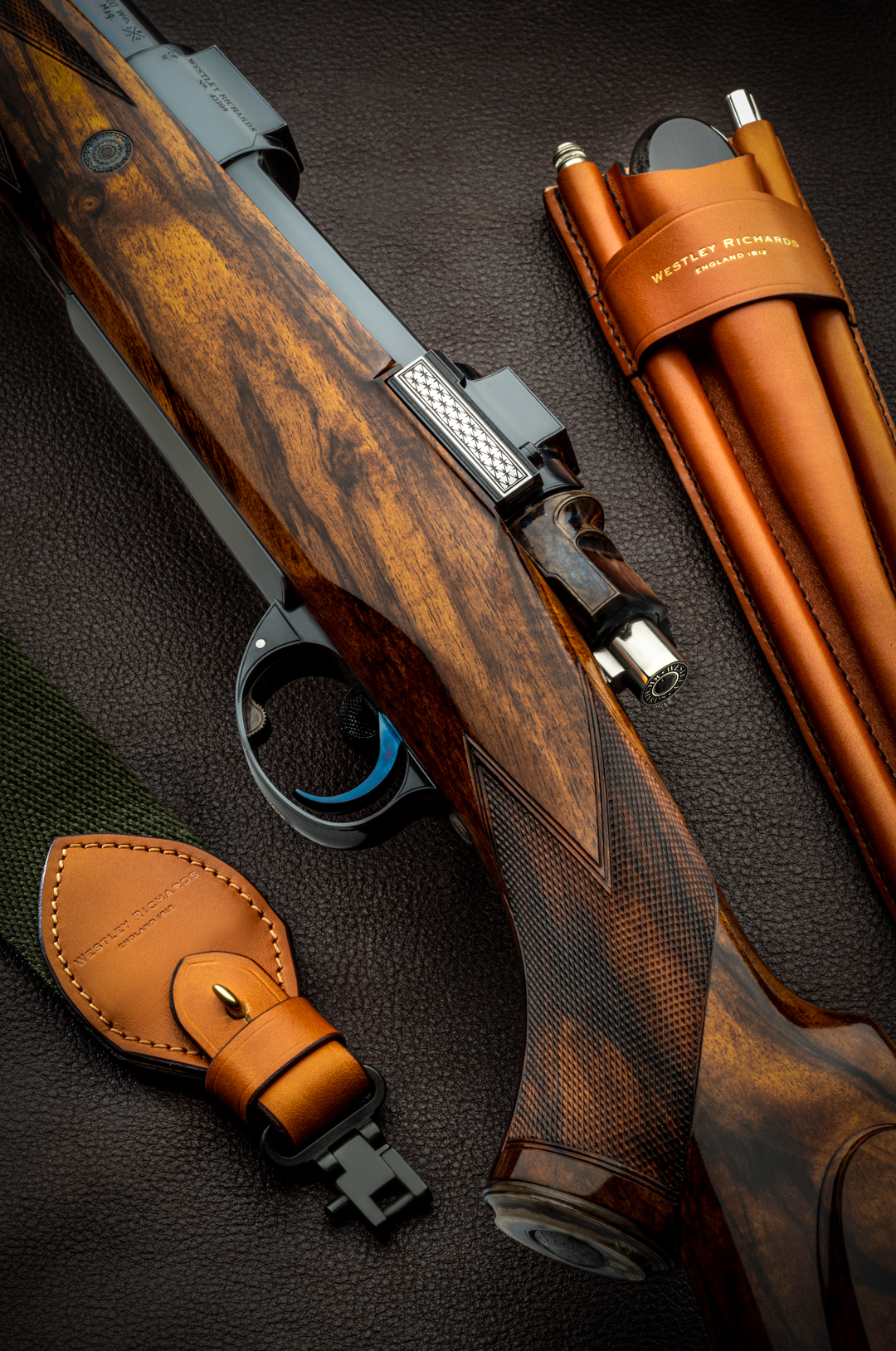 For animals of around 90kgs or above, shot at long range, the .300 Win Mag is a superb choice and the popular 150g bullet, at around 3,400 fps is very effective on medium deer and sheep species. For larger animals, it can handle bullets up to 220 grains in weight. It can be a very effective medium to long range choice; packing a hefty punch and delivering a flat-shooting ballistic profile that keeps things simple.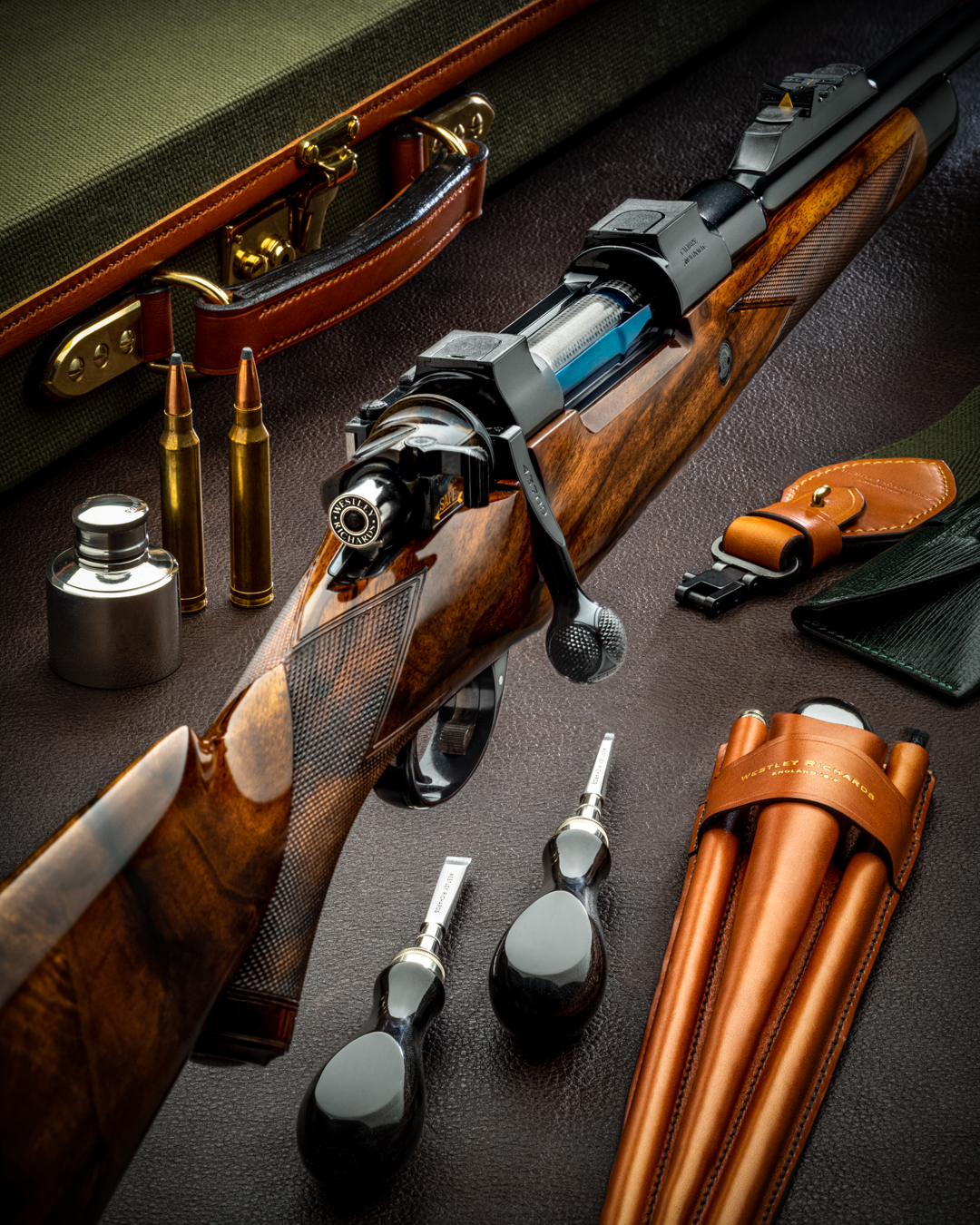 To tame a 'punchy' cartridge like the .300 Win Mag, the custom-built rifle comes into its own. We build in exactly the right head space and make the magazine to the ideal dimensions for a particular choice of cartridge/bullet. The correctly shaped and sized stock, the 'scope choice and the eye-relief designed into the build ensure that the sportsman is perfectly set-up with his rifle and chosen ammunition to ensure all three combine to achieve perfection in the field.
Complementing the hunting rifle's intended life afield, the accessories and case reflect that practical. A lightweight canvas case, tried with leather provides protection and presents the rifle nicely, without being unduly cumbersome. Some cases are so expensive and beautiful that they need a case to protect them!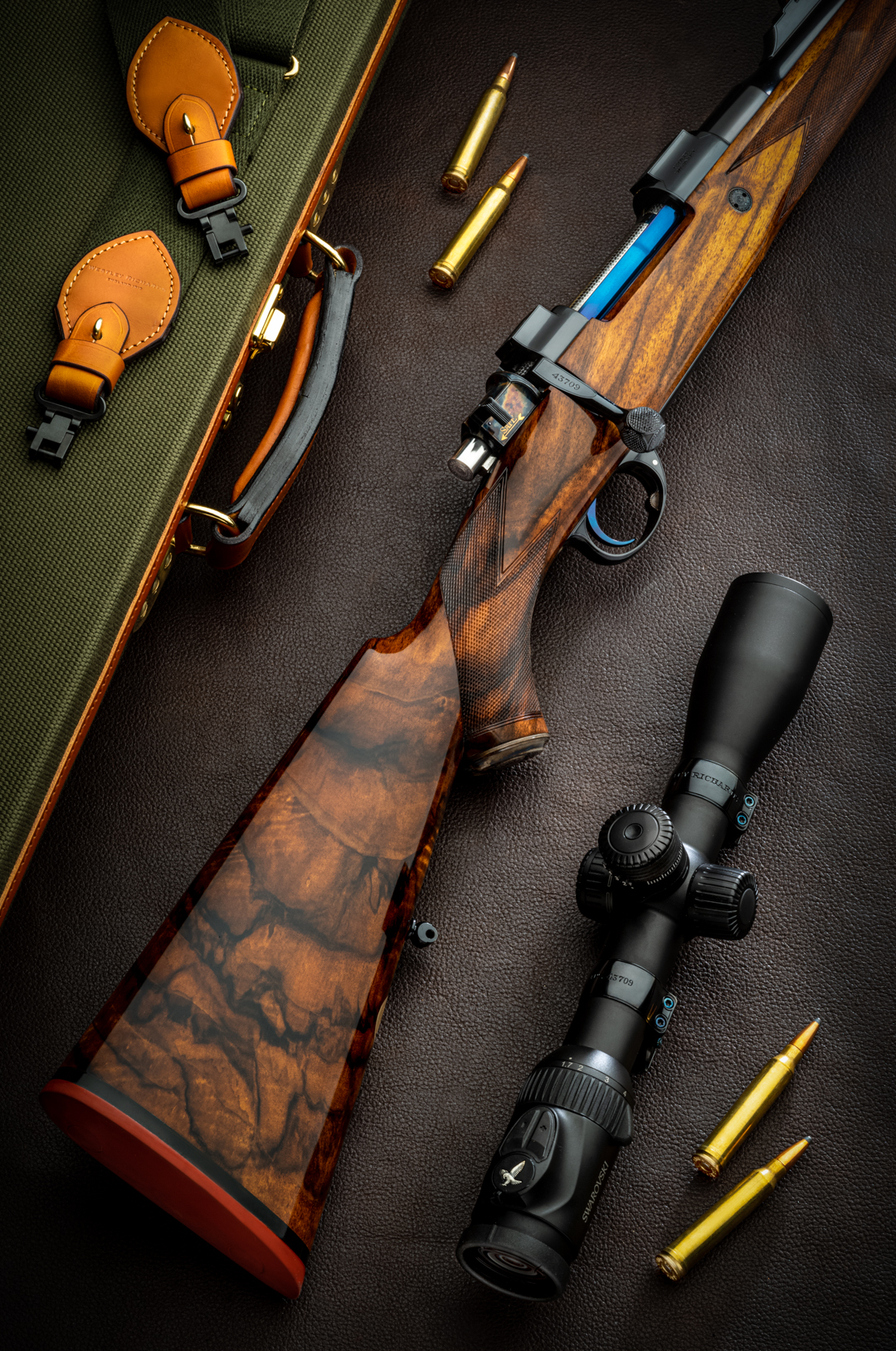 However, the details indicate the quality. The round brass initial plate on the outer lid carries the same 'H' initial as the gold oval on the stock, as well as the maker's name and cartridge designation.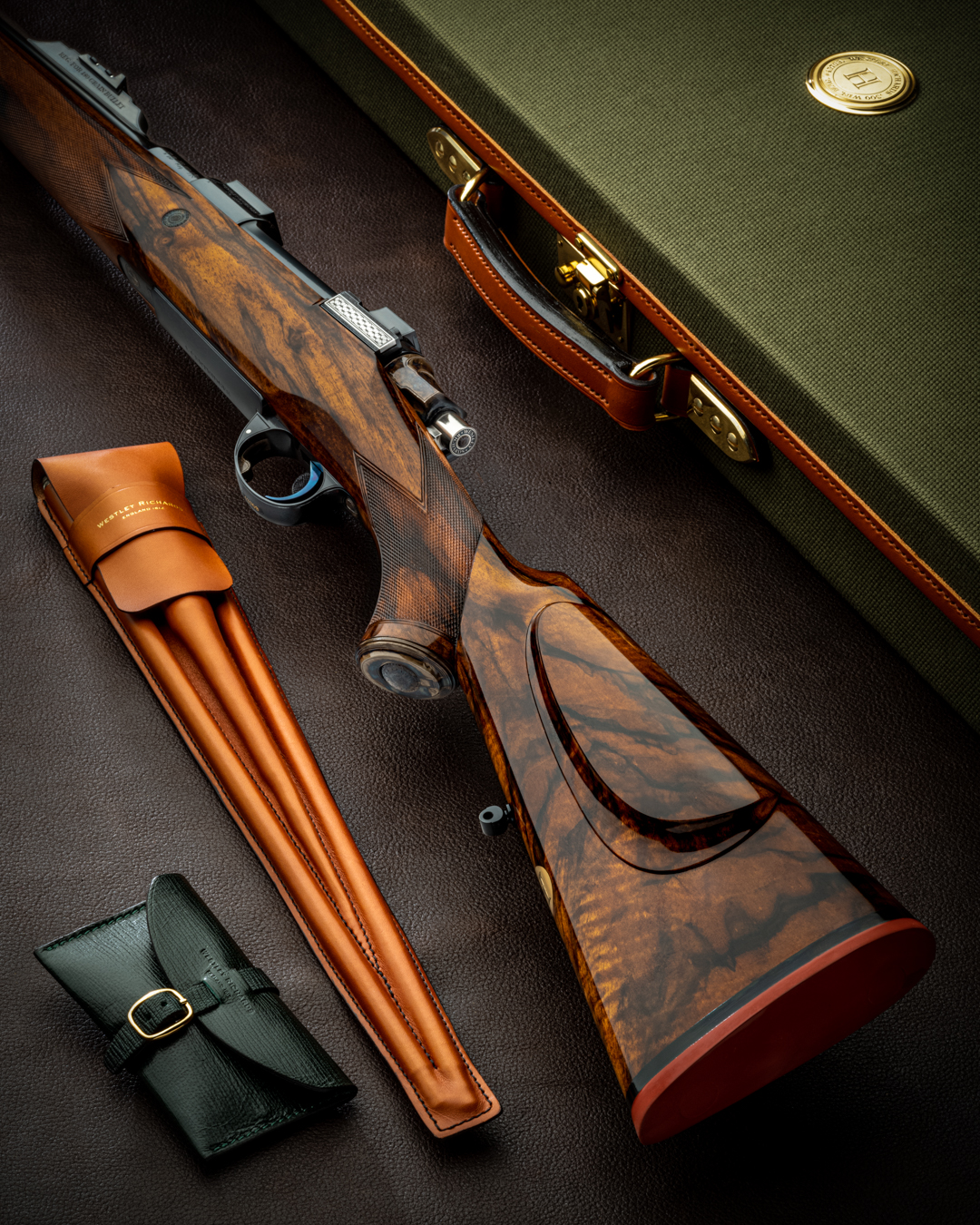 Internally, every tool and accessory sits snugly in its own compartment or moulding. The alcantara lining, in deep green, is traditional in style but modern in performance. It sets-off the case colours, tastefully sparse gold inlay and lustrous deep blacking beautifully. The amber tones and black figure contrast in the walnut stock glow through the hand-rubbed oil finish with that first class affirmation only achieved when every shape and angle is seamless and perfectly blended.
This, then, is what perfection of form and function looks like when expressed in walnut and steel and crafted to live on a diet of .300 Win Mag ammunition. Not only does it past the eye-candy test every time it is held to the light, the owner can be totally confident that when pressed into service, there has been no detail overlooked. Success is now between him, his breathing, his focus and his squeeze of the trigger.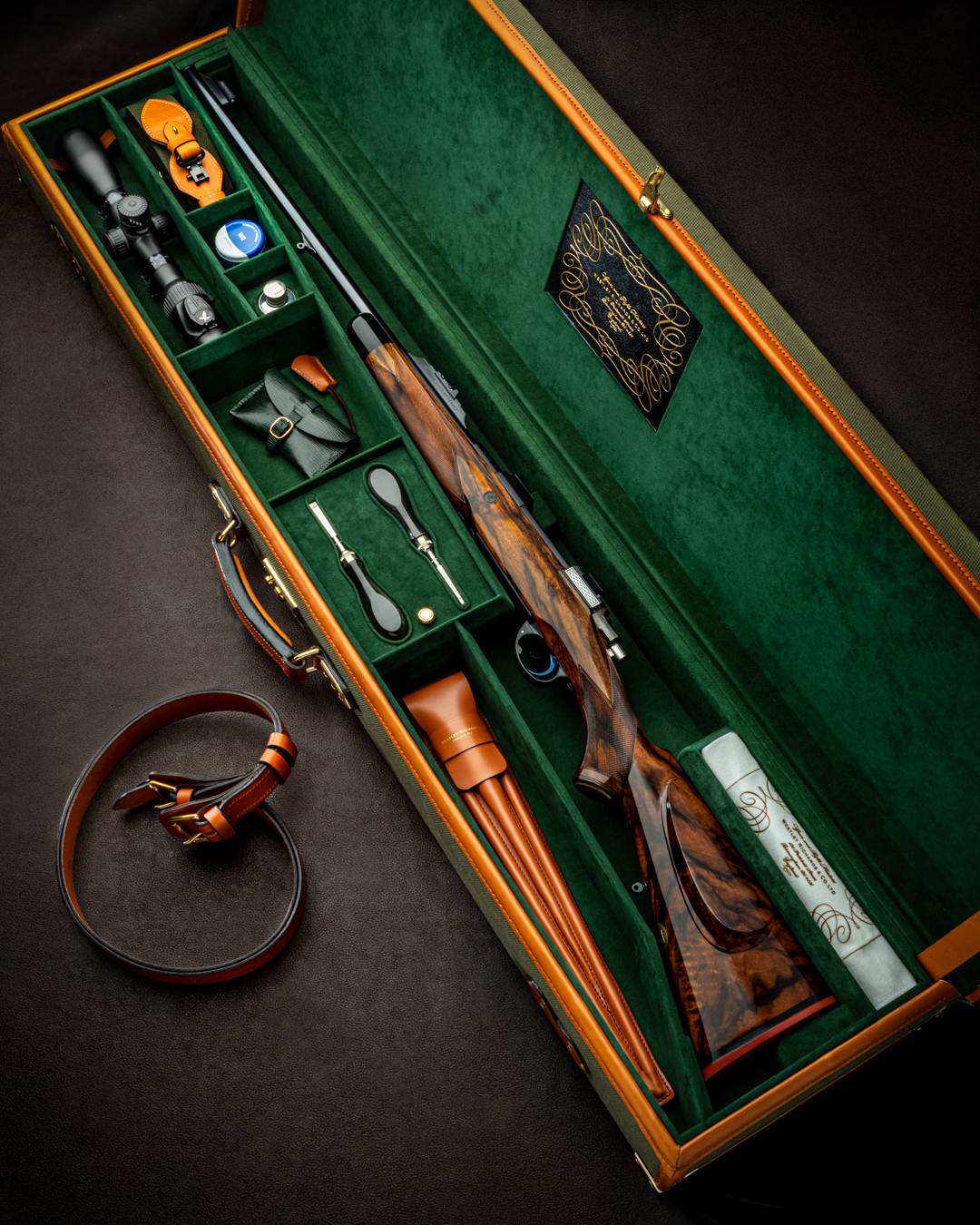 We all perform at our best when we have full confidence in our equipment. A confident hunter is a happy hunter. At Westley Richards, we put all our efforts into making happy hunters.