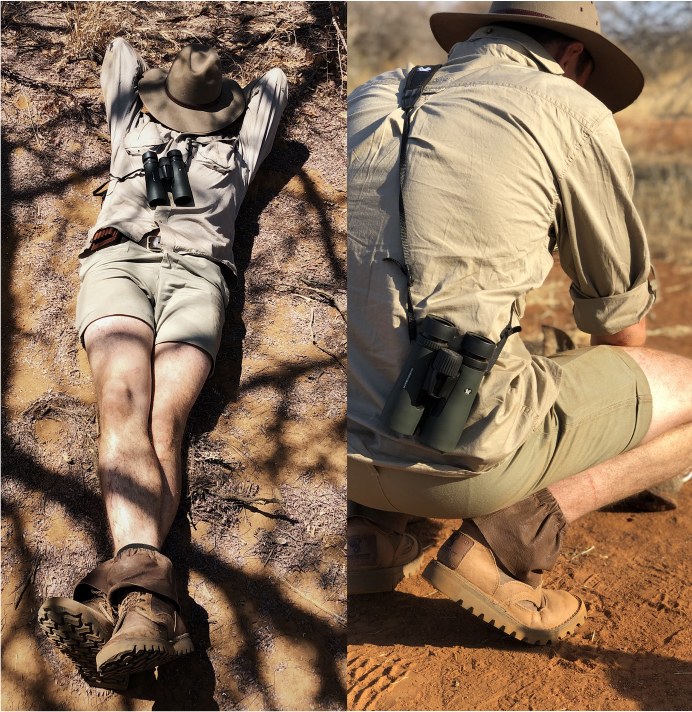 Westley Richards became the USA & UK importer of the exclusive range of Courteney Safari boots in 1998 and continue to this day to have a very good working relationship with the factory in Zimbabwe, which is managed by Gale Rice.
Over these years we have sold many hundreds of pairs of boots and have lots of satisfied customers who are still wearing the first boots they purchased from us 15 years ago. The Courteney range of footwear is built to be comfortable and to last, very similar to the philosophy behind our guns, which makes this a great partnership.
Click to view the entire range of Westley Richards Courteney Boots.
And now to the entries…
---
Every Boot Has A Story To Tell – Tristan Dummer
My story comes from my dad sharing his with me. The name of a boot was passed down a generation and it's the same name I'll pass down to my kids. For me, learning the ropes started with learning to tie my own bootlaces. And it's the first rope I'll teach my kids to tie.
One June a fair few years back, my dad agreed to take me on his annual hunting trip to the Waterburg mountains in South Africa. Growing up in Johannesburg meant this was only a two hour-ish drive. Camping under the Milky Way and stars of Southern Africa was where I found myself at home—in the middle of nowhere. I was 9 at the time. 15 years later, I'm still told monthly that his Courteney Warriors are the best pair of shoes he's ever worn.
Last year was my first hunting safari and I only had two conditions: To go with my best mate and to take my pair of Westley Richards Courteney Selous to create my own story.
We set foot in the heart of Limpopo Province where the early October Sun gave us a taste of the harsh landscape at this time of year. The first thing I noticed on my safari was that most hunters and guides wore a pair of Courteneys. All were different. One pair stained on the toe, it's laces frayed and worn while another had leather patches of memories stitched all over it. Different soles and different tracks, each was gracefully aged after miles in pursuit. Fresh out the box and barely worn, I had an urge to get my Courteneys from Westleys covered in dust and dirt. And it's in this moment where I realised, every boot has a story to tell.
Running the length of the airstrip to get a better view of Blue Wildebeest, hiding from the sun and sleeping under a dried out Acacia tree, tracking Gemsbok spoor and appreciating the sounds of Africa are stories I shared with my best mate and my Courteneys.
Thank you Westley Richards, my Courteneys now have the marks to tell the tales and even when the dust settles, you and I both have a memento of adventures to share with the next generation around the campfire. Happy exploring and long may the adventure continue.
---
Made for Adventure, Made for Africa – Annie Johnston Fisher
Africa is unpredictable, but my gear can't be. For this reason, in the bush only one shoewill both perform and survive - the Westley Richards Courtney Selous Safari boot. Impenetrable by the thorns that otherwise pierce my skin and tear my clothes, the soles of my feet remain unharmed. Silently I am able to track the mgobo as he lurks in the shadows, the boots leaving their signature footprint next to his and those of the lion and impala.
At night, around the campfire, I polish them, buffing out the memory of each scratch and preparing them for the adventure to come at first light. Though beaten and faded, they remain resilient and strong. Together we have faced buffalo stampedes, crawled in the midst of wildebeests, confronted the depths of fear, and stood silently only to be moved by the recoil of the 9.3x62.
As a woman, I value both comfort and style. The Courtney uncompromisingly features both. There is only one boot made to withstand all that Africa is, and that is the Courtney.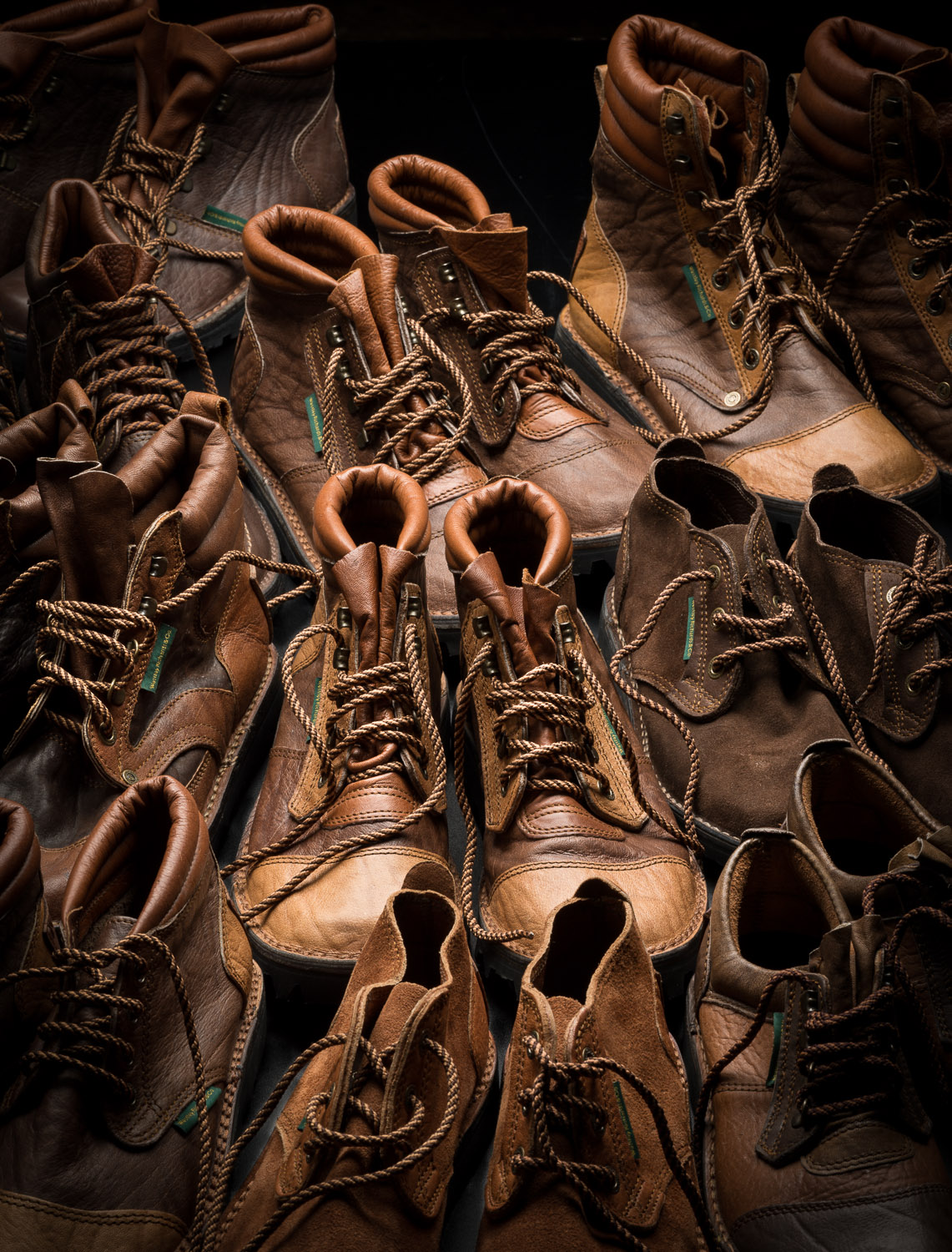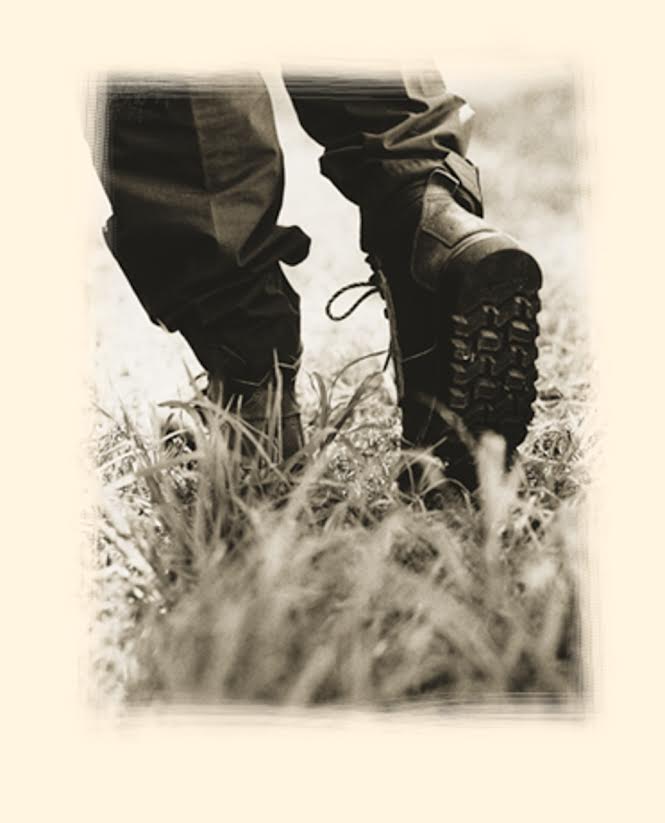 Untitled – Simon Battson
I'm afraid I have no tales of trekking in the foothills of the Himalayas or watching game on the Serengeti whilst wearing my trusted Courteney boots. However I do have a much loved pair of Safari boots, a pair of Selous boots (better for rougher ground) and a pair of Vellie shoes (like riding a magic carpet). Oh yes, I also have two metal knees!
The knees come courtesy of Oswestry Orthopaedic hospital where there is a specialist Veterans unit and when it comes to knees (and hips) they are every bit as excellent at producing a superb product as are Courteney. The right knee is five years old and well broken in. The left knee is the junior partner at five weeks old but doing very well nevertheless. Both are the outcome of 25 years in the army with a few scrapes along the way.
The knees, with Courteney boots duly attached to my feet (all my own), have wondered the streets of Valletta, pounded the cobbles of Amsterdam, caused consternation to security staff at various airports although the boots have always drawn favourable comments.
The Selous boots in particular have stalked wild brown trout along a beautiful little Shropshire river and worked at repairing pheasant release pens during the summer on our small shoot. They have always accompanied me on photography expeditions around the Shropshire hills accompanied by a slightly mad flatcoat retriever.
My determination to make full use of my new knees has been made easier by having such amazing footwear, so light and comfortable but offering all the support I need. They are trusted companions and rather like that aged waxed jacket they just seem to improve with age but, unlike me, they also seem to look better with age.
It is no exaggeration to say I love my Courteney boots, they are things of class and beauty. More than that they grow to be part of you and there is no doubt in my mind that they have enabled me to make the most of my new knees.
---
Westley Richards Old Courteney's – Dan de Geijer
"I have seen generations and great cultures come and go,
I am a hunter and a nomad who have travelled from far away land,
I have been part of great hunts, camel caravans in the Orient, Empires, and Harems,
I lived among African tribes, Arab tribes in High Atlas, Mongols, and Royal Courts in Foreign land;
I have hunted the continents, crossed the deserts and seen arid lands, sailed the Seven Seas, trekked through Mountain passes, and frozen stiff under severe cold in Siberia,
I have been slept, prayed, meditated, sat, walked, and dined with.
It has been battles fought around me, passionate love, political discussions, secrets of significant importance has been exchanged in my presents,
I have dined with Great hunters and fishermen, tribal chiefs, the Head of States, Royal families, tradesmen, warriors, smugglers and pirates alike, I have lived in tents, stately homes, palaces and simple huts. I have hunted and lived a sporting life on the continents.
I am surrounded by mystery of life,
People have tried to analyze my characteristics,
I am an Hunter, Fisherman, Artist, Poet and a Legend, a little faded but you can still see the sparkle of life in my sole, I have stories to tell of my origins...
from the African continent I came,
maybe one day, one evening, in front of that camp fire winter so cold a story or two will be told……
I was there in the past and I will be there in the future - who am I ?
I am a pair of Westley Richards old Courteney's."
---
Once again, thank you to all entrants. We have enjoyed reading all your personal adventures and how Westley Richards have formed such a significant part of them. We will endeavour to share more of these stories going forward for you at home to enjoy.
Take care and stay safe.