The .425 Magnum, often referred to as the .425 WR, was patented by Leslie B. Taylor on behalf of Westley Richards & Co. in 1909 (Patent No. 23048). Originally designed for the Mauser bolt action, it was simultaneously offered in the firm's hammerless double rifles as well. The cartridge propels a 410gr, .435" caliber bullet (the bore's land's measurement are .425" and the groove measurement is .435") at about 2,300 fps and it was described in the Westley Richards 1912 Centenary catalog as "Especially adapted for sport in India where it takes the place of the prohibited .450 bore, and in Africa, wherever big game is to be met".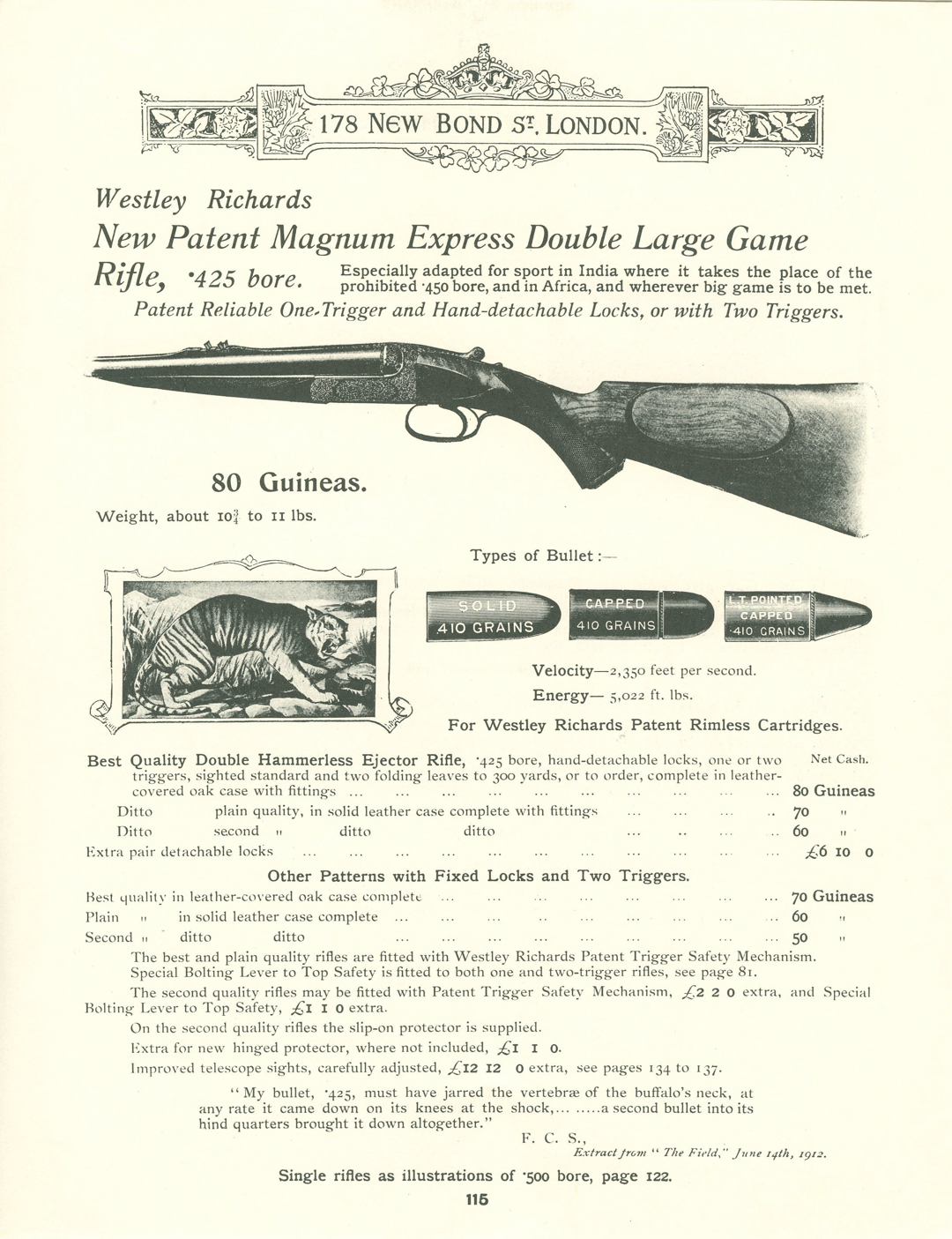 In the Westley Richards vintage catalog from the 1920's, entitled "List G" a "Supplementary List of Guns, Rifles, etc. for Colonial and Export Trade", the model No. 507 was listed as a Hammerless Double Ejector Rifle with fixed locks and it was priced at £60.00. The features listed were "…two triggers, W.R. snapwork, full pistol hand, India rubber heelplate, well engraved and fine finished, leaf sights to order."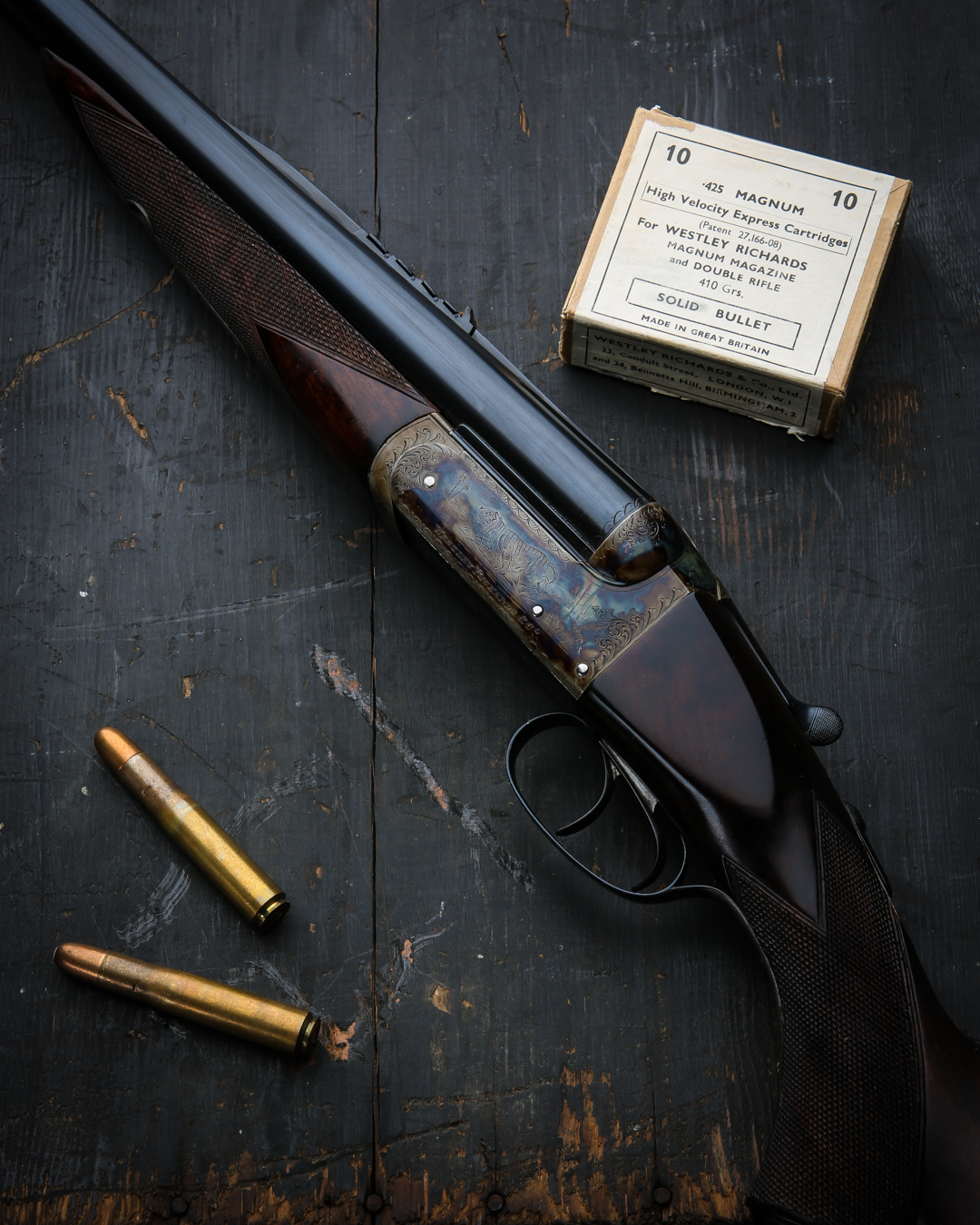 Just as the catalog describes, this rifle is built on an A&D action with fixed locks, disk set strikers, two triggers, manual 'beetle back" safety, Model 'C' doll's head and snap lever work. Engraved on the rifle's left side is a tiger and an Indian rhino on the right side with traditional scroll engraving on the cover plate, guard bow, and tang. The rifle has a Indian hard rubber grip cap and butt plate that is embossed with a Westley Richards logo.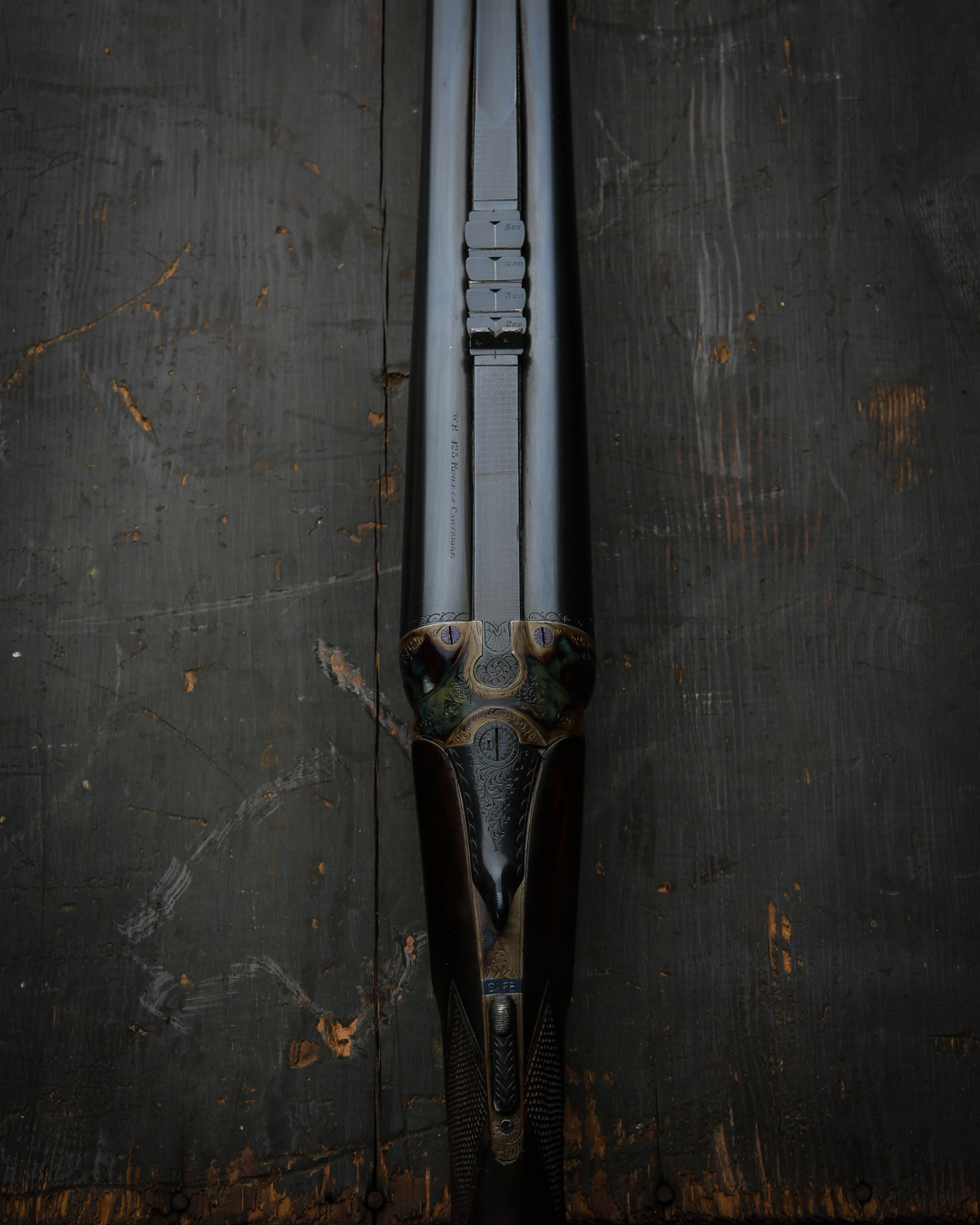 The original 26" saddle lump barrels have Birmingham proofs (425 EX CORDITE 65-410 MAX), Westley's pattern rib and ramp front sight, a splinter forend with a horn tip and Deeley forend latch and Deeley ejector box. The extractors are fitted with W.R. patented detente (Pat No. 5098/1906) for rimless cartridges. The spring loaded détente fits between the case body and case head on rimless or rebated rim cartridges (the .425 cartridge was the first cartridge to introduce the rebated rim), to hold the cartridge in place and is forced down during loading and extraction/ejection. This has been the standard type of extractor for rimless cartridges in double rifles of all makes and models ever since.
The rifle remains excellent as refinished by Westley Richards sometime in the 1980's or 90's. Action body recolored, barrel and furniture re-black, re-cut checkering and refinished stock. Bores are perfect, barrels are tight on face, and ejectors are timed and reliable. Complete in a lightweight canvas case with a W.R. & Co trade label, I also have good load data available for the rifle.
An excellent example of a very rare Westley Richards & Co. double rifle and the factory refurbishments the company was well known for in the latter part of the 20th century.