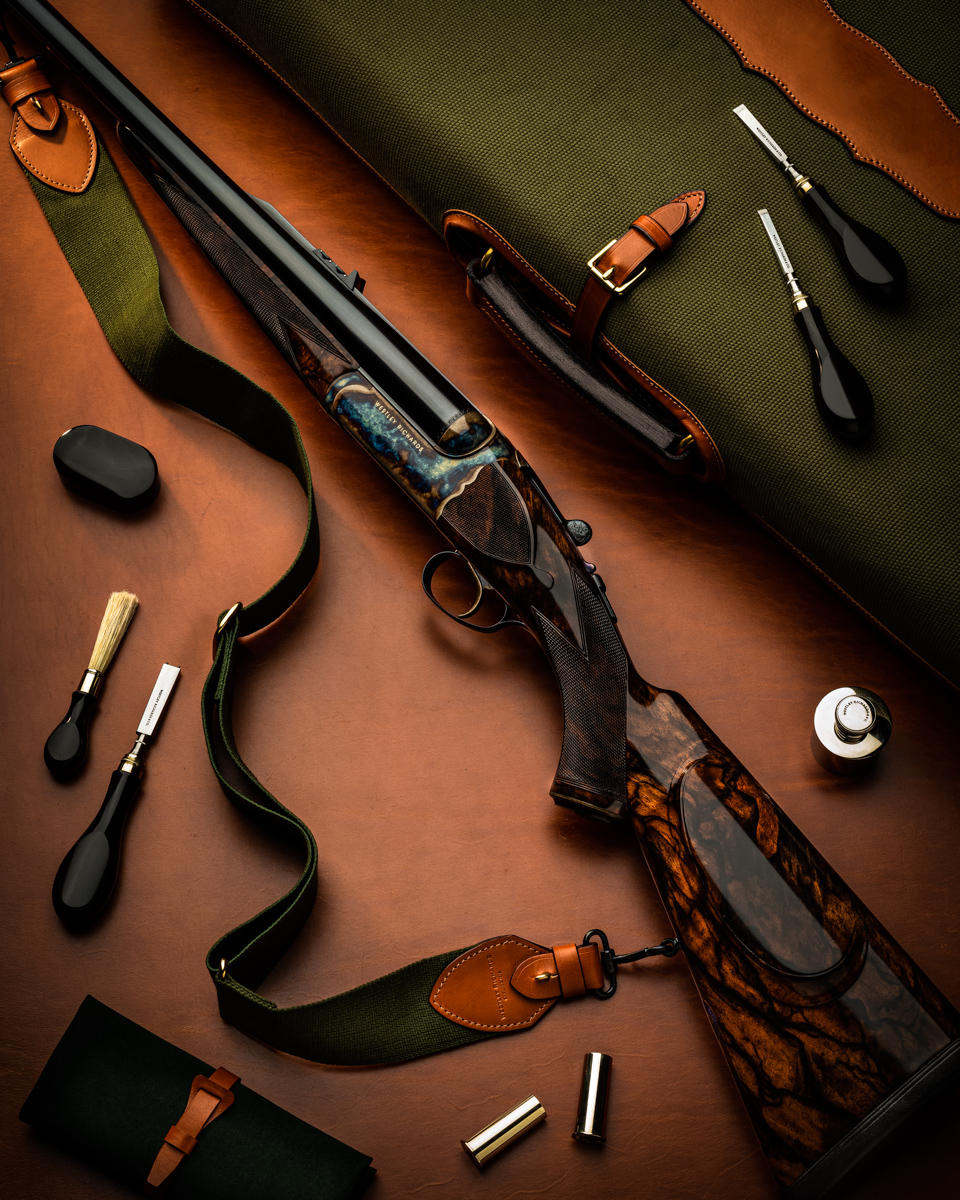 Engraving on guns was confined to traditional scrolls, each company designing its own unique 'house' pattern. Westley Richards had its own version which remains faithful to the original design to this very day. The unblemished lines of the droplock action allowed for a beautiful 'name in rolling banner' which formed the centerpiece of the main action body design. Thousands of guns and rifles were built with this 'best' scroll design, the first examples being the fixed lock guns from 1875.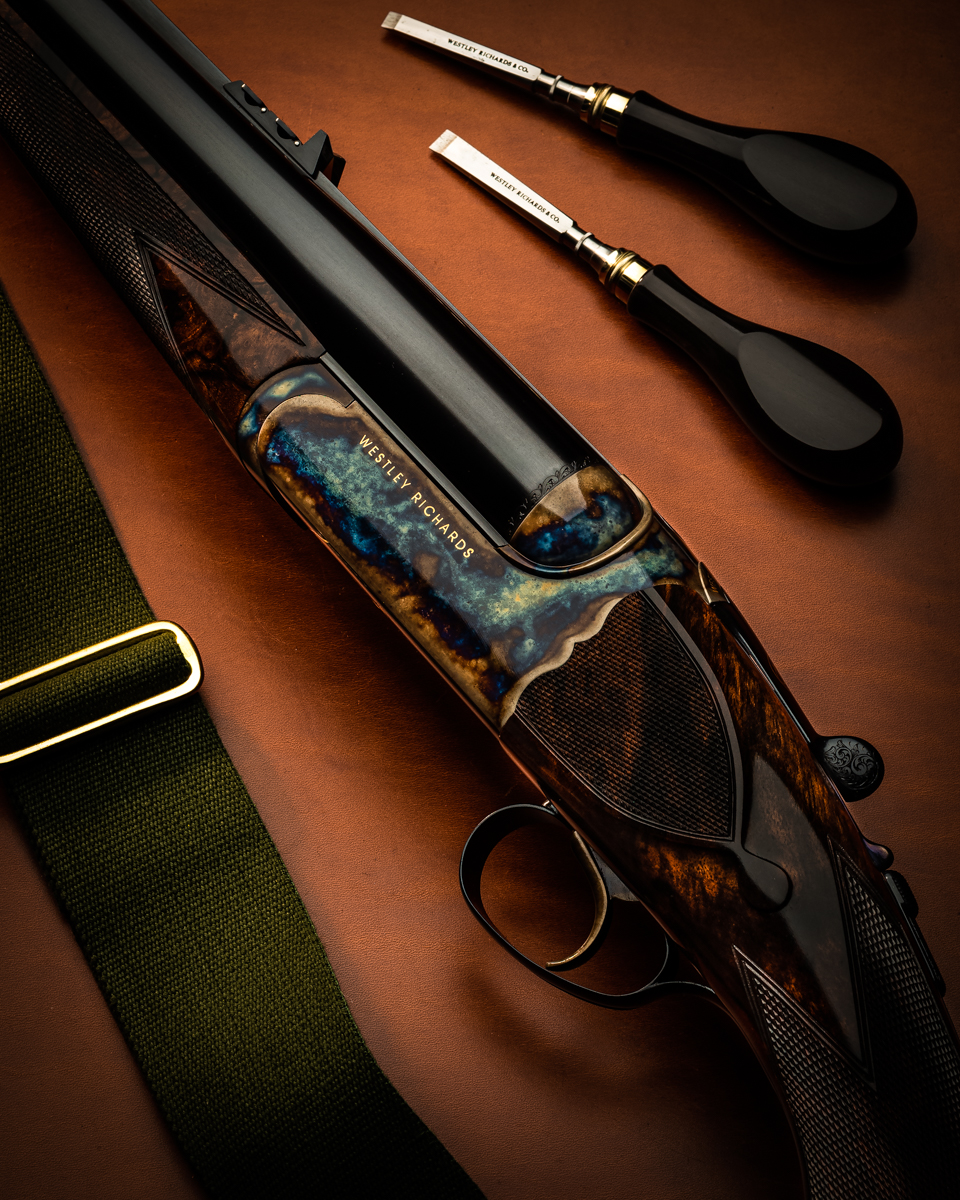 The vividness of the case colour hardening can make all the difference with a 'Gold Name' gun or rifle. The checkered side panels is a feature from the very earliest fixed lock guns.
How and why the Gold Name model came about is certainly open to a little debate. The most obvious reasoning is the discount offered by not having the full engraving. Early literature describes the 'Westley Richards Hammerless Ejector Gun - Plain Quailty' at a cost of 55 Guineas, the 'Westley Richards Best Quality Hammerless Ejector Gun' at 70 Guineas. For the absolute purest looking for nothing but mechanical perfection the difference in cost would certainly have made a difference. Interestingly, later literature made a more positive point of having the droplock gun without all the engraving. Handled correctly and from a pure marketing point of view, Westley Richards was able to capitalise on a larger market share capturing what we might term today the 'aspirational buyer'.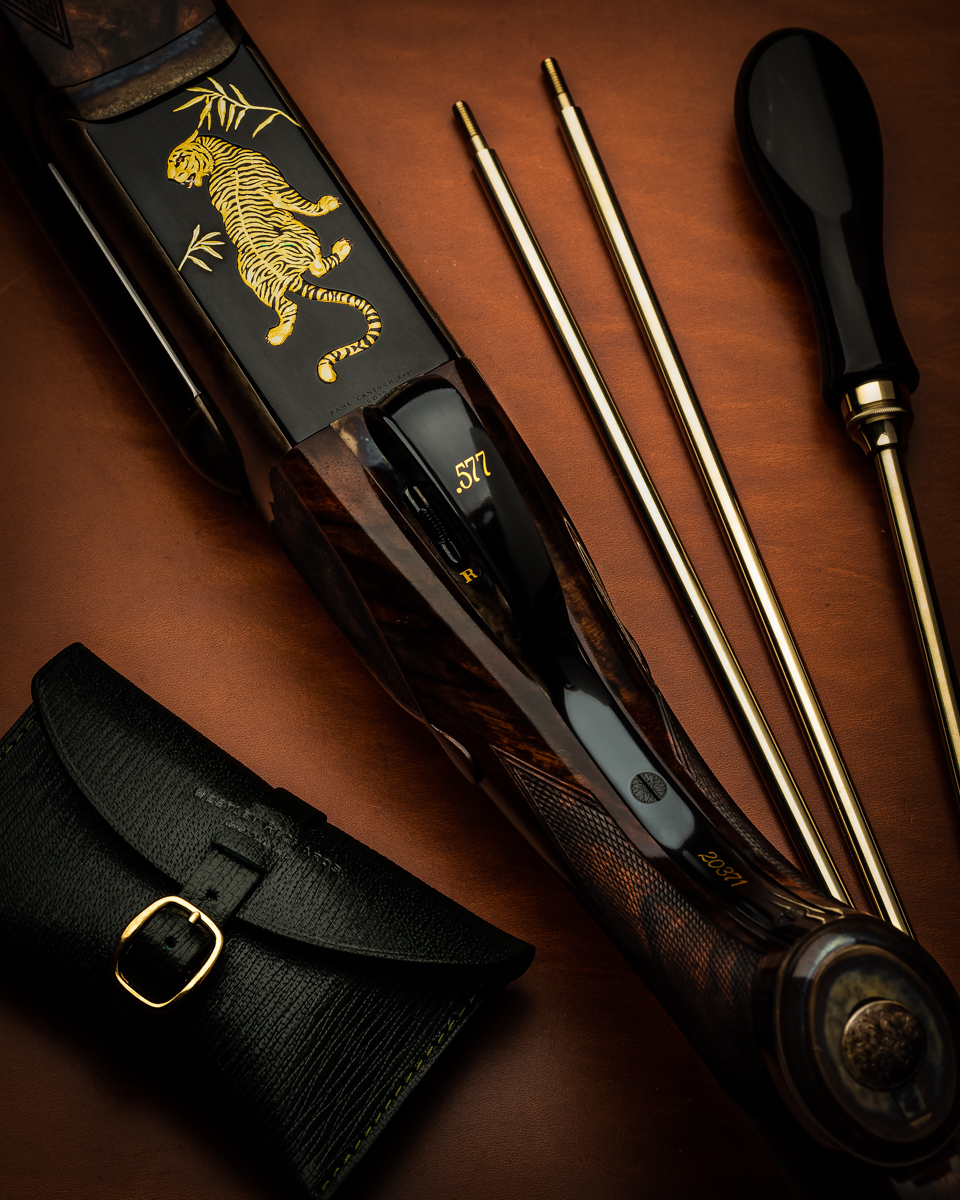 That all said, how do we really perceive the Gold Name model? Truth be told an absolute masterpiece! Whilst some may think the lack of engraving suggests a cost saving, in real terms the unadorned weapon actually requires a higher level of finish as there is nowhere to hide any imperfection.
Many, many years ago when Roy Hill (former workshop foreman and harpoon specialist) was around and paying us a visit I asked him why were the majority of British built guns fully engraved, considering we were well known for the Gold Name model? In Roy's usual matter of fact way he responded 'Well where do you hide a tree? In a forest. Where do you hide a scratch? Among other scratches!!!'
Not the most subtle of answers I grant you, but to this day it has stuck with me and in fairness every Gold Name gun or rifle that we have completed since, of which I seem to be the biggest advocate, has a level of critical perfection that drives the gun makers here crazy.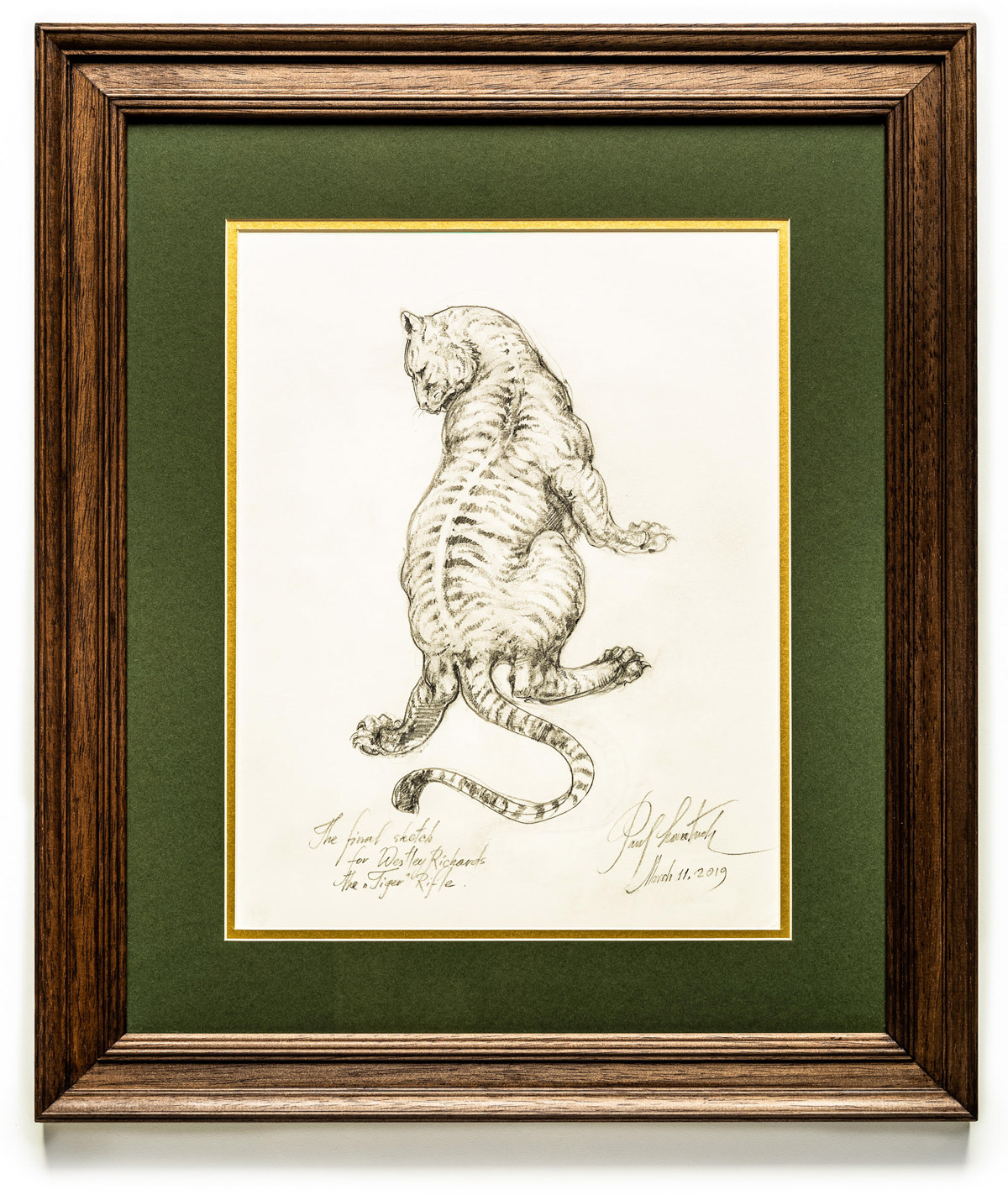 The original sketch for the 'Tiger' as executed by Paul Lantuch.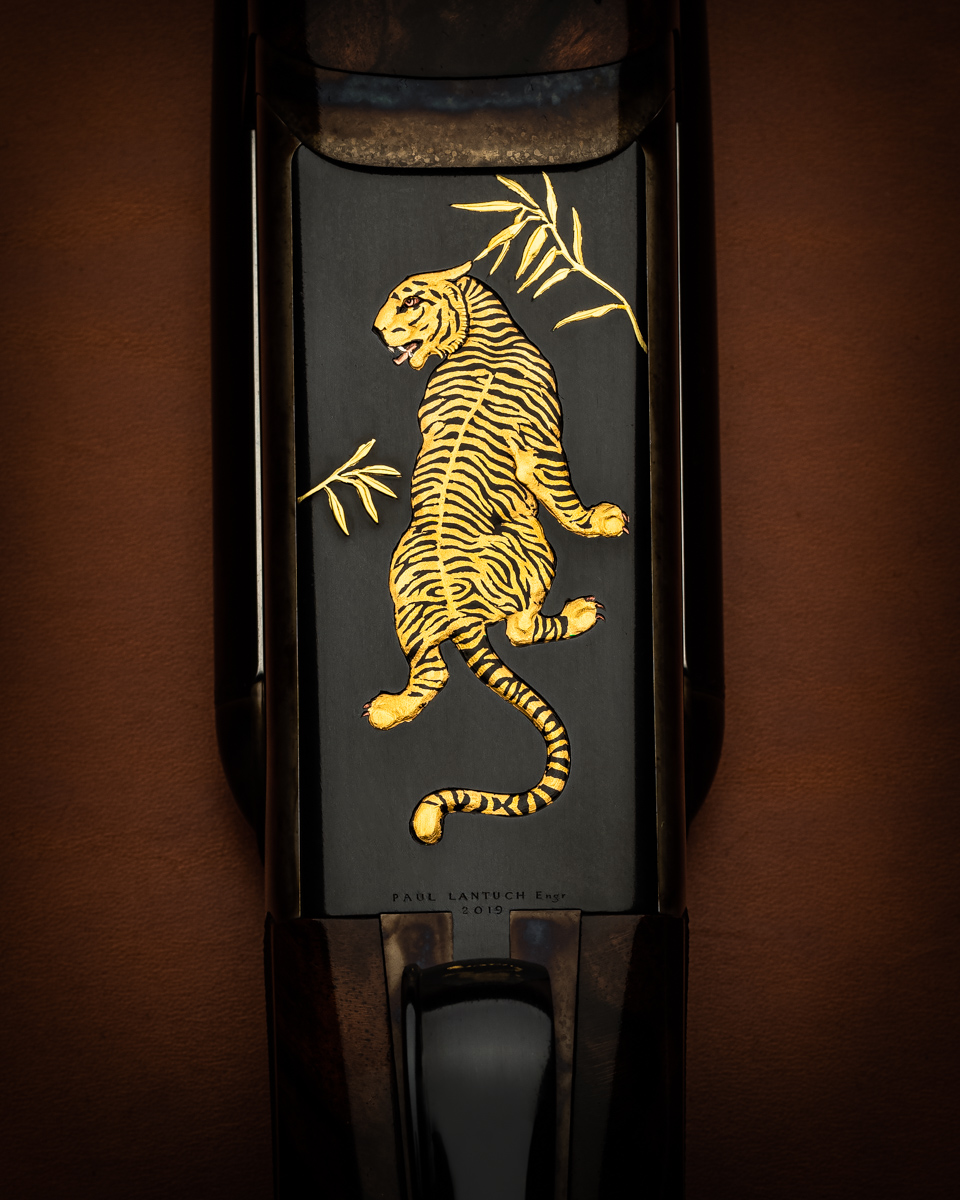 The actual 'Tiger' executed in the Japanese style with carved steel and inlaid gold.
Turning to the Gold Name rifle you are looking at here, this is anything but a simple rifle. When originally ordered the specification was for a pre-War configuration Westley Richards best quality hand detachable double rifle in .577 3" Nitro Express. This specification meant extra cased hand detachable locks, Westley Richards patent single selective trigger, patent combination foresight, hinged cover plate, bolted safety, model 'C' dolls head fastener with patent lever work, scroll back action, extra foresight beads contained in brass tin, checkered side panels, traditional WR cheekpiece................The only modern(ish) twist was the extended strap over comb.
Initially the engraving was going to be a full on exhibition piece but as the years ticked by the client developed a hankering for something more pure. Hence the idea of producing a Gold Name rifle with a gentle twist came to mind and so as the rifle reached the engraving stage a few basic concepts were thrown our way with only two provisos. Firstly, what engraving there was had to be as near perfect as possible. Secondly, that master engraver Paul Lantuch had to design and execute a tiger in whatever style he saw fit for the rifle. The client would have no further involvement or decision making.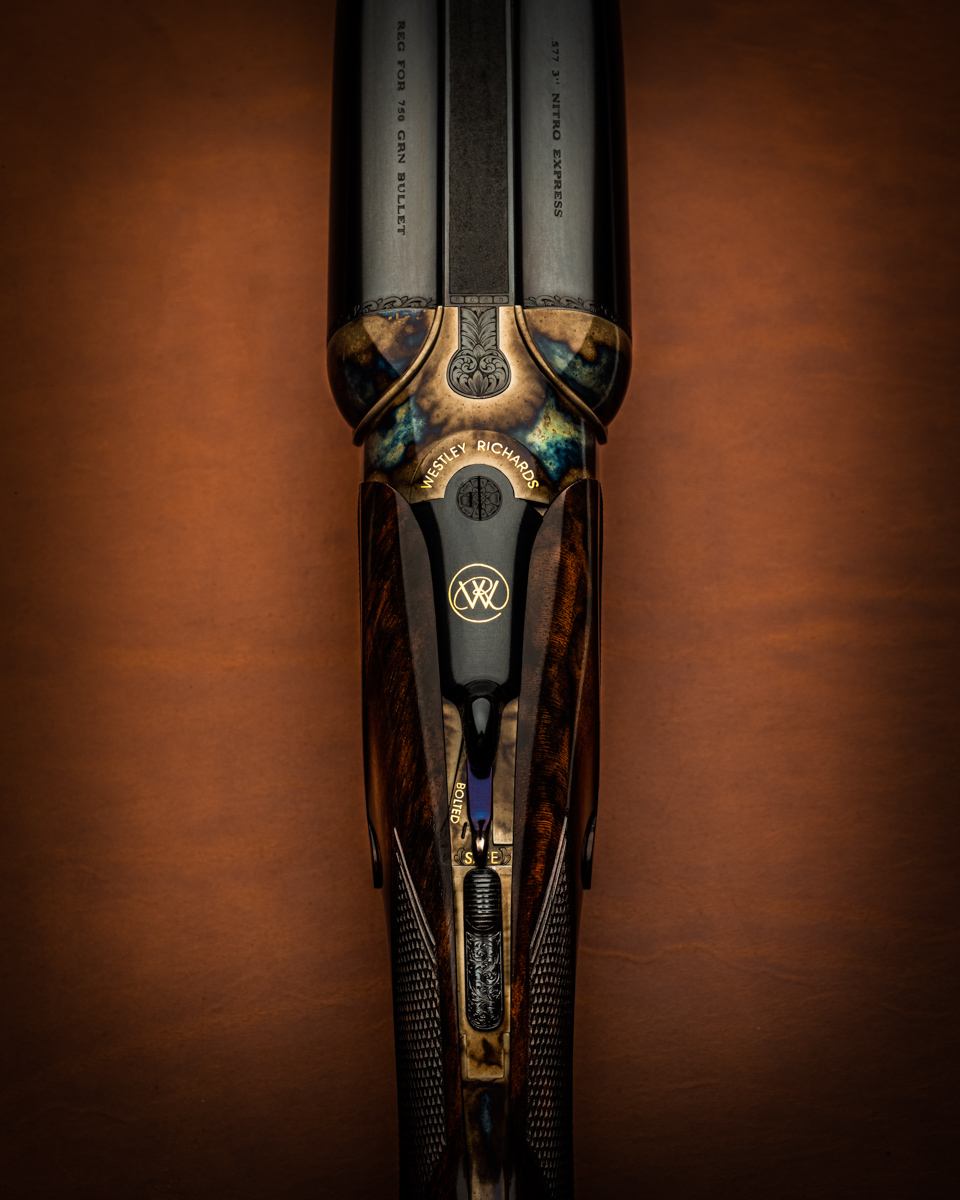 After a brief discussion, Paul came up with the idea of executing a tiger in carved inlaid gold, a style familiar to students of Japanese arms. Certainly unique in this instance, the design would act as both a centerpiece, whilst simultaneously complementing the other gold detailing found on the rifle.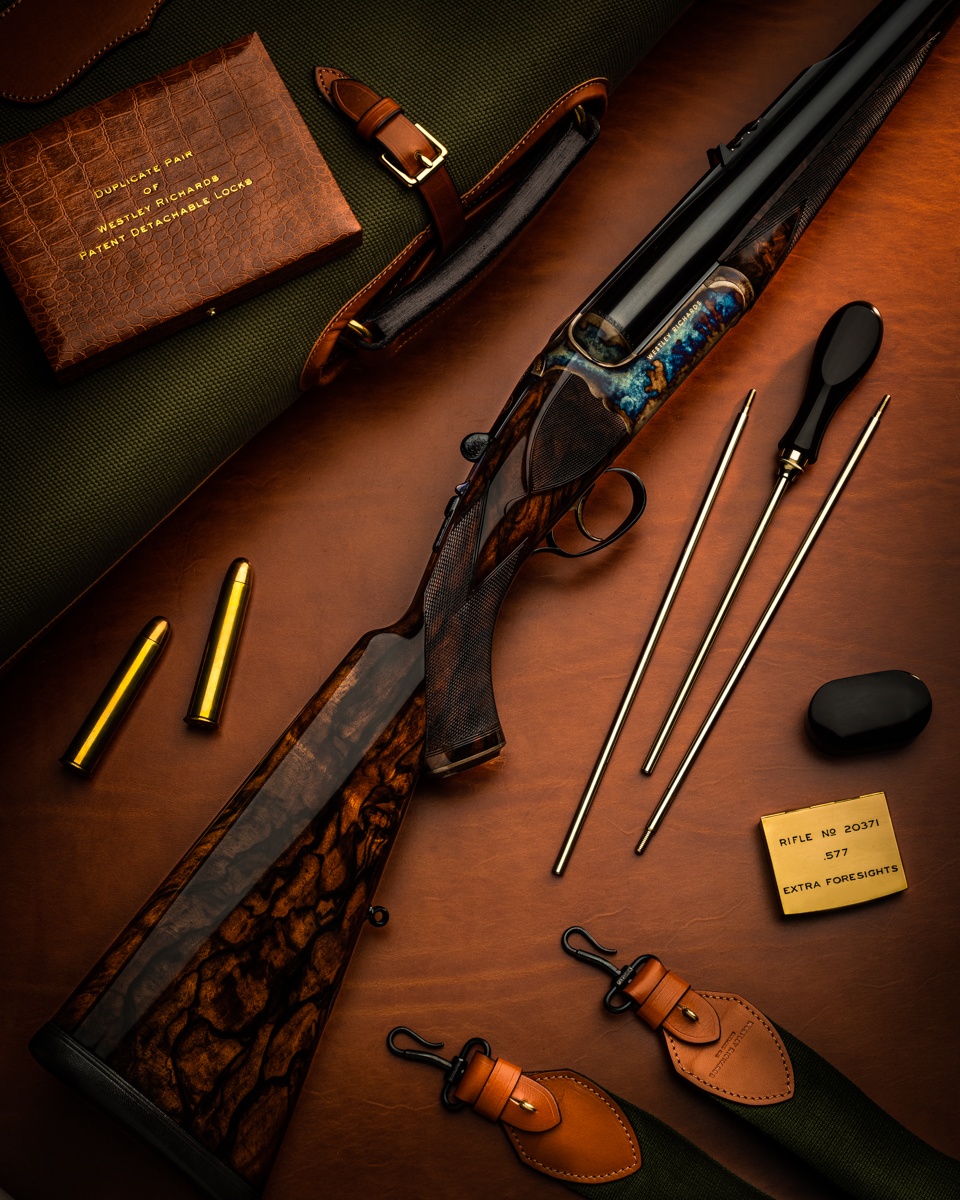 Beautiful exhibition grade walnut counters the simplicity of the engraving.
Now complete, cased and ready to go, the rifle without doubt highlights the skills of many talented craftsmen and women. It has tested all those involved in putting this unique project together and confirmed that not everything simple is as easy to build as it looks. The rifle has an understated grace backed up with some considerable firepower and we would like to think that the gunmakers and hunters of 100 years ago would approve of this Gold Name 'Tiger' rifle.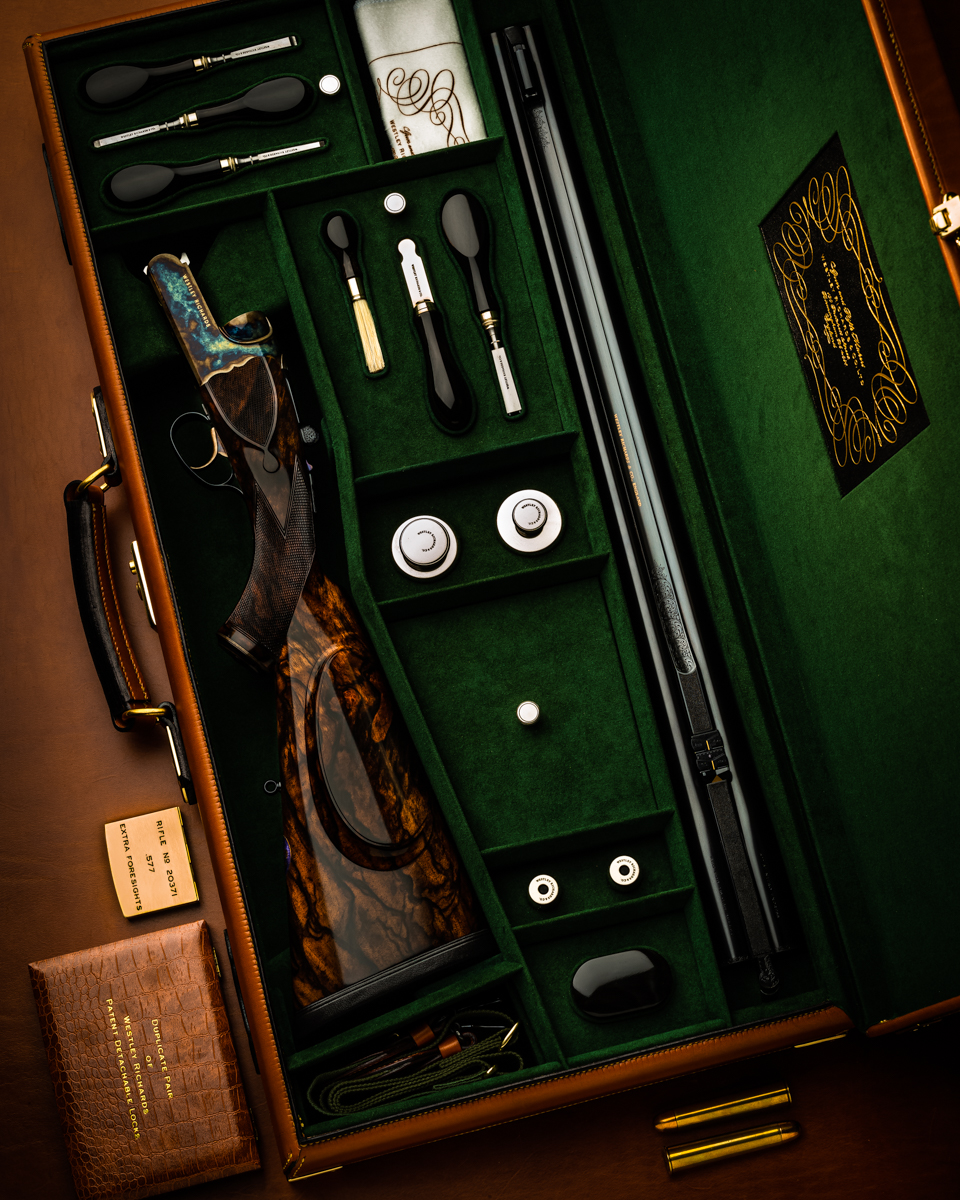 This rifle will be on display with us at both the Dallas Safari Club Convention and Safari Club International in 2020.