Double rifles have the advantage of ease of disassembly. Without tools, they can easily be broken into three parts and packed into a case no longer than the barrels, plus an inch or so of wood and leather. Being able to carry your rifle in a case perhaps twenty-eight inches by twelve inches was, and remains, a significant convenience when travelling by railway, boat or plane.
With the appearance of Mauser and Mannlicher rifles in the showrooms of English makers, and their increasing popularity, rifle makers quickly realised that it would be advantageous if they could conceive of a means by which magazine rifles could be dis-assembled in a similar manner to double rifles and shotguns.
Westley Richards initially offered a bayonet-type fixing joint, fitted with a push and twist motion. However, by the mid 1920s it was discontinued in favour of a square threaded screw-fit.
The bayonet fit is actually illustrated in the 1925 catalogue but a note attached to the page says 'This system is not now made, the lugs being replaced by the ordinary screw thread made to be detached by hand.'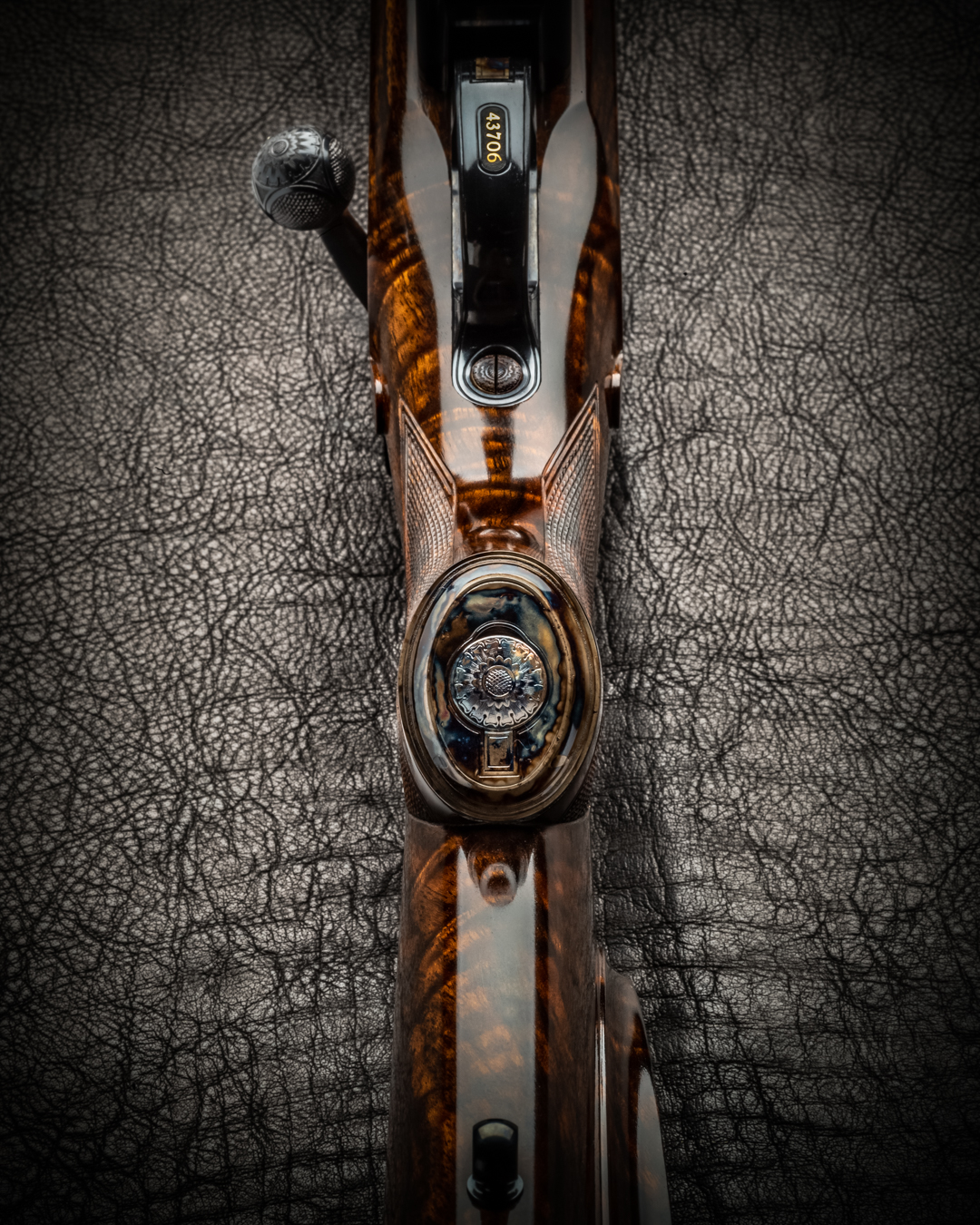 The original system had a locking limb on the right side of the joint. We have improved this and it is now un-locked by means of a button located on the underside of the fore-stock. This has been styled to resemble the Deeley & Edge catch found on our double rifles and shotguns. Built as a best quality magazine rifle, this .425 Westley Richards has the furniture colour-case-hardened, while the rest of the steel is a deep blue.
Engraving is traditionally subtle scrolls with minimal use of gold, which is restricted to the rear sight, the inlay of 'SAFE' on the bolt and he serial number on the guard. There is also a neatly-inlaid initial in the stock.
A male lion adorns the floor plate of the magazine and the quarter rib is stippled to mitigate glare. This beautiful executed King of the Jungle, surrounded by neat, clean, medium scrolls adds personality and artistry to a working rifle.
Subtle, understated, elegant, purposeful. This .425 will do sterling service and age gracefully over time. The quality is evident from the build and the materials. Deeply figured walnut, lustrous case colours and finely jewelled details. Everything fits perfectly; parts slot together with a reassuring engineer's fit.
Shapes are just right, angles pleasing to see and feel, ergonomics, weight distribution and proportion combine to create the ideal medium-weight dangerous game rifle. This is a modern, best quality expression of the classic workhorse that game wardens used to great effect in the African colonies before the Second World War and for a decade after it.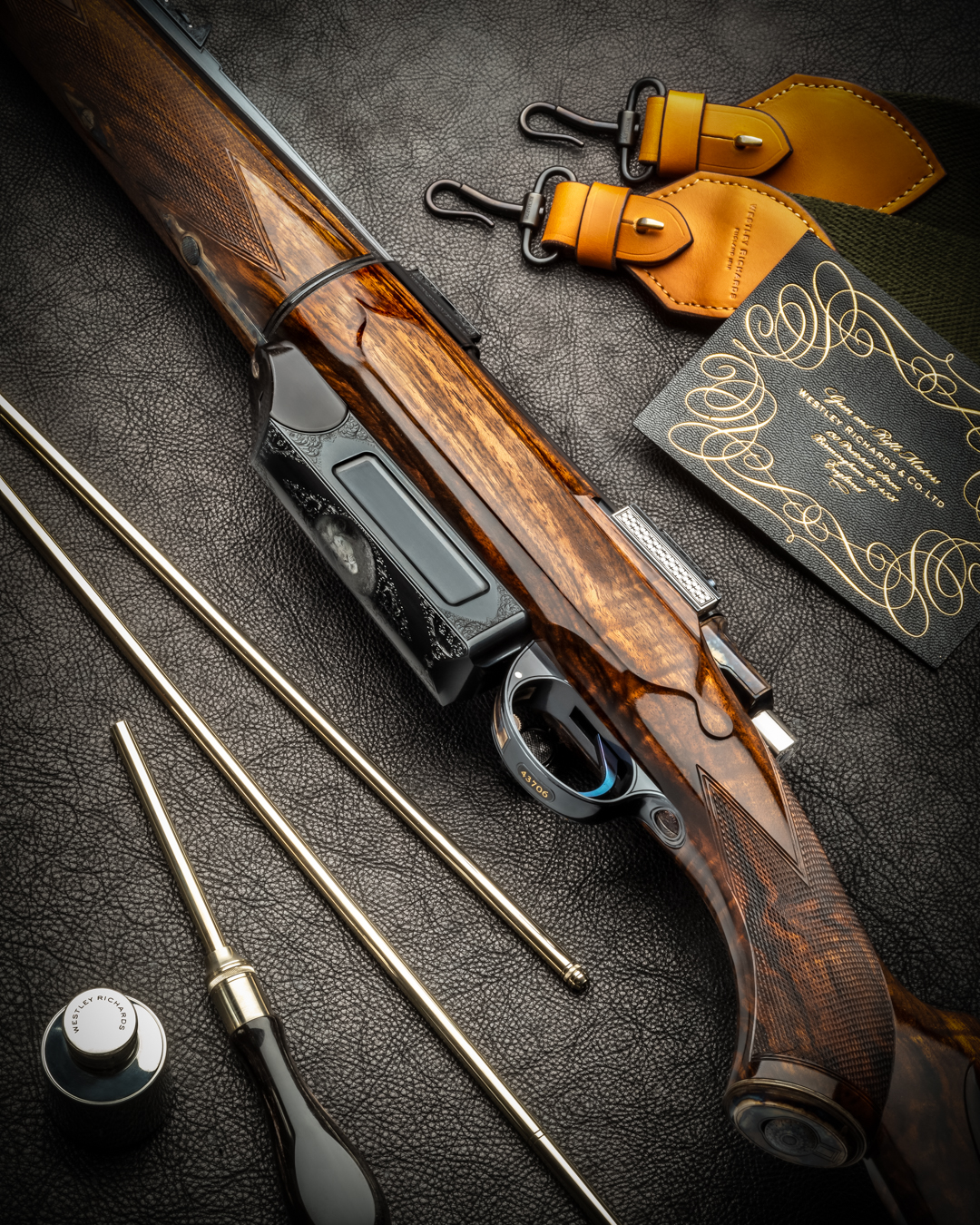 The .425 Westley Richards is an obsolete cartridge. It was added to the Home Office Obsolete Calibre List in 2021. That means owners of original rifles, made before 1939, can own them in the UK without holding a Firearms Certificate, as long as they meet the criteria of having the rifle only as a 'curio or ornament'.
That status does not extend to new rifles like this one, finished in 2023. It does, however, indicate the exclusive nature of builds like this. Nobody but Westley Richards makes rifles chambered for this cartridge any more.
Customers do not need to worry, however. Westley Richards commissions custom-made ammunition and will supply batches of 100 or 200 rounds with every rifle we deliver.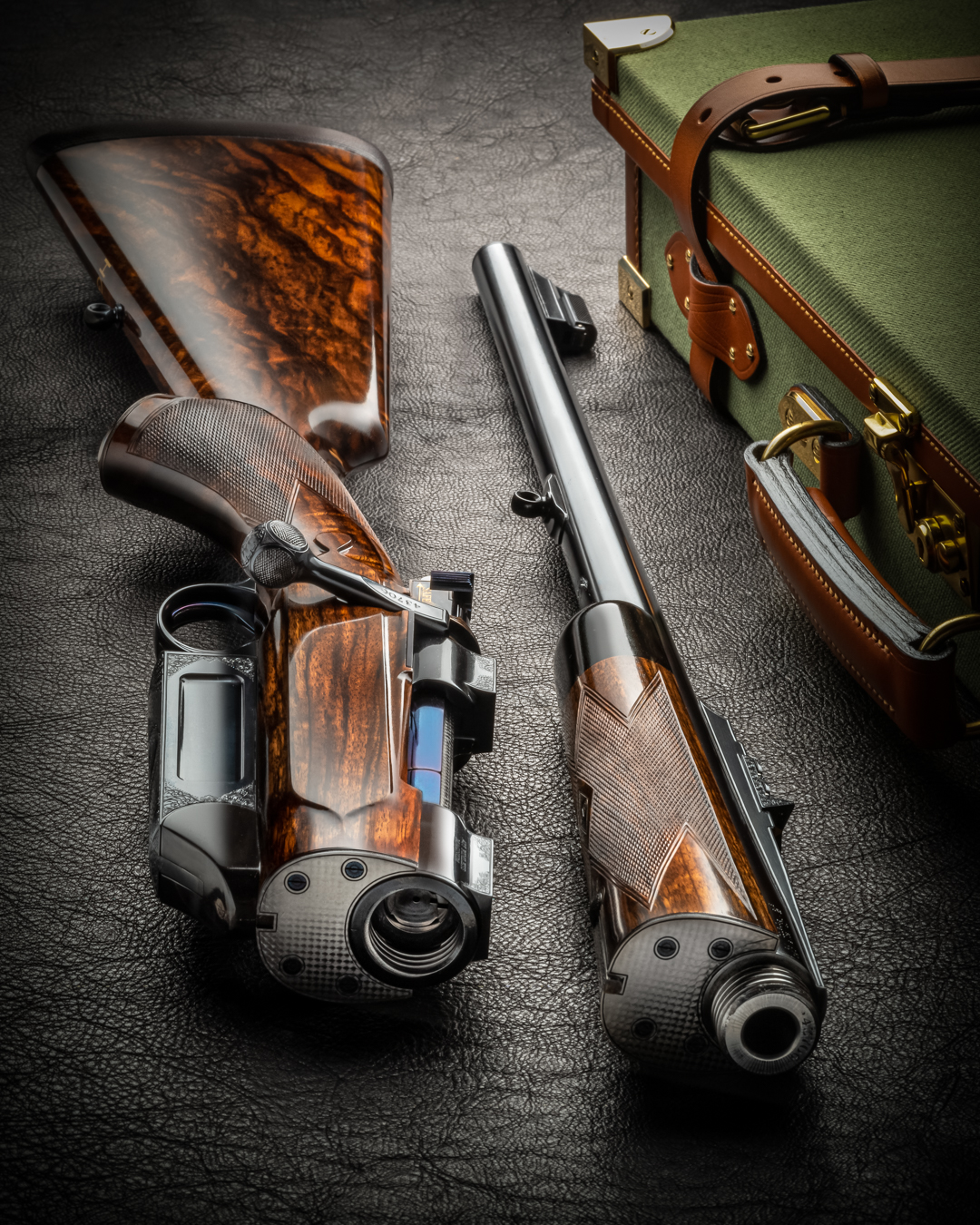 The fit of the take-down screw-thread and the close attention to detail paid to finishing every part of it is evident from the photographs.
It needs to be. The .425 may be considered obsolete by the British Government but it was, and remains, a powerful cartridge, driving a 410 grain bullet at 2,350 fps and developing muzzle energy of 5,022 ft/lbs.
When launched, Westley Richards advised  'The .425 bore is the next best substitute for the .577 bore for the biggest game.'
With this extended magazine, providing five shots, plus one in the chamber, it is not surprising it found such favour with professional hunters and game wardens.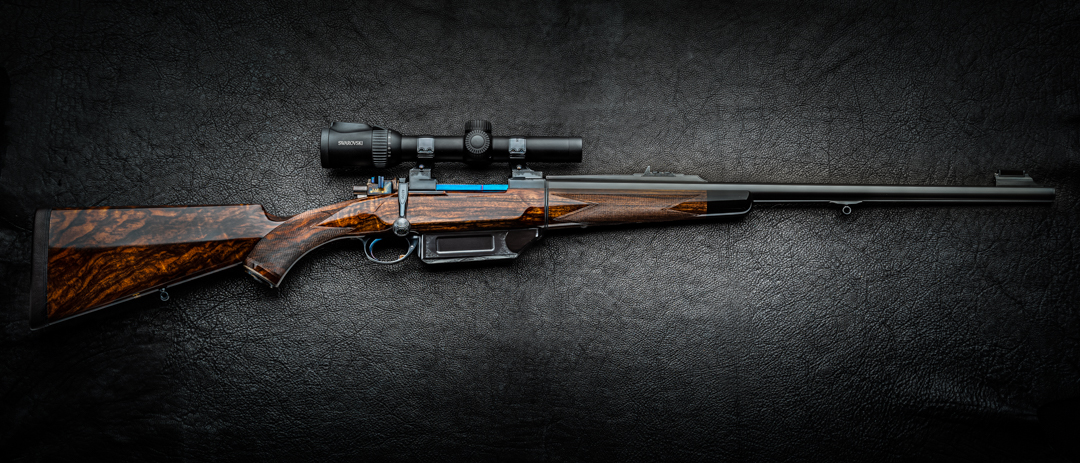 Frederick Courteney Selous owned a .425 and once wrote 'I killed the rhinoceros and one of the buffalo bulls with one bullet each. It is a very powerful weapon and very accurate'.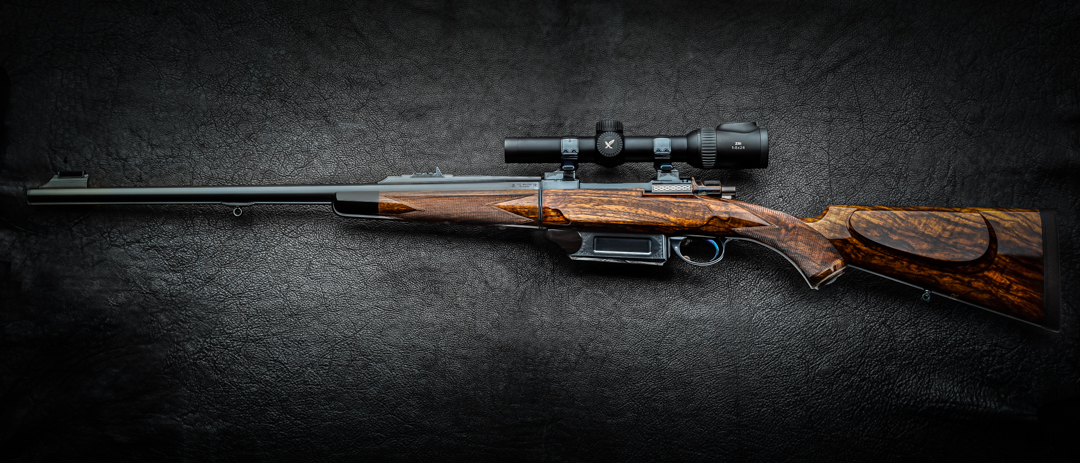 This modern version of the Westley Richards classic is perfect in every way and exceeds the quality of finish of the originals. Today's customers demand the very best of materials and finish even in relatively unadorned rifles like this one, which will be used with some vigour.
Fitted with neat 'scope mounts for longer range use, the Swarovski 'scope and a full complement of accessories are packed with the rifle in its compact, light, travel case. This was made to order from traditionally cured and dyed cow hides, and best canvas, lined with green Alcantara.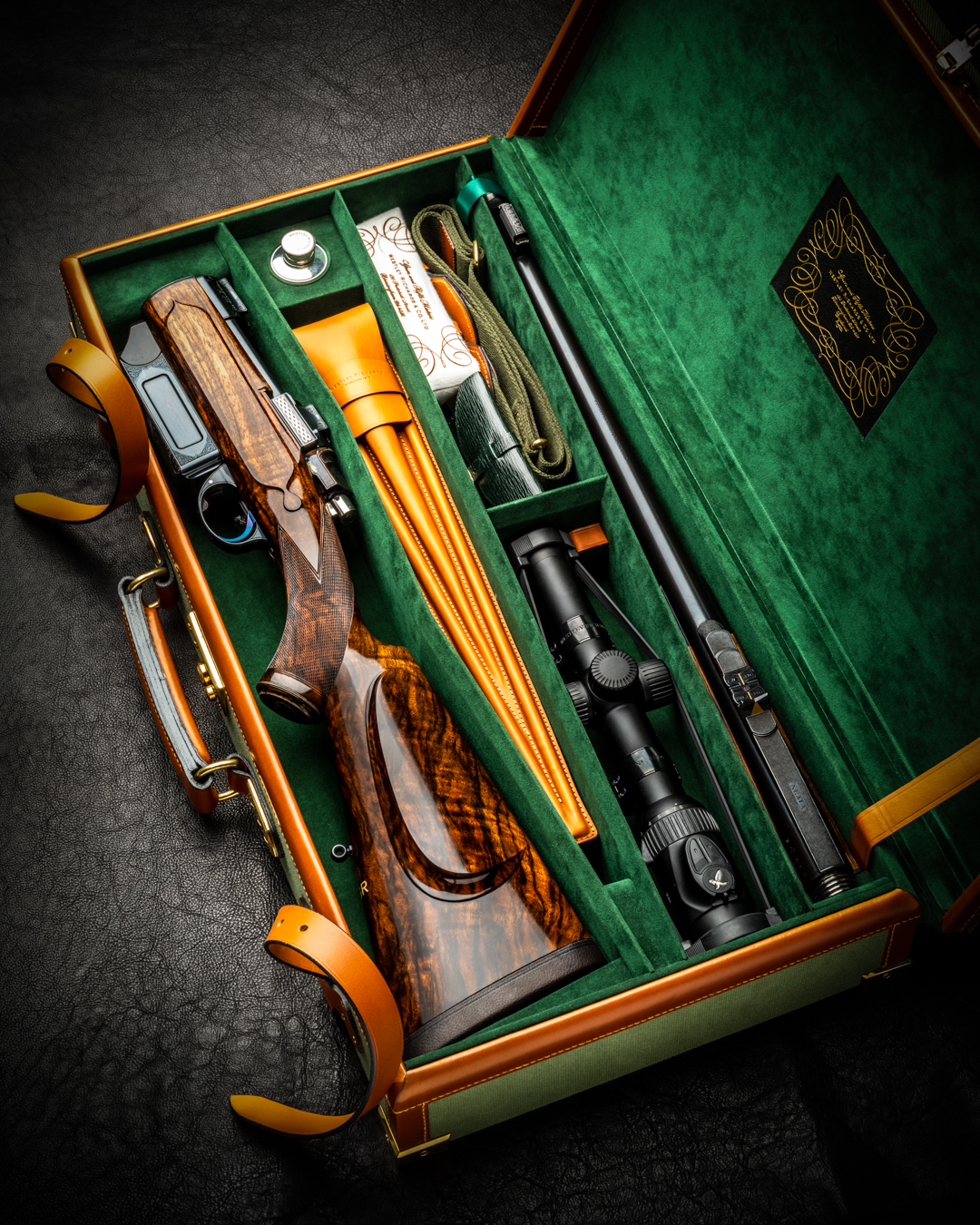 In its dis-assembled form, it is indeed as easy to carry as a double rifle or shotgun. We very much look forward to hearing about the adventures it embarks on and how well it performs when the buffalo are running and the lions are roaring.