Like anything collectible, certain models of firearms by W.R.&Co. appear on the market more frequently than others, but even these seemingly "common" variations can be among some of rarest produced by the firm. This Second Quality High Velocity Nitro Express Double Barrel Hammerless Rifle, completed in 1914, is a good example.
"Second Quality" rifles were offered by Westley Richards & Co. prior to WWII. The word "quality" meaning the same as "grade" in the U.S. market, these rifles were were well made, reliable firearms built to a certain price point and mainly intended for export sales. According to company literature from the same era, the "Second Quality" rifles were based on Westley Richards' patented Anson & Deeley hammerless action with fixed locks, double underbite with a "club" shaped top rib third bite and tang lever, two triggers, disk set strikers, and a manual safety. The rifles were adorned with a traditional scroll engraving and game scenes of animals appropriate to the caliber of the rifle. Then, like now, the rifles offered a lot of value compared to other double rifles.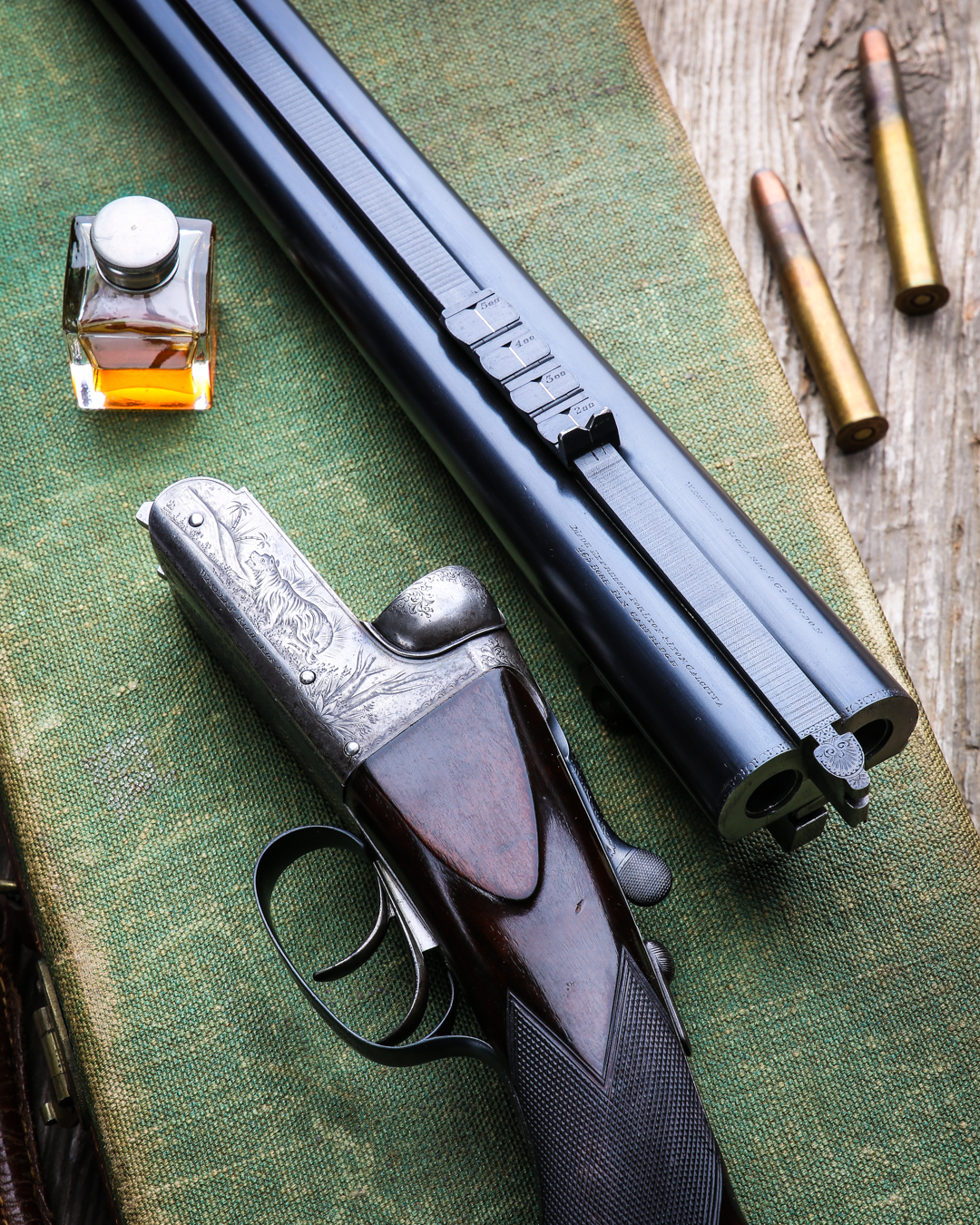 Much of the beauty of the A&D fixed lock action is its simplicity. That simplicity meant the A&D actions could be made quicker than other types of action and at lower costs, lending itself to manufacturing. With a wider market due to its low price and relative ease of production, this grade rifle was produced in far larger numbers by Westley's than the higher grade, "Best Quality", "Modele De Luxe", and "Modele De Grande Luxe" rifles the firm put out.
According to factory ledgers this rifle was completed for J. Lyon & Co. of London and was part of a nine rifle order, three in .465 NE, three in .470 NE, and three in .476 NE. J. Lyon & Co. was an agent for the famous sporting arms retailer, Lyon & Lyon of Calcutta, India and the rifles in this order were marked "Made Expressly for Lyon & Lyon, Calcutta" on the barrels.
Westley's Best Quality rifles were available with the firm's signature features like detachable locks or doll's head rib extension and snap lever work, but the Second Quality rifles were fitted with a rib extension similar in shape to the "club" symbol found in a deck of playing cards and a Scott spindle top lever referenced as a "tang" lever in factory ledgers. In the same fashion as the more robust and shapely Model "C" doll's head and snap lever, invented by Westley Richards the Younger in the 1860's, the "club" shaped rib extension acts as a third bite having a notch cut into the face of it, in which a bolt slides into and out of by moving the top lever, serving to keep the barrels from pulling away from the standing breech under recoil. This "club" head rib extension was used on hundreds of rifles made by Westley's during this period and, consequently, they are commonly encountered on the second-hand market.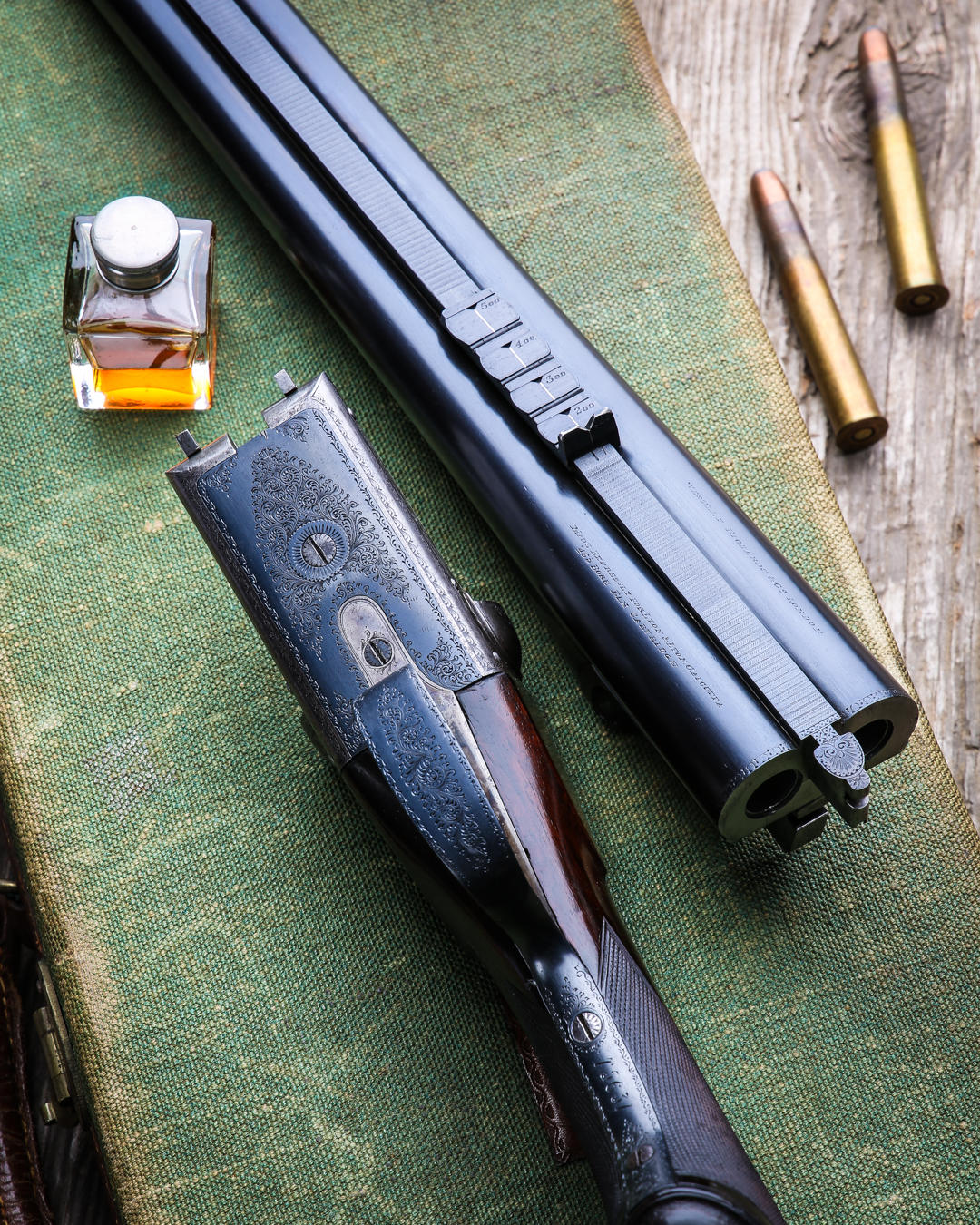 All 9 rifles in this order from J. Lyon & Co. are listed in the ledgers as non-ejectors and all fitted with 26" WR Special Steel saddle lump barrels. They vary however on their sights; this rifle fitted with the standard 1 standing/4 folding (100, 200, 300, 400, 500 yds) leaf Express sights available at the time. The sights that are platinum lined, or as listed in the catalog's "platina" lined.  Westley's registered folding sight hood was available on the Best Quality rifles and on this rifle as an upgrade, but this rifle was fitted with the standard removable sight hood.
Just as company literature stipulates, this rifle has a full pistol grip with a solid horn cap, traditional sling eyes, a Silver's type rubber pad and a right-hand beaded cheekpiece along with a Deeley-Edge snap forend with the traditional WR horn tip. The original stock oval remains blank.
The caliber is engraved on the top of the barrels as: ".465 Bore", otherwise known as the .500/.465 NE and introduced by Holland & Holland in 1906.
By our count, this is 1 of only 9 double rifles ever made by Westley Richards in this cartridge.
The .465 NE Cartridge History
The .500/.465 NE was introduced by Holland & Holland in 1907 in response to British government's ban of sporting rifles in caliber .458" being imported to India and the Sudan.  The cartridge was based on Holland's .500/.450 NE that was introduced in 1900. The .500/.450 NE had proven very popular for Holland's but the banning of the .450 caliber rifles forced the firm to develop something new to fill its spot. Using the same parent case and bullet weight as the .500/.450 NE but loaded with a .467" diameter bullet, also weighing 480gr, the new cartridge was able to produce the same velocities of 2,150 fps as its predecessor, but with its larger bullet diameter was impossible to fire in the older rifles. In Holland's early marketing the cartridge was called the .465 India with obvious references to the ban. This turned out to be one of many great cartridges Holland & Holland has introduced, and it remains a very viable cartridge today for dangerous game.
The import ban of .458" caliber rifles created a bit of an arms race in the English gun trade. Up to that point John Rigby's .450 3 ¼" NE was the benchmark all big game, nitro express cartridges were measured against. After this ban took hold, Holland & Holland, Westley Richards & Co., Joseph Lang and Eley all introduced notable big game cartridges with ballistics very similar to the .450 3 ¼" but with bullet diameters other than .458" caliber. Most notably is Joseph Lang's .470 3 ¼" NE which stands today as the most popular big game round for modern double rifles.
Not to be outdone, Westley Richards & Co. entered the foray and introduced the .476 Magnum Express for single and double rifles in 1907. Almost a decade earlier, Westley Richards & Co. was the first to load .500 3" Black Powder Express with Cordite, creating the .500 3" NE.  Again, Westley's turned to this same parent case (see a trend?) necking it down to a .476" caliber bullet, creating the .476 Magnum Express. This cartridge shoots a 520gr bullet at 2,100 fps generating 5,085 ft-lbf of energy at the muzzle compared to the muzzle energy of just over 4,900 ft-lbf created by Rigby's, Holland's, and Lang's proprietary cartridges. While the differences were marginal, Westley Richards contended nonetheless the .476 Magnum was superior to any other competitor's comparable offering. Even going so far as to say in the 1912 catalog: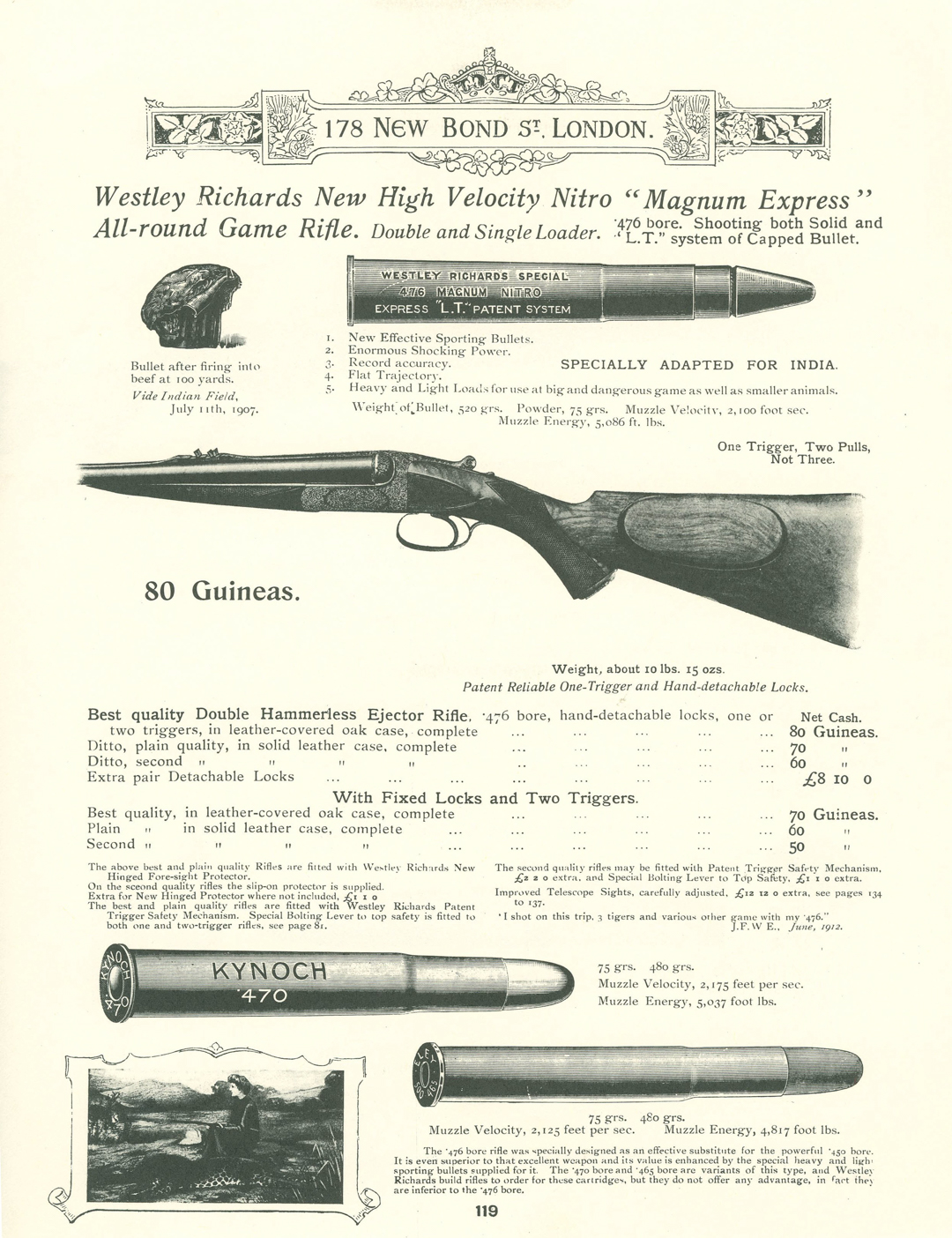 "The .476 Bore rifle was specifically designed as an effective substitute to the powerful .450 bore. It is even superior to that excellent weapon…the .470 bore and .465 bore are variants of this type, and Westley Richards build rifles to order for these cartridges, but they do not offer any advantage, in fact they are inferior to the .476 bore."
It was competitive times in the English gun trade, and it is easy to see why such a low number of rifles in a competitor's cartridge were made by Westley's.
The rifle's rare caliber notwithstanding, it also has some interesting provenance.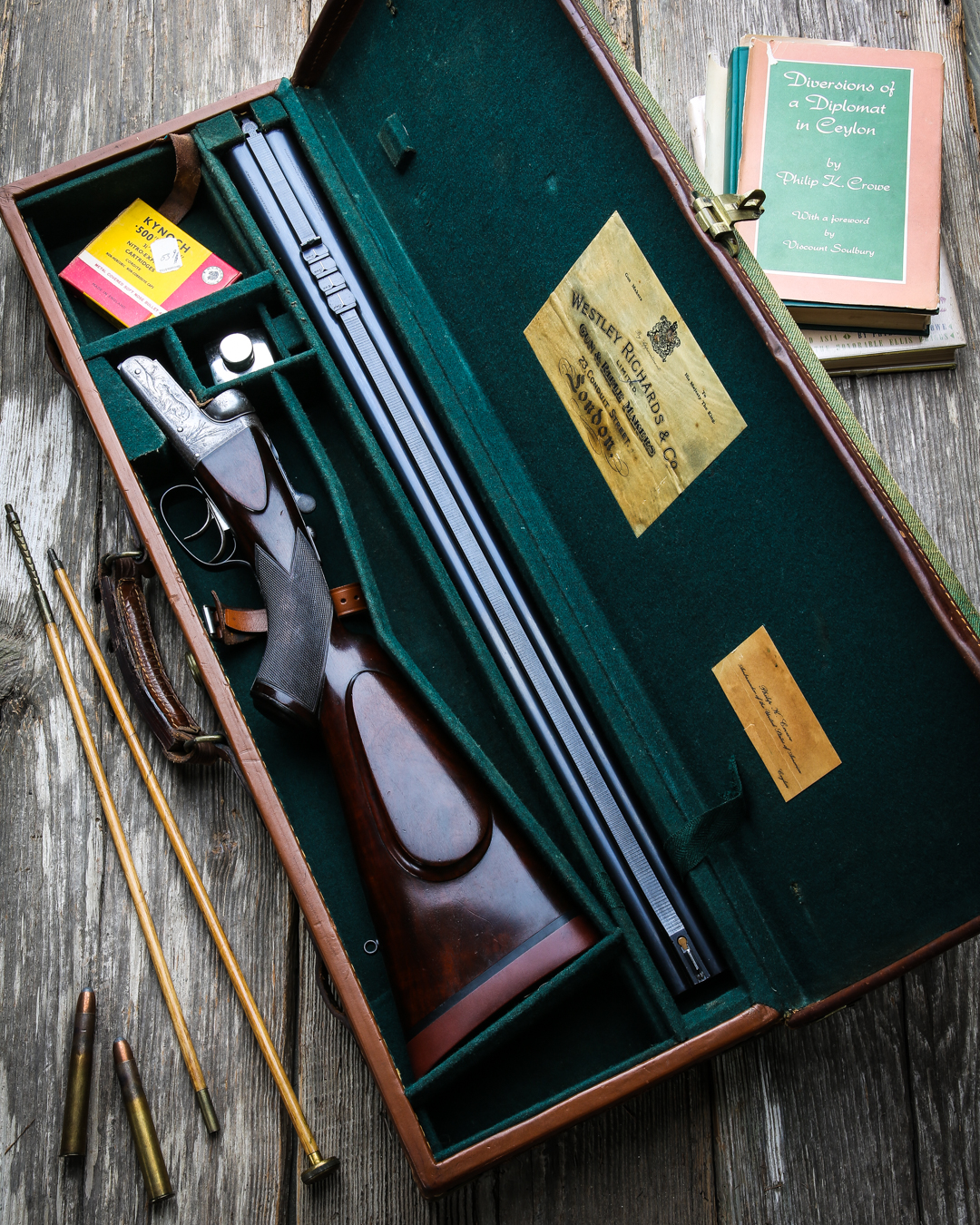 Complete in a green canvas case, the inside of the lid has a Westley Richards & Co. trade label carrying the 23 Conduit Street address and a calling card reading:
Philip K. Crowe
Ambassador of the United States of America
Ceylon
Ceylon is the same as the modern day island nation renamed Sri Lanka in 1972. Mr. Crowe (January 7, 1908 – November 16, 1976) was a journalist at the New York Evening Post, traveled in French Indochina and ran big game hunts before working on ads in the magazine Life and Fortune.  During World War II, he worked in the Office of Strategic Services where he was an intelligence officer in-charge of an area, covering China, Burma, and India. He joined the U.S. Foreign Service in and was U.S. Ambassador to Ceylon  from 1953 to 1958. He went on to have more ambassadorships to South Africa, Norway, and Denmark. Throughout this same time, he published books on his exploits in Ceylon and big game hunting, toured and gave talks on his hunting, and was a member of the Explorer's Club and the Royal Geographic Society of London.
The rifle remains in fair overall condition. The action body has traces of case colors in protected areas and the engraving remains sharp. The furniture retains much of its original black finish, but the barrels have evidence of an old, but well done re-black. With a later trade label in the correctly fitting case and the presence of a "proper" re-black to the barrels, it is very reasonable to think a light refurbishment of the rifle was carried out by the maker, probably about the time Mr. Crowe was on his ambassadorship for Ceylon.
Included with the rifle is a factory history, some information I have gathered on Mr. Crowe, along with two books authored by him.
While this model Westley Richards rifle is commonly encountered, the rifle's chambering is exceedingly rare and coupled with the rifle's connection to such an interesting individual, this is a rifle that would be a nice addition to any collection of safari rifles.