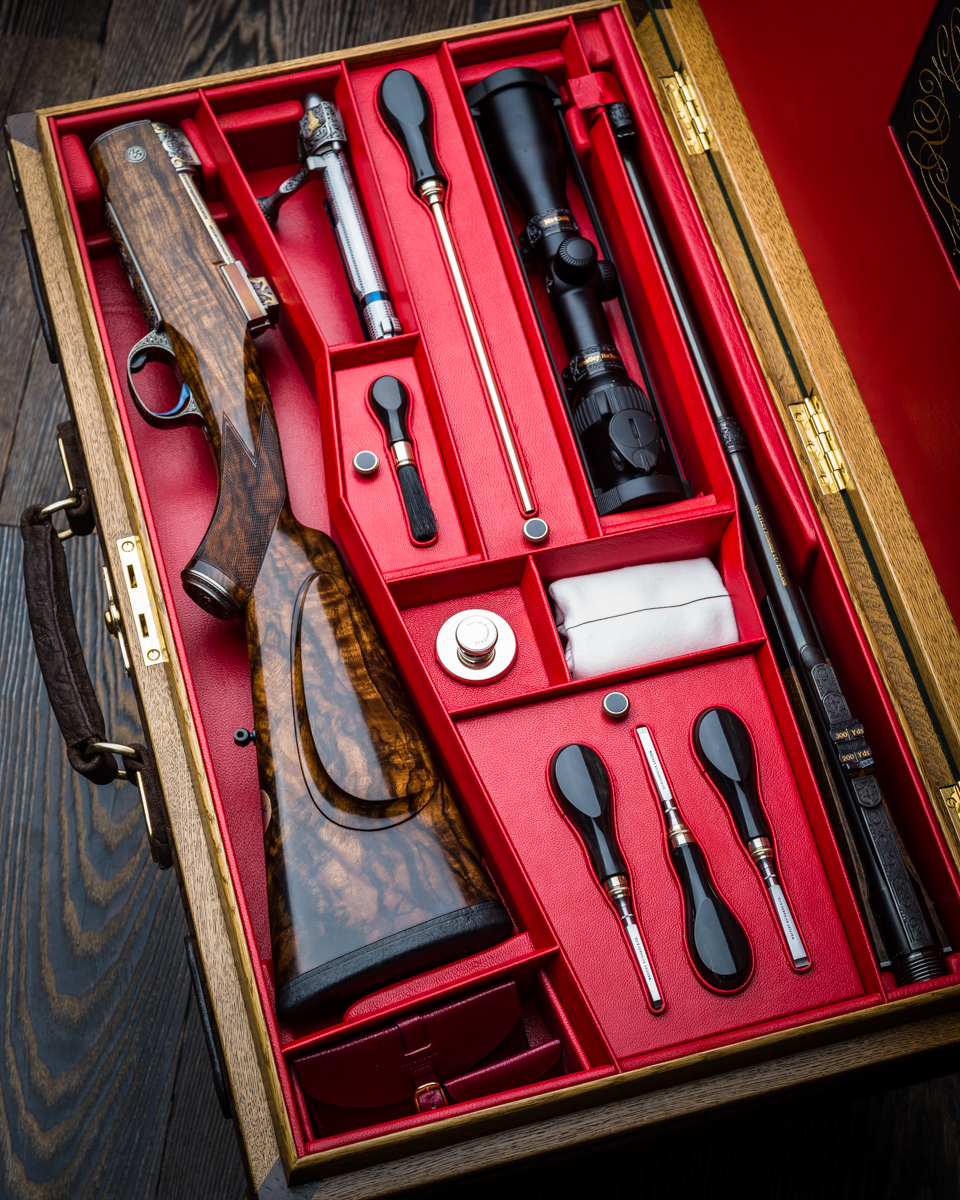 Naturally Paul Mausers action of 1898 remains the firm favourite amongst British classic rifle manufacturers and over the years we have used all manner of variants from original Oberndorf 'Sporters' to Military '98's to the modern production actions coming out of the USA and Germany.
Whilst fixed barrel rifles have always been a given, the 'detachable barrel' or take-down configuration has become a firm favourite within the Westley Richards armoury. Over the years we have been lucky enough to build our rifles in most of the popular big game calibres as well as our own proprietary ones, the .318 and .425. The detachable barrel version making for an elegant and practical travelling rifle.
Anyway, we hope you enjoy the selection below and wish you once again a safe week ahead.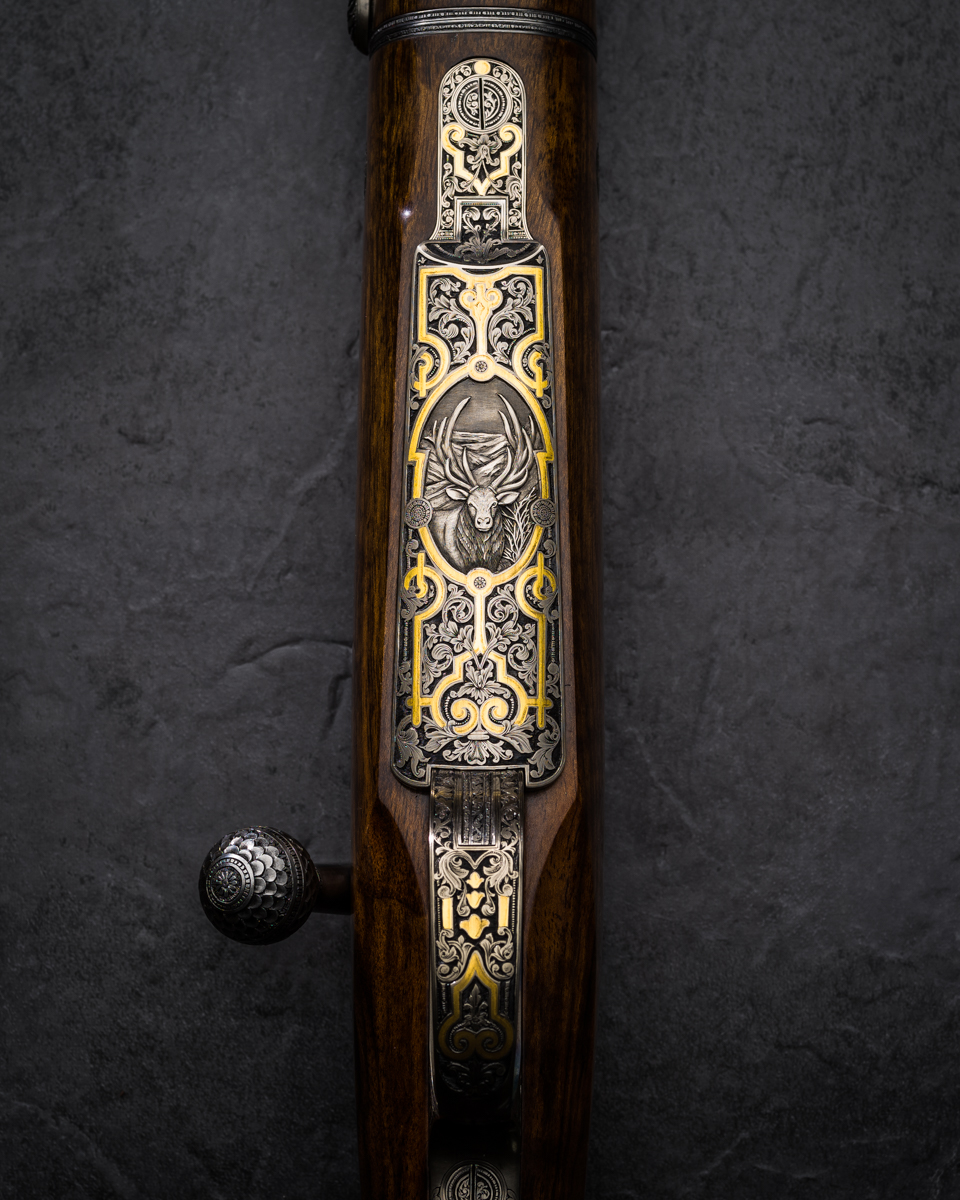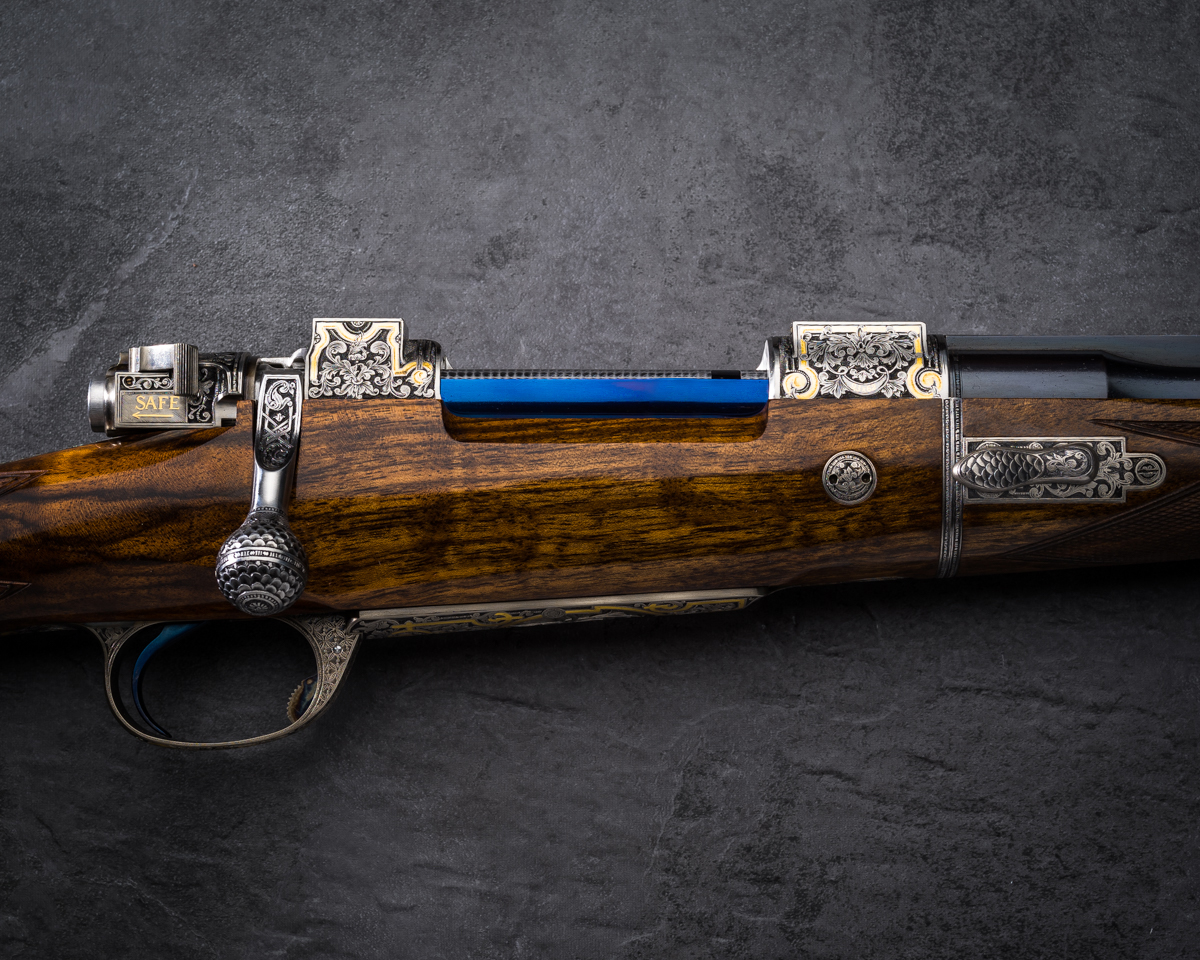 That most classic of calibres the European 9.3 x 62 built to our 'Modele de Luxe' standard in a detachable barrel configuration. This rifle once again displayed a variety of engraving techniques with a beautifully carved 'Maral' stag on the floor plate.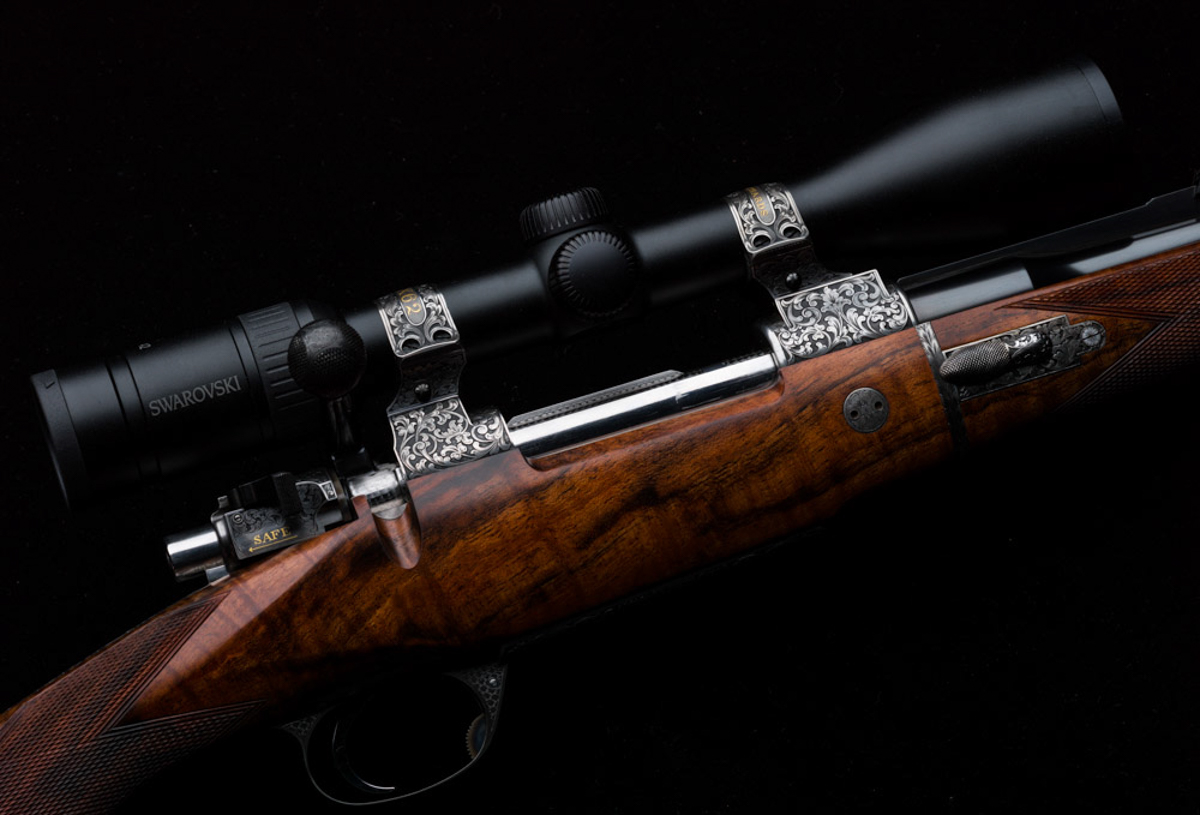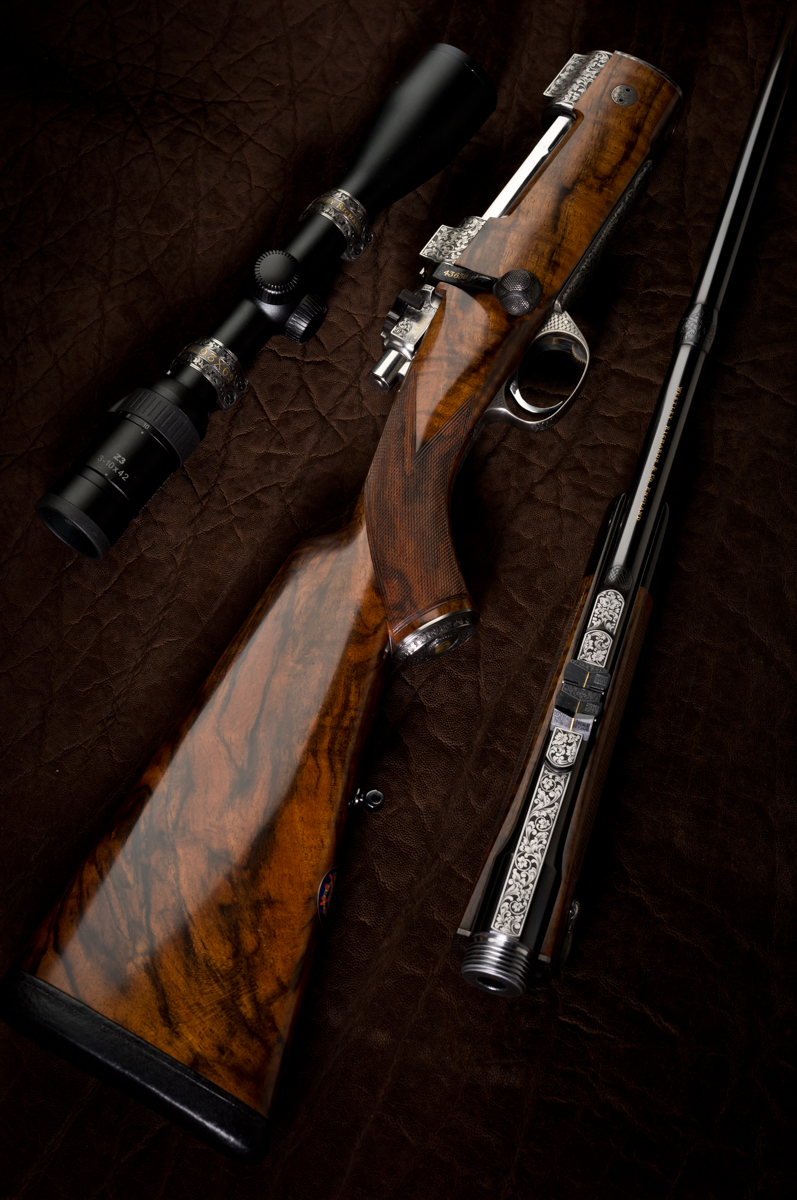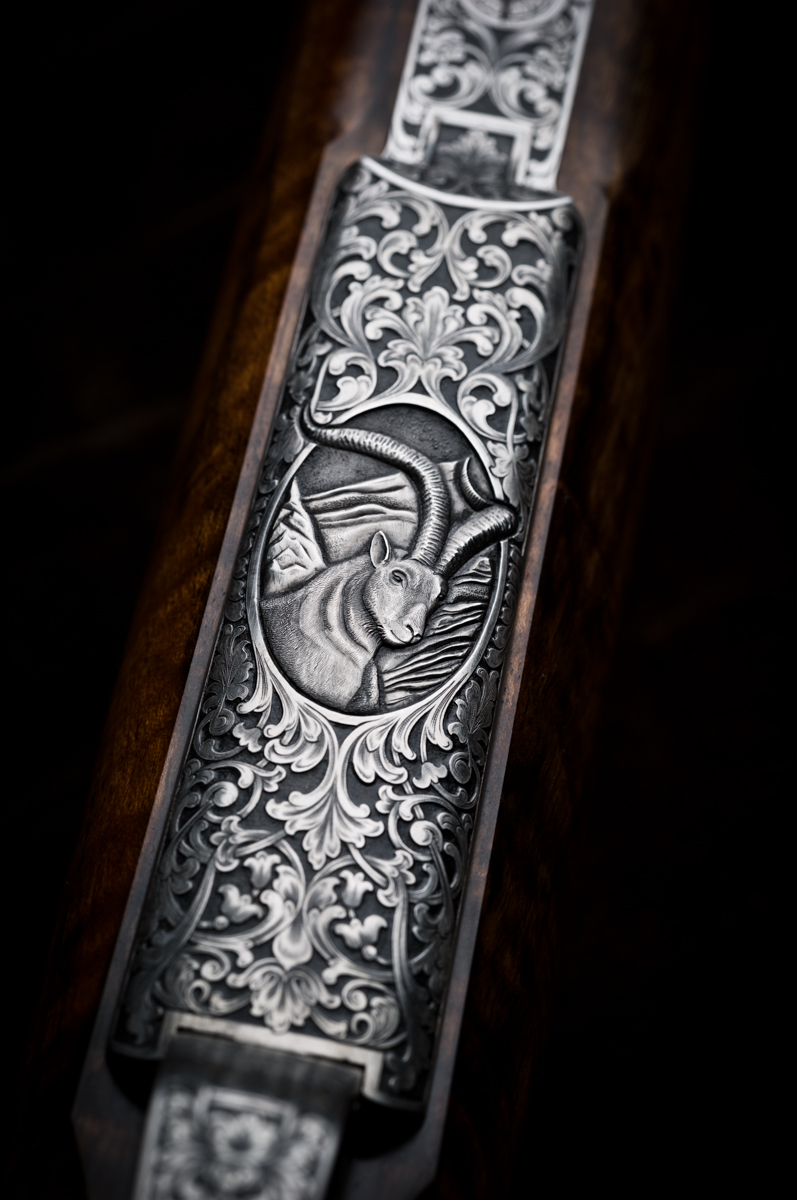 Another 9.3 x 62 detachable barrel rifle with ornate etched back scroll and a carved Gredos ibex from Spain. The geometric patterning on the side of the trigger bow is a nice detail.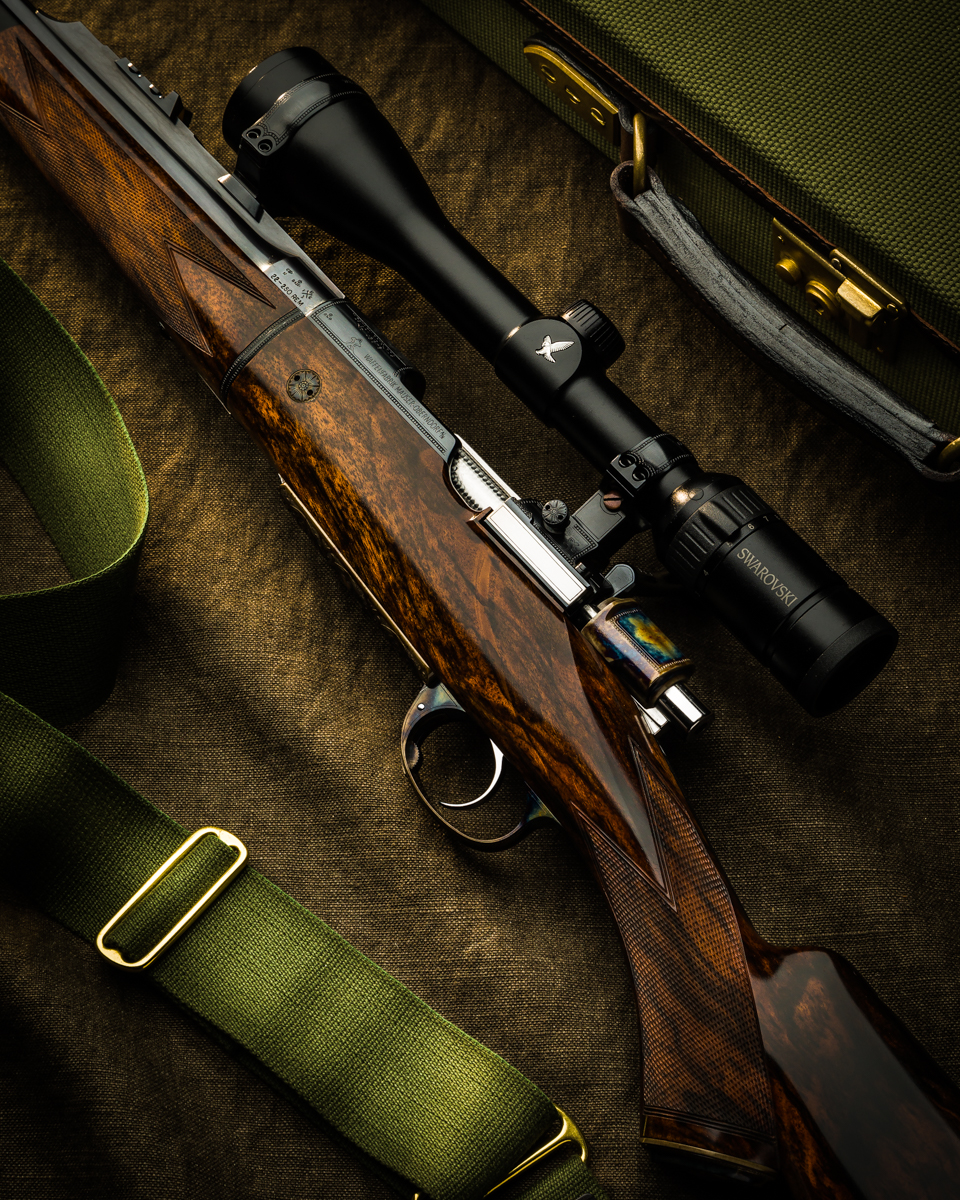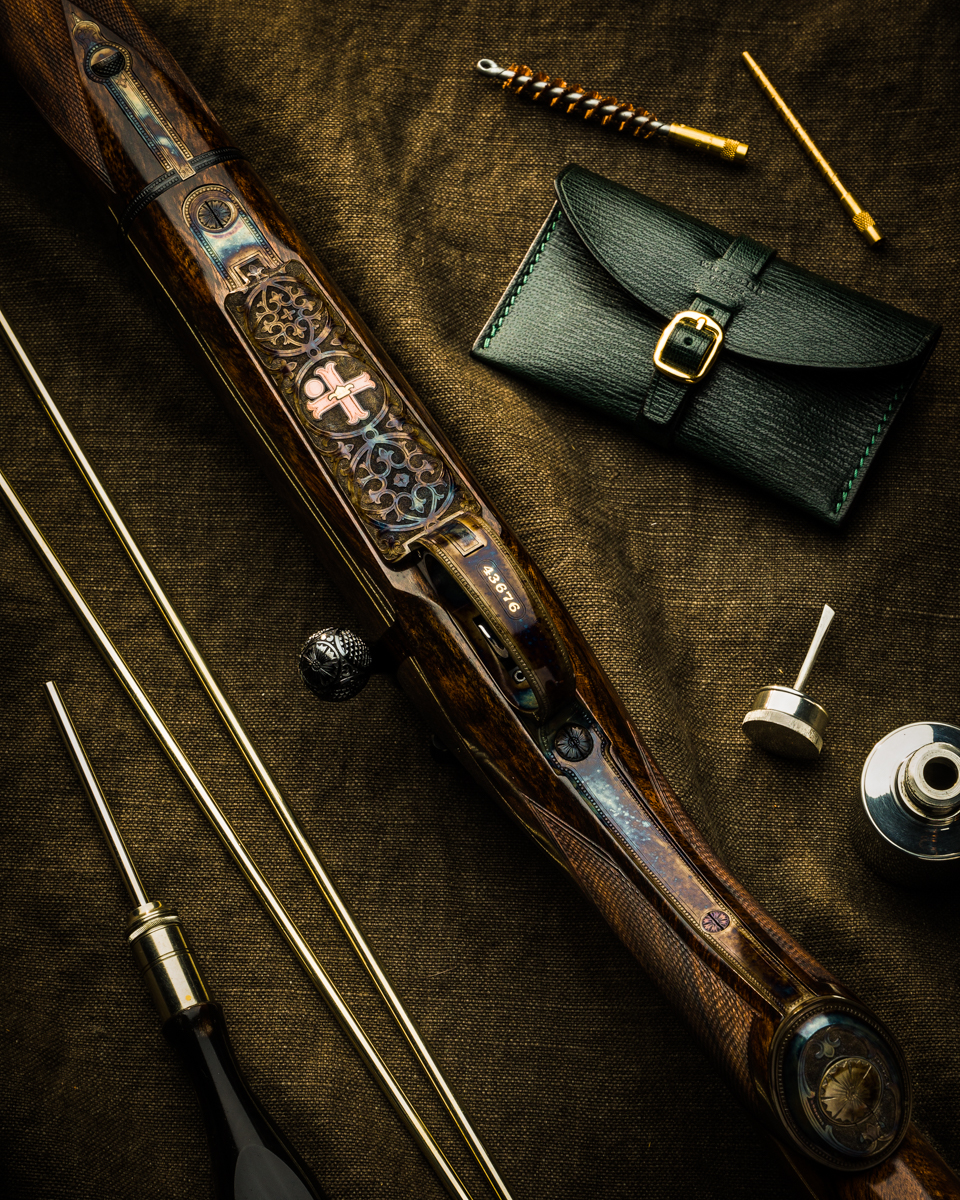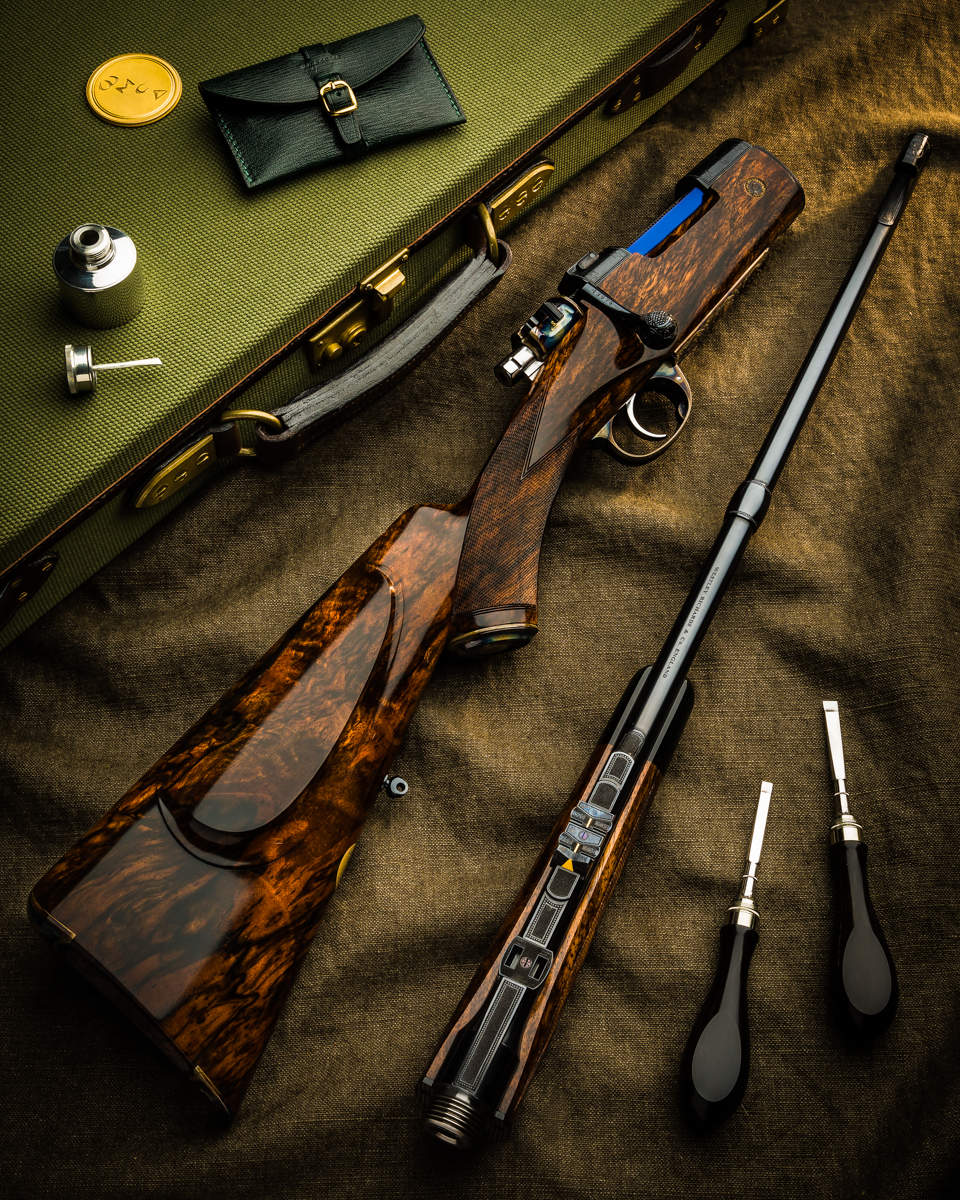 The very unique little .22-250 built on an original Mauser 'K' or Kurz (Short) action. Most rifles that we build are in the larger calibres intended for European, North American or African big game. This little beauty was built for an Englishman to hunt vermin and small deer species on his estate. Note the barrel release lever on the underside of the forend.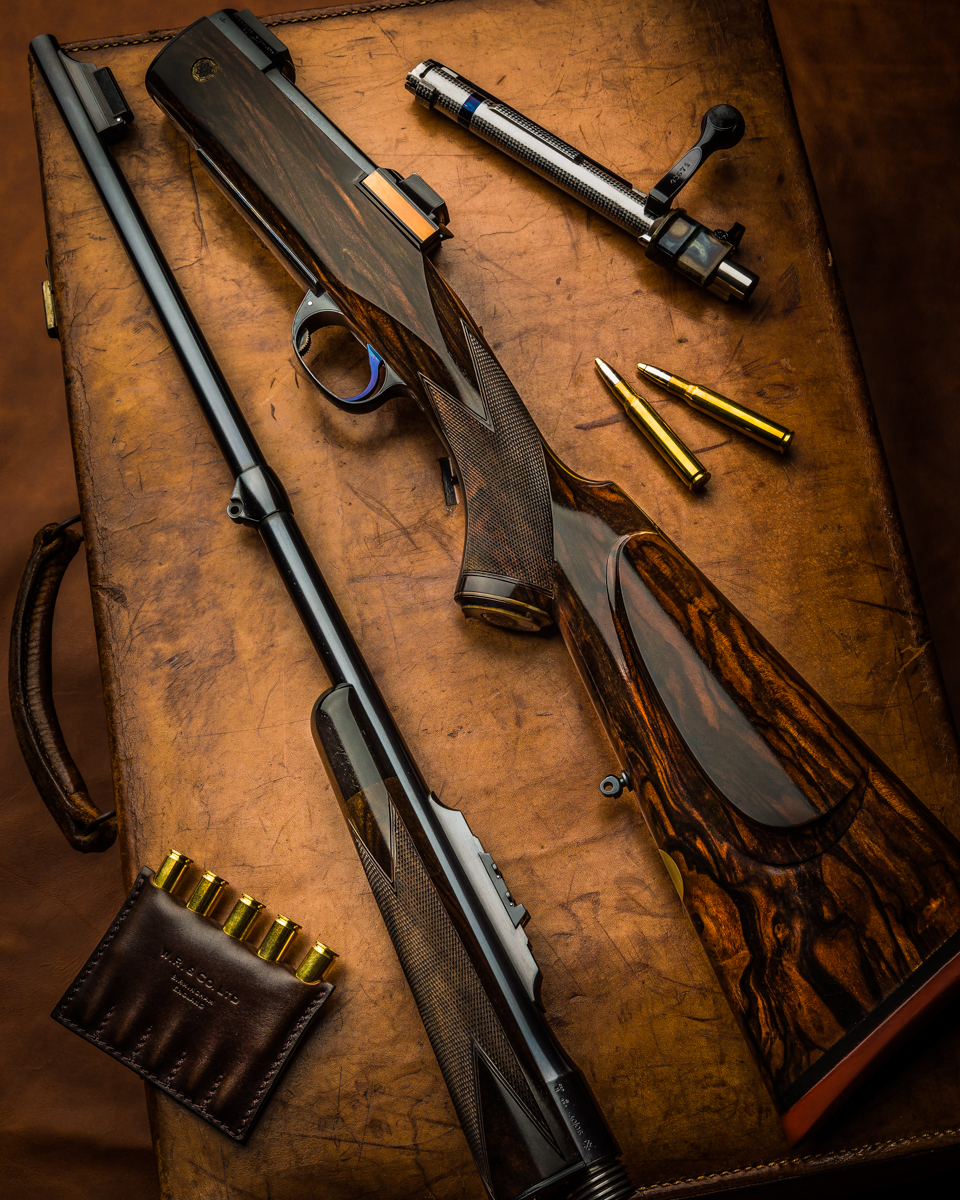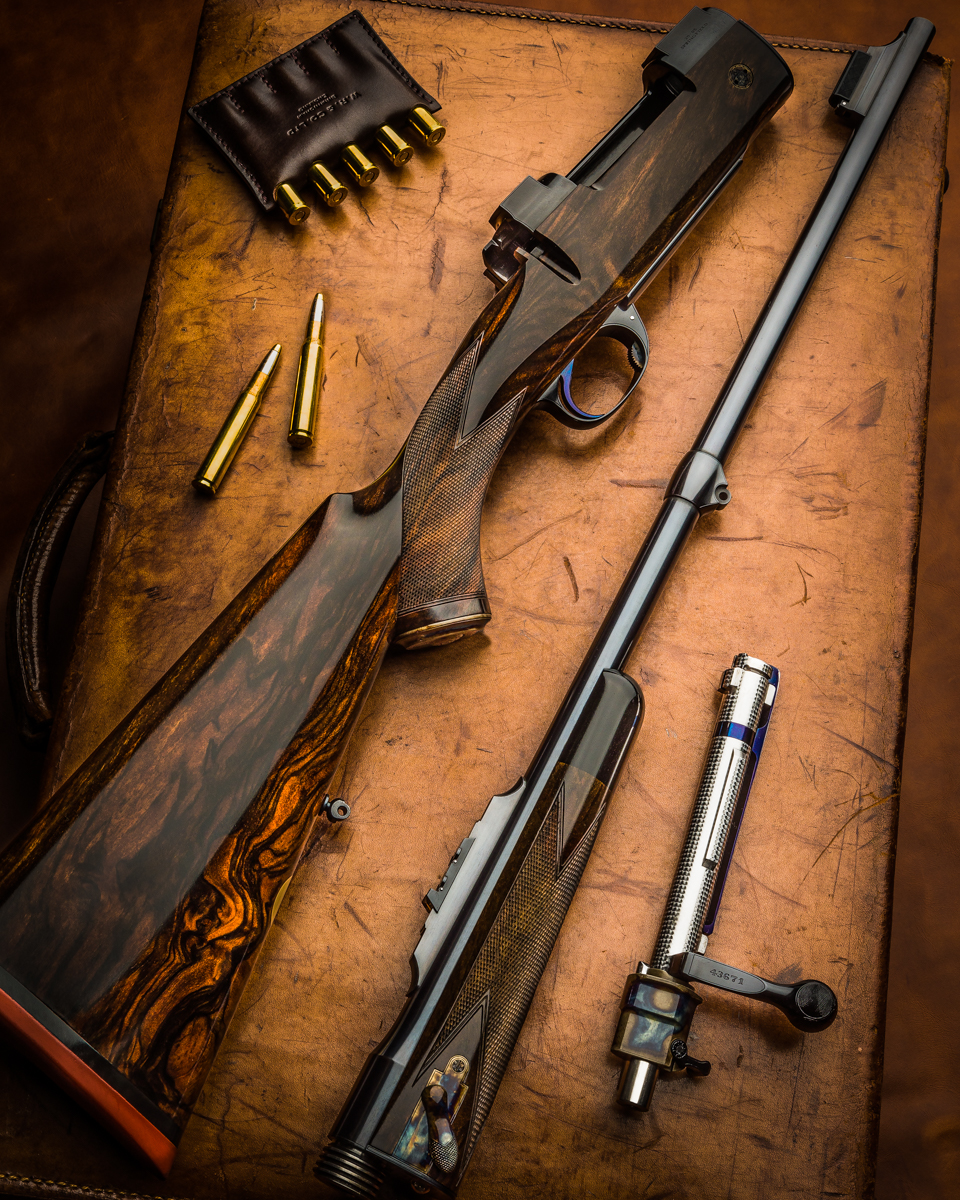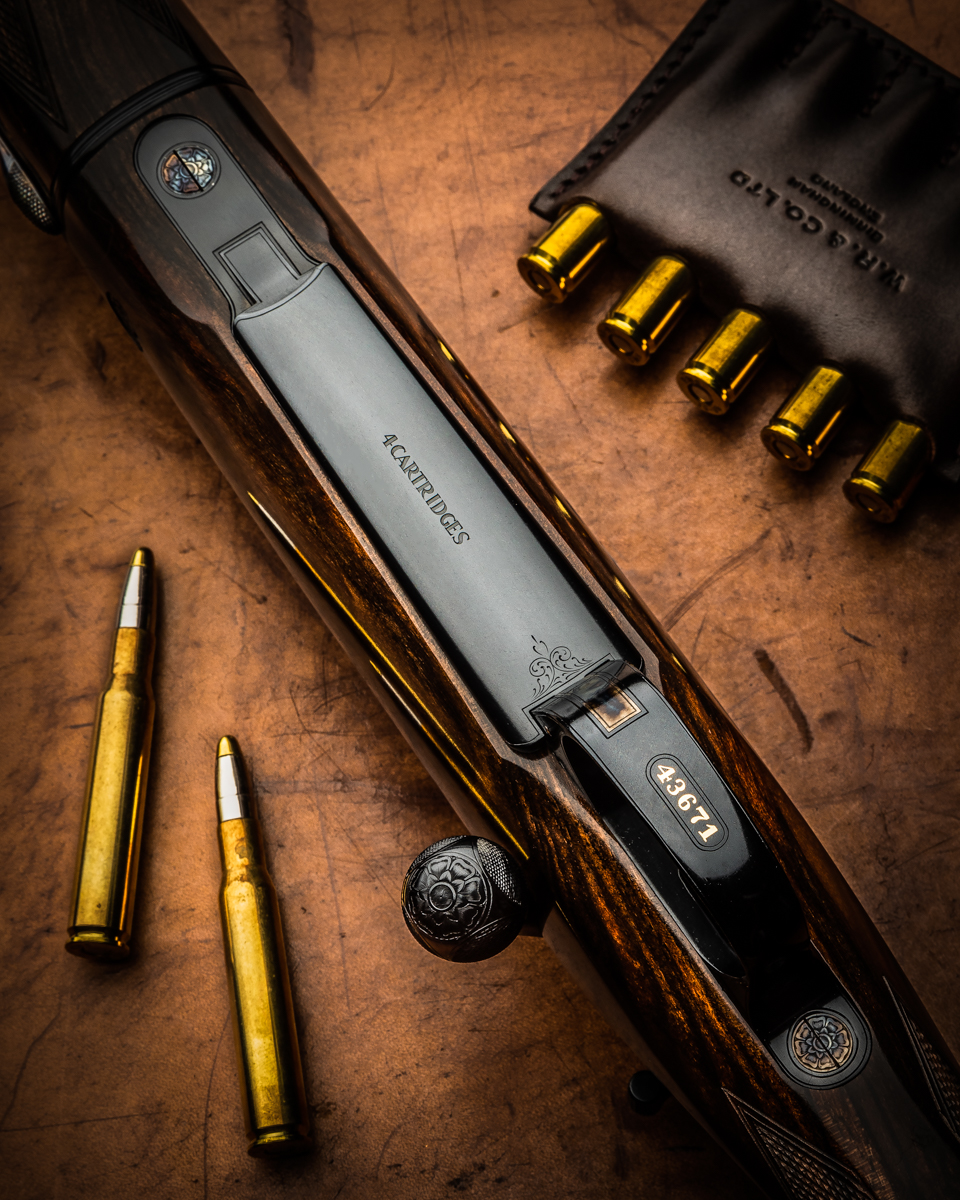 The classic .30-06 Springfield cartridge in a simple yet elegant rifle format. Pre-war rifles were rarely embellished and this is our updated take on that. Great workmanship and stunning wood do most of the talking.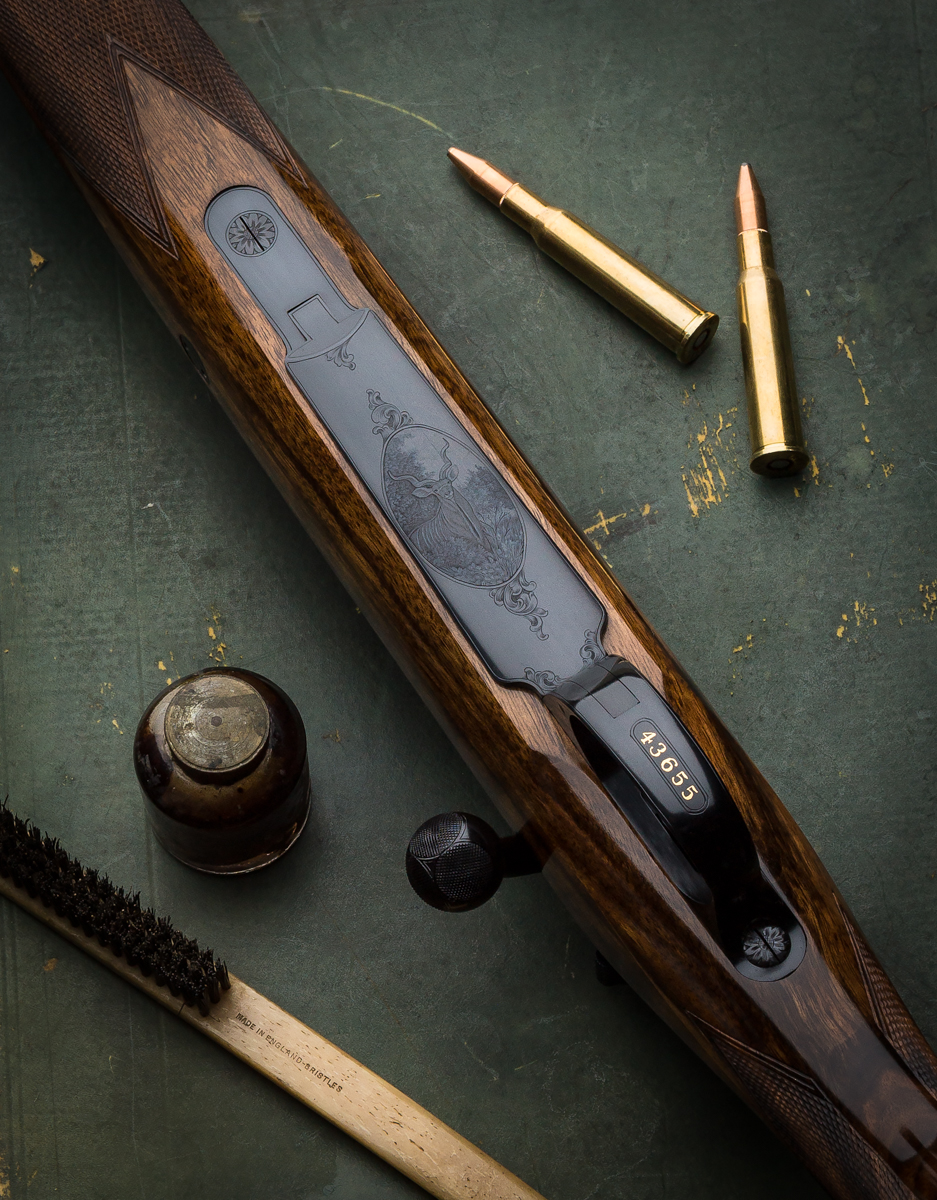 A kudu bull steps out on the cover plate of this .275 rifle.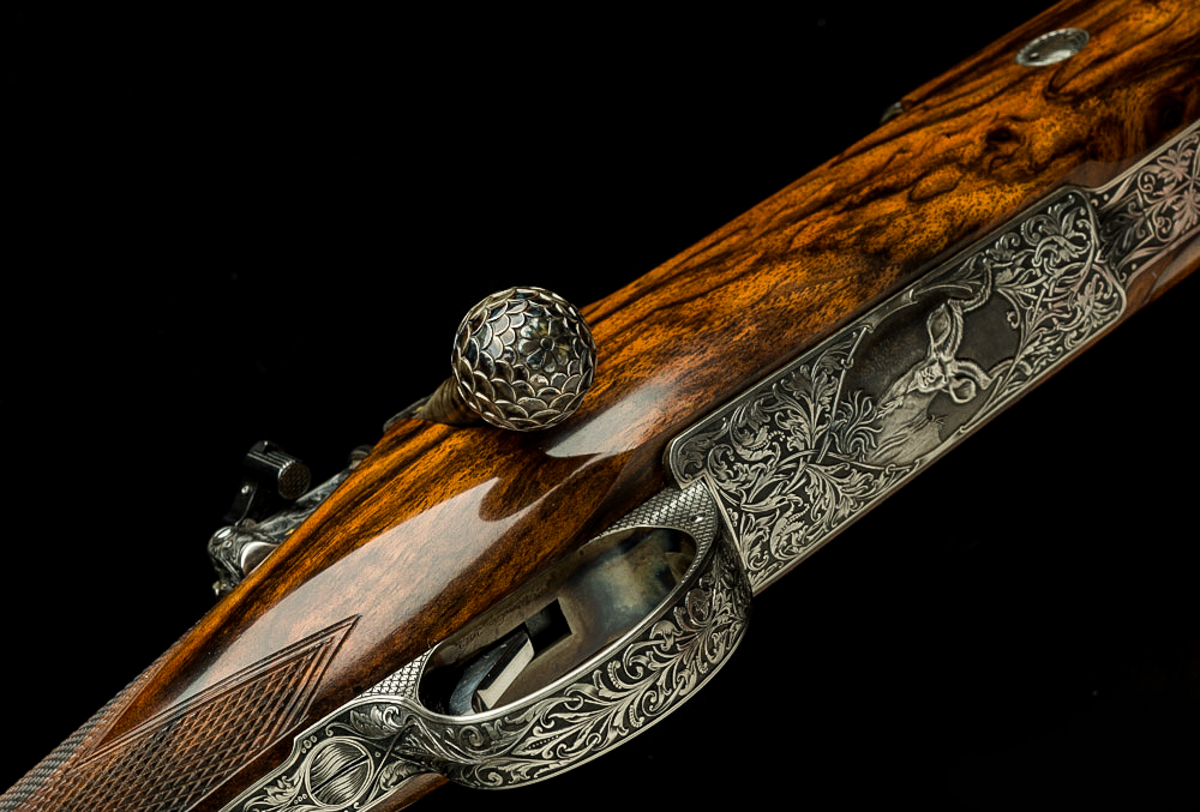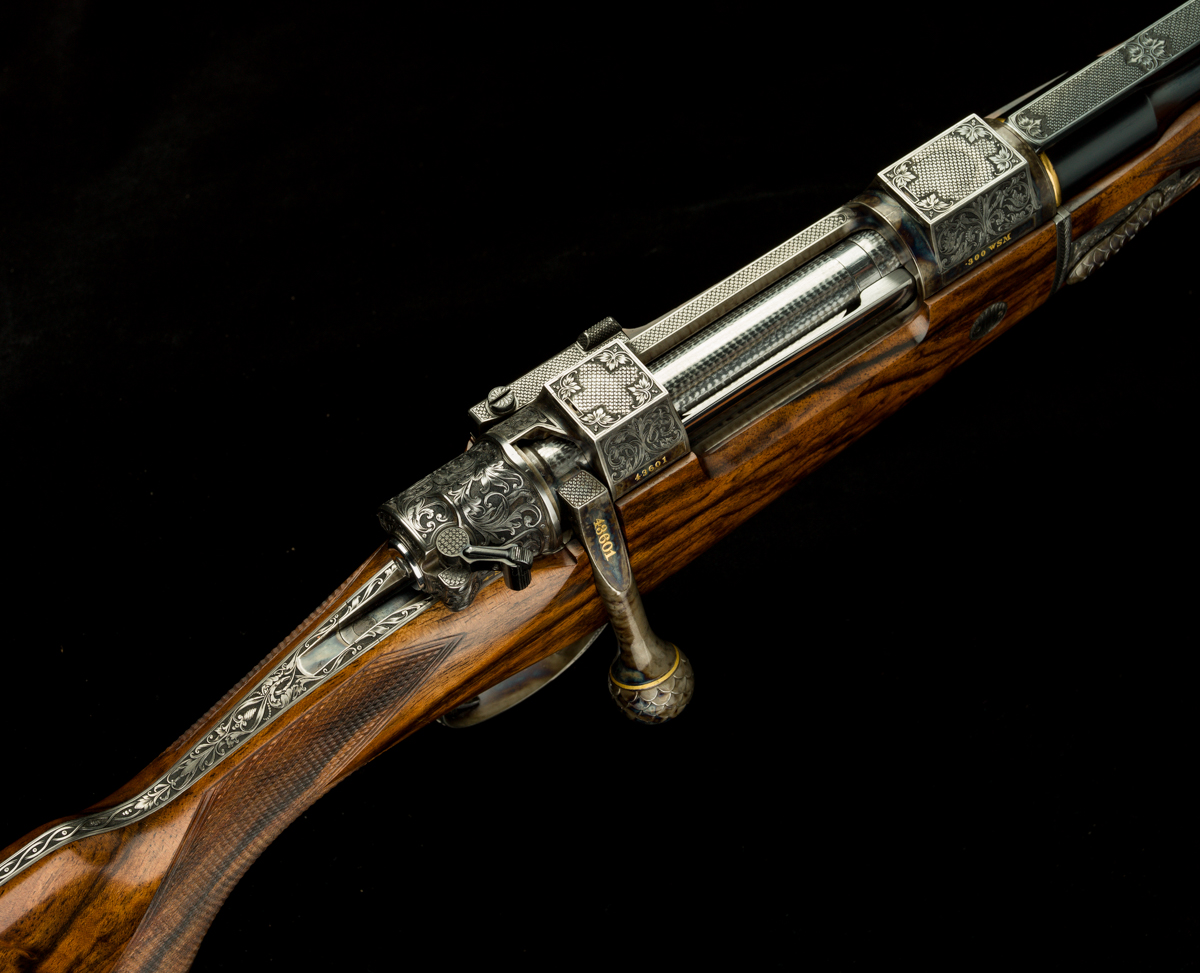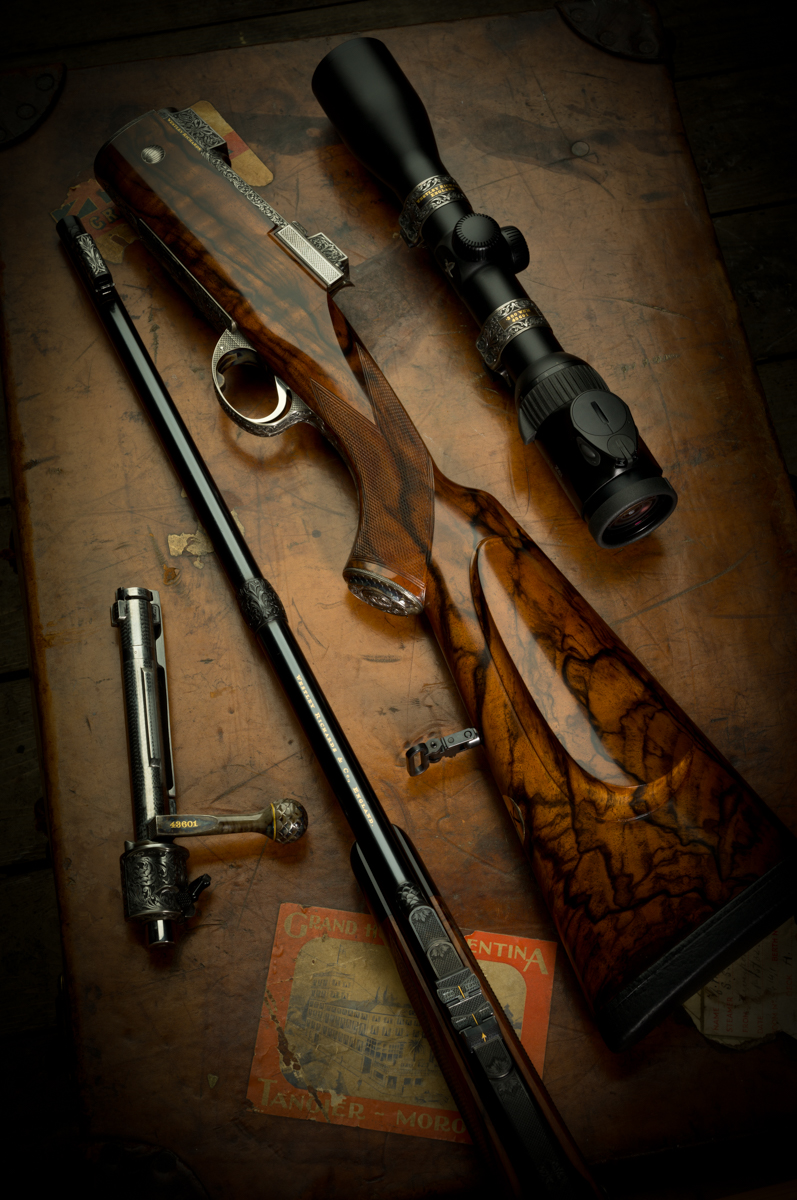 A highly ornate 'Modele de Luxe' detachable barrel rifle in the more unusual .300 Winchester Short Magnum. This rifle has a strap over comb and extended tang that add greatly to the aesthetics of the rifle and provide more surface area for the deluxe engraving pattern. Carved features like the bolt handle and barrel release catch add nicely to the detailing of the rifle.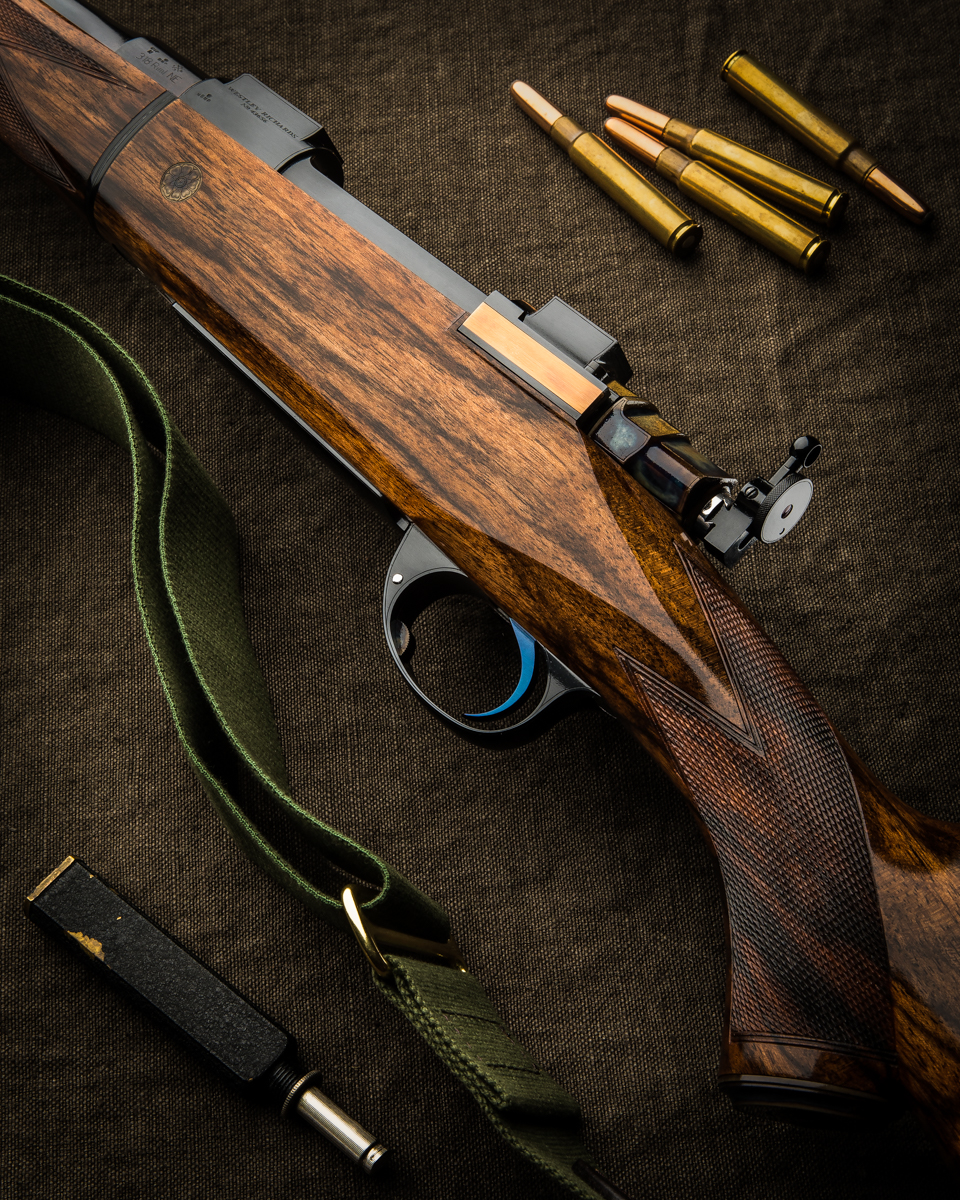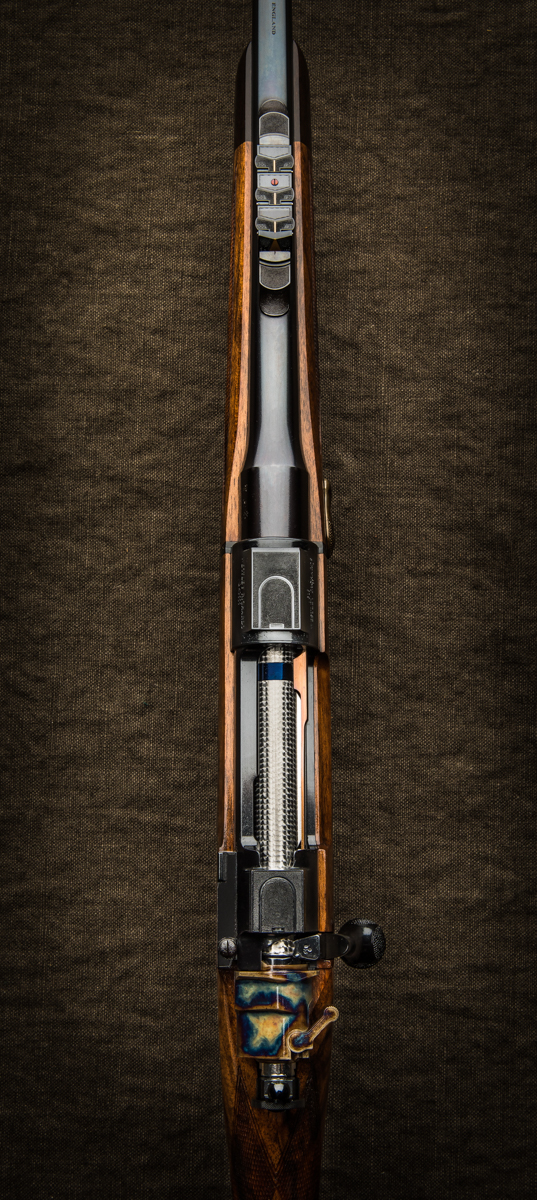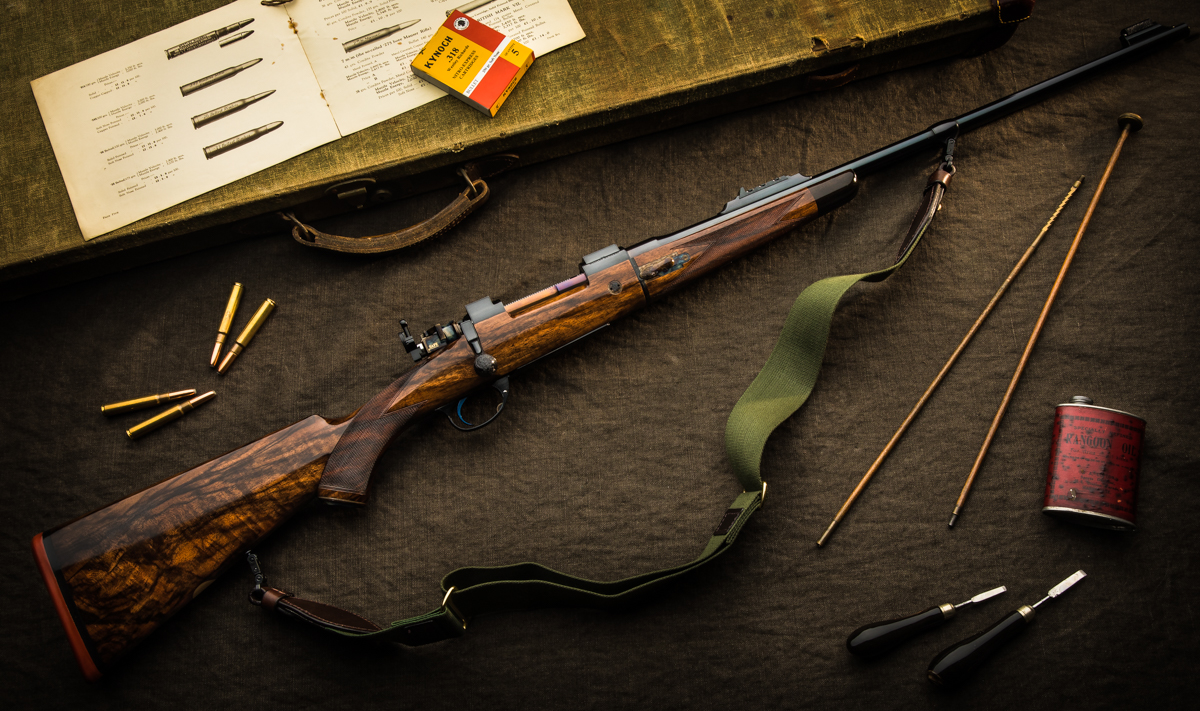 A super looking detachable barrel rifle in our own .318 Westley Richards cartridge. Firing a 250 grain bullet this cartridge is deadly on most non dangerous game. In truth and historically it has accounted for all of the African dangerous game species and was at one time the go to calibre for African hunters. The peep sight adds a nice touch.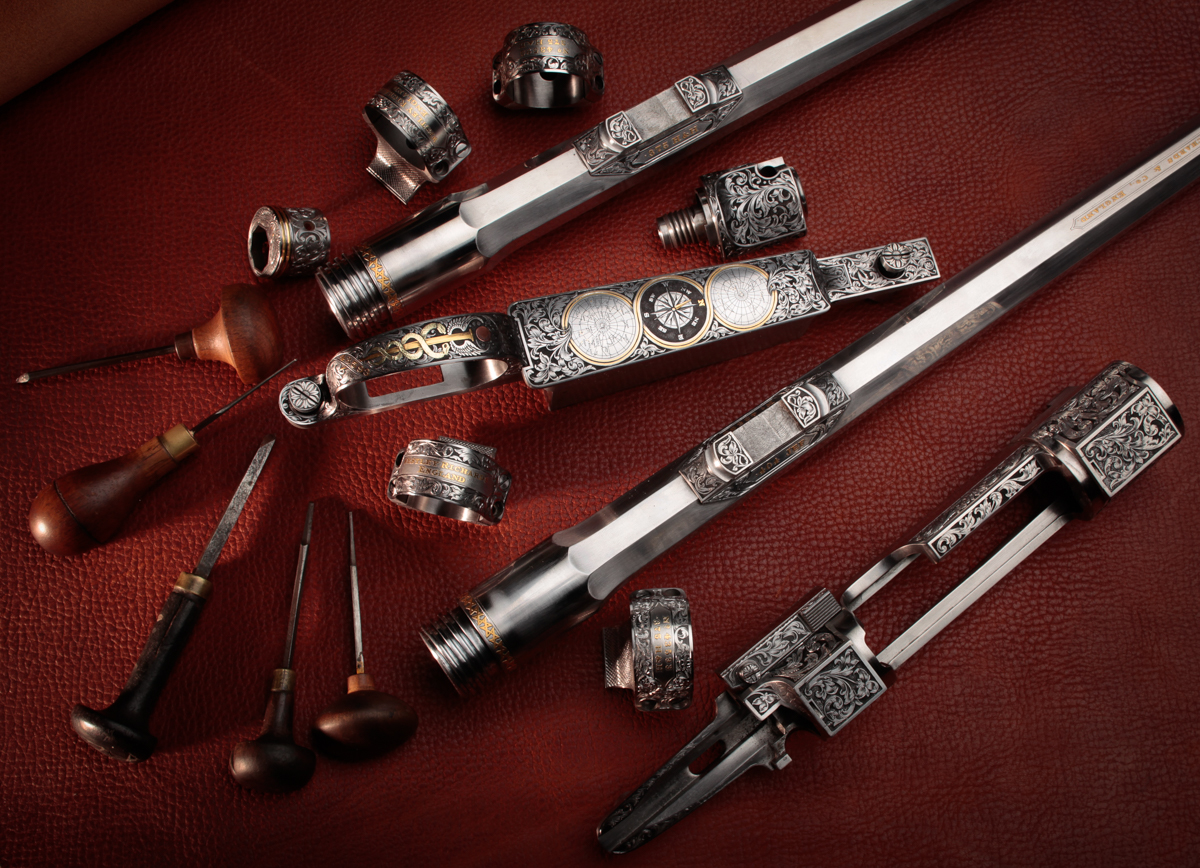 A genuine rarity built by us. A two barrel detachable rifle with octagonal barrels in .375 H & H Magnum and .404 Jeffery! The rifle was also fully stocked and featured ornate scroll engraving showing the northern and southern constellations.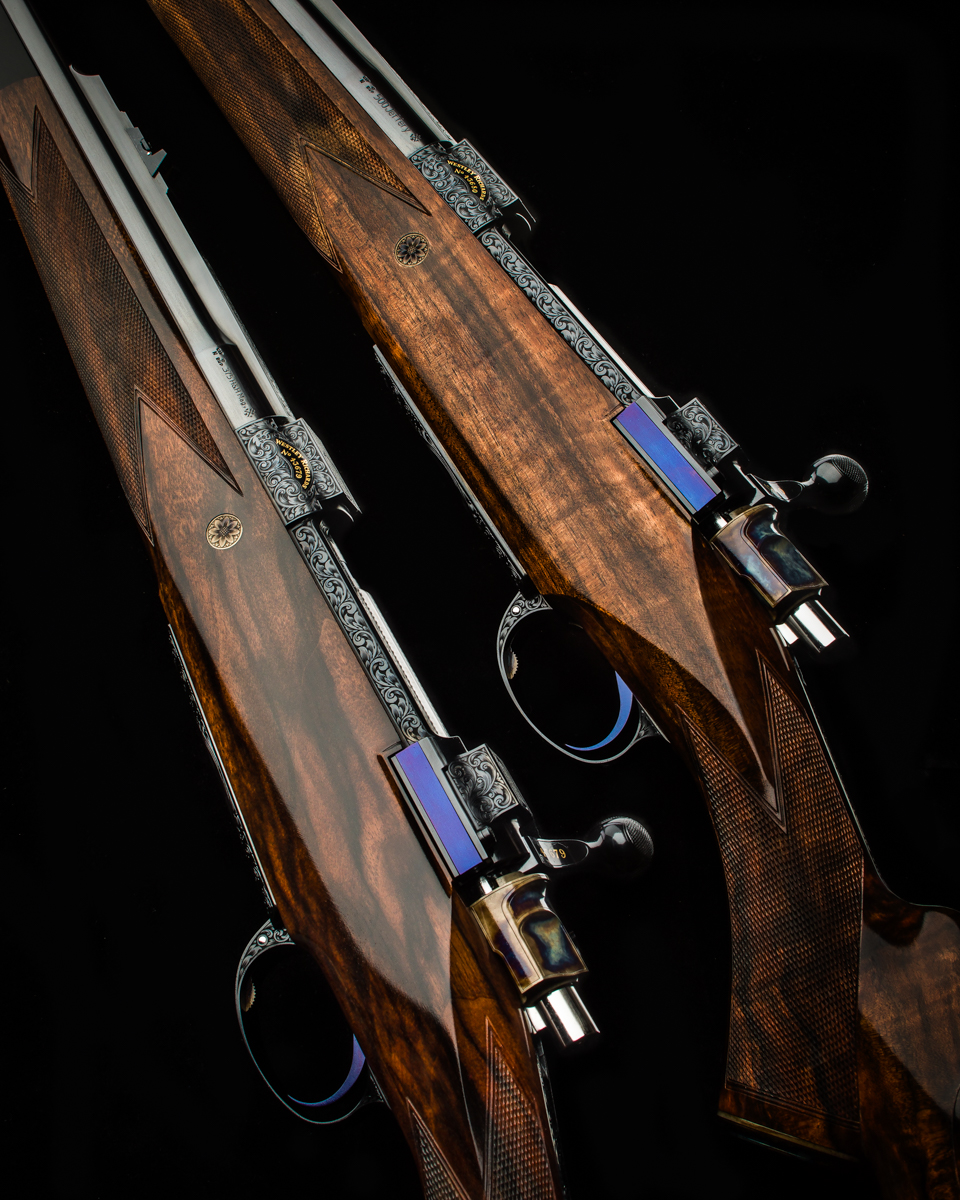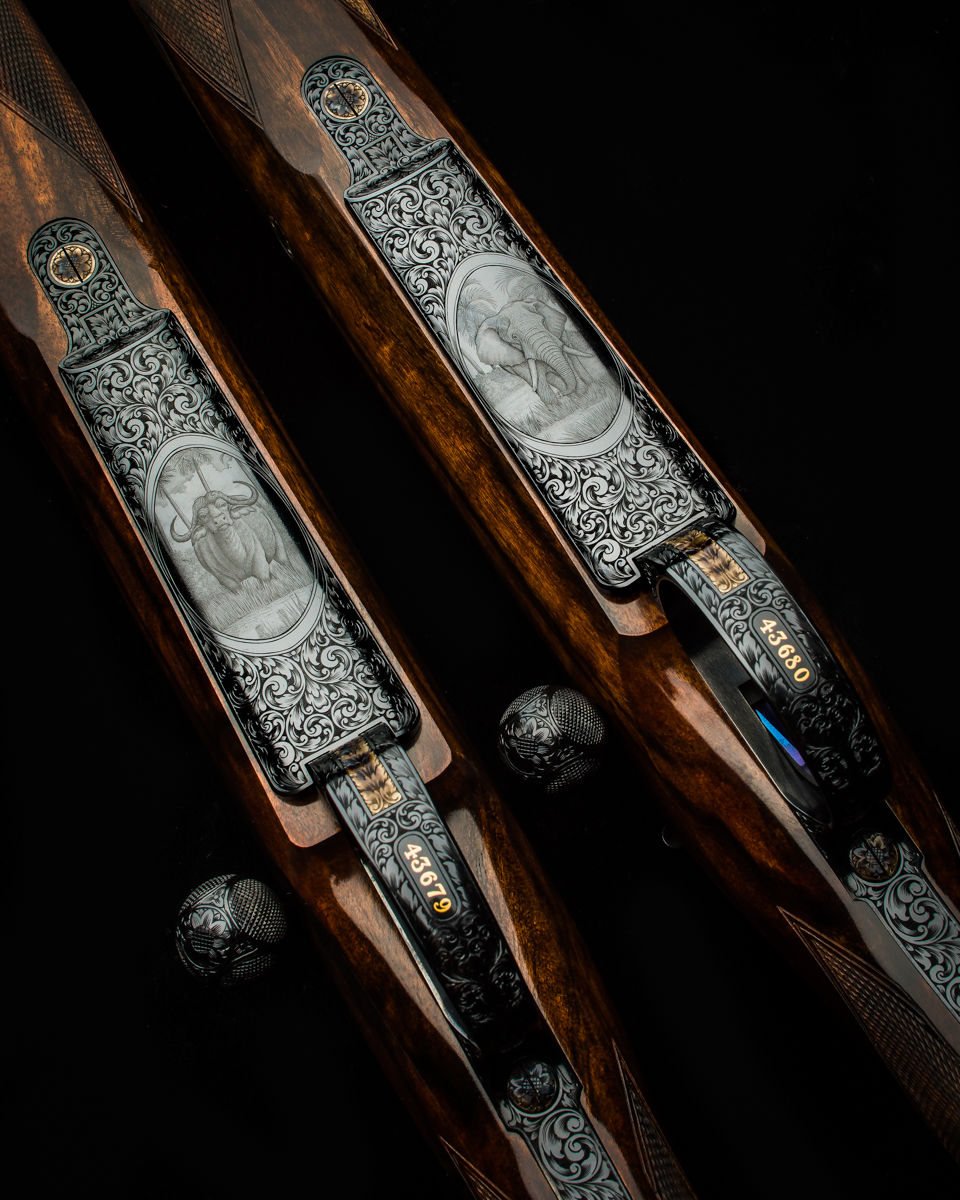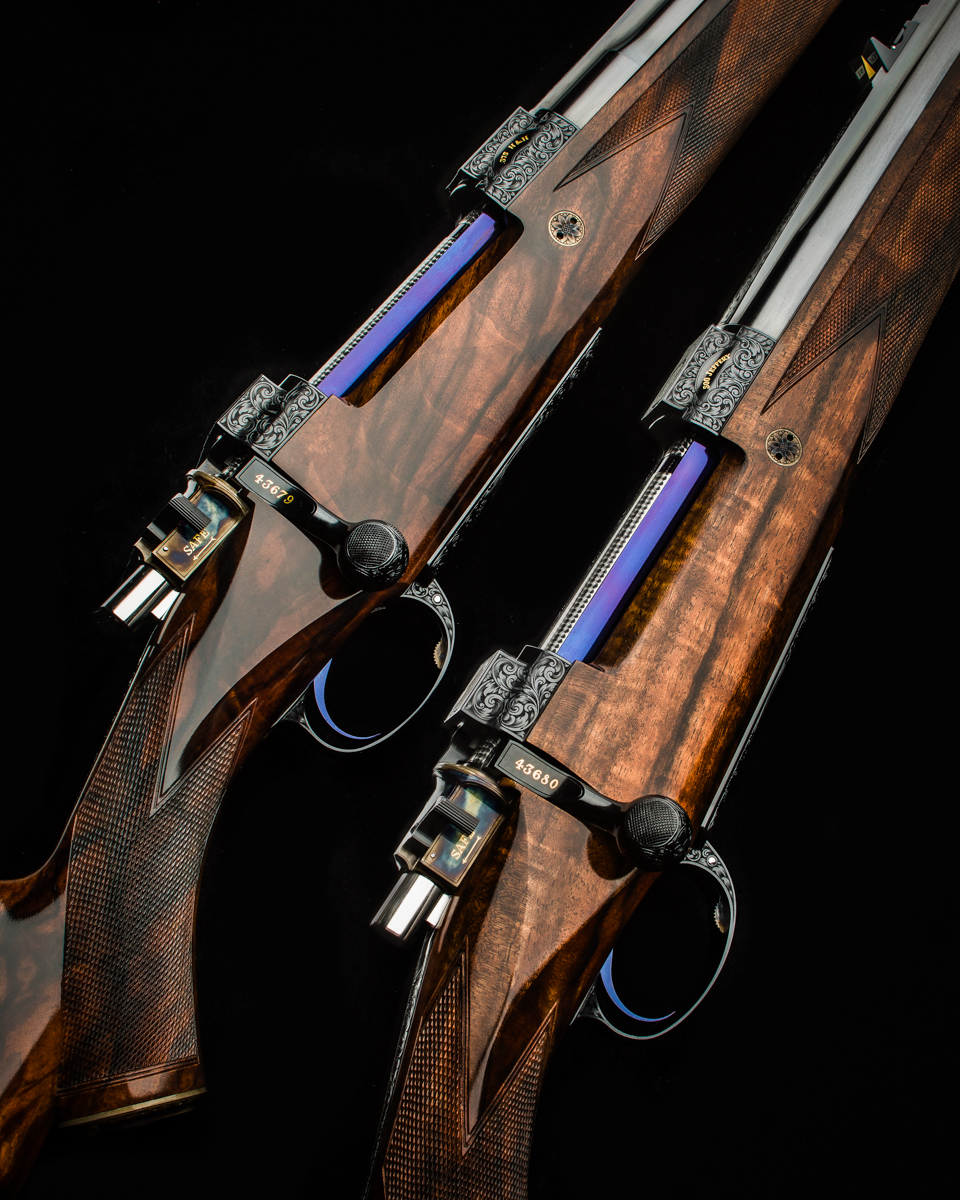 A .375 H & H Magnum and .500 Jeffery pairing with deluxe scroll, gold lettering and game scenes. These were a beautiful 2 rifle battery suitable for taking any game in Africa.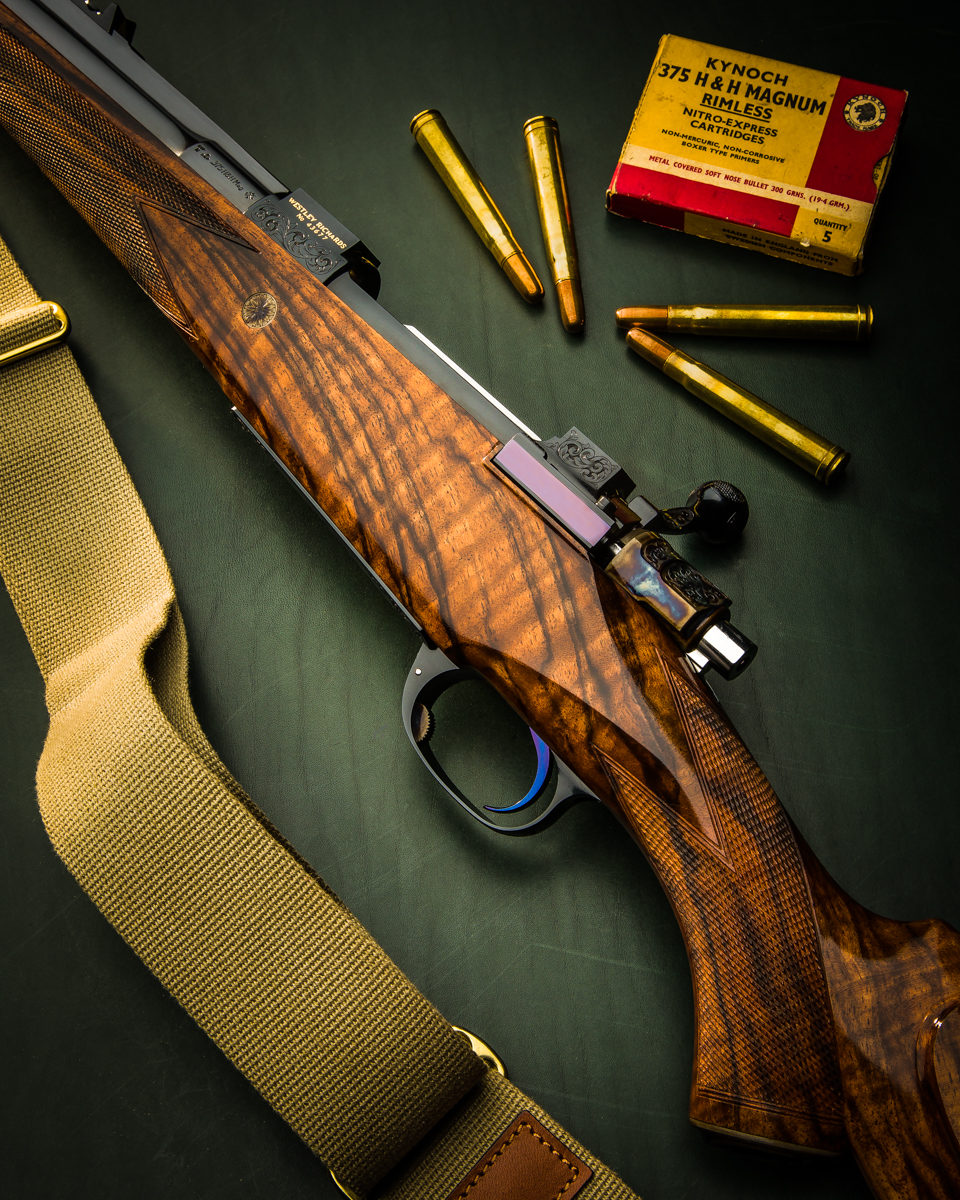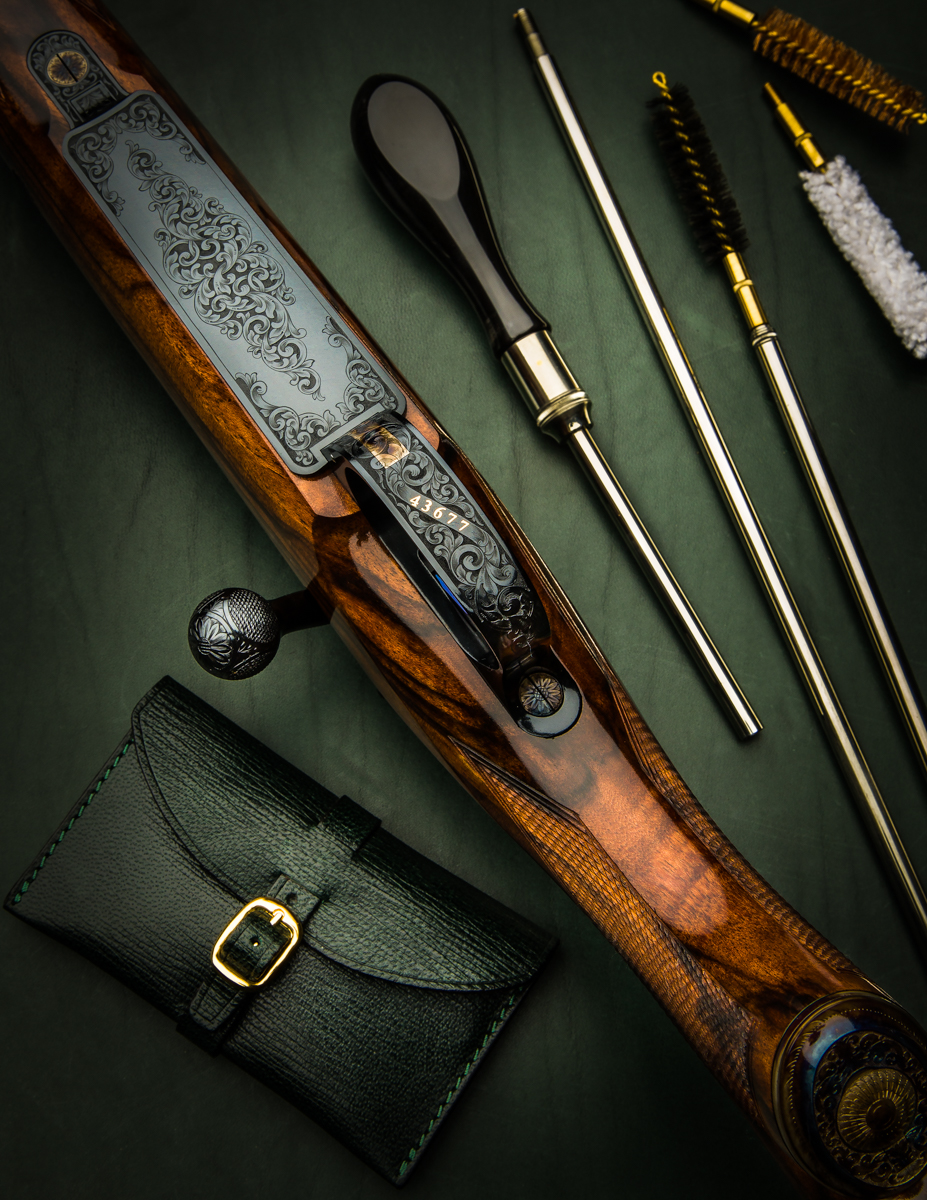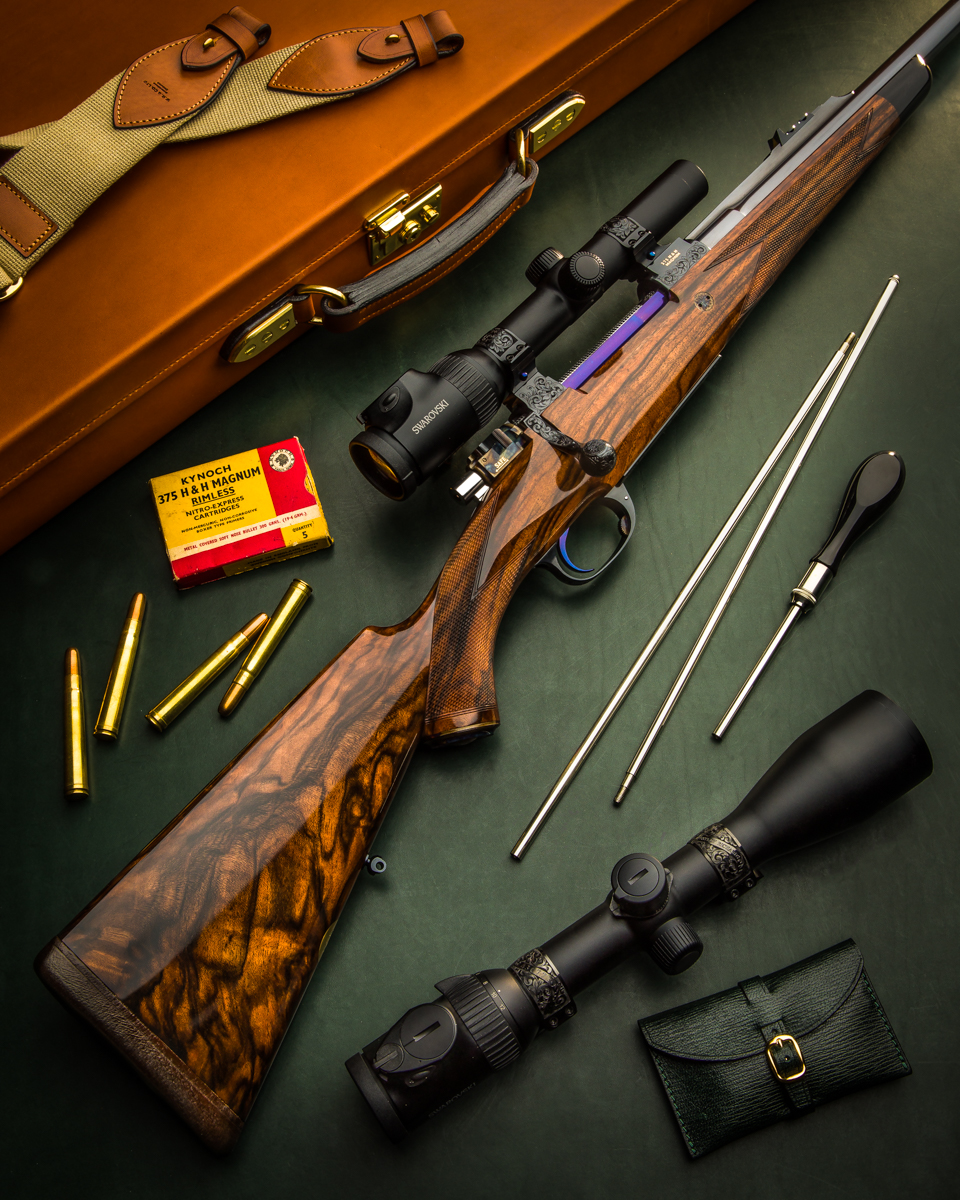 Another .375 H & H magnum fixed barrel rifle with traditional half scroll coverage. Complete in its lightweight leather package it makes for a classic African hunting package. The low powered Swarovski scope is perfect for Dangerous game at close quarters.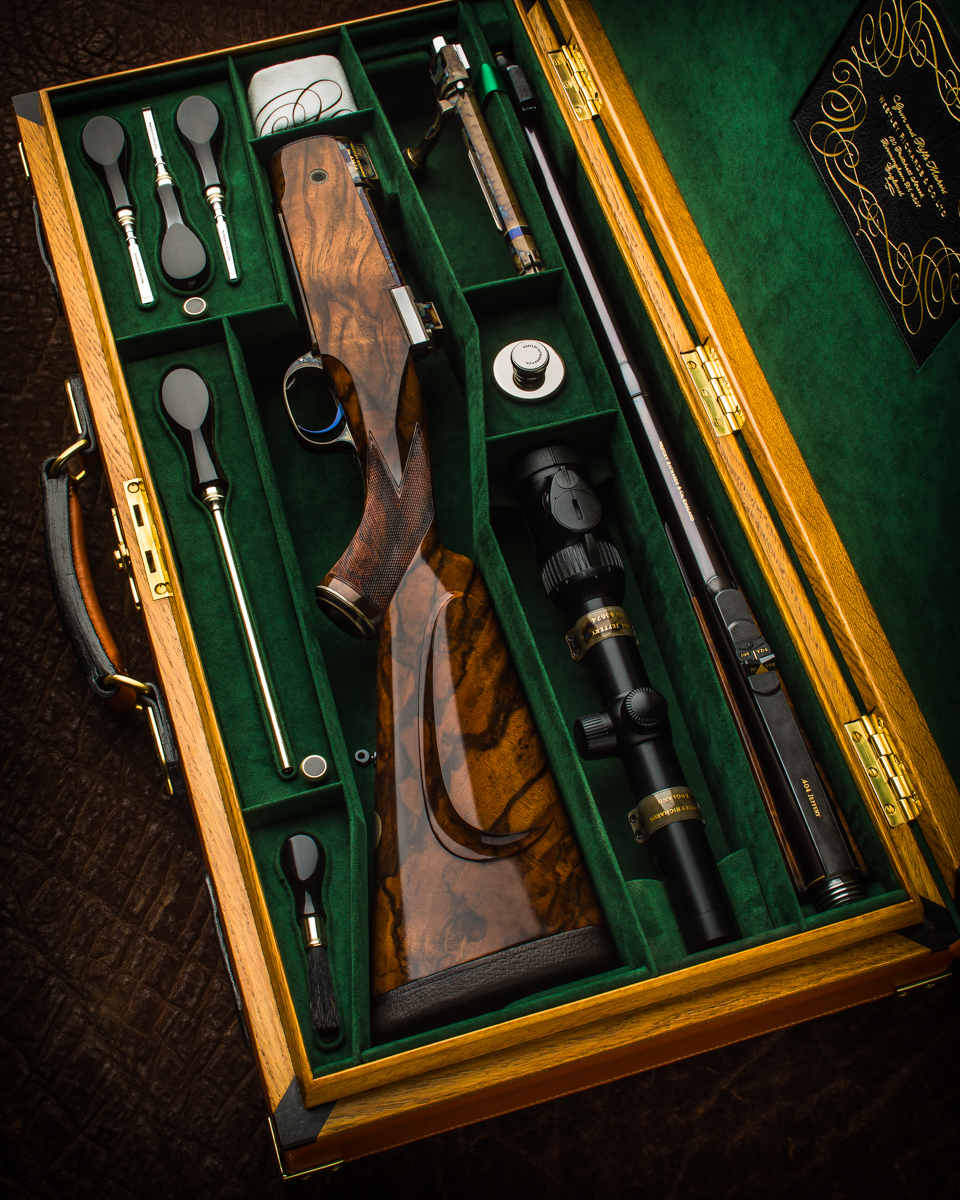 A 'Gold Name' take on our detachable barrel magazine rifle this time in the .404 Jeffery cartridge. The .404 Jeffery is a super cartridge in the same realm as the .416 Rigby and .425 Westley Richards. It was at one time the favoured culling cartridge for the Tanzania Game Department.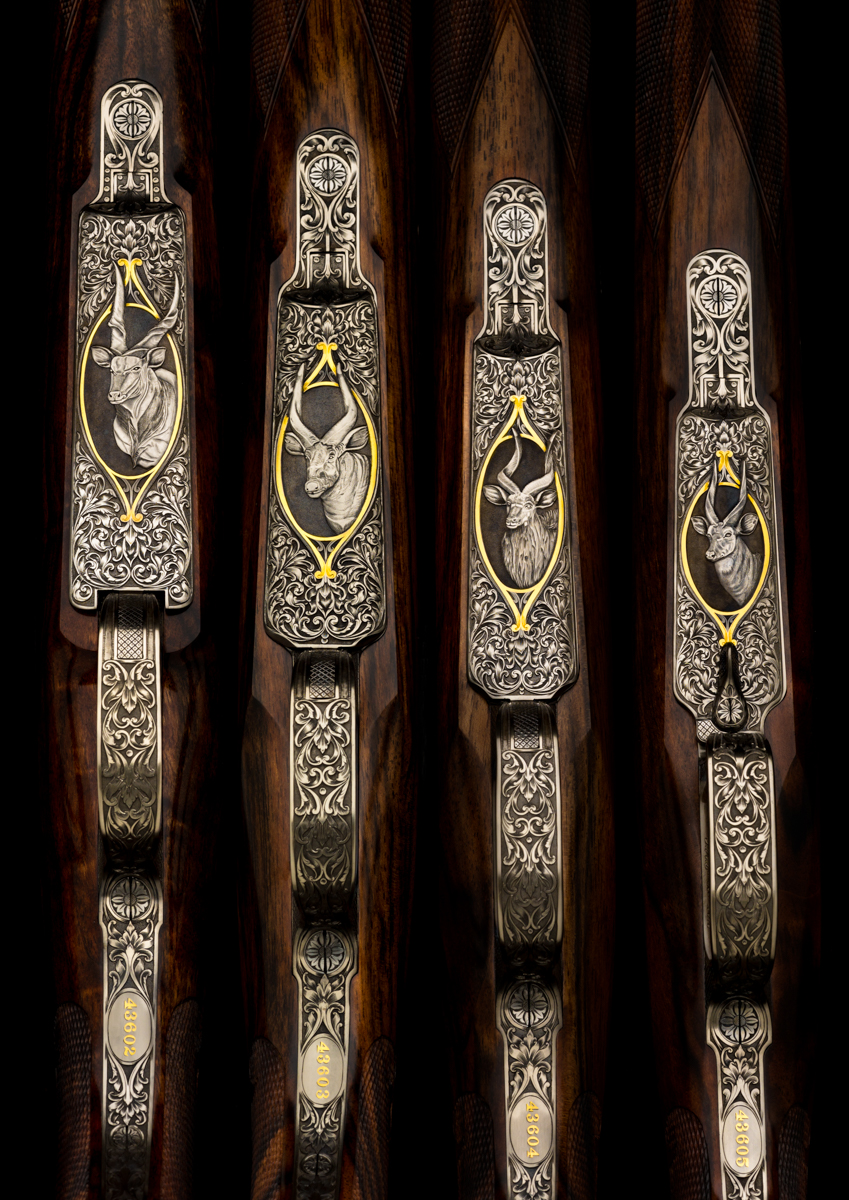 The set of 4 'Spiral Horn' rifles that were built on original Oberndorf Mauser '98 actions. The original calibres of these actions were kept, namely .404 Jeffery, .318 WR, 7x57, 250-3000.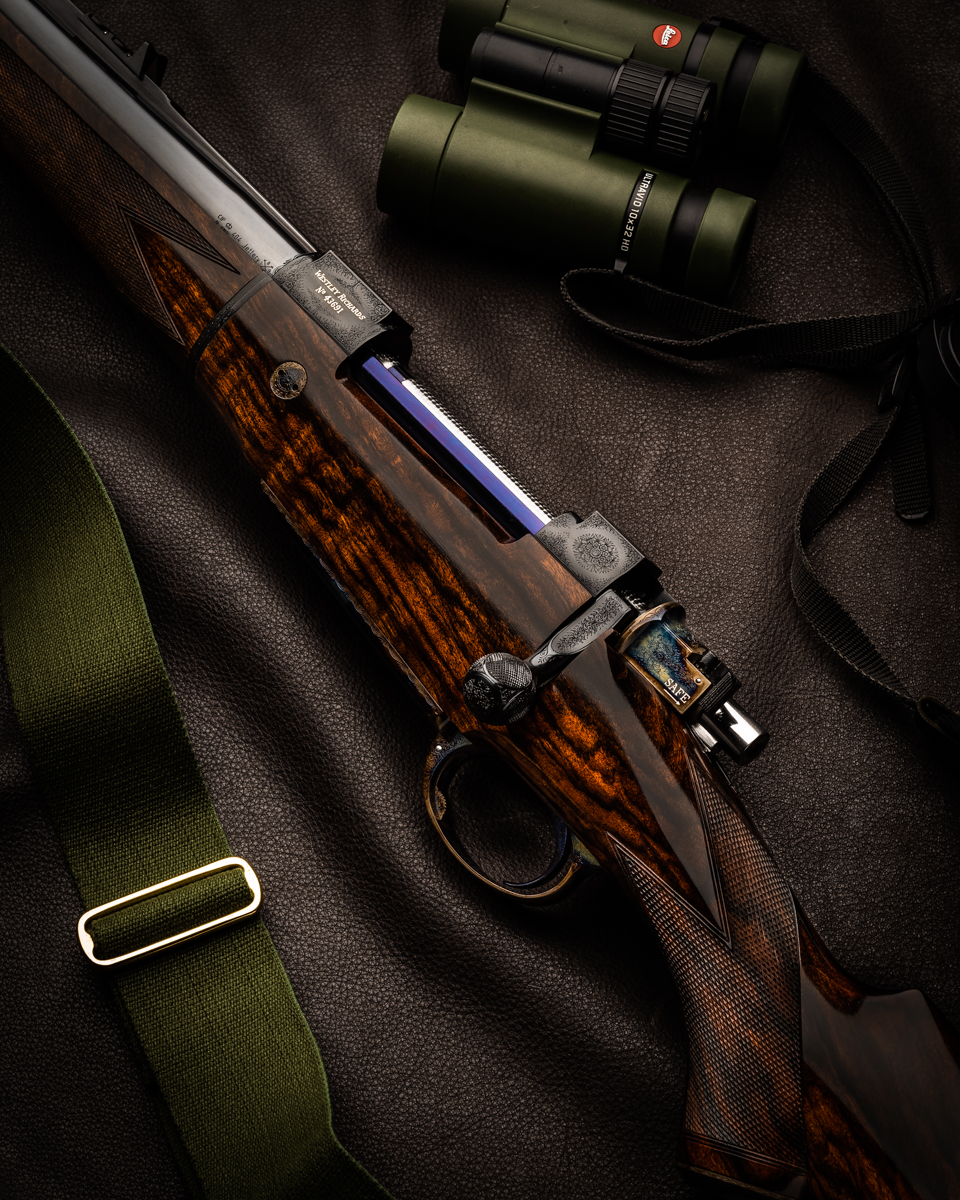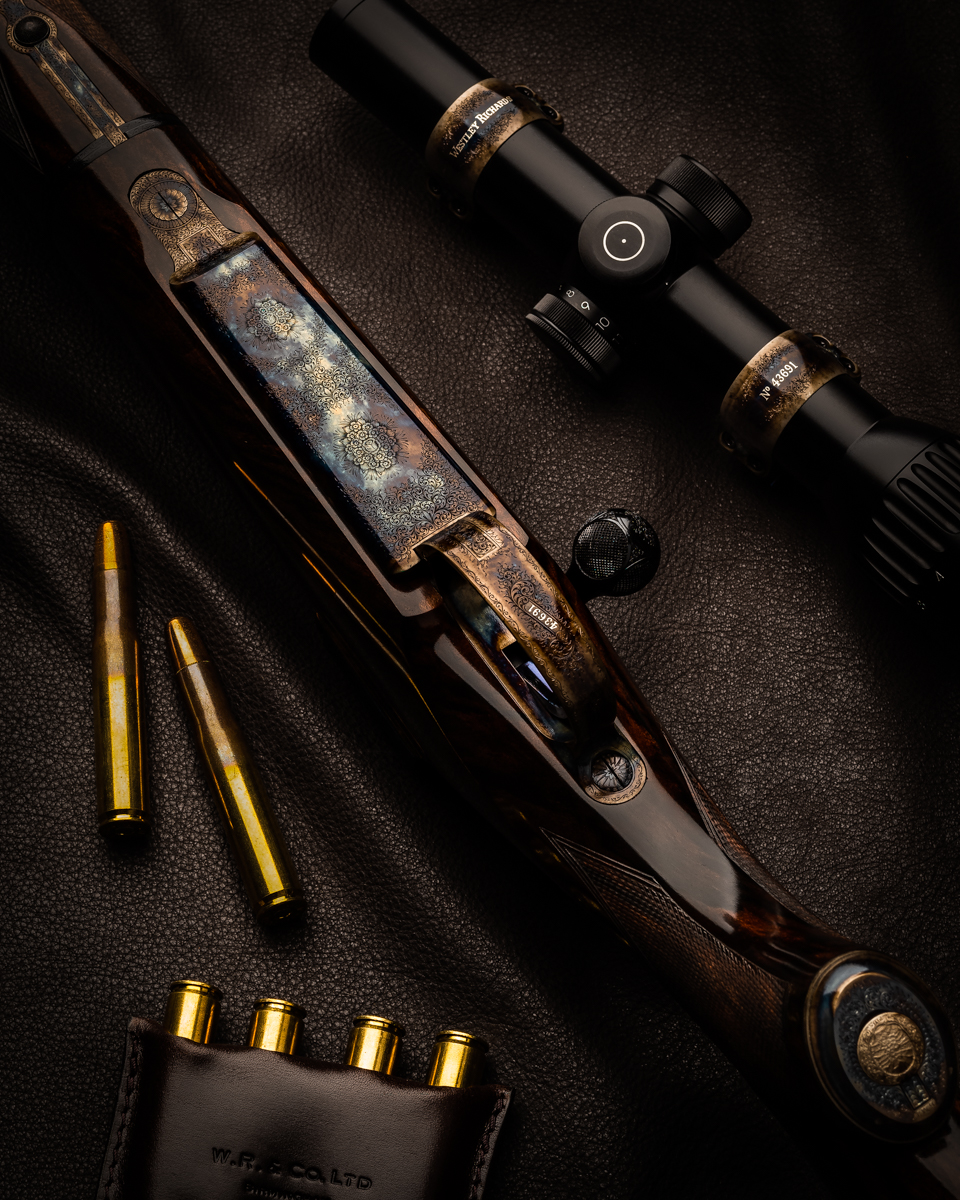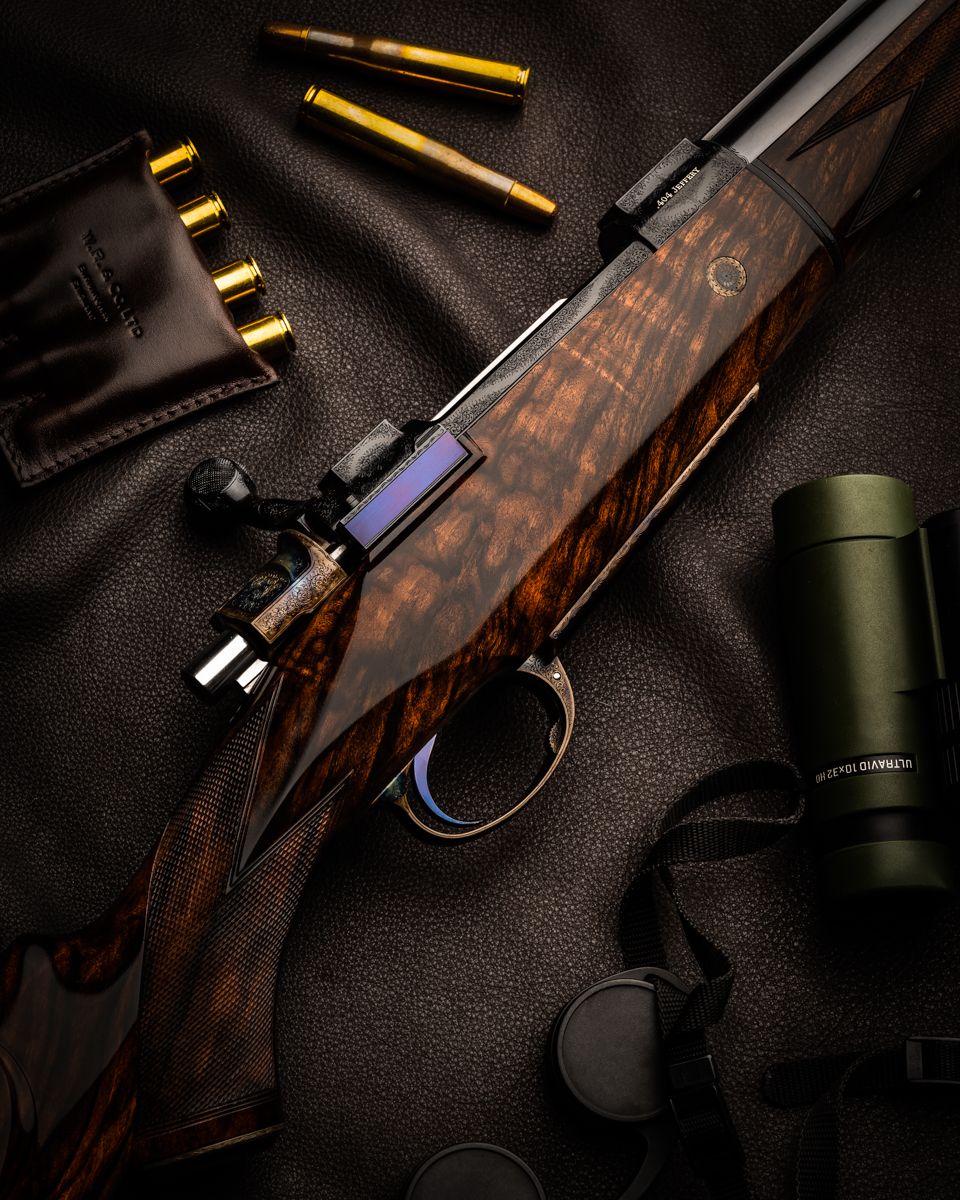 Another twist on a theme was this 'rose & scroll' left handed detachable barrel rifle once again in .404 Jeffery. The rose and scroll engraving design is primarily associated with London sidelock shotguns and rifles, so it was nice for us to put our own version down on a magazine rifle. The end result was worth the deviation.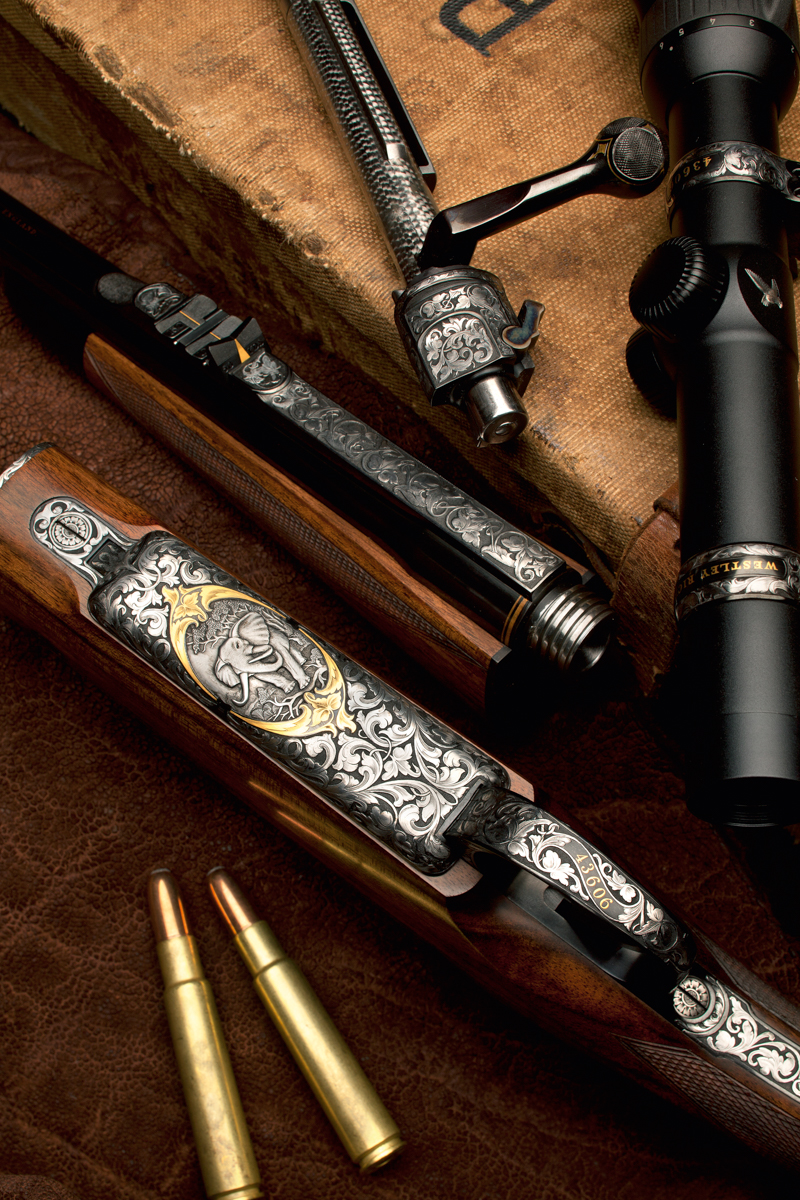 A .416 Rigby calibre rifle with bold acanthus scroll, gold detailing and a carved game scene. All of the scroll was brushed off on this rifle including the quarter rib, scope rings and foresight hood.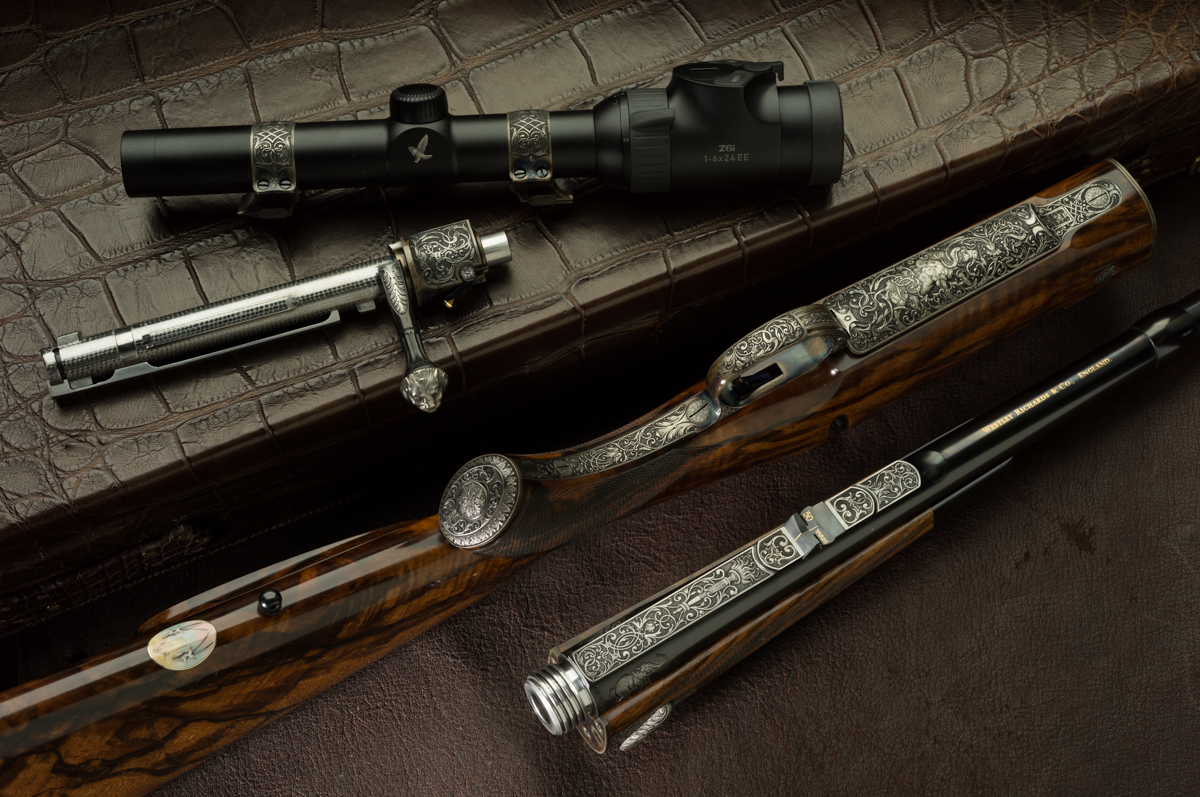 A highly ornate detachable barrel rifle in the .416 Rigby cartridge. This rifle features a stunning lions head which was lost wax cast and then affixed to the bolt hand stem.  This rifle was built on a true left handed double square bridge magnum action of modern manufacture.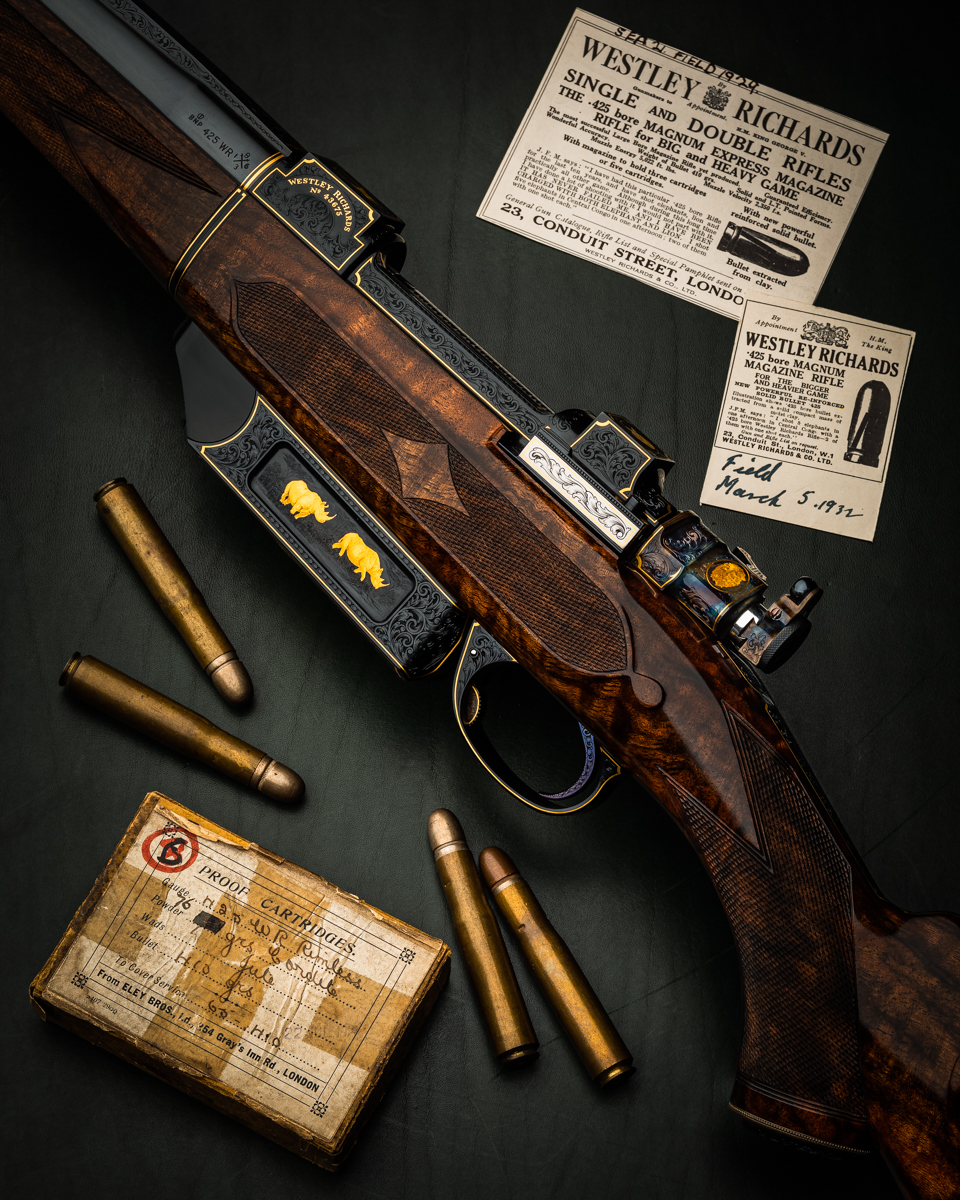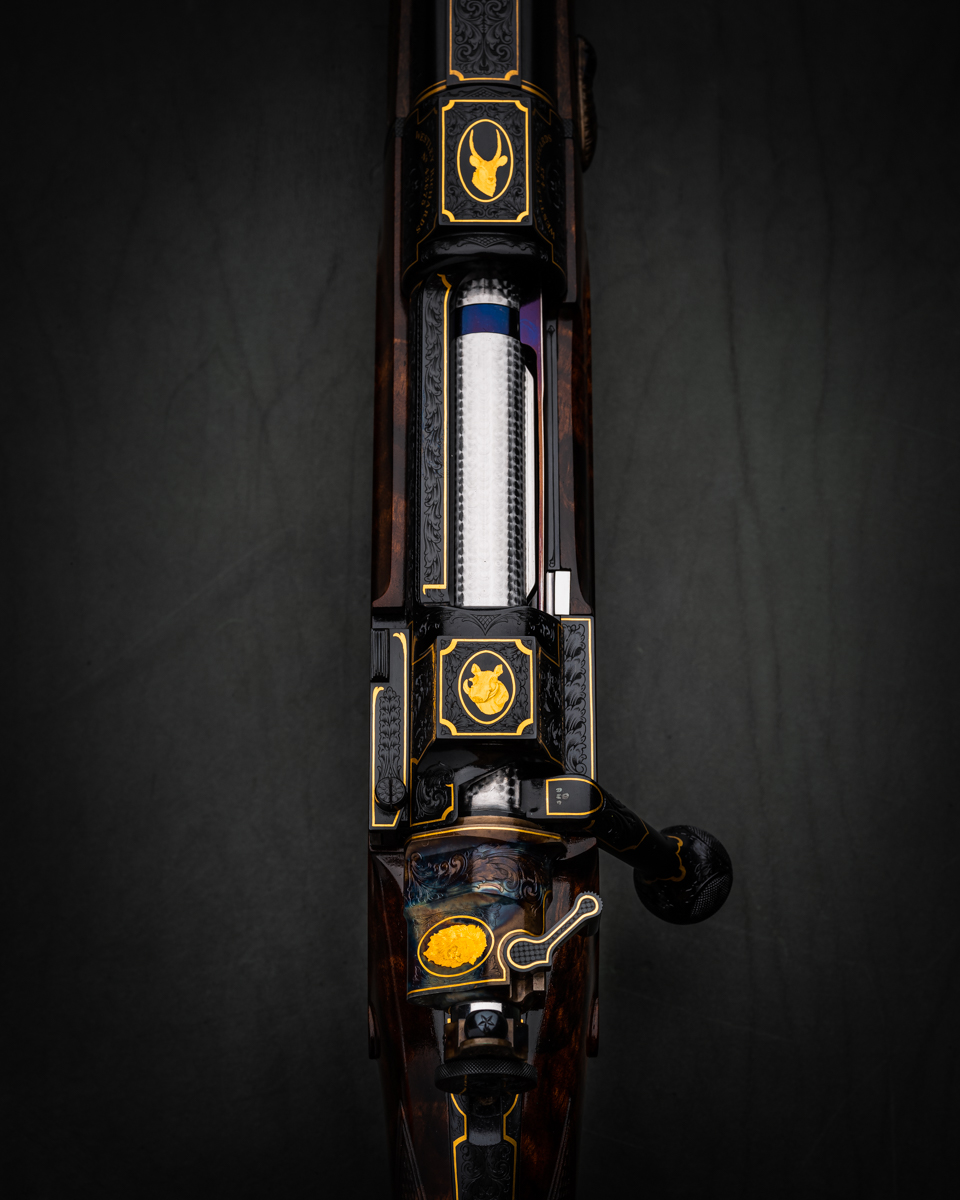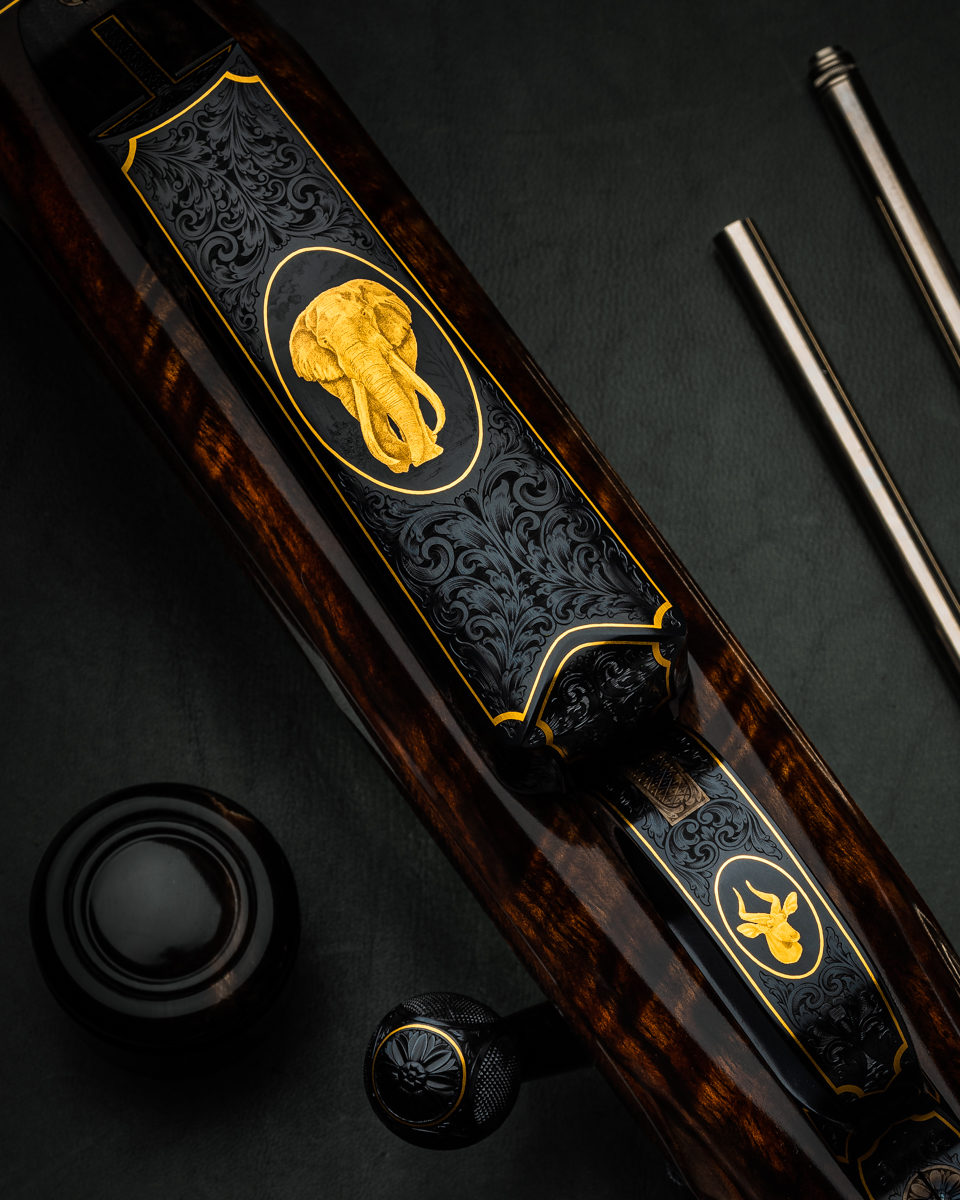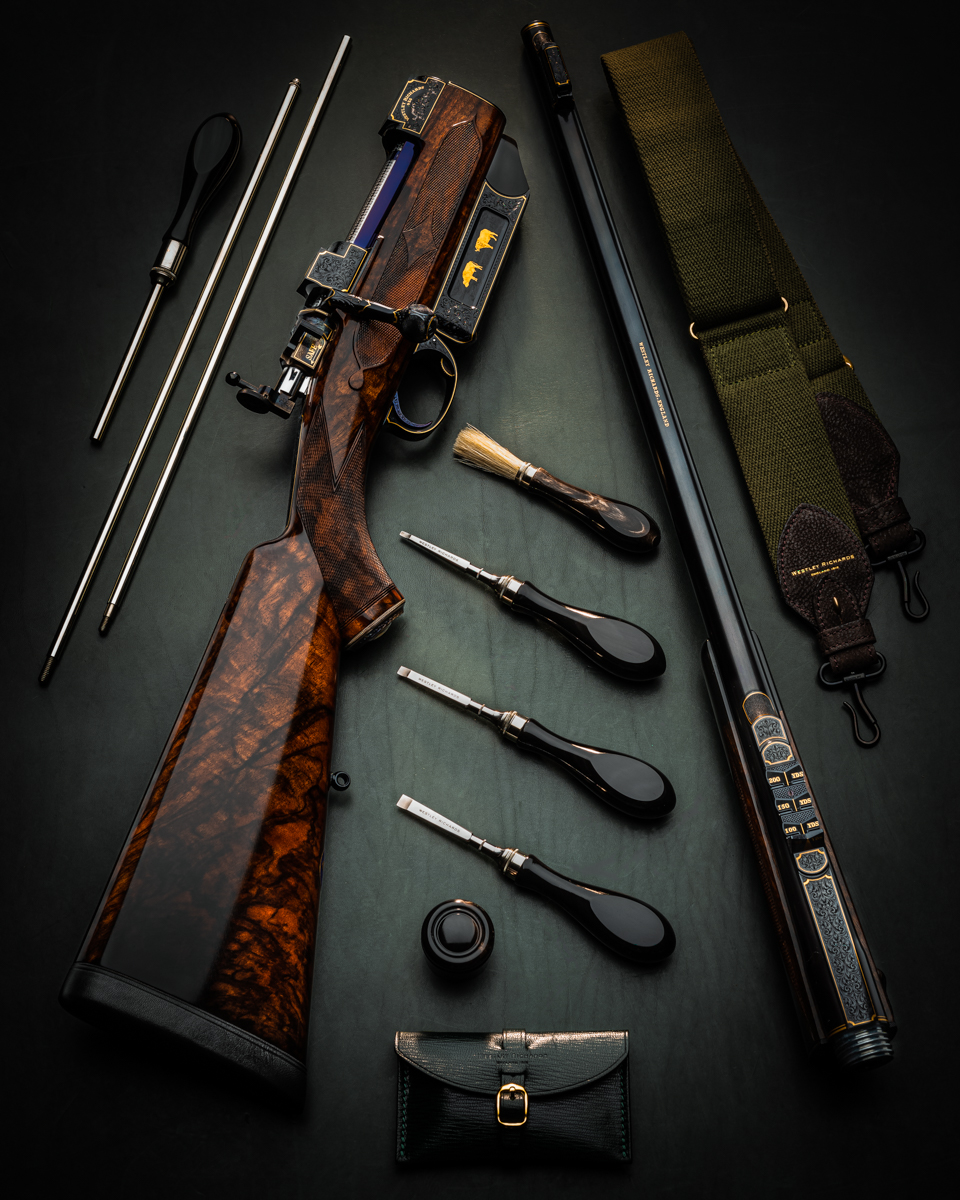 Unquestionably the finest .425 Westley Richards that we have ever built! Every element of this rifle oozes quality, perfection and attention to detail. The engraving mixed elaborate scroll with fine gold line work, superb gold game scenes and carved ornament. It is a statement to what todays craftsmen can achieve.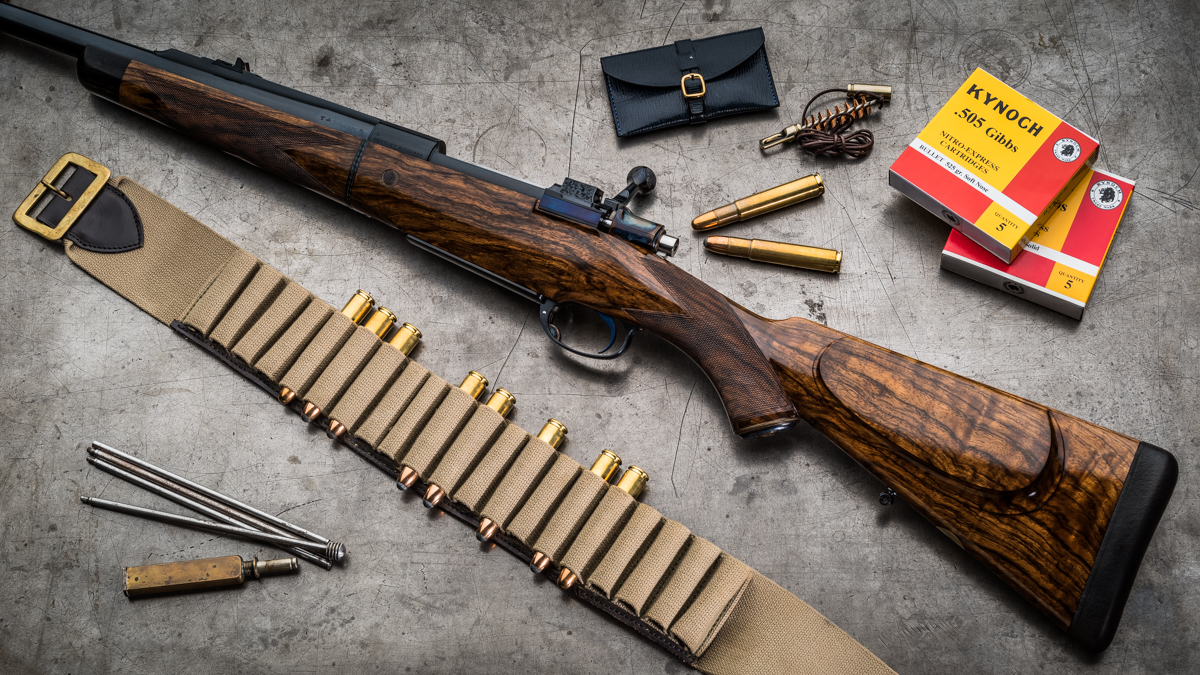 The mighty .505 Gibbs in a great single square bridge magnum action detachable barrel format. A serious rifle capable of dealing with any of Africa's dangerous game.