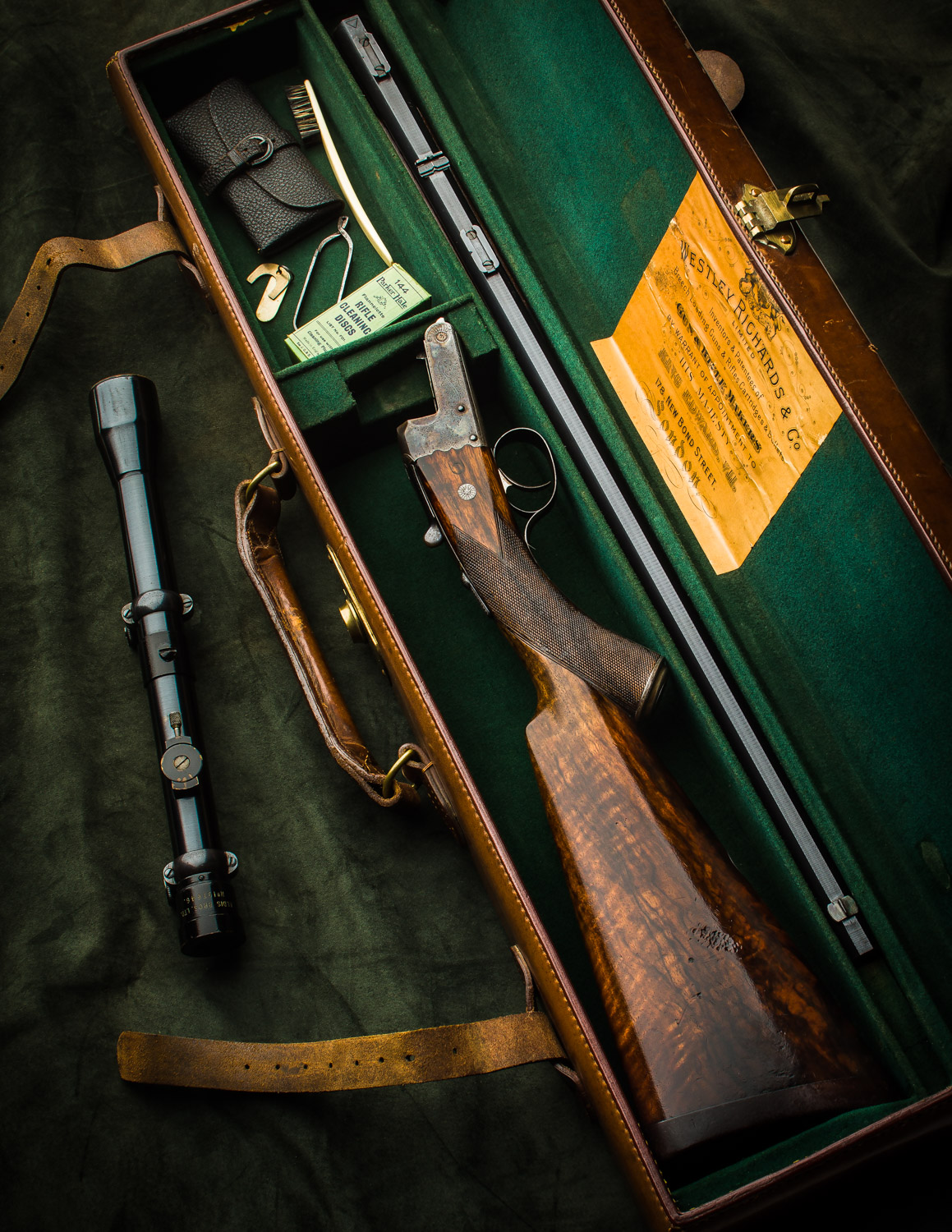 The action has our classic semi bold scroll coverage, snap lever work, beetle back safety and retains lots of original case colour. The pistol grip stock, which has been pinned at the head, is beautifully figured and has an extended tang, grip cap, silver stock oval and vulcanite stock extension to 14 ½". The snap forend has the traditional horn tip.
A quaint and very rare little rifle, it weighs 6lbs 13.5oz with the scope on and the rifle comes in the original case with some interesting accoutrements. Completed on the 22ndMarch 1907 for 'Twyford', it was, for many years, the property of Major Ernest & Mrs. Vivian Ambler, of Branton Court, Knaresborough, North Yorkshire.  Major Ambler of the West Yorkshire Regiment passed away in 1958 and Mrs. Ambler, who lived to be 94, passed away in 2002, which was when this rook rifle was acquired by its latest  owner, another passionate collector. Their house was said to be a treasure trove of fantastic art work, antiques and arms. And clearly this little rook rifle had spent many years in a fine gun collection being well looked after.
The last time a rifle like this arrived back at the factory was in 2002 and was fortunately caught on camera. For those who don't know, Clarissa & The Countryman was series of TV programmes in the UK which followed TV chef Clarissa Dickson-Wright and her friend Johnny Scott, involved in hunting and all things country pursuits related, a show which now would be the thing of nightmares for mainstream media bosses.
The TV crew paid Simon a visit at the Bournbrook factory and below is a short video of Simon inspecting a very similar rook rifle and an interview with barrel filer Roy Hall and mater engraver Rashid El Hadi (with a small clip from the proof house half way through).