Ray arrived in late spring with a percussion double rifle by Thomas Kennedy of Kilmarnock, which is a bit southwest of Glasgow, Scotland. A previous owner of the rifle had inquired about Kennedy and had gotten the following reply from Susan Boothroyd via e-mail (susan@maxwellpress.fsnet.co.uk):
"1834, 27 July Splendid Rifle Shooting. On Wednesday Week four gentlemen belonging to the Kilmarnock Rifle Club met at Southdean near Glasgow, to try the feat lately performed by Captain Ross and Count D'Orsay, for 1,000 guineas, viz, 50 shots off hand, at a target 150 yards distant. We have great pleasure in reporting the day's sport, as winner of that match has been beat by 93 3/8 inches. The numbers were as follows: Mr. Kennedy, gunmaker, 304 3/8 inches….To the sporting world we can with the utmost confidence recommend our friend Mr. Kennedy, all the guns in the field and that day being of his manufacture."
"1834-1849. Frequent similar reports of the activities of the Kilmarnock Rifle Club and the skill of Thomas Kennedy both as a Gunmaker and rifle shot in those years. From 1841, he is described as 'rifle maker to his Royal Highness Prince Albert."
"Bell's Life in London and Sporting Chronicle, 1822-1866. Joint founder of the firm of hydraulic engineers, Glenfield and Kennedy Ltd.
All that came from Susan Boothroyd. Subsequently I received even more on Thomas Kennedy through the kindness of Christopher Penn (cpenn@marsham55.freeserve.co.uk):
"…an Ayrshire Directory published in 1837 by Pigot & Co. lists a Thomas Kennedy under Watch & Clockmakers with the annotation (and Jeweler and gun maker). He was trading from 1 Portland Street, Kilmarnock."
"The earliest Scottish Census I have access to is that for 1871. This includes a Thomas Kennedy, age 72, at 7 Portland Road. However, he is listed as a Water meter manufacturer. I am pretty sure this is the same man as I found the following on a University of Glasgow site covering their holdings of the papers of the firm Glenfield and Kennedy. 'Kennedy Patent Water Meter Co Ltd was formed in 1863 from a syndicate with four partners and marketed the water meter patented by Thomas Kennedy, senior, a local clock maker.' Thomas Kennedy dies on 6 September 1874."
The obituary that Chris sent along later contained the following: "…Having married the daughter of Mr. John Hunter, saddler, he again began business (jeweler, watch and clock making) on his own account and added to it the trade of gun making, for which he acquired a great reputation, and through the influence of Mr. Wallace of Kelly he received the honorary appointment of gunmaker to Prince Albert…The rifles of his manufacture were held in high estimation both in this country and in India, where a ready market was found for them and high prices obtained."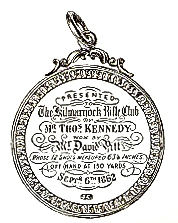 Gold medal made and presented by Thomas Kennedy.
A look in Col. Robert E. Gardner's Small Arms Makers showed only "Kennedy, --Maker of sporting rifles Kilmarnock Scotland 1837-1841." Having at hand a copy of David Baker's lovely The Royal Gunroom at Sandringham I hoped to find mention of Kennedy therein. However, the only gun makers I could find associated with Prince Albert were George and John Deane; J D Dougall; William Greener; Charles Lancaster; John Manton and William Moore. A friend has recently obtained a percussion gun by Moore and Harris of Birmingham, who also had a Royal Warrant of Appointment as gun makers to the Royal Family and who are not included in David's book, but who were in business 1840-1860, well prior to the Prince Consort's death on December 14, 1861. I remain curious to know how many other makers had MAKER TO HRH PRINCE ALBERT on their top ribs as does the Thomas Kennedy double rifle. Readers with such information are encouraged to contact me via the Double Gun and Single Shot Journal.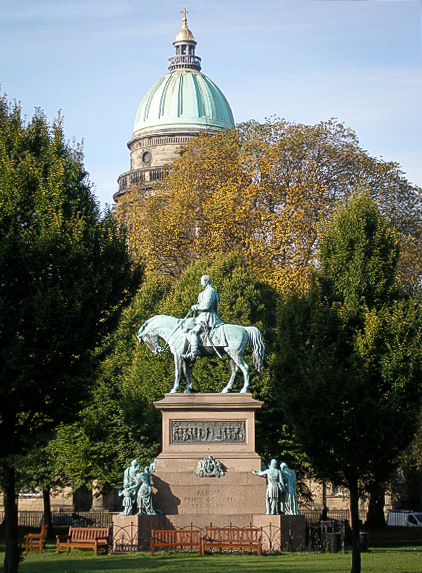 Queen Victoria had this handsome statue of her beloved Prince Consort Albert placed in Edinburgh City Park.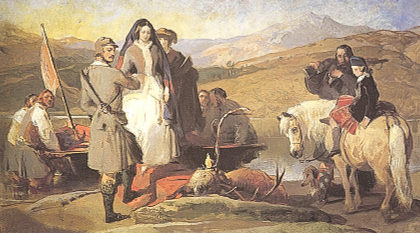 Sir Edwin Landseer was commissioned by Queen Victoria to chronicle Prince Albert's stag hunting in the highlands. He produced a preliminary sketch with colored chalks in 1850-1, known as 'Study for Royal Sports on Hill and Loch' (also titled 'Queen Victoria Landing at Loch Muick').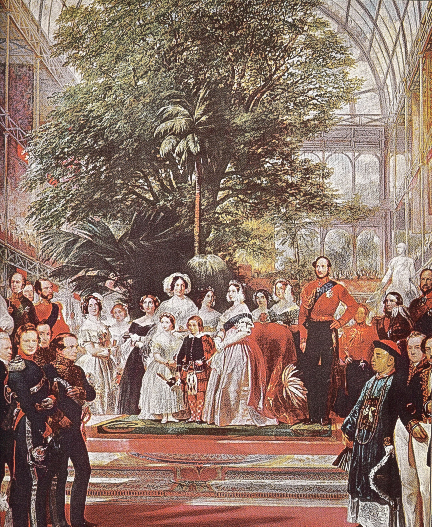 Queen Victoria and Prince Albert at the Royal Exposition which he supervised, in 1851. The statue of Albert which is in the Edinburgh City Park is visible over his right shoulder. Painting in the Victoria and Albert Museum, London.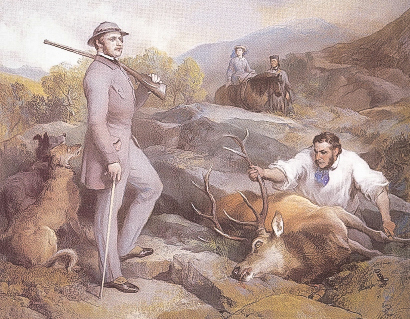 Landseer was commissioned to do a scene with 'Prince Albert at Balmoral', also titled 'Death of the Royal Stag with the Queen Riding up to Congratulate His Royal Highness'. Finished in the period 1865-7 after the Prince Consort's death, it was a memento of happier times.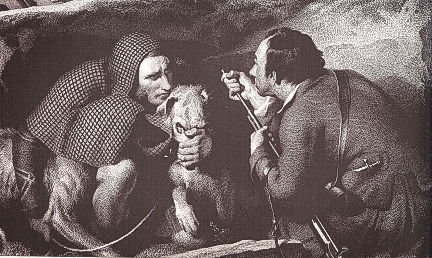 Prince Albert liked Landseer's 'The Drive', of which only a portion is shown here, so much that in
1847 he persuaded the Marquess of Breadalbane to cede it to him.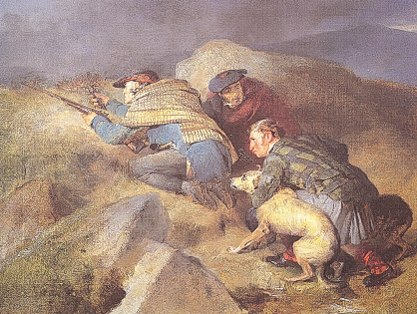 Stalking red deer in the Scottish highlands was a very popular theme for Landseer's clients including the artist's great friend, the sportsman and photographer Horatio Ross of Rossie, shown in a painting similar to this one, which actually portrays "Poachers Deerstalking' also titled 'Getting a Shot' ca. 1831. It was this Captain Horatio Ross who was previously mentioned in the target shooting event at the Kilmarnock Rifle Club in 1834.
When Ray uncased the eight pound double, it looked as if it had been on many a red deer hunt in the damp Scottish highlands and needed some gentle cleaning inside and out. Following Ron Peterson's instructions in the Society of American Arms Collectors Bulletin 59 (1988), removal of surface rust showed a fierce tiger engraved on the left lock and a stag on the right. Most of an hour invested on the bores revealed them to have what is generally known as Forsyth rifling: wide shallow grooves, very narrow lands, a twist of 1:120 inches. This rifle would hunt elk if I could be blessed to draw yet one more permit in Arizona.
I phoned Jamie Andrews at Dixie Gun Works and requested that he make a .665 round ball mould. Next I phoned Ross Seyfried and asked where to start with a powder charge. Ross surprised me with the answer, 2.5-3 drams! What, in a young cannon that conventional wisdom says surely ought to want 4-5 drams? We're talking Forsyth, slow twist, 16 bore patched ball, in a gun with one standing and three leaf sights. Well, why ask his advice if you don't take it? I started with 4 drams of Cleanshot, an over powder 16 bore .135 hard card wad, 'Bore-Butter' lubed .015 patch, and I couldn't hit the 2 foot square target only 50 yards away! Backing off to 3 drams I got one ball from the left barrel near the right outside edge of the 6" black and the right barrel 6" high and crossed 11" to the left. OK, Ross we'll try it your way. I loaded 2.5 drams of Cleanshot and got snake eyes one inch apart out to 75 yards! A dozen more groups shot off cross sticks never landed over three inches apart. This rifle would hunt alright, but not loaded like I expected a Forsyth to be loaded. Perhaps all those extra leaf sights had a purpose, for shots at game beyond 75 yards….Once again black powder guru Ross Seyfried came through with the right load.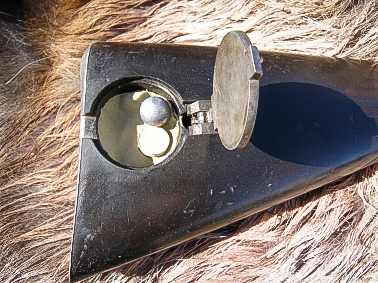 The Kennedy was equipped with a cap/patch box that held components for a reload.
Permit 388 of 425 bull elk tags for November 24-30, Unit 1 in eastern Arizona arrived in the mail and I began to query other elk hunters about where to set up an ambush. One friend shared information on a 'honey hole' that would be suitable. Several scouting trips showed no recent use by any elk, much less tree scraping by a bull. Long time friend Jack Husted suggested a place where several trails funnel down into a saddle near the Sipe White Mountain elk refuge managed by the Arizona Game and Fish Department. Jack, his son Garrett, and I had all taken cow elk on the refuge several years previously. Mine was taken with a Sharps chambered for the .40-65 black powder cartridge. Scouting here showed lots of traffic. My 26 year old son Ty helped me build a blind two weeks before opening day. His account of the activity was that actually I helped him.
We erected a tent 1.3 miles from the blind and settled in Thanks Giving evening. I was thankful for Ty's company, an opportunity to hunt with a fine antique rifle, an elk permit, and good health, all three days after my 64th birthday. Leaving camp at 5:25 AM in lightly insulated camo clothing, I was quite warm after walking to the blind, which I settled into at 6:05. By 7:30 I had cooled off a lot. By 8:05 I was shivering, but I dared move no more than my eyes when I heard the telltale clatter of hoofs on rocks as two large animals moved up the steep hillside toward the saddle. The lead bull looked like a keeper. He was followed by a large bodied spike, and although "we don't eat antlers", as the country song has it, "size matters", so I opted to try for the lead bull. It stepped up into sight, paused for breath, looked right at me, and then bent down to graze. I squeezed and held the trigger on the left lock, eased back the hammer and aimed just behind his right shoulder. I had practiced this movement of aiming and firing offhand many times, knowing full well that the gun would shoot high at close range, which later measure showed to be only 33 paces. But, in my excitement I shot higher than I wanted to, about six inches below his spine, a very high lung shot. Even so, the 448gr., .665 round lead ball collapsed him in his tracks. He fell over on his right side with his feet uphill, bled out and died. Then the work began.
I tagged and eviscerated (gralloched in Gaelic) the bull, walked back to camp and found that Ty already had it packed up and was waiting to know if I'd been successful. We were able to back my little pickup close enough to tie onto the bull and pull it up over a very large Ponderosa pine limb, tie it off and then back under it. God is very good to me!
This was our first opportunity to hunt together since Ty was about four and he is excited to apply for a permit for himself. He wants to get a bull with antlers even larger than mine of course, and he might even let me help him build another blind.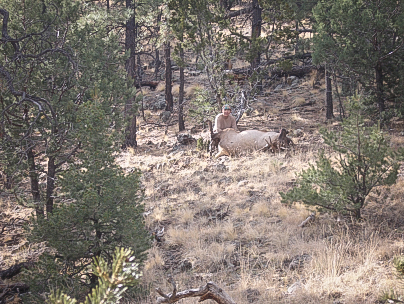 The animal is shown where he fell, 33 paces from the blind. In honor of the Kennedy rifle's Scottish origin, the author wears his 'Celtic camouflage' flat cap.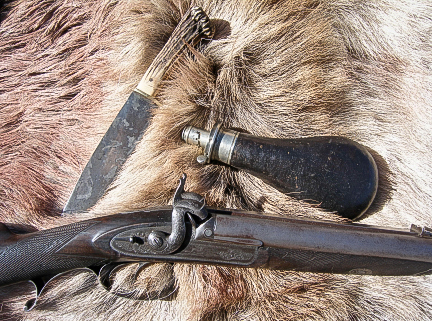 The Kennedy was loaded from an original Hawksley flask.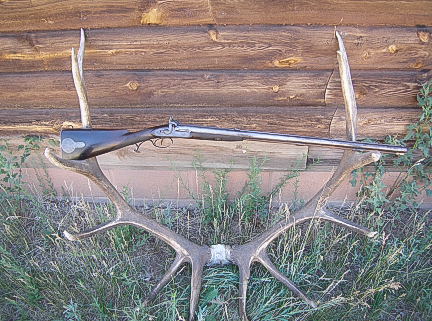 The Kennedy shown on an average sized Arizona six by six. A bull that green scored 458 was taken in the White Mountains this past September!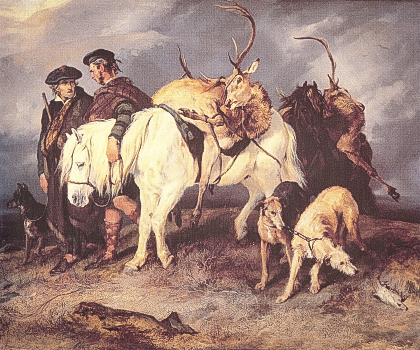 With considerable imagination, I visualize myself as the old codger on the left and my son on the right, happily fetching the game home after Thomas Kennedy of Kilmarnock has done his work.
Acknowledgements:
Thomas Kennedy portrait and shooting medal courtesy of Chris Penn.
Landseer paintings from The Monarch of the Glen: Landseer in the Highlands. Richard Ormand, National Galleries of Scotland, Edinburgh 2005.
Daughter Amanda Lane for technical assistance.
Postscript: a version of this article appeared in the Winter 2010 Double Gun and Single Shot Journal