I am possibly biased when I say that the Westley Richards front sight for rifles is the very best front 'iron sight' available, and that it has been for a very long time. For sportsmen it ticks all the boxes in both the function and practical terms they require. The sight is patented but I was unable to determine the exact date of this as we have listed many patents relating to sights in the 1895 - 1905 period.  These covered all kinds of developments introduced by Leslie B Taylor for both sporting and military rifles.
A 'typical sight' consists of an island base, a sight bead and a slip on hood. It is never long before the slip-on hood is knocked off or deliberately removed, leaving the bead exposed. The bead is actually quite fragile as it is supported only by a thin steel blade that when bent over and straightened can easily snap off rendering the rifle useless unless you have a spare.
The Westley Richards sight cleverly incorporates the hood (or protector) attached to the front sight block which can be folded back out of the way when needed. It is possible to shoot the rifle with the hood in place but most hunters will open the hood when they start their stalk to get the clearest vision for the shot. In addition the sight incorporates a large white night sight for when the light is low. The bead size is to order and we make a variety of sizes from very small to large for poor sighted people or for those who just prefer a larger bead. We have also incorporated the modern neon light gathering sights into the foresight for those who prefer.    Normally we would supply some traditional sights if we do this for when the rifle is in the display case as the neon tends to clash!  The foresight bead is removed with a small turnscrew and the replacement dovetails in and is fixed with a small pin (screw).
At Westley Richards the foresight assemblies are one of the tasks set to the apprentice gunmakers. The raw components are not too complicated and they require a multitude of skills to make, filing, polishing, fitting parts together with a smoke lamp, making and fitting the springs, fitting the pins (screws) and making them off. Once made up as a sub assembly the sights are checked and bagged awaiting production. Fitting the sights and regulating them is a job done by the bolt rifle team and by our regulator, Stuart Richards in the case of the double rifles.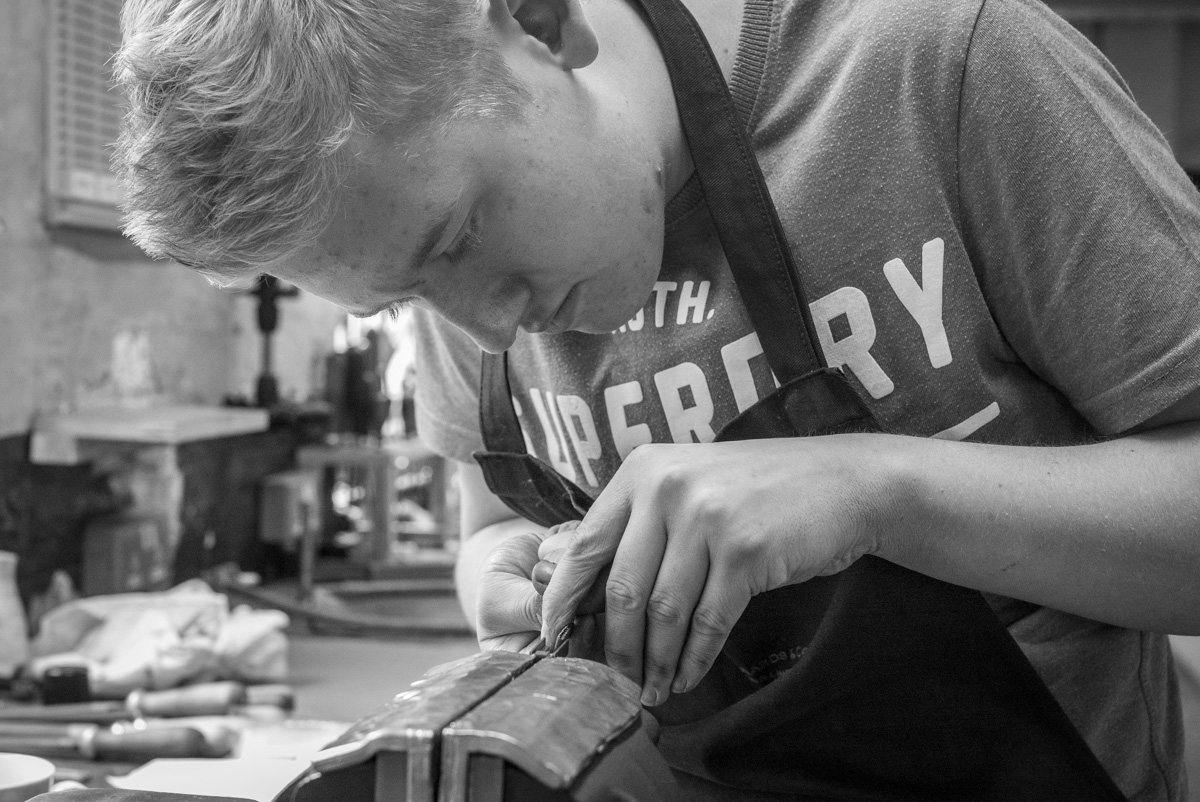 Apprentice Matt Bloor polishing the sight hood.