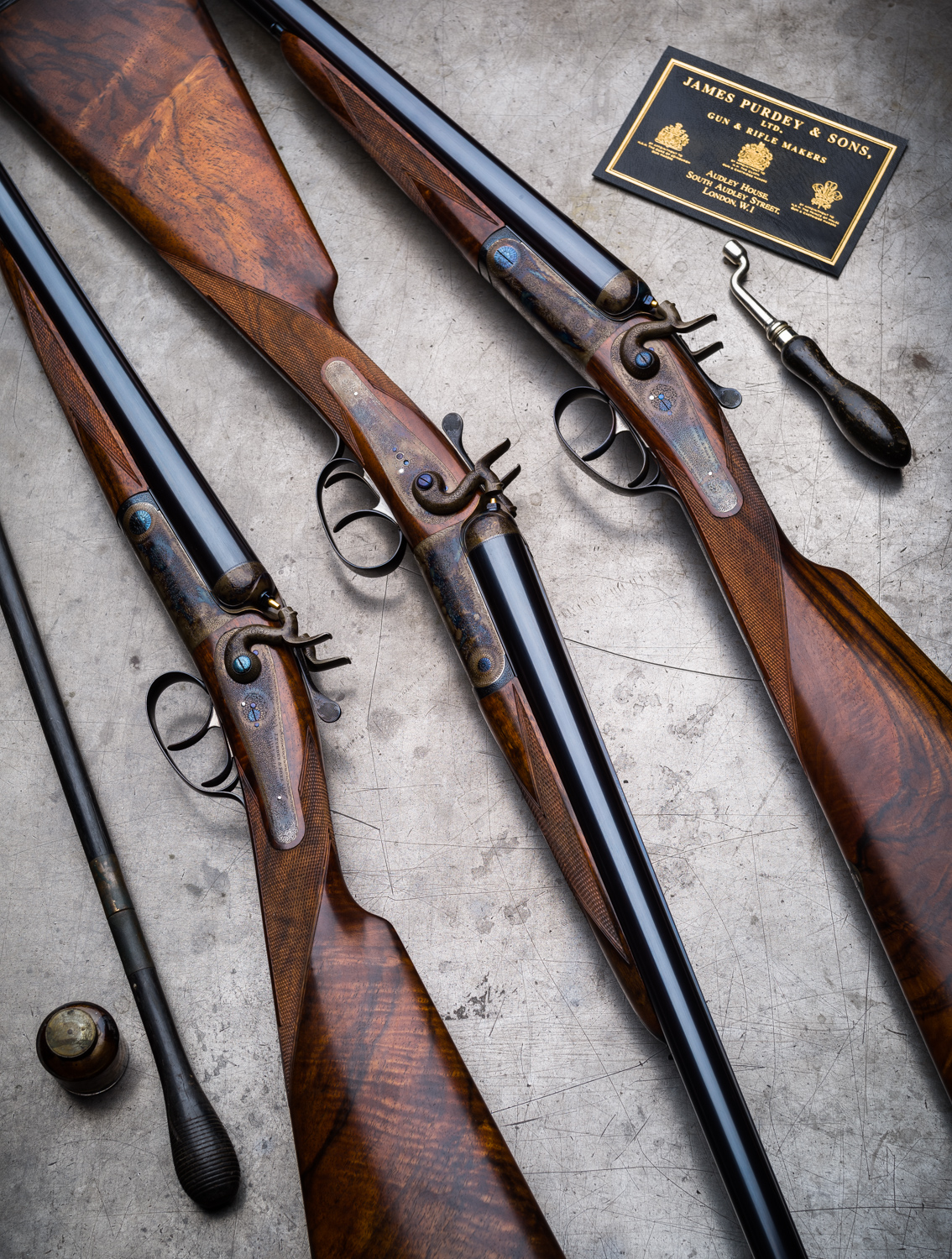 Every year at IWA I am generously hosted along with other wood buyer in the trade by Ralph Katzenmeier (the foremost German dealer of fine stock blanks), to a traditional German dinner of slow cooked pork shoulder with a dumpling the size of a large baseball, washed down with Bavarian Pils and followed by apple fritters. It is essential not to forget to pack your anti acid!
This years meal was attended by the Purdey wood buying crew, the Boss & Co crew, including their new owner, and Chris Batha. I was sitting next to the boys from Purdey and at some point asked how their new 'used gun' department was doing, the response being well, but that stock, like for us all, was hard to come by.
This in turn prompted me to ask how much they thought a trio of Purdey Hammer Ejectors  would be worth in the current market. They didn't know that a trio liked this existed and asked where they were, "in my safe" I replied, this response was followed by "where did you get them?" "from your safe I replied"!
A good 15 years or so ago, I bought a couple of guns from an American who was selling up, from memory there was a 500/465 Holland and a pair of Boss shotguns. When the deal had been executed swiftly and correctly I asked him if he had anything else he wished to sell. He told me yes, that a year ago he had sent some guns to Purdey to be sold but had heard nothing back from them. I asked if I could go and see them and make an offer and he was happy for this to happen. I made a B line to Purdey and asked to see the guns and was duly shown them, I decided a price, walked onto the street outside and called the client. We agreed a deal and I asked him to call up Purdey and let me take the guns which he agreed to do immediately. I then walked back in to speak with the salesman who was muttering " I really must do something about this, I had forgotten" I let him know that it was now too late and that all he needed to do was please help me out to the car with all the guns, if he didn't mind.
So, just in case my story at the table sounded too far fetched, here are the set of three Purdey hammer Ejector guns....taken from right under your nose as they say!