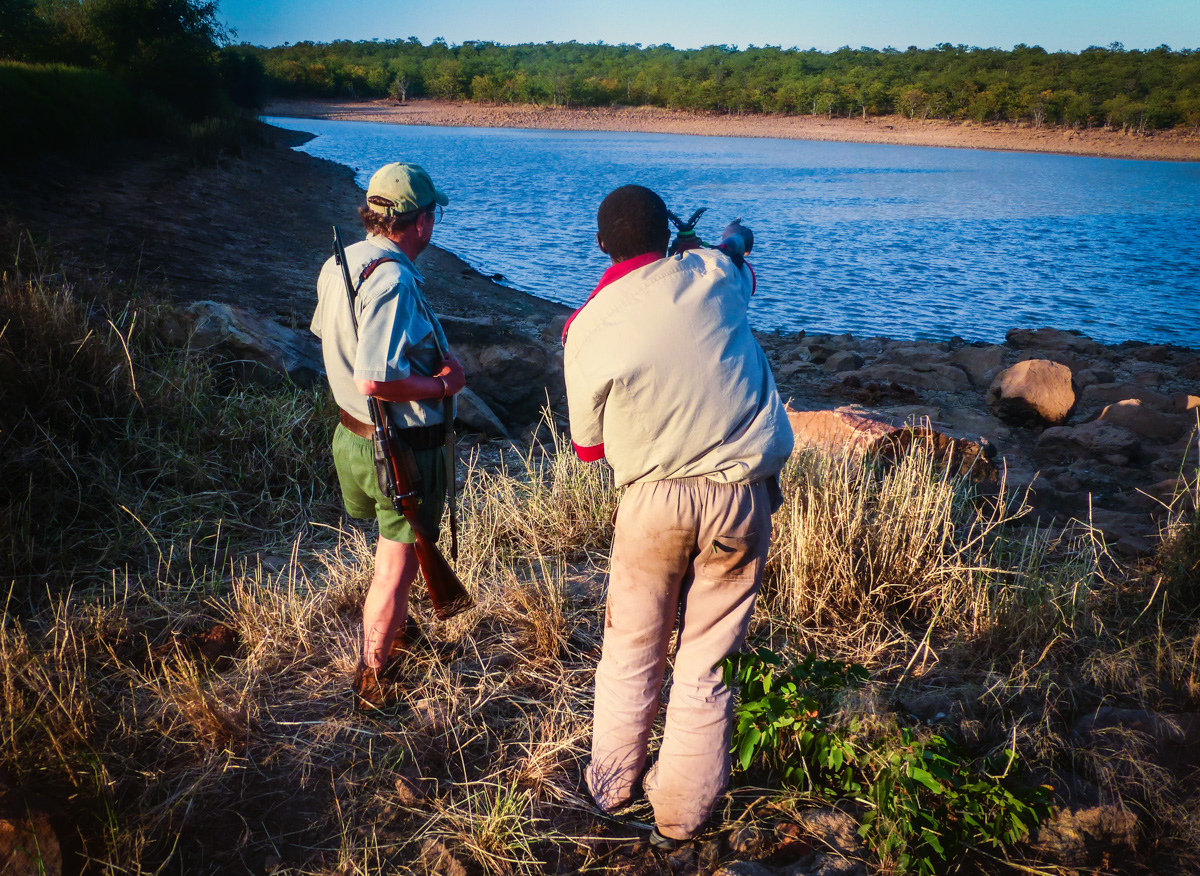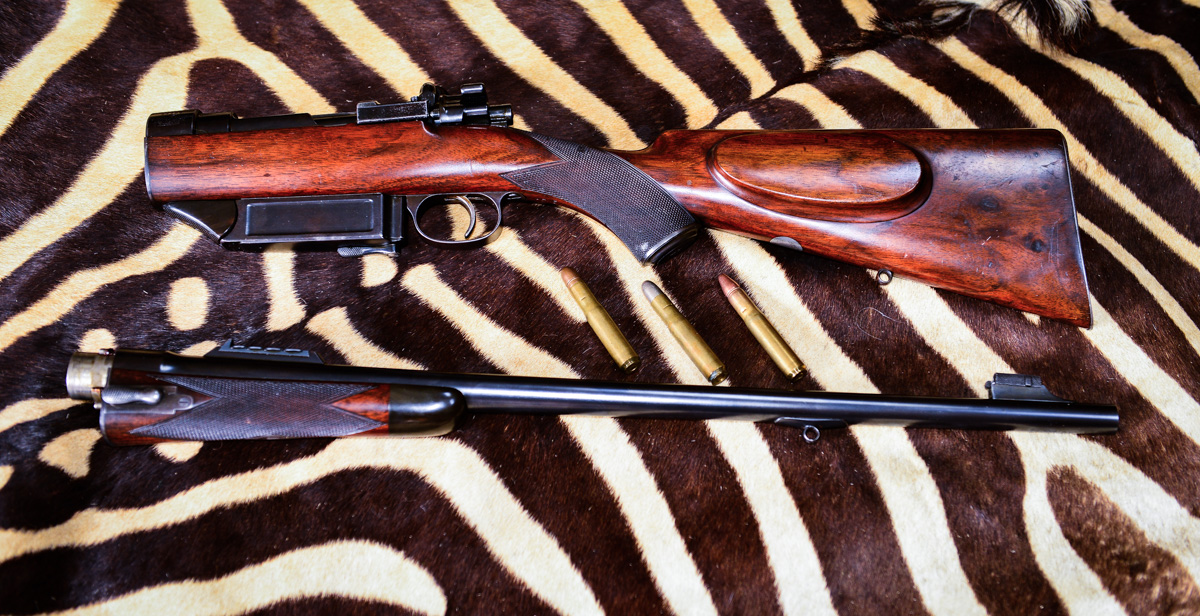 I had my May 2016 safari to South Africa all planned in 2015 with my PH Eugene Small, I was taking my Westley Richards .476 double and .318 magazine rifle to use for the game to be hunted. Then at the Antique Arms Show in Las Vegas this January I stumbled into the find of my lifetime, Fredrick Courteney Selous' Westley Richards takedown .425 magazine rifle. With the help of Simon Clode at this show the rifle is now in my Westley Richards collection. Whoever else has been the caretaker for the past 104 years has taken excellent care of the rifle, the bore is near mint and the exterior is original with minor wear. A truly beautiful piece.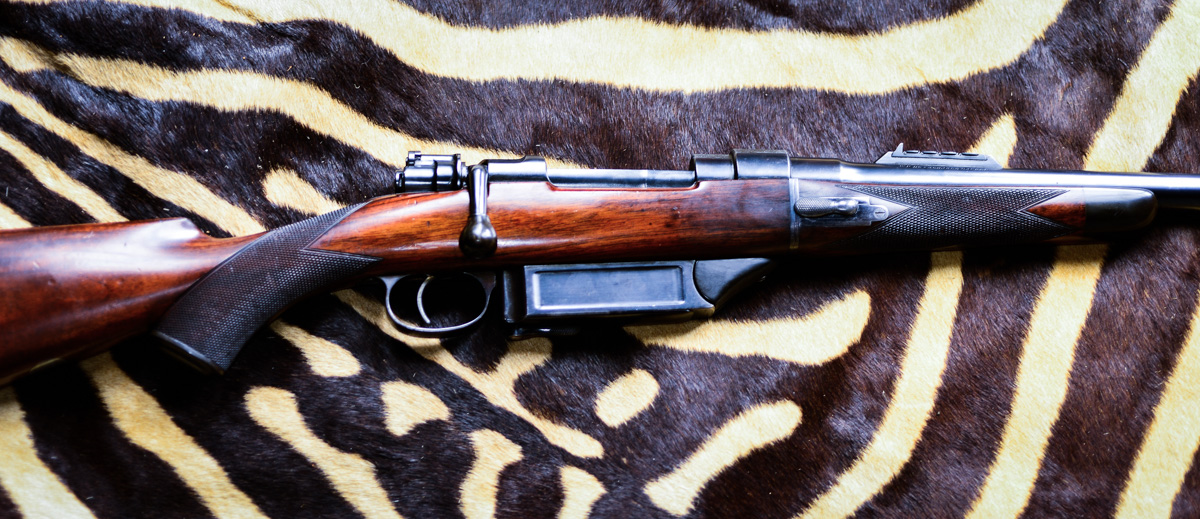 To describe the rifle, it is a Best Quality takedown magazine rifle. It has the patent 5 shot drop magazine, patent use number 35, with floorplate lever to open, patent foresight with hood protector, island rear sight with one standing, four folding leaves. The bore is mint and the barrel is 24". The checkered stock has a cheek piece for right hand shooter, blank silver initial shield and a horn forend tip. The stock is fitted with a steel grip cap and steel butt plate with cleaning rod trap. It has sling eyes on the barrel and butt stock for the hooked swivels.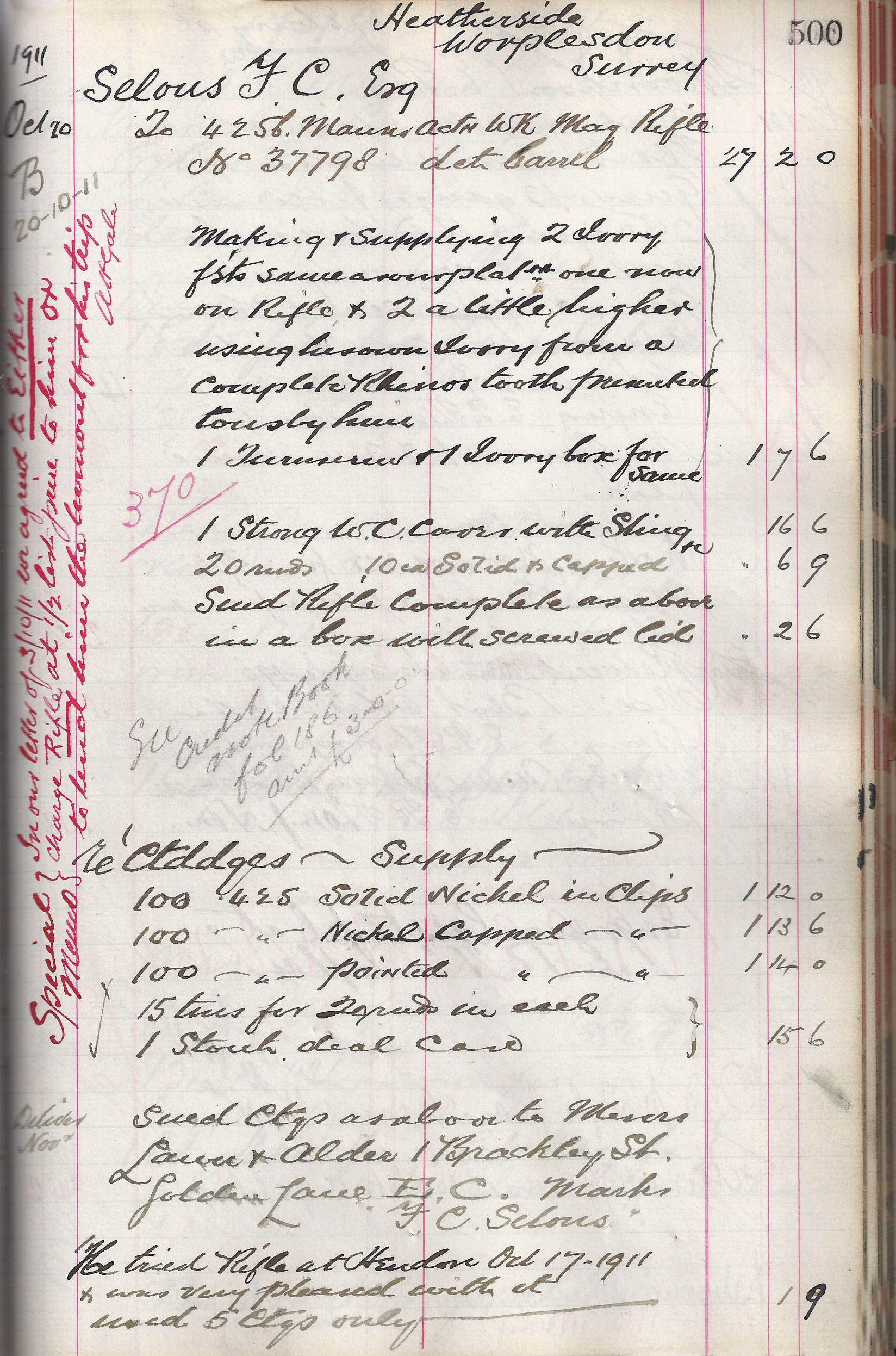 I would like to propose a theory, from documentation and records read, on the legend of the .425 rifle and of Mr. Selous. He bought the rifle to take on safari in British East Africa [Kenya] with his friend W. N. MacMillan. It would appear he picked it out from the Westley Richards shop inventory in Bond Street London, and tested it at Hendon, Westley Richards shooting grounds, on October 17th, 1911. This is confirmed by the sales ledger page and states "he was very pleased with it and used 5 cartridges only". He left for Africa in January 1912 and as the story goes he received the rifle an hour before he was to leave, not wanting to take an untested rifle he went upstairs and proceeded to shoot at the neighbor's chimney. Pleased with the group he cleaned and repacked the rifle and was off to Africa where he shot Rhinoceros and Cape buffalo with it.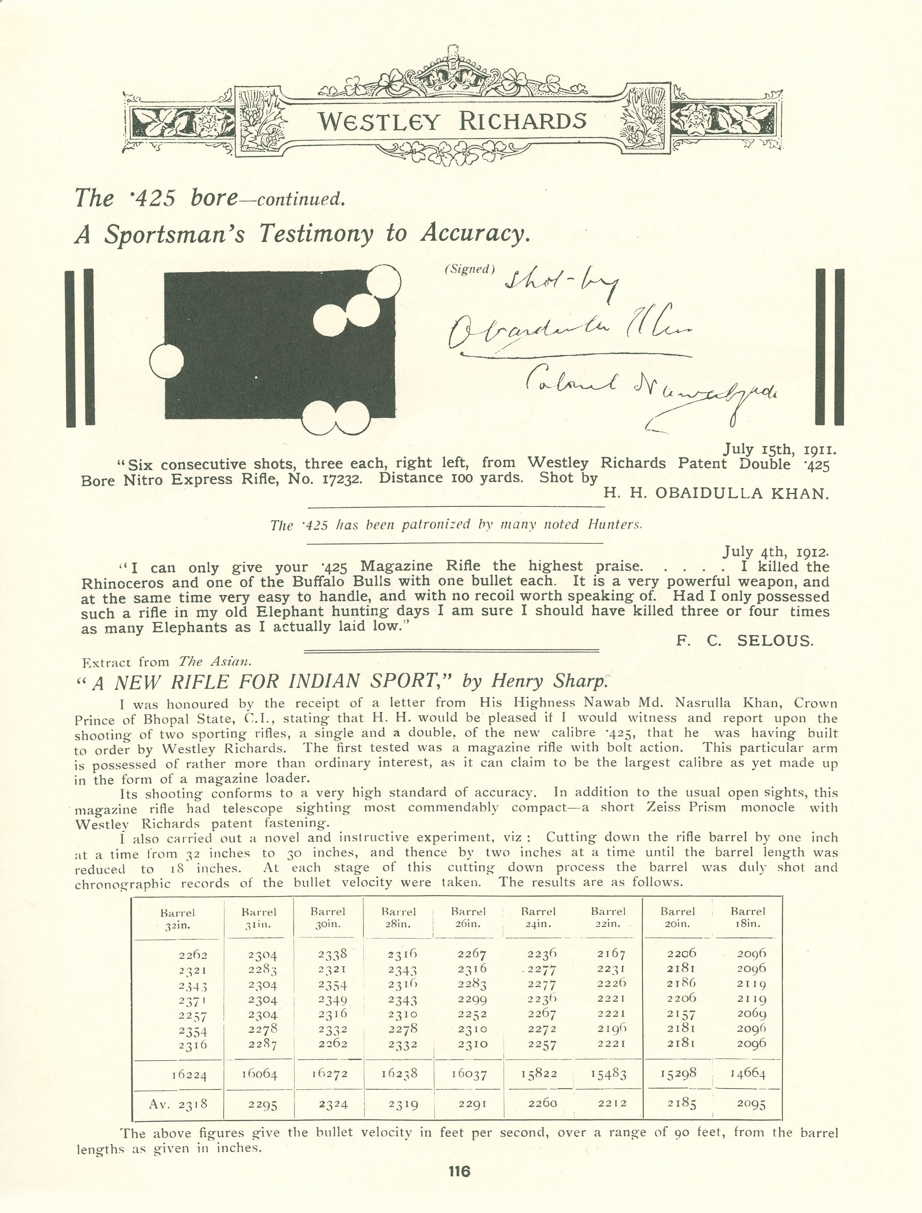 Most .425s came with a 28" barrel. With Mr. Selous being a very experienced hunter one would imagine he might think that a 28" barrel would be a bit long for the bush. I believe the delay in getting the rifle was due to having the barrel cut to 24". The sling eye on the barrel appears to be in a position for a longer barrel. With this theory in mind I must say that the rifle is one of the most comfortable rifles to carry and shoot that I have ever used. It's balance and fit make it a joy to shoot and hunt with. If Mr. Selous did have it cut he sure knew what he was doing. It is truly a hunter's rifle.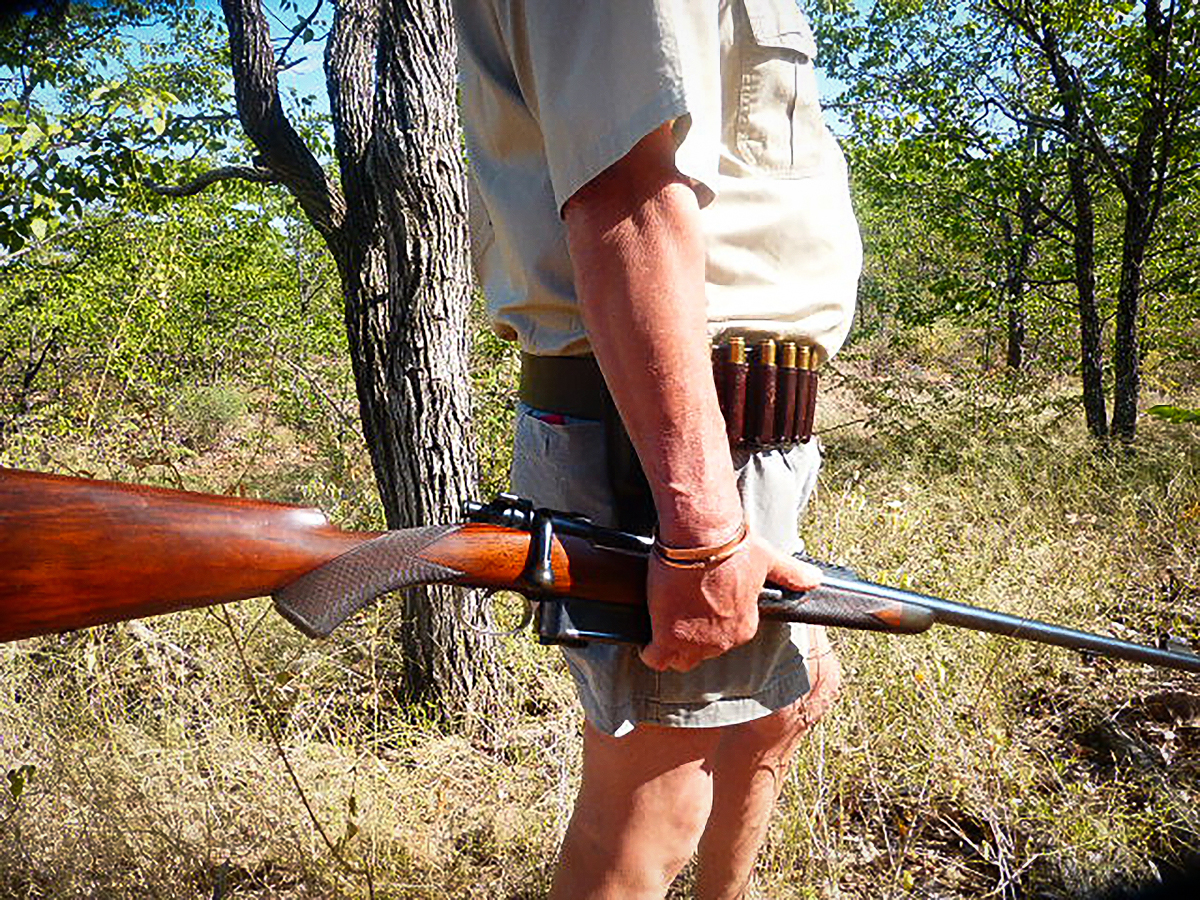 Everyone that found out about the rifle said that I should take it with me on safari this year. So plans were changed, the .318 stayed at home and the .425 was prepared once again to return to Africa. The .476 was the main rifle for Big Game and the plan was to use the .425 to hunt for a big Eland bull. The reason being that during reading about Mr. Selous in the build up to the Safari I learned he wanted to go back to Africa to hunt Giant Eland after his 1912 safari where he first used the .425. Fate and WWI intervened, the rest is history.
In May of this year I was back on safari in South Africa. After completing my quest with the .476 all efforts were turned to hunting Eland with the .425. This was one of the highlights of the safari. To think that you were carrying and hunting with a rifle that was once owned and used by Mr. Selous makes one take pause. It is a magnificent example of the quality that Westley Richards produced in the early 1900s. and It should be noted that that this tradition is carried on to this day. My .476 attests to the fact.
Did I get the Eland of quest? No. We hunted hard for Eland and other plains game, but the bush was very thick this year and with many great stalks, with the .425 in hand we just could not connect with the Eland. Then the last hour of the last day the rifle was use to collect a very large Kudu bull while being backed up by my secondary PH Attie Diedericks. Friends that have seen pictures of the Kudu all ask how big it was, my answer is, "I never thought of measuring it, the pure joy of the experience was using Mr. Selous' Westley Richards .425". What a memorable experience it was.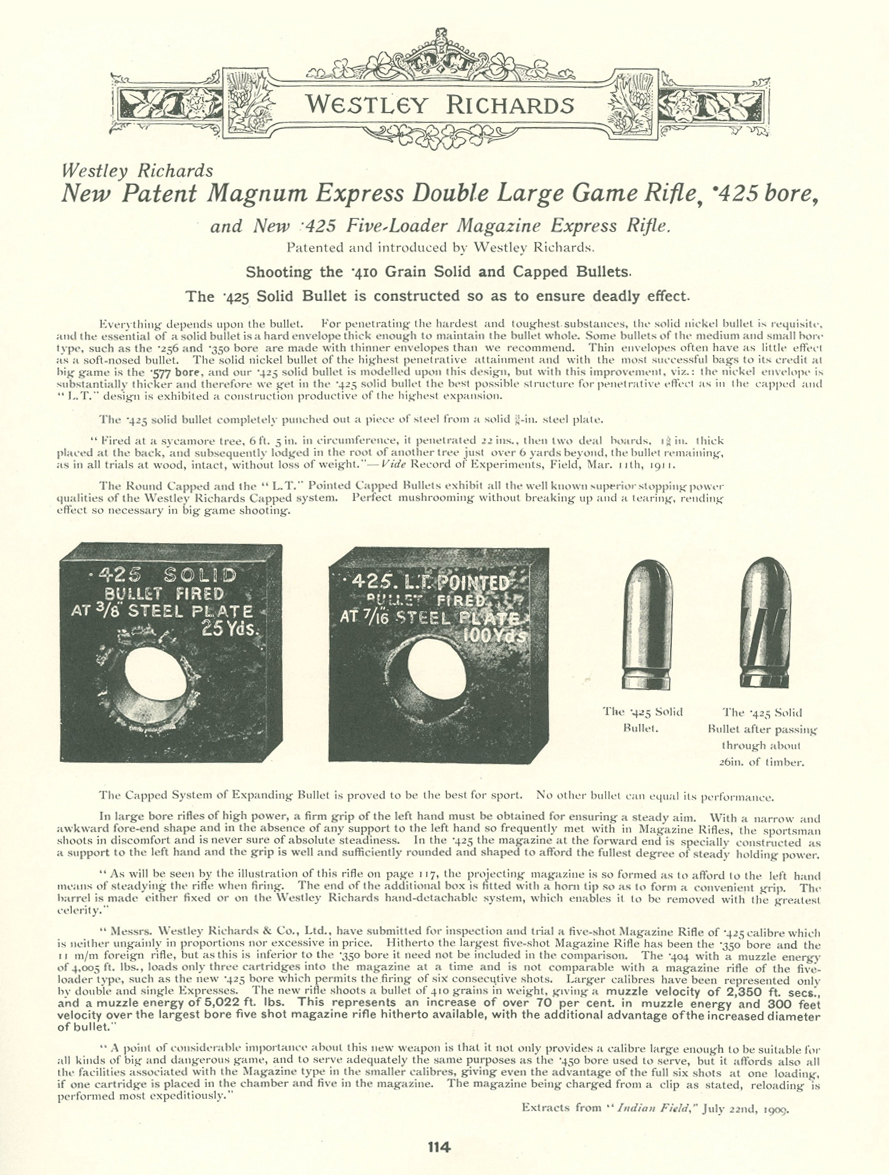 Sharing with other hunters was also a joy of this adventure. At the end of my safari a game capture was setup in the area, some friends of my PHs were helping with this operation. They had all heard about the 'Selous rifle' and were eager to see and hopefully hold it. As it was passed around and pictures taken it was a great feeling to think that this rifle brought so much pleasure to these seasoned South African hunters. After all, it was South Africa where Mr. Selous started his lifelong adventure in 1871.
My sincere thanks to Keith for submitting this article and 'rubbing in' how I missed this rifle at Las Vegas! It certainly could not have gone to a better and more enthusiastic Westley Richards home and I am so glad, that within months, it has been back to Africa where it belongs!