Simon Clode, late owner and Managing Director of W.R.&Co., started The Explora blog in July of 2013 and one of his first posts was A Very rare .476 Westley Richards Double Rifle. Simon mentions a vintage W.R.&Co. double rifle he sold many years before and always regretted not keeping. Describing the rifle as a "keeper", he also said he attempted to buy the rifle back many times with no success.
The rifle's previous owner had an incredible collection of fine English made single shots, double rifles, and bolt action rifles of all makes and models. Simon played a large role in assembling this collection and many of the rifles are pictured in the W.R.&Co. history book, In Pursuit of the Best Gun.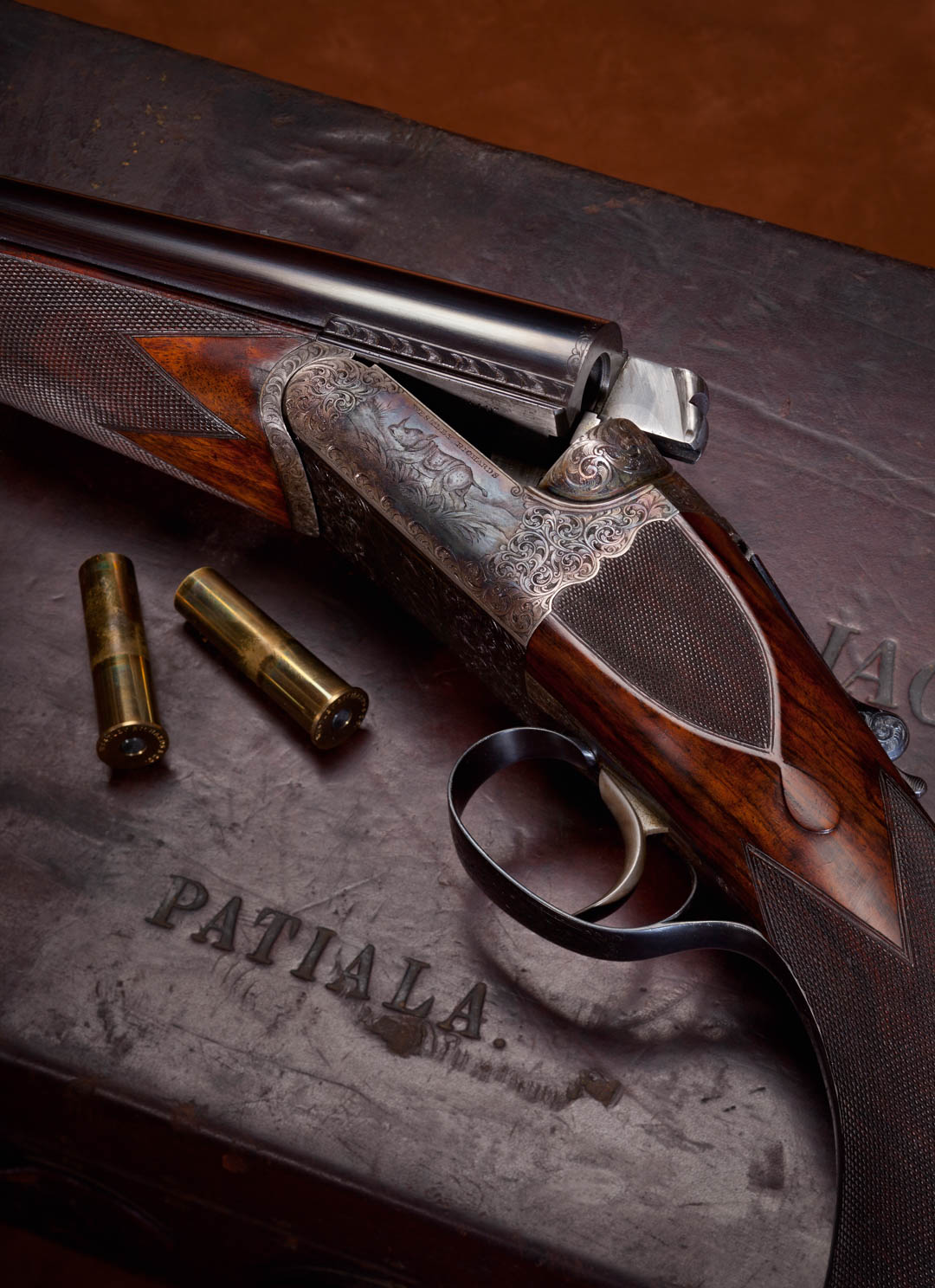 While Simon mentions in his blog the rarity of rifles chambered in .476 NE and that the rifle has a unique action shape; in classic Simon fashion he is quite subtle about just how rare this rifle really is.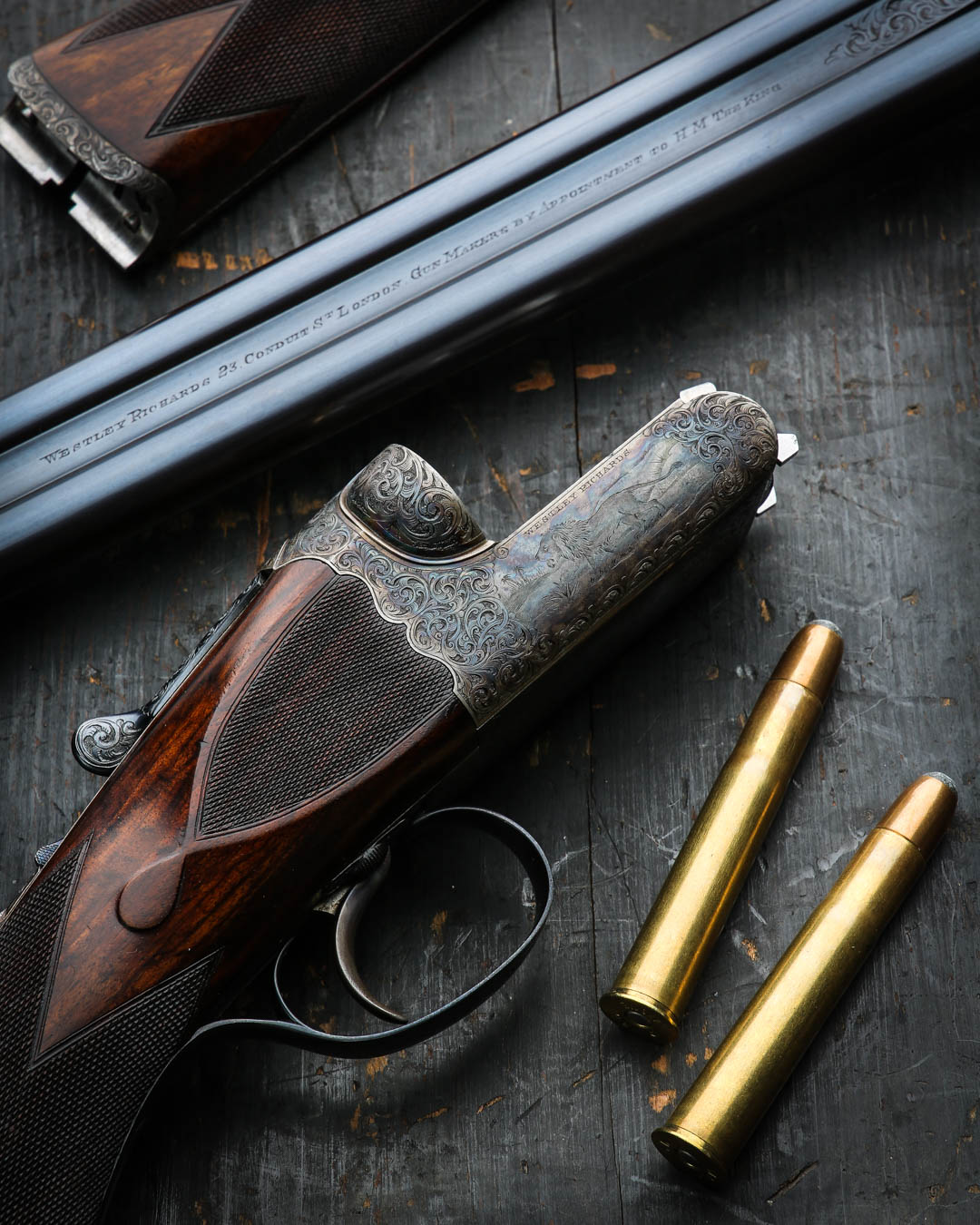 The .476 High Velocity Nitro Magnum Express was introduced by the firm around 1907. This was Westley's attempt to fill the gap in big game cartridges arbitrarily created when the British effectively outlawed use of .450" and .577" caliber rifles in India and the Sudan. In response, W.R.&Co. ads for the cartridge proclaimed it was "SPECIALLY ADAPTED FOR INDIA".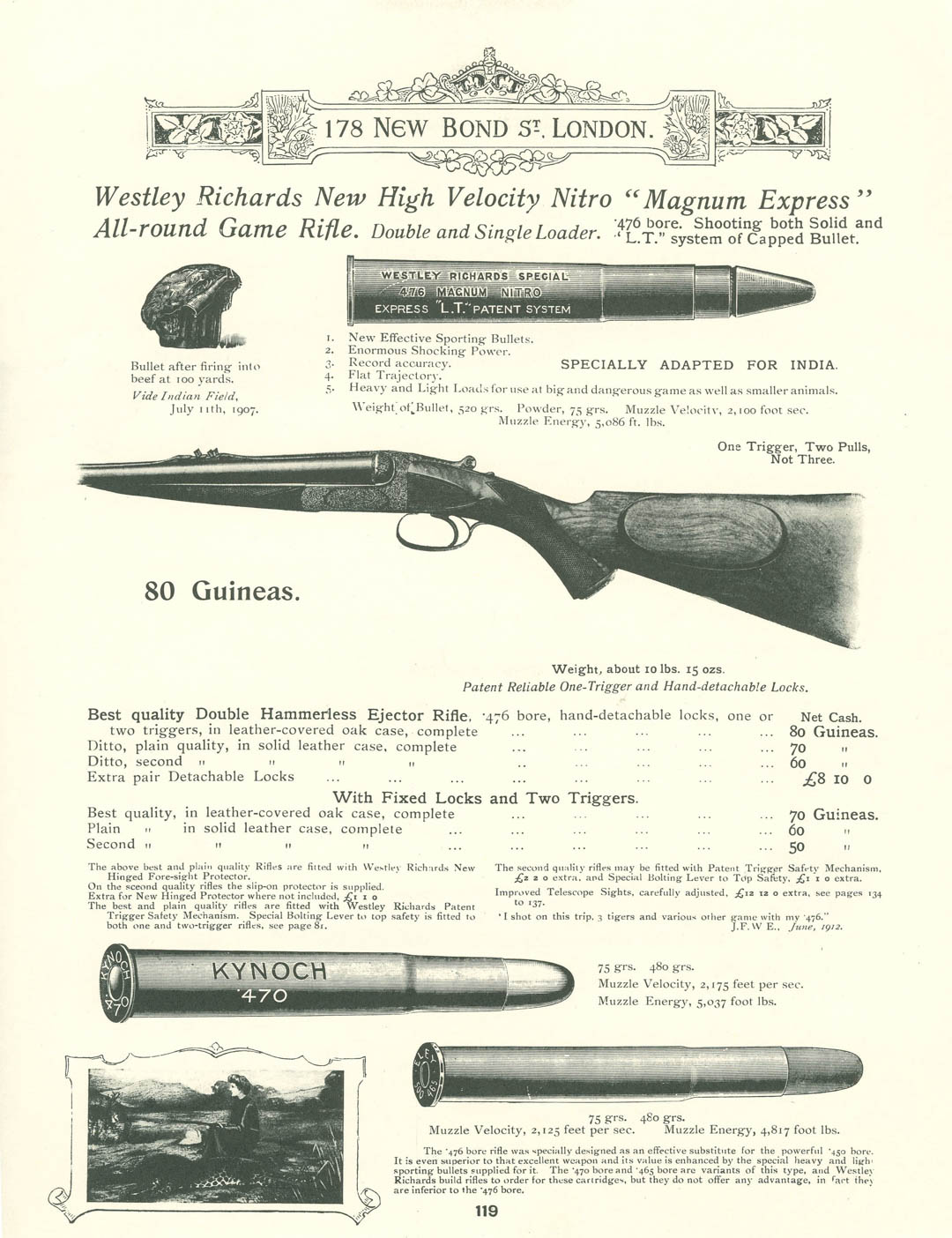 The original .476 Magnum NE cartridge was developed around Westley's "L.T." system of Capped Bullets and used 85 grains of Cordite to push a 520 grain, .476" caliber bullet over the 2,100 fps threshold for dangerous game. The .476 NE is based on the larger .500 3" NE case, a cartridge Westley's introduced a decade earlier.  Using the larger diameter 3" parent case as opposed to the .450 3 ¼" helped ease chamber pressure.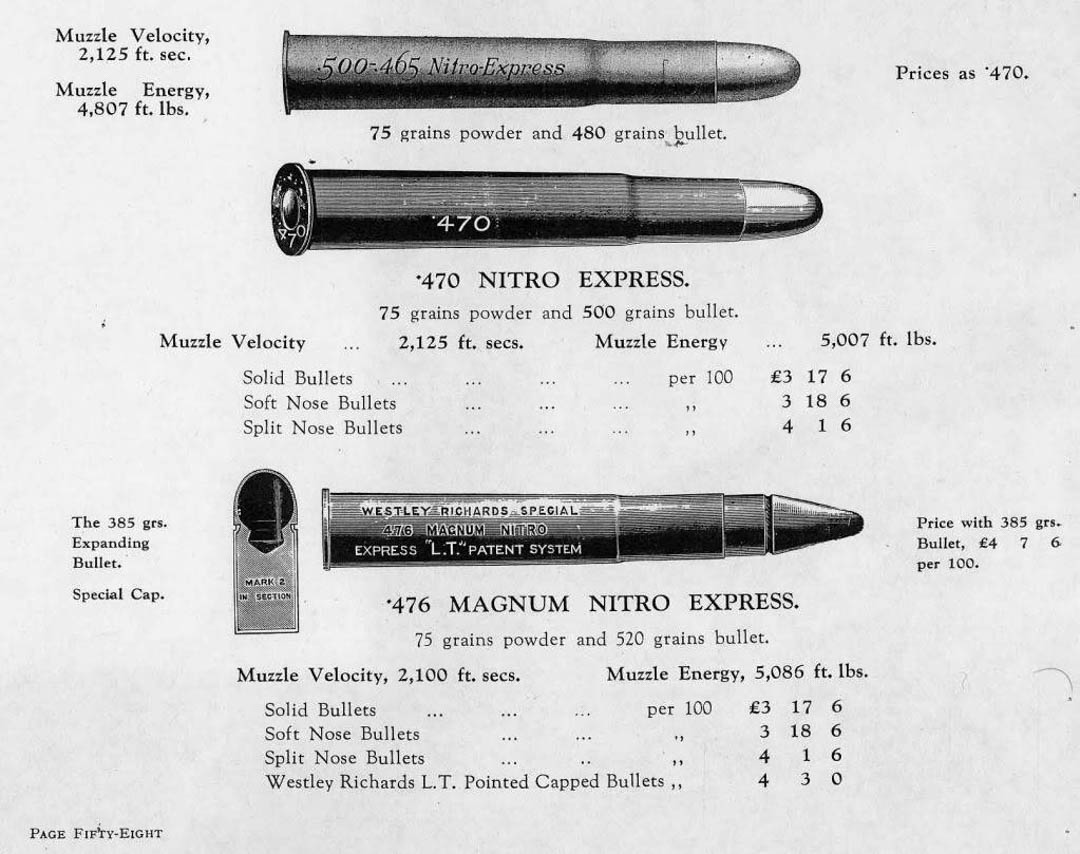 As Simon said in his blog, W.R.&Co. has only chambered 39 rifles for the cartridge since 1907, making original Westley Richards rifles in .476 Magnum Nitro Express rare by any measure. In contrast the firm has produced over 100 double rifles chambered for the .577 3" NE in roughly the same period. Due to a lack of .476 ammunition being made after WWII, many original rifles chambered for the .476 NE have been rechambered and rebarreled for cartridges more readily available making original examples even scarcer. For collectors of rifles chambered in a specific maker's proprietary cartridges, the High Velocity .476 Magnum NE is a very hard slot to fill.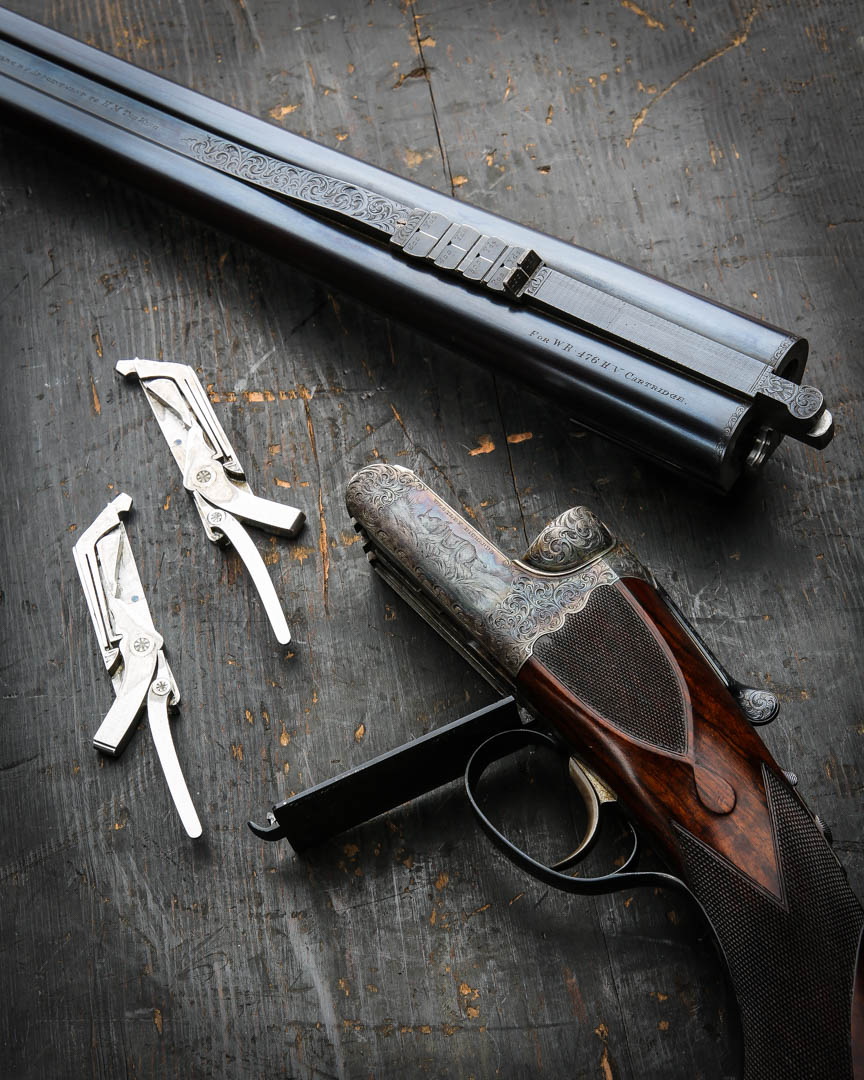 Rifle No.1788, was completed in 1929 as a Modele De Luxe and like the cartridge it is chambered for, this grade of rifle is also quite rare. Westley's offered many different grades or "qualities" of their guns and rifles and the Modele De Luxe was one of the firm's highest grades, second only to the Modele De Grande Luxe which normally included gold inlays. Westley's has been offering the  Modele De Luxe since the early 1900's and well over a century later it remains a very popular engraving motif for today's new gun and rifle orders.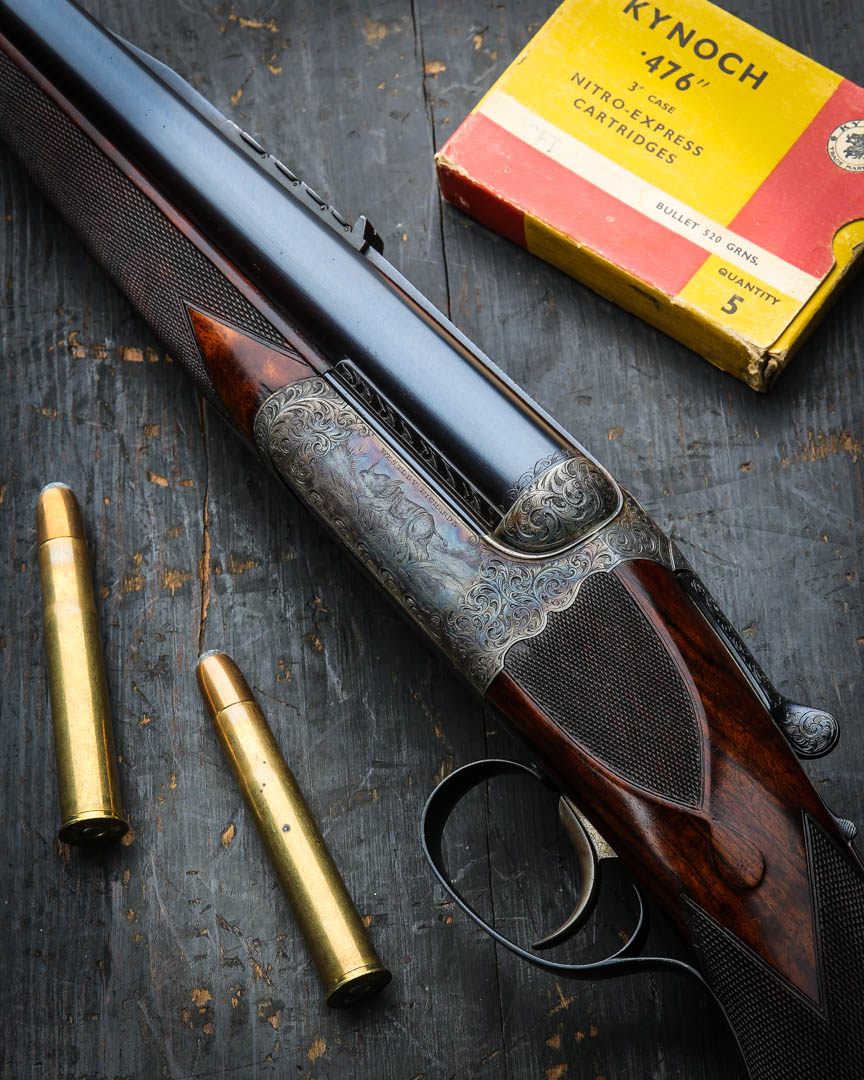 Like most makers, the higher the grade of gun or rifle, the more embellishment it will have. A hallmark of the Modele De Luxe engraving pattern is a game scene on each side of the action and on the cover plate and the balance of the metal covered in a deluxe scroll. The game depicted in the engraved vignettes would usually be that which was intended to be pursued with such a rifle.  Upon close inspection of these game scenes, the animals are surely meant to represent three species historically found on the Indian subcontinent. The game scene on the left side of the action depicts a rhinoceros with just one horn, the same as Greater One-Horned rhino or Indian rhino. On the cover plate  an elephant is engraved with features clearly resembling an Asiatic elephant such as the sloping forehead and smaller ears. Considering all of this, it is not hard to imagine the engraving on the right side of the action depicts an Asiatic lion. Surrounding each game scene is a deluxe bold scroll with the Maker's name above the right and left side game scenes.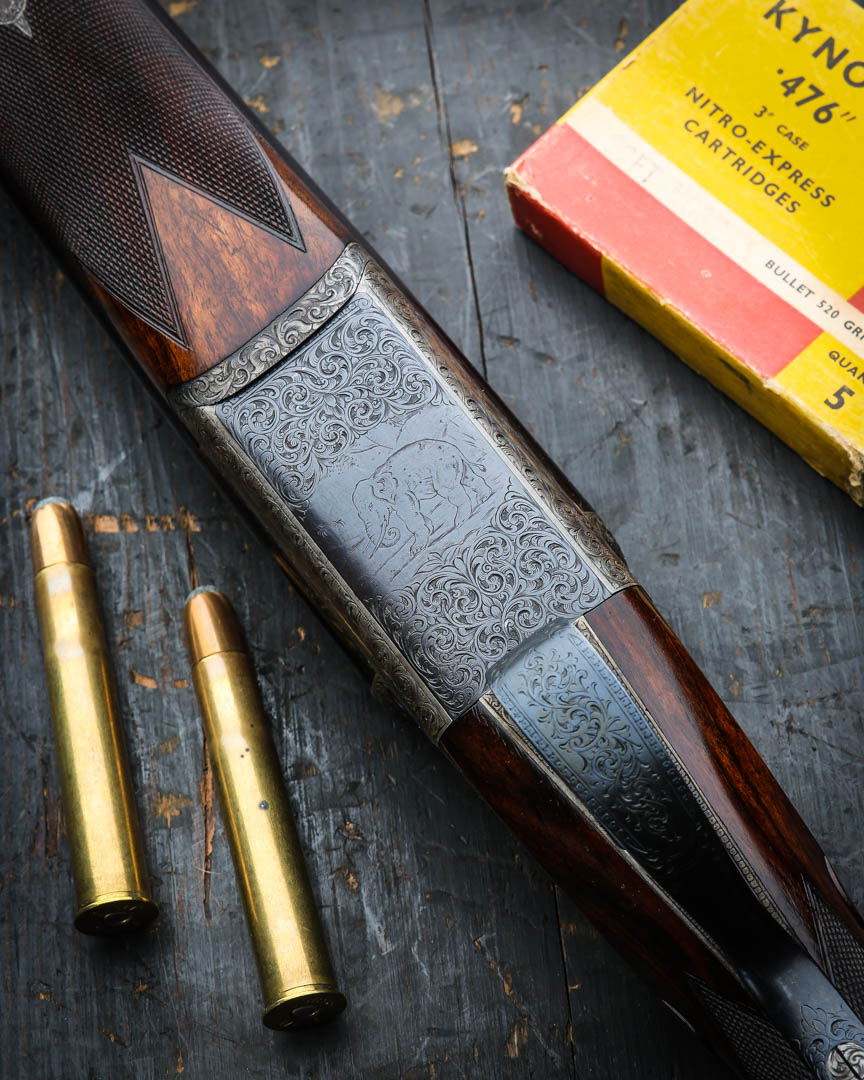 While the engraving is somewhat naïve by today's standards, it was just as innovative in the 1920's as the engraving on the rifles Westley Richards & Co. produces today.  The overall quality of this rifle is what one would expect of a deluxe grade made by one of England's premier makers during a so called "golden era". It is rifles like this that make English made guns and rifles made between the two world wars are so desirable.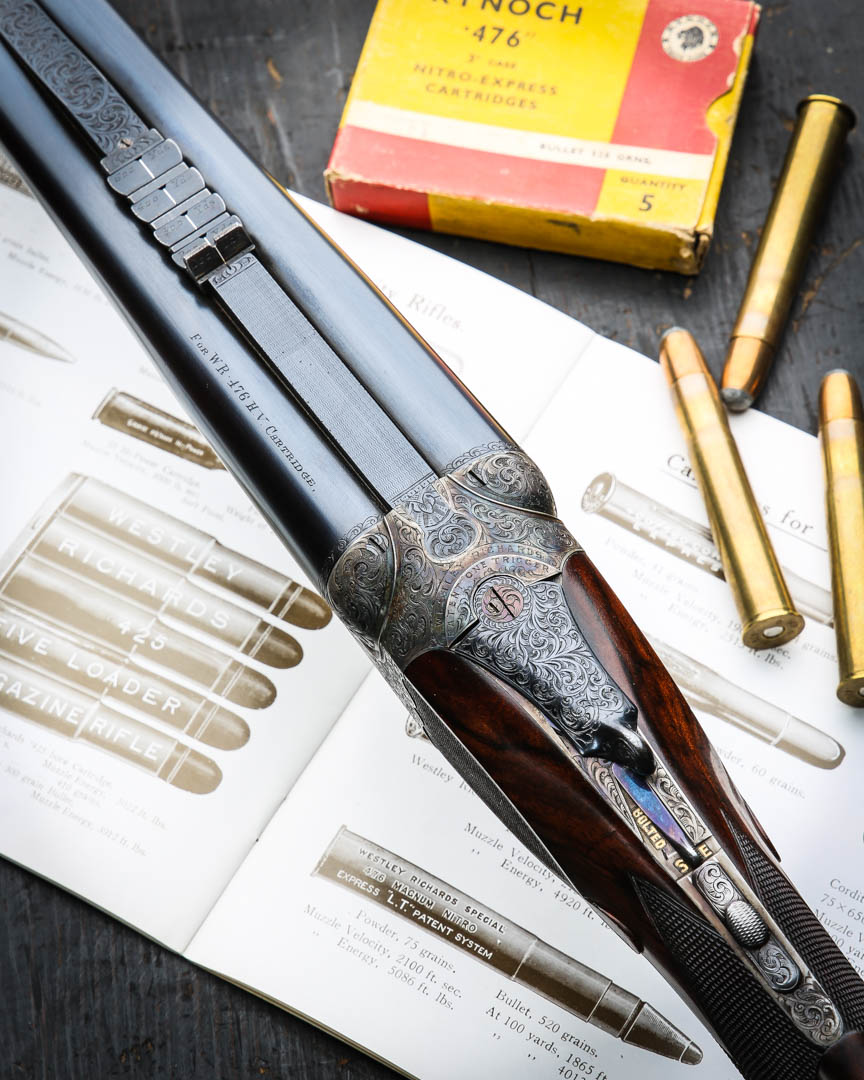 Of course, all of Westley's patented features were available as upgrades, such as the company's Snap Lever and Doll's Head extension, reliable One Trigger, and Hand Detachable Locks. As popular as they are today, examples of the Modele De Luxe made prior to WWII are exceedingly rare. The few that were made are either lost to time or tucked away in private collections as this is the first true pre-WWII Modele De Luxe double rifle to come to market in recent memory.
Even considering the rare chambering, grade, and high condition, the action shape might be the most interesting part of this rifle. While the scroll back or "scalloped" action shape is often associated with Westley Richards shotguns; historically Westley Richards double rifles were always made with a square back action. This is the only double rifle we know of made by W.R.&Co. prior to WWII with a scroll back action.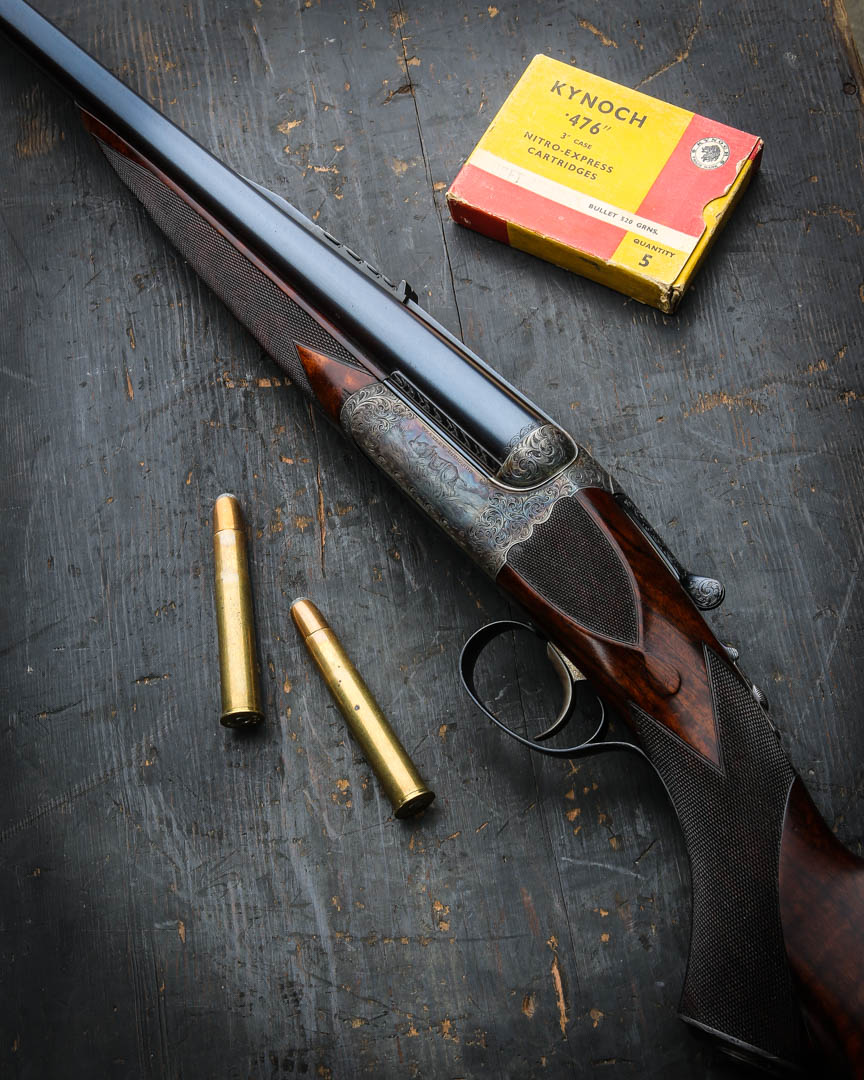 One aspect of this vintage .476 NE that is hard to explain, is how well it feels in the hands. Aside from aesthetics, the scroll back transforms the entire shape of the action to having a slightly rounded action body with softer edges resulting in what anyone would consider a graceful shape. The smooth lines and perfect proportions of the lock, stock, and barrels give this rifle a lovely profile and a lively feel in the hands that belies its 10 ½ lbs., robust construction, and awesome power it is capable of projecting. Holding this rifle, I can see why Simon mentions it in yet another blog The Scroll Back Action Double from November of 2014, proclaiming this vintage .476 as the inspiration behind the scroll back action double rifle we offer today. Now the most popular action shape for new double rifle orders, ironically, it is the rarest shape of the rifles made prior to WWII.
Trigger and I did our best to keep an eye on this collection. It took a little time, but the rifles finally came to market and we were able to buy most of the ones we had eyes on, except this Westley Modele De Luxe in .476 NE. Before the collection surfaced good, the rifle was sold to a customer of mine who knew a good rifle when he saw one. Again, the rifle was gone from our grasp, but as most things in the gun business go, the rifle made its way back to market in short order.
While Trigger and I both knew enough to know this was one of those items that, if you're lucky, you get but one chance at, at the end of the day we are gun dealers. We did what we though was the next best thing and talked convinced a special customer into being the custodian of the rifle for a while. Someone with a sincere affinity for guns and rifles made by W.R.&Co. and someone who understands just how special this rifle is. This was somewhat fitting, as this customer is a guy who discussed this very rifle with Simon way back when he was buying his first Westley Richards double rifle. One of the first made with the scroll back of course. Once again this vintage .476 NE has found a good home in yet another worldclass collection of fine firearms largely assembled by Westley Richards & Co.
The scroll back shape and Modele De Luxe engraving are distinctly "Westley Richards", albeit scarcely encountered up until now. These rare features combined with its incredible condition and influence on modern era rifles, certainly make this one of the finest and most important vintage Westley Richards double rifles of any caliber or era and, perhaps, the finest .476 NE extant.