After nearly 30 years of exhibiting at the Las Vegas Antique Arms show I am actually ready to try and find an excuse not to set up and do the show. The timing is never great as it means 3 shows on the trot for me and the logistics of looking good at each event are pretty difficult, so I do this show generally by myself and with a basic set up, a few tables and a few guns and let the main show stand cabinetry travel between the 2 Safari Club shows.
There is always the talk of the show not being what it used to be, that the great guns are not around to be found any more but the hard fact is there are still more best guns in the Riviera Hotel for this show than you will find in any place or at anytime in the world today. The big dealers are here, the small dealers are here, you never know what you will find or on what table you will find it, so you have to take time, go slow, look carefully.
Last night when we were setting up I was talking to a man who was asking about the possible cost of a 28g Purdey Over Under and if I had seen any. I said what I thought to be a value and that it would be a hard gun to find. After he left, I wandered into the booth next to mine to look at my neighbours guns. There was a Purdey 400 light, a Holland 500/465 and .375 Royal, a Pair of Purdey's and amongst other things a 28g Purdey Over Under in mint condition, 15 feet away from me as I had said it would be hard to find! I found the man who asked and pointed it out to him. He in turn this morning, showed me another one he had just found, a nicer one in my opinion as based on the Woodward action, a 'one off' apparently, a super gun and one he was not letting go of!
For anyone interested in best guns this show must still be the best 'one stop shop'. You may not find the gun your looking for because the price, period or condition may not be right, but what you will find here with no doubt, is examples of most types of guns, that combined with some very knowledgeable people, dealers, collectors and enthusiasts who always seem to have time at this less hectic show to share a little expertise and experience.
So even after the first day of the show I find myself starting to crack, beginning to convince myself I need to come again next year. This show has always been for the people who love great guns, over the years I have made a lot of good friends here and hope to meet many more!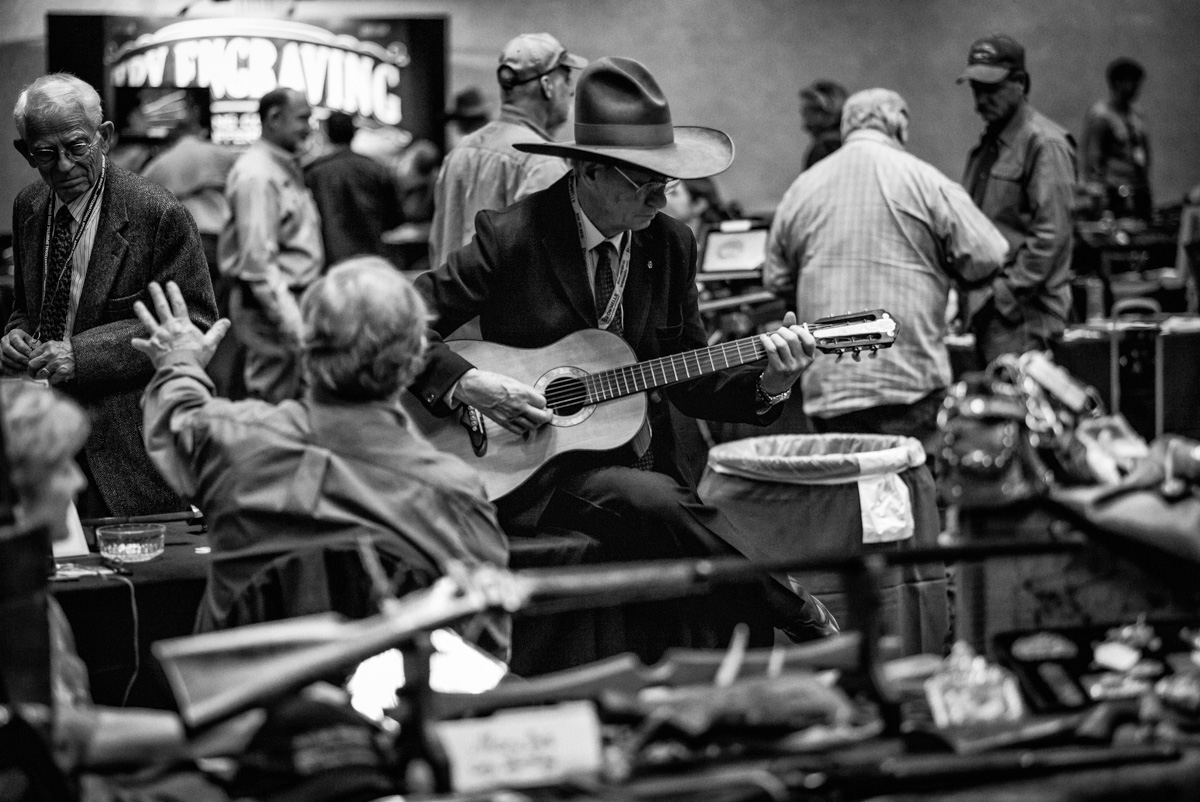 Quietly strumming a guitar amongst the hustle and bustle of the show.