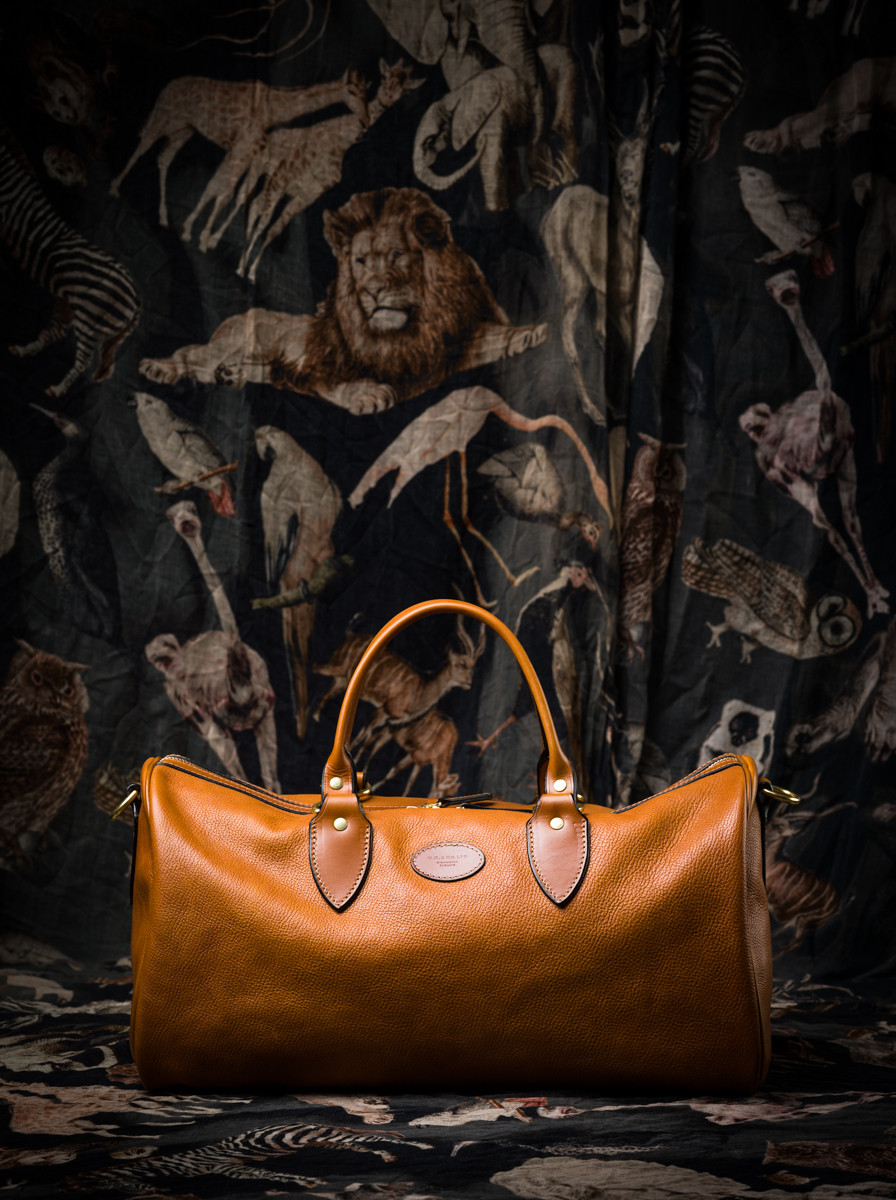 Thank you to each and everyone who sent in an entry with your stories, some of which I have posted below!
First (and only) Prize! by K. Nash.
Pictured are my faithful Courteney Safaris. I bought these at a Safari Club International Convention several years ago. I had just dropped off a competitor's boot which had been sent to me the third time mis-sized. I was not in a great mood. Passing by the Westley Richards booth, I recognized the Courteney display and thought, "What the heck." I tried on a couple of pairs, settled on the Safaris, slipped in my orthodics, paid and walked away, fully expecting two days of torture with new boots on concrete floors. After an hour, I was fine. At the end of the day at SCI, I am normally all but crippled due to a past life in the Paratroopers with the normal ankle, knee, and back injuries, surprisingly with the new Courteneys, I was tired but still mobile. That SCI was the least painful I'd attended to that point (to my body- not my wallet, it never leaves unscathed!). Thus began my courtship with my Courteneys. We've lived and travelled in 19 African countries, wandered around Europe, circumnavigated Ayer's Rock in Australia, stalked elephants in Burkina Faso, climbed mountains (I celebrated my 50th day on this earth by climbing Mt Longonot- and beating a group of guys in their 30s to the top and around the rim), negotiated Ivorian rebel checkpoints, endured the heat in Djibouti, shivered while sleeping in the grass at 24 Hrs of LeMans, stood watch for Boko Haram in Cameroon, crunched the salt in the floor of Death Valley, trudged all the steps to the top of the Cologne Cathedral, swatted tsetse flies in Tanzania, waded streams and the odd open sewer when unavoidable, driven the Nurburgring, felt the ocean breeze in Mogadishu, slept in innumerable airports, been beer soaked at Oktoberfest in Munich, eaten in a few classy restaurants, suffered my infamous wild game "poo pics", and even more surprisingly- survived several more gun shows and conventions! I even took them to Afghanistan with me, though I couldn't wear them in uniform, I did wear them on the odd day off and traveling for R&R. I live and work in boots and not counting military boots, I've owned well over 20 different pairs of custom and high end boots, but can say unequivocally, that my Courteneys are the best boots I've owned. They have truly been a faithful companion.
K. Nash
The Essentials of My Safari Kit  by Keith Fahl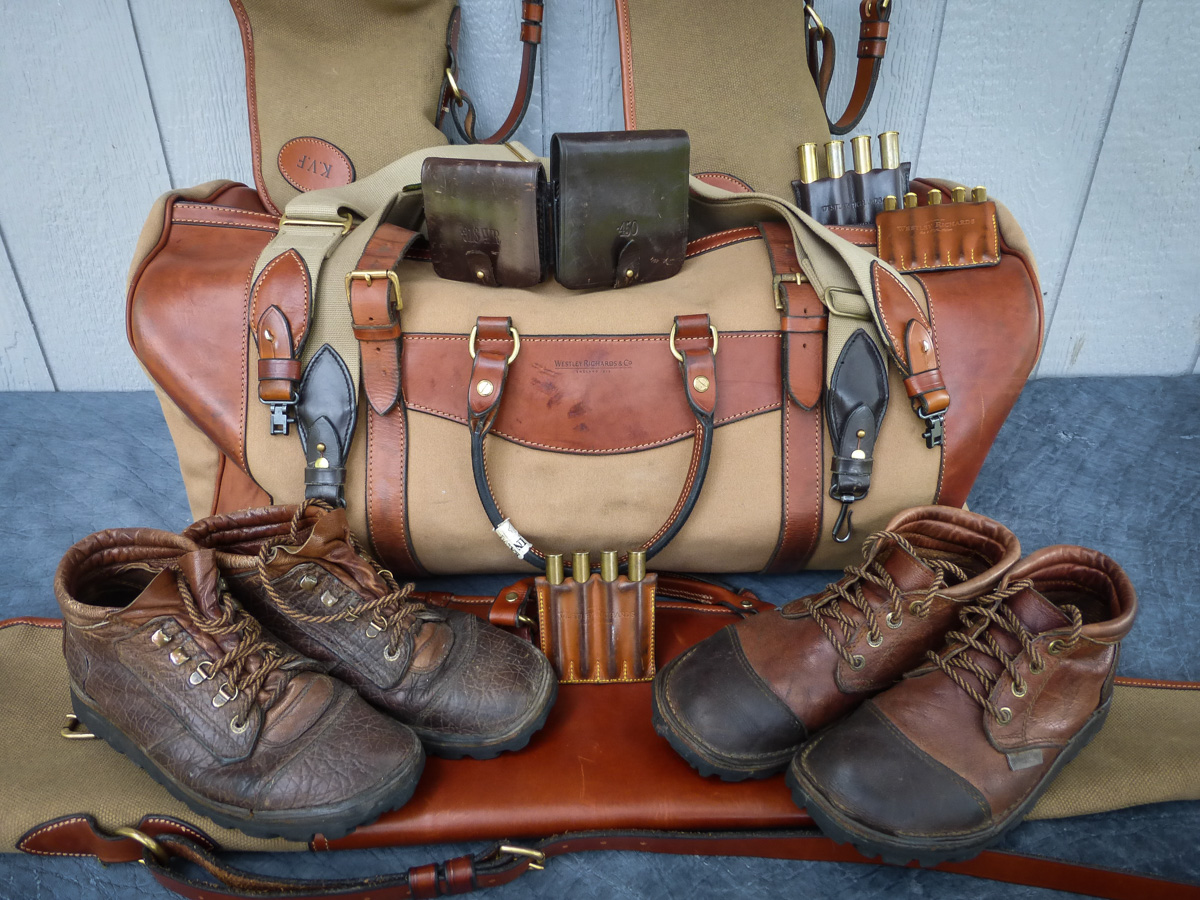 Courteney Boots and W.R. & Co. Ltd. products have been the most essential part of my hunting kit for many years now. From local hunts in the Pacific Northwest to safaris in Africa, their products have given me many years of service due to the high standards and quality of their manufacture.
I ordered my first pair of Courteney boots in 2001. I had them custom made from my hippo hide, taken on safari in Zimbabwe that same year. They were a perfect fit and have definitely stood the test of time, I am still wearing these boots 14 years later.   I was so impressed with comfort and quality that I decided to get a second pair. I traveled to the Westley Richards Agency in Bozeman, Montana in 2003 and looked over the Courteney line. I decided on a pair of Tracker boots. To this day, it is my favorite style and the only boots I will ever wear for hunting. The boots are rugged, dependable and comfortable. The fit is excellent. I have walked hundreds of kilometers on safari, wearing Courteney boots and Faulk sox. I have never had a blister or feet too sore to keep trekking. I now own 10 pair of Westley Richard Courteney boots and shoes in various leathers and styles that I wear for all occasions. They are simply, the best.
I purchased a Westley Richards double rifle, manufactured in 1907. This is what prompted my original trip to the Westley Richards U.S. facility in Bozeman. While there, I found many items I find absolutely essential for my hunting kit. The gun cases and slips, belts, slings, ammo wallets, cleaning accessories, travel bags, etc., etc. are all of the best quality. My personal favorite is the 4 and 5 shot ammunition wallets. I use them to carry extra rounds in my pocket. They are quiet and an easily accessible way to carry additional rounds or rounds that have a different bullet type than you have loaded in your rifle (i.e. solid or soft nose). If you ever begin using them, you will never go on another hunting trip without them.
The Courteney Boots and W.R. & Co. Ltd. products that I take hunting, I am able to pack into one large, canvas W.R. & Co. Sutherland bag, weighing up to 70 pounds. My bag has carried this load on well over 20 trips and baggage handlers have yet to damage it. It has aged well and I get many inquiries as to where I purchased it. Again, these products are of the best quality and built to last.
I will continue to purchase Westley Richards products. They have served me well and should last for many more hunting adventures. I know I can depend on them to hold up and that makes the hunt that much more enjoyable.
Totally satisfied customer of Westley Richards,
Frank Sullivan
I've easily walked a thousand miles in my Courtenay Trackers - in the field, on camping trips and at the shooting range. They've held up well partly because I don't wear them in the city very much. They prefer dirt and grass rahter than concrete.
My greatest adventure with them has to be our our trip to RSA and Botswana in 2013 when I wore them on a plains game hunt in the Kalahari desert. The trip was capped by two days of pursuing red hartebeest. I bagged my trophy as it looked back at us obscured by the setting sun behind us.They are comfortable, stylish  and as tough as nails. And the Professional Hunter said he could always find me, given the distinctive footprints the tread left behind.
Robert Smith.
I walked the length of the Pacific Crest Trail (Mexican border to the Canadian border) last summer in my Courtney boots (Ostrich skin) with nary a blister. This was in celebration of my 60th birthday and to commemorate having done it 40 years earlier at age 20. My Courtney boots held up better than the technical mountaineering boots I bought from the North Face lo those many years ago. And everyone at my shooting club still says they're the best looking shoes they've seen. Hell, women even stop me in the grocery store and ask me where I bought them. It doesn't get any better than that, form and function. I'm going to buy another pair just to be sure I get out of life with them on. Keep up the great work.
Adrian.
I have had walking boots all my life - I spent 35 years in the Army! and was looking for a shoe/boot that I could wear for numerous activities, including in lieu of conventional suede 'chukka boots'. Following extensive research, including speaking to your staff, I bought my Courteney Tracker boots by mail order just over two years ago and it wasn't long before I wished I had done so years before! I have worn them on safari in Africa in 2013, walking in the Swiss Alps last summer, when fishing and also before (en route), or after, shooting and stalking. They are perfect for long sight seeing days, be it along the snow covered streets of Vienna in winter, or the wide avenues of Seville in the spring from where my wife and I have just returned. Having worn them in, they now look and feel better than the day I first put them on, I am wearing them now!
I have recommended them to any number of friends, they represent outstanding value and your brochure description is spot on, they are really comfortable, multi functional and they certainly do what it says on the tin! I do not travel anywhere without them.
Jeffery de Visser.
I bought my Courtney Safari Boots back in 2011 just before I graduated telling myself I was going to go out and explore a little before settling in. In 2012/2013 I drove 58,000 kilometres around Africa in an old Land Rover; from the Netherlands to South Africa along the eastcoast of Africa, and back up along the westcoast. I pretty much just wore my Courtneys all day every day for over a year - through jungles, cities, savannah and deserts. I settled down in South Africa now and still wear them when I go out venturing into the wild.