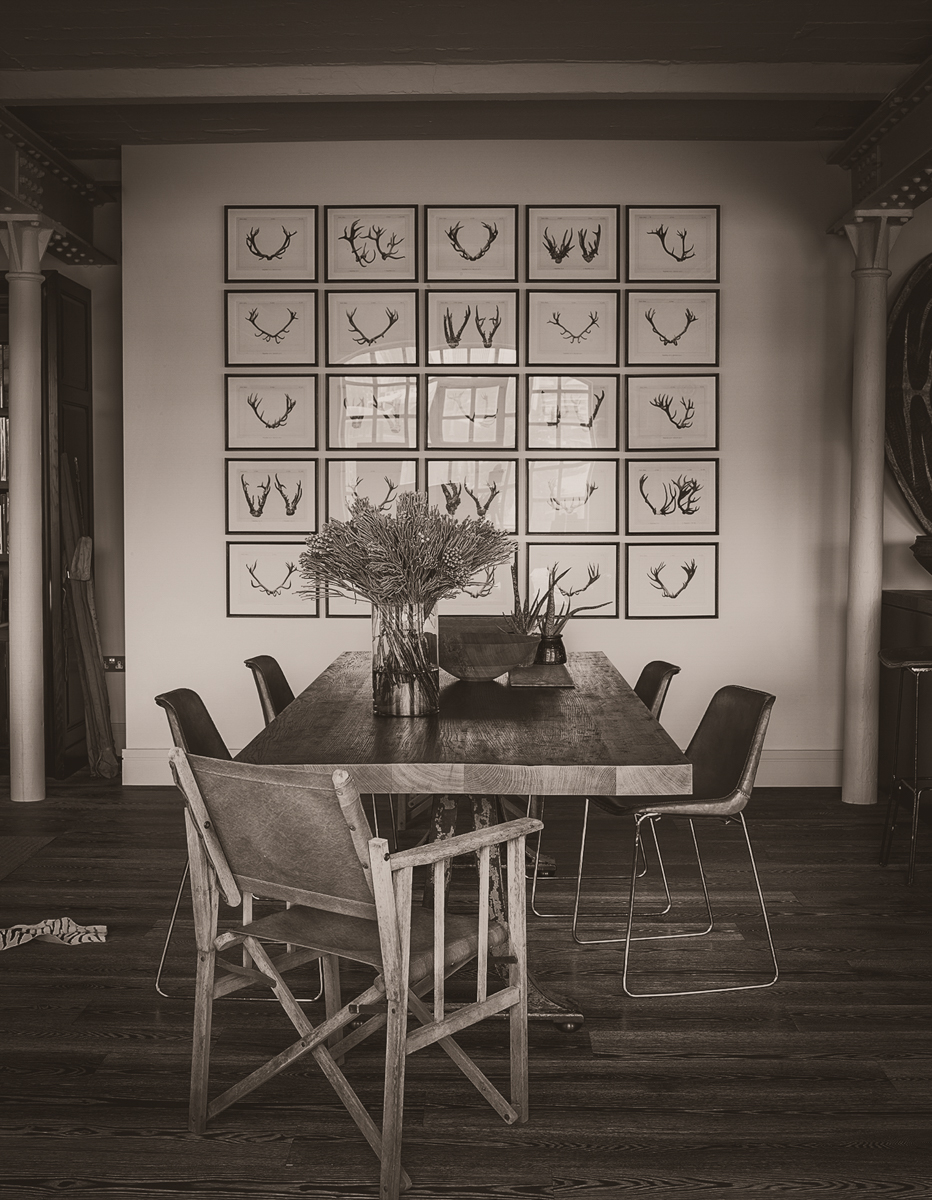 In the lead up to the stalking season I thought it an ideal moment to delve deeper into this unusual print collection, and in turn its origins. This was a far greater undertaking than I had planned as the prints themselves hold little written information and what there was, was in German! I understood from their original folio case that the set was first published in 1891 by Georg Albrecht zu Erbach-Erbach and printed in Leipzig, but that was essentially it.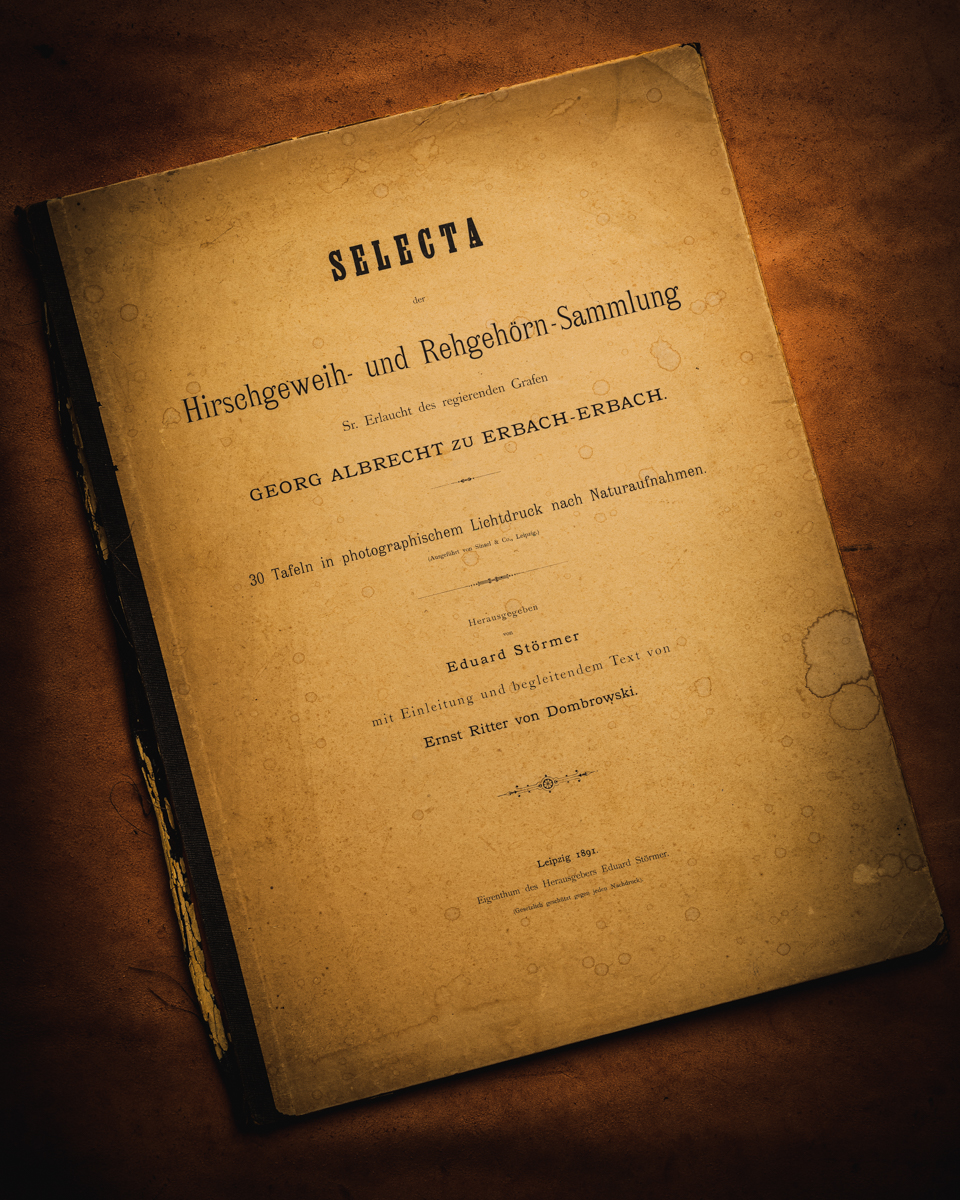 Old original folio of the prints named Selecta and published by Georg Albrecht zu Erbach-Erbach in 1891.
As I began to source information online, it became clear I needed to get my hands on an out-of-print book named 'Sport in the Alps in the Past and Present' by William Adolph Baillie-Grohman, 1896. Fortunately for me there are some very niche booksellers out there, and the copy I received has now formed the great proportion of my writing, on the history behind these final prints.
Georg Albrecht zu Erbach-Erbach (1844-1915) was the great-grandson of Franz Graf zu Erbach-Erbach (1754-1823), a very famous sportsman and collector of antiquities, medieval artefacts and hunting trophies. Franz Graf, at the time of formulating his collections, was the regional count who oversaw the district of Odenwald (in Hesse, Germany) from its seat at Erbach, where the family castle was located. It is at Erbach Castle where one of Germany's, if not Europe's, greatest and most ancient of stag trophy collections sits, in its famed Hirschgalerie – the state hall – and is still there to this day.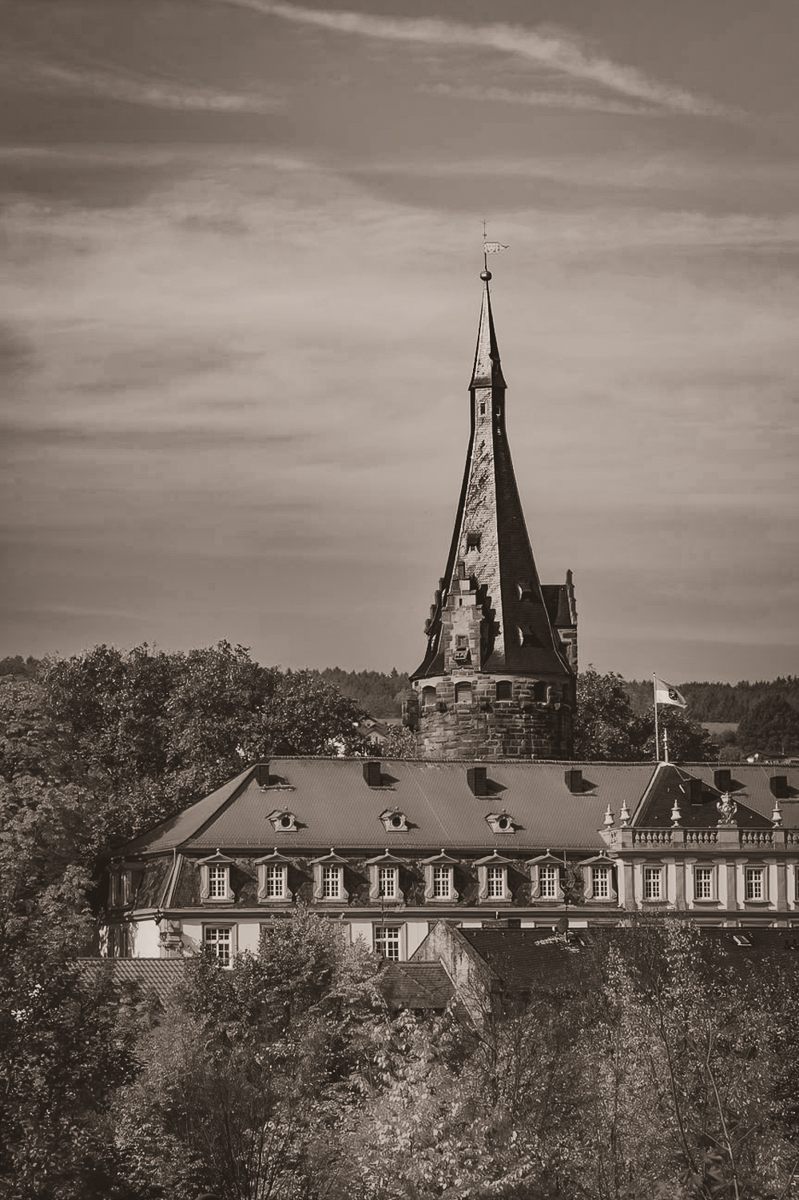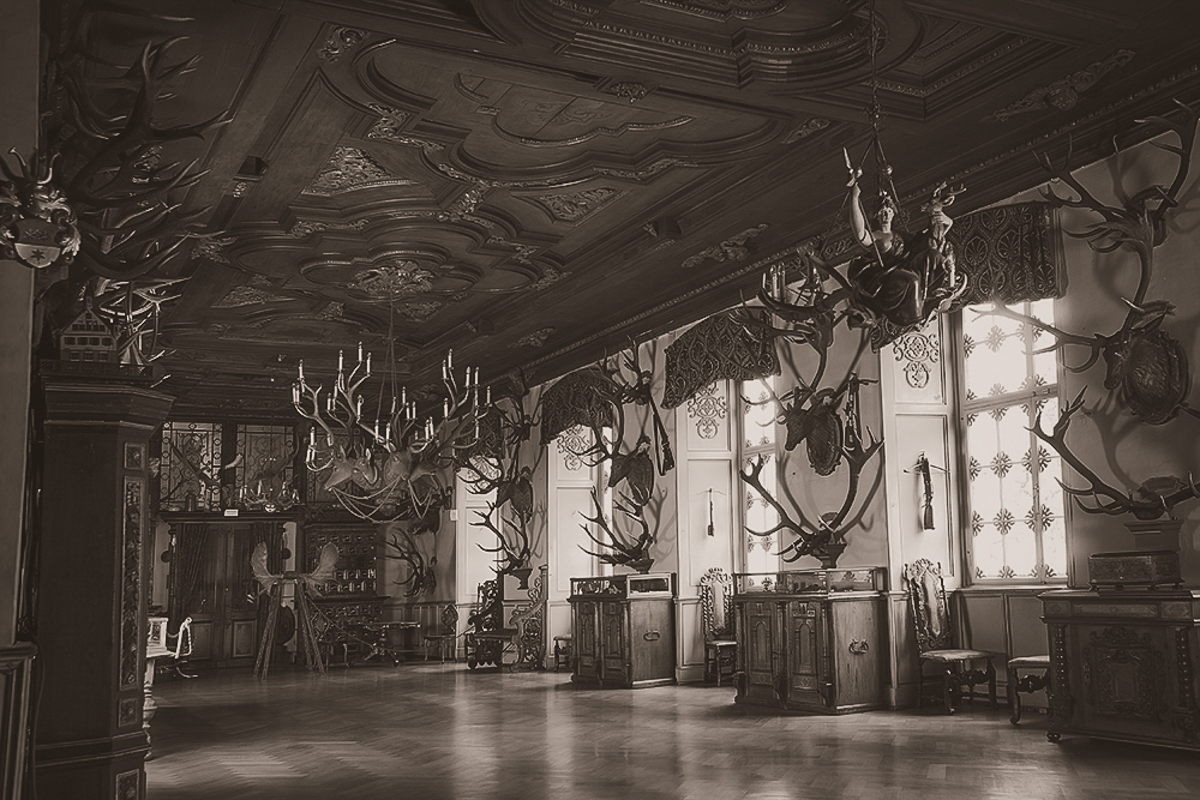 Inside the Hirschgalerie, Erbach Castle.
The Erbach collection was one of four noteworthy collections in the Alpine region that, at the time of Baillie-Grohman's book (in 1896), had luckily survived war, conflagration and pillage of the last two to three hundred years. In 2020, that is now over three to four hundred years. The others belonged firstly to the Duke of Saxe-Coburg and Gotha, which passed onto Queen Victoria's son Alfred (Duke of Edinburgh), the second was Count Arco-Zinneberg in the palace of Munich, and finally the most celebrated, the King of Saxony's collection at Moritzburg castle near Dresden.
The Moritzburg collection is regarded as the most important, containing a selection of old heads including two prized pairs of antlers, the first being an incredible sixty-six point head! The stag that carried these historical antlers was shot in 1696 by the Elector Frederick III of Brandenburg, who subsequently became the first King of Prussia. The second enjoys the distinction of being without question the largest pair of red deer antlers in the world, at time of writing. Even though it has only twenty-four points, it has an enormous spread of 6 feet 3 inches, and weighs with a very small fragment of skull bone no less than 41.5lbs.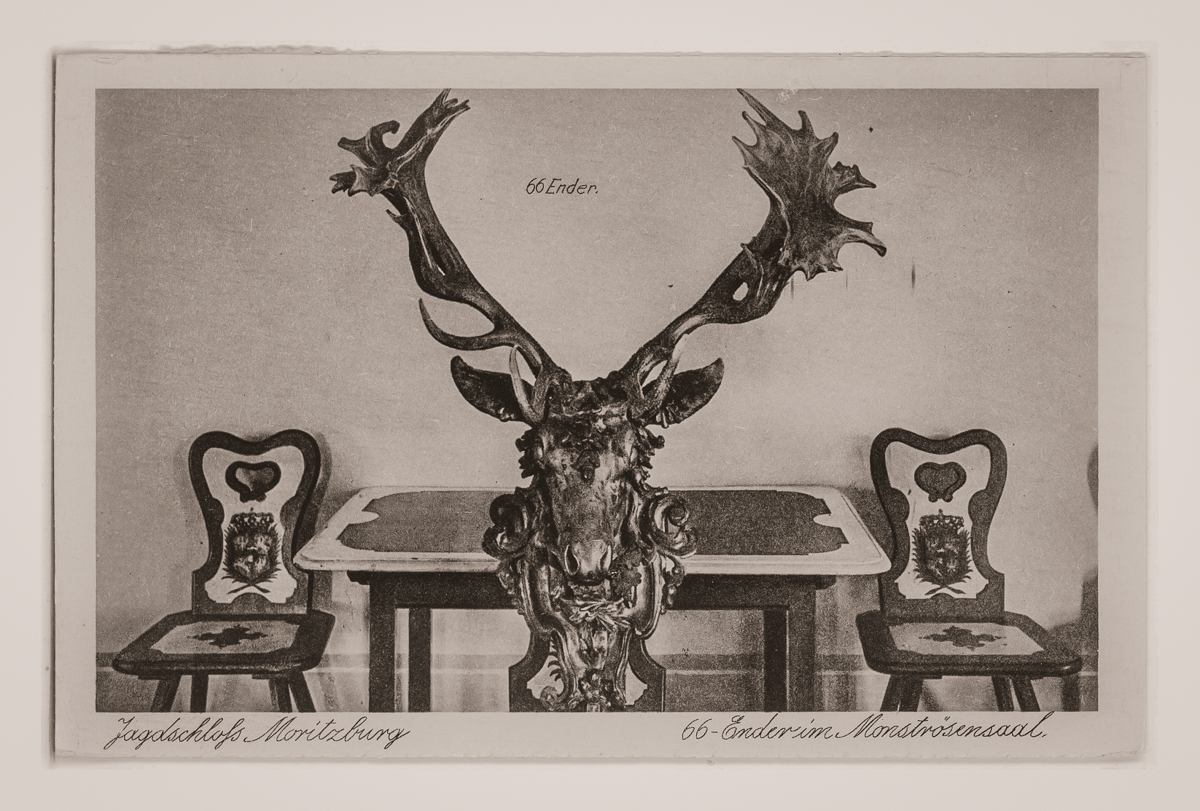 66 point red stag head, Moritzburg Collection.
The Erbach collection, mainly the work of Count Franz Graf zu Erbach-Erbach contains some very fine ancient red stag heads, one coming close in weight to the monster of Moritzburg, for it scales nearly 35lbs. Two others are of note, the first being a twenty-two pointer whose main beam measures 46.5 inches. It has an extraordinary spread of 5ft 2.24 inches in a straight line from tip to tip, and the circumference round the thinnest part of the beam above the tray tine is 8.66 inches. The second head is a twenty-eight pointer, slightly less in length and spread, but an inch more in circumference.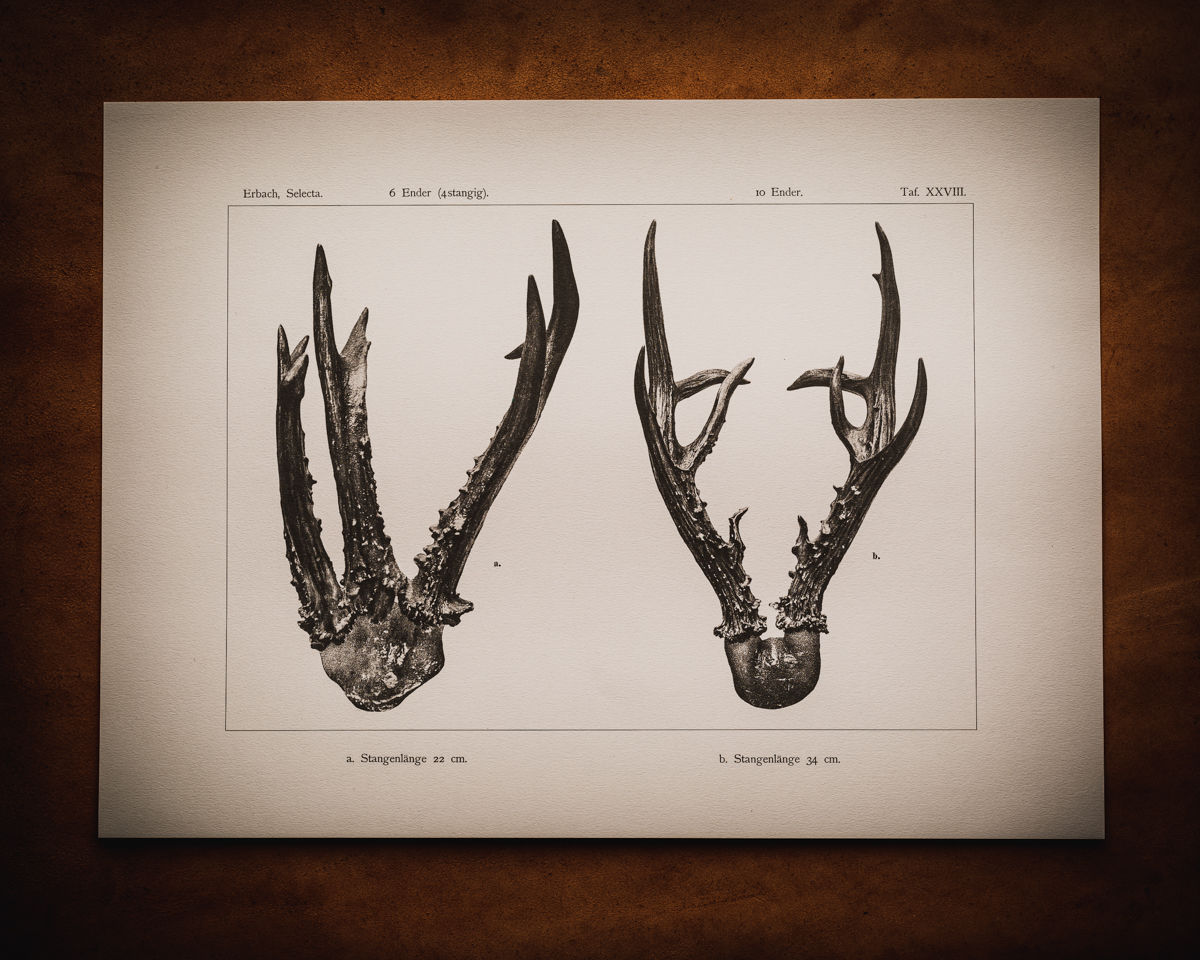 6 point & 10 point roebuck antler print, Erbach Collection.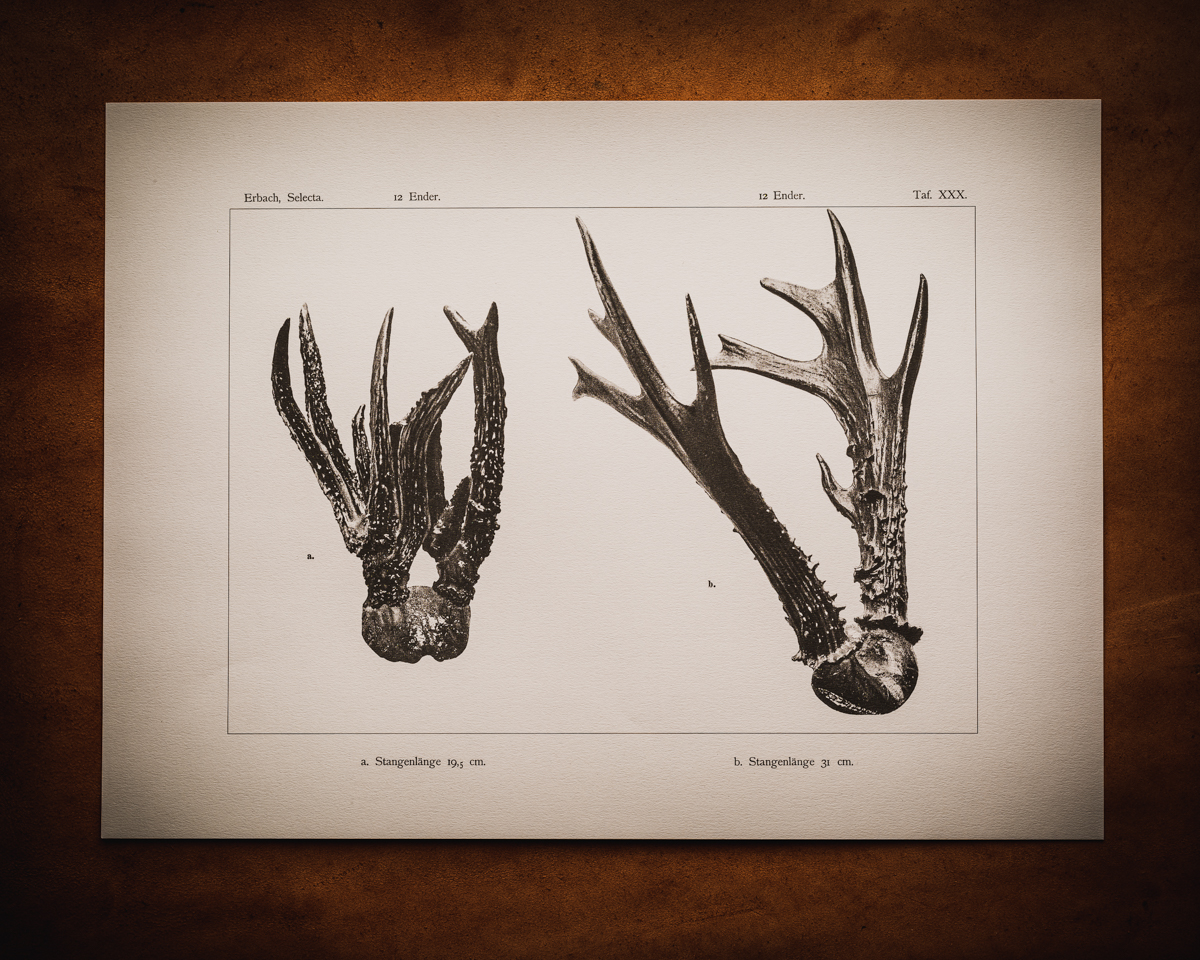 12 point & 12 point roebuck antler print, Erbach Collection.
Those two heads once formed part of what, in the sixteenth century, was one of the most famous natural history collections in all Europe, at Castle Ambras in Tyrol, the creation of Archduke Ferdinand of Austria. After the partial conquest of Tyrol by the Bavarian and French troops in the first decade of the 18th century, the two heads were looted by the then King of Bavaria, and were presented to Count Erbach.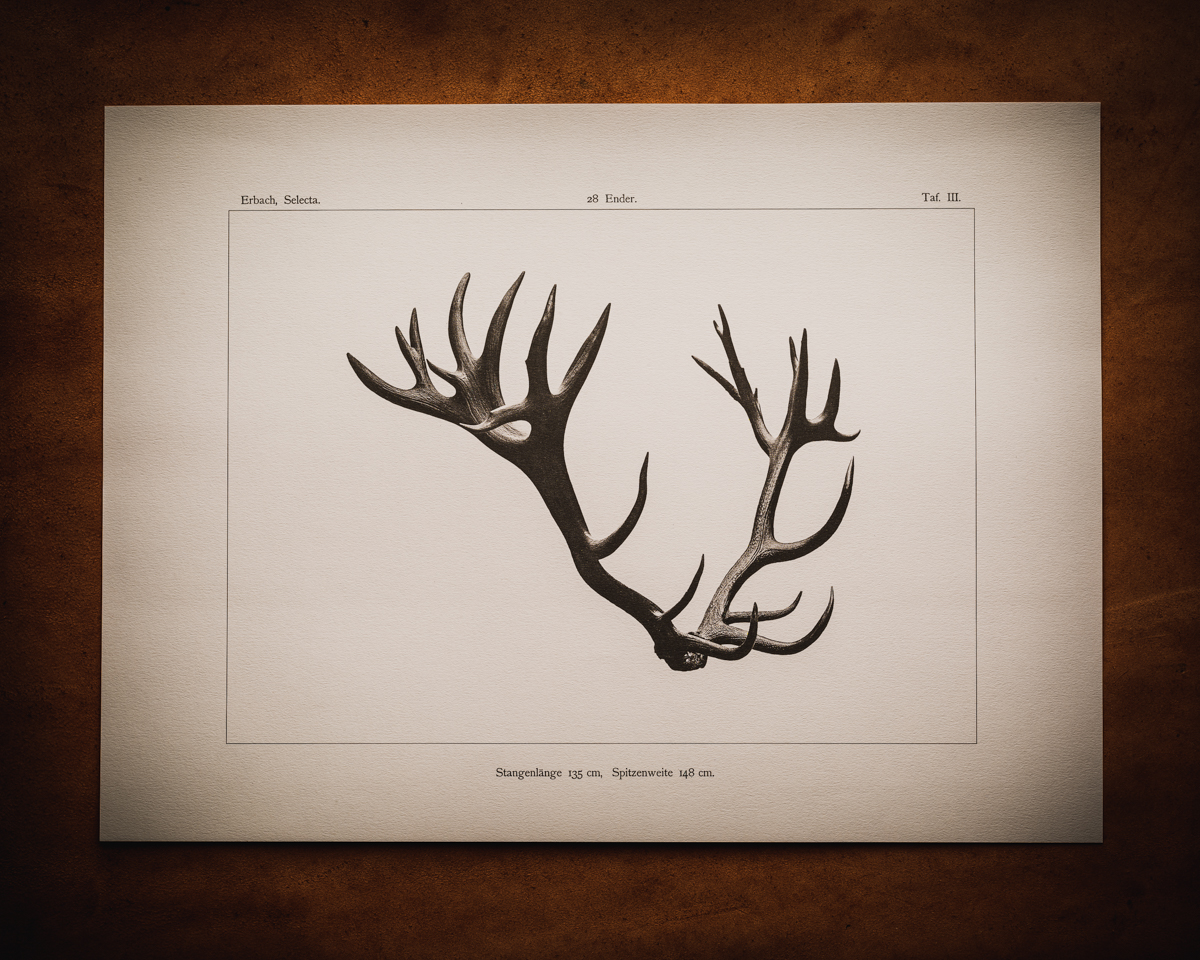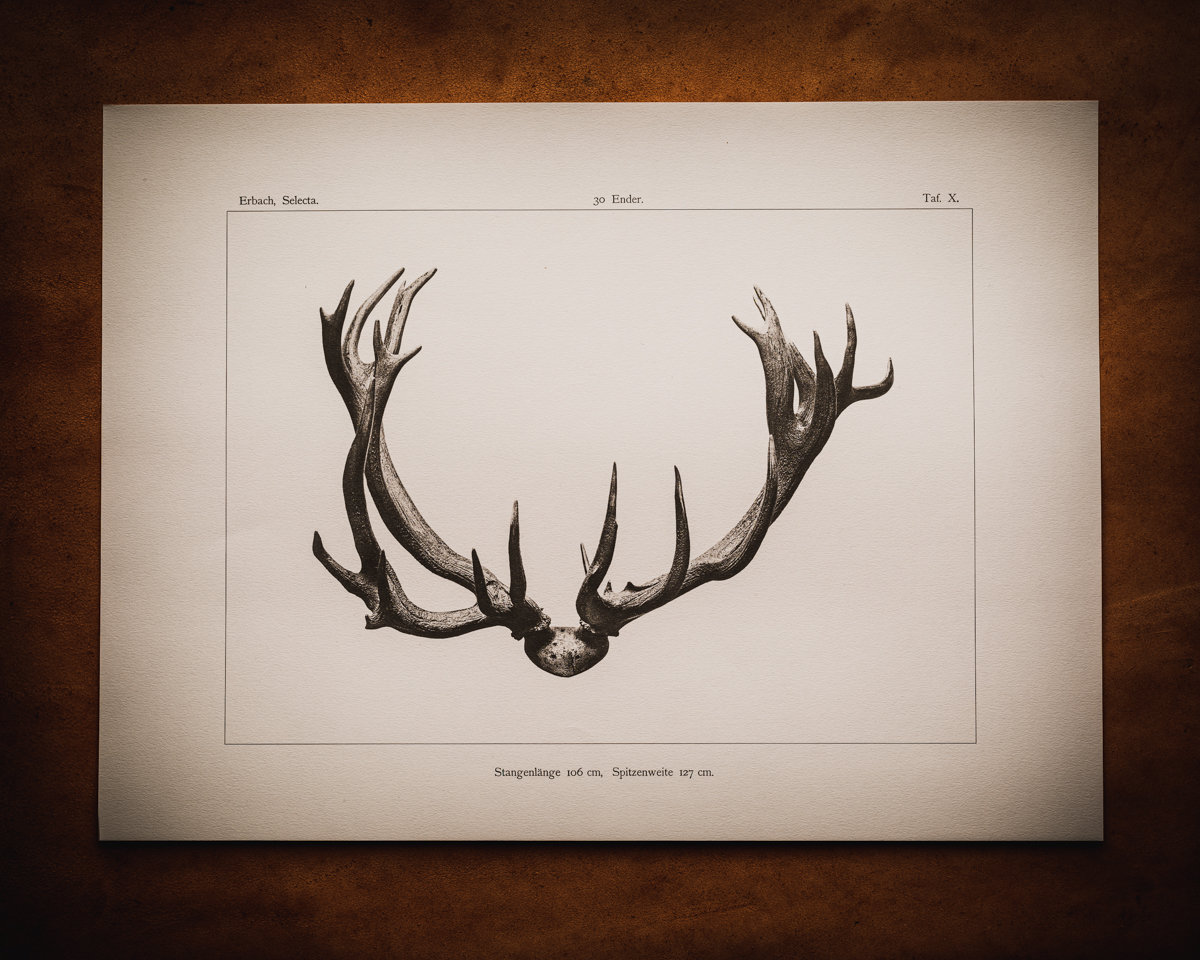 28 point & 30 point red stag antler prints, Erbach Collection.
What gives the Erbach collection its actual legendary status is the level of abnormal antlers that not only stem from red stags but from a plethora of unusual roebuck heads. Unquestionably some are of German origin but others, whose origin it is acknowledged is unknown, Baillie-Grohman suggests by structural evidence, safe to assume that they are not European but Asiatic roebuck heads.
Upon the death of Franz Graf his grandson, Franz Eberhard, wisely took to cataloguing the entire collection. Once completed it was actually Franz Eberhard's son, Georg Albrecht, who then produced the prints for popular consumption and this is the set that now lives in the Westley Richards apartment today.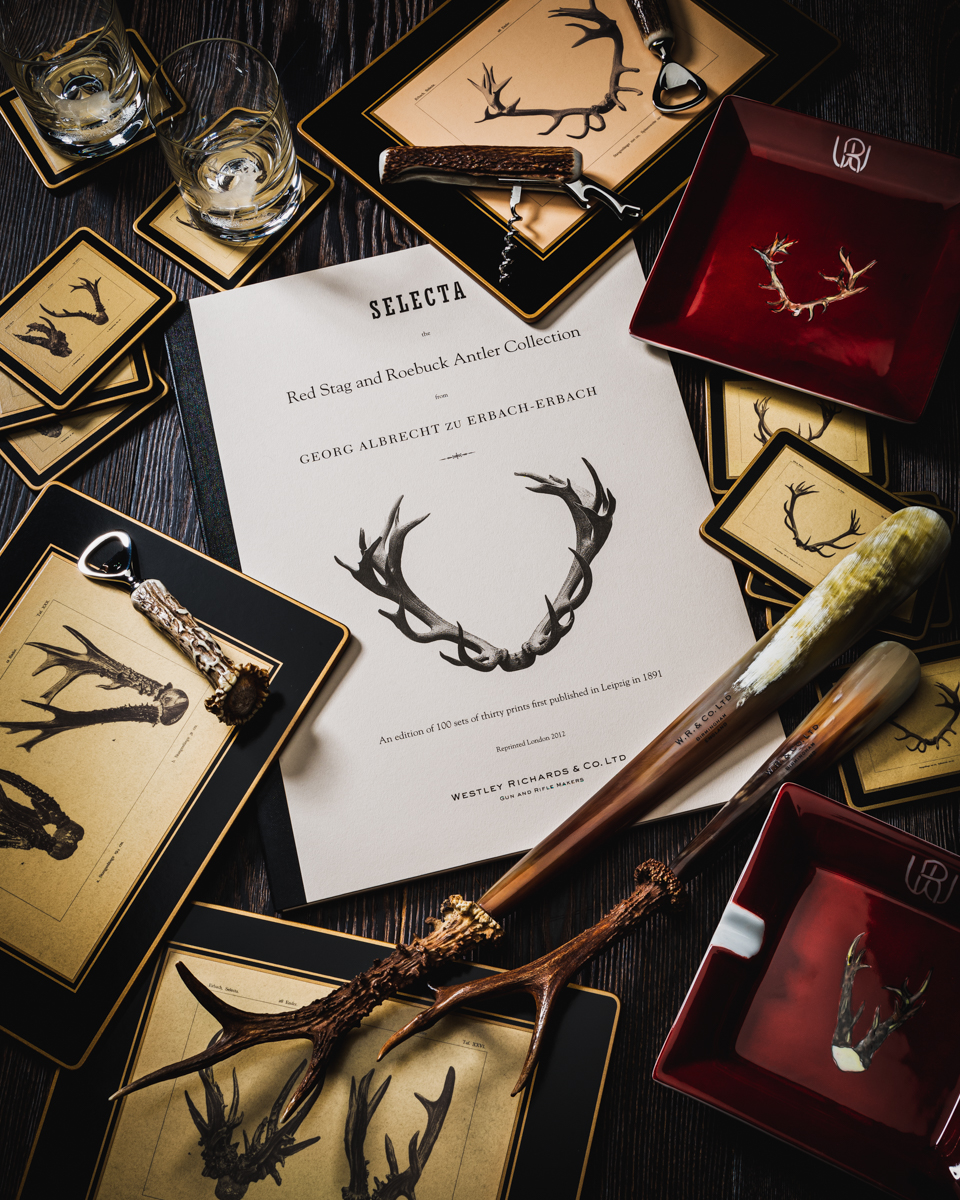 Limited edition Selecta folio reproduced by Westley Richards alongside a variety of coasters and placemats featuring the prints.
Some of you may remember that in 2012 Westley Richards reproduced the original selection of these prints as a limited edition of 100. Very few remain but for those keen enthusiasts, do head to our store to purchase your own collection of these beautiful prints on heavyweight art paper.
https://store.westleyrichards.com/limited-edition-set-of-30-red-stag-and-roebuck-antler-prints