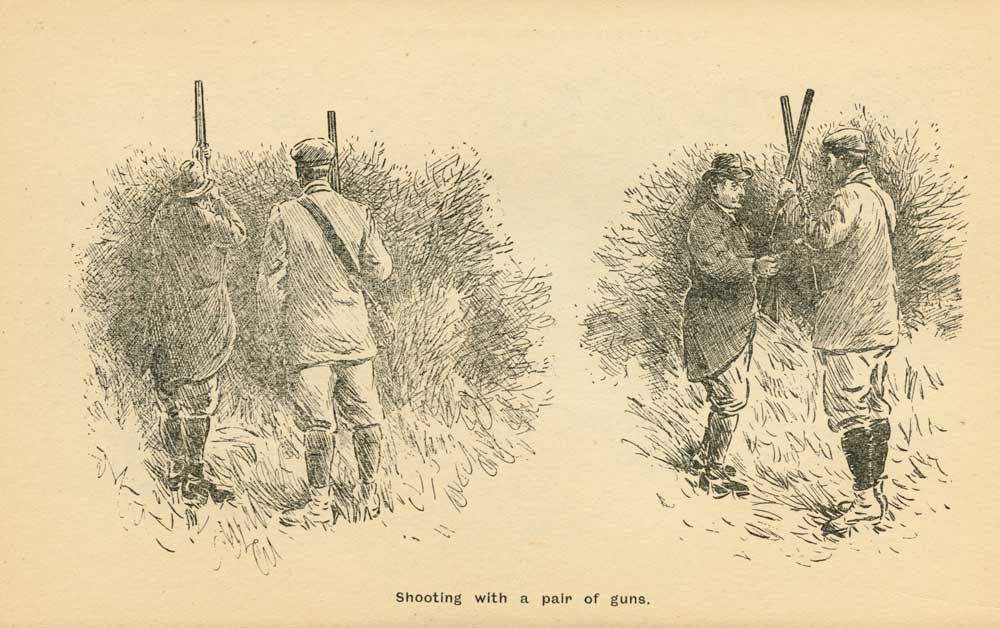 For choice, the loader should stand just behind the right-hand shoulder facing the same direction as the "gun". He should be well prepared with a stock of cartridges conveniently carried in a bag, an assistant having a further supply for replenishing the bag between drives.
The gun he is holding should be in his right hand with muzzles up and slightly sloped to the left. After his "gun" has fired either one or both barrels, the loader should take the discharged gun with the left hand, passing the second gun, which he has loaded in readiness, with the right hand holding the small of the stock only, and taking the fired gun with the left hand by the barrels, and the "gun" should take the loaded gun from the loader also with his left hand. The drill is practically that each shall "take with the left hand"
The "gun should at all times, before handing his gun to the loader, pull the safety slide back, so that the word "SAFE" is exposed, the loader having nothing to do with it. Should the "gun" forget to do this, I would suggest that the loader be instructed to warn him that he has not done so; otherwise should only one barrel be fired, he would be passing back to the loader a gun loaded in one barrel, and ready to fire, a very dangerous proceeding.
The loader, on recieving the gun, should face sufficiently to the rear, turning the barrels well away from the shooting line to prevent anyone being covered in the act of opening the gun for the fired cases to be ejected, or whilst re-loading, and should not face about until the gun is properly closed, then see that the barrels are pointing upwards, and held in the original position.
Neither while holding the gun nor in handing it back must the loader push forward the safety slide. This point is stressed because, being so obvious, it might easily be overlooked  in training a new loader.
After each "stand" or "drive" the loader must remove all cartridges from the barrels, and not re-load until his "gun" has arrived at the next "stand" or position.
I would suggest that a loader should have with him a cartridge extractor, of spring clip or universal pattern, a knife, a small strap, and some string.
Extracted from THE ART OF SHOOTING by Charles Lancaster 1889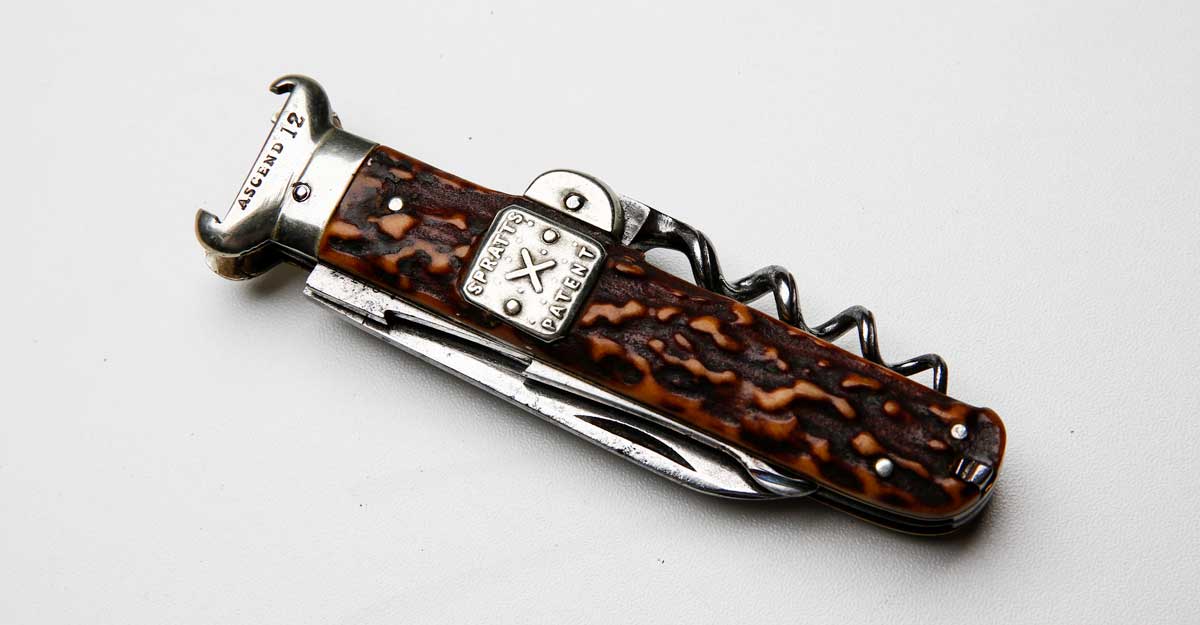 A "Spratts Patent" Universal knife of the type mentioned above, incorporating cartridge extractor, knife, corkscrew and hook.