Nothing shows old-world style in the field like a properly cut, tweed shooting jacket. Photographs from the heyday of the grand country house shooting party, before the Great War show the top shots of the day, like Lord Walsingham clad in attire very similar to this.
The original camouflage high-performance outdoor fabric; pure wool Scottish tweed is as good today as it has always been. Not only does it work in all weathers, it looks and feels beautiful and will still be doing sterling service long after today's modern, plastic derived garments have been consigned to landfill.
It is harder than one might imagine to tailor a smart jacket in such away that it becomes a practical outer layer for active country sports, like shooting. The details matter: everywhere.
The cut must allow for full movement of arms and shoulders, there can be no impediment to the smooth raising of a gun from 'ready' to 'mounted' positions and the shoulder-pocket must remain flat and form a secure resting place for the butt sole with both arms raised.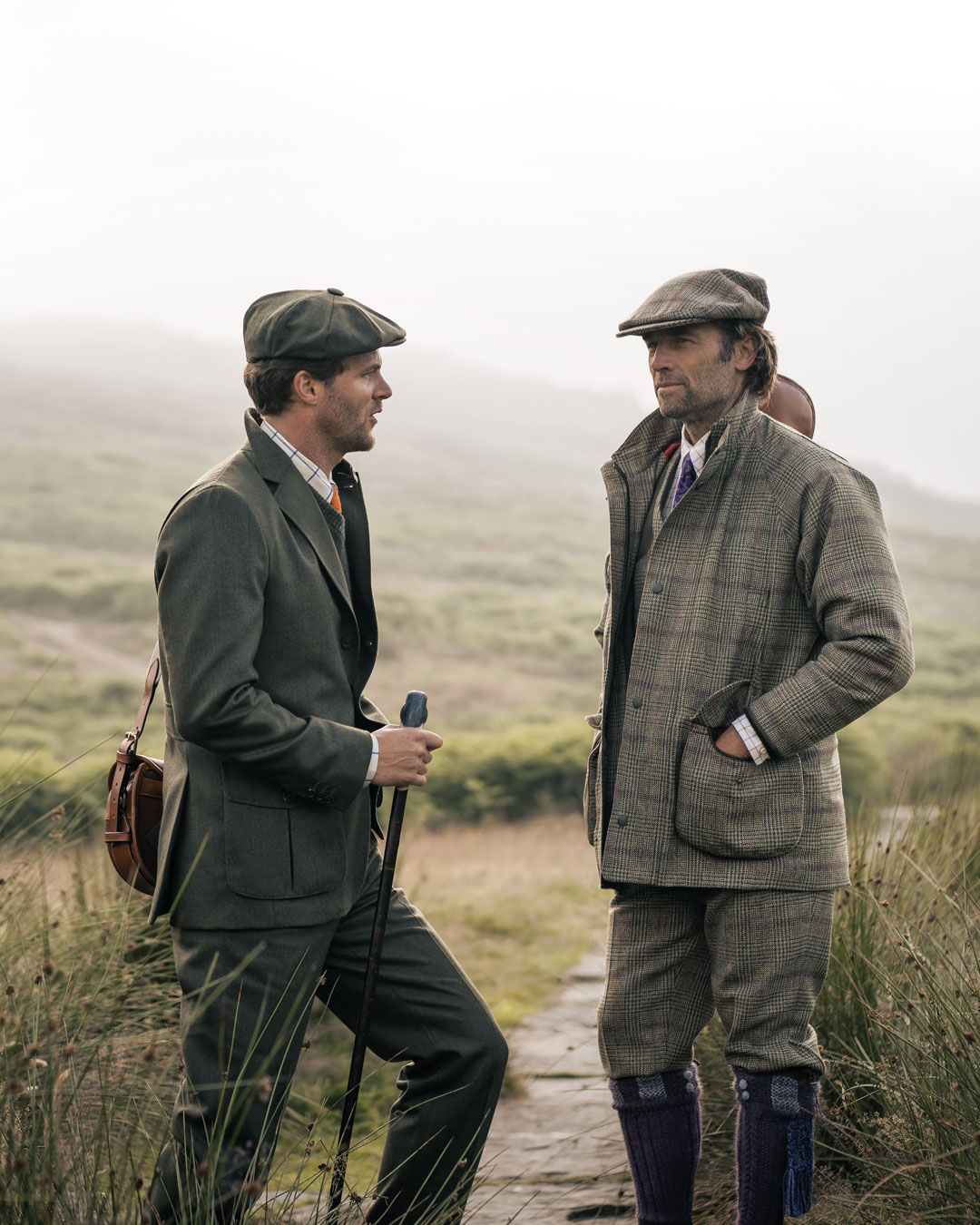 A normally cut sports jacket won't do. The back panel has no give, so arms become restricted when hands are raised. A true shooting jacket has what the trade calls an 'action-back', with vents housing extra material from shoulder to waist. When shooting, this allows expansion when required yet becomes invisible when standing straight.
A half-Norfolk style belt at the back and hacking jacket flap help keep the shape of the jacket tidy. The beauty of the plan is that all these extra details do their work imperceptibly. The shooter simply feels he is wearing very smart jacket that facilitates a full range of movement, keeps out the foul weather, breathes, dries quickly and looks awesome.
Away from the coverts, team it with a  pair of jeans and you have a stylish and practical autumn and winter country weekend look that is equally appropriate in the local pub or the best hotel.
As one might expect from a Westley Richards garment, the details pass the test of time. Properly sewn-on real horn buttons, each etched with our name, a concealed storm collar for when the weather really needs to be shut-out and a classy old gold silky lining.
Traditional bellows-ended patch pockets for cartridges, sit flat when not in use and there a re two additional inner pockets. These jackets are hand made in England from the finest Scottish tweed. They are our signature field jacket and are the sartorial equivalent of our best guns: stylish, practical and multi-generational.
The Rannoch Tweed Shooting Jacket is available from Westley Richards, priced at £795.00 in sizes form 36 to 50. The same jacket is also available in Westley Richards House Tweed at the same price.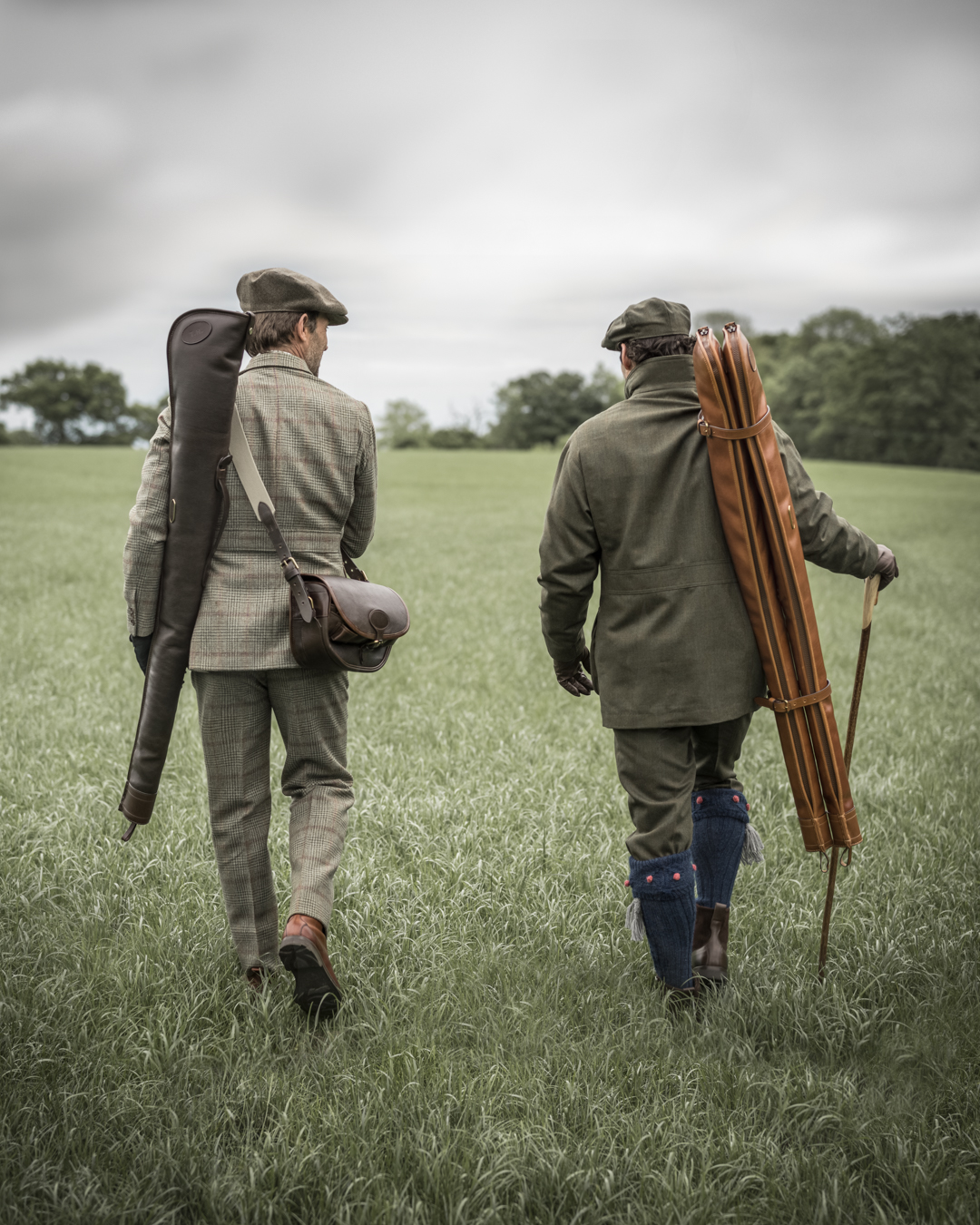 There are two options for teaming the jacket with a lower half: Matching, full-length trousers, styled to allow for ease of movement, yet creating a beautiful weekend suit, which can be worn in the shooting field or socially, or breeks, made for the field, to be worn with long socks and garters for a traditional shooting suit silhouette.
If wardrobe options need to be minimized, it is perfectly acceptable to wear the long trousers tucked into a pair of un-zipped Le Chameau wellingtons while shooting, allowing for a quick change to brogues for the evening meal and the drive home, without ever looking out of place.
For 2022 the full shooting outfit is available in the original Westley Richards House Tweed, as well as the new Rannoch Tweed.  Look smart, shoot well, be distinctive.
For the full range of our sporting tweeds, see: westleyrichards.com/sportingtweeds