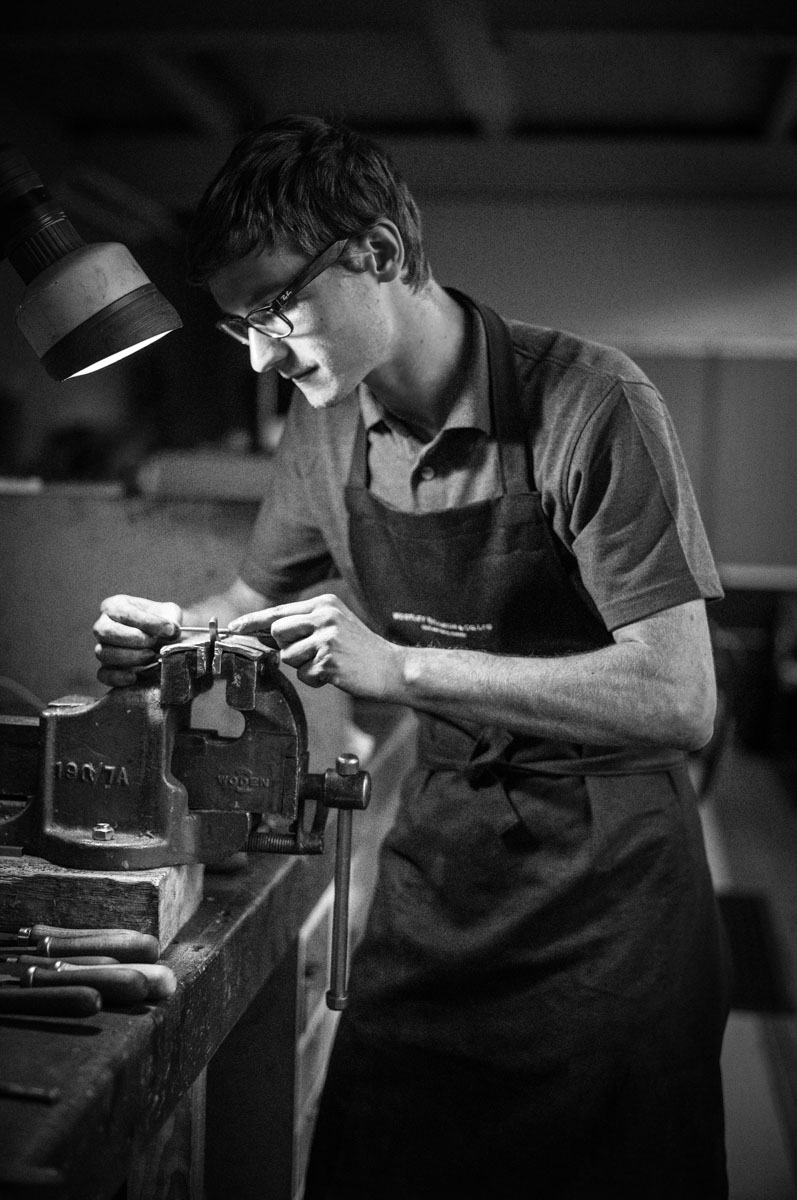 Well, I am 22 years of age and come from Sint Truiden which is a small town with a population of 40,000 people in the Flemish region of Belgium. My interest in shooting and guns comes from my father taking me to shooting ranges from the age of about 15, shooting his pistols and rifles. In fact most of my family are into shooting and I have been around some very nice guns from a young age so it has been my passion for many years. I don't do much hunting in Belgium as you are not allowed to shoot until you are 18 and you need permission off the government to shoot over a certain piece of land, you also have to have a licence which costs you around £300 annually, it is not as easy to take up as it seems to be in the UK.
How did you begin your journey into gun making?
I left school at the age of 15 and decided to get a job in construction laying tiles and doing masonry work. I did this until the age of 19 but it was not the job I could see myself doing for the rest of my life. I knew guns and gun making were my true passion and it was this I needed to pursue a career in. I obviously knew about the gun making school in Liege as it is only 30km from my home but I was undecided as to whether it was the route I should go down. I spoke to Victor Petslers who runs a gun makers in Sint Truiden and is well known in the area, he advised me I should study there before looking for an apprenticeship with a gun maker. I gave it a long hard think, weighed up the pros and cons and took his advice. I told my boss construction wasn't for me and I would no longer be working for him and without telling my parents I joined the gun makers school in Liege!
Why didn't you tell your parents? What did they say when they found out?  
Because I thought they would say it wasn't a very good idea! But in actual fact when I did tell them they were very supportive and have been throughout. They were a little concerned because gun making is such a small industry and also the school is in the French speaking area of Belgium and at the time I couldn't speak French!
How did you cope with the language barrier? Did you have to take French lessons?
No I didn't take any French lessons I picked up a lot from my Flemish friends at the school and also from my teachers. Most of my learning was trying to speak it and making mistakes and learning from those mistakes.
What languages can you speak?
I speak Flemish, Dutch, French and English.
What about Brummie?
Not yet but if I carry on working next to Adam it shouldn't be too long before I'm fluent!
What was the gun making school like? What was a typical day?
I spent three years there, as I joined the school when I was 19 I only did 3 days a week. Younger students who join the school at say 15 or 16 have to study other subjects as well, subjects you would be studying at school for example. In my first year it was quite slow and basic as we learned very simple things such as how to hold a file and how to use the machines and other quite boring things. I found it a little hard going back to school after being out to work for the last few years. The second year we were given a boxlock barrelled action and we had to make all the working parts from a solid piece of steel, all the springs, locks, lifters etc. As well as having lessons on machining, physics, metal work etc. In the third year we had to buy all the components to make a boxlock ejector and make the gun from scratch. We didn't stock the gun as we weren't taught stocking as part of the three year course. If you wanted to do stocking you had to stay on for another couple of years after the first three years of metal work. At the end of the third year you choose a gun that you are interested in and you had to give a presentation to your teachers and gunsmiths. A typical day would start at 08:15 with work on building your own gun until 12:00, then from 13:00 to 17:00 we would have more lessons.
What gun did you do your presentation on?
The Martini Henry falling block rifle. I am very fond of this style of action and in my opinion it's the mother of all falling block rifles.
How many students attended the school? What different nationalities?
Well the school was not only for gun making it also had an engraving section, jewellery making and tool making. There were around 200 pupils in total from a range of different countries like France, Germany, Italy, USA, Iran and even Ethiopia. Most of them in their 20's but we had older students as well, the eldest being 46.
Any British Students?
No!
Did you have accommodation at the school?      
I caught the train in everyday as it's only 30km from my house. There is no accommodation at the school, foreign students have to find their own which can be quite difficult!
Have your friends at the school found apprenticeships as well?
No, I am the only one to have left and got an apprenticeship. They have all stayed on at the school. Some are now studying stocking or engraving or whatever they were interested in. I felt I wanted to get an apprenticeship and learn on the job.
Why did you choose Westley Richards?
To be honest it was the first place that came to mind. My passion and ambition was to work on big game double rifles and I knew if I wanted to do that I had to come to Westley Richards. Growing up I read a lot of books on big game hunting and Safaris and had come across the name and the guns many times. I also followed the blog and had read that Westley Richards had a very good apprenticeship program in place. I emailed Lloyd who replied the next day and in no time at all I was making my very first trip to England to come for an interview.
So how is your apprenticeship going so far? Would you recommend the gun making school to young gunsmiths of the future?
I am really enjoying it here so far, it's only been a few weeks but I feel I've learnt a good amount already. You have a good team here and the gunmakers are happy to help and teach me things. I hope to progress my knowledge and skills and work on some big double rifles and one day I hope to be able to hunt with a Westley rifle. I would recommend the school to future gunsmiths as it's a very good base from which you can build your knowledge, however an apprenticeship has its benefits because you learn on the job and you have much more one on one time with experienced gunsmiths.