One such member of the team who is certainly regarded as a master in his craft is Keith Haynes, foreman in the stocking room. In 2021, he will have been with Westley Richards for 30 years and have personally carved, shaped and balanced near on 400 bespoke stocks for the company and its clients. Discover his story from apprentice to master craftsman, and how he caps off his 3rd decade with his most recent exhibition project, the bejewelled "Qatar Hunting Rifle".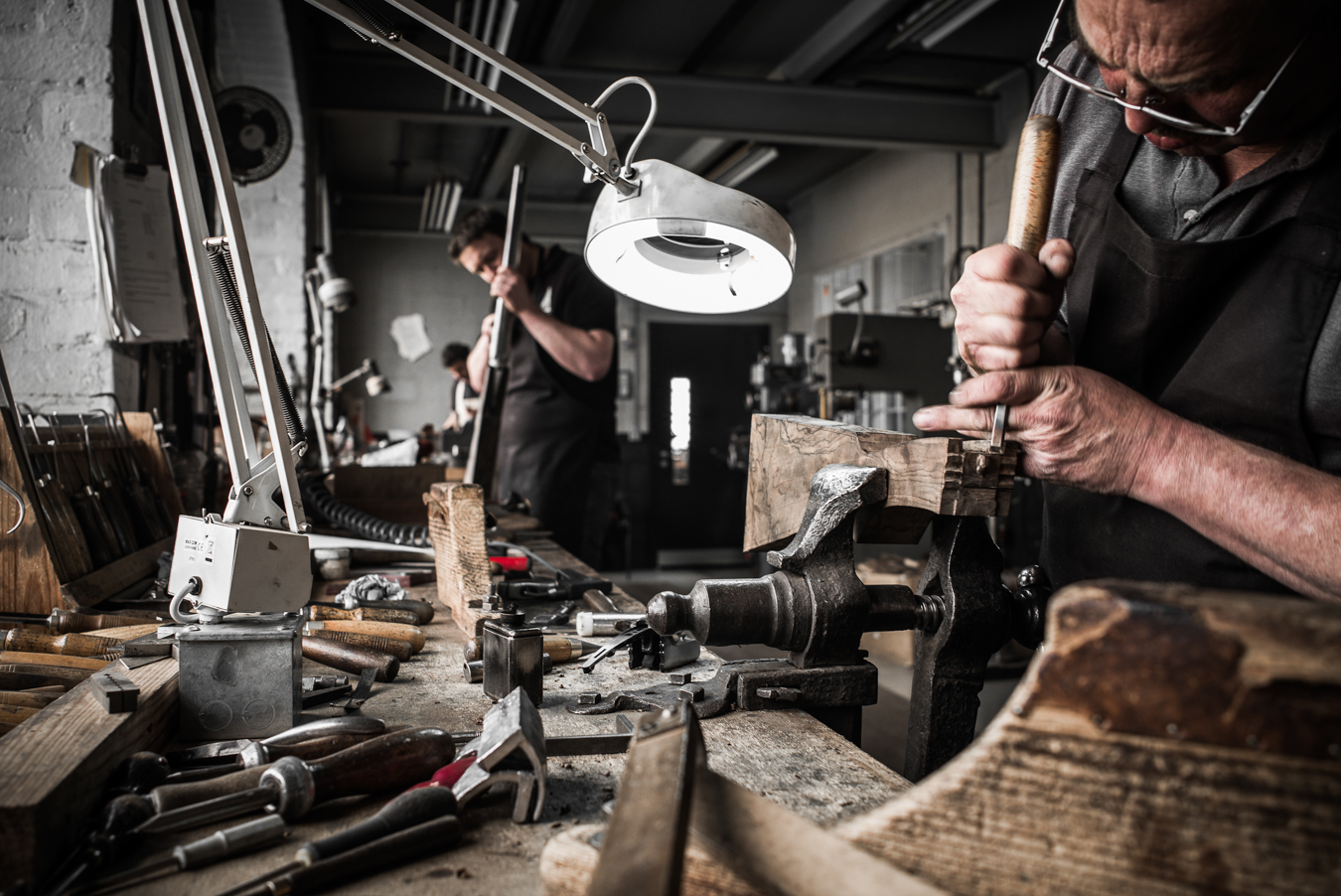 Where did you grow up?
I was born just north of the factory in West Bromich, grew up in West Bromich and I'm still in West Bromich. In fact I still live in the same house.
Did you always want to work in gunmaking?
Not specifically, the opportunity came about when I was leaving school and applying for different jobs locally. Gunmakers, Webley & Scott, had one of the best apprenticeship schemes alongside British Leyland at the time, and as I enjoyed woodwork and metalwork at school, thought they the best fit for me.
What did your apprenticeship entail?
Around 30 apprentices started on the same day at Webley & Scott, including myself, and we spent the first 2 weeks at the bench making a few tools. Each apprentice joined a different department and luckily, with my plan to be a stocker, I ended up in the wood mill. There I remained for the next 8 months learning how to operate copy lathes, routers, hand saws etc. I spent the rest of my first year in the air rifle and handgun assembly room before returning to the bench to begin my education in stocking.
Stocking at Webley & Scott was completely different to here at Westley Richards, mainly due to the far larger volumes of stocks they were outputting. Webley & Scott had a process called stock and screw where one guy would make the stock and another shapes them up. For additional speed a large majority of stocks and forends were part-machined, in vast contrast to Westley Richards' approach of working by hand directly from a blank.
Working that way and once fully trained we were making as many shotgun stocks in 2 weeks as we do in a single year here at Westley Richards, but of course nowhere near to the same standards.
Who inspired you to become a gun maker?
Honestly, I wouldn't say anybody inspired me to work in the gun trade but I do remember clearly the open day tour at the Webley & Scott's factory and their stocking department. Upon seeing those stocks being shaped along with the finished article that sealed it for me, I knew I wanted to move into that line of work.
Who would you have counted as mentors in the field of stocking?
Dougy Carlisle at Webley's had the greatest influence on my early days, he took me under his wing as an apprentice and made sure I developed in the right way. In the first 12 months the focus was on forends, which is where all apprentices begin, and Dougy had a good manner about him. He would start us off and then at each stage review our work, if it wasn't up to scratch he would simply show us the correct method. Always being on hand to offer his time and knowledge very much helped my development and continued interest.
After my apprenticeship finished in 1981, Webley & Scott's split off their shotgun making into a subsidiary called W&C Scott's, later bought by Holland & Holland's. Dougy and I remained working together right up until Holland's closed the factory in 1991.
Another key person I would say is former Westley Richards foreman Ken Halbert (1987-2007), who I originally knew through W&C Scott's work with Westley Richards. When W&C Scott's closed its doors the first person I turned to was Ken, who kindly made an introduction to then chairman - Simon Clode. On showing my recent work for Holland & Holland's at our first meeting, Simon hired me on the spot.
Up until then my experience of shaping a stock was limited, seeing as my career to date didn't require that skill. Of course I had worked on some shaping projects, which included the Holland OU shown to Simon in my interview, I knew by moving to Westley Richards my skillset was on a rapid trajectory and both Ken and Simon clearly had faith in me.
That journey began at Westley Richards with a pair of single trigger sidelock shotguns.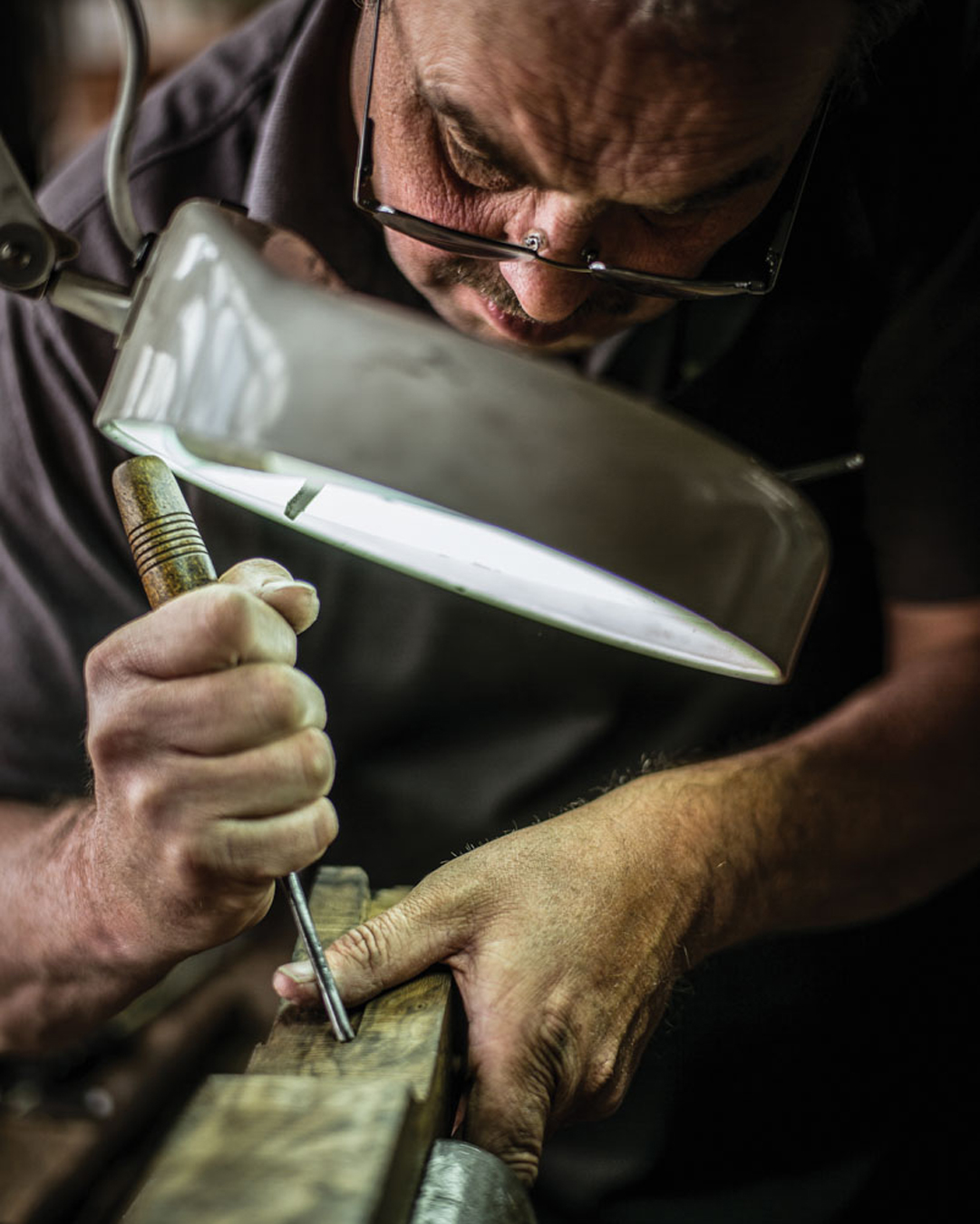 How long did it take to learn the art of crafting a gunstock?
I am always learning. From the moment I entered Westley Richards stocking shop, the vast array of calibres, gauges, gun types, rifle types - not to mention the wood variables and client preferences - there is always something new to learn, understand and appreciate.
How many stocks have you now built?
Discounting my time at Webley & Scotts and W&C Scotts, where we were producing 100s of stocks per year but I wasn't involved in the shaping, I would say I have made near on 400 complete stocks during my time with Westley Richards. Next year I will have been with the company 30 years and averaging 12-15 stocks each year, it is unlikely I will reach 500 before I retire, but you never know.
What are the greatest challenges a stocker faces?
By far the greatest challenge a stocker faces, above and beyond the variations in guns, rifles, calibres and gauges, is the creation of pairs and trios. Our customers are true connoisseurs of fine guns and therefore our work is under high levels of scrutiny. When a client requests a trio of shotguns for various wing-shooting we must not only match their shape, balance, wood pattern and finish but also scale the stocks perfectly for the different cartridge gauges. At the moment I'm working on a trio of exactly the same gauge, requiring identical stocks for each, an incredible challenge by hand.
What do you most enjoy about crafting a gunstock?
The most enjoyable part is the finished product. Nothing is more pleasing than seeing the end result, especially after all the hours that we invest into each stock.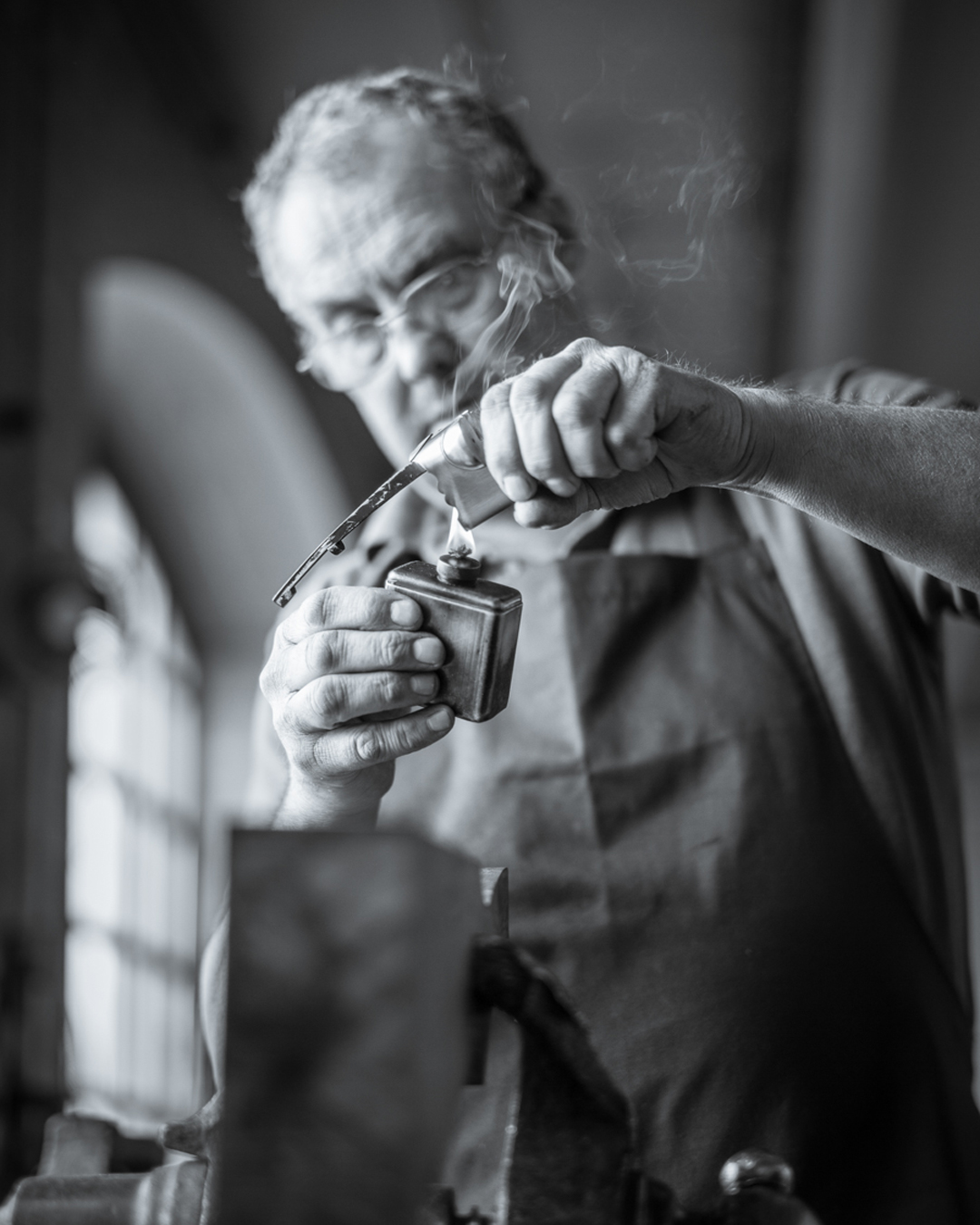 Tell us about your role in the new exhibition grade 'Qatar Hunting Rifle' that you recently completed?
My involvement in the Qatar Hunting Rifle has virtually been the same as every other Sidelock stock I make at Westley Richards, though there is another level of care required with the wood being exhibition grade. However it is always a pleasure to collaborate with legendary engravers such as Paul Lantuch, who worked on this rifle and in particular on its stock. I often say if I could have worked in any other area of the gunmaking, I would have loved to have been an engraver. But sadly I know that it is a skill you cannot simply learn, you have to be born with that ability!
The exhibition grade Qatar Hunting Rifle will be on The Explora blog in the coming weeks…