Like our gunmakers, and with the same revered philosophy, our leather workers are trained to never compromise when it comes to quality. At Westley Richards, we want everything that has our name on it – our guns, rifles, ammunition, cases, cartridge bags and belts, gun slips, cleaning rolls and luggage – to be of a standard that cannot be bettered, and will be handed down from one generation to the next, just as things were a hundred years ago.
Today we interview one such artisan, Alice, who joined the same year as myself, and has risen through the ranks as our leather goods and outdoor clothing has grown in prominence on the world stage.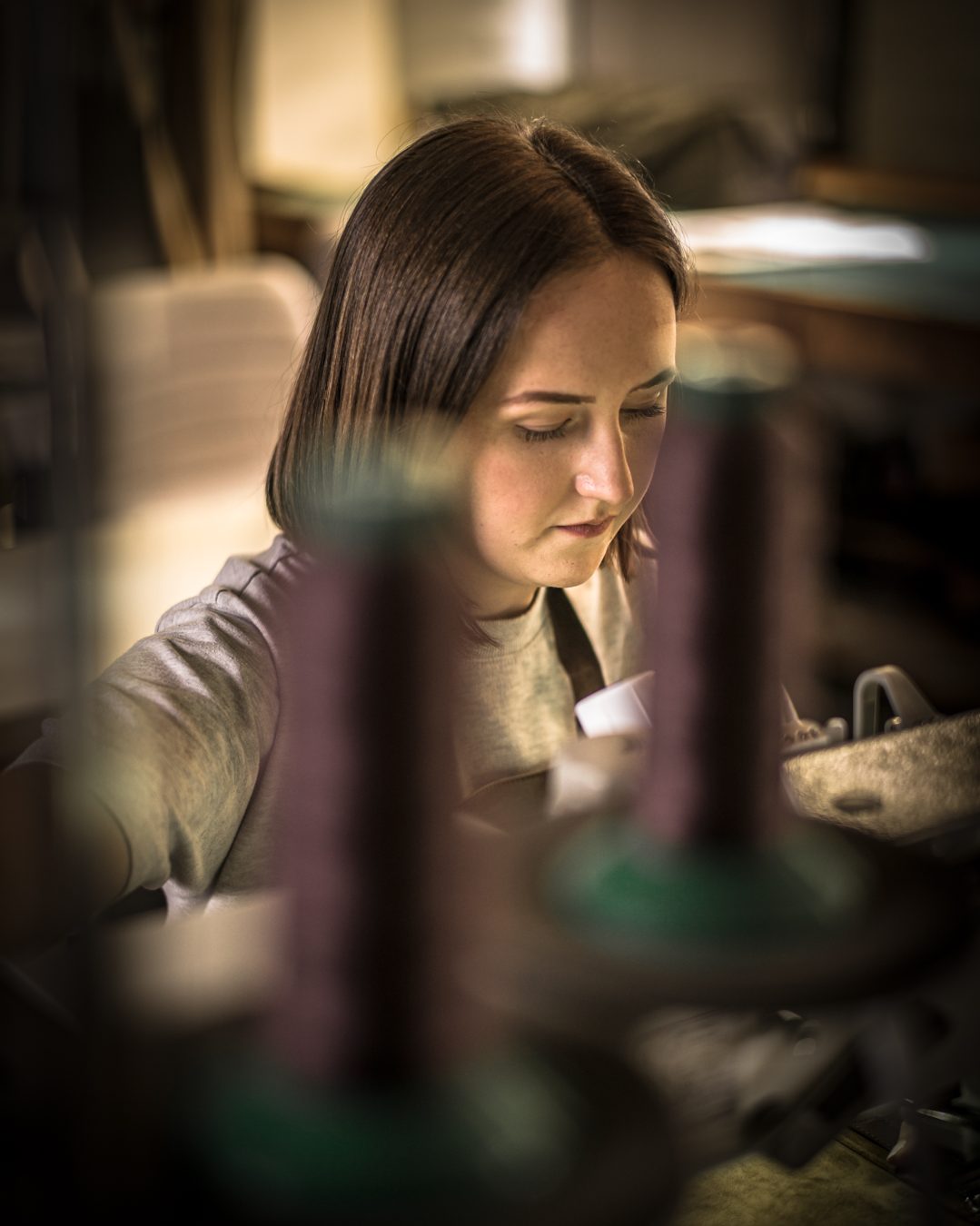 Where did you grow up and complete your studies?
I grew up in Melsonby, a tiny village nestled between The Yorkshire Dales and The North Yorkshire Moors. In my teenage years you would have likely found me crafting something or out in the countryside with my family, which are two things that  have naturally crossed over throughout the years. This started during my time studying Fashion Design & Technology at Manchester Metropolitan University, where my final major project combined streetstyle with performance wear, and was photographed at Tan Hill Inn.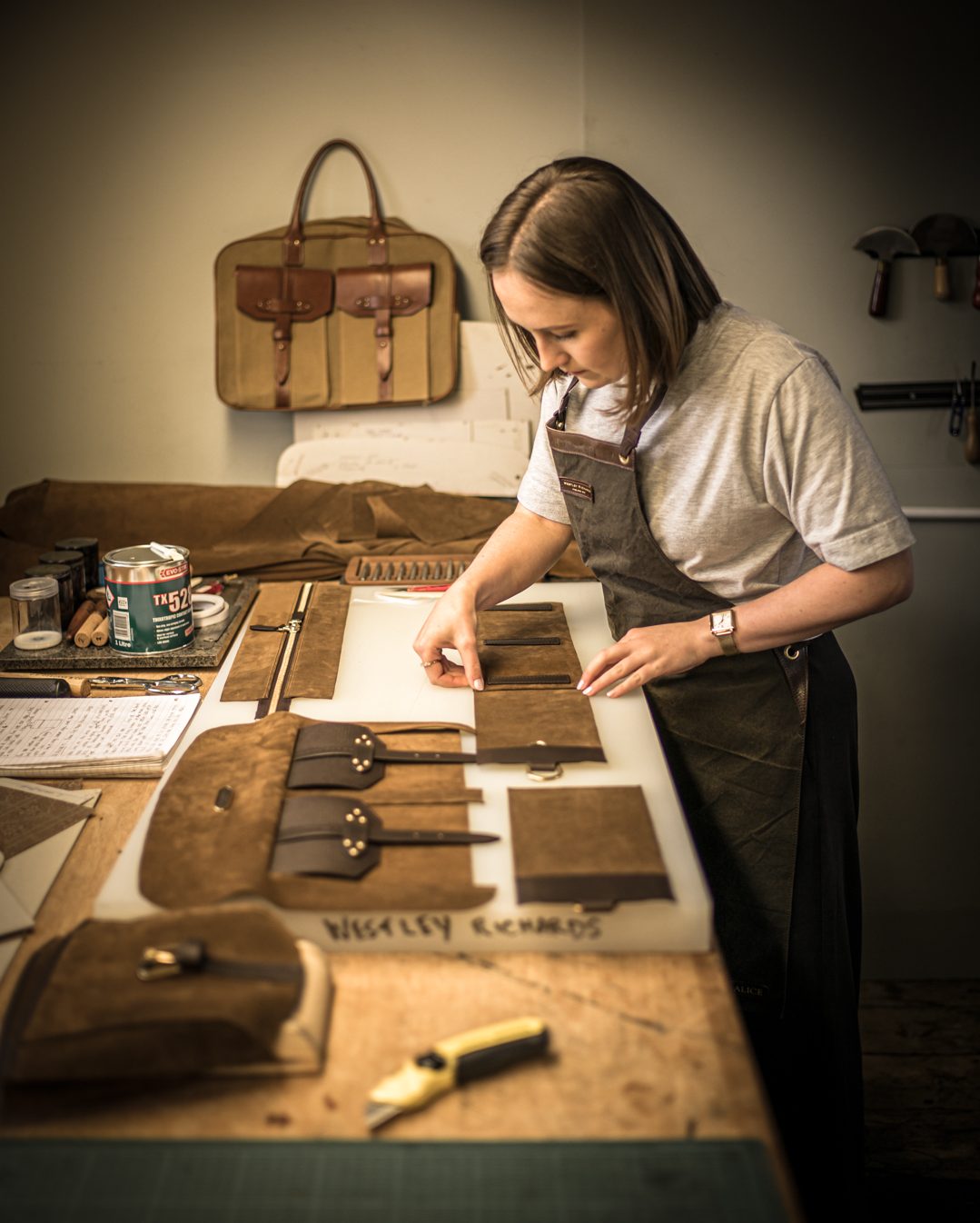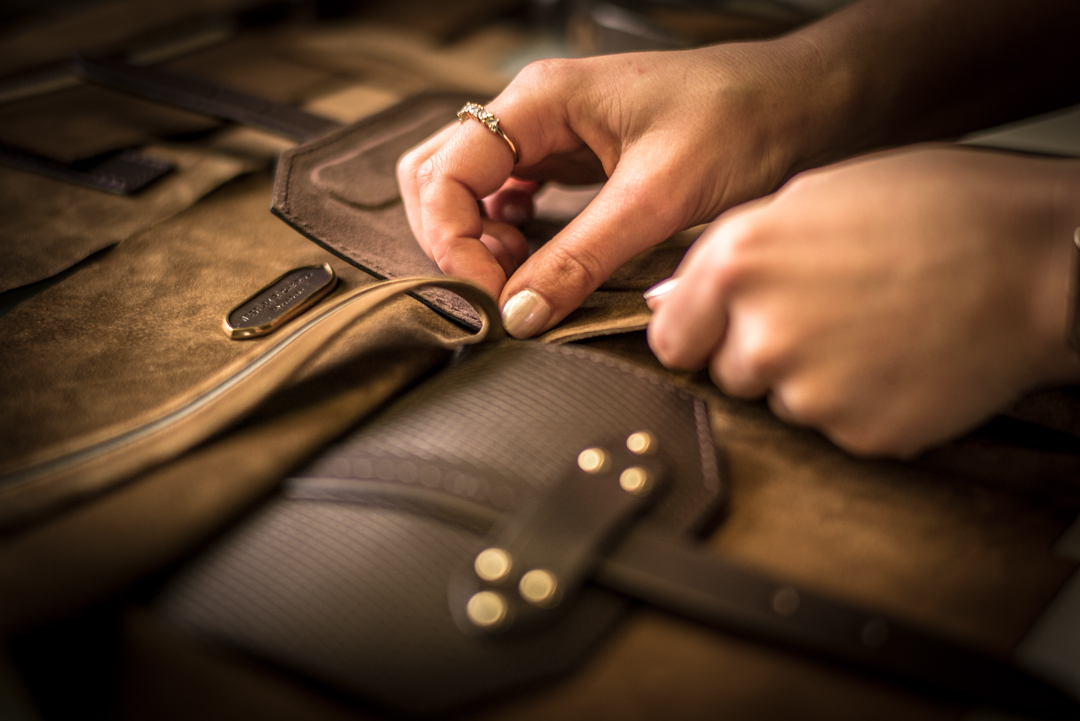 What inspired you to become a leatherworker?
Honestly, I was unaware that being a leatherworker was a possible career path, until I stumbled across an opening here at Westley Richards. I have always had a fascination for different textiles, and how they can be manipulated to create a product, so when I came across this position I was intrigued as to what it would entail. When coming for my interview, I was blown away by the history of Westley Richards, and that the artisans here are involved all the way from pattern drafting to final product, something that is extremely rare for a lot of creative jobs that I had come across.
What did your apprenticeship entail?
My apprenticeship started with understanding the different leathers that we use here at Westley Richards, understanding their unique characteristics, and learning how to create each product using the best of each skin. Learning to cut, prep, then construct small leather goods such as ammunition wallets and hip flasks, then equipped me with the skills I needed to be trained to make the larger products such as the travel bags and gun slips, and in more recent months constructing outer covers for the gun cases. The small team at Westley Richards enables us to shadow our mentors closely, learning how to make a product alongside each other gives us the opportunity to see all of its unique quirks,  the machines' eccentricities, and equally learning the best tips and tricks to make for a smooth construction process.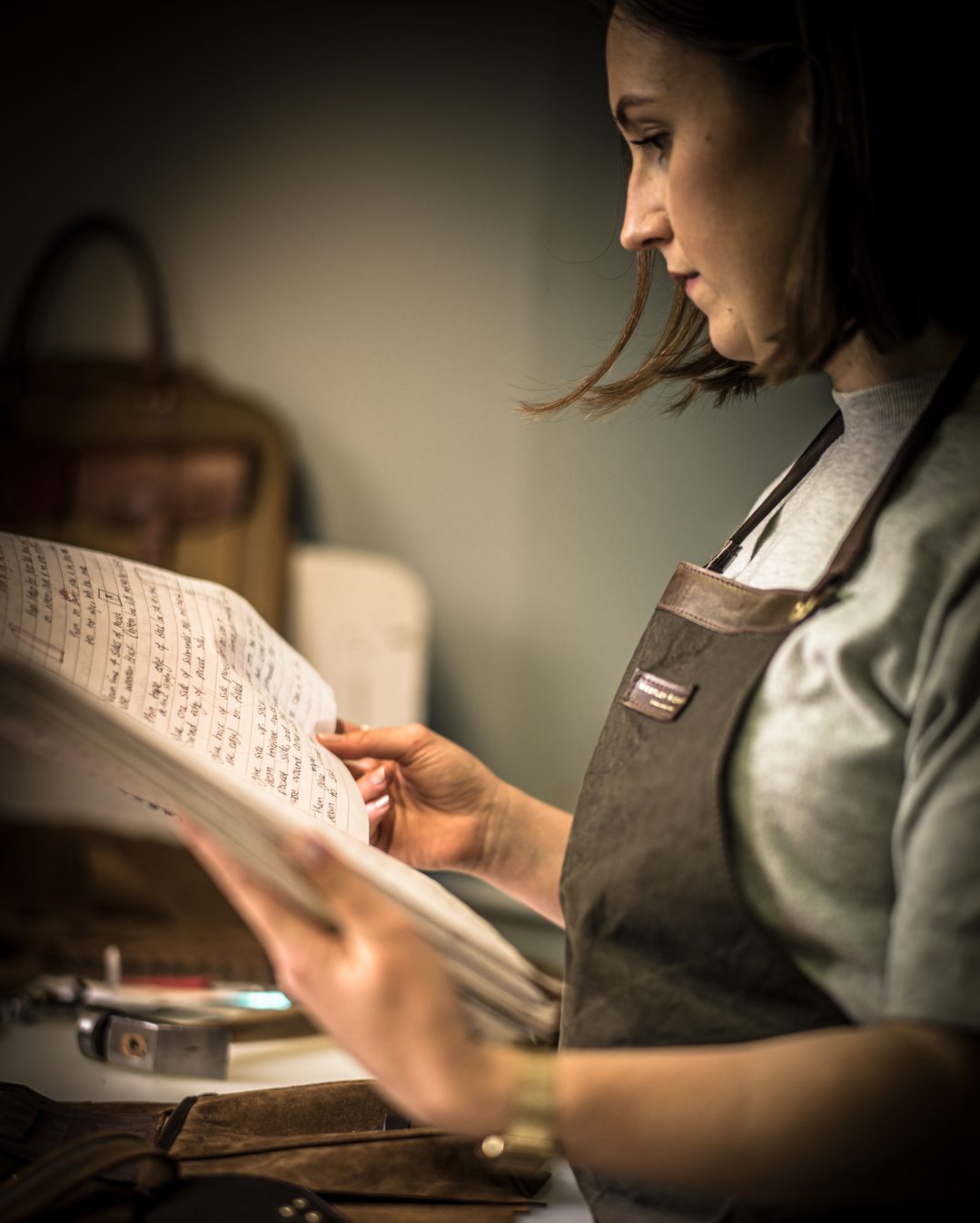 Who would you have counted as mentors in the field of leather accessories?
I am very lucky to have joined such a welcoming bunch of artisans here at Westley Richards, all of which have been my mentors. Laura Webborn and Joanna Dzwonkowska have been by my side here since I first started in early 2019, teaching me everything they have learnt from their own time here, trickling down from the many years of experience between Witold Podwysocki and Tracy Matthews. Being surrounded by such positive, encouraging mentors has been one of my favourite parts of my job, the joy that we share with each other when one of us learns a new product or perfects a technique they have been struggling with has been truly inspiring, and is something I hope to continue with all of our new trainees.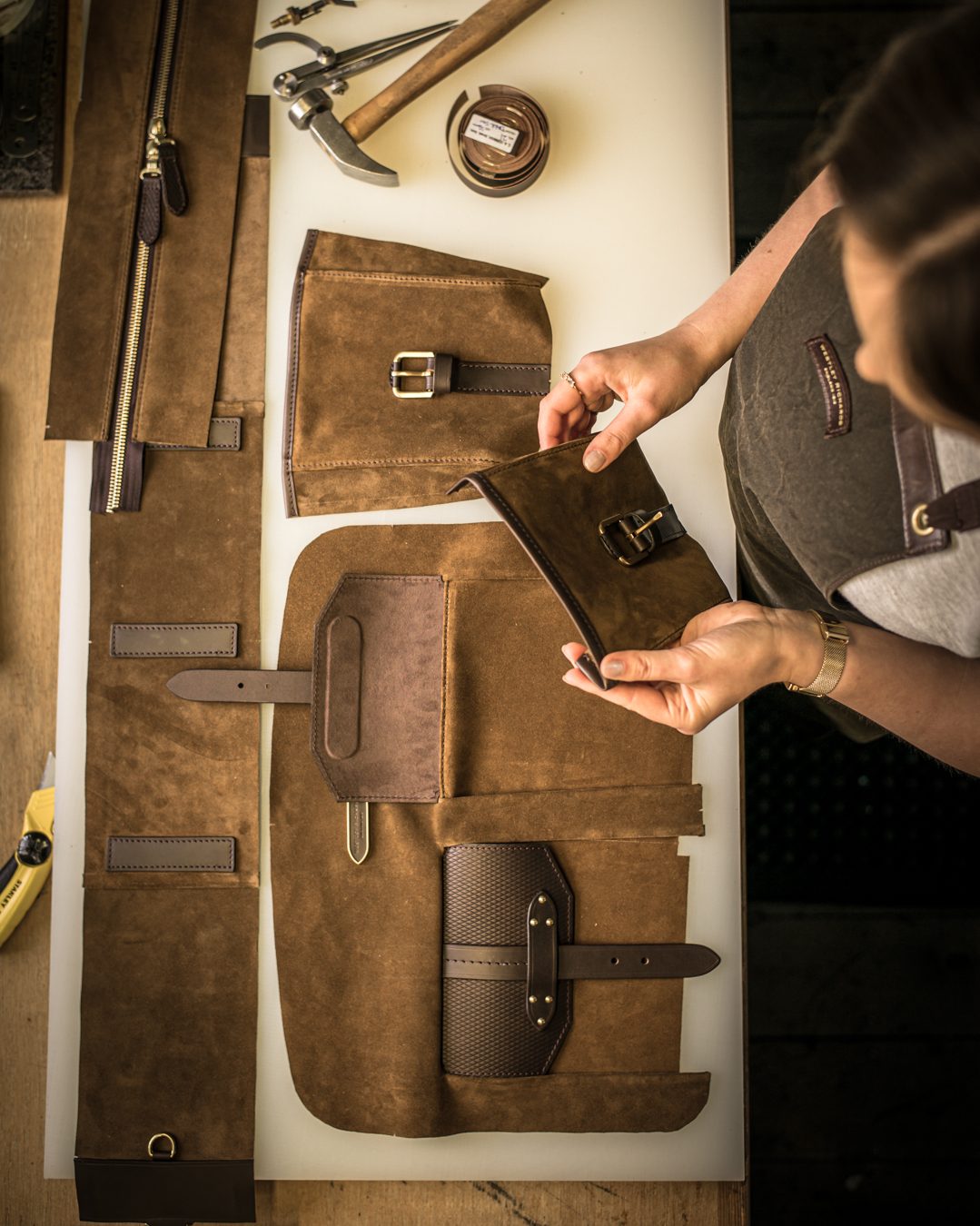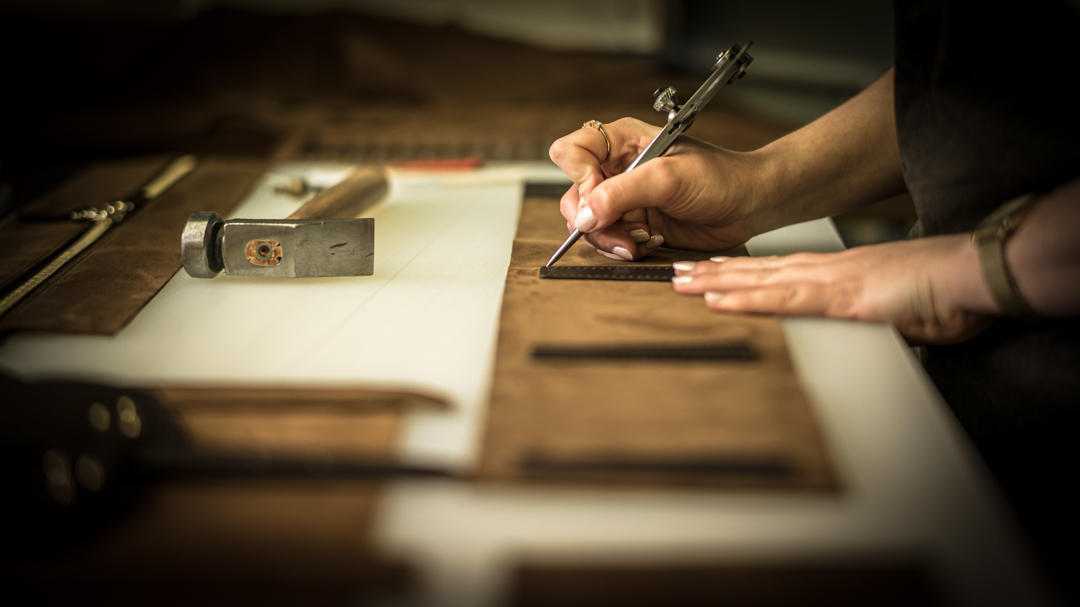 How long did it take to learn the art of crafting a fine leather good? 
As with many creative industries, I think I will always be learning the art of crafting a fine leather good, as that is one of the many joys of such jobs, especially with the custom work that we have the pleasure of creating here at Westley Richards. 4+ years here and I am learning new construction techniques for our complex Bournbrook range, and using transferable skills to create individual client requests.  Having a background of fashion pattern drafting and dress making has given me invaluable insight to how products here are constructed, it feels like I may have been training for this position many years before I knew it even existed!
If you hadn't become a leatherworker, what path would you have taken?
I would have likely completed my chefs training, something I dabbled in for a year, before joining the team here at Westley Richards. Surprisingly I have found a lot of my training came in very handy here, working alongside fine dining chefs perfecting standards gives you a whole new perspective on how crucial attention to detail may be.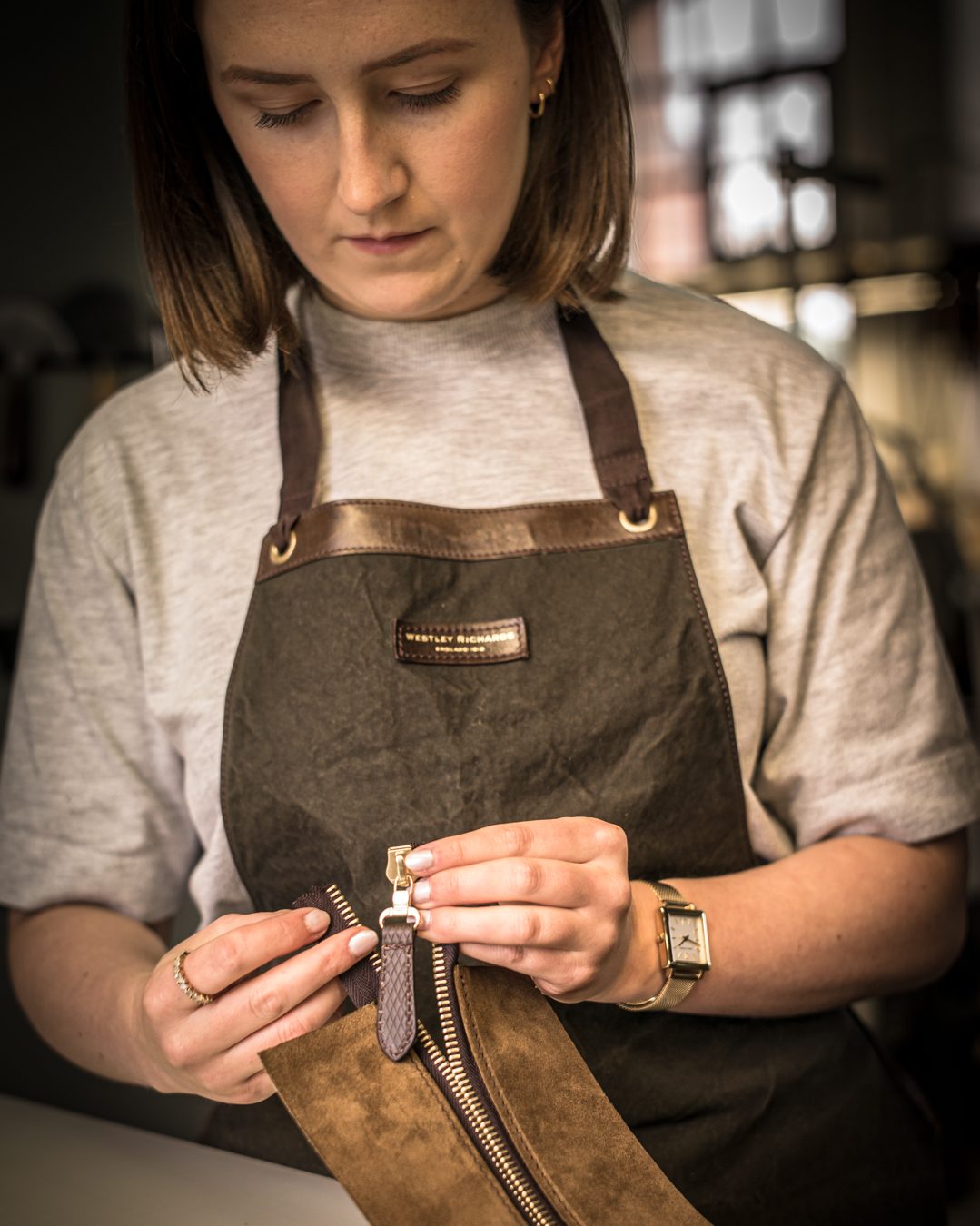 What are the greatest challenges a leatherworker faces?
Due to the nature of our leathers being traditionally veg tanned, one of the greatest challenges we face is choosing the perfect part of the skin for the product we are making. Finding the balance between choosing the most characterful piece of  leather, but avoiding any imperfections is unique to every product we make, and can be especially challenging when exotic leathers and custom work is thrown into the mix. 
More recently I have been working on some of our leather and canvas outer covers, where each one is drafted to perfectly fit the clients gun case. The precision when it comes to measuring and drafting these outerovers is particularly challenging, ensuring that every right angle is perfect, and each cut is precise to the 1/32". There is no room for manoeuvre when it comes to these outercovers, as they simply will not fit.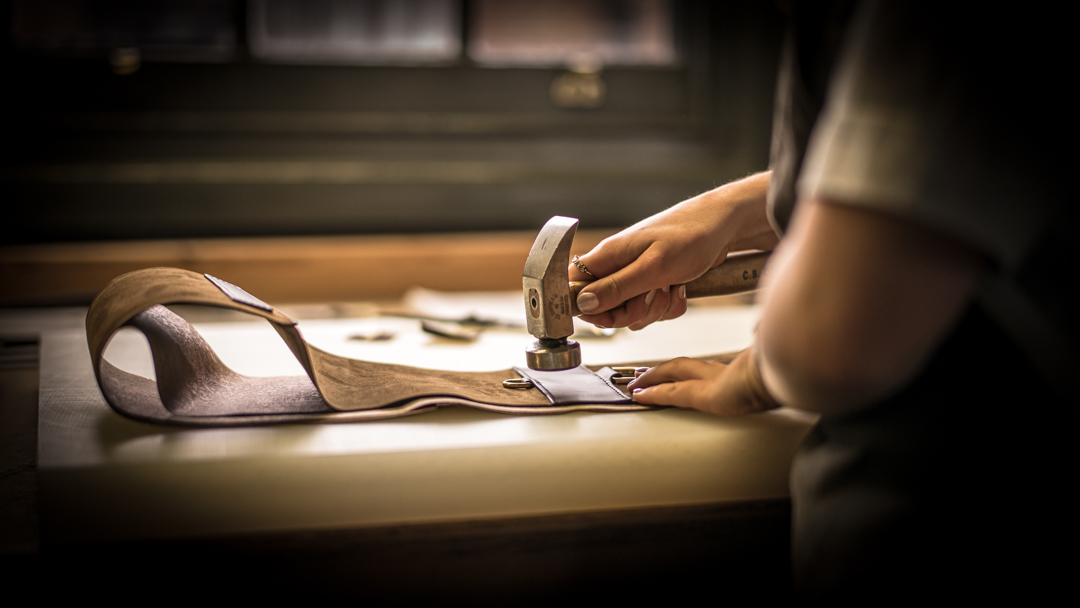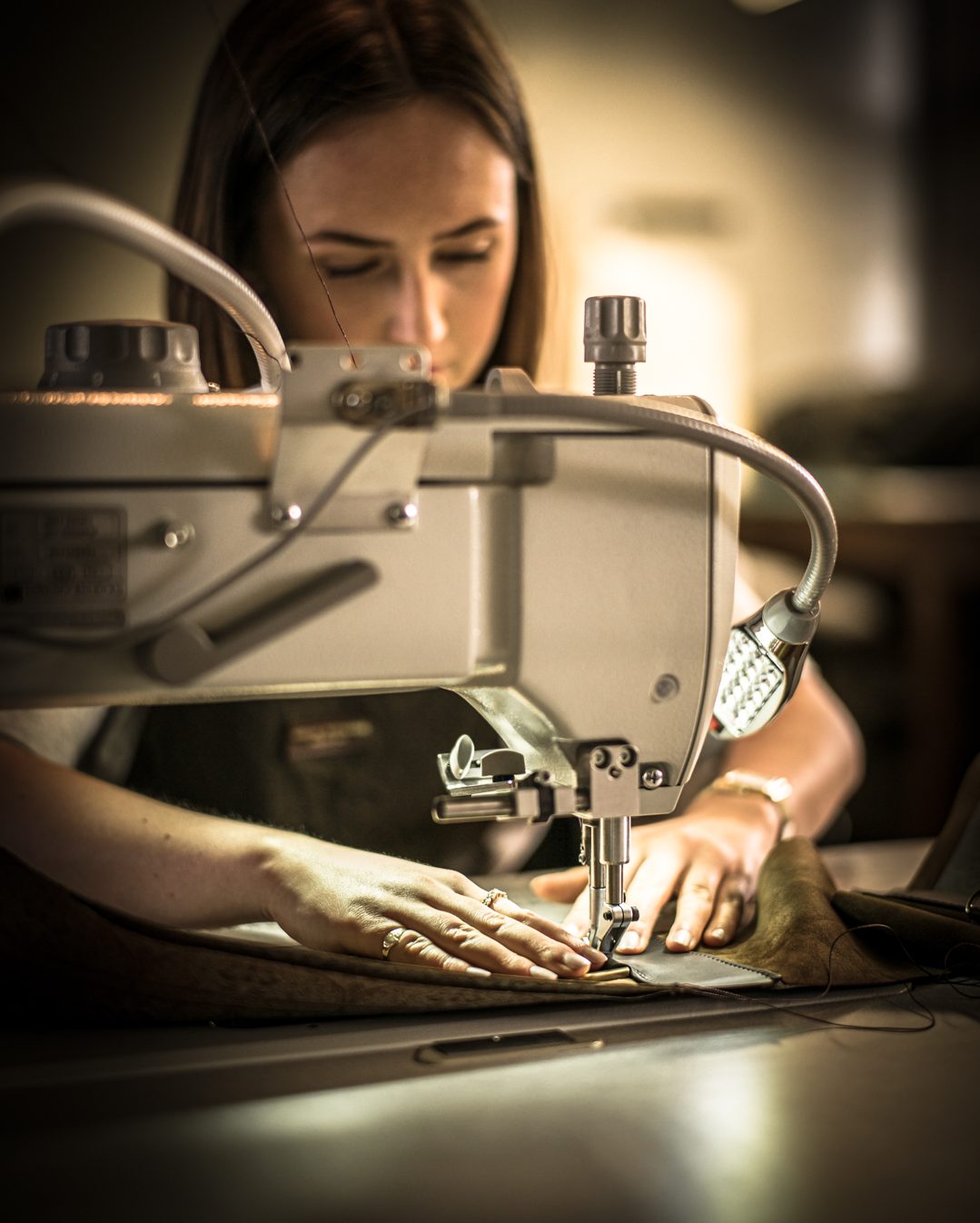 Name some highlights during your role at Westley Richards?
I think for most of the trainee leatherworkers that start here at Westley Richards, the Sutherland bag is always the product that we are most excited to make, as it usually feels like a distant achievement when you are starting as a trainee. For me, I completed my first Sutherland bag after 9 months of being here, after spending that time making my way through perfecting all of the smaller products in our range, and learning all of the different techniques that I would need to be able to confidently make a Sutherland bag. There is something extremely fulfilling from the moment where you turn out your first bag and reveal the beauty of the product that you have crafted. 
In more recent years my highlights here have been more moments than physical products, the moment of realisation that my understanding of construction has developed to enable me to be able to look at a product and decipher how it has been assembled.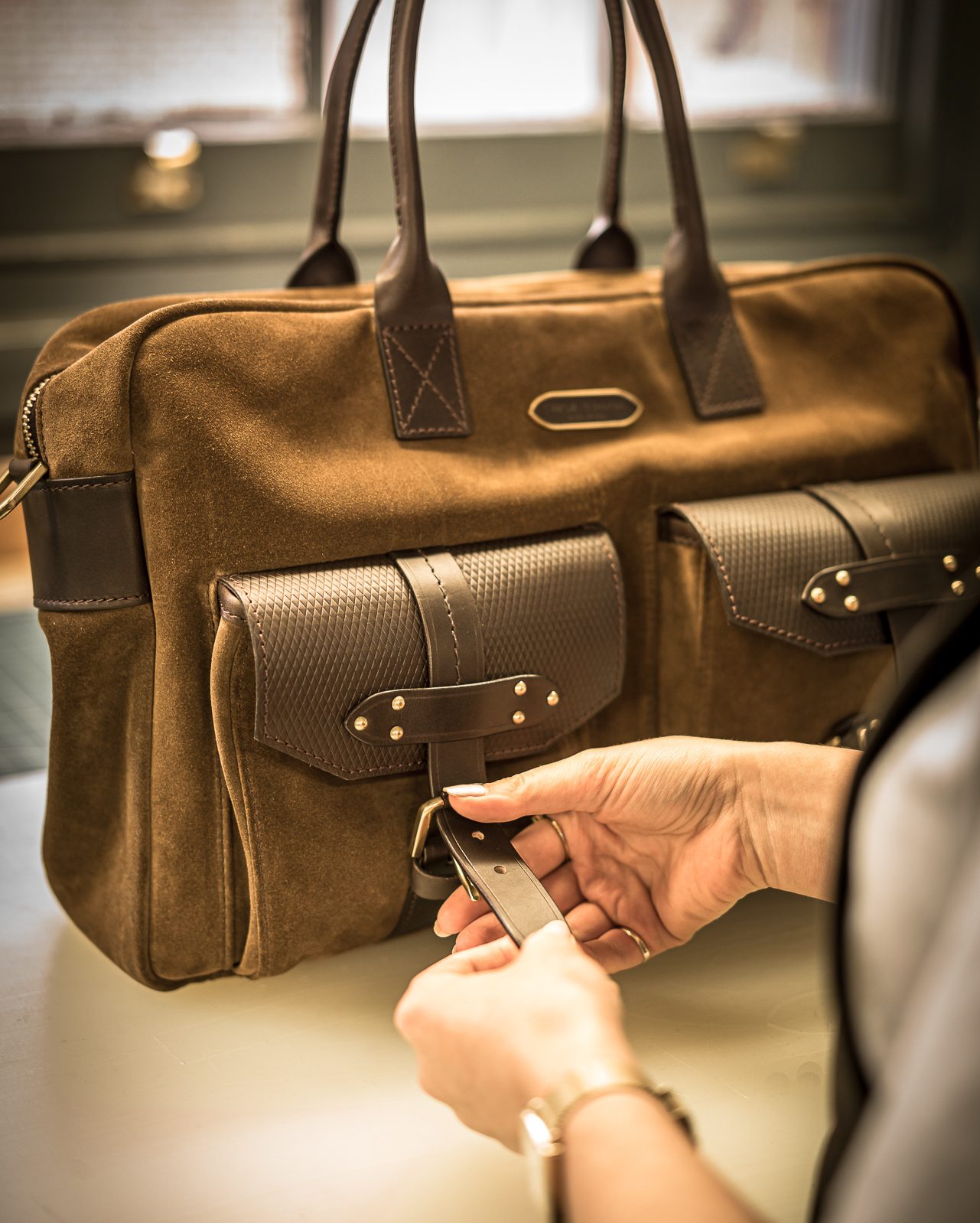 Tell us of your experience of training new members of the leather department?
As our team expands it is great to have new members training with us, and we are lucky enough to have people from a range of different creative backgrounds who all bring their own set of skills. Having been trained not that long ago myself, I try to transport myself back to that time, and remember all of the tips and tricks I found most beneficial for that specific product, along with any others I think may be transferable from other products. As we train very closely here we soon understand each individual's needs and can adapt our training style accordingly, to help them flourish. I really enjoy training the new members that start here, and it is great to watch their confidence grow as their time here continues to help them grow as leatherworkers. I am extremely grateful for those that trained me here at Westley Richards, and hope to pass on all of that knowledge too.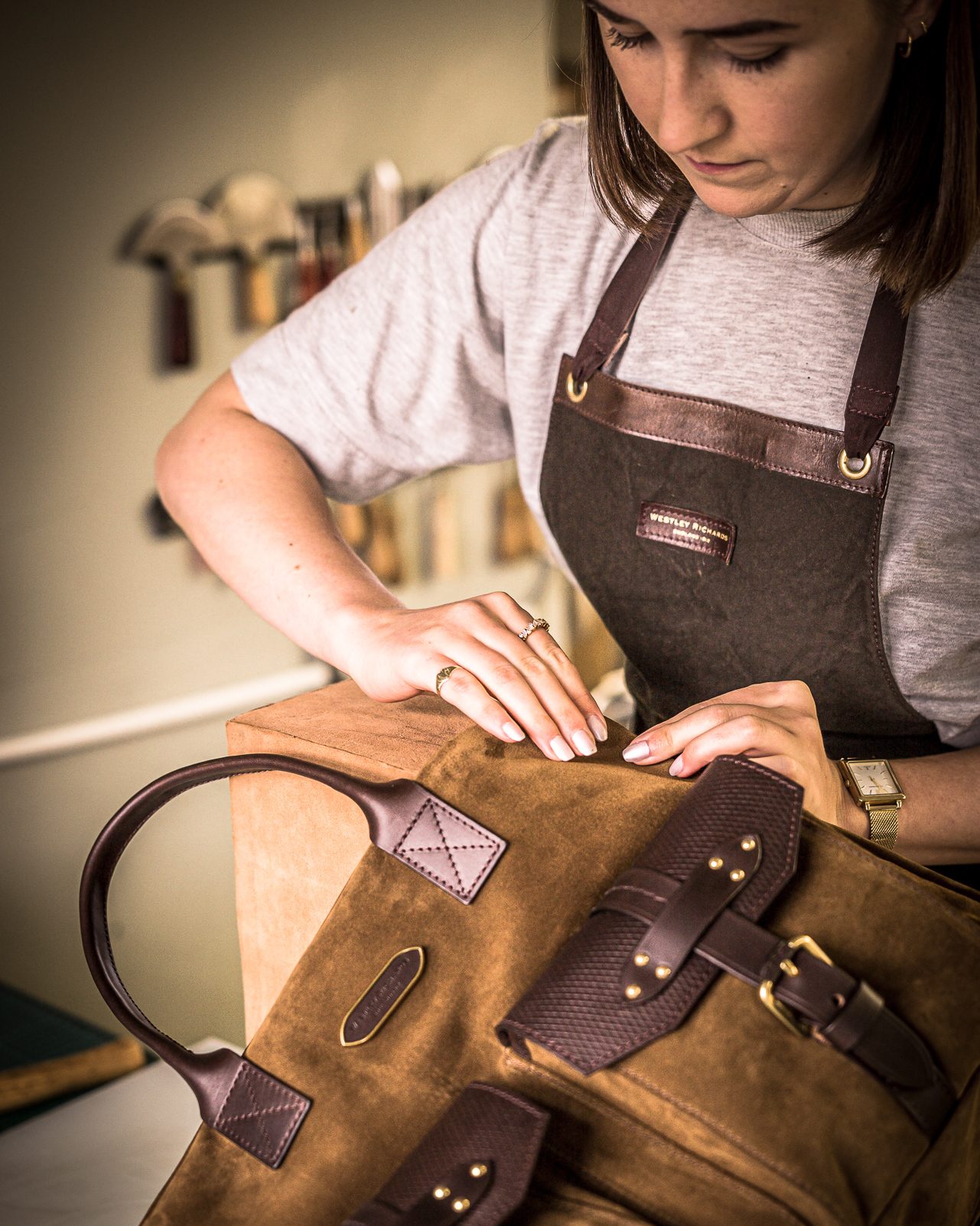 What bespoke projects have you been working on recently?
With the launch of a new suede collection in the near future, I have recently been working on sampling a range of our existing travel bags in a few different suede colourways. Having been a part of assisting with the initial colour samples of the suede right through to helping choose the trims, and making the final product, it has been brilliant to see our new collection come to life, and I am excited to see how our customers will receive it in the coming months.