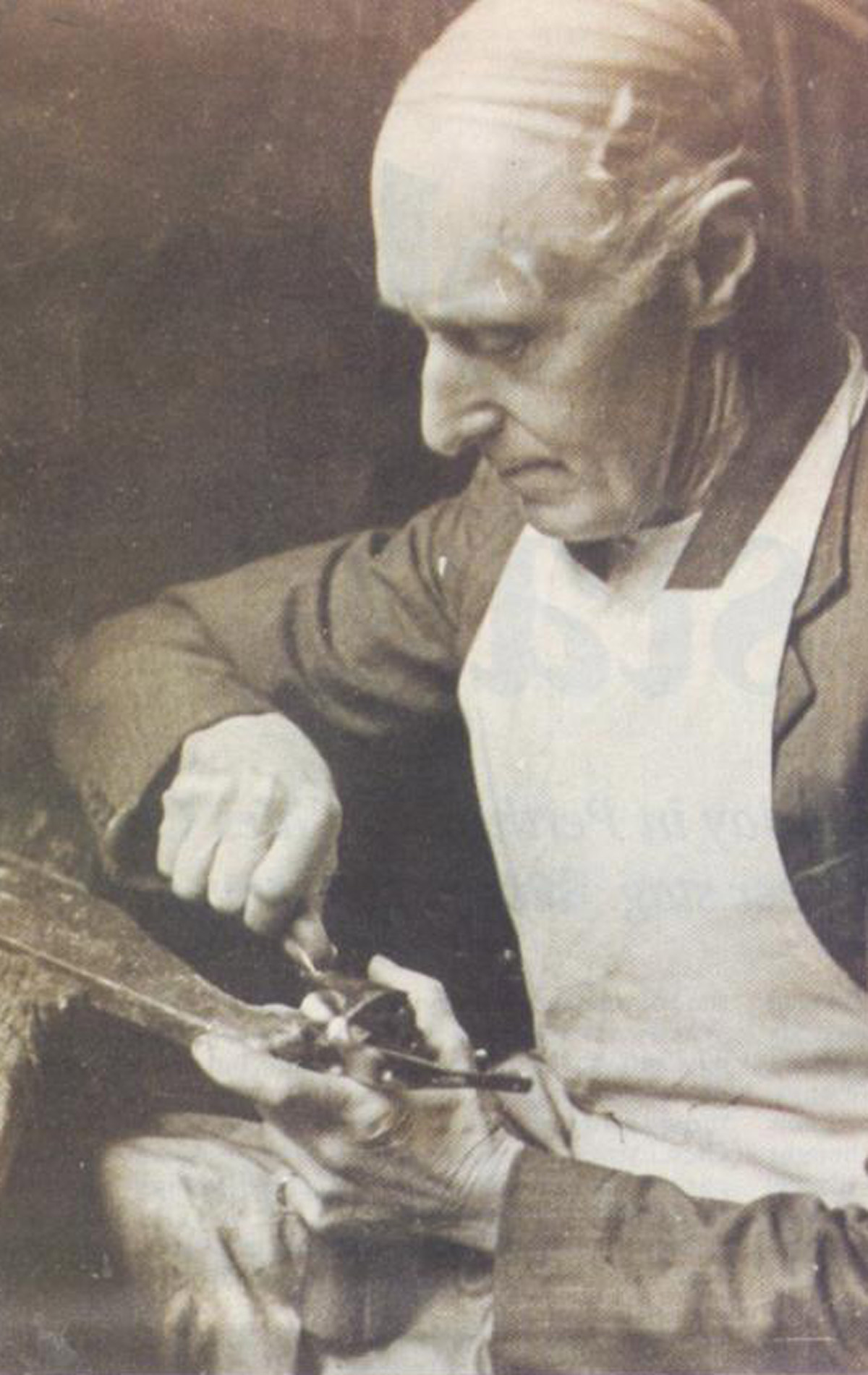 Considered to be possibly the most famous work Harry Kell did was three miniature guns that were presented to George V on his silver jubilee and of course the pair of Purdey guns he engraved for Queen Mary's Doll House. He engraved for all the best London gun makers but most of his work was unsigned. His work inspired a new generation of engravers, most famously Ken Hunt, who was apprentice to Harry and was taken on by Purdey's in 1950.
Harry Kell, born Henry Albert Kell in 1880 into a family of engravers served an apprenticeship under his father, Henry John Kell (1860 – 1929), also known as Harry. Henry learnt his trade under Thomas Sanders and worked for his engraving business, Thomas Sanders & Son, which he joined around 1875. Thomas Sanders employed a small team of engravers doing work for much of the London trade and established his engraving workshops, which were based in Soho at 13 Dean Street, in 1862, moving to 6 Greek Street in 1866 and just before the outbreak of the First World War, he moved to 142 Wardour Street where he remained until the business closed in 1919.
In 1919 Henry Kell, who was already a partner in the business, took it over and named it Henry Kell & Son. Henry kept the business at 142 Wardour Street for a few years until moving it to 38a Broad Street in 1921. The business remained there until 1937 when it was moved to 45 Broadwick Street (Broad Street renamed) where it saw out the Second World War and remained until 1957.
Harry Kell was apprenticed to his father around 1894 and took over the company when his father died in 1929. Harry changed the name of the business in 1952 to Henry Kell, but remained at 45 Broadwick Street until 1957 when failing eye sight and health forced him to move into the Purdey factory, he died a year later in 1958.
The latest used gun to pass through our hands is a Purdey 12g sidelock engraved by the great man himself. Completed in 1932 as the No. 2 of a pair it was made as a lightweight gun weighing only 6lbs 3oz, with 28" barrels made for M.M. Johnson Esquire. Beautifully engraved game scenes with pheasants flushing from a wood, surrounded by intricate rose and scroll on the left lock, partridges in a woodland scene, again surrounded by rose and scroll on the right and a retrieving spaniel on the bottom of the action with more rose and scroll. The gun retains some lovely case colour and is a truly superb example of what between the wars engraving had become and what lead the way for future engravers, pioneered by the likes of Harry Kell.