One such maker of ephemera was G. & J.W.Hawksley Ltd. of Carver Works, Carver Street, Sheffield, in the north of England. The firm was established in 1840 and by 1927 their range of gun cases was quite impressive, allowing gun makers to provide something appropriate to every client's taste, needs and budget.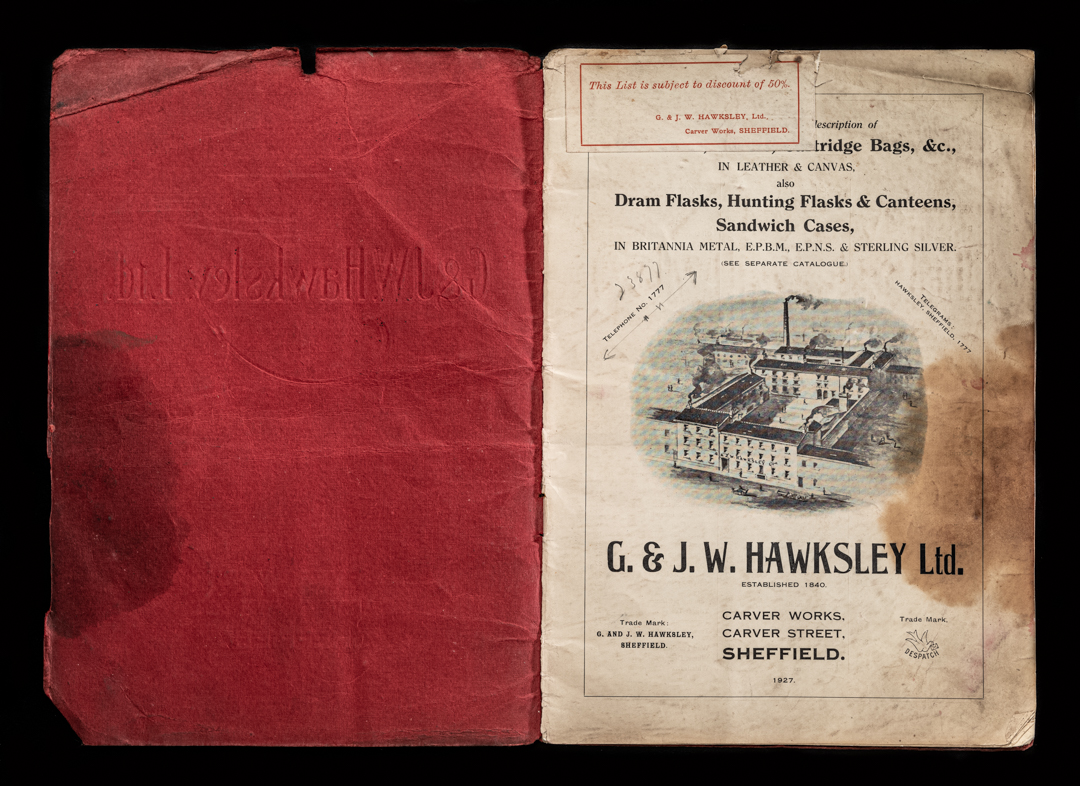 With prices ranging from thirty-three shillings to one-hundred-and-ninety-two shillings, the type, material and quality of each case varied considerably. The basic model was of brown canvas, with a plain lock and red baize lining The corners were reinforced with leather and the straps were also leather. Luxuries like a spring-loaded lock and brass corners could be added for three and seven shillings respectively.
The styles of case, in order of cost and quality, were: canvas, leather, oak frame. There were several models in each range but the most expensive model in each range was cheaper than the cheapest model in the next range. The qualities of leather listed are: leather, good quality cowhide, smooth cowhide, fine smooth cowhide, superior smooth cowhide and, finally, fine selected cowhide. The higher priced models in each range featured sprung, rather than plain, locks and brass corners.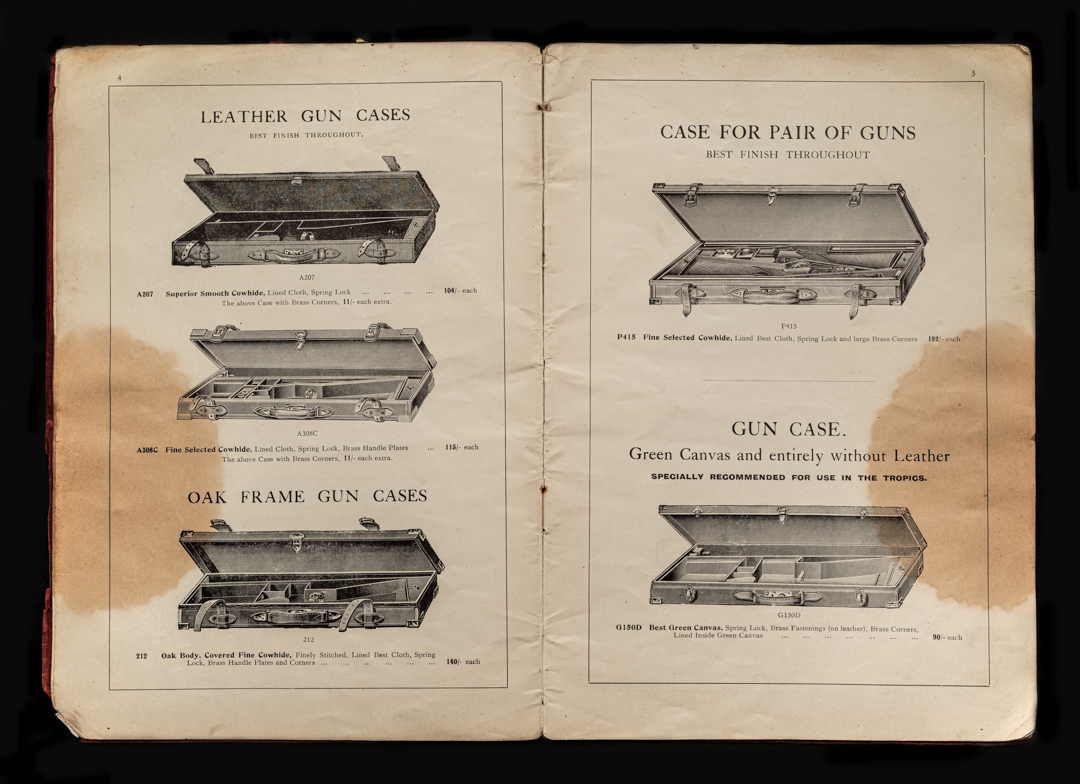 If we consider the best case in each range, we have the sixty-four shilling brown canvas case, the one-hundred-and-fifteen shilling 'fine selected cowhide case with cloth lining, spring lock and brass handle plates and corners'. Finally, the 'Oak body, covered fine cowhide case, described as 'finely stitched, lined best cloth, spring lock, brass handle plates and corners,' case which cost 140 shillings. For readers who are getting lost in the numbers, twenty shillings was one pound in Britain, until 1973.
All the gunmaker had to do was select the case desired to be paired with his gun, order it, fit the final blocks, determined by stock length and barrel length, and affix his trade label and any instruction card necessary.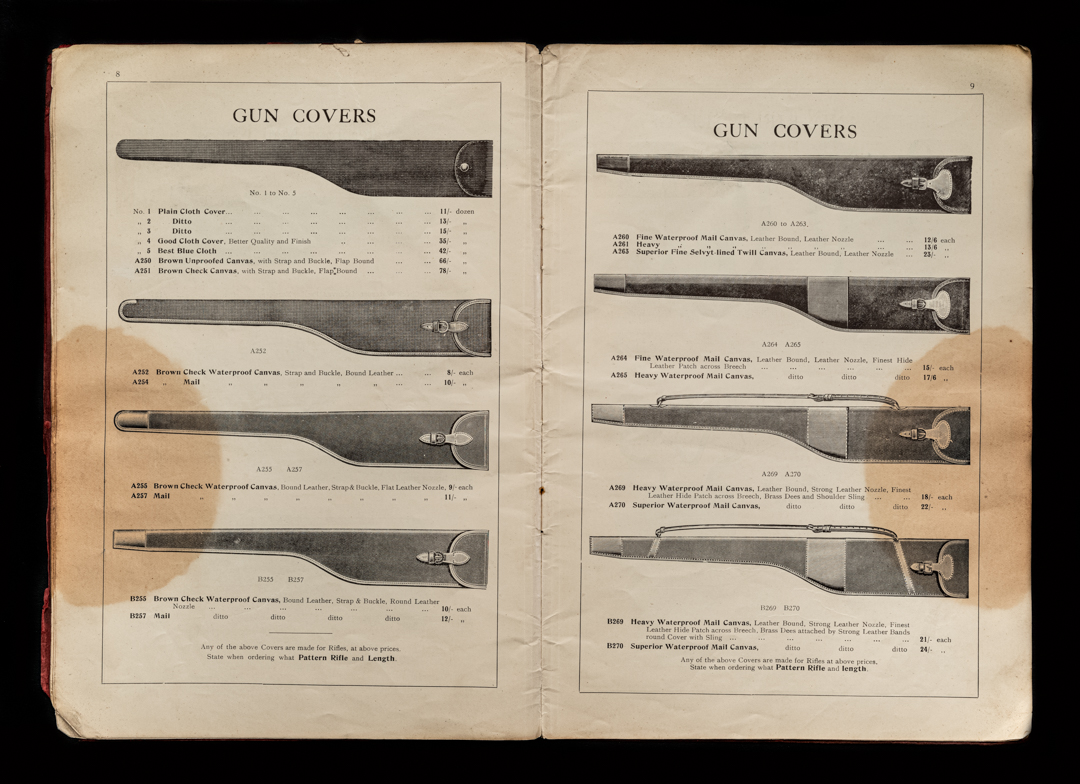 As well as the cases described so far, a special green canvas case was recommended for the tropics 'entirely without leather', which was prone to mildew and rot in warm, humid climates. With brass fastenings, these cost ninety shillings.
In addition to the traditional gun cases, Leg-of-Mutton cases were then popular. They remain a very practical means of unobtrusively transporting a shotgun but have somewhat fallen from favour.
Like the other cases, they range in quality, with the cheapest 'mail canvas', trimmed with leather, starting at twelve shillings, to the best 'Superior Solid Blocked Leather' case, cloth lined, spring lock and brass 'D' for sling. These were priced at ninety shillings, with an extra five shillings for a sling.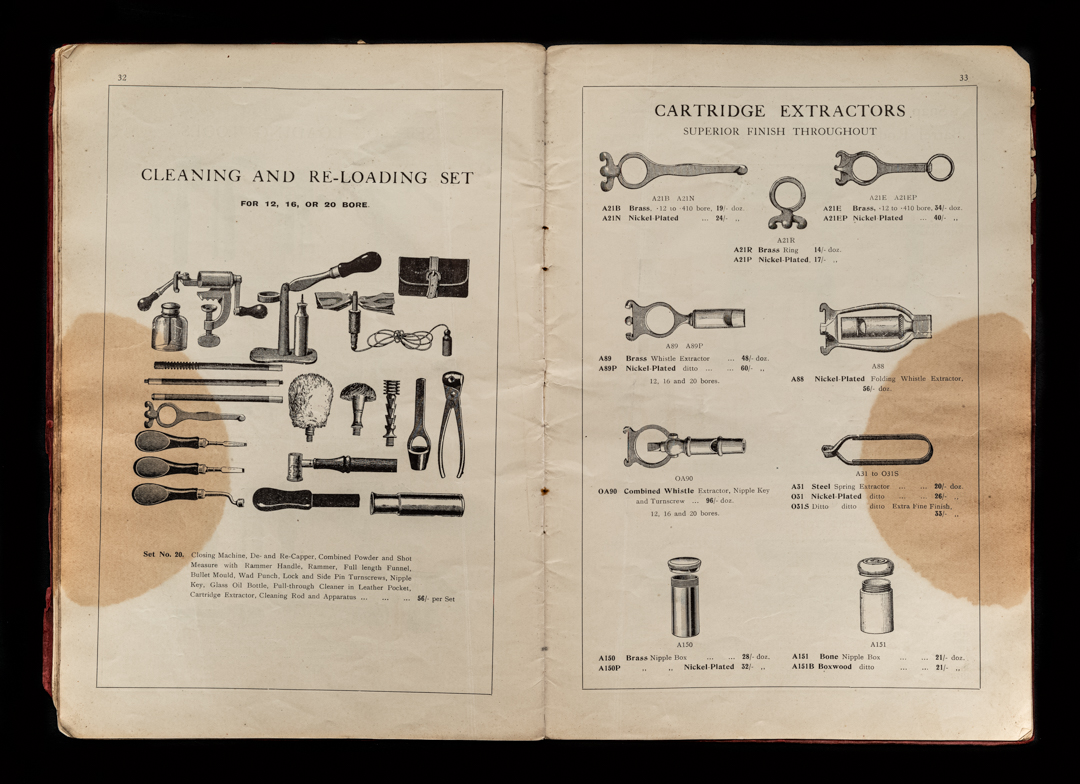 Another gun-room favourite is the cartridge magazine. These were made from a wooden carcass, with leather covering and leather straps. Internal partitions for cartridges, with leather straps to adjust the height of each section. The best of these was an oak frame with 'superfine hide' covering 'superior polished'. It had 'bridle leather straps, heavy brass plates on both handles and strap loops, two sets of finely-finished brass corner clips, superior heavy brass corners, extra bound leather and with superior finish throughout'. Available in sizes from 200 to 500 cartridges, priced from one hundred and forty shillings to two hundred and twelve shillings.
A budget version, bound in canvas with a pine body was far more affordable, from thirty four shillings for etc 100-size, to sixty-two shillings for the 500 size.
In todays' market, an old, best oak and leather, case might cost you a thousand pounds, with the right label. A canvas one might be had for thirty or forty pounds. It is worth noting that like guns, case prices and qualities varied. Also, there is no such thing as a 'Purdey case' or a 'Greener case', they were all sourced from a supplier like Hawksley and then given a label.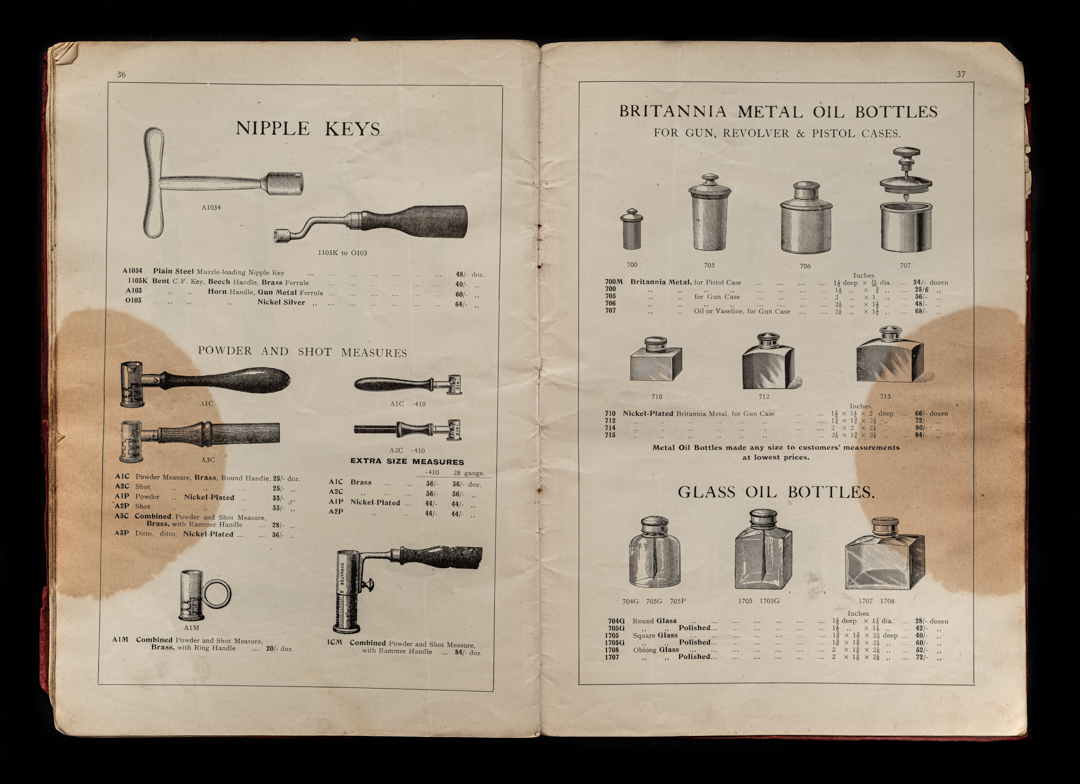 Today, there are still one or two generic case-makers to whom most British gun-makers go when they need a case for a new-build. The ranges available are less varied than they were in 1920 but the basic options are very similar to the traditional models of the past. Westley Richards alone incorporates an in-house case-maker who builds the cases for our guns and rifles in the same factory where they are made. Each Westley Richards case is designed around the individual rifle or shotgun and the needs or desires of the customer.
Our leather cases can be made from best cowhide or exotic skins, interior linings today are often Alcantara but baize and velvet, fabrics favoured in the past, are options. For real opulence, cases can even be lined in pig or goat skin. A case has to present the gun or rifle beautifully and protect it, though modern best cases are very expensive and valuable craft pieces in their own right, rather than mere vessels to protect the gun in transit.