This rifle would cost a hundred thousand pounds for us to build today. It offers the all-round, large-deer-killing peace of mind of the brilliant .308 cartridge with the long range, super-flat shooting qualities of the .22-250.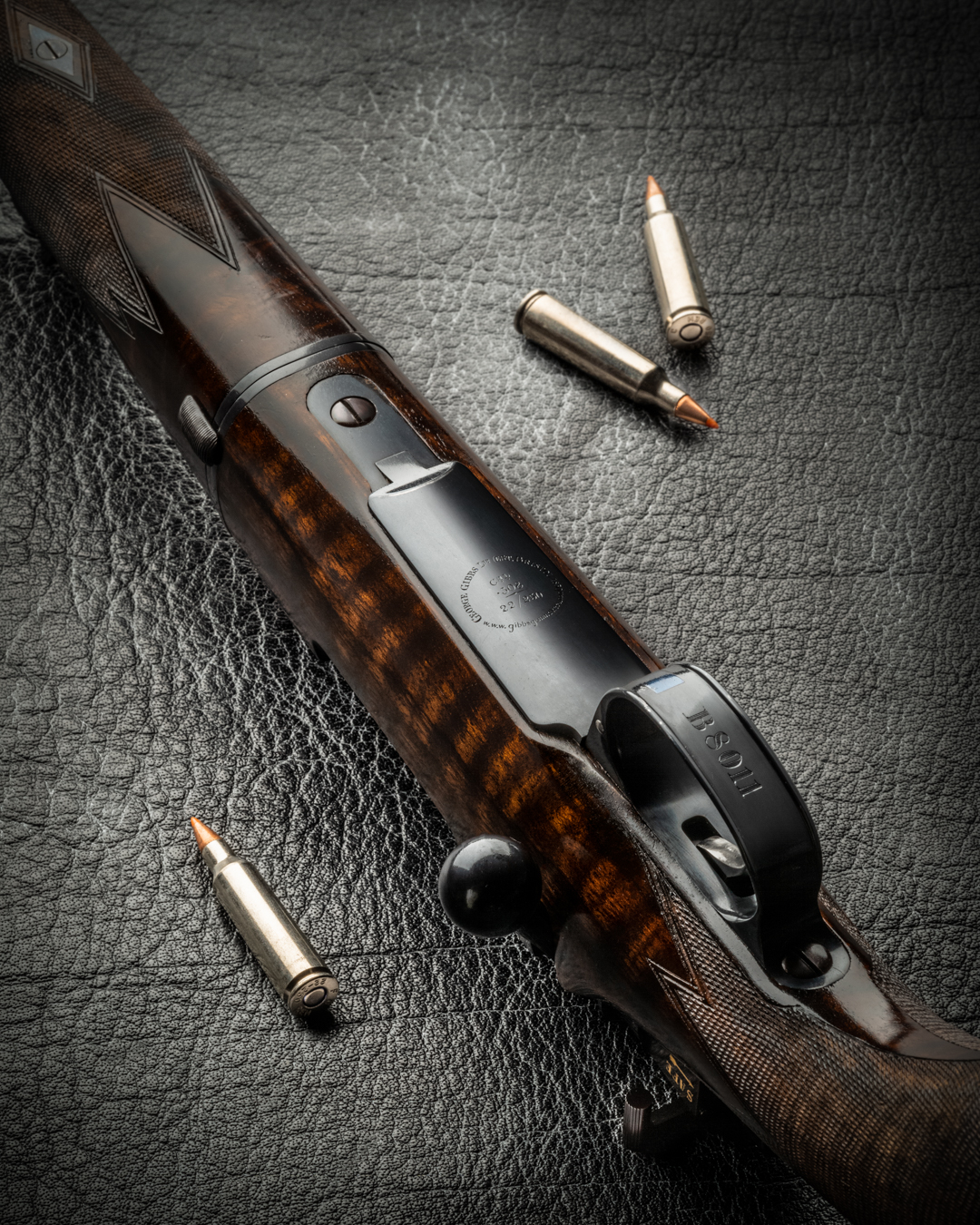 The .22-250 Remington originated as a wildcat round in the United States and was both legitimised and popularised in 1965, when Remington adopted it as a factory load. It has been widely adopted as a fox cartridge in the UK, while our American friends refer to it as a 'varmint' round. Whatever you call it, it is a 400-yard-capable, destroyer of small vermin; driving a 50-grain bullet at 3,750fps. It has also gathered some favour as a cartridge for roe deer.
The .308 Winchester needs little by way of introduction. It arrived on the commercial market in 1952 and has become, probably, the most popular short-action, medium game cartridge in the world. It is certainly the 'go-to' hunting cartridge in the United States. Loaded with a 150-grain bullet it delivers 2,820 fps and gives the American hunter a good chance of success, whatever his quarry.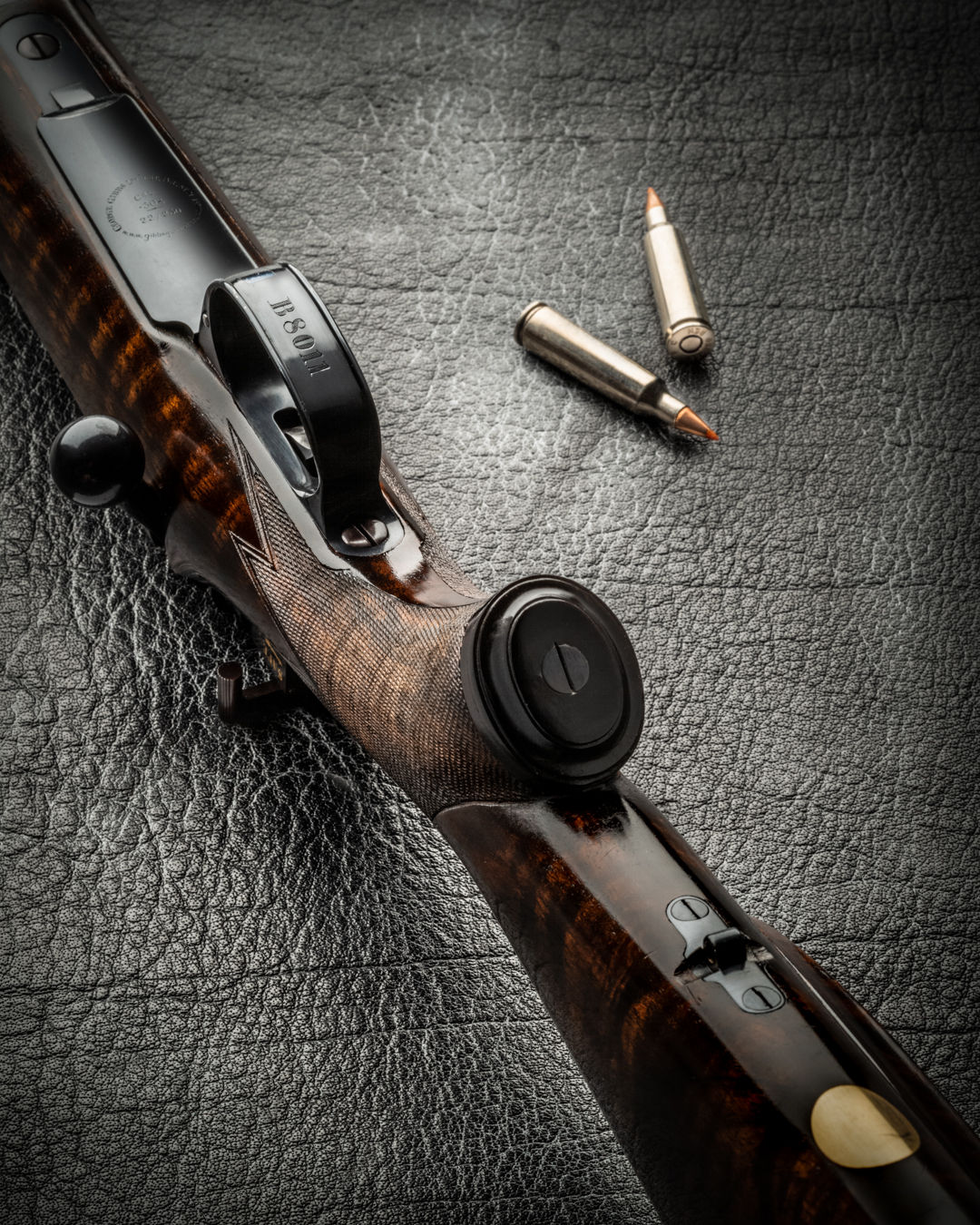 This finely-built Gibbs hunting rifle is built on a new, British, Kurtz Mauser action; taking advantage of the short .308 case. It has a screw-thread take-down feature, ensuring consistent fit and interchangeability between the two 23" barrels, each with its own, integral, forend section. Separate sound moderators are supplied for use with each barrel.
To allow for the fitting of a sound-moderator, each forend ramp and blade sight is made as part of a shroud unit, which screws-on at the muzzle and is secured by a discreet catch. This unit can be detached to reveal the screw-thread and be replaced with the, individually stamped, 'DPT Modular' sound moderator, which simply screws-on to replace the sight unit.
Iron rear sights are one standing express sight and one leaf, though the (included) Swarovski Z6i 'scope with low-profile, quick-detach mounts will be the primary sighting device used, in practice.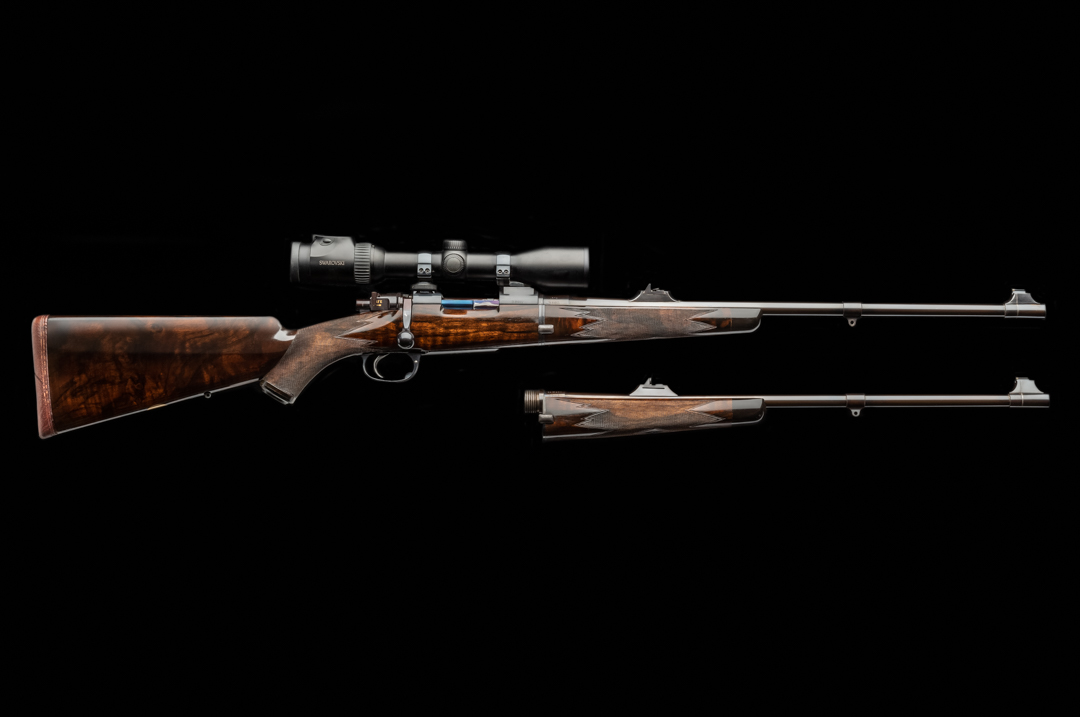 Seen side-by-side, the truly interchangeable nature of the barrels and forends is apparent, both fit perfectly and the uninitiated, viewing it with one set attached, would have no idea that a larger or smaller barrel might be equally at home fitted into the action. It really is two rifles.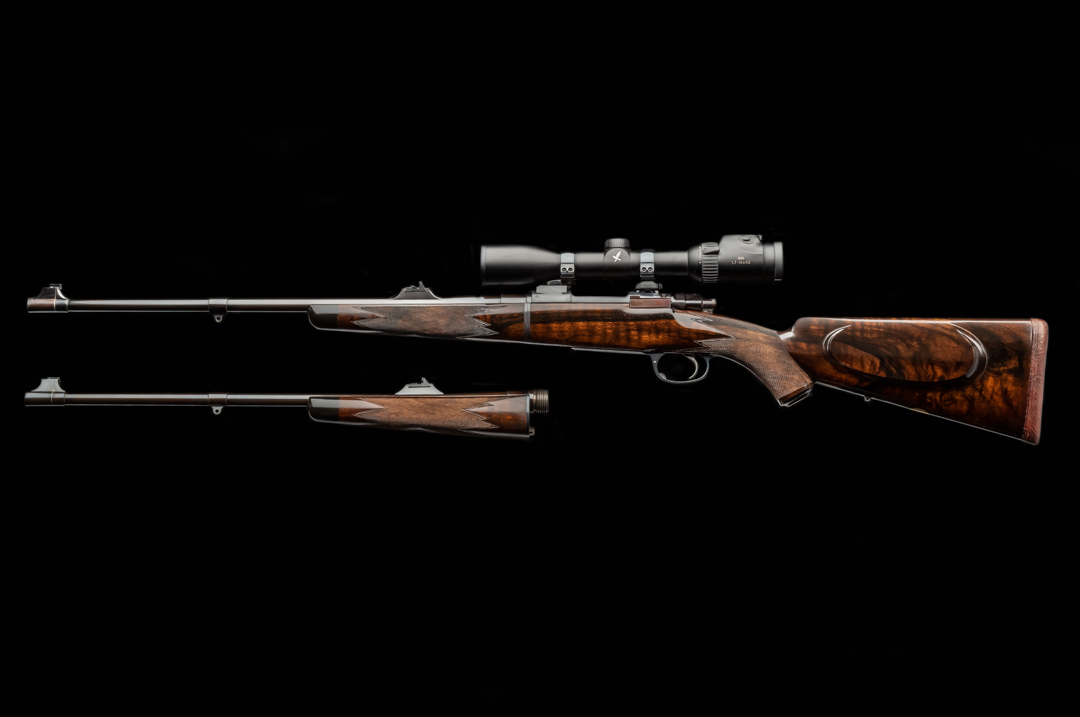 The overall aesthetic of the rifle is classic. The well figured, traditionally oil-finished walnut stock has a cheek piece and pistol grip. The butt is finished with a leather covered Silver's pad.
Banded sling eyes are attached to each barrel, with a corresponding one in the butt stock. The hand and forend sections are finely chequered and the steel parts remain perfectly blacked and glossy.
In terms of branding, each barrel is engraved neatly 'George Gibbs Ltd. (Est. Bristol 1830) Marlborough, England. No.B8011'. The calibre of the barrel is engraved on each mating face of the take-down section. Each forend is finished with a classic ebony finial.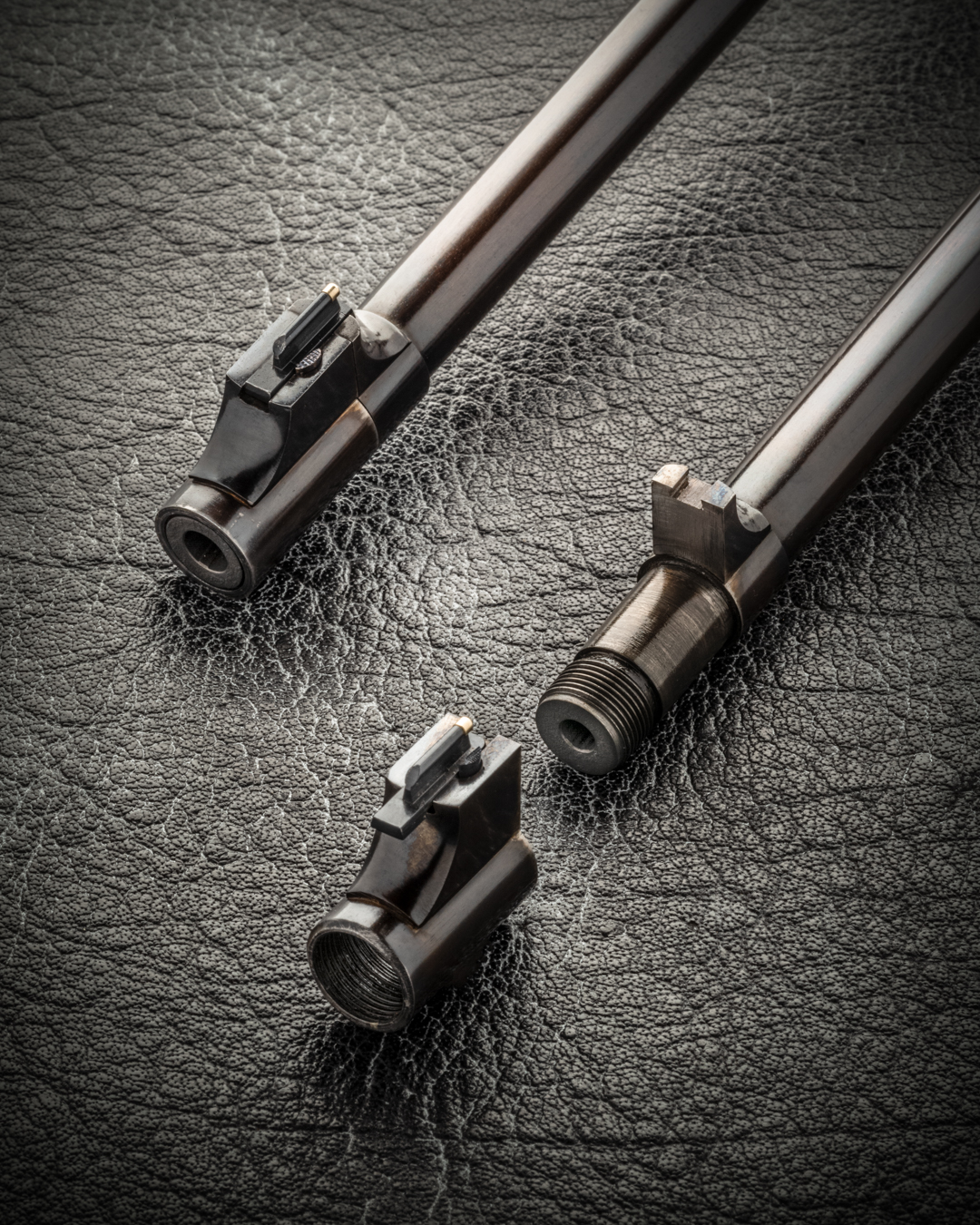 The company behind the rifle, George Gibbs, was established in the city of Bristol in the west of England, in 1830 and became famous as a maker of rifles early in its history. Among its well-known achievements can be included the Gibbs-Farquharson falling block rifle and the .505 Gibbs big-game cartridge.
Today, the company is operated by Mark Crudgington, from a village close to the town of Marlborough in Wiltshire.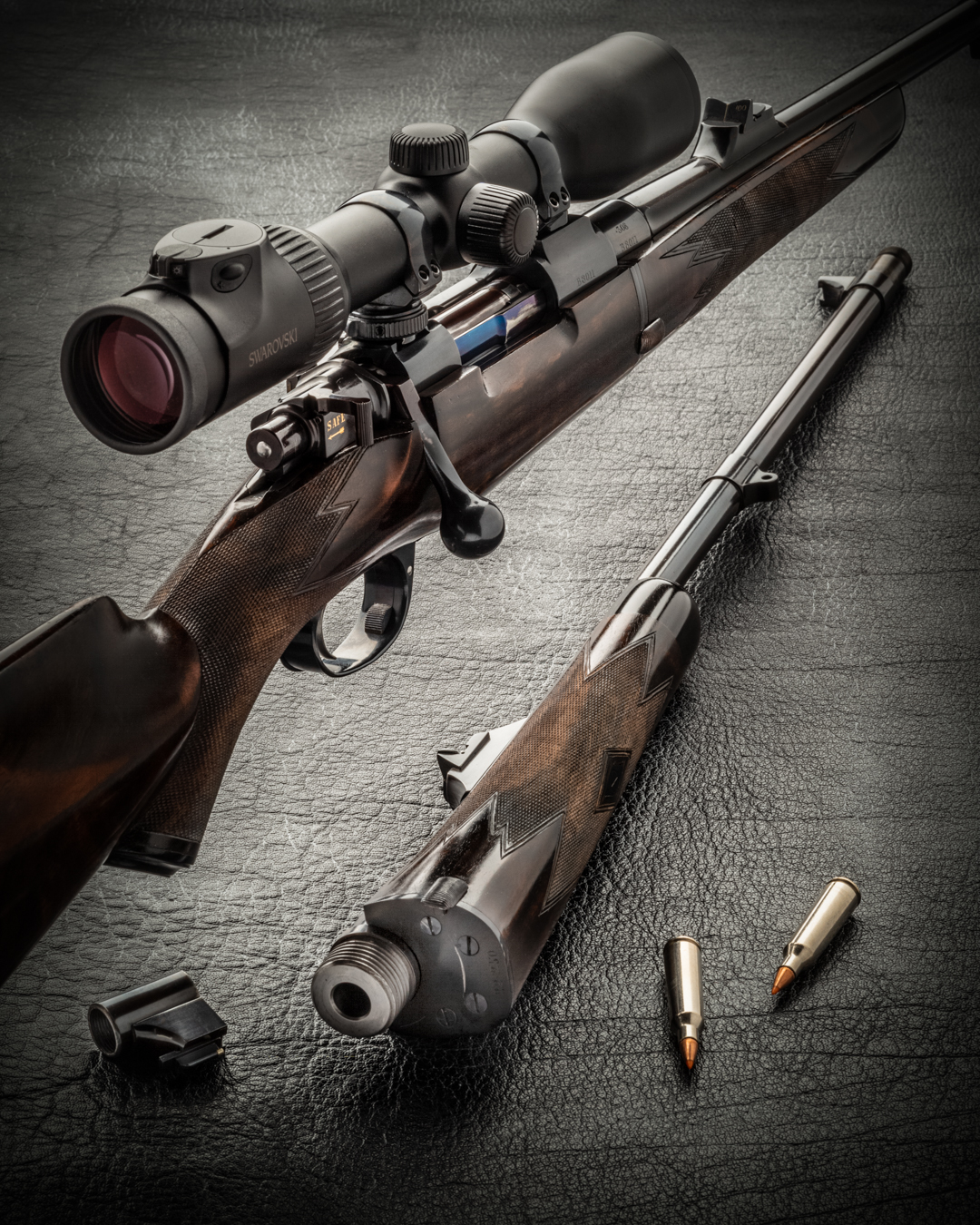 Gibbs No. B8011 is available to buy now from Westley Richards. It is undergoing a full service and will be presented for sale in showroom condition.
It offers real versatility and represents a unique hunting package at a price not to be repeated.